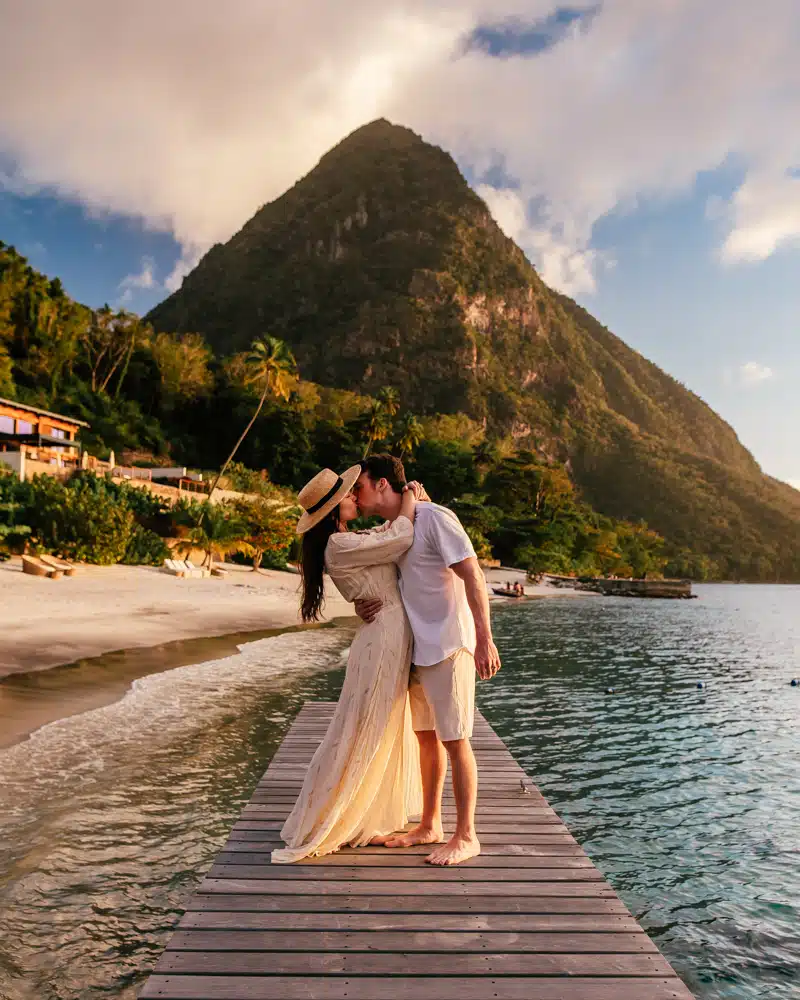 Trying to decide where to stay in Saint Lucia? Let me tell you- Sugar Beach, A Viceroy Resort is a fantastic resort for you. Here's my full Sugar Beach Resort Review to help you get a good idea of what to expect based on my personal experience.
First things first, Sugar Beach, A Viceroy Resort is in a stunning location. Set between the Pitons, Saint Lucia's two UNESCO world heritage sites, you'll have incredible views wherever you are.
Whether you're visiting for a family vacation, a honeymoon, an anniversary, or a friends getaway, you are going to fall in love with this resort.
To get a quick sense for this resort, check out the video I made of my stay below.
[If you don't see a video below, you may need to disable your ad blocker.]
This resort provides luxury and all of the lush, tropical vibes you could possibly want in paradise.
Sugar Beach, A Viceroy Resort invited me and my husband to come experience the resort for ourselves, and I'm so thankful for the experience! And though we were hosted, this full article is a reflection of my own opinions and an honest review.
So let's get into it! Here's my full Sugar Beach Resort review to help give you an idea of what to expect on your visit!
Sugar Beach Resort Review: COVID-19 Experience
We stayed during the pandemic in March 2021 and with Saint Lucia COVID travel restrictions in place, we couldn't leave your resort. But don't worry- there is so much to do at the resort that you won't even notice!
In order to fly to Saint Lucia from the United States, you need to fill out an online travel form within 7 days of your trip. You'll also need a negative PCR test taken within 5 days of departure.
You have to take a certified taxi to get to the resort (in other words, no rental cars). I called several places and they all cost $75 one way from the airport. That is the same rate that the hotel charges to set up the taxi, so we just did ours through the hotel.
There are fantastic safety measures in place at the hotel. You can see their full information regarding hotel safety here. We saw firsthand how staff always wore masks, your temperature gets taken everyday, hand sanitizer is everywhere, and more.
At the time of writing, if you stay for 5 days or more, your COVID-19 test that you need to return to the United States is included with your stay. It costs $60 per antigen test if you stay for a shorter amount of time.
The test you need to take to return back to the US is very simple. Your butler (more about your butler soon!) will call you to schedule your test. We were at the beach when she called, and the doctor was stationed at a bungalow right by us, so we simply walked over to get our test. Then, your butler will email you and leave a hard copy of your results in your room the next day. Easy peasy!
Sugar Beach Resort Review: Accommodations
Accommodation ranges from double rooms to individual bungalows and villas.
Each has its own private jacuzzi, plunge pool, or infinity pool. The beachfront bungalows have incredible views and immediate beach access. Meanwhile, the luxury residence has a huge sun terrace and private infinity pool. It even has a fully-fitted designer kitchen!
All accommodation comes with high-quality Egyptian cotton linen, flat-screen TVs, WiFi, and Nespresso coffee makers. The resort offers complimentary designer toiletries and even has a butler service!
We stayed in room 401 which had its own circular plunge pool with views of both Pitons. The double shower and dreamy tub were incredible, as were the giant patio, separate living area, and extra bathroom. We had two TVs (though we never used them since there was plenty to do around the resort!).
Whichever accommodation you choose, you'll be blown away by the bright, airy and stylish décor.
Sugar Beach Resort Review: Getting Around
It's worth mentioning that Sugar Beach, A Viceroy Resort is a huge property. But don't worry about having to walk everywhere if you don't want to. There are shuttles that take you wherever you need to go within the resort!
You simply call your butler to request a shuttle, and they'll send one your way. The longest we ever had to wait for a shuttle was about five minutes. Most came within a couple of minutes of requesting one!
So, how do you request one if you don't have cell service? Well, you don't need cell service! Your room comes with Nokia phones (the old school kind) that work anywhere on property. You use them to call your butlers if you need a shuttle.
Sugar Beach Resort Review: Amenities
As large as the resort is, guests can enjoy amazing views, a white-sand beach and a fantastic range of amenities. You will have a couple of butlers on call throughout your stay who help you set up whatever excursions or reservations you want. We had Felicia and Michael as our butlers and they were so kind and helpful.
The Beach and Pool
A gorgeous pool with gorgeous views- what more could you want at a resort? It's also just a short walk away from the main beach, where you choose which lounge chairs you want, and the staff will set up your towels for you. Servers come around with coconut water, cups of water, and, of course, to take your order. There's also a lesser-known beach, which is located a bit further south on the coast. You'll find this one to be less crowded, and it also has a gorgeous pier with a spectacular view for photos.
Rainforest Spa
The resort's Rainforest Spa is the definition of paradise. Its tree house treatment rooms are nestled into the rainforest. They use locally-sourced, natural ingredients, including refreshing aloe vera and luxurious cocoa butter. The spa offers body scrubs, hot rock massages and beauty treatments. Their Coconut Healing Massage is a must after a long flight or day out.
Fitness Center
For an energetic workout, visit the fitness center. It's equipped with treadmills, spin bikes, rowing machines and a weight training area. It offers personal training and yoga sessions at the center or, even better, on the beach! There are two tennis courts on site and private lessons are available.
Kids Club
There is a kids club for children aged four and over. It provides evening entertainment and you can even book babysitting services. (How does a romantic dinner in paradise without worrying about the kids sound?)
Restaurants & Bars
Sugar Beach Resort offers world-class dining. There are so many options, you can try something new every day! When we visited, the Terrace, Great Room, Bayside, and the sushi bar were open. I've included a full list of restaurants here as I expect more will open up as travel becomes more available.
The Terrace Restaurant
The Terrace Restaurant has stunning views out towards the sea and over the resort's pretty lily pond. They offer continental and à la carte breakfasts. Eating here is the perfect way to start your day in paradise! My favorites were the Strawberry Shortcake smoothie and the mushroom omelet.
The Great Room
If you fancy some fine-dining, get dressed up and head to The Great Room. Here, you can enjoy an atmospheric candlelit dinner and Caribbean-influenced delicacies. Personalized tasting menus are also available. Be sure to check out their impressive international wine list.
Bayside Restaurant
We dined at Bayside every night we were at Sugar Beach because of how delicious it was! Fresh-baked bread, delicious seafood, perfect risotto, and more- I could go on and on about the food here!
Beach Service
If you love lounging on the beach or by the pool then make the most of The Bayside Restaurant. It offers bar service, with a superb range of cocktails, and food for you to enjoy on the beach.
Boopa's
Boopa's is the resort's signature café, offering tasty sweet treats. Try their refreshing gelato with exotic flavors like lemongrass or spiced honey. Or grab a healthy smoothie before heading out on an excursion.
The Jalousie Bar
This is the best beachside location to watch the Caribbean sunset, with a drink in hand, of course. Sit under the almond trees and enjoy wood-fired oven pizzas and other delicious foods. There's a casual dress code and footwear is optional!
Cane Bar
Love rum? Then this is the bar for you. The Cane Bar has a long list of local and international varieties of rum. They serve Asian-style dishes and the most incredible deep-fried coconut ice-cream.
Water Activities
As well as its swimming pool, the Sugar Beach Resort offers a range of thrilling water activities.
Scuba Diving
The resort has a full PADI dive facility and the most incredible dive sites nearby. The Trou Diable site has a large underwater plateau known for its vibrant reefs. Visit the Lesleen M freighter which was deliberately sunk in the 1980s to create an artificial reef. This is a great spot for underwater photography. There are gentler options for less experienced divers too.
Snorkeling
The local marine preservation area is teeming with beautiful tropical fish. Perfect for snorkeling! And since the hotel provides complimentary snorkel rentals, this is absolutely a must! You can snorkel close to the beach or further afield at one of the dive sites. For a unique experience, join a night snorkeling tour and see the marine life come alive after dark.
Water Sports
Kayaking, paddle boarding and wind-surfing equipment is available free of charge! If you're new to sailing or wind-surfing, you can book private lessons. For something more adventurous, try water-skiing, wake-boarding or rent a banana boat!
Boat Tours
For a truly special experience, try one of the resort's whale and dolphin watching boat tours. The waters nearby have dolphins and sperm whales passing through. If you're lucky, you might even spot an orca pod.
Excursions
Though land excursions were not available due to pandemic restrictions, in normal times there are many exciting and memorable excursions for guests to enjoy. Here are just a few of them!
Walking and Hiking Tours
There are many walking trails close to the resort. Looking for a challenge? Trek through the rainforest to the summit of Gros Piton, the second tallest peak in St Lucia. This walk is not for the faint-hearted but the panoramic views from the top make it all worthwhile!
If you'd like to cool off at a waterfall, take a guided tour to the 70 ft Superman Waterfall. Here, you can enjoy a long swim and even a mud bath. The guides will tell you the history of the area and point out interesting flora along the way. Don't forget your camera for some epic Insta shots.
Horseback Riding
Take a tranquil ride through the picturesque 18th Century Morne Coubaril Estate. This historic plantation is full of lush coconut palms, mango and papaya orchards. Take a break from riding and learn how to husk coconuts. You can also sample ripe cocoa and freshly-pressed cane juice.
Chocolate 101
If you love chocolate, this is definitely the excursion for you. Walk through a cocoa grove and learn how the chocolate making process works. You can even create your own chocolate bar!
Rhythm & Rum
This 90-minute excursion is every rum-lover's dream. You'll visit St. Lucia Distillers, the only remaining distillery on the island. You'll also learn about the liquor's history and get to sample a few varieties.
In conclusion…
Sugar Beach, A Viceroy Resort is currently the most beautiful resort I've ever stayed at. With superb customer service and exquisite offerings, they know how to please their guests.
If you're considering a trip here, don't hesitate to book it!
I hope you found this Sugar Beach Resort review helpful, and if you have any questions, feel free to ask in the comments below!
And if you're deciding between Caribbean islands, here are some more posts you'll find useful:
Safe travels!
Jasmine
PS. Save this post for later by pinning it! You can use either image below for easy pinning! Cheers!