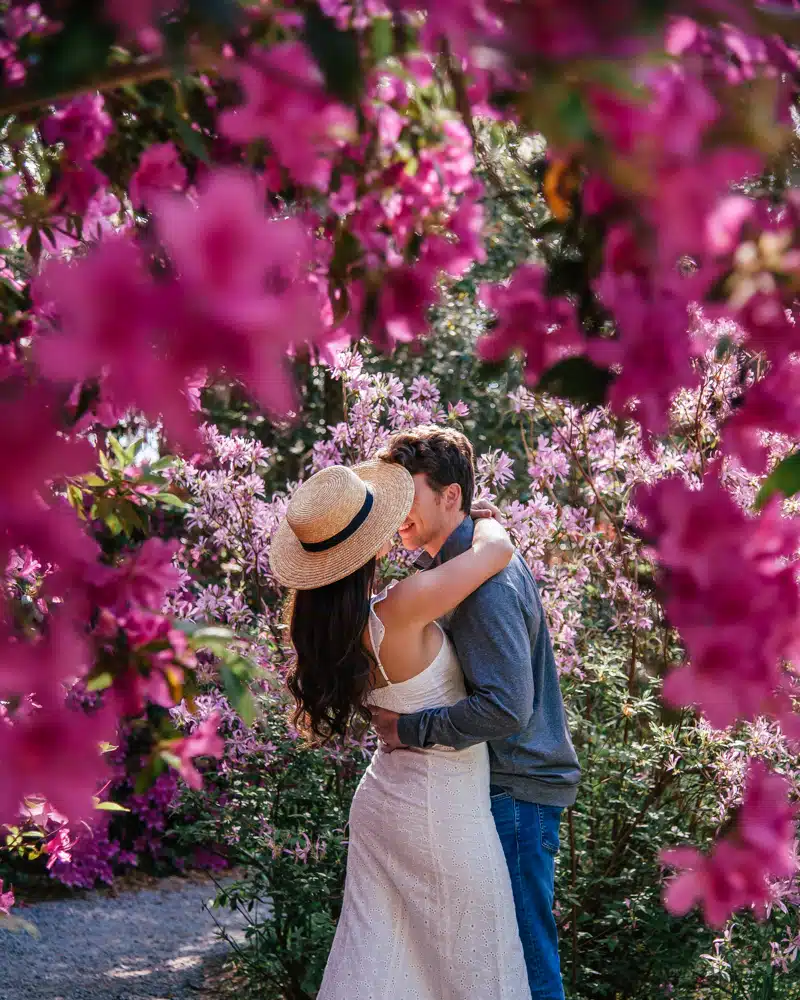 Charleston is a popular vacation destination for anyone looking for a charming, Southern getaway. From its colorful downtown and culinary expertise to its gorgeous plantations and proximity to beaches, Charleston has so much to offer! But there are plenty of spots you might not know about. Well, get ready for 18 hidden gems in Charleston to visit this year!
At the time of writing, all of these places are open and ready for you to visit. So, run through the list, and add some (or all!) to your Charleston itinerary.
Also, you can get a sense for things to do and some hidden gems to find in Charleston from the video I made from my trip!
[If you don't see a video player below, you may need to disable your ad blocker!]
These are also some of the best things to do in Charleston, so let's get into it! Here are Charleston's best hidden gems!
1. Cypress Gardens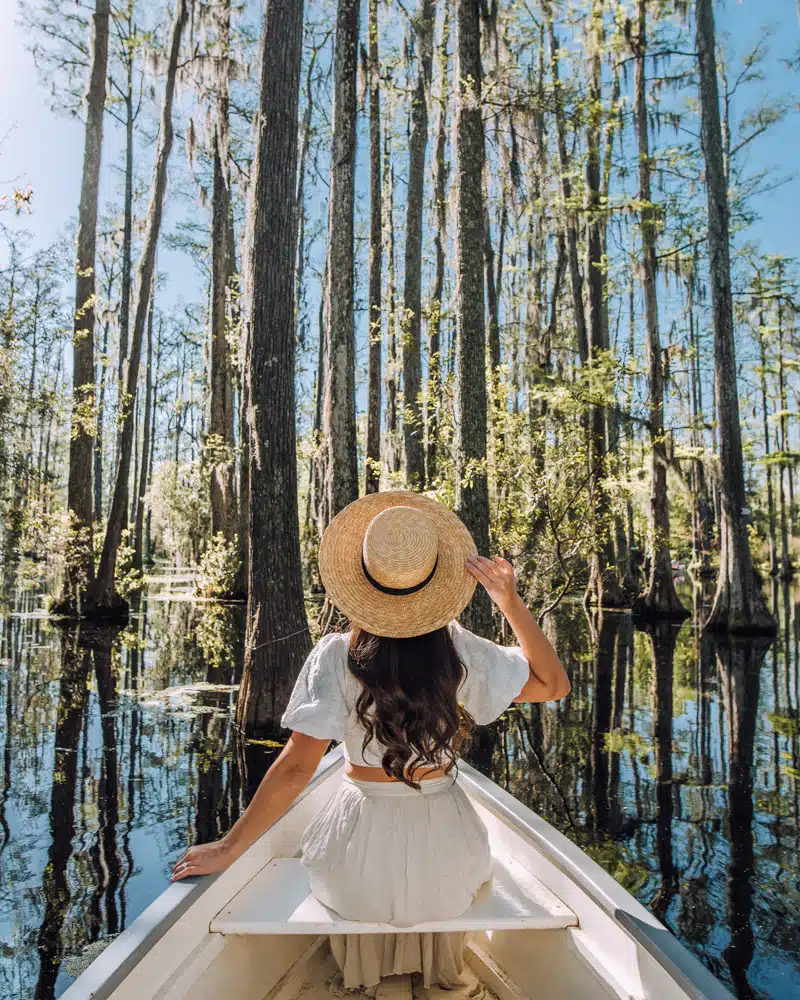 I am shocked that more people don't know about this place! Even locals I've talked to are surprised when I tell them about this spot. It's definitely one of my favorite hidden gems to visit in Charleston. Cypress Gardens encompasses 3.5 miles of hiking trails and beautiful gardens.
But most notably, they've got stunning cypress trees in their swamp that you can row through!
Remember the boat scene from The Notebook? That was actually filmed here! And you can have the same experience (sans Ryan Gosling. And sans the swans- they were added in for the film.)
They are open daily from 9am – 5pm and it costs $10 for adults and $5 for children. The $10 admission includes a self-guided boat tour, but the boats are first-come-first-serve. I recommend coming right when they open if you want a peaceful morning rowing through the swamp!
And keep your eyes peeled for alligators- we saw one swimming in the water and one sunning on the bank. But don't worry- the boats are flat-bottom boats and they've never had one flip. Also, the alligators won't bother you if you don't bother them!
2. Magnolia Plantation at Opening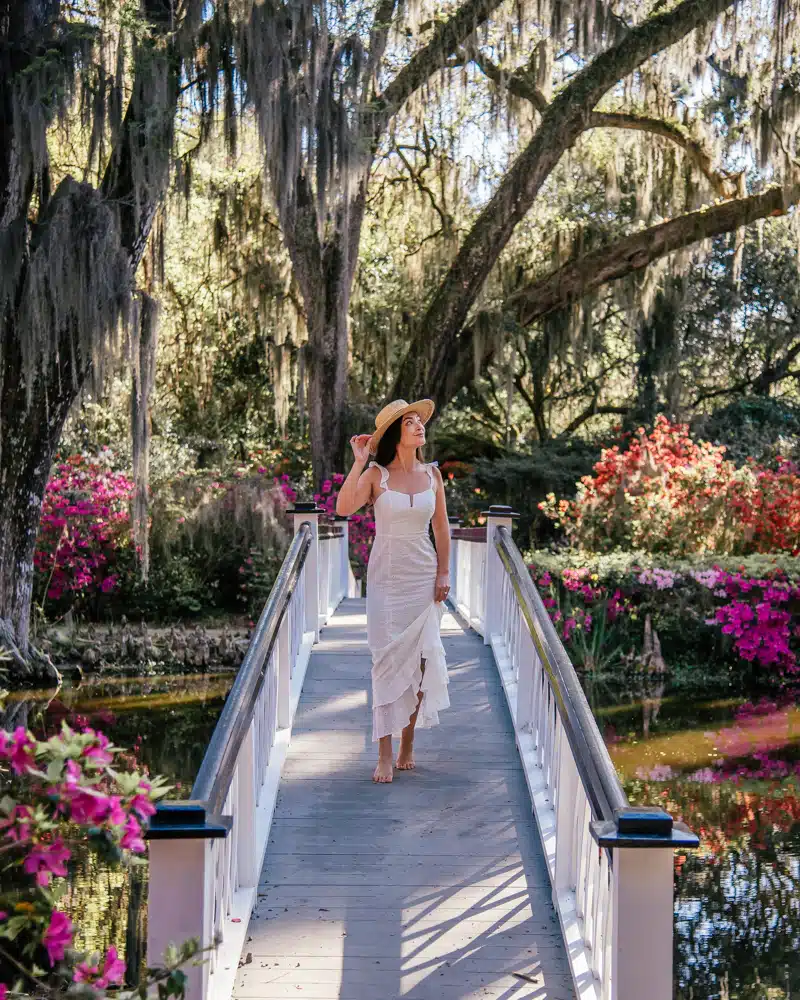 This is the most visited plantation in Charleston and one of the oldest plantations in the south. The gardens are considered one of "America's most beautiful gardens". But wait… why did I put it on my list of hidden gems in Charleston?
Well, here's the hidden gem part. If you visit right at opening, Magnolia Plantation is a magical place. You'll get the long white bridge all to yourself, which is basically impossible an hour after they open, especially on weekends. For reference, we visited on a Sunday right at opening and spent a few hours here. By the time we left, there were lines and lines of people at the ticket counter.
Another hidden gem aspect of Magnolia Plantation is visiting at the right time of the year. Don't get me wrong- this garden is stunning all year round. But it gets even more beautiful at peak bloom. Peak azalea bloom is usually around early April, and the whole plantation lights up in a colorful display of pinks and purples! You can see what I mean in the very first photo of this post.
Admission is $20 for adults and $10 for kids (free for under-fives), and tours cost $8 per person. The beauty here is worth every penny!
3. Pitt Street Bridge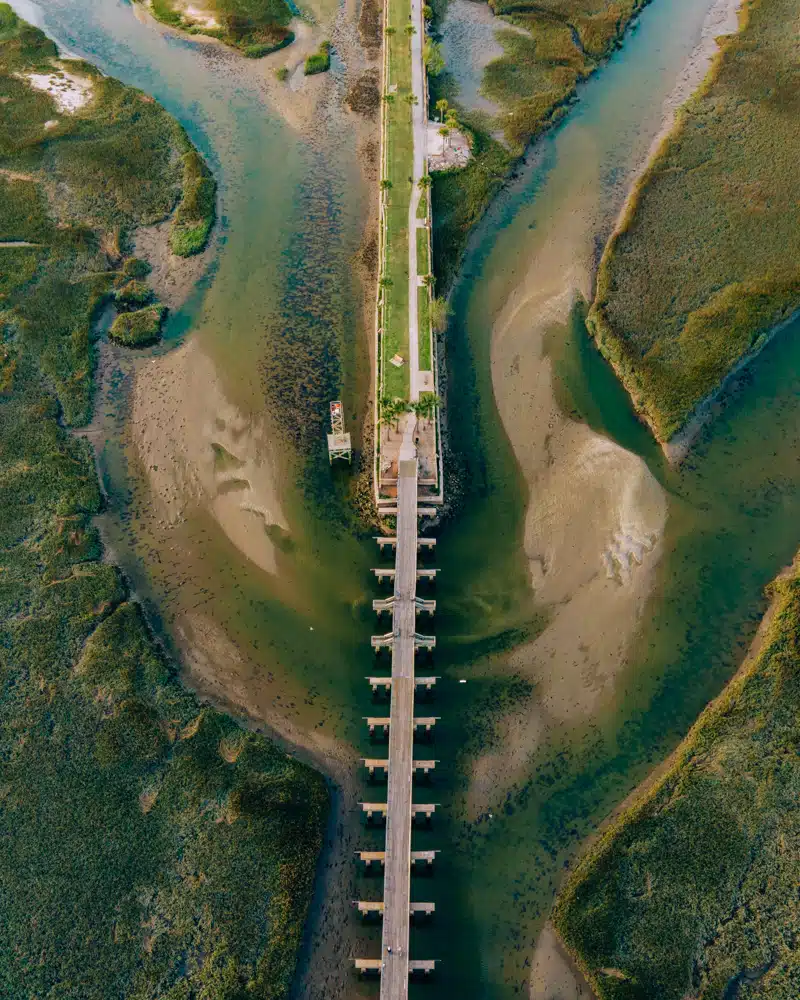 This hidden gem has some very cool architecture and mixes history with nature. Pitt Street Bridge was a trolley bridge that stretched from Mount Pleasant to Sullivan's Island, but it is now a place for relaxation and enjoying beautiful nature. Here you can go fishing or even kayaking!
We got the shot above with our drone. Fun fact: another less tangible Charleston hidden gem is that there aren't many no-fly zones in the area at the time of writing. That's a huge win for us photographers with drones!
4. Hampton Park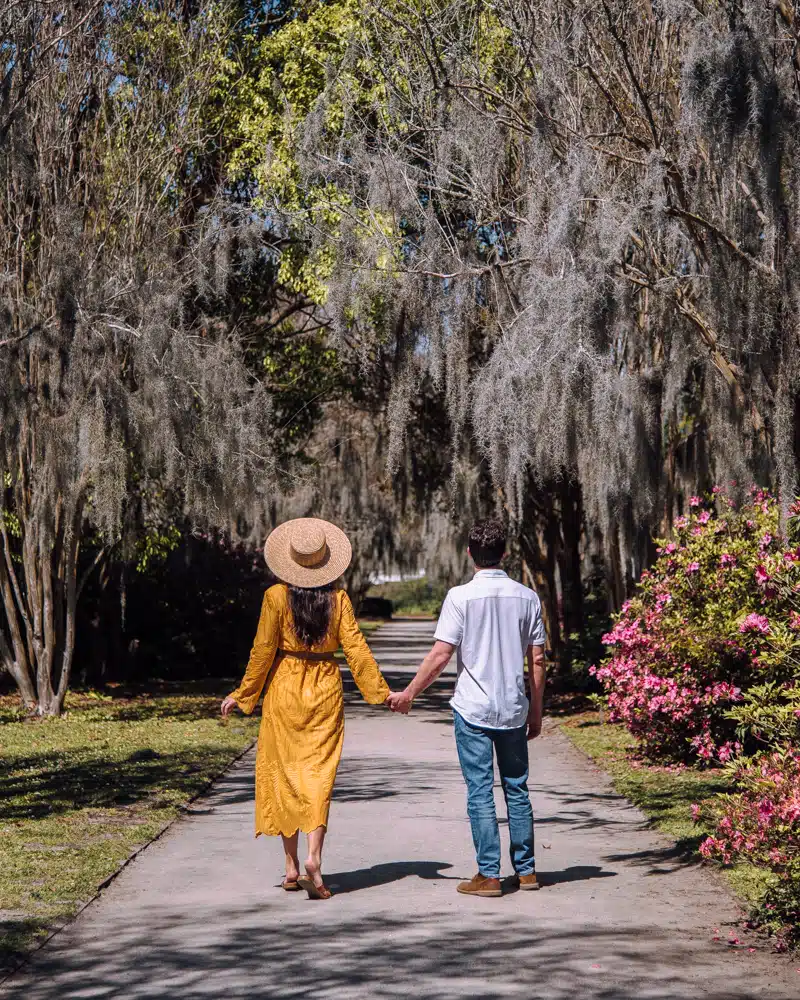 Hampton Park is one of Charleston's largest parks, with the biggest floral displays in the city! It is free to enter and open 24 hours. Most visitors don't know about Hampton Park or skip it in favor of exploring King Street and more popular areas of Charleston. But this is definitely one of the best hidden gems in Charleston.
And you can bet it's on this list of the 54 prettiest places in Charleston!
5. Brittlebank Park at Sunset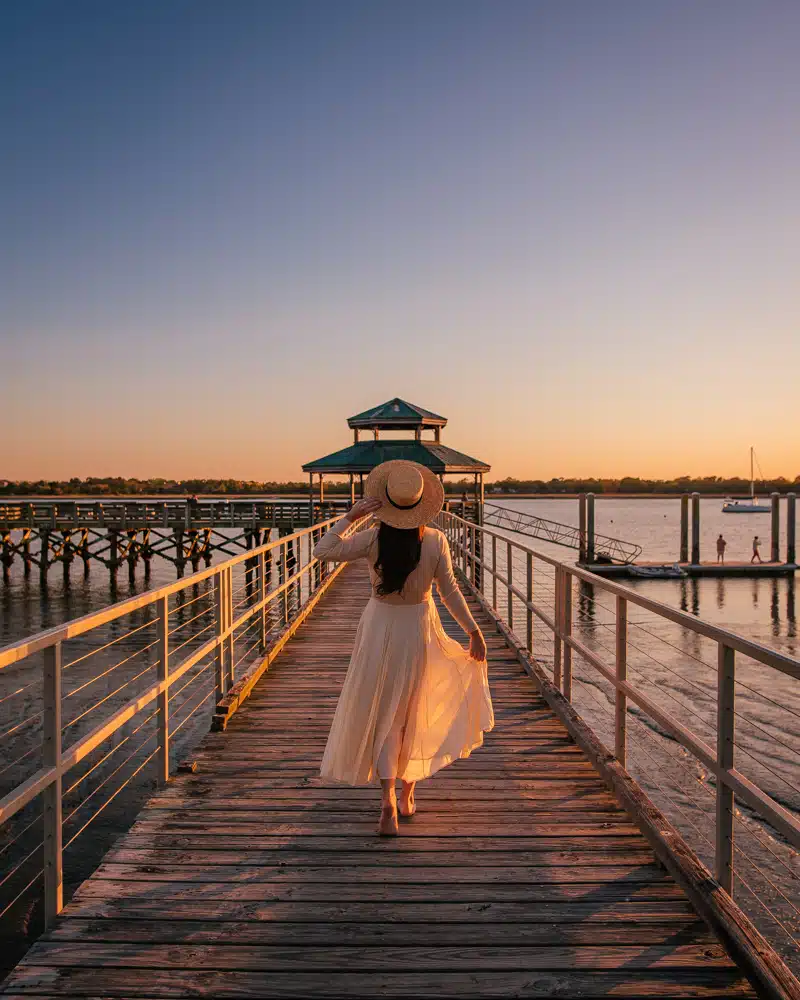 This park is a great spot for hiking and exploring. It is on the Ashley River and offers spectacular views of the river and surrounding parkland. It's also one of the best places to watch a Charleston sunset if you ask me.
We visited on a Friday and were basically the only people here! (PS. Google will tell you that it is open from 9am – 7pm daily, but we were here past 7 at sunset with no problems.)
6. French Huguenot Church
Charleston has the nickname of "The Holy City," and it's no surprise when it has over 400 churches!
Well, here's one of them to add to your Charleston itinerary! This is a beautiful Gothic Revival church is located in Charleston's French Quarter. It was founded by Huguenots, and anybody is welcome to look around. With its Gothic Revival architecture and slightly pink hue, it's noticeably different from Charleston's other churches.
It's actually the only independently Huguenot church that still exists in America today!
7. Philadelphia Alley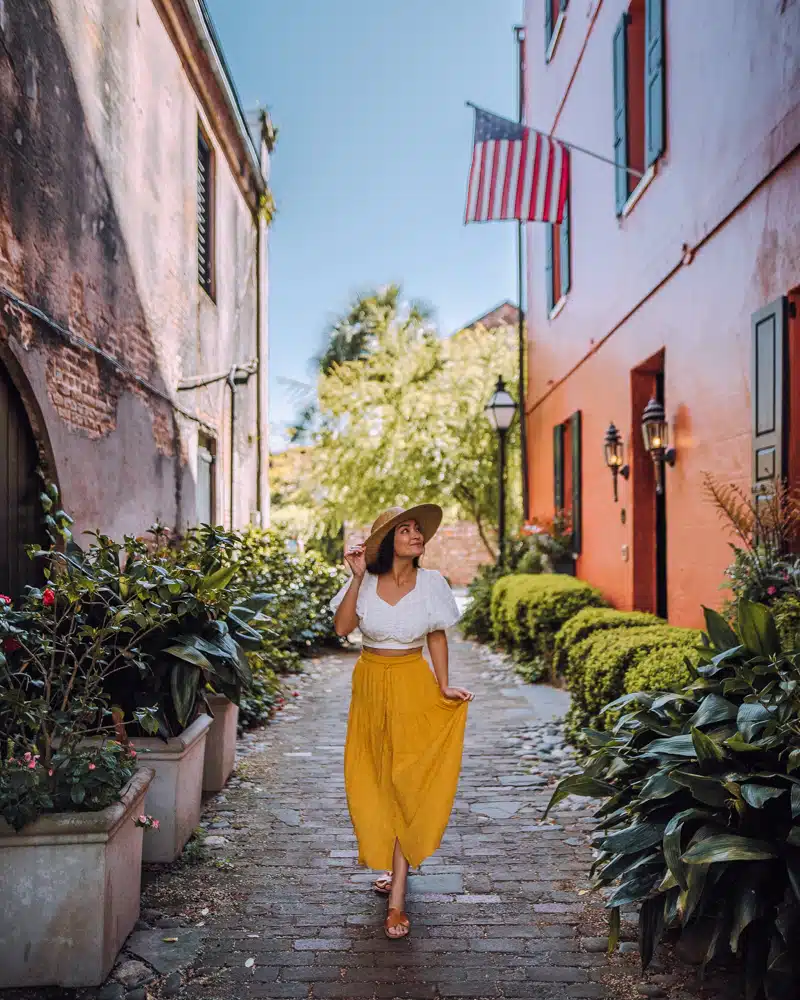 Don't miss this hidden gem in Charleston! Philadelphia Alley is a short alleyway that many people overlook while in Charleston. It is a beautiful historic road with shrubbery and charming houses on either side. The historical significance here dates back to the 18th century!
As you're walking down Philadelphia Alley, just imagine all of the people who have walked in the same path as you!
Here's a brief history of the name 'Philadelphia Alley':
Constructed in the mid-1700s, this charming walkway was originally called Kinloch's Court. However, the name switched to Philadelphia Street in 1811. Why Philadelphia? Some think it is due to the Johnsons, who once owned the land containing Kinloch's Court, since the eldest Johnson spent the final years of the Revolution in Philadelphia. Others think it is due to the relief funds that Philadelphia gave to Charleston after major fires in 1796 and 1810. Well, in 1952, the name was changed again, this time to Philadelphia Alley, since this walkway no longer qualified as an acceptable street. You can read more about its history here!
8. Charleston's Hidden Gardens
These hidden gems in Charleston are truly a bit hidden. As you're exploring the streets of Charleston, you'll notice that a few houses have spectacular gardens in Charleston. These are all on private property, but you can see them as you walk by.
Most notably, to me, is the garden pictured above, which is labeled as Shamrock Garden on Google maps. Shamrock Garden is a Boxwood Garden on Legare Street- what a beauty!
9. Morris Island Lighthouse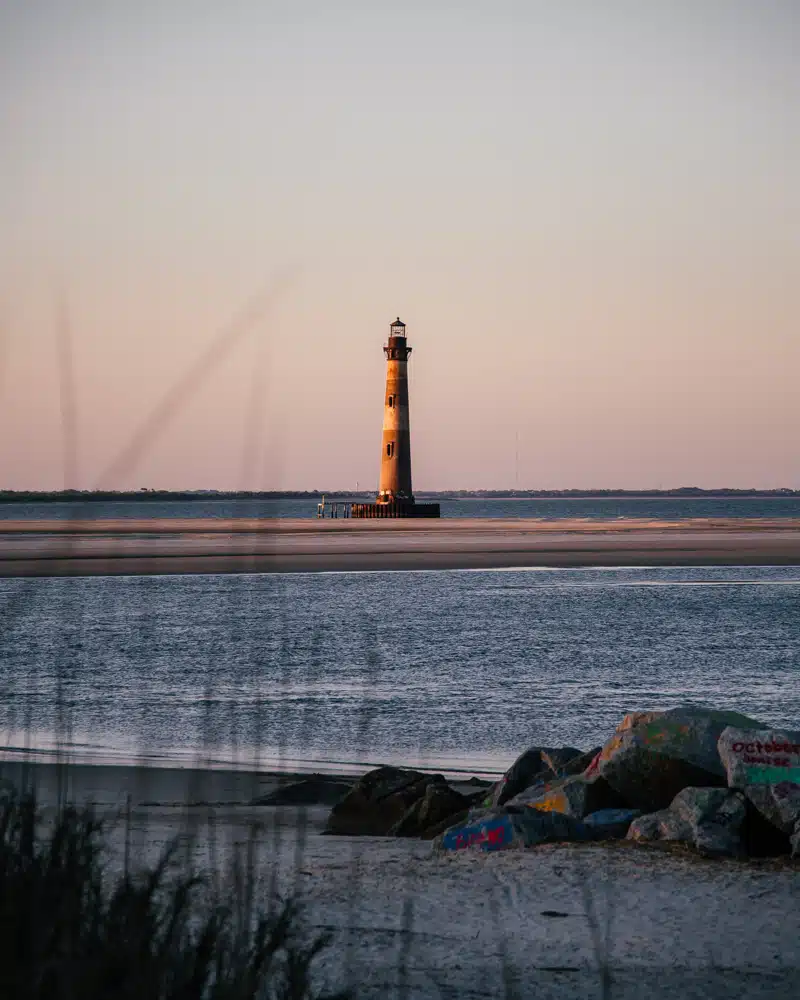 Folly Beach may be a popular beach when you're visiting Charleston, but did you know that there's a charming lighthouse further down the coast? It's true, and this lighthouse truly deserves a spot on this list of hidden gems in Charleston.
Morris Island Lighthouse is a grand traditional-style lighthouse that stands on the edge of Morris Island. There is a paved path on Folly Island that takes you to the beach across from the lighthouse. It's known as the Lighthouse Inlet Heritage Preserve, and you can enjoy lovely lighthouse views from it. It is open daily 6am to 8pm.
Photography tip: If you want a good photo of the Morris Island Lighthouse, you'll need a zoom lens. For reference, I got the photo above with this 24-120mm lens at full zoom. (You can see exactly what is in my camera bag and all of my gear recommendations here!)
10. McLeod Plantation
While Magnolia Plantation, Boone Hall Plantation, and Middleton Place are some of the more common plantations to visit, you might not know about McLeod Plantation. And that is exactly why it's one of the best hidden gems in Charleston.
McLeod Plantation is a Charleston attraction that is important to learn about. It is a cotton plantation that dates back to 1851, which used slave labor. By telling the stories behind all the people who lived at McLeod Plantation, this place does a great job at showing you what it was like being a slave and how slaves shaped Charleson's past.
You can visit the 37-acre plantation to learn about all aspects of this part of Charleston's complex history. It costs $20 for adults and $6 for children, and the entrance price includes a guided interpretive tour.
The plantation is open every day apart from Monday, from 9am – 4pm. They offer the guided tours hourly from 9:30pm -2:30pm.
11. Huriyali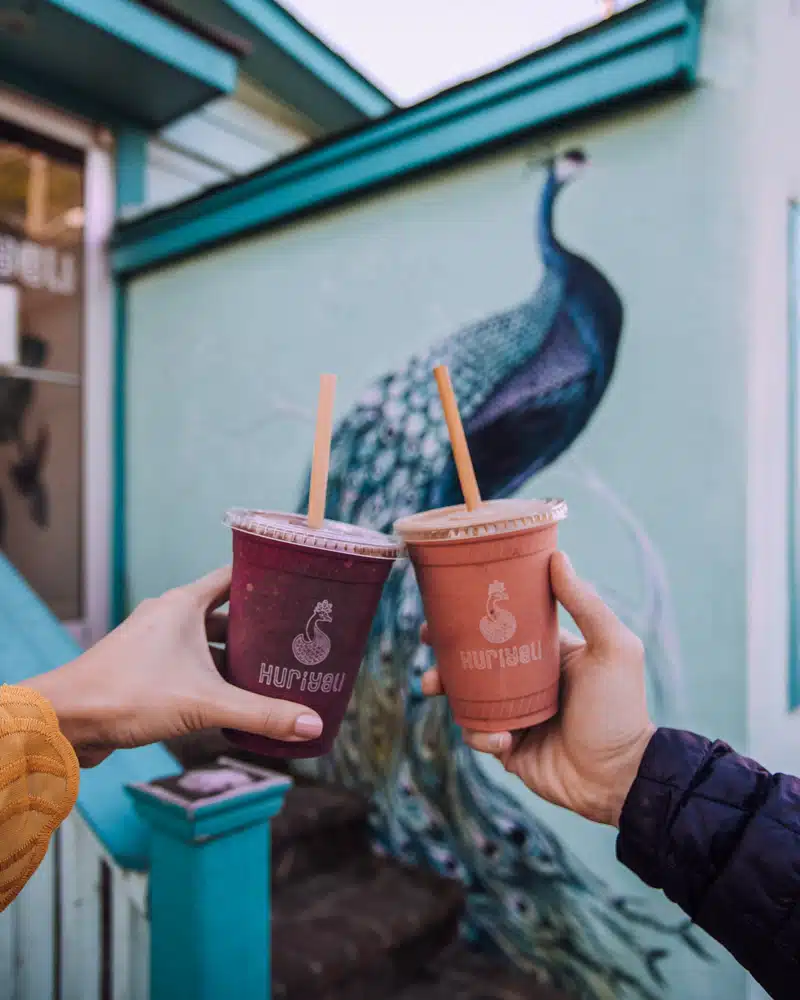 Huriyali is a wonderful organic restaurant where you can purchase the most delicious healthy food, including acai bowls and delicious sandwiches, with lots of vegan options.
Popular with mainly only locals, it's a pretty well-kept secret. It's slightly off the beaten path, which is probably why tourists overlook this place! We visited on our way to Cypress Gardens and enjoyed the smoothies pictured above.
Though we had our smoothies on-the-go, feel free to stay awhile! Their back patio is a charming place to enjoy a quick bite.
Prices are around $10 for an acai bowl or sandwich. At the time of writing, it is open from 8am – 6pm daily (though it closes at 3pm on Sunday).
12. Deep Water Vineyard
Though it's an hour away from Charleston, this hidden gem should be on your list.
Located on Wadmalaw Island, you'll find Charleston's only domestic winery: Deep Water Vineyard! You can do a self-guided tour here for $10 per person, which includes 6 samples from their wine list. There are 7 miles of vines to explore!
They grow muscadine wine as it comes from one of the only grapes native to the United States. Their four grape varieties of muscadine thrive in the warm South Carolina weather! While you might associate overly sweet wine with muscadine grapes, they do a great job of blending to create more dry wines. Taste it for yourself on your visit to the vineyard!
This next spot is also located on Wadmalaw Island, so be sure to stop here as well if you're visiting the Deep Water Vineyard!
13. Charleston Tea Garden
If you're a fan of tea, you've got to visit the Charleston tea garden. It is truly unique and a hidden gem as it's the only large-scale tea garden in North America! You'll see just how large once you arrive. Hundreds of thousands of tea bushes that stretch as far as your eye can see will welcome you!
And here's a fun fact: their American Classic Tea is the only tea brand in the world made exclusively with tea grown only in America.
There is no admission charge, although you will need to pay if you want to do a trolley tour. The tea garden opens at 10am every day, apart from Sunday when it opens at noon and closes at 4pm, and on certain holidays.
On another tea-related note, check out the next spot on this list for afternoon tea in downtown Charleston!
14. Afternoon Tea at Camellias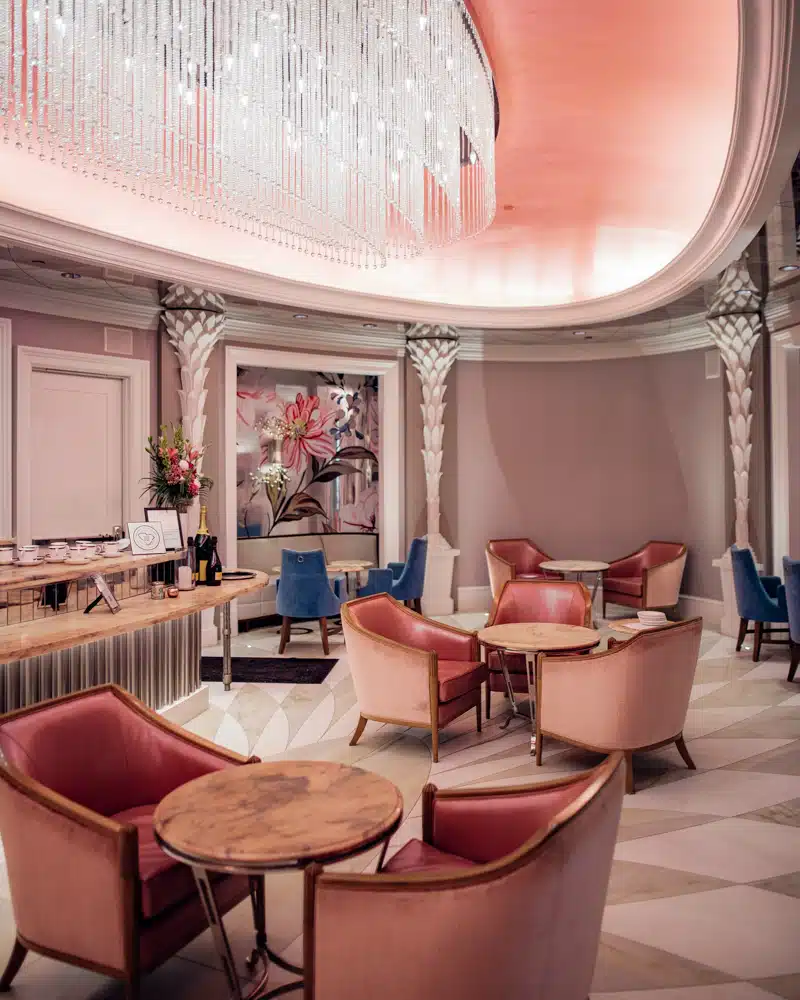 You might be familiar with Camellias, Charleston's pink champagne bar at Hotel Bennett. But here's what makes Camellias a hidden gem in Charleston: they offer afternoon tea!
Yup, Camelias is a gorgeous place for afternoon tea in Charleston. This champagne bar serves up delicious sandwiches and cakes!
Keep in mind that afternoon tea at Camellias is by reservation only. Call (843) 990-5418 to book.
Tea times are as follows:
Friday & Saturday: 11:30 AM – 1:30 PM and 2:00 PM – 4:00 PM
Sunday: 11:30 AM – 1:30 PM, 2:00 PM – 4:00 PM and 4:30 PM – 6:30 PM
At the time of writing, afternoon tea starts at $52 for an afternoon tea for an adult and $34 for a child. You can see all options and the full tea menu here– it is the perfect way to class up your afternoon!
15. Daytime Apps at The Citrus Club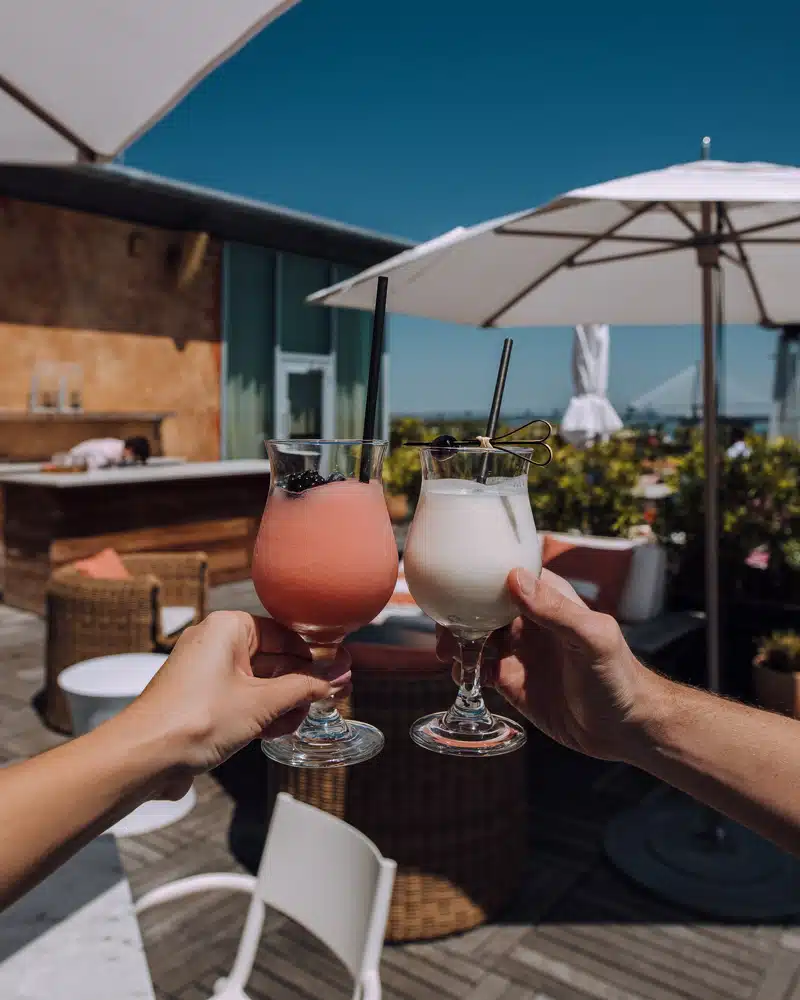 The Citrus Club is a luxury cocktail bar on the Dewberry Hotel's rooftop boasting impressive views of the whole of Charleston. It's quite popular in the evening, but don't miss out on the daytime ambiance here!
With gorgeous cocktails, a fantastic view, and perfectly designed decor, this spot is fantastic during the day. But the biggest highlight to me is their delicious apps. We ordered the crab dip, crispy shrimp, burger, and tropical fruit plate, and I'm getting hungry just thinking about them! (Seriously though- my husband and I still talk about that crab dip and the shrimp!)
It is open from 3pm – 8pm on Wednesdays and Thursdays, 12pm – 10pm on Fridays and Saturdays, and 12pm – 8pm on Sundays.
16. Sugar Bakery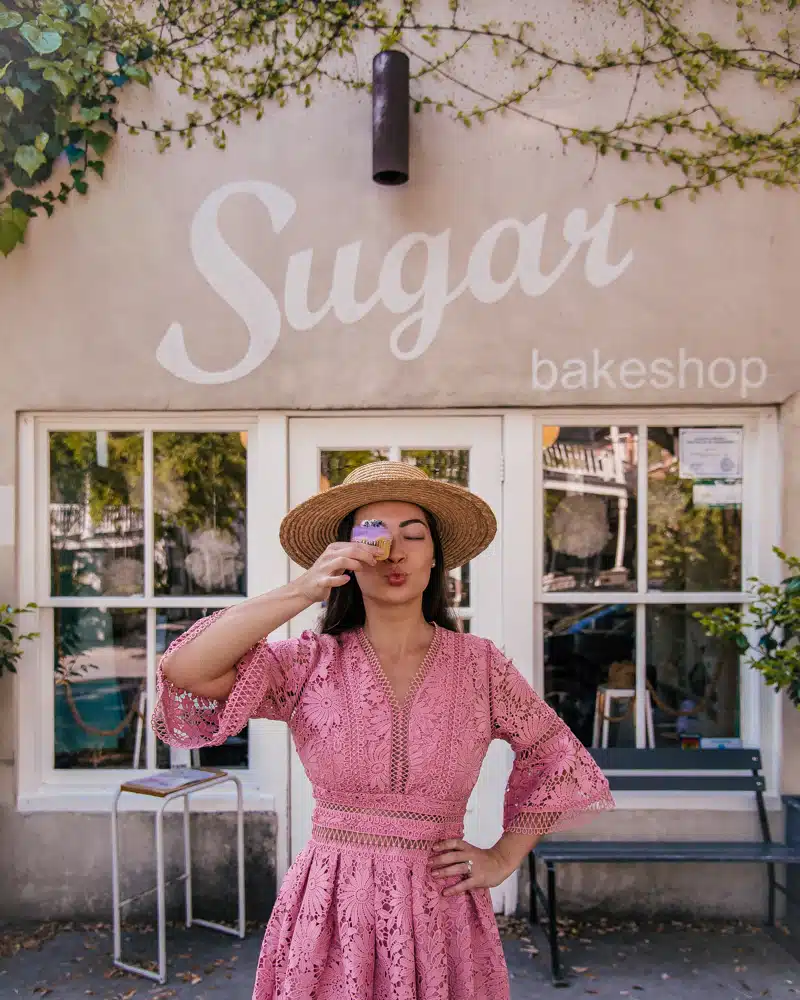 Sugar Bakery is a friendly local cake shop full of the most delicious sweet treats! Out-of-towners might miss this sweet spot since it's not in the popular areas of Charleston. But I'd encourage you to stop in for a treat!
They freshly bake all of their cakes from scratch and have a seasonal menu.
We picked up some goodies (a lavender-blueberry cupcake and a rainbow sprinkle cookie) for our flight back to Dallas. They definitely made our flight more fun!
The bakery is open from 10am – 5pm every day except Sunday.
17. Post House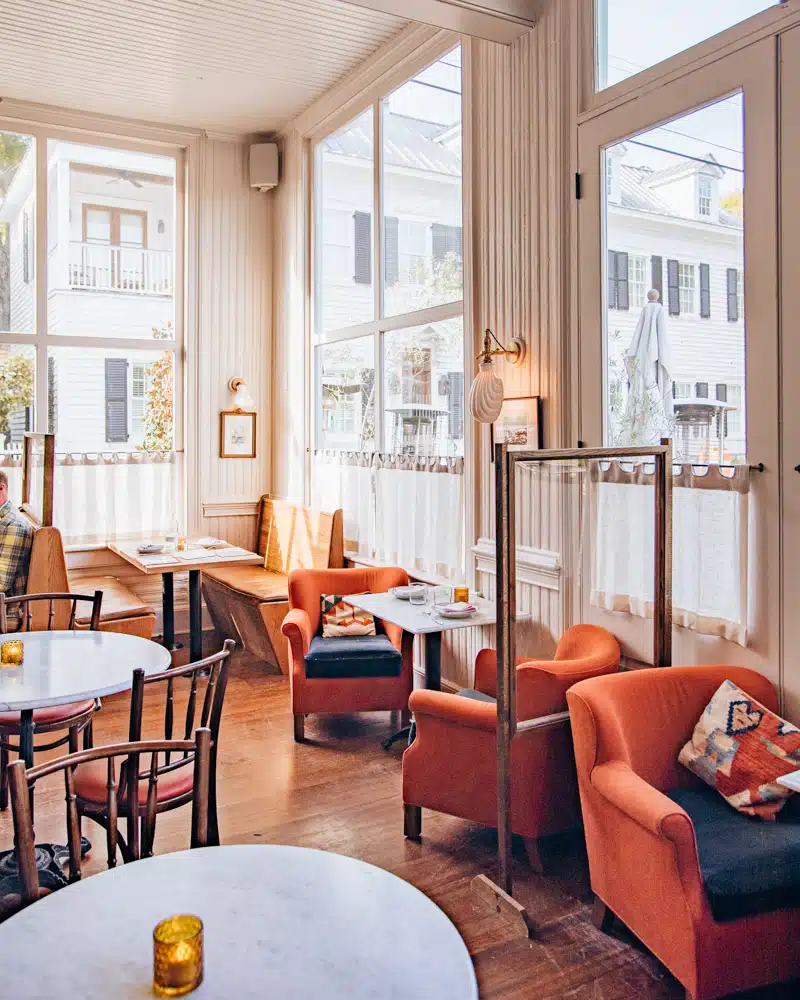 Located in Mount Pleasant, Post House is a cheerful inn that dates back to 1896. It has since been renovated by the same designers that did The Dewberry Charleston! While you're exploring Mount Pleasant or are on your way to or from Sullivan Island, stop in and dine at the Post House restaurant. At the Post House, you can enjoy cocktails and/or delicious fresh food! I highly recommend the cornbread… some of the best cornbread I've ever had!
And as far as hotels go, with their trendy interiors located in such a charming neighborhood, I'd go as far as saying it's the best hotel on Mount Pleasant! So if you're looking to stay somewhere away from the hustle and bustle of downtown Charleston, keep the Post House in mind.
18. John Rutledge House Inn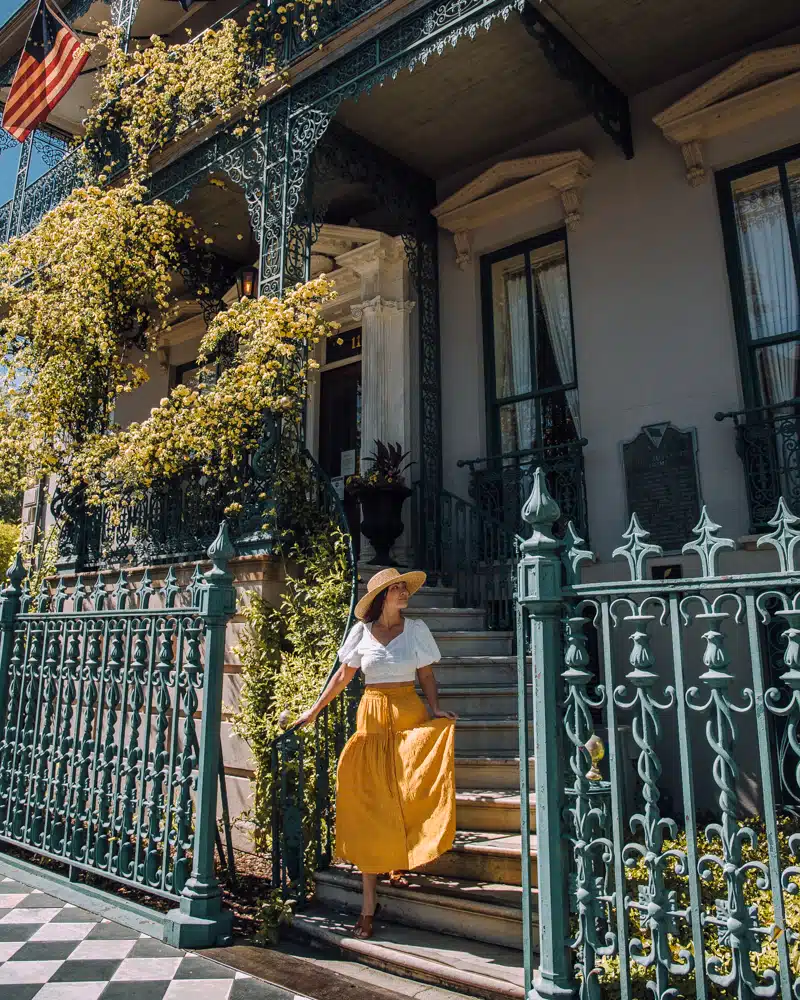 If you're looking to stay somewhere unique in downtown Charleston, here's one of the best hidden gems in Charleston as far as hotels go! While you might be familiar with some of the bigger or more prominent hotels in Charleston like the Francis Marion and Hotel Bennett, don't overlook this boutique inn.
Can you believe that you can stay somewhere that someone who signed the United States Constitution once called home?
The John Rutledge House Inn is a hotel, but it's worth visiting even if you are staying elsewhere since it's also a historic landmark. The 19-room inn has an extensive history spanning back to 1763 and has many interesting and quirky historical features. It has a gorgeous facade with the most charming checkered sidewalk in front of it!
In conclusion…
As you can see, there are so many hidden gems in Charleston! Which are you most excited to visit?
If you know of any other hidden gems, let me know in the comments! I'd love to check them out on my next trip to Charleston!
And if you're heading to Charleston, here's another post you might enjoy:
Safe travels!
Jasmine
PS. If you found this post helpful, please share it to Pinterest! You can use either image below for easy pinning!