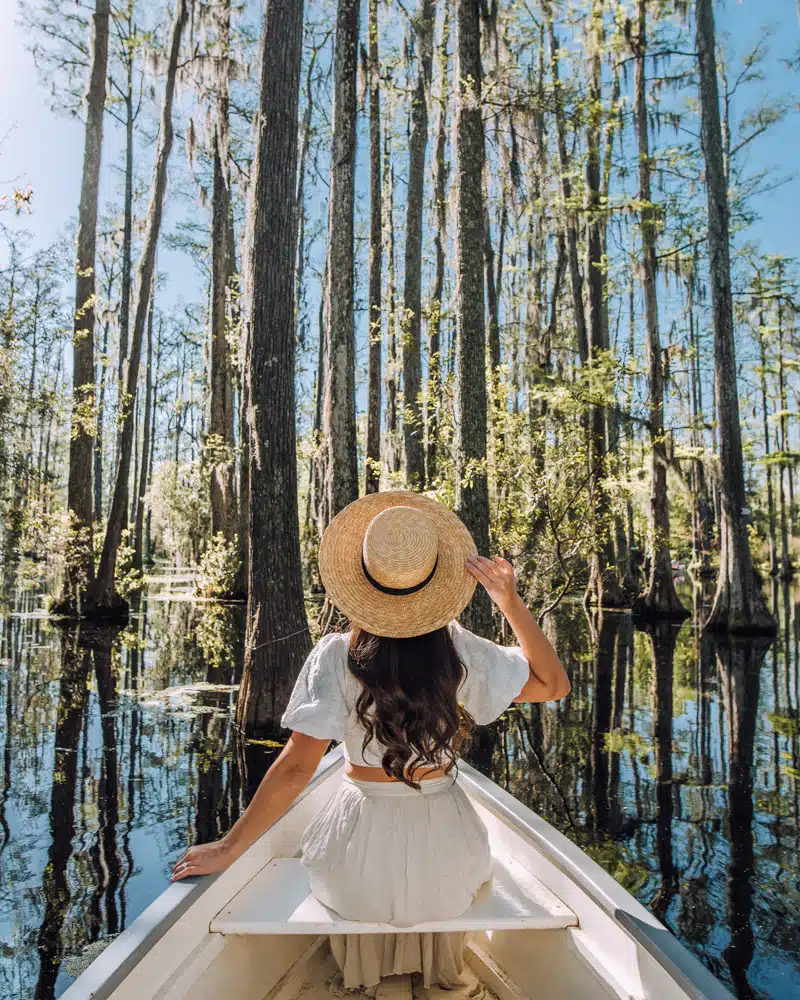 Charleston, South Carolina is one of my favorite destinations on the East Coast. I can't wait to show you why! So to best share its beauty with you all, I've put together a list of the prettiest places in Charleston.
With stunning plantations, exquisite nature, gorgeous sunsets, and a charming downtown, there's no shortage of beautiful places in Charleston.
Whether you're looking for a scenic spot for a family vacation, are a photographer who loves to travel, or are simply looking for the most Instagrammable places in Charleston to add to your Instagram feed, you're in the right spot.
Here I'll cover (in this order) the best nature spots, scenic beaches, prettiest parks, iconic landmarks, historic churches, idyllic streets, beautiful buildings, coolest restaurants, and gorgeous hotels in Charleston. Whew, that's a mouthful! But trust me, they all deserve to be called the prettiest places in Charleston.
Let's get into it so you can see why!
Also, you can see many of these gorgeous locations in the video I made from my trip there!
[If you don't see a video player below, you may need to disable your ad blocker!]
1. Cypress Gardens
With 170 acres, Cypress Gardens is teeming with picturesque views, just 35 minutes from downtown Charleston. Remember the boat scene from The Notebook? Well, it was filmed here! You can explore by boat or on foot as you take in one of the prettiest places in Charleston: 80 acres of blackwater cypress and tupelo swamp. It costs $10 per adult, which includes a self-guided boat tour through the swamp (the boats are first-come-first-serve, so get here early if you can!). Keep your eyes peeled for alligators- we saw one swimming in the water and another relaxing on the banks.
2. Boone Hall Plantation Avenue of the Oaks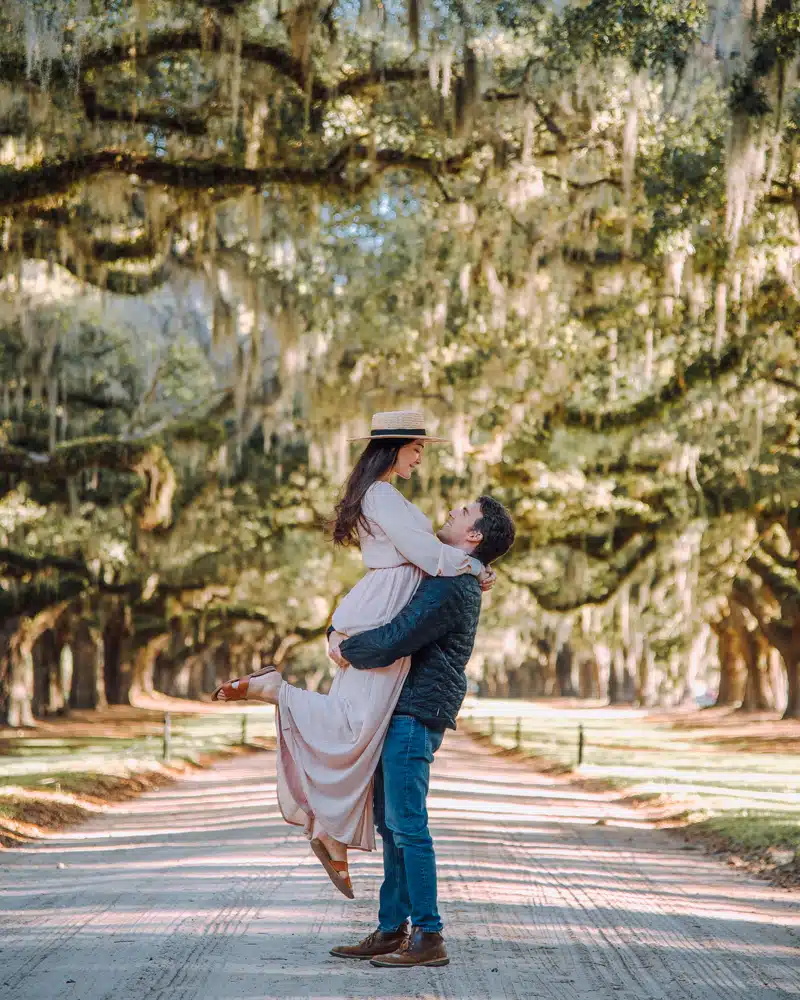 One of the most notable things about Charleston is its plantation history. There are three stunning plantations that I'd deem as some of the most beautiful places in Charleston. First, let's head about 25 minutes east of Charleston to Mt Pleasant, South Carolina. Here you'll find Boone Hall. The historic estate of Boone Hall Plantation & Gardens is something out of a regency novel. Wander by the creek to see ancient drooping branches that form amazing shapes. The formal gardens and Boone Hall itself are also stunning. But in terms of beauty, most notably, to me, is the Avenue of the Oaks, pictured above. You'll need to pay the $26 admission fee before you can enter the plantation (the gate is before the Avenue of the Oaks, so you can't just stop here for a quick photo without paying), but it's worth it to take in all the beauty and history here! That admission price covers all the fascinating tours here.
3. Magnolia Plantation and Gardens
Boone Hall isn't the only plantation with stunning oak trees; you'll also find them on Oak Avenue at Magnolia Plantation. Magnolia Plantation and Gardens is definitely one of the most beautiful places in Charleston to me. Photos are a must at Magnolia Plantation, and its tree-lined Oak Avenue is perfect for romantic couple shoots! If you visit in early April, chances are you'll catch the azaleas here at peak bloom! But regardless of when you visit, this place will blow you away. Tickets cost $20 per person, and it's worth every penny!
4. The White Bridge at Magnolia Plantation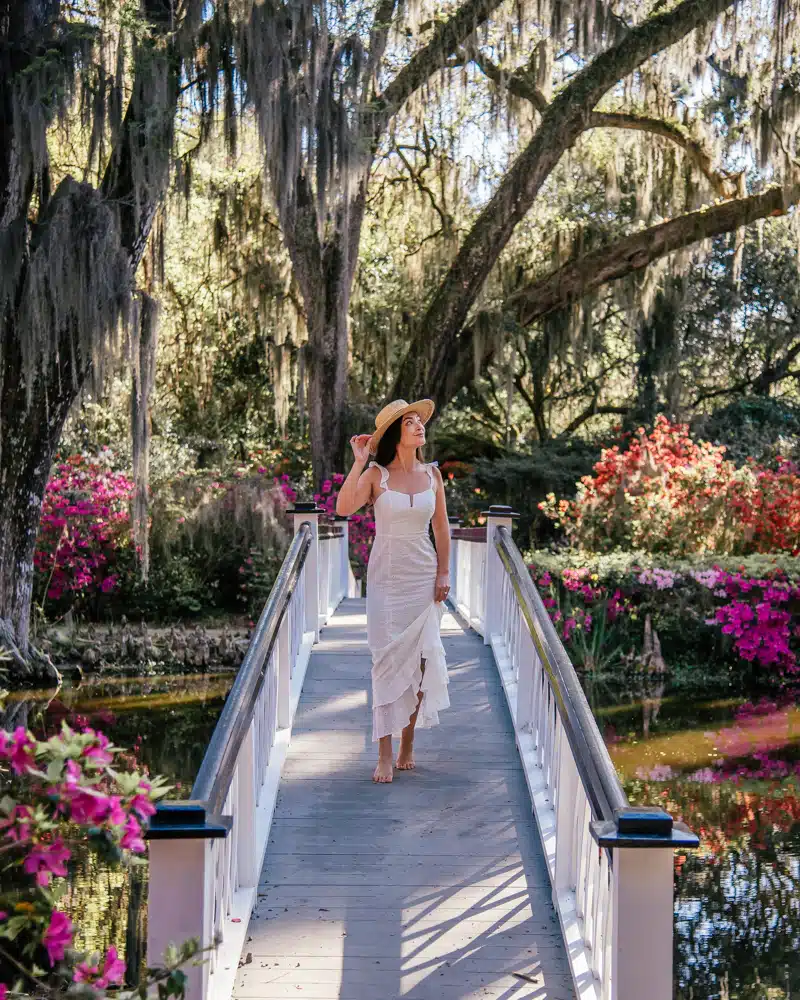 Wander further in at Magnolia Plantation for stunning blossoms, a serene pond, and a picture-perfect bridge. This spot deserves its own spot on this list of prettiest places in Charleston! If you visit early (basically right when they open), you'll get a chance at photographing the most picturesque white bridge. Another perk to going right at opening is how still the water is in the morning- it creates the most perfect mirror lake! The white bridge and latticed rail stands out sharply against the serene pond and draping branches.
5. Middleton Place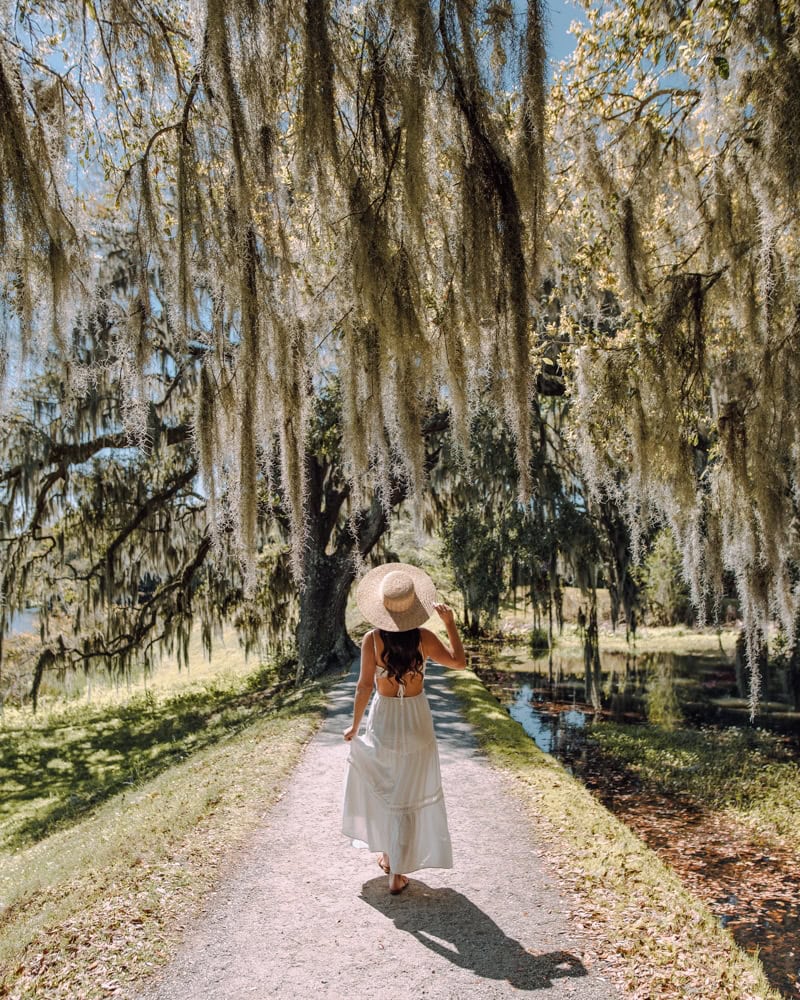 Just a quick six minutes down the road from Magnolia Plantation, you'll find Middleton Place. Most notably, Middleton Place houses America's oldest landscaped gardens! You'll find these gardens alongside plantation stableyards and a house museum, all of which backs up to a flooded rice field. Spend a few hours here to explore its entirety! There are so many inspiring corners, although I think that the butterfly ponds and garden pathways really steal the scene! Get your tickets here online (they're cheaper that way! $26 at the time of writing, compared to $29 at the gate.).
6. Shem Creek Park
Just a quick drive over the Arthur Ravenel Jr. bridge and you'll find one of Charleston's prettiest photo spots! For a particularly Instagrammable photo, let your hair down for some dramatic photos as you frolic over the boardwalks of Shem Creek Park. Combining wetlands, wildlife, and fishing boats, you'll have plenty of subjects to turn your camera on. Visit at sunrise for a magical (and free) experience listening to the wildlife.
7. Sullivan's Island
Continue southeast from Shem Creek Park and you'll reach Sullivan's Island. Both town and island, Sullivan's Island is a charming part of South Carolina with beautiful neighborhoods and shoreline! I recommend taking photos at sunset on the beach here. The grass-lined path to the lighthouse is mesmerizing (though it isn't my favorite lighthouse here… you'll find that in a few spots!). (PS. Linked my dress here!)
8. Isle of Palms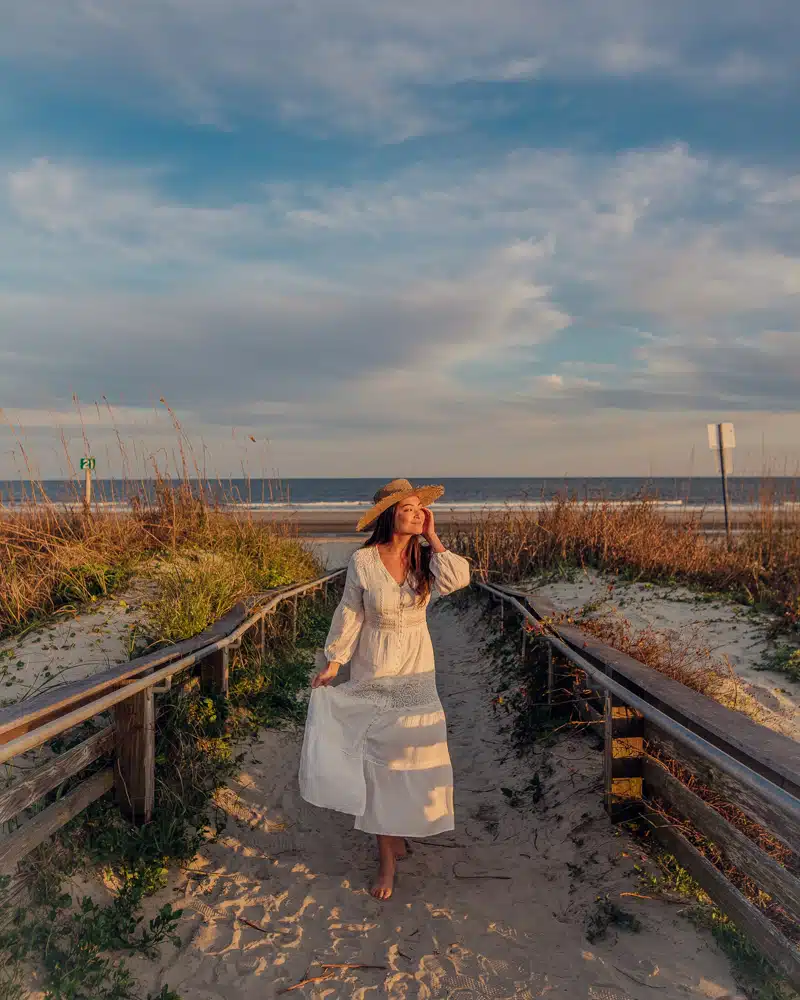 Another barrier island to photograph is the Isle of Palms. Just east of Sullivan's Island, Isle of Palms is dressed with beaches, condos, and hip eateries. It's a summer paradise that is beautiful all year round! Keep your eyes peeled for people gliding in the skies, the murals by the beach, and other beautiful coastal scenery. We especially loved spending golden hour at the beach here.
9. Folly Beach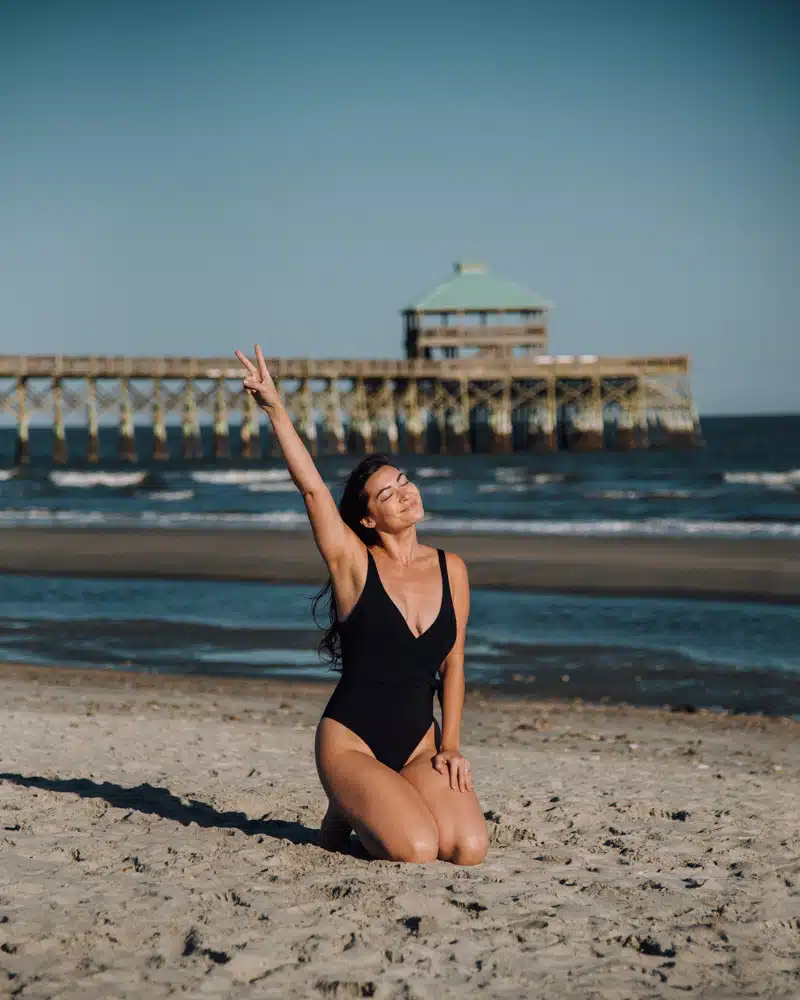 When it comes to sandy goodness, Folly Beach makes the list of the most Instagrammable places in Charleston. Its heritage preserve overlooks the Morris Island Lighthouse while Center Street is full of colorful surf shops and souvenir kiosks. Best yet, Folly Beach Pier takes you 1,000 feet into the ocean.
10. Morris Island Lighthouse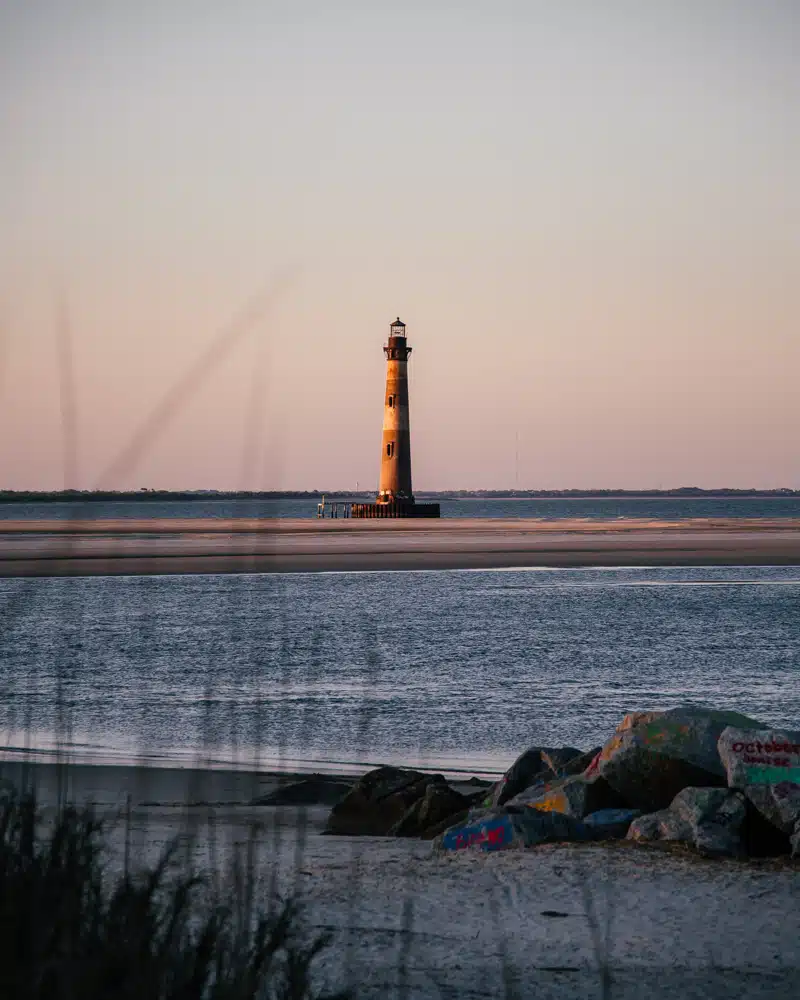 Standing at 161 feet high, Morris Island Lighthouse is an attention grabber! It's off the coast but you can get a great view of it at the very end of Folly Beach. Swing by during sunset when its striped body takes on red hues. You can frame your shot with the rocks on the beach and seagrass. It's one of the most beautiful places in Charleston to me! You'll need a zoom lens if you want to capture a good shot of the lighthouse. I used my 24-120mm lens, and you can see exactly what is in my camera bag here!
11. Brittlebank Park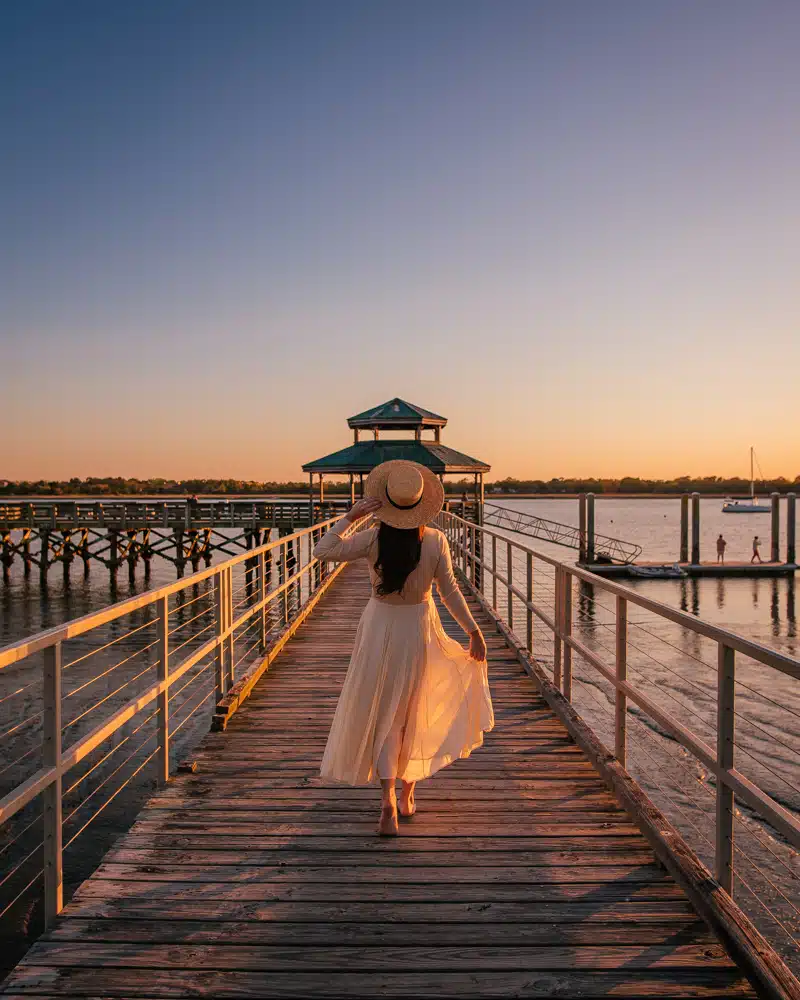 When it comes to the prettiest parks in Charleston, Brittlebank Park is a must. With 10 acres of green situated on the Ashely River, sunset views along the waterfront are spectacular. It's an Instagrammable place in Charleston that is easy to get to and free to access! (PS. If you're looking to improve your Instagram this year, check out this post on 31 tips to do just that!)
12. Hampton Park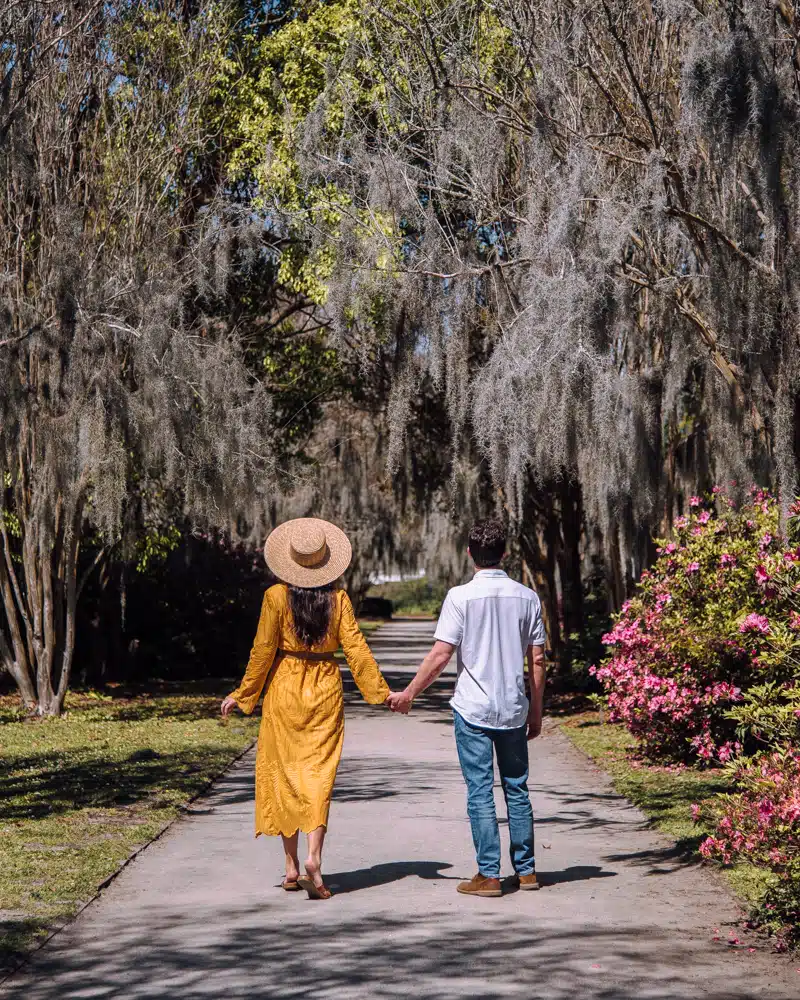 Hampton Park is a generous 60-acres of greenery and is the largest park on the Charleston peninsula. Go crazy photographing the flowers, oak trees, ponds, and the pretty gazebo in the center of it all! There are plenty of backdrops for you to discover.
13. Pineapple Fountain
Let's move on to the best Charleston photo spots that are uniquely Charleston. The intricately shaped Pineapple Fountain is the centerpiece of Charleston Waterfront Park. Symbolizing Southern hospitality, it's an iconic landmark for visitors! Try to snap a shot during sunset for extra dramatic effect or visiting in the morning hours to avoid the inevitable crowds. Since it is so iconic, it easily is one of the most Instagrammable spots in Charleston.
14. The Battery
While its name is derived from the civil war artillery battery, The Battery is an idyllic stretch along the Charleston peninsula. Hemmed by sea and a row of beautiful antebellum houses, this promenade is a versatile Instagram shoot location, and is an iconic Charleston photo spot.
15. Pitt Street Bridge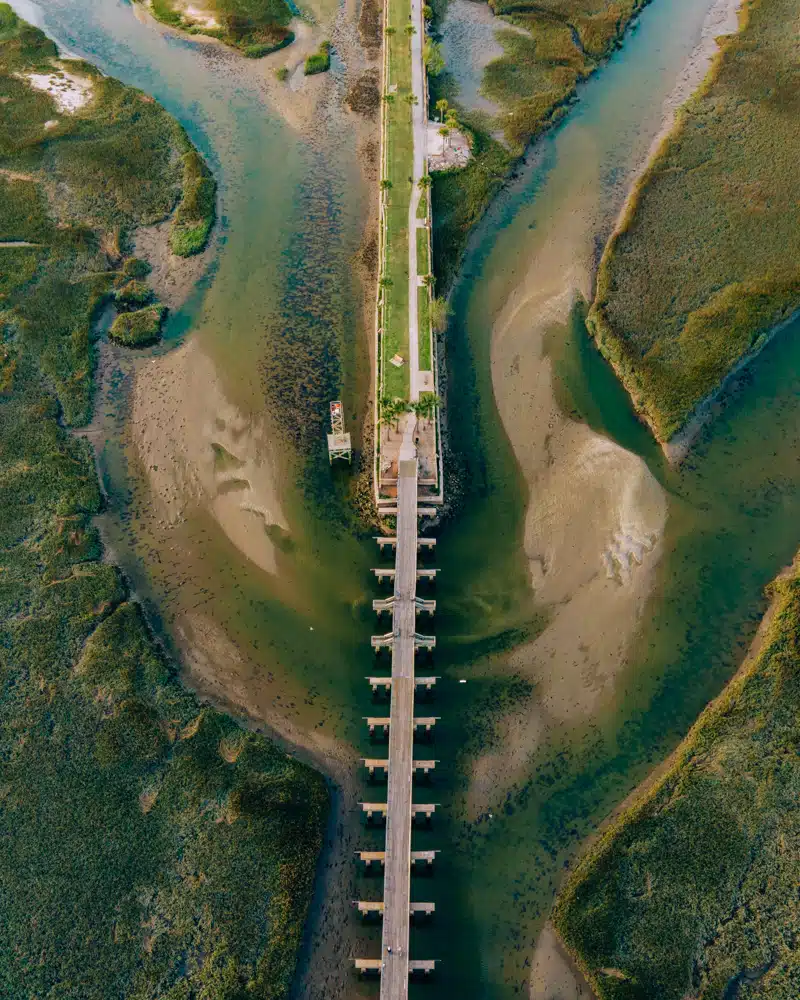 Mount Pleasant's iconic Pitt Street Bridge has seen long history. First a wooden pier, then a trolley bridge, it's now a modern greenway that carries both pedestrians and bicyclists. This quaint trek hovers over water, framed by original wooden sections and serene add-ons. The prettiest photo spots on this bridge in Charleston include the palm-tree-lined walkway and a drone shot from above. (This is the drone we have!)
16. Arthur Ravenel Jr. Bridge
For a more famous Charleston bridge, this spot is a must when it comes to the prettiest places in Charleston. It's also one of the most iconic! Connecting Charleston to Mount Pleasant is the third-longest cable-stayed bridges in the west: the Arthur Ravenel Jr. Bridge. While it's a majestic sight from far away, you can also take some cool photos if you're in the passenger seat while driving under the bridge.
17. Marina at Charleston Harbor Resort
This spot is one of the most Instagrammable places in Charleston because of the vibes it evokes. Head to the marina which you'll find at the Charleston Harbor Resort for a luxurious photoshoot. Just imagine luxury yachts lined up next to boardwalks and a sandy harborside leading out onto the water!
18. St. Philip's Church
You can't have a prettiest places in Charleston list without some of the most beautiful churches in Charleston. Let's start off with St. Philip's Church. The layered spire tower of St. Philip's Church is unmissable! Snap a shot of its entirety before ducking inside for contrasting photos. The arched ceiling and decorative pillars of the main hall cast a reverent feel.
19. French Huguenot Church
You can't tell by just looking at it but the French Huguenot Church had to be rebuilt several times. The final edifice is done in Gothic Revival style with black accents and edgy spires along the perimeter. I personally love how it is a charming shade of pink- anything pink seems to be Instagram-worthy! You can enjoy aesthetic moments both outside and inside this church.
20. Saint Michael's Church
Located on Broad Street, you'll find one of Charleston's oldest religious structures there: Saint Michael's Church. Built mid-1700s, it stands out with its white-washed façade and jutting tower. Take a photo at its pillared-entrance or inside with its diamond-patterned tiles. (My top is from this set!)
21. Stoll's Alley
Take a stroll down memory lane with Stoll's Alley! Dating back to the 1700s, the ancient brick passage shows every bit of its history. Take a photo of how narrow it is – just 5 feet wide, you can touch both walls with your arms spread open.
22. Philadelphia Alley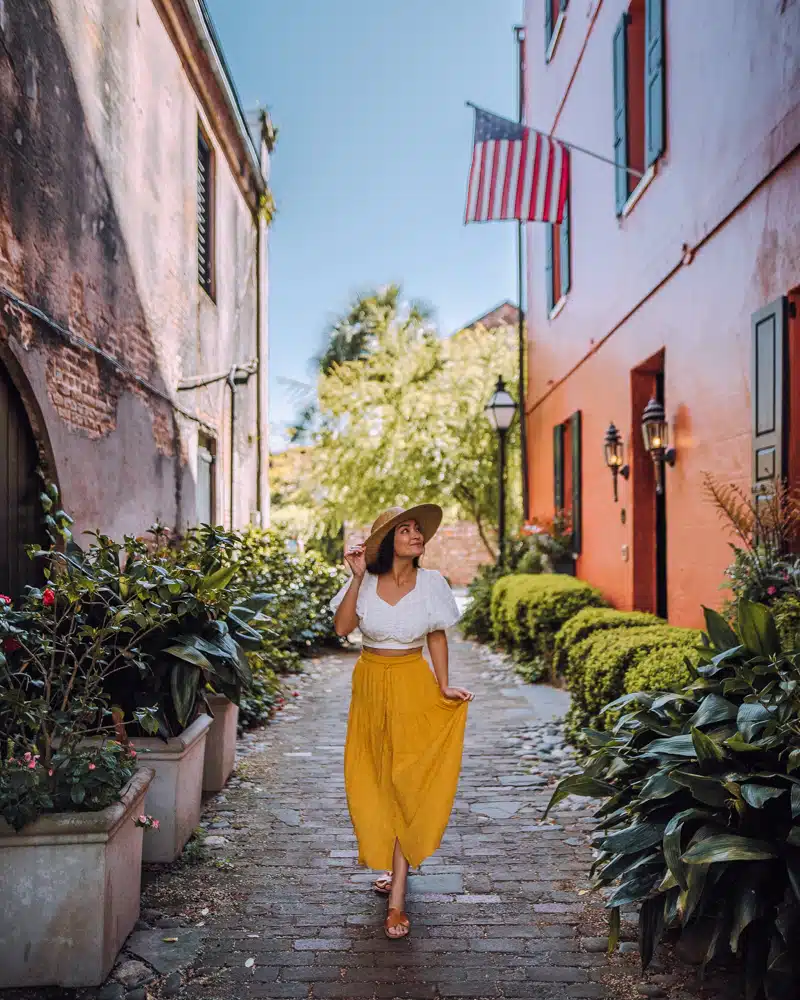 Philadelphia Alley may just be one block between Queen Street and Cumberland, but its history runs back to 1776. Read the historical marker for an in-depth lesson or lean up against it for a picture! Low country charm, red-painted wall on one side and worn brick on the other; it's undeniably camera-worthy.
23. Chalmers Street
Charleston's French Quarters features one of the prettiest streets in Charleston: Chalmers Street. This original cobblestone street gives me European vibes, which makes it especially perfect as an Instagrammable photo spot in Charleston. You can also take a photo of the famous Pink House here.
24. Broad Street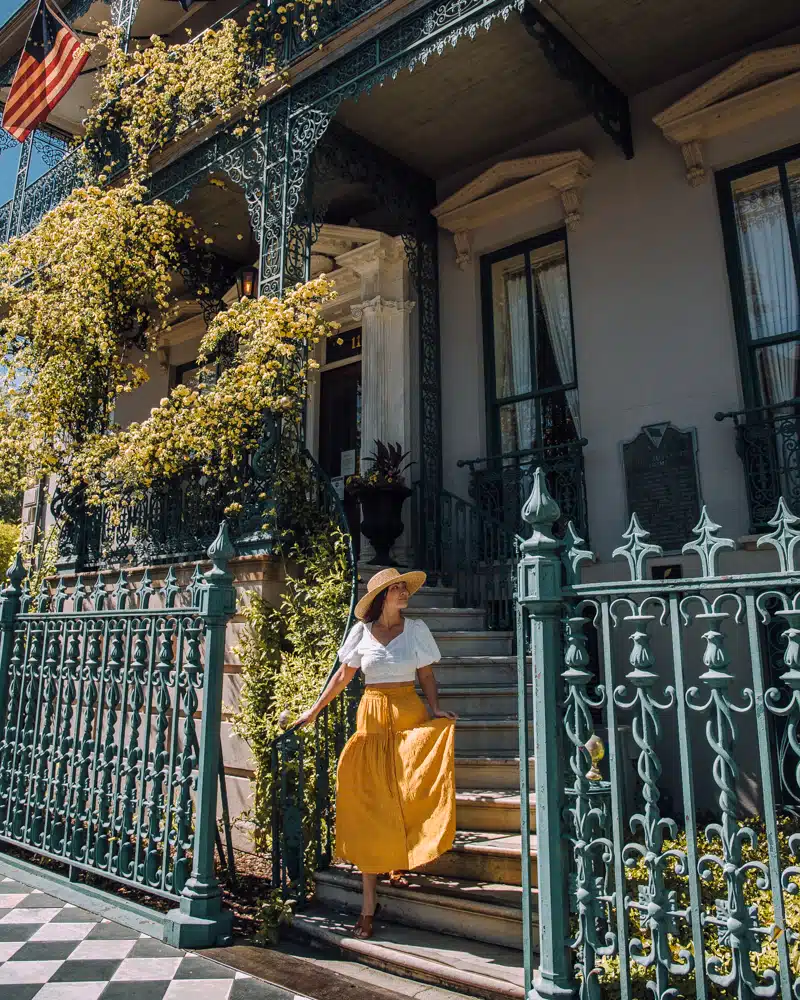 Historic Broad Street offers a variety of views and backdrops. Every residence and shop front holds a distinct style – whether it is in form of French windows, pastel coloring, or brick arches. My personal favorite building on Broad Street is the Rutledge House Inn. Its flowers and checkered walkway make it one of the most Instagrammable spots in Charleston!
25. King Street
Named after King Charles II of England, King Street lists among Charleston's most significant streets. Over 300 years old, it now houses trendy eateries, antique shops and brick legacies. Bring history to your camera roll or Instagram feed!
26. South of Broad
One of the prettiest areas in Charleston is definitely South of Broad! Teeming with historical homes and heritage structures, every tree-lined street in this neighborhood becomes a photo op. Get some shots in front of arched doorways, iron-wrought gates, or brightly hued walls. (My favorite is the generously decorated flower boxes you'll find on the houses here!)
27. Legare Street's Shamrock Garden
The houses on Legare Street are surrounded by canopied driveways, doors framed by creeping foliage. Here you can snatch peeks at beautiful gardens behind intricate gates. One thing you might overlook on a casual walk by is this stunning garden, labeled the Shamrock Garden on Google Maps. Though it's private and behind a gate, you can still appreciate its beauty from the sidewalk.
28. Rainbow Row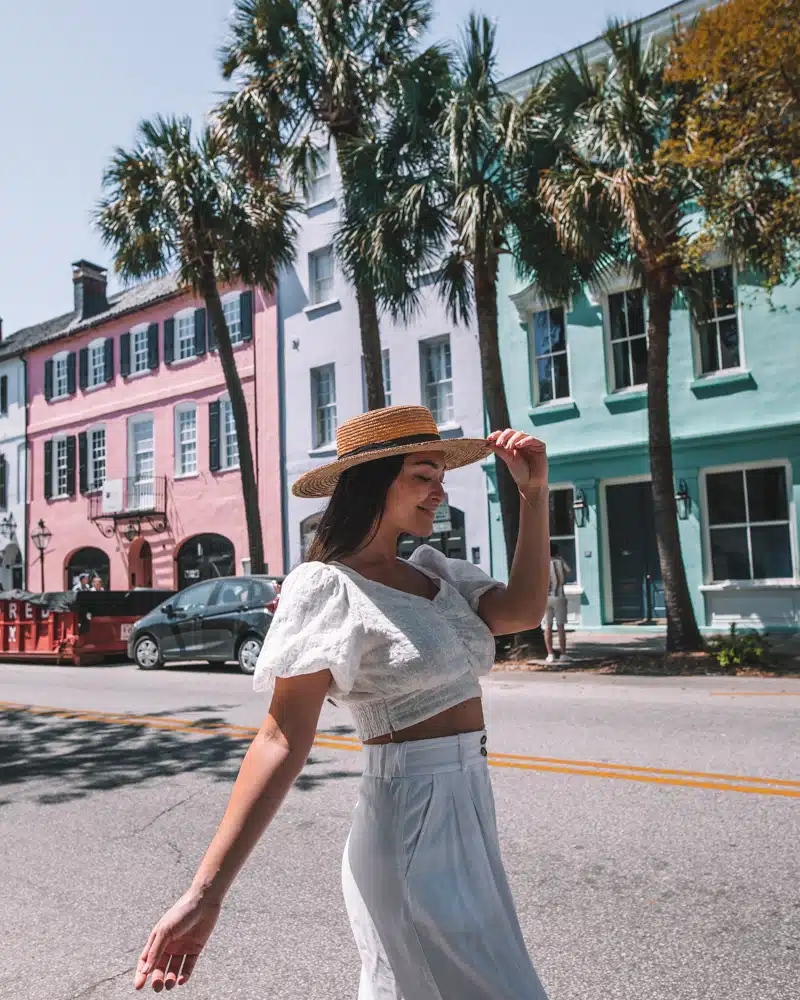 13 colorful historic houses make up the Rainbow Row. Located on East Bay Street, they sit right along the Battery. Whether you take stills of the houses or pose for a close-up, they'll add bright pops of color to your Instagram feed. No wonder it's one of the most Instagrammable places in Charleston!
29. Historic Charleston City Market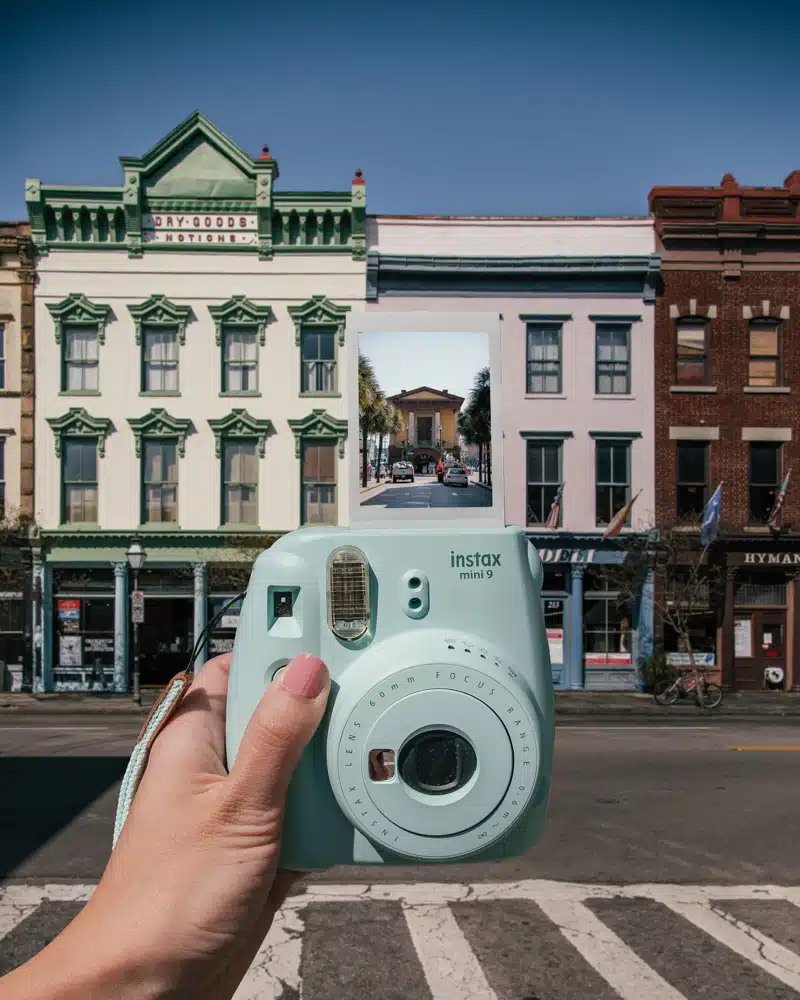 The grand pillars guarding the entrance make a stately addition to your photos, but the interior is a wholly different vibe! Stretching out 4 blocks in a beautiful train of brick buildings, Charleston City Market hosts over 100 vendors of handcrafted jewelry, eateries and knick-knacks. You can see the Charleston City Market in the polaroid photo; I took the photo of me holding my Instax in front of these colorful buildings right next to the market.
30. United States Custom House
Built throughout the 1800s, the United States Custom House is a gorgeous building with magnificent architecture. The checkered landing out front adds an interesting layer to an already cool place. Come in the morning to find it empty for a particularly Instagrammable moment in Charleston.
31. American Theater
Opened in 1942, American Theater really captures the architectural trends of the time – Art Deco meets Hollywood glam. The result is a clean façade with an all-American signage, great for some kitschy photos!
32. Dock Street Theatre
As the legendary "America's first theatre", Dock Street Theatre opened in 1736 and is a must-photograph when you're in Charleston. Take photos of its Federal-style exterior; the columns and teal ironwork are incredible. Then prop yourself on the red plush pews of its grand theatre hall – balcony seats included.
33. Candlefish
If the smells don't entice you, maybe the Mediterranean-style display windows would. Candlefish is like an apothecary for candles – shelves upon shelves of glass-encased candles! Don't miss out on their "Library" and its sliding ladder. With bright whites and terrific smells, it's no surprise Candlefish is one of the prettiest places in Charleston.
34. Hægur Plant Shop
Workshop and nursery – there's always something new at Hægur Plant Shop. Originally a mobile truck that delivers leafy plants to you, they have now settled roots in an industrial, moody space. Snap up the unique planters, lush plants, and aesthetic setup! Plants are always welcome on my Instagram feed, and this place is a particularly Instagrammable shop in Charleston.
35. Felix Cocktails et Cuisine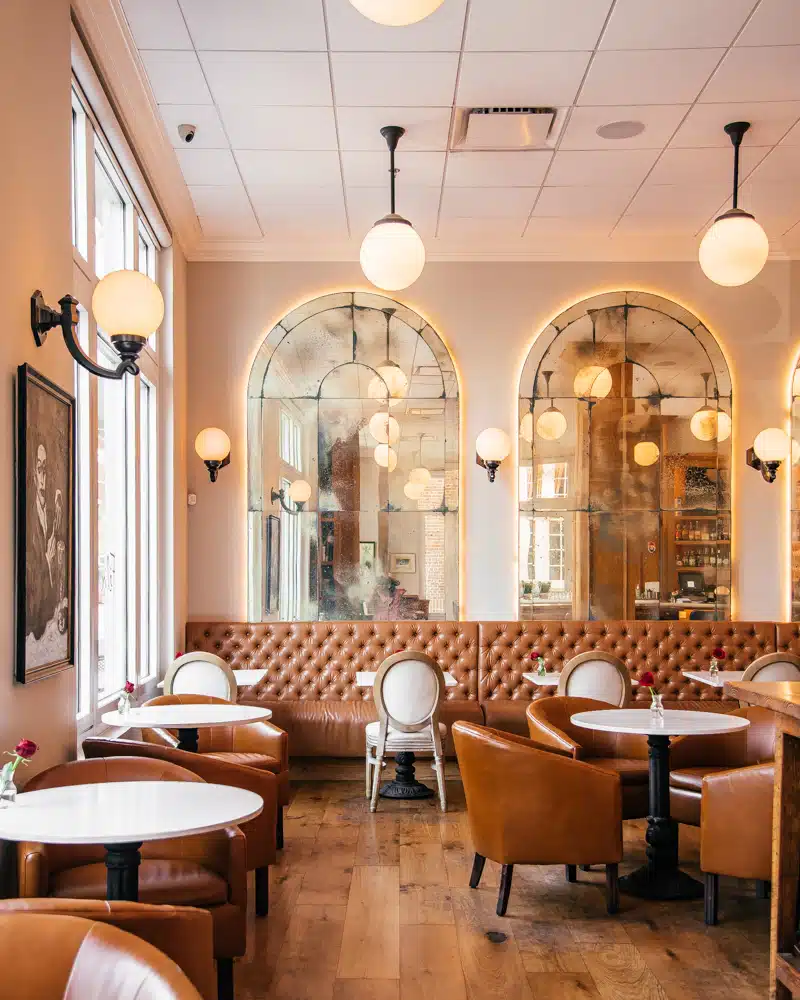 Let's transition into the prettiest restaurants in Charleston! Felix Cocktails et Cuisine is a sight for anyone who loves interior decor, pairing neutral-toned furniture with occasional pops of blue. The series of arched mirrors behind the padded car seats is a photography highlight, but aim for a shot at the bar too! Hands down one of the most Instagrammable restaurants in Charleston!
36. The Darling Oyster Bar
There's so much character to photograph at Darling Oyster Bar! Nestled in a 115-year-old store front, the restored interior features dark brick, rich wood tones contrasting with teal booths, and a wrap-around bar. Make sure to get the raw oyster platters on your Instagram feed.
37. The Palmetto Café
The airy and bright interior of Palmetto Café and its lush courtyard is farmhouse meets Mediterranean. There's plenty of light for photo taking! And the food? You'll enjoy a visual and mouthwatering feast. The Palmetto has my favorite french fries in all of Charleston! The crab cake, fried oysters, crab soup, and chicken salad are also absolutely divine.
38. Basic Kitchen
The rush of energy you receive from Basic Kitchen's menu applies to the chic palette of their décor as well. Mint barstools, leather sofas, fun pendant lights, and big windows create a fun diner to photograph!
39. Citrus Club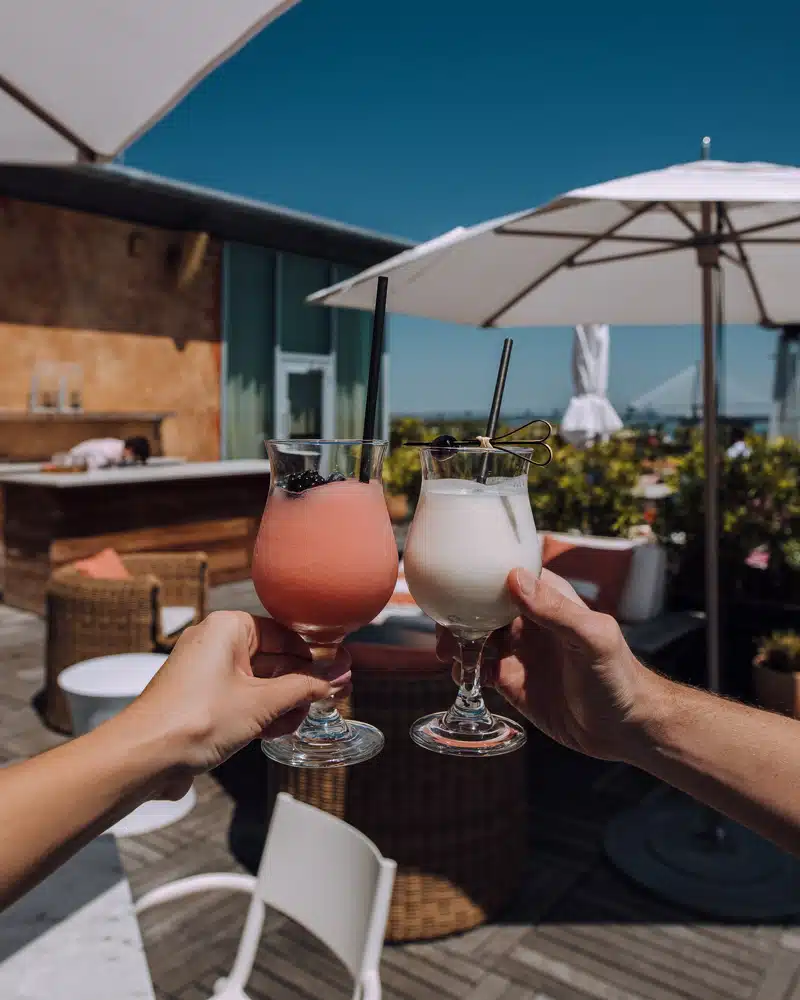 If you're a huge fan of mid-century style, visit Charleston's highest rooftop bar – the Citrus Club. Featuring citrus-based cocktails and cushy terrace seating, you'll fall in love with the views. My favorite things here are the crispy shrimp, crab dip, frozen sangria, and tropical fruit plate! Definitely one of the prettiest places in Charleston when it comes to rooftop bars! It's located at The Dewberry Charleston.
40. Camellias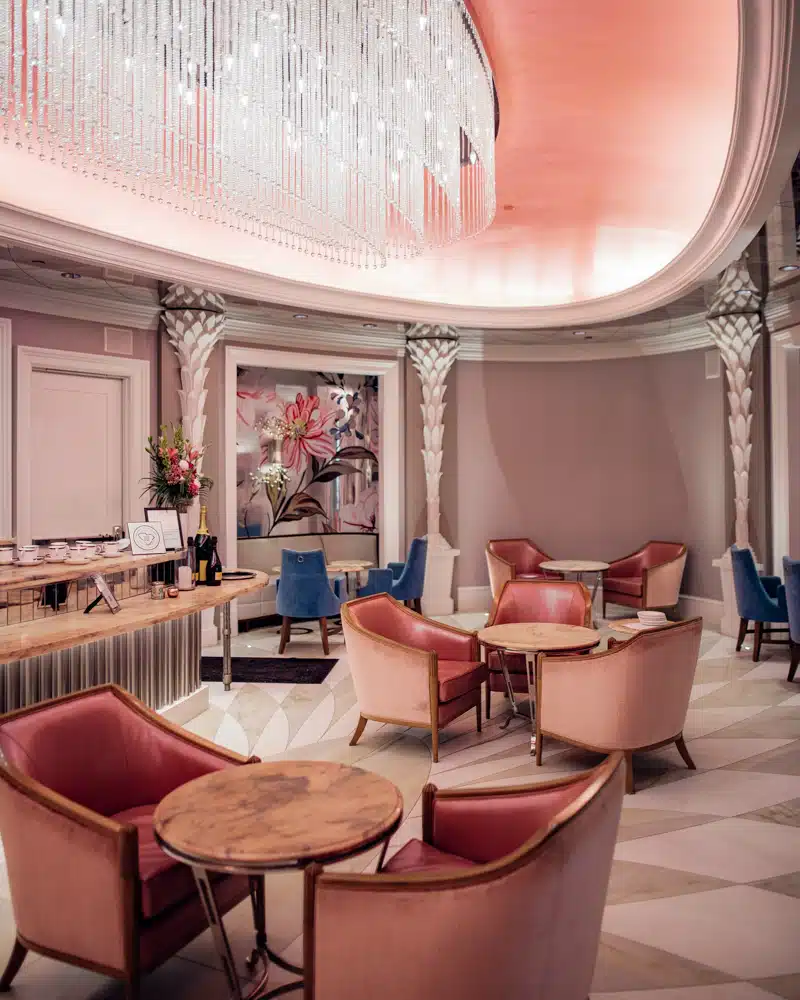 Another standout Instagrammable restaurant in Charleston is Camellias– aptly named for its pink décor! Pink lovers will dream about this cocktail bar long after they've photographed it. Make sure to capture its signature feature lights too. Located in Hotel Bennett, you'll need a reservation here if you want to come when they do afternoon tea.
41. Gabrielle