Feeling 'blah' about your social media presence and want to learn how to improve your Instagram?
These 31 tips will help you to be so good that others can't help but notice you!
I used each of these and my account eventually grew to the point where I quit my full time corporate job to become a full time travel blogger and influencer!
So now it's time to share what I've learned with you- I hope these tips help you to improve your Instagram and take it to the next level, whether you're a business or an individual!
(Honestly, I wish I had this list when I was first starting out and throughout my first year… it would've saved me a lot of headaches and frustrations!)
1. Find your niche and your audience
First things first, you want to narrow down your niche so you can find your audience.
If you're a business, this is easy- you already have a niche.
But if you are (or want to be) an influencer, finding a niche that fits your passion is key.
There are generic niches like fashion, travel, home, food, etc.
While those are better than having no niche at all, try narrowing down your topic so that you have a very specific audience.
For example, travel can be narrowed down to solo travel, travel with kids, budget travel, luxury travel, US travel, etc.
Once you've chosen your niche, you then know what your audience is going to consistently want- and you can give it to them.
2. Use vertical photos at maximum height
It is proven that people prefer vertical photos at maximum height (4×5).
Why?
Well, since Instagram shows up vertically on your phone (and doesn't rotate if you rotate your phone!), posting vertical images takes up most of the screen.
So people are able to see an image that commands a large part of their phone screen.
While both of these photos are beautiful (props to @readysetjetset for being an amazing photographer), the first photo just looks better on Instagram and fits the space more adequately.
3. Invest in a quality camera
I think that investing in quality camera gear is one of the most important things you can do for your business (whether you're a business or an influencer).
My photography game stepped way up when I bought my camera in 2018.
It's true that phones are getting better and better.
But they just don't compare to a high quality camera.
If you don't have the funds right now, phone photos can still look great and are of course better than no photos at all.
Build up your Instagram while you save for a camera that you'll use for the rest of your life.
That's actually what I did!
I started off with my phone for a full year until I realized the reason why my photos didn't look as good as the people I looked up to was because of the quality.
So if you like taking photos and/or plan on making this your full time job, this is crucial to success.
I wish it didn't have to be so pricey! But trust me, a good camera is a game changer!!
Read about what I have in my camera bag that helped me become a full time travel blogger and influencer!
4. Use a high quality editing app
I'm a huge proponent of using Adobe Lightroom.
They have a free version which works on mobile- it doesn't include all of the features but it's a great starting point.
Once you realize just how magical Lightroom is, you can (and should) move on to the monthly Creative Cloud subscription.
It lets you have a more versatile desktop and mobile version of Lightroom, as well as other apps like Adobe Photoshop!
Other mobile apps that I use occasionally are:
Google Snapseed: it has a variety of effects including a "healing" tool and a smart photo expansion feature
PicsArt: you can combine photos or add stickers or text on PicsArt
LensDistortion: you can add a light flare with this app
Afterlight: I love their "dusty" effect on photos
Canva: I use Canva to add text to a photo/story (but mainly I use Canva for my blog)
5. Pick a Lightroom preset and stick with it
The next thing after a good camera and downloading Adobe Lightroom is finding a good preset pack.
What does that mean?
Well, presets are an editing filter that you can apply to your photos in Adobe Lightroom.
They apply specific effects (color hue/saturation, shadows, highlights, etc.) to your photos and help create a uniform editing style on your feed.
If you are looking for presets, the best way to find them is to find other creators on Instagram with an editing style that you love.
If they are original presets, then chances are they sell them on their blogs.
6. Show your face
This is crucial for influencers- people want to get to know you!
It's all wrapped up in psychology, but faces help build trust, friendship, and make for a great photo.
For example, if you were following an influencer and they never showed their face, would you feel like you knew them?
Contrast that with your friends- you know what they look like, and you want to engage with their content!
As an influencer, you want people to feel like you're approachable- like they know you.
If you never show your face, it feels impersonal.
For businesses: you might think that you're exempt from this "rule," but having people in your photos will most likely make them perform better than images without faces in them. Try it!
7. Shoot in RAW
It's really quite simple.
RAW(.nef or .raw) photos retain so much more information than JPEG (.jpg) photos.
When it comes to raising shadows or doing other edits to your photo, so much detail is retained in a RAW image.
It's the best quality your photo can be.
So how do you shoot in RAW?
It's so easy! Just go to your camera settings and select RAW for image quality. That's it!
8. Be more candid and less posed
Okay the girl with the dog posing stoically in this GIF are pretty fabulous.
Don't get me wrong… I didn't say take away posed photos. I just said try to be more candid.
Looking into the camera and smiling in every photo is cute- but doesn't really give your photos that "magazine" quality- unless it's a portrait.
Try laughing, twirling, jumping, or adding movement in other ways. These photos will appear much more candid- and your audience will love it!
9. Learn how to take an aesthetically pleasing photo
We should always try to be improving- whether this is learning manual photography or just learning what looks good in a photo.
This is a huge thing that won't happen overnight.
Chances are, you'll have to train your eye for what makes a good photo.
Some people have this innate ability to determine what is aesthetically pleasing, while others need to work on it. There's no shame in that!
My next blog post will be on exactly how to create an Instagram-perfect photo.
But until then, train your eye to notice what your favorite Instagram accounts do in their photos, do research online, and practice!
10. Make your photos and reels original or more interesting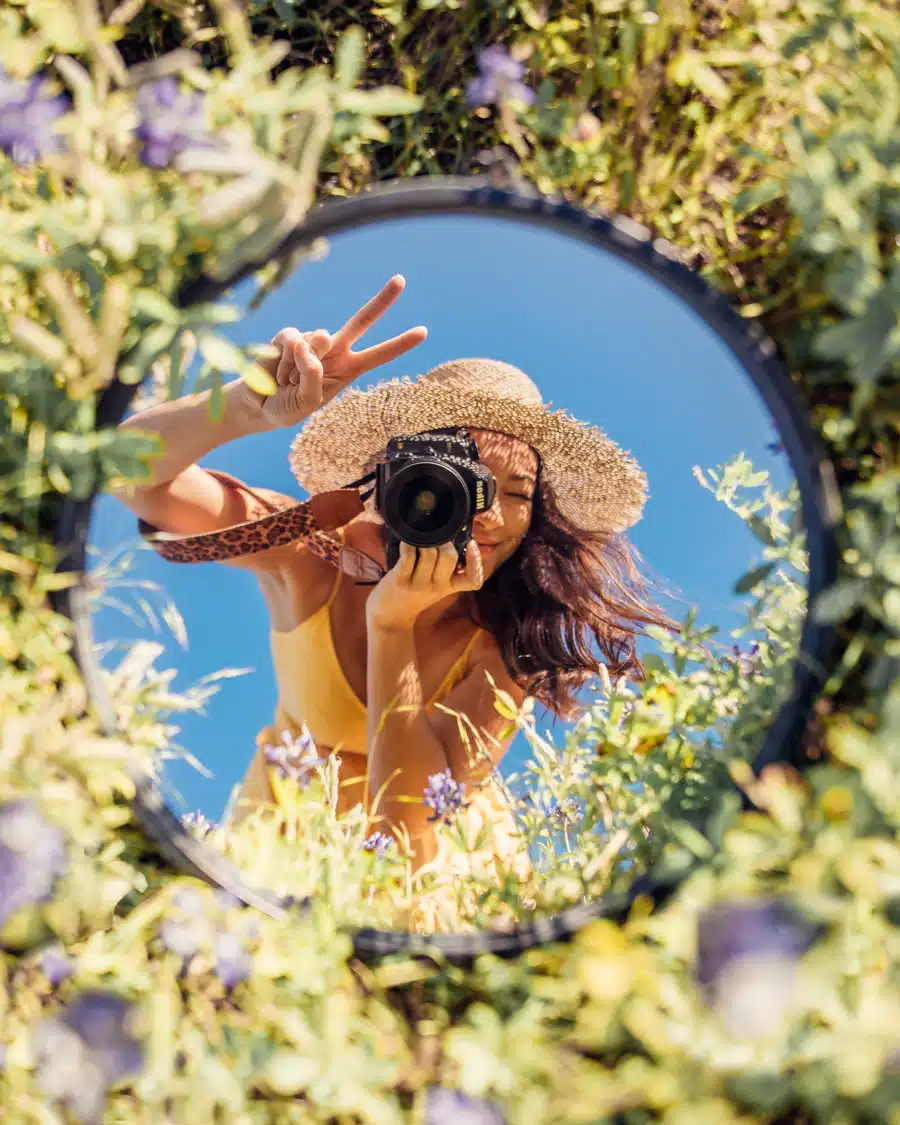 This tip sounds similar to the one before it, but I promise it's different!
What I mean by making your photos original or more interesting is bringing in props or exercising creativity when capturing a photo.
In the photos above I incorporated a mirror and books to catch your eye. It was a fun way to creatively capture a field (in the first photo) or me reading a book (from the second one).
Ways to expand your creativity: search on Pinterest! If you have a prop like a mirror, search "creative mirror photography."
Also, there are a lot of creators on Instagram who do wild and interesting things with their photos- save their photos to reference later. Then, if you recreate your own version, tag them and credit them in your caption!
They might share your recreation on their stories or even follow you!
11. Plan your feed based on color
You want someone to love what they see when they first go to their page.
So your home feed needs to be aesthetically pleasing.
More than just having good photos, you'll want to incorporate them on your feed in a balanced manner.
That involves spreading out colors so that they aren't lumped together, making sure don't have a bunch of "busy" or dark photos in one place, and planning your feed ahead of time.
There are plenty of apps that can help you with this- I use Garny on my Google Pixel and Planoly and the Preview App are popular ones as well.
12. Don't use borders
This goes back to how your image should be vertical and as large as possible to fill the screen.
Borders take away from that.
If you have your heart set on adding borders, make sure they're always the same so that your page looks uniform.
Unfortunately the only way to have borders look good on your feed is if it crops your image in the same size square. (Which means 4×5 photos with an even border won't even look good).
13. Make the most of your caption
You might have wonderful photos, but having a quality Instagram doesn't stop there.
Your caption is a perfect space for you to share more about yourself, so use it wisely.
When you share about yourself, your audience will get to know you better, that turns into trust, reliability, and ultimately more engagement.
So go ahead- be vulnerable, funny, quirky, punny!
If you're drawing a blank on what to write, here are some great caption ideas:
Talk about how you're feeling right now
Share something you've been learning
Explain what was going on behind the scenes when the photo was taken
Bring up a relevant quote, and explain what it means to you
14. Ask a question
A great way to increase engagement is to ask a smart/funny/easy/thoughtful/opinion question!
That gives your audience a chance to tell you what they think or tell you about themselves!
When people answer your question, ultimately it's a great way to get to know each other, build a friendship, make your audience feel comfortable with you.
Tip: make sure it's not a yes or no question. Leave it open ended so that you can respond peoples' comments thoughtfully!
15. Post everyday
Consistency is key!
Yes, I grew my Instagram to 100k in under 2 years.
But I am confident that it would not have grown the way it did if I hadn't posted EVERY. SINGLE. DAY.
If you want your account to grow, you need to dedicate time to it.
And if you're worried about not being able to create content everyday, there is 100% a way around having to do that.
If you dedicate a day each week to creating content, you should try to take as many different photos as you can at one photoshoot.
Then you can store up old photos and spread them out over time.
(Spread them over time so you're not posting the same thing for a week straight).
16. Tag a location
(Excuse the language in this GIF, I just found it too funny not to include!)
For the most part, followers come from people finding your feed from a photo you've posted.
Whether it hit their explore page or showed up under some hashtags, you want to maximize the chances of your photo being found.
A great way to do that is by tagging the location of the photo.
Since Instagram makes it easy to see photos from a specific location, if you've tagged a location that someone is searching, they might engage with your photo and might follow you!
17. Use quality hashtags
In a similar vein as the previous tip, using hashtags can help your posts get noticed by people who don't follow you.
If someone is searching a hashtag or following a hashtag that your photo shows up for, they could see your photo and engage with it!
So how do you choose which hashtags to use, and how many hashtags to include?
How many hashtags?
Let's start with how many hashtags to include.
You'll find all sorts of answers for this question, but my recommendation is to use 20-30 (30 is the max you are allowed to use), and switch up which ones you use.
Of that number, the majority should be small to mid-size hashtags.
Ex: for a travel photo of Marina Bay Sands in Singapore, I might use:
1-4 large hashtags (ie. #travelblogger #singapore)
10-15 medium hashtags (ie. #girlsthatwander #wearetravelgirls)
5-10 location/topic specific hashtags (ie. #marinabaysands #sgdaily #downtownsingapore)
Which hashtags to use
How do you find which hashtags to use?
You can:
use a hashtag app
start typing a related word and see what Instagram suggests (and see how many times a particular hashtag has been used)
see what other creators in your niche are using
Google it
18. Be strategic with your story content
Here's a new topic for how to improve your Instagram: through Instagram stories.
Instagram stories are really helpful because they can help you drive traffic to your site, give an opportunity for people to get to know you, and help others find your page.
That being said, you want your stories to be helpful, funny, personal, and/or informative.
If your stories are boring, unfortunately people will skip over them. We do not want that!
Instead, you want people to recognize your stories and want to return to them.
Here are a few tips on how to improve your story content:
Keep your font/style consistent (pick a few colors and one font and stick with them)
Use the same sort of filters over and over to create a uniform look
Show your face and talk like you'd talk to a friend
Only post stories that you'd want to see
Be vulnerable (I know, easier said than done! But this is something you can practice over time)
19. Spread out your story posting schedule
This Instagram story tip is in reference to timing.
You'll want to spread out your stories throughout the day so that your story keeps coming back to the front of the story list.
Also by doing this, your audience is almost "trained" (that sounds really bad, but I mean it in the best way possible) to regularly tap on your stories for updates.
20. Include your face on the first story of the day
Try to make the first story you post each day one with you in it!
By showing your face, as someone scrolls through Instagram stories, they immediately know it's you.
The subsequent stories don't have to have you in it, but as a rule of thumb, stories with you in them are better than the ones without!
Like I said before, people love faces!
21. Add stickers to your stories
Stickers are a great way for people to engage with your story.
Whether you do a poll, quiz, or question, it's a fun way for your audience to voice their opinion!
You should also use the location sticker and add hashtags for the chance to show up in the stories under that location or hashtag.
Also, be on the lookout for trending stickers!
This doesn't happen often, but if you see an Instagram story for a specific sticker at the front of your Instagram story queue, use that sticker in your story!
When Instagram has them showing up as their own story (ie. Stay Home and Support Small Businesses each had their own stories one day), your story with that sticker will be added to it.
22. Tag other accounts
(Okay, not that sort of tag.)
You should tag other relevant Instagram accounts in your stories and on your photos.
In your stories
Tagging brands or creators in your stories when relevant leads to the possibility of being reposted.
When they add your story to their story, their audience sees you.
Then they might tap on your page, see your gorgeous Instagram feed and fantastic photos, and follow you!
In your photos
Along a similar line, you can and should tag repost accounts in your in-feed photos.
I'm specifically talking about accounts that repost the type of photos that you are sharing.
For example, if I tag @travelbloggeres and @travelinladies in my photos, they could see what I've posted in their tagged photos, and consider resharing on their page.
If they repost my photo, then their audience sees my content and might follow me.
The more eyes on your content, the higher the chance you'll gain followers.
23. Make your highlights as pretty as your feed
Now that you have awesome stories, you should save relevant stories to folders on the Highlights section of your page.
Going back to making your page aesthetically pleasing, you should change the story covers to be consistent.
You can make them a solid color, use Canva or another app to add icons, or use an edited photo (that's what I do).
24. Don't do loop giveaways
While loop giveaways might seem enticing, I advise against them.
For one, it looks tacky, and a bit desperate. (I'm not trying to be harsh, just realistic!)
It's easy to judge the people participating in loop giveaways- ie. "this person only has followers because of these spammy giveaways".
You don't want to have that association with you and your personal brand or business.
For another, these giveaways rarely bring followers who will actually engage with your content.
So is it worth it? I just don't think so.
While follower numbers are great, in the long run, chances are you'll regret it.
If you want to do a giveaway, I recommend teaming up with or collaborating with other bloggers/brands in your niche.
And make sure it is just a few bloggers, and that you guys are giving away something relevant.
That is way more authentic and people are more likely to engage with someone who the people they follow are friends with.
25. Don't do the follow/unfollow method
It might seem like a good idea at the time, but trust me, this is a recipe for disaster (almost as bad as wrapping a Boa Constrictor around you!).
With this method, you almost inevitably get followers who will never engage with your content.
Trust me- I would know! I actually started off using this method and regret it terribly! For so long I had poor engagement- until I stopped had authentic followers start following me.
It is a quick way to get followers- but if you have high quality content and follow all of the tips on this post, your following should grow authentically and naturally!
And another thing of note for influencers- there are Instagram authenticity programs out there that analyze patterns and show if you are gaining followers from following/unfollowing.
They reveal to anyone who searches your Instagram handle that your audience is not legitimate, and brands will be less likely to work with you.
26. Follow accounts that inspire you
You should follow accounts that inspire you because that can help you improve your own content and way of thinking.
It's similar to the quote "you are the sum of your 5 closest friends." You pick up things from the people you're exposed to regularly.
You'll learn what your favorite creators are doing, be inspired by their creativity or editing styles, see what you love about how they engage their audience.
This will ideally make you churn out better content because of what you're learning from the best of the best.
27. Engage with people and make friends
Comment on other creator's posts in your niche and engage with their stories.
Regardless of whether they are large or small accounts, this is a great way to make friendships and is what the heart of social media is all about!
It is also a great way to get followers who engage with you, so it's a win win.
When I see the same people commenting on my posts, I am way more likely to click on their profile to see who they are. Then if they have quality content, I'll follow and engage with their posts!
People crave friendships, even if they aren't in person.
And honestly, I feel like I'm closer to some people I've become friends with through social media than some people in real life! Even though I've never met them!
28. Respond to every comment you get
Okay, if you're a large account already then this might be hard. But if you're getting under, say, 50 comments, you should respond to every single one.
The reason behind this is two-fold.
First of all, if people who comment on your posts are getting replied to, they will feel appreciated and like you care (which hopefully you do!!).
Second of all, it looks good to anyone looking (brands or anyone else on your profile) to have a higher number of comments- even if half of them are your responses.
It both looks good and is good for the Instagram algorithm to have more engagement on your post (your replies count as engagement).
29. Discover your brand- then stick with it
You want people to recognize your posts right away.
How can you make this happen? By understanding your brand and following it each time you post.
Here's a practical exercise for businesses and influencers alike:
Think of three words or phrases to describe your brand (if you're an influencer, you are your brand).
If it's hard for you to analyze your own content, ask someone who knows you to think of three words or phrases (are you funny? Empathetic? Always standing up for a specific cause? Romantic? Encouraging others? A #girlboss? An expert on a specific field?).
Once you have your three words, try to make sure your captions and photos evoke those three things (or at least one of the three).
People will associate you with these key ideas and it will be a clear way of showing people who you are and what they should usually expect from you.
30. Be yourself!
As cliche as it sounds, you always want to be yourself.
That's what comes naturally to you, you're an expert on it, and that'll make creating content much easier than if you're trying to portray an image that's not you.
People are really good at spotting inauthenticity.
And people want to get to know you for who you are.
Your uniqueness is what ultimately will make you stand apart on social media- so embrace it!
31. Use Reels!!!
I saved the best for last!
You for sure want to use Instagram's reels feature this year to improve and grow your Instagram!
Since it is still relatively new, Instagram is rewarding people who use reels by showing them to more people. Yup, you have a higher chance of landing on the 'Explore' page if you use reels!
This is also a huge way to grow your following this year.
Make sure the first 2 seconds of your reel are captivating. Show your face right away. Use text to engage your audience and give them a reason to keep watching!
The best reels are informative, tutorials, creative ideas, etc. Create the things you'd want to watch!
In conclusion…
I hope you found this list helpful!
These are all genuine lessons that I have learned on my own Instagram journey, so I really think that if you follow everything on this list, it will help you improve your Instagram and lead you to Instagram success.
If you have any questions or other tips, feel free to comment them below!
Happy 'gramming!
Jasmine
PS. If you found this post helpful- and I really hope you did!- please share it to Pinterest! It would help me out a ton and that way you can save it for later!
Here are a couple of pins for easy pinning!