When spring and fall roll around, Texas becomes beautifully sunny and warm, making it the perfect occasion for a picnic.
As an Instagram content creator and blogger, I am always looking to create beautiful photos.
And sometimes the prettiest way you can create sponsored content for food or drink brands is to weave their products into a picnic.
Picnics always make for gorgeous and fun photos, so I've put together a few tips on how to create an Instagram-perfect picnic!
The setting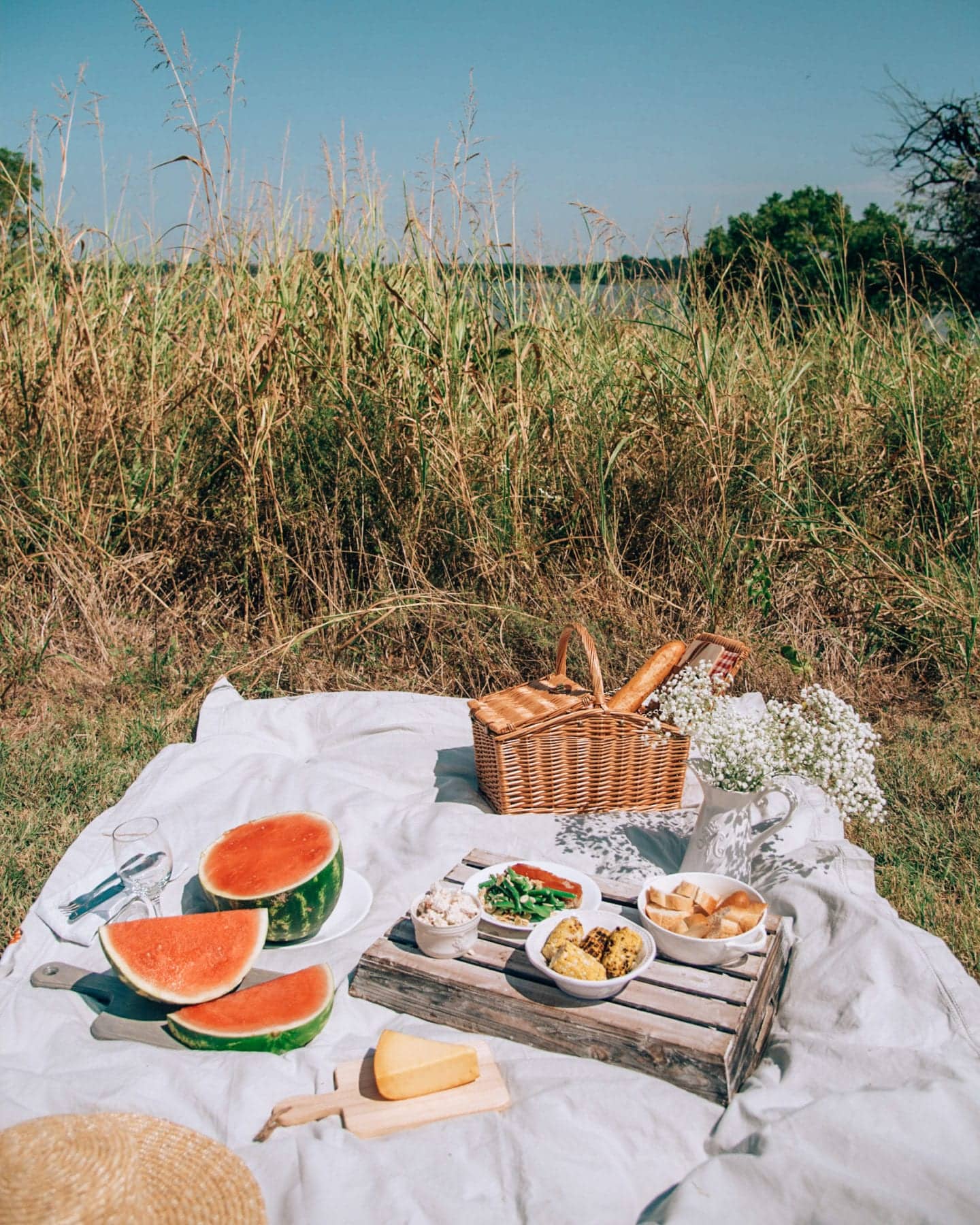 First things first, you'll need to choose a pretty setting.
If you're having your picnic next to a bunch of cars, that picture is going to be a whole lot less dreamy than a setting in nature.
I like having open skies in my photos because I love seeing shades of blue on my blog and Instagram feed.
I decided on this field at White Rock Lake in Dallas for a few reasons:
it features an open sky
it is near water (water is always gorgeous in photos!)
the background is relatively simple- which draws more attention to the picnic itself
it is a scenic park in general
With gorgeous open fields near Winfrey Point, White Rock Lake is located in the heart of East Dallas and also offers gorgeous lake views.
It was also key because of its proximity to our place- you don't want to drive too far or your food can get cold (or warm depending on what you bring)!
The meal
You'll want to pack food items that are easy to transport and aren't too messy.
Here are some things to think about regarding which food items to bring:
Color (more about that later)
Messiness (obviously the less messy the better)
How realistic it is (it is a picnic after all! You should enjoy it after you take your photos!)
Transportability (is that a word? You get what I mean.)
Some go-to picnic items I love are:
Charcuterie board items: cheese, grapes, and crackers
A loaf of French bread
Fruit- strawberries, watermelon, or any kind of citrus (grapefruit, oranges, lemons)
To-go meals from the grocery store (we get ours from Central Market- if you have one near you, they are perfect for picnic items!)
Bottled Bai drinks or tea (some flavors look like wine)
Here's another flat lay from a different picnic I set up for some sponsored content working with Freshly, an awesome company that ships fresh, delicious, and nutritious meals straight to your door.
We'd been eating them for dinner all week (easiest dinner ever!!), but I realized they would be perfect for a picnic!
All you have to do is heat them up in the microwave and insulate them to keep them warm.
To make our meal photo-worthy, I paired our Freshly meals with some Brie cheese, gluten free crackers, raspberries, and strawberries.
And for a classy touch, I brought a bottle of wine (and some juice to pour into our glasses).
What else you need
So you have the food… but how do you make a picture perfect picnic?
It is not just about the food. In fact, that's actually a pretty small portion of it.
First things first, you'll want a good camera to capture a photo worthy of your perfect Instagram picnic.
(Here's the camera I use and what's in my camera bag!)
Once you have that and the food, it's time to look at the broader picture and imagine the setting for your photo.
There are a few things to think about, which I'll break up into more details:
Your color scheme
The overall vibe
Instagram picnic photo props
Your color scheme
Photos are a work of art, and part of a good work of art is a good color palette.
Don't try to include too many colors, or your photo will look really busy.
My suggestion is to include three main colors that work together.
Don't forget to include the colors in your environment when thinking of your color palette.
You can see in my photos that I chose greens, whites, and tans with pops of red.
Imagine if the flowers here were bright purple. That wouldn't really go with the overall look.
Or picture me wearing a yellow dress. The picture instantly becomes busier and draws attention away from the wine (which I was advertising here).
The overall vibe
Next, think of the overall vibe you're trying to portray.
When you have a theme, vibe, or goal for a photo, that should dictate what items you choose for your picnic.
You hopefully get a romantic vibe from these photos (because that's what I was going for!).
Following a more romantic theme, I chose baby's breath flowers, a simple white picnic blanket, a large straw hat, and wore a lacy dress.
If you were wanting a fun and whimsical theme, you might have a more colorful blanket, bright yellow flowers, etc.
The non-food photo props
You'll need a few objects to make your picnic more aesthetically pleasing than just food on plates on a blanket.
As a content creator, I like to invest in photo props that I'll use and reuse again and again.
Here's are my go-to Instagram picnic props and why I incorporate them:
flowers– they always add a nice romantic touch and everyone loves flowers!
a picnic blanket– creates your picnic space. Tip: look for outdoor tablecloths to use as a picnic blanket!
a tray– it's practical when eating food and it groups together parts of your meal to make it more aesthetically pleasing
cutting boards– similar to trays, boards separate parts of the meal and are practical
picnic basket– it completes your picnic look
cloth napkins– they are much prettier than paper napkins and are environmentally friendly
white dishes– I like to have all white dishes because they pretty much go with any color scheme
a wine bottle– whether it's full or an old empty bottle, it adds romance and a classy touch
wine glasses– real wine glasses add class as well, and make for good "candid" photos since they are something to hold in your hand and interact with
a matching outfit– you can never go wrong with white. Just be careful when you're eating and drinking 🙂
oversized candles– for prop purposes only… they add romance
I hope that helps you plan your next picnic!
Have fun with it and enjoy the art of creating something pretty!
Comment below if you have any questions or other suggestions.
When was the last time you went on a picnic?
Happy creating,
Jasmine