Looking for the most Instagrammable places in Savannah, Georgia? You're in the right place. Here I'll cover the best photo spots and prettiest places in Savannah. Whether you want pretty greenery, Savannah's famous Spanish moss-covered trees, or the coolest cafes, you'll find them all here!
Pictured above is a drone shot we got of the Cathedral Basilica of St. John the Baptist, which I think is the prettiest church and landmark in downtown Savannah. This architectural masterpiece is right next to Lafayette Square, you can't miss it! More about it later on in this list!
Also, check out the video I made of some of the Insta-worthy aplaces I saw in Savannah!
[If you don't see a video below, you may need to disable your ad blocker.]
And scroll all the way through to find a map of the most Instagrammable places in Savannah!
Let's get to it! In alphabetical order, here are the best photo spots in Savannah, Georgia.
1. Bonaventure Cemetery
Just 20 mins outside of Savannah, this cemetery is an excellent place for photos. It's free to explore and is one of the prettiest cemeteries I've seen! Even professionals agree! Midnight in the Garden of Good and Evil featured this cemetery in the film. Here you'll find art and large tombs in southern gothic style, surrounded by lush greenery and massive oak trees.
2. Cathedral Basilica of St. John the Baptist
The French Gothic Architecture of this building is truly breathtaking. It's definitely one of the most Instagrammable buildings in Savannah! As a backdrop or the focus of your shot, photos taken at the Cathedral Basilica of St. John the Baptist will bring in a lot of likes. It's rated #6 on Trip Advisor's list of Top 10 US Attractions, so it tends to get busy. I recommend visiting early to avoid big crowds. Also, you'll want to bring a wide-angle lens if you have one, or shoot with your iPhone on .5 to capture the whole building.
3. Chippewa Square
You don't want to miss out on the chance to visit the filming site of Forrest Gump's bench scenes. Between the Historic Savannah Theatre and Foley House Inn, you will find Chippewa Square. But it's important to note that the actual bench used in the movie was a prop, so you won't find it here. But that shouldn't stop you from commemorating this movie scene! We chose to do a romatic shoot, but for the perfect photo-op, bring a box of chocolates to share while you sit on one of the benches here!
4. City Market
Visitors love shopping and eating in this open-air market, adorned with unique artwork. What makes this spot so instagrammable is the fun outdoor atmosphere with charming shops all around. Also, don't miss out on the City Market clock- it'll make for a great photo focal point!
5. Collins Quarter
If you are looking for more than just beautiful landscapes, the food and drinks at this coffee bar are most definitely picture-worthy. And who doesn't love a good foodie pic! You must try the spiced lavender mocha, the brioche French toast, or their burger. So good!! In addition to pretty food, the design of the restaurant features historic architecture mixed with more modern touches. Don't just take it from me! My sister-in-law, who is an artist and interior decorator, was pointing out the details of how just how perfectly they styled Collins Quarter.
6. Forsyth Park Fountain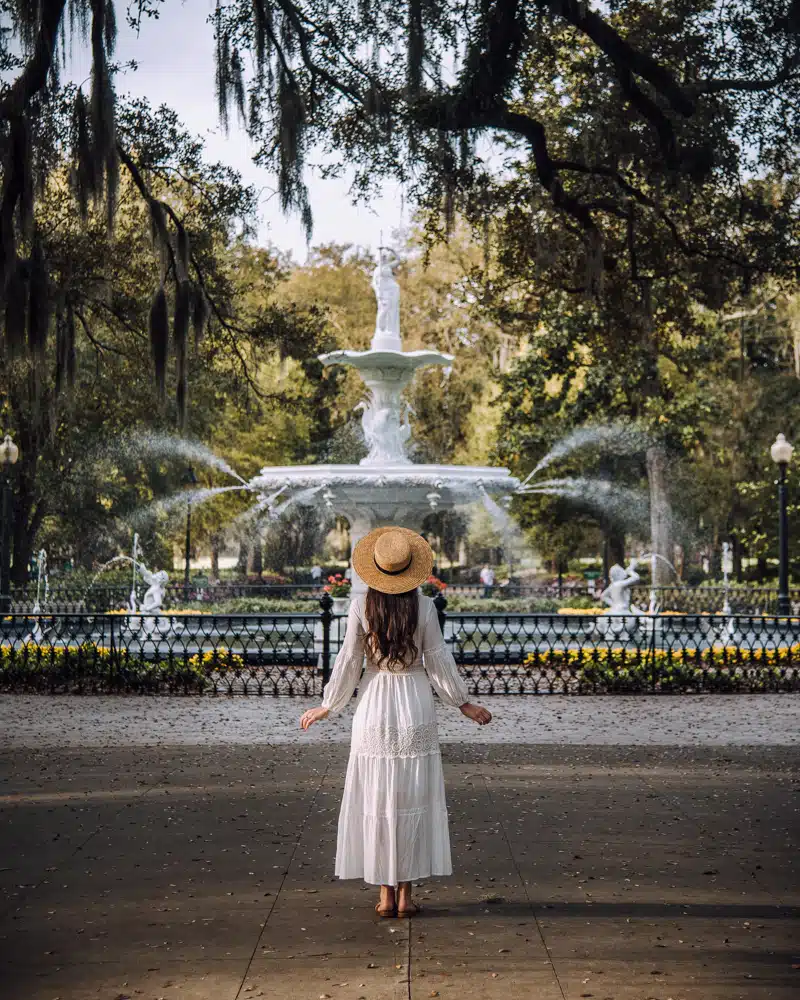 It is no surprise that this very recognizable fountain is one of the most popular Instagrammble spots in Savannah for those trying to capture Instagram-worthy photos. We stayed right next to Forsyth Park and loved walking past this gorgeous fountain every day! You can visit the fountain any time; however, if you hope to take photos, early mornings or golden hour is best, as the afternoon light can be somewhat harsh.
7. Foxy Loxy Cafe
The work of local artists covers the walls of this unique café. If coffee isn't what you are looking for, they also offer wine and beer to be enjoyed both inside or outdoors. Sit out back by a firepit to take advantage of the natural light or enjoy their small but cute front patio!
8. Husk
If you are looking for southern comfort food with traditional cocktails, this mansion with porch seating is one you won't want to miss. We think the interior design of this restaurant is perfect for a unique Instagram shot. In addition, visitors to Husk rave about the food, atmosphere, and phenomenal service.
9. Johnson Square
Located downtown, this happens to be the oldest and largest of Savannah's scenic squares. You can access this park for free and find lots of places to sit and enjoy the view. Also, there are two fountains, a large 50-foot monument dedicated to General Nathaniel Greene, and large oak trees. To sum it all up, this is a very instagrammable place in Savannah, indeed!
10. Lafayette Square
Lafayette Square is one of 22 squares in Savannah's one square mile downtown area. This picturesque square was created in 1873 and is adjacent to the Cathedral of St. John the Baptist and features the fountain above. Additionally, this square is home to the famous Hamilton-Turner House mansion and the Andrew Low House. You'll have an abundance of content opportunities here, but it is hard to avoid having cars in your photos.
11. Leopold's Ice Cream
I can't even begin to tell you how many people told me to visit Leopold's while in Savannah. They say it's one of the best ice cream shops in America- but I'll let you be the judge of that! We waited in line for about 30 minutes to try it for ourselves, and it was quite delicious. Leopold's has over 30 delicious flavors of ice cream; I ordered coconut and peppermint and was very happy with my order. Once you get your ice cream, take an Instagram pic of it! The location itself is worthy of a visit! You'll find a black marble soda fountain, phone booth, and all the original fixtures, providing an excellent background for any photo! (Did you know that Academy Award-nominated set designer Dan Lomino designed this ice cream shop?)
12. Mercer Williams House
Made famous by the novel-turned-movie Midnight in the Garden of Good and Evil, this home, surrounded by palm trees, has a very opulent feel which sets the stage for some fascinating Instagram photos. Also, if you are a history-buff, sign up for one of the tours. After that, explore the grounds and start taking pictures! I found that it was hard to avoid having cars in your shot if you're trying to capture the whole house, which is why I took it from the angle above.
13. Midtown's Colorful Houses
How adorable are these colorful houses? The midtown area of Savannah is less frequented by tourists, but that just means fewer people will get in your shots! We stumbled upon these houses while getting our rental car and I'm glad we did! They're so charming!
14. Mirabelle Savannah
Parisian vibes in Savannah are a huge yes in my book! One place where you'll find an adorable Parisian-style patio is at Mirabelle Savannah, a coffee shop right by the Cathedral Basilica of John the Baptist. The interior is okay- kind of small- but the exterior is what shines here.
15. Olde Pink House
The Old Pink House is one of the most beautiful restaurants in Savannah! Thanks to its bright colors and fantastic decor, this building is a sight to behold. You can dine in and do some food/interior photography or head to the outdoor gardens for some picturesque backdrops. And of course, don't miss a straight-on shot of this pastel-pink house!
16. Owen-Thomas House
The exquisite English architecture and stunning gardens are a must-see on your next trip to Savannah. Visitors must arrive before mid-afternoon and book a tour to ensure they don't miss out on all that the Owen-Thomas House has to offer. So if you want to visit, try to plan this spot in advance.
17. Peregrin Rooftop Bar at Perry Lane Hotel
What's not to love about a frosé? It tastes great and is one of the most photogenic drinks you can get at Peregrin Savannah! As you sip your frosé, you can take in the Savannah skyline. Located on the rooftop of the Perry Lane hotel, the drinks, decor, and views here are very photo-worthy. In short, if you are a wine-loving Instagrammer, you'll love all that Peregrin offers.
18. Rainbow Row
Savannah's Rainbow Row is small but worth checking out! It's essentially three cookie-cutter-perfect houses with pastel shutters. You'll find charming pastel homes with unique details and colors. Exact location is listed on the map!
19. River Street
You can't visit Savannah without checking out the iconic River Street! (Well, technically you can, but I hope you don't miss it!) Here you can take in picturesque restaurants, bars, and boutiques that will put your photography skills to good use! You can easily spend hours along the river, exploring all that this street has to offer. The cobblestone here is so charming- it'll make you feel like you're in London! Just don't trip- it is very uneven! Also, don't miss out on the Waving Girl Statue and the Olympic Cauldron.
20. River Street Sweets
Voted Savannah's Best Candy Store for 16 years, this family-run business is famous for its pralines. What makes River Street Sweets an Instagrammable Savannah location is how it evokes European vibes! Their River Street location captures the old school character and charm of the previous century. Tour the shop and get yourself some of their infamous pralines or an ice cream cone. After that, it's time to take some sweet pictures (pun intended)!
21. Savannah Riverboat
The Savannah Riverboat ride is an incredibly Instagrammable experience. Whether you're looking for a beautiful sunset cruise or just want an Instagram-worthy photo op, you'll be happy you went! And when it's docked, you can take a photo like the one I did above, too!
22. Savannah Theatre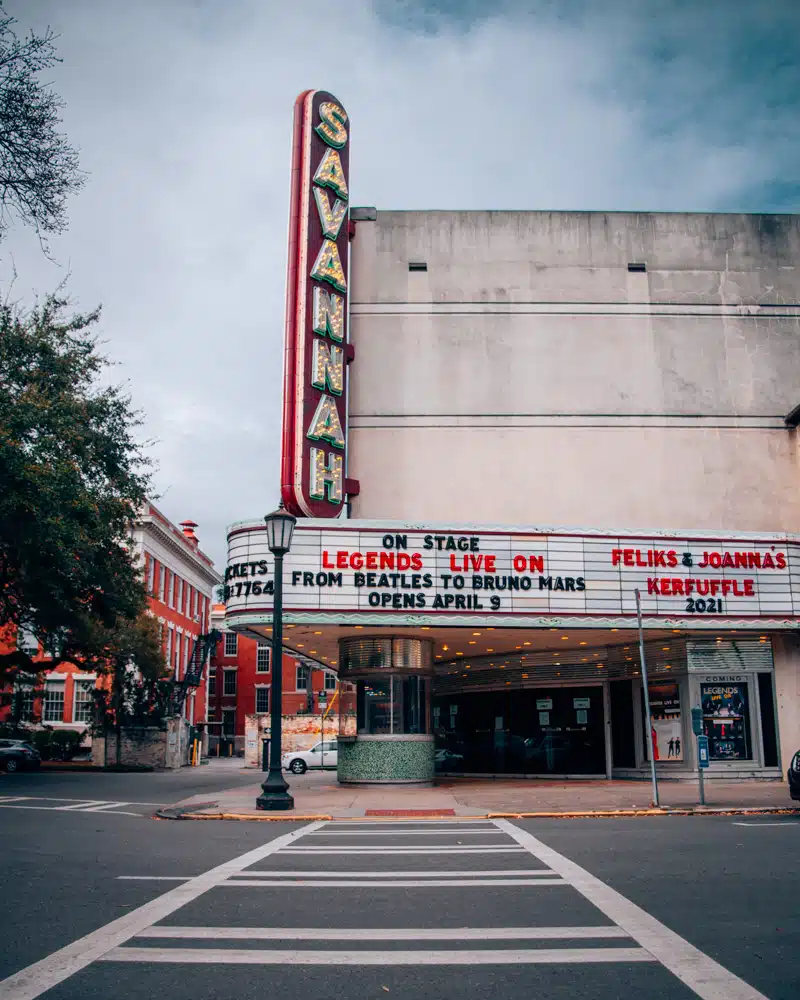 The Savannah Theatre opened in 1818 and has been a marveled landmark ever since. In fact, it's one of the oldest continually operating theaters in America! For a great photo op, take a picture with the 'Savannah' theatre sign that's been around since the first showing of "The Soldier's Daughter" and "Raising the Wind."
23. Six Pence Pub London Phonebooth
A London phone booth in Georgia? Yup, it exists at Six Pence Pub! The red phone booth makes for the perfect prop and background to your photos!
24. Starland District Murals
These large murals make a great backdrop to your photos. Created by local artists, these murals wouldn't be possible without the help of the Starland Mural Project. As a result, local artists receive funding and it ensures these murals are maintained. The one above is my favorite mural in the area!
25. The Gingerbread House
Around since 1899, Savannah's Gingerbread House is too cute not to photograph! You'll need a wide-angle lens or you can shoot on .5/wide mode on your iPhone to capture the whole thing from the sidewalk!
26. The Grove
This rooftop restaurant and bar is known for its City Market views. Additionally, charcuterie boards are trending everywhere these days and the ones offered here are most definitely picture-worthy. (PS. Also worth checking out for a cool restaurant exterior is The Grey. Of the new(er) restaurants in Savannah, this one gives you the opportunity to eat in a restaurant that was once a bus station! Don't forget to make a reservation if you plan to stay for dinner!)
27. The Mansion at Forsyth Park
Located right across from Forsyth Park, the vivid orange brick and cool architecture at the Mansion at Forsyth Park make for great photos! (Note: We tried to eat at the restaurant at the Mansion but they weren't taking walk-ins even though their dining room was nearly empty, so we had to eat elsewhere. I can't vouch for the food, but I can tell you to make a reservation if you plan to dine here.)
And if you're looking for more places to stay in Savannah, Foley House Inn comes at a cheaper price point than the Mansion, but includes all the charm! Featured on many of Savannah's ghost tours, this supposedly haunted inn is known for its luxurious accommodations and fantastic views. You cannot go wrong with a place that not only provides a beautiful backdrop but also makes you feel at home with its complimentary breakfast and comfy cotton robes.
28. The Paris Market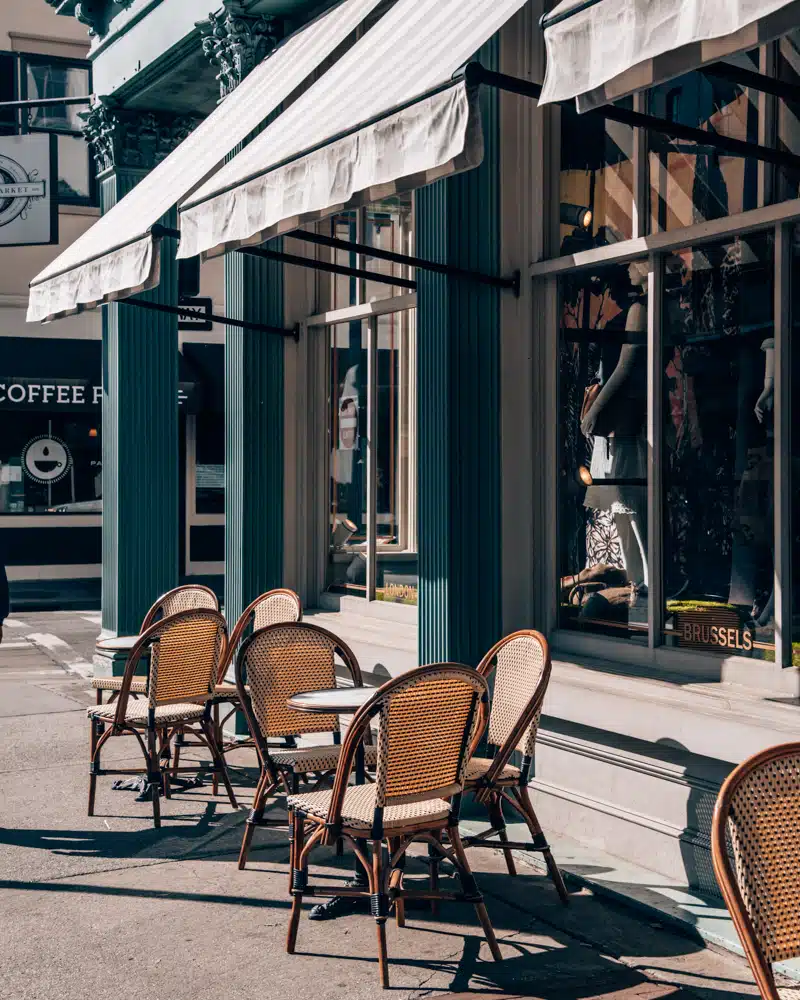 This Paris-inspired shopping market is the location of a café that was named "The Most Beautiful Coffee Shop in Georgia" by Architectural Digest. So it's clear why it made it on my list of Instagrammable places in Savannah! Here visitors can take a break from shopping and walking to refuel on some tea, coffee, or even a quick bite to eat. And if you've got time and a love for Parisian decor, check out the two-story market here with fun interior decor items!
29. The Wyld Dock Bar
If you are looking for a place for fresh seafood, head to Wyld Dock Bar. Here the outdoor dock and small landing make for excellent photos. (Psst… if you are looking for a place to host your upcoming event, look no further, this dock bar is very picturesque!)
30. Tybee Island
I highly recommend a visit to Tybee Island when you're in Savannah! Just 30 minutes away, you'll find plenty of fun things to do in Tybee. I've listed some of my favorite Tybee Island photo spots below!
31. Tybee Island Lighthouse
Built in 1736 and standing 145 feet tall, this lighthouse is both Savannah's oldest and tallest lighthouse. So, as you can imagine, this is a must for anyone wanting to capture a great pic. Also, a tour is a great opportunity to capture some scenic shots, but when we visited they were only open on the weekend.
32. Tybee South Beach Boardwalk
Leading lines in photography are a great way to make a photo more interesting and visually appealing! The boardwalk to Tybee's South Beach give you the perfect focal point! Plus, you can see the Tybee Beach Pier (next on this list) and the ocean in the background, making for a great Instagram shot.
33. Tybee Beach Pier
You don't need a drone to take a cool shot of the Tybee Beach Pier! Some cool land shots of the pier include underneath it at sunset, right next