If you're weighing the pros and cons of visiting Charleston vs Savannah, you've come to the right post!
Before I dive into the details below, you can get a sense for how these cities differ from the videos I made from my trips to each location.
[If you don't see video players below, you may need to disable your ad blocker!]
Here's my Charleston video:
And here is my Savannah video:
Charleston vs Savannah: Overall Vibe
One of the biggest ways that Charleston and Savannah differ is in their overall vibe. I'll cover this section first so that you can get a good idea of what to expect overall in each city.
Charleston
Charleston is one of the oldest cities in the country. It was established all the way back in 1670! Yup, this city has been around for over three and a half centuries. That means that there is so much to explore here. Travel and Leisure has also named it one of the top cities to visit for several years, so it's certainly somewhere to think about visiting!
Charleston has a friendly atmosphere where you'll be able to experience true southern hospitality. It also has a laid-back vibe by the beach and can be a bit more fast-paced downtown. However, you'll find that locals love their city and are happy to welcome tourists!
Savannah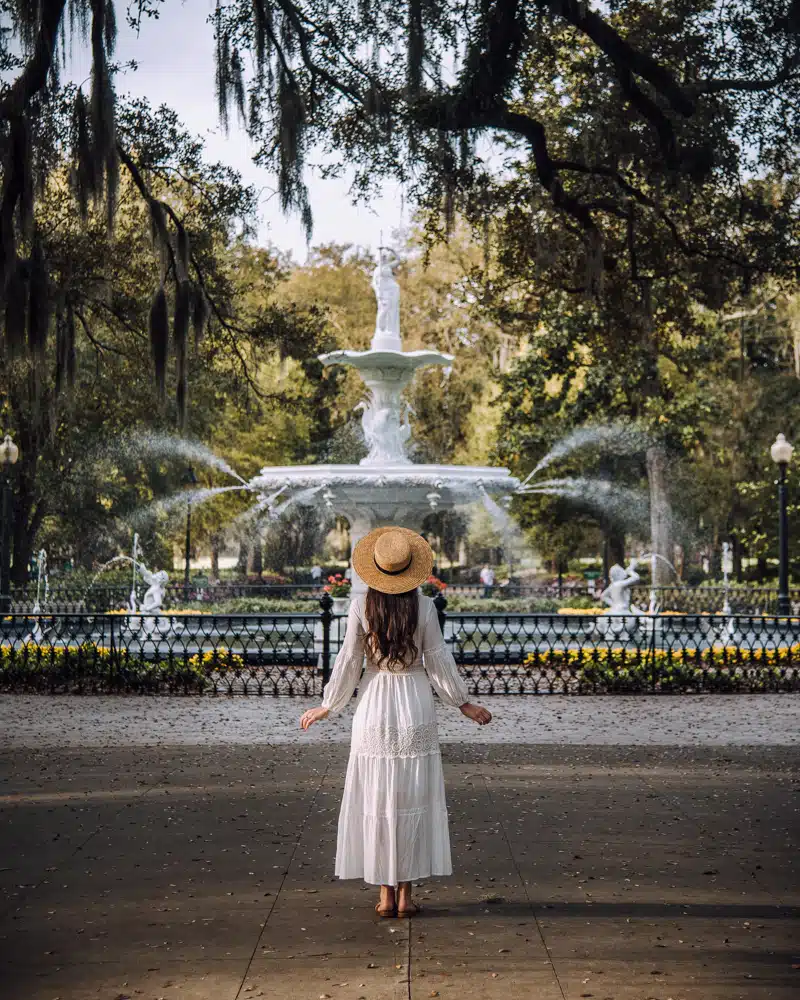 Savannah is also a much-loved city by tourists and locals alike. You'll easily see why when you get here. It's got a friendly community of people who are incredibly welcoming to tourists.
You'll probably notice a sense of calm while you're here. It's very relaxed, and it seems like nobody is in too much of a rush! This is evident throughout the city, including downtown. In fact, you can see it in the way that downtown Savannah is set up, with 22 squares (ie. charming parks) within Savannah's 1-square-mile of downtown. That way, it's easy to leisurely walk around town, stopping in one of the squares to admire the flowers or chat on a bench.
Another great way to experience Savannah's community vibe is through its many local businesses. There are an abundance of businesses to shop at, dine in, and drink at all over the city. Whether you want to buy some unique souvenirs or presents for people at home or support mom-and-pop cafes, Savannah is the place!
Charleston and Savannah are both friendly cities with a lot of history and southern hospitality! Savannah is slightly more laid-back, so if you want to visit a busier city, Charleston is probably the place to go. For more relaxed vibes, visit Savannah.
Charleston vs Savannah: Cost
If you're on a budget, one of the deciding factors of whether you visit Charleston or Savannah is cost. It's no surprise that travel can get pricey! Here I'll break down costs of the main things you're likely to purchase. I'll also cover transportation, as well.
Charleston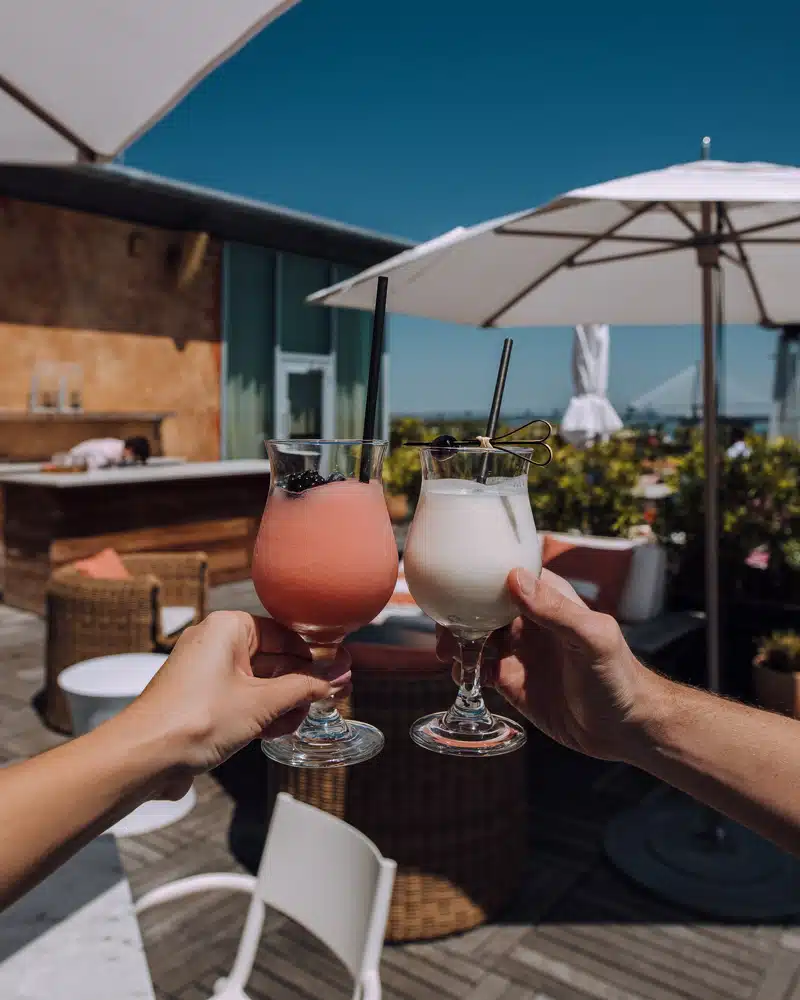 Charleston has a vast range of accommodation options from hostels to luxury hotels. Hostels are the most affordable, with dorms starting at around $60 per person. If you want a double hotel room, you're looking at around $115.
You can get a sense for travel-related costs from the Budget Your Trip's widget below.
This widget aggregates data from real travelers to give you a ballpark estimate for what you might expect in each location.
Dinner costs around $15 per person with luxury restaurants costing more than budget diners, of course. And drinks start at about $5 each, though can get pretty pricey depending on where you're drinking them. 
Charleston is less walkable than Savannah, so I'd recommend renting a car, even though parking can be tough and/or expensive. Of course, you can also opt for rideshare options or use the bus network if the distances are a little too far. 
Savannah
Here is Budget Your Trip's widget for Savannah.
Savannah is very budget-friendly. If you're traveling there on the cheap, you can find hotel rooms for approximately $90 per night. A meal for one person costs around $15, and beer is roughly $4 for local brands – more for exported beer, and other beverages have higher prices.
If you like walking, Savannah is a great place to get around just using your own two feet. And, of course, this is free! However there is also an extensive bus network, so you shouldn't have to spend too much money on taxis.
Both cities are fairly easy to do on a budget. But you'll get a little more for your money in Savannah, and drinks are slightly cheaper. However, there are more budget accommodation and dining options in Charleston.
Charleston vs Savannah: Top Downtown Attractions
While Charleston's downtown area is larger than Savannah's, both have plenty to see and do. You'll probably spend most of your time exploring downtown, regardless of which city you visit. Here I'll cover the main attractions for things to do in downtown Charleston and Savannah.
Charleston
One of the best things to do in Charleston is to visit the City Market. This is an authentic place to enjoy Charleston's culture and celebrate its history at the same time! It is one of the oldest markets in the US, established in the late 18th century. Nowadays, it's a great place to buy local goods.
As you'd expect in such an old city, there are many historical buildings to visit in Charleston. For example, Exchange and Provost was a British colonial prison that now does guided tours.
Charleston is a pleasant city to walk around, as well. There are lots of old buildings, as well as the pastel-colored houses on Rainbow Row. This is the longest street of Georgian row houses in the country – and they're great for Instagram pictures! You can check out the 54 prettiest places in Charleston here!
South of Broad and The Battery are great places to walk around in Charleston as well. You'll love the remarkable houses here! Don't miss the Pineapple Fountain at Ravenel Waterfront Park pictured above- it's the perfect background for a selfie commemorating your Charleston trip.
Savannah
Savannah's range of fascinating attractions is just one thing that tourists love so much about the city. One of the best things to do here is simply walk around and enjoy the city center with the 22 town squares I mentioned earlier.
These hark back all the way to 1733, when the city was first established, and to this day, tourists love to visit Savannah for this slice of nature within the city. If you're a movie fan, head to Chippewa Square, which is where Forrest Gump waited for a bus and told passersby his story. (The Forrest Gump bench was a movie prop, so it is no longer there.)
You'll love the historic architecture in Savannah. The Savannah Historic District has plenty of old buildings and churches- some dating back centuries. Various historic places are open for visitors, including the Green Meldrim House, where General Sherman lived during the Civil War and the Savannah Theatre, one of the oldest theaters in the country. See a show there if you can! And be sure to stop into the Cathedral Basilica of St. John the Baptist. It's an incredibly beautiful church!
Between the charming streets and historic architecture, Savannah is incredibly photo-worthy. Check out the 38 most Instagrammable photo spots in Savannah here!
Savannah is also one of the most haunted places in the USA. You can do various ghost tours to learn more about this and see some supernatural places, or visit the Bonaventure Cemetery, where various Savannah residents have been buried.
There are so many things to do in both cities! If you're into history, you'll probably find a little more in Charleston, although there is so much in Savannah too – so it's almost not worth comparing them on these grounds.
Charleston vs Savannah: Surrounding Area
I'd be remiss if I didn't include a section purely about what there is to do outside of Charleston and Savannah's downtown areas! These are some of the best reasons why you should pick one over the other based on what you're looking for.
Charleston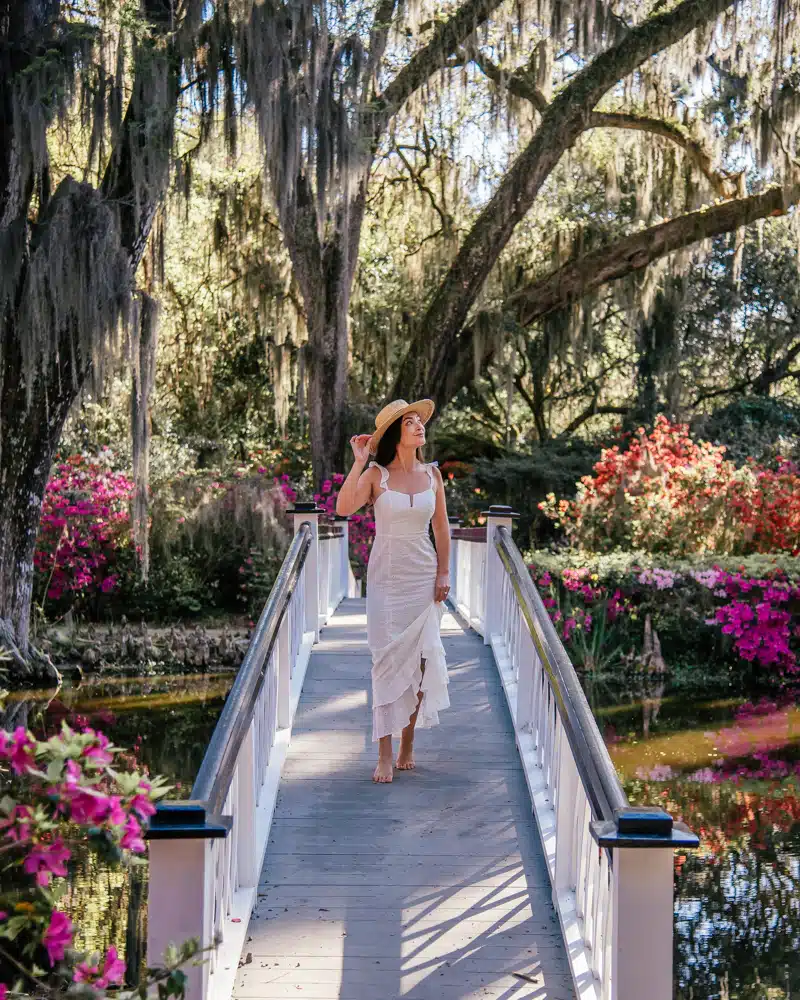 There are many plantations to visit around Charleston, like Boone Hall Plantation, where you can learn about this somber side of Southern history. Check out my full list of the best plantations around Charleston here!
You'll also find so many incredible nature spots, like beaches (Folly Beach, Sullivan's Island Beach, and Isle of Palm Beach), parks (both in and out of the city), and even a cypress swamp! I'll go more into detail in the "nature" section that's up next in this post.
There are also plenty of surrounding islands to visit. You've got Kiawah, Wadmalaw Island, and Daufuskie Island to name a few (Daufuskie is actually a no-car island!).
Savannah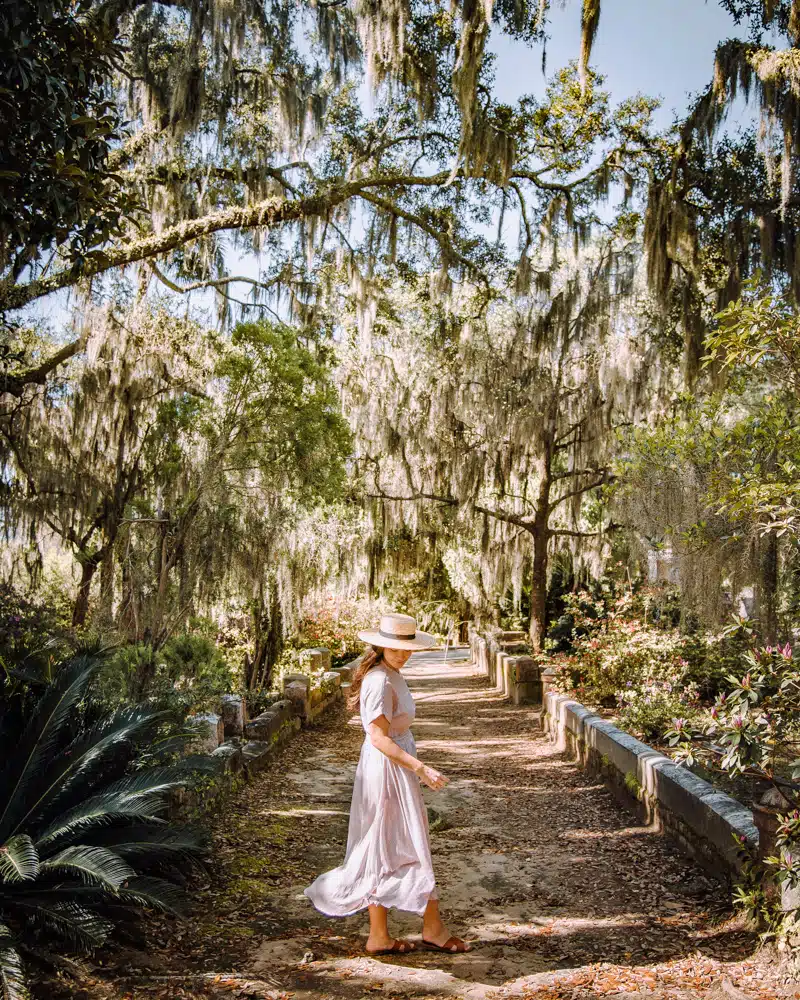 Savannah has fewer tourist destinations outside of downtown Savannah compared to Charleston, but they are still fantastic places.
The top four I'd recommend are:
Bonaventure Cemetery
Wormsloe State Historic Site
Tybee Island
Hilton Head Island
I mentioned Bonaventure Cemetery earlier, but in case you missed it, it's a beautiful (and huge) cemetery just fifteen minutes away from downtown Savannah.
Wormsloe State Historic Site is an old plantation that now educates the public on the slave-era history here. Most people familiar with Savannah associate Wormsloe Plantation with it's magnificent entryway: a 1.5-mile-long live oak tree tunnel. It is truly breathtaking!
Tybee Island is an adorable beach town about 30 minutes from downtown Savannah. You'll love it for its lighthouse, beach town vibes, and sandy beaches.
Head in the opposite direction from the previous three spots and you'll reach Hilton Head Island. I visited Hilton Head with a friend's family in high school for a week and had so much fun. While I wouldn't recommend it for a ton of adventure, you'll find plenty of restaurants, an upscale atmosphere, and 12 miles of pristine beaches.
Charleston vs Savannah: Nature
You'll find some overlap with the "surrounding area" portion of this article right before this, but it's worth talking about the natural beauty in Charleston and Savannah. Both places have stunning Spanish moss-covered live oak trees and access to beaches, but I'll cover more specifics here.
Charleston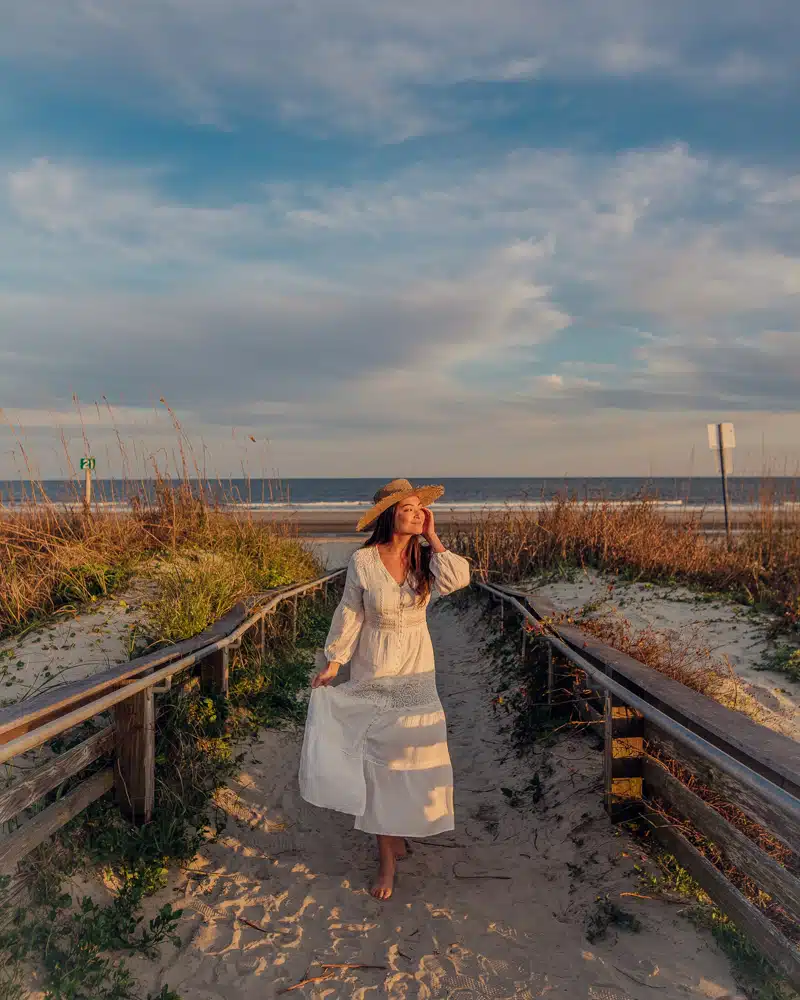 Charleston is a coastal city – so you can easily drive to some of the suburbs and instantly be on gorgeous South Carolina sands! Folly Beach and Folly Island are probably the most popular places to enjoy this natural beauty, but you can also enjoy beaches right by Charleston Harbour. You can see the Isle of Palms beach pictured above.
There are also lots of parks in and around the city. The James Island County Park is coastal but encompasses around 600 acres both by the beach and inland. It's great for cycling! Then there is the Angle Oak Park, which features a 1500-year-old Angel Oak Tree.
A little further afield, there's Shem Creek Park which is an excellent place for watersports, and Edisto Island with marshes and striking coastline (drive along Highway 174 to see what we mean!).
For stunning historical gardens, visit Magnolia Plantation and Middleton Place. We visited in April when Magnolia Plantation's azaleas were in full bloom, and they blew us away!
The cypress swamp at Cypress Gardens is my absolute favorite area of natural beauty around Charleston because if its extreme serenity and stunning nature as you rowboat through the trees. It's actually where the boat scenes from The Notebook were filmed, so you know it's beautiful!
Check out the best nature spots around Charleston here!
Savannah
You'll also love Savannah's closeness to nature. We constantly felt like we were surrounded by nature just by walking around its tree-filled squares. But if you want to see some stunning Georgian natural beauty, there are plenty of places in easy reach of the city.
Forsyth Park is very close to the historic district and spans over 30 acres, with lovely scenery and plenty of live oak trees! Don't miss the gorgeous Forsyth Park fountain here as well.
If you don't mind driving, visit the Savannah National Wildlife Refuge, a delightful national park with lots of wild animals – including alligators!
Charleston is right by the beach – but Savannah is only a stone's throw as well. To experience a slower pace of life (even slower than laid-back Savannah!) head to Tybee Island and Tybee beach. This beach has a pier and a beautiful historic lighthouse.
Charleston definitely takes the crown when it comes to beaches since they are closer and easier to access! However, as long as you are prepared to travel, there are equally stunning beaches in Savannah.
Savannah also has a few more beautiful parks within the city boundaries and a short drive away, so if that's what you travel for, the Georgian city may be a better option!
Charleston vs Savannah: Food
How does food compare between Charleston and Savannah? Both Charleston and Savannah serve up coastal low country cuisine as their specialty. But you'll also find an wide array of restaurant types and styles in each city. Here we'll get into the details of what you can expect.
Charleston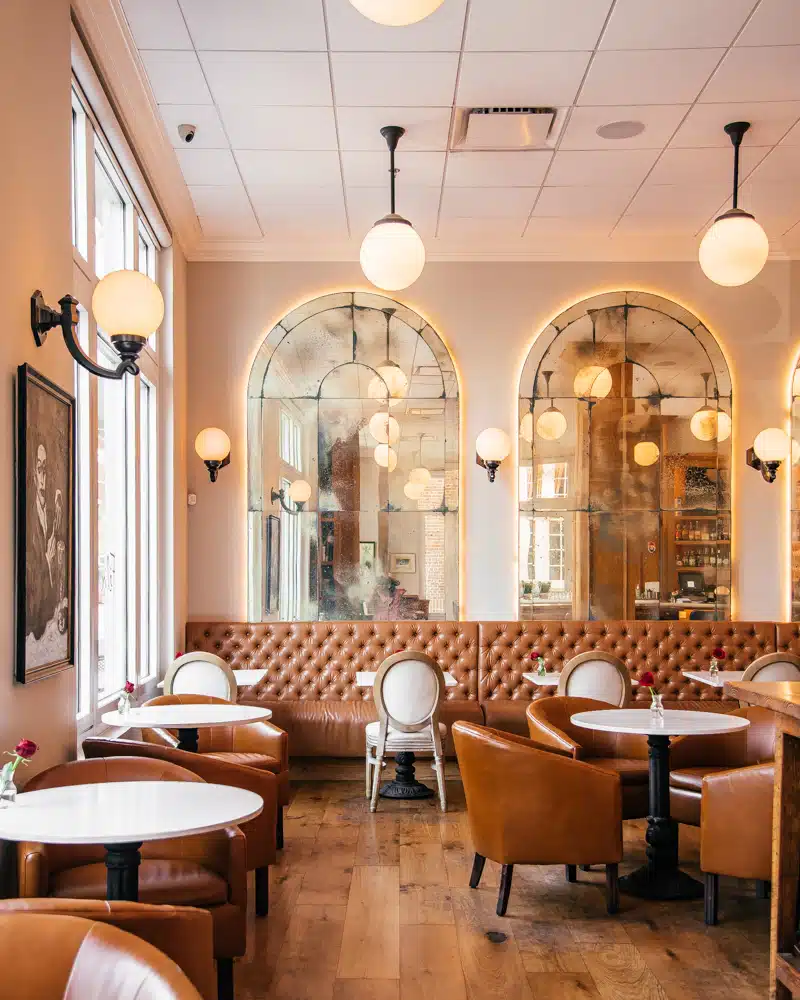 In the Charleston vs Savannah food debate, Charleston is probably the winner! It's famous for being one of the best foodie destinations in the whole country. Charleston pairs traditional Southern fare with international dishes, creating a distinct palate that you'll want to try time and time again.
Make sure that you try food like she-crab soup and shrimp and grimps while you're here! Many restaurants all over town do exquisite fried chicken too.
There are so many fantastic restaurants in Charleston; it would take us days to list them all! Try Bertha's Restaurant for delicious Southern-style comfort food, Butcher and Bee for Mediterranean – Southern fusion cuisine, Kwei Fei for authentic Sichuan-style food, and Le Farfalle for delectable pasta.
You can't go wrong with any of the food choices at F.I.G. and Husk! Enjoy afternoon tea in Camellia's pink champagne bar, and appetizers and cocktails at the Citrus Club.
And, it's worth noting: since Charleston is so popular, be sure to book reservations ahead of time!
Savannah
Savannah isn't necessarily famous for its food, but there's still plenty of wholesome Southern food to try here, as well as lots of local restaurants. For starters, head to The Grey. This opened in a disused Greyhound bus station – how cool is that? Nowadays, it serves up Southern dishes with a modern twist and plenty of mouthwatering cocktails!
We also love The Collin's Quarter for brunch and The Paris Market for coffee and croissants! Also stop into Vic's on the River for a wonderful atmosphere and delicious authentic recipes, Cotton & Rye, located in a former bank, and Husk Savannah, which is in one of the city's most haunted houses!
Leopold's Ice Cream is famous in Savannah- we waited in line for almost 45 minutes, and I think that made us truly savor every bite of our ice cream. For more sweets, stop into River Street Sweets along the river.
While Charleston has a more famous food scene, there's plenty of food to try in Savannah, too. Savannah also has a huge variety of cocktail bars, making it a good place to sample different drinks.
Charleston vs Savannah: Family-Friendliness
Charleston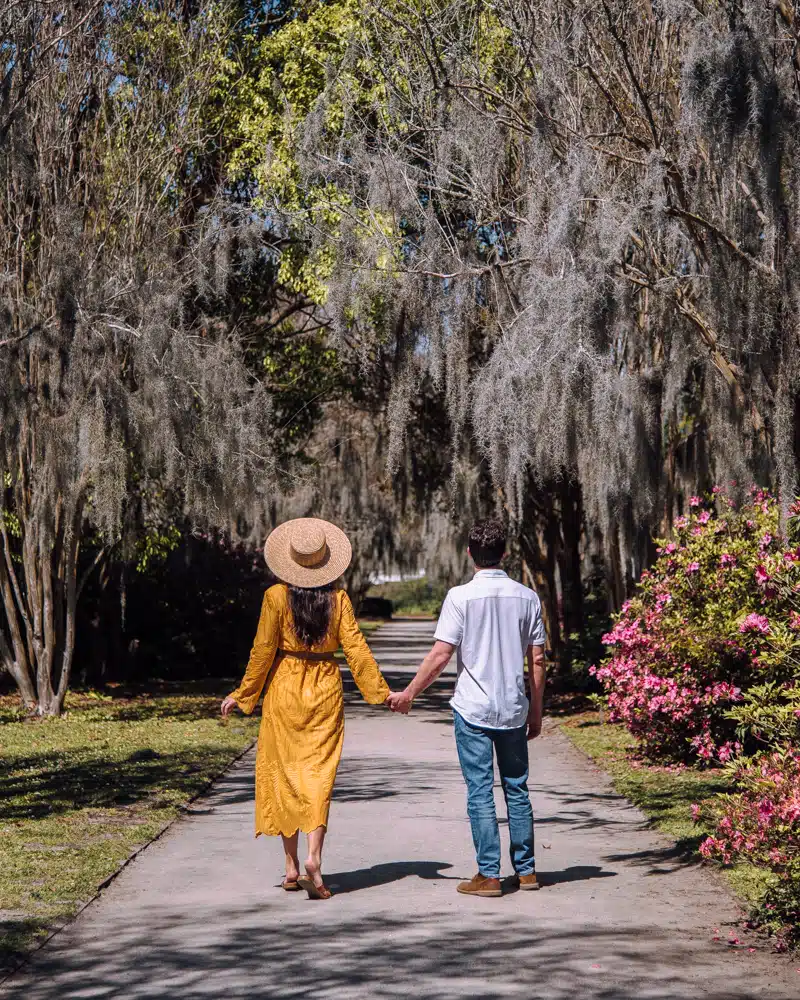 There's plenty for kids of all ages to enjoy in Charleston. Start at The Charleston Museum, which has a Kidstory exhibit that's tailored just for children. If your kids are interested in dinosaurs, make sure you go to the Natural History Gallery! Another museum that's great for kids is the Children's Museum of the Lowcountry. There's a pirate ship, castle, and a large play space for them to enjoy!
Then there's the South Carolina Aquarium. This dynamic attraction has so many fish, sea turtles, and sharks to see, as well as a Lego Alive display.
For something historical that is accessible for kids, consider going to the Fort Sumter National Monument. This is where the Civil War began, and it's a fascinating place to visit – and even younger kids will enjoy exploring!
And, if your kid loves trucks, boats, or planes, you could take them to either the North Charleston Fire Museum or Patriots Point, which has a huge display of historic warships and aircraft.
And, of course, you've got Charleston's beaches as well.
If you want a vacation where your kids can learn something, you can enjoy some culture, and you can all relax on the beach, Charleston is a great option.
Savannah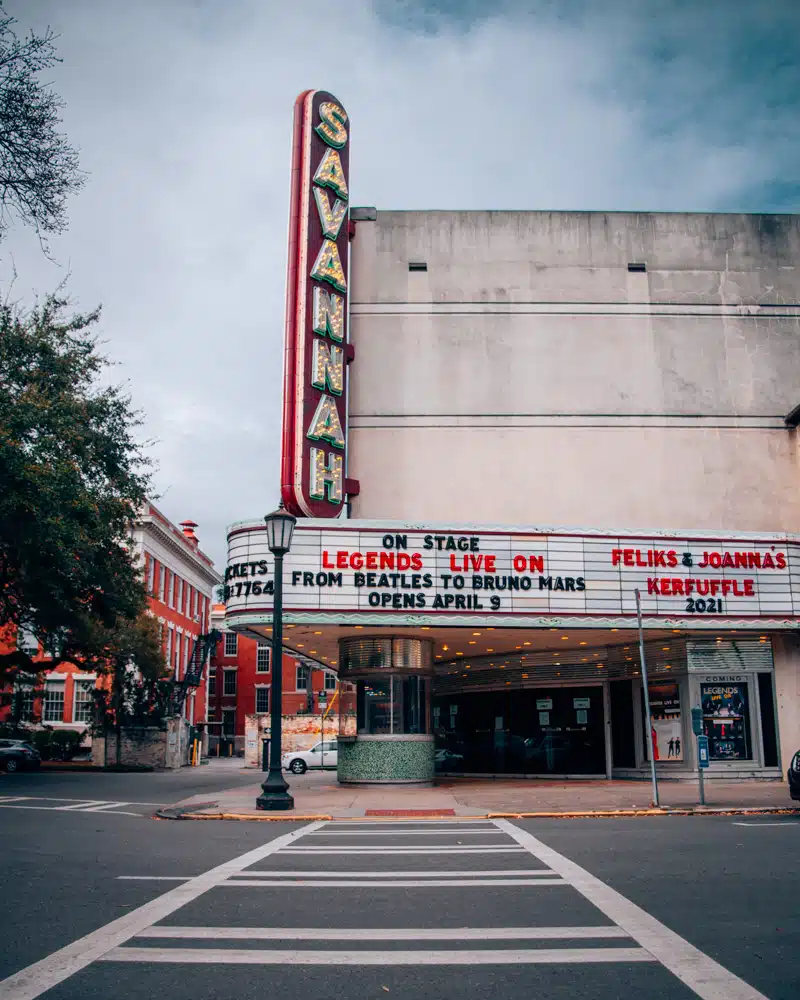 As a safe, quiet, and laid-back city, Savannah is also great for families. Younger kids will love the Savannah Children's Museum, while older children might be interested in the rich history of the city and museums like the interactive gallery at the Jepson Center.
Savannah's closeness to nature is another reason why it's fantastic for families – especially those who love the outdoors! If you are in Savannah for a long vacation, you could spend some time in the city and the rest enjoying epic Georgian beaches and other Southern nature spots.
There is a lot for families in both cities. Charleston probably has more attractions, but as a family you'll love the welcoming atmosphere of Savannah, as well as the range of nature spots on your doorstep. If you're visiting with kids, both cities are good options!
Charleston vs Savannah: Safety
Charleston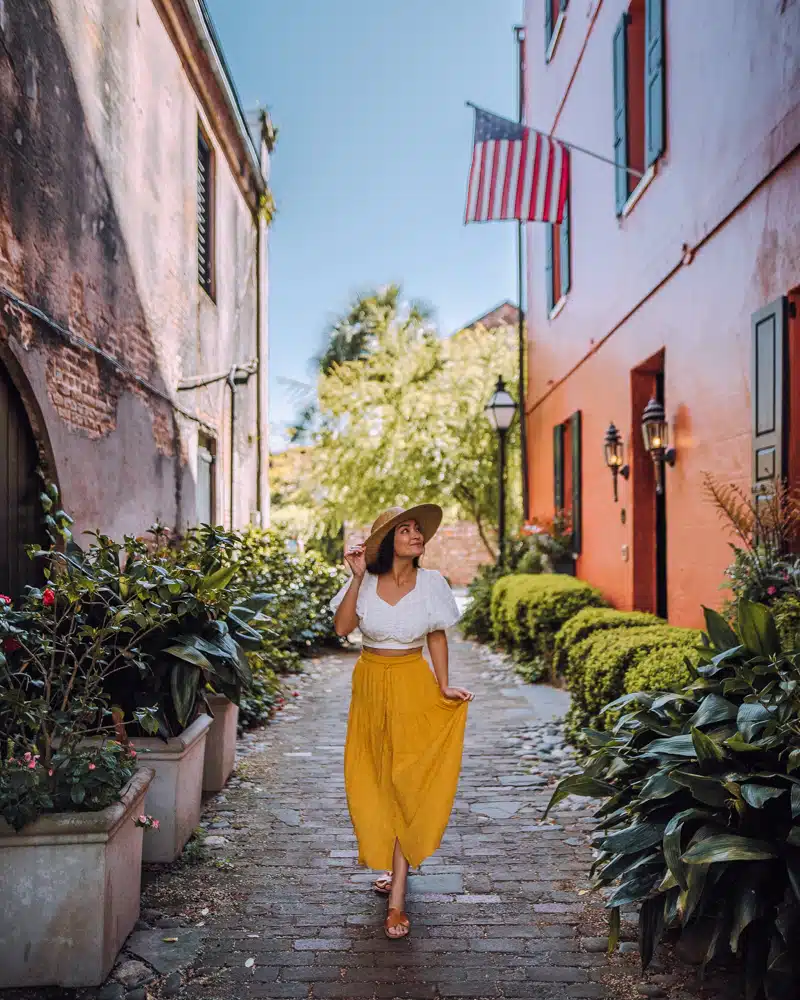 Charleston has a higher crime rate than the US average and relatively speaking, North Charleston is considered a dangerous area. However, downtown is largely thought to be safe – that said, it's a very busy area so you should be careful about pickpocketers.
Savannah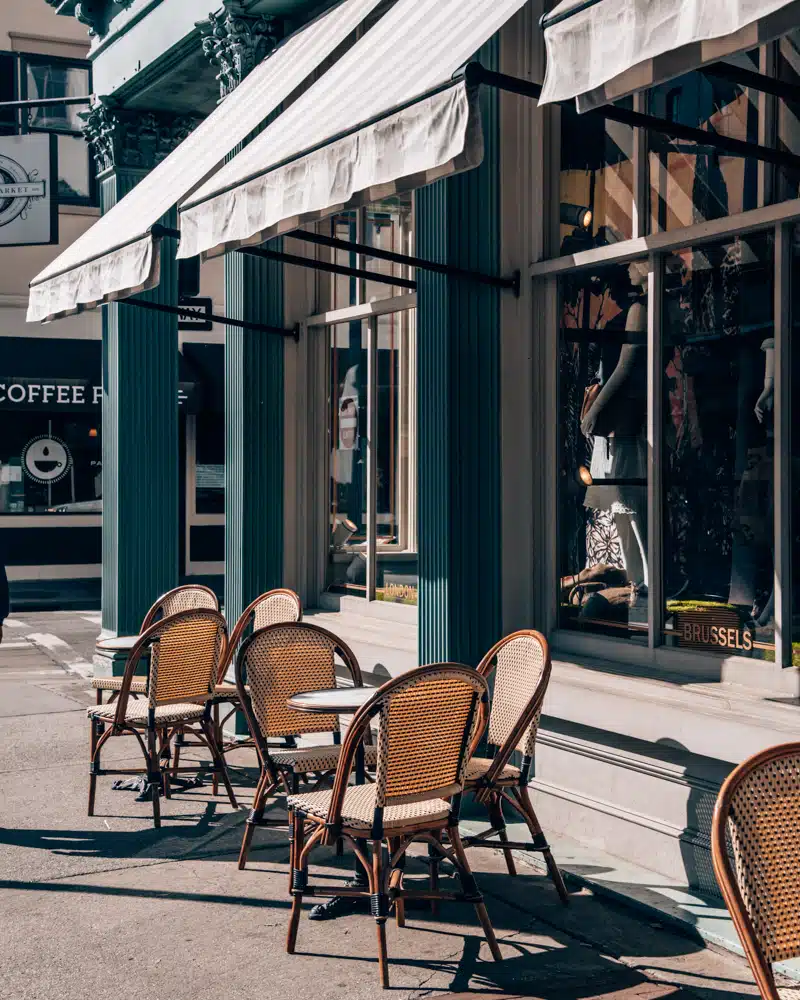 Savannah is largely a safe city, and nearly all visits are trouble-free. However, there are some things to bear in mind. The historic district is generally considered to be safe, but some neighborhoods have higher crime rates, and Savannah does have a higher crime rate than the US average.
The crime rates are relatively high in both cities, but most tourists who visit both Savannah and Charleston have a completely trouble-free visit. To stay safe, make sure that you stay in secure accommodation, don't walk around in areas you don't know after dark, and don't flaunt your valuables.
In conclusion…
I hope this post has helped you weigh the pros and cons of Charleston vs Savannah!
Long story short, if you're looking for a bigger city with more to explore, Charleston is for you. However, that does make Charleston more popular and more touristy- so if you're looking to relax and escape bigger crowds, Savannah is your best bet.
Both have an extensive history, beaches nearby, and plantations to visit (though Charleston has more beaches and more plantations). Savannah's downtown is more walkable and feels immersed in nature. Charleston's is bigger, so there's more to do, but it'll take much longer if you plan on walking.
So, when it comes down to it, I'd say their biggest differences are downtown size and overall vibe. Savannah is smaller and more relaxed; Charleston is bigger and busier.
So, what do you prefer? Let me know in the comments!
And if you have any questions, feel free to drop them in the comments as well!
Looking for more Savannah or Charleston articles? Check these out:
Safe travels!
Jasmine
PS. If you found this post helpful, please share it to Pinterest! You can use either image below for easy pinning!