If you're looking for the best Charleston nature spots, you've come to the right post! From Spanish-moss draped live oak trees and sandy shores to stunning gardens and cypress trees, Charleston has no shortage of gorgeous nature spots.
Whether you're looking for a quiet place to enjoy the outdoors, somewhere to cast a line, or stunning nature for photography, this list has them all.
You can see some of these beautiful nature spots in the video I made from my trip to Charleston!
[If you don't see a video player below, you may need to disable your ad blocker!]
Here I'll share the best nature spots in and around Charleston! Let's get to it!
1. Magnolia Plantation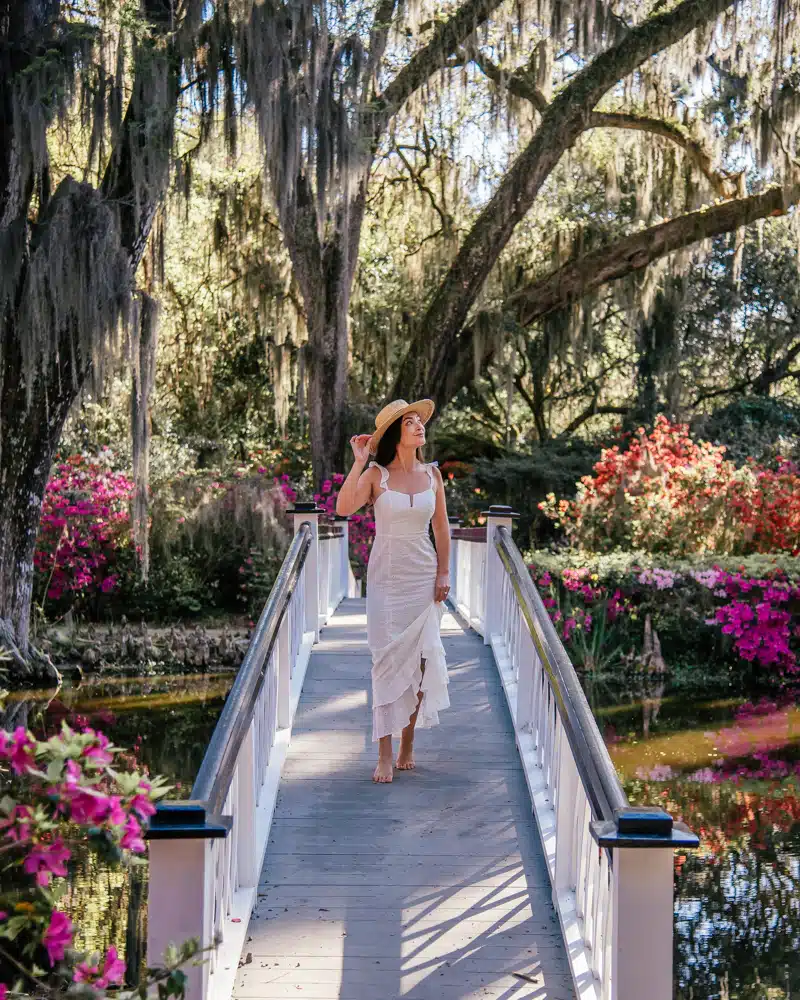 Magnolia Plantation is one of the most interesting plantations near Charleston, and one of the oldest in the entire South! While it has a somber history and pays homage to the people who were enslaved there through tours and attractions, you will be blown away at its natural beauty.
There are striking gardens covering the 464-acre Magnolia Plantation. In fact, it's actually the oldest public garden in the country. The plantation was founded in 1676 and has been open to tourists since 1870. While it has changed significantly over the years, the gardens have certainly not gotten any less iconic. And it remains one of the best Charleston nature spots to visit to this day.
Magnolia Plantation is open seven days a week with springtime hours from 9:00 am to 5:00 pm. It costs $20 for adults to enter and $10 for children aged 6-12. There are a few extras that you can do, including the nature boat, the nature tram, the Audubon swamp, the historic house, and the slavery to freedom tour which all cost $8 extra. I recommend visiting right when they open for fewer crowds.
2. Middleton Place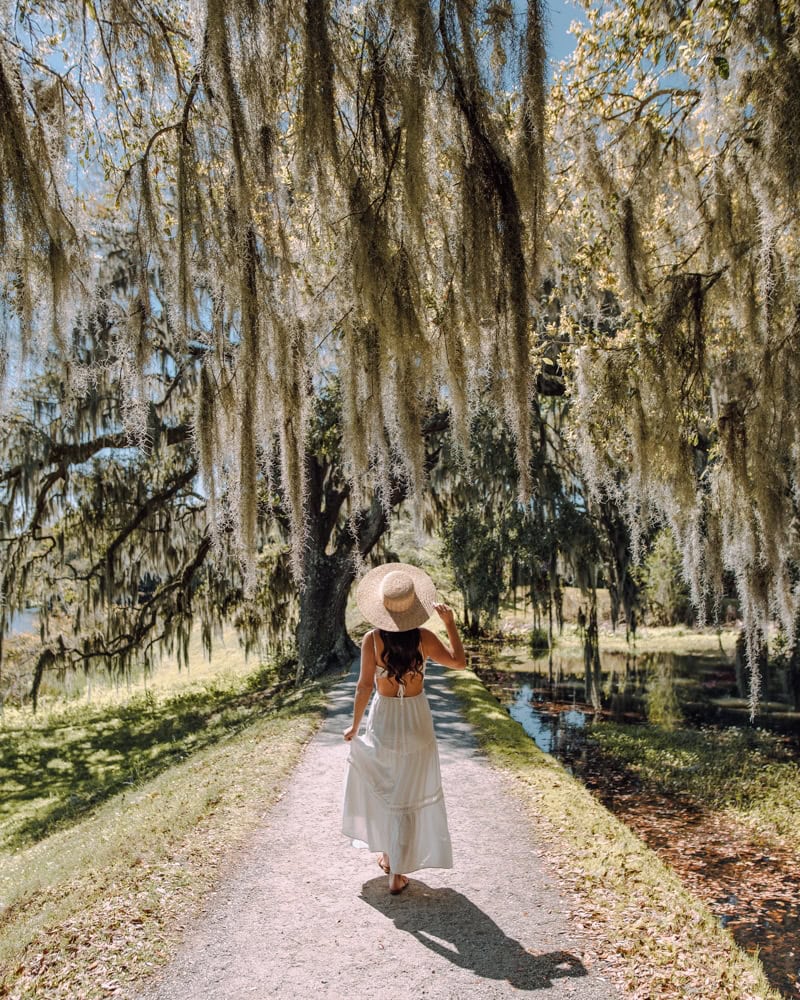 Middleton Place has one of the most beautiful gardens in all of Charleston. In fact, it holds the title of the oldest landscaped gardens in America. These gardens were first created in the early 18th century to imitate 18th century English and European gardens. As you walk around the estate, you'll see many beautiful features that will remind you of an English summer garden.
There are also plenty of plants from continental Europe, such as camellias. This French flower was supposedly introduced to the estate by Andre Michaux, a French botanist. Middleton Place's landscaped gardens are not only the oldest of their kind in the country but they have also been given the prestigious title of the "most important and interesting garden in America". When you walk past the beautiful flower bushes and water features, I think you'll agree!
Adult entry for Middleton Place is $29 if you buy your ticket at the door or $26 if you purchase it online. For children, it's $10 (both at the door and online).
Also, if you like wine tasting, you might be interested in doing the Garden Stroll and Wine Tasting experience. This way, you can both soak in the garden and enjoy some local beverages! The wine tasting experience costs $20-$25 extra.
3. Boone Hall Plantation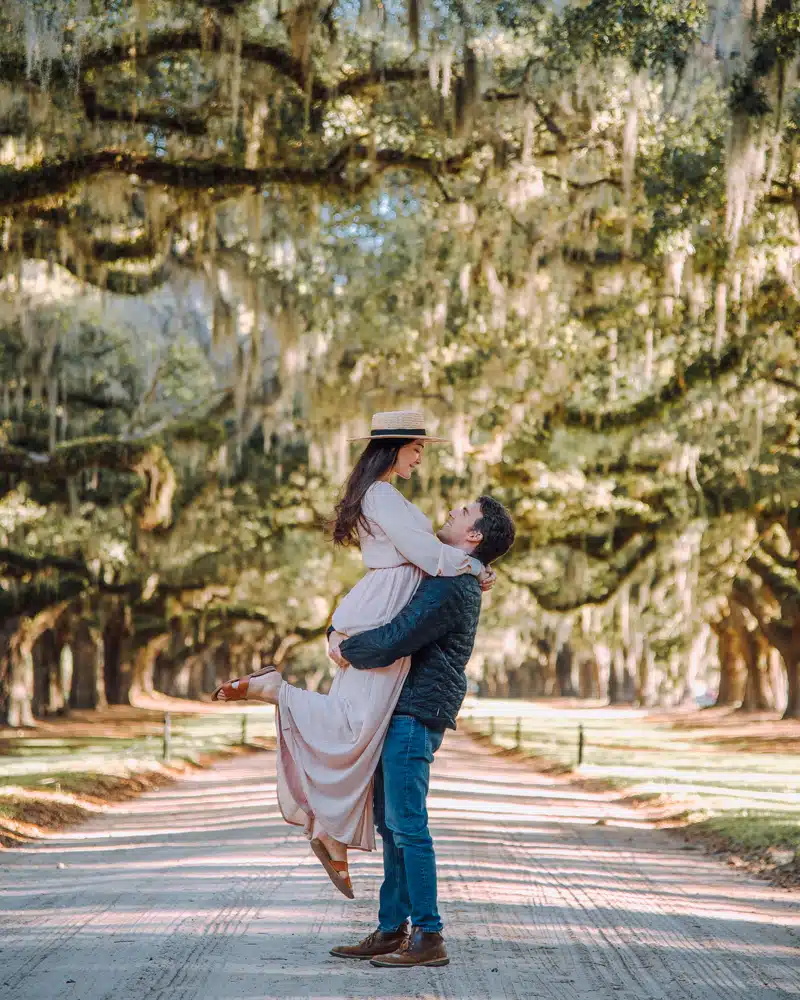 Boone Hall Plantation is another key plantation in the Charleston area. Full of educational tours and insight into what slave life was like, it is also a pleasant spot to enjoy nature. In terms of nature, this plantation is most famous for its two rows of oak trees that line the entrance road. The trees' moss-covered branches curl upwards to meet at the top, creating a mossy alleyway. This road is quite appropriately named the Avenue of the Oaks, and you can't miss it!
There are also countless beautiful flowers here, plenty of which are in the gardens next to the main house. Some of these flowerbeds have been around for a whole century, and others change depending on the season.
Boone Hall is also popular for its resident butterfly population, many of which feature various bright colors.
At Boone Hall, you can appreciate the gardens by strolling around them. But you can also take a 40-minute tractor tour where you will be driven around all of the 738 acres of Boone Hall. You'll see not only the gardens but the entire grounds and learn how Boone Hall still operates as a working farm today.
At the time of writing, Boone Hall Plantation is open from Tuesday to Saturday, 9:00am to 5:00pm, and Sunday from 12:00 noon to 5:00pm. It's $26 for adult entry and it costs $12 for children aged 6-12.
There are also various events that you can enjoy at Boone Hall such as the Lowcountry Strawberry Festival and the Boone Hall Pumpkin Patch at Halloween!
You can check out this full list of the best plantations in Charleston here!
4. Cypress Gardens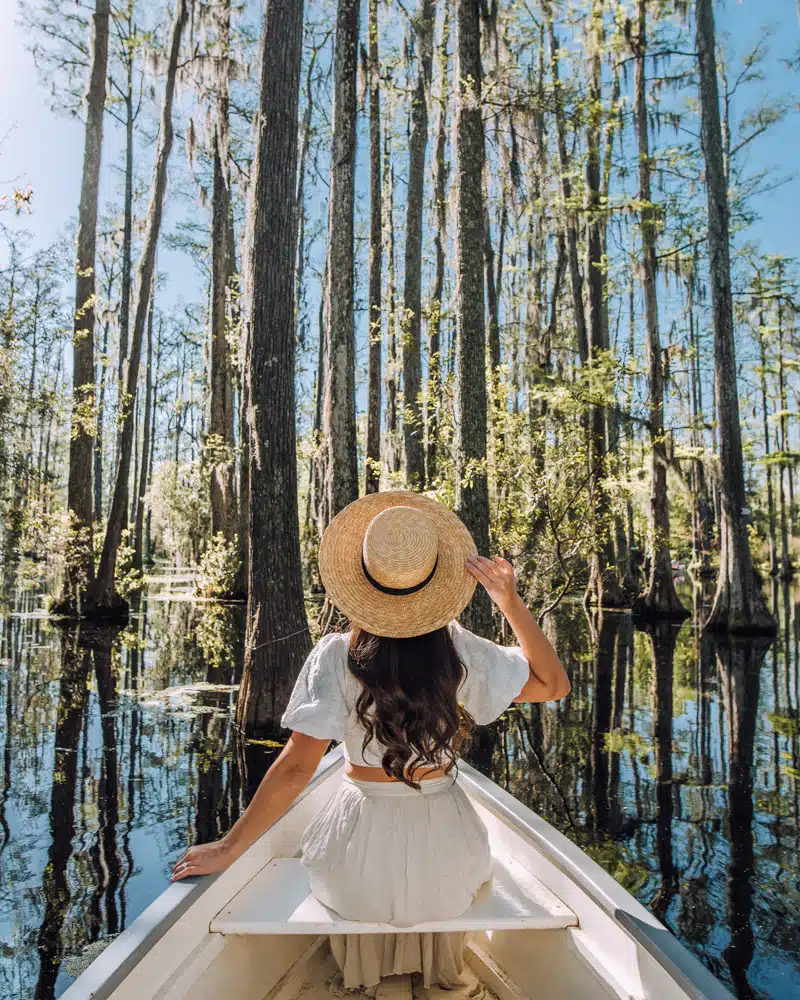 Cypress Gardens is one of the most unique Charleston nature spots on this list. And it is one that you definitely shouldn't miss! It's hands down my favorite nature experience in Charleston!
With 3.5 miles of hiking trails, there's plenty of beautiful places to enjoy on these grounds. The gardens have a range of flowers with lots of beautiful flora. It's the perfect place to get a dose of nature that's also close to the city!
But don't miss out on the highlight of Cypress Gardens: the complimentary first-come-first-served boat rides! Remember that romantic boat scene from The Notebook? Well, that was actually filmed here! And you can have your own Notebook experience as well! My husband and I came right at opening and were the first ones out on the water- it was as romantic as I dreamed it would be!
As you row through the still waters, you'll follow arrows posted on the cypress trees to mark the path. The full loop takes about 45-minutes.
If you're lucky, you'll see some alligators once the water is warm enough! We saw one swimming through the water, and another sunning on the bank. Don't worry, though- the boats have flat bottoms, so they won't tip. And the alligators won't bother you if you don't bother them!
It costs $10 for adults to visit the Cypress Gardens and $5 for children aged 6-17 years. It is open 7 days per week from 9am to 5pm, although the last admission is at 4pm.
While the self-guided boat tours are included with admission, it's an extra $5 per person for a guided tour.
5. Shem Creek Park
Shem Creek Park is a recently remodeled Charleston nature spot in the Mount Pleasant area. This area has earned a reputation for its delicious seafood restaurants and fun bars for years. The park itself has various boardwalks that will help you explore the creek and the wetlands around it.
Locals love it for nature strolls and fishing. This park is free to explore, and is open from 5:00 am to 12 midnight.
6. Sullivan Island Beach
Charleston does beaches really well and Sullivan's Island Beach is no exception! This beach is very close to Charleston Harbour, making it easy to access from the city. The gorgeous sandy expanse is perfect for photography, sunbathing or nature walks. Plus, you can do watersports here too!
There are also lots of shops and restaurants just a stone's throw from the beach, some serving delicious local seafood. So you could easily spend the day here! For a nice evening out, stop by the Post House and enjoy some cornbread (it is amazing!) and dinner before catching the sunset on Sullivan's Island Beach.
7. Isle of Palms Beach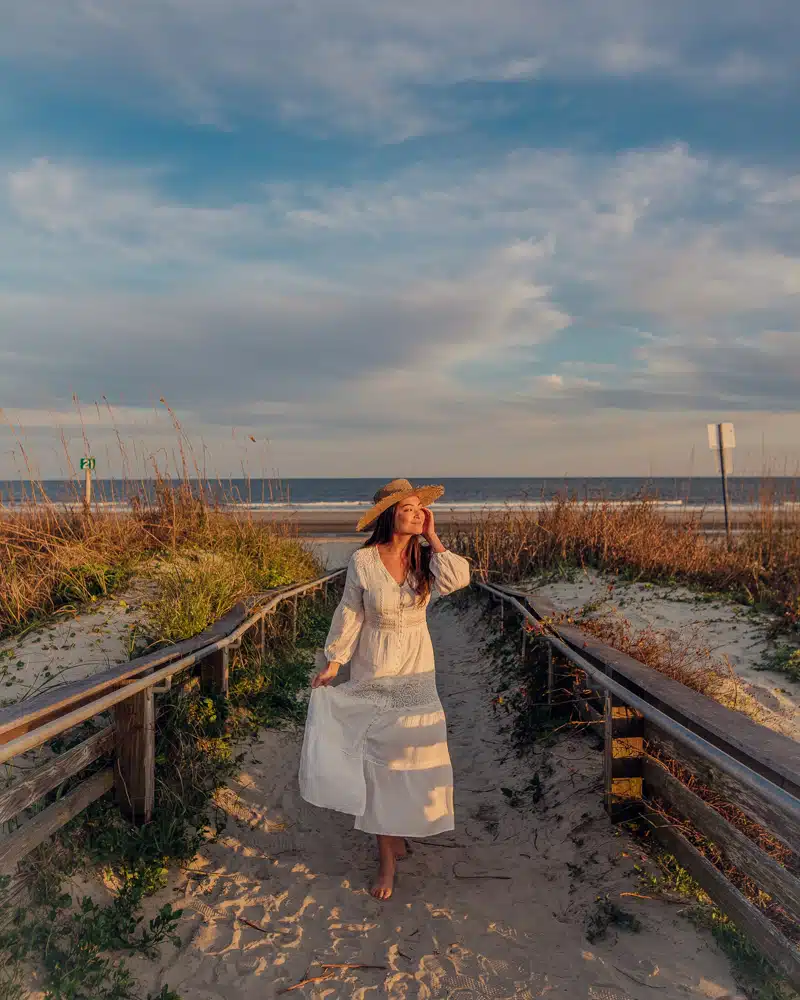 You will find The Isle of Palms Beach right by Sullivan's Island. It sits only 12 miles from historic Charleston. It's a wonderful place where you can enjoy the stunning South Carolina beach, island life (which is much more relaxed than the big city!), and water activities.
To enjoy nature in the area, you can charter a boat, go kayaking, or head out with a camera and look for beautiful things to photograph (you can guess what I usually do!). You could also take to the water on a stand-up paddleboard (I recommend going in the morning when the water is calm).
8. Folly Beach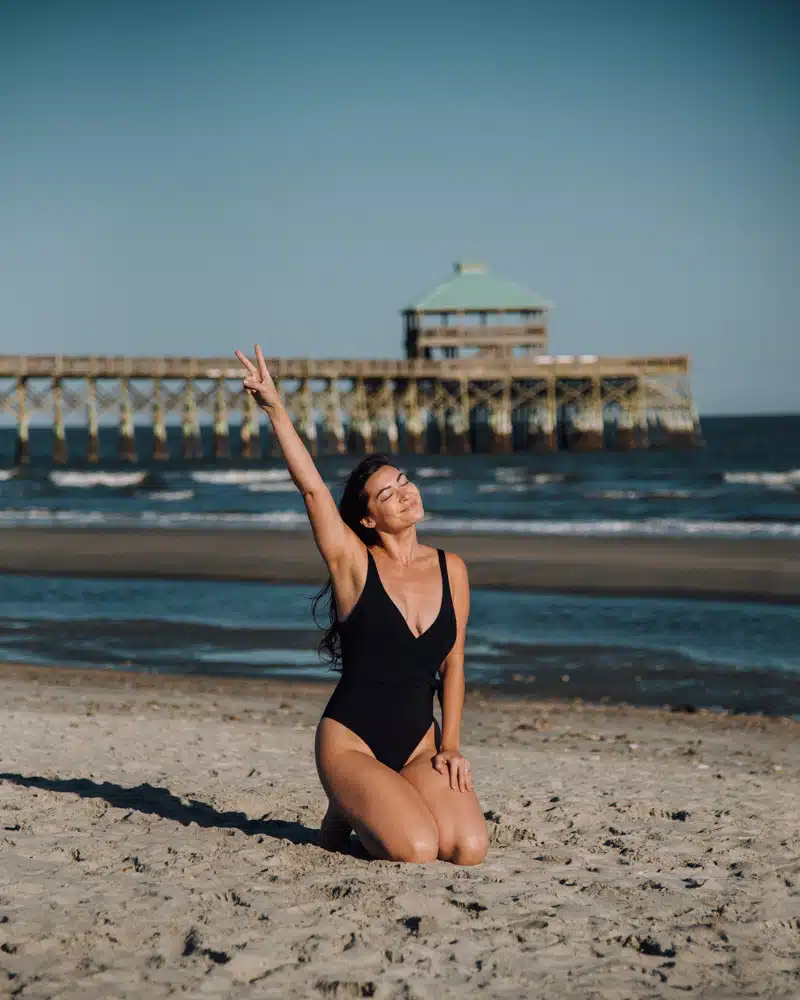 Folly Beach is a short journey away from Charleston, and it's an idyllic place to watch the sunset. This expansive beach is also a popular vacation destination close to Charleston.
So if you want to go on a day trip and are looking for somewhere where you can enjoy the spectacular ocean and golden sands around the city, Folly Beach is a great option.
Typically, this is a great place to go fishing, but that's on pause at the time of writing. The Folly Beach Pier is closed for renovations, expected to reopen in spring of 2023 (see full updates here). But for those who want to fish, know that there are other fishing spots in the area!
You can go pier fishing at the Mount Pleasant Pier, surf fishing at either Folly Beach County Park or at the next spot on this list, and dock fishing at the Sol Legare Boat Landing.
9. Morris Island Lighthouse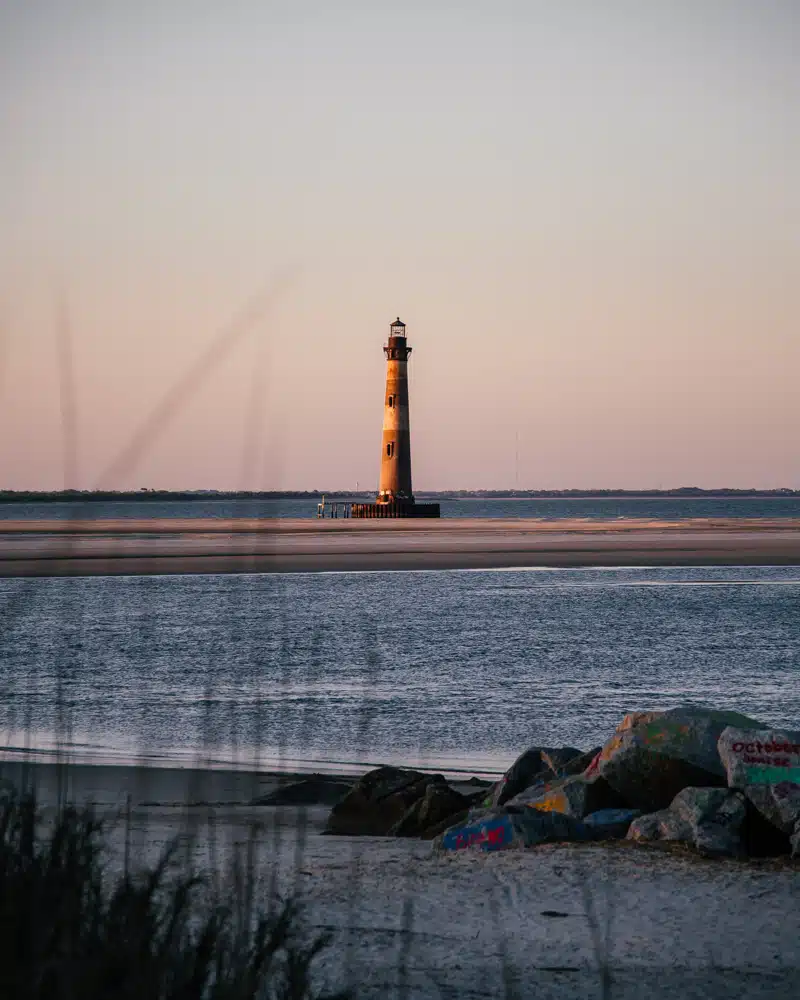 At the end of Folly Beach, you'll find the Lighthouse Inlet Heritage Preserve. It's the perfect place to view the Morris Island Lighthouse, a red(ish) and white striped lighthouse that has become somewhat of an icon of this area of Charleston. The original tower was demolished in the Civil War. The tower that stands today was rebuilt in the 18th century.
When you get to the Heritage Preserve, there is a parking lot (we had no trouble finding parking) and two options to reach the lighthouse. The direct option is a half-mile-long paved walkway covered with colorful graffiti. The more scenic option is to take the beach access path to the beach, then walk along the shore until you reach the main part of the preserve, from which you can see the lighthouse.
This area of Folly Beach is not very touristy, and it's a great place to get away from it all and watch the ocean. It's even more epic if you visit it for sunrise or sunset! I especially loved it at golden hour when the lighthouse appears redder than it does in the daytime.
The only way to see Morris Island Lighthouse up close is on a kayak or boat tour. (Only skilled kayakers should attempt this on their own). There are a few guided tours that will show you around both Morris Island and the lighthouse, like this 2-hour tour or this 3-hour tour that often includes dolphin viewing. You can also do a paddleboard tour like this one as well!
10. Brittlebank Park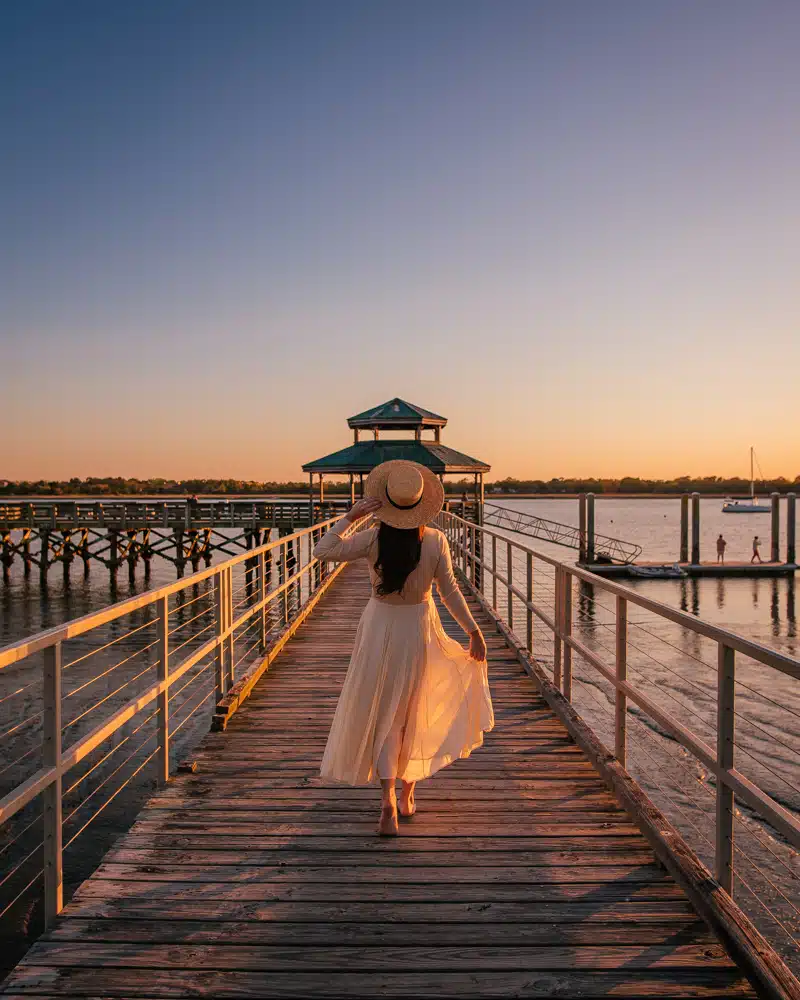 You will find Brittlebank Park on the Ashley River. It has a vast green space with epic views of the tranquil river. This park is also an ideal place to go for a nature stroll or fishing. If you want to enjoy some food here, you can bring a packed lunch and eat at one of the picnic tables.
If you love flowers like me, you'll love exploring Brittlebank Park! There are so many types of flowers here! Look out for the American Beautyberry, Beach Evening Primrose, Coral Bean, Florida Dune Sunflower, and the Gigantic Star Daffodil.
The park is open seven days per week from 9:00 am to sunset, and it is free to enter. The entrance is located at 181 Lockwood Blvd.
11. Hampton Park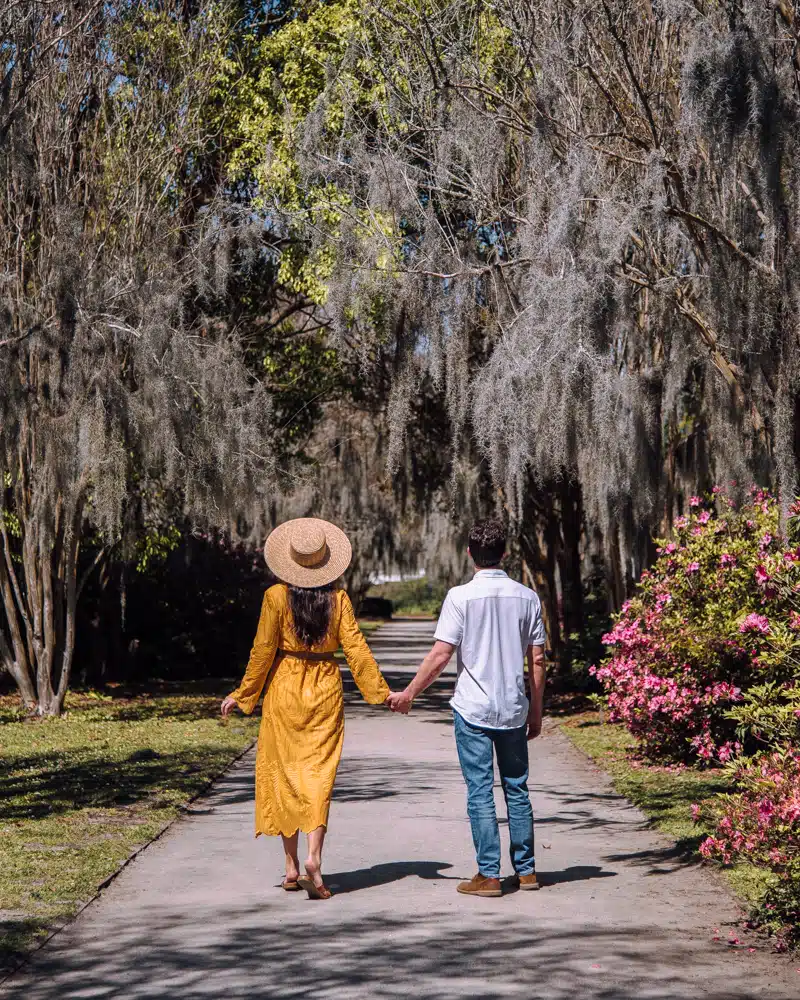 Hampton Park is one of the biggest parks in the whole city. So if you're looking for a Charleston nature spot, there's no better place! Hampton Park has the best and biggest flower displays of any of Charleston's many parks. Many of the flowers are seasonal, but there is also a historic rose collection.
Hampton Park is a convenient park to visit because it has on-site restrooms and a car park. There are also plenty of trash cans, a playground for children, picnic tables, and a drinking fountain. If you want to go for a short hike and get into nature, you can take one of the trails through the park!
12. Ravenel Waterfront Park
Ravenel Waterfront Park, also known as Mount Pleasant Memorial Waterfront Park, is one of my favorite Charleston nature spots and a great place to get away from the city. It is located on the edge of Charleston's South of Broad neighborhood and has great views of Charleston's picturesque harbor.
You'll be able to really appreciate the water views here. It's a great place to take some scenic photos, and you can also walk down the 1250 foot long esplanade and take in the views at every step. If you're visiting with kids, there's a nautical-themed playground with plenty of boats to play on!
This Charleston nature spot is particularly photo-worthy when it comes to the Charleston Pineapple Fountain. Pictured above, it has become a Charleston staple- so visit early in the day if you want to get a photo without anyone in it!
The park is open from 6:00am – 11:00pm every day, so there's plenty of time to enjoy it. It is free to enter, and the entrance is located at 99 Harry Hallman Boulevard.
13. Pitt Street Bridge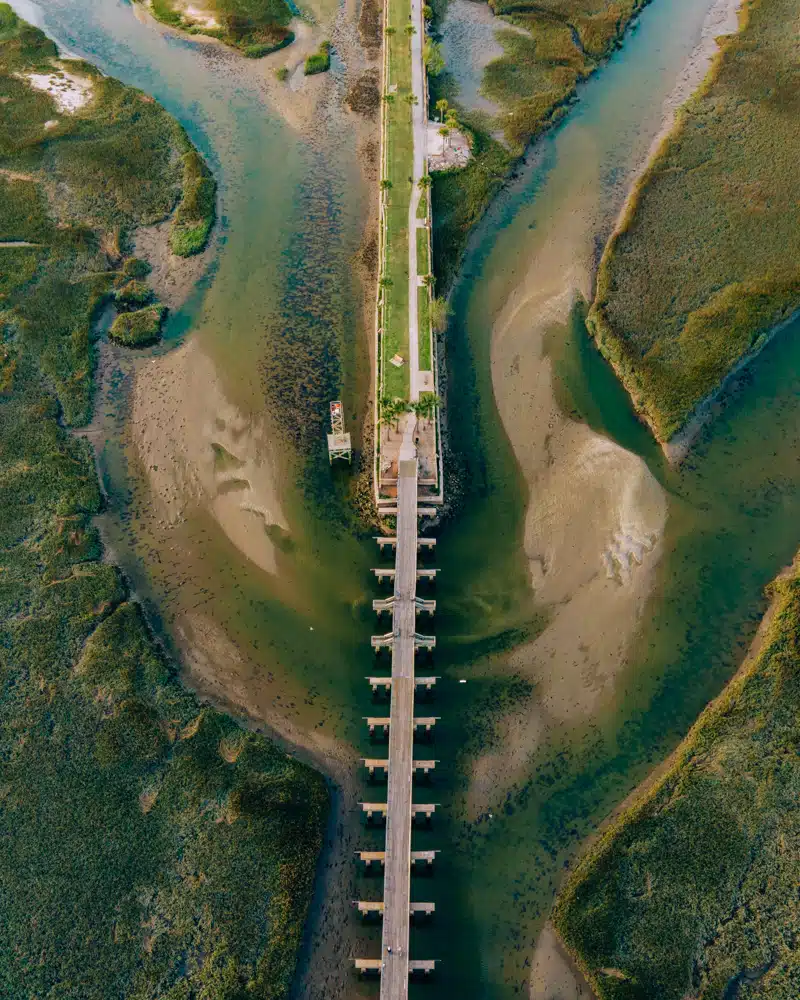 Pitt Street Bridge was a trolley bridge that linked Mount Pleasant to Sullivan's Island. However, it has been regenerated in the last few years, and it is now a beautiful spot to get lost in nature. It has epic views over the water, with palm trees lining the bridge.
It is also one of the best places to go fishing. There's a fishing pier a the end where you can catch bass trout, blue crabs, and flounder.
It's also a wonderful place to just stare out over the water or take a scenic walk – or, if you are feeling a bit more adventurous, you can kayak here to Charleston Harbour.
Pitt Street Bridge is always open- but naturally, it's best to visit during daylight hours. It is free to explore the bridge and its surroundings.
14. Charleston Tea Garden
As America's only official tea plantation, this nature spot is uniquely beautiful. The Charleston Tea Garden is a scenic tea plantation that is one of the best places to enjoy nature outside of Charleston. While Wadmalaw Island, where it is located, has been used for tea-growing purposes for centuries, the Charleston Tea Plantation officially opened its doors in 1987.
Charleston Tea Garden has excellent conditions for growing tea due to its wet soil and warm, subtropical climate. The garden is famous for its American Classic Tea – the only tea that is entirely produced in America.
The Charleston Tea garden is free to enter, and you're welcome to visit with a picnic, explore the grounds and dine al fresco! If you'd like to learn a little more about the tea and see the beautiful tea fields, you can do a trolley tour.
Dogs are permitted at the Charleston Tea Gardens as long as they are well behaved and kept on a leash. The gardens are open from 10am to 4pm Monday to Saturday and noon to 4pm on Sunday.
Don't forget to go to the gift shop, where you can purchase your own box of American Classic Tea or a few other types of tea which are sold here!
Wadmalaw Island is about 40 minutes from Charleston, so if you make the trek here, don't miss out on the next (and last) spot on this list as well!
15. Deep Water Vineyard
Also on Wadmalaw Island, Deep Water Vineyard is South Carolina's only vineyard and winery, so this place is a must-visit if you're a wine lover! It's a beautiful place to see too – with both vineyards and a beautiful reflective pond with a pier.
You can do a self-guided tour at the vineyard for $10. For this price, you will be able to explore the site at your own leisure, and you can also browse their wine list and choose six samples to try.
There's a whole seven miles of vines here, and your entrance ticket includes exploring these at your own pace as well. Deep Water Vineyard is open from Tuesday to Saturday, 10:00am until 5:00pm.
If you are with a large group and want to arrange a private tasting or tour, you can contact the vineyard directly and they'll be able to accommodate your needs.
Throughout the summer, and sometimes in the winter, there are events at Deep Water Vineyard. They are another way to enjoy the delicious wine and natural surroundings! Past events that they have hosted (and will likely host in subsequent years!) include the Beginning of Summer Festival, Lowcountry oyster roast, Grape Stomp Festival, and Boots, Bottles, and a Blessing Festival, which takes place around Thanksgiving.
In conclusion…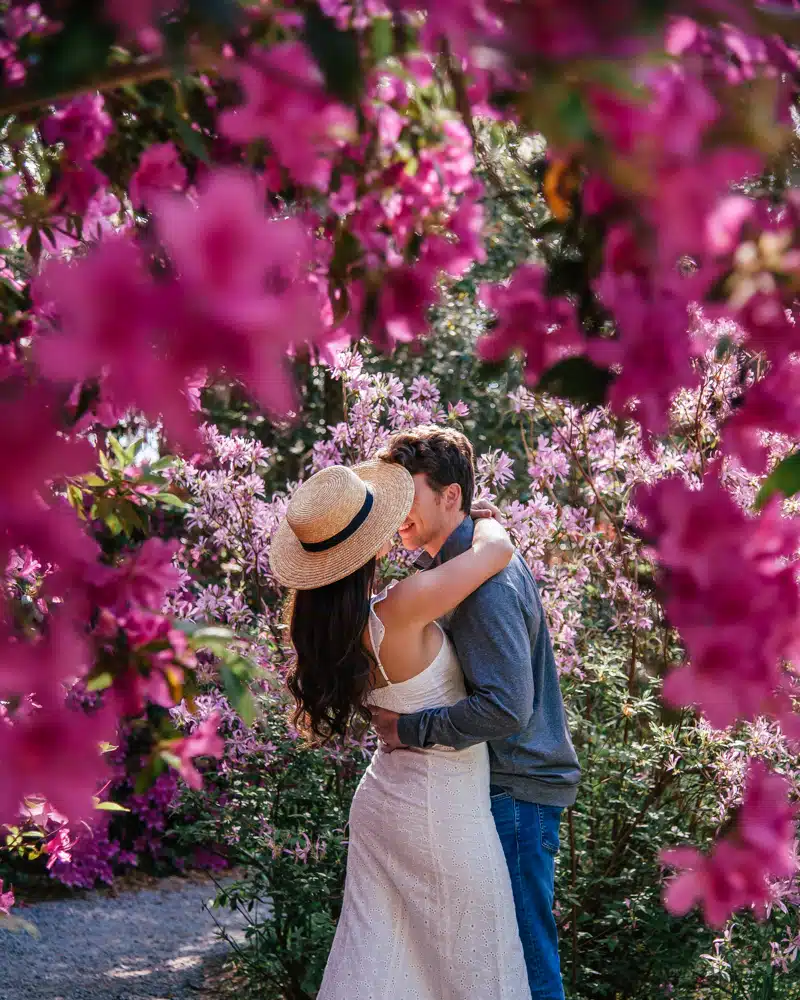 There are so many incredible nature spots in Charleston to explore! Which one on this list are you most excited to see?
And if you're looking for more things to do in Charleston, check out these posts:
If you know of more great Charleston nature spots, let me know in the comments below!
Happy exploring!
Jasmine
PS
Check out this story format of these beautiful places below!
And if you like this content format, let me know in the comments!
PS. If you found this post helpful, please share it to Pinterest! You can use either image below for easy pinning!