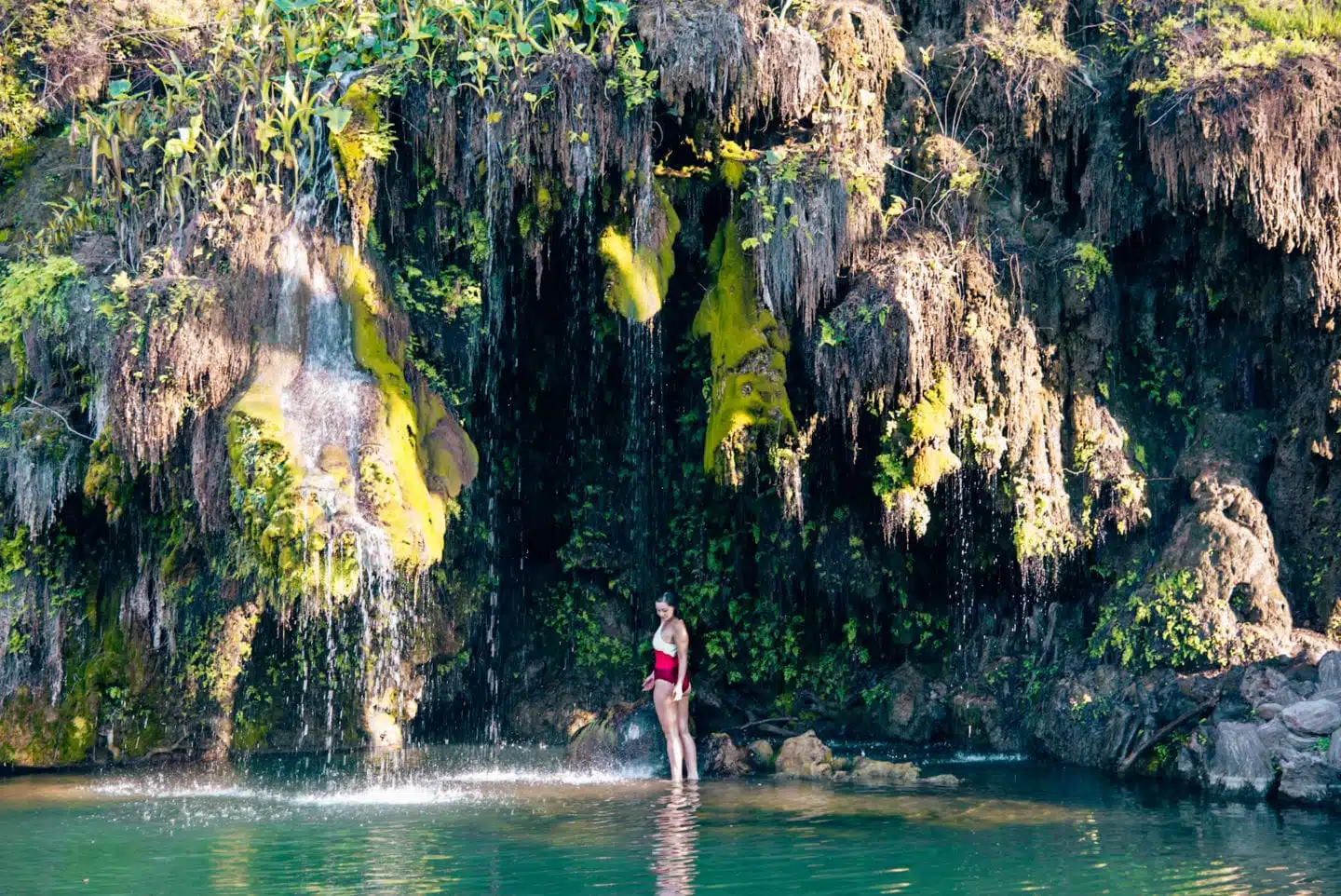 The Texas Hill Country is arguably one of the most beautiful parts of Texas.
With rolling hills, wildflowers galore, vineyards, small towns, and dreamy natural pools, it truly has it all!
There are so many gems in Fredericksburg, Texas and the surrounding hill country, and here I hope to share the best of the best with you!
I've personally experienced all of these places, and they made my list of 20 because of their unique charm.
We traveled to the Hill Country partnering with Toyota as part of their Texas Adventure Week campaign.
We actually made a video of our road trip featuring some of these hidden gems.
[If you don't see this video below, you may need to disable your ad blocker.]
We hit the road in a gorgeous blue 2019 Toyota RAV4 and its lane assist and cruise control made driving so fun and easy!
As my husband, Harrison, drove, I pretty much was always on the lookout for beautiful views and scenic overlooks.
That combined with plenty of research beforehand brings us to this list of hidden gems!
I've broken them up into several categories.
Without further ado, here are my top 20 Texas Hill Country hidden gems that you simply must experience for yourself!
Nature
1. Kayaking the Medina River
Kayaking the Medina River with The Medina River Company is a Hill Country must!
They will provide you with kayaks and a shuttle to get to the beautiful river.
As of March 2018 it costs $50 per single-person kayak, but you can check out their site for any updated information here!
When the sun shines and the leaves are in full bloom, the Medina River is a sight to behold!
The water is insanely clear- you can see all the way to the pebbled bottom.
If you want to camp overnight on your own little island along the river, that is definitely an option as well!
We got to meet Colby, the owner of the Medina River Company, who has owned it for the past 3 years.
He showed us around and took us to this beautiful spot where the trees create a canopy overhead.
The Medina River Company does such a great job of making sure you get the most out of your kayaking experience!
They actually routinely kayak the entire river to make sure there are no fallen trees or hazards- so you know you're in good hands!
2. Pedernales State Park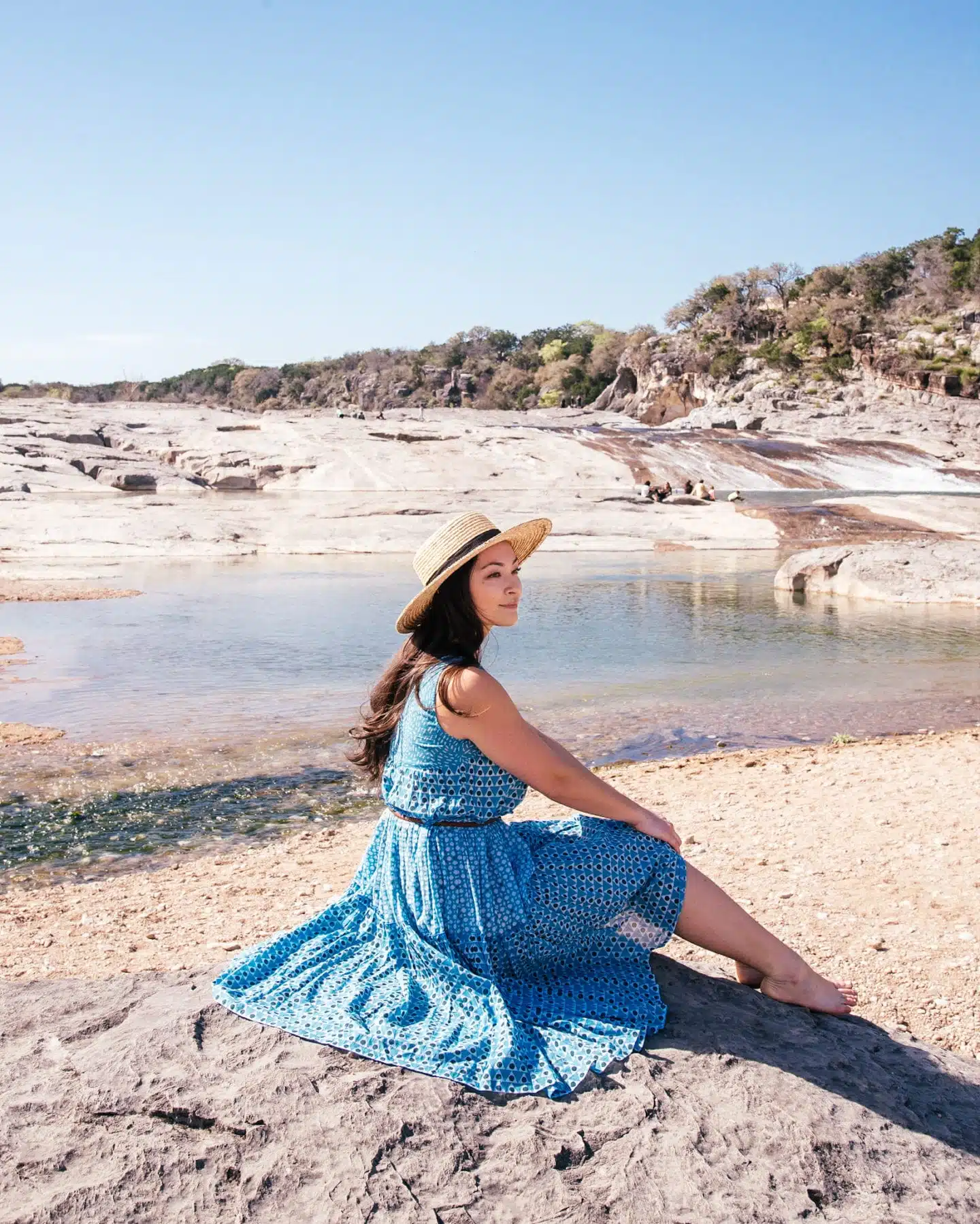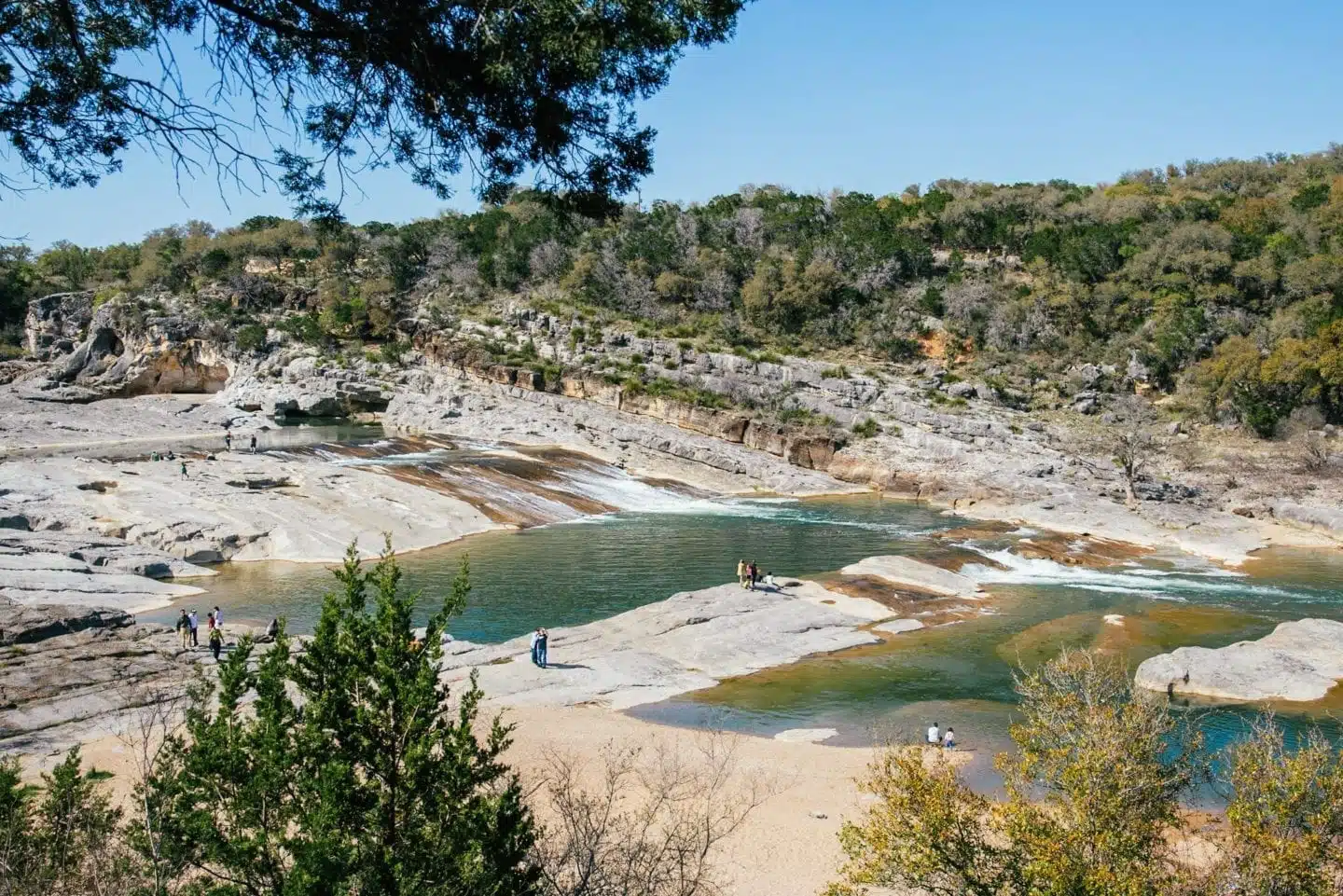 This park is most famous for it's pretty falls and water formations pictured above.
Pedernales Falls is a Texas State Park, which means you can book your visit ahead of time here!
The view pictured above is an easy drive from the visitor's center. It just requires a short hike (with stairs) from the parking lot.
This park also has camping options if you're looking for an overnight adventure!
3. Jacob's Well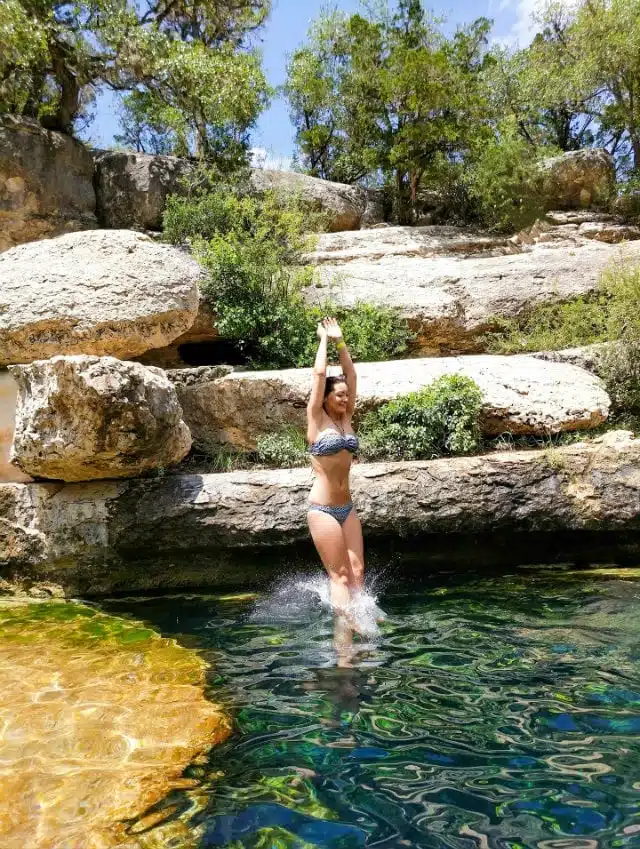 Jacob's Well is located in Wimberley and is a stunning well that is over 120 feet deep.
You can jump into the well from two different places depending on how brave you are!
Reservations are definitely required– be sure to book in advance as this popular place can fill up fast!
It also has an eerie history, read more about the allure of Jacob's Well here!
I include detailed visiting information in that post, so be sure to check it out if you're planning on going!
4. Krause Springs
In my opinion, this is hands down the best nature experience in the Hill Country.
There are two main natural springs here.
When we visited on a Sunday in March, we had both springs entirely to ourselves!
With moss covered rocks, a clear, clean pool, and dreamy dripping falls, you'll see why this is my favorite Hill Country gem.
Some things to note: this is not a Texas State Park. It's actually privately owned and the entrance fee is cash only.
It was $8 per person when we visited in March of 2019.
Shop the post:

Scenic Drives
5. Ranch Road 965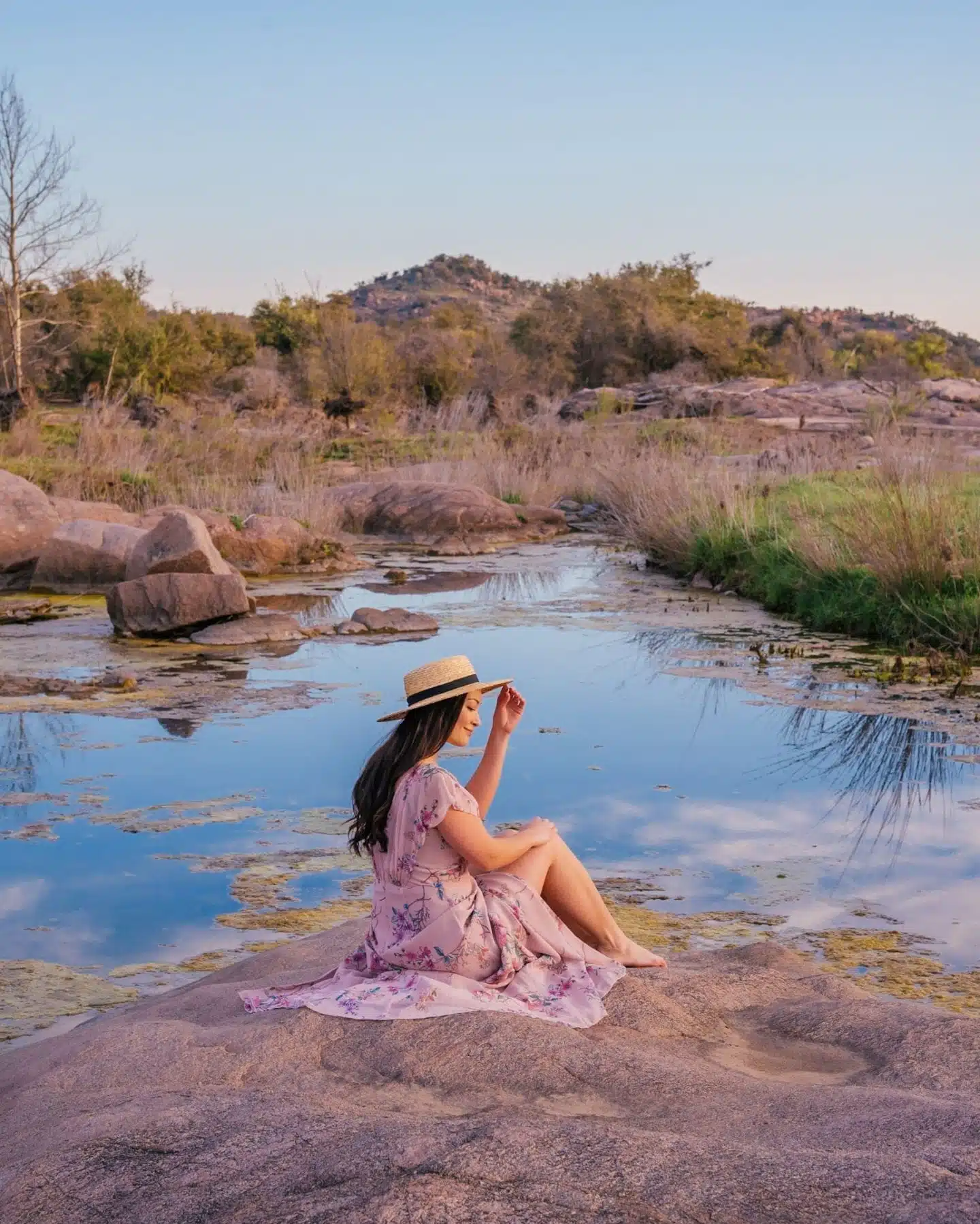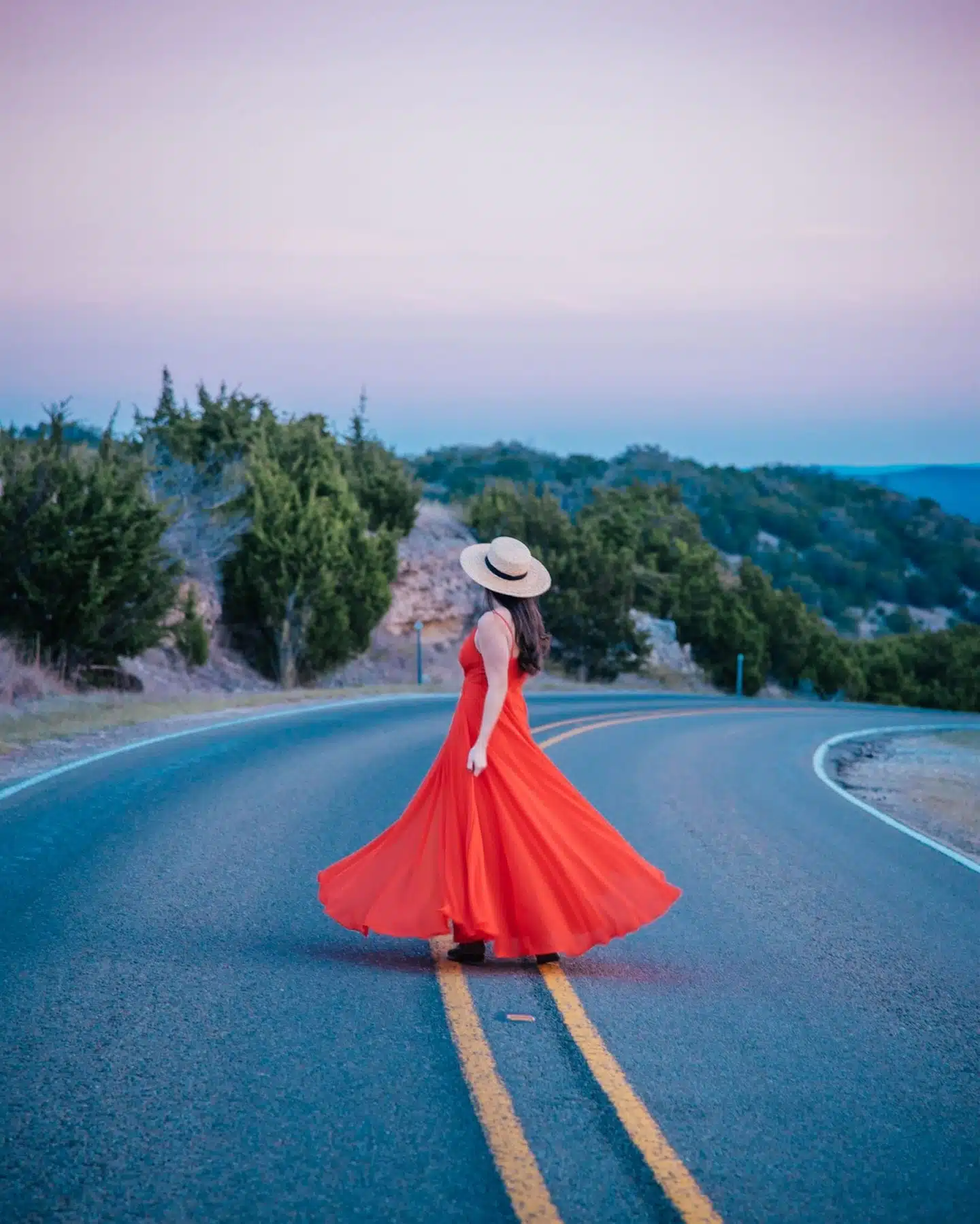 My favorite part of this road is between Enchanted Rock and State Highway 16.
We actually stumbled upon this gorgeous road after being turned away from Enchanted Rock at sunrise since the park was already full and we didn't have a reservation.
But it worked out for the best as we got to then stop off along this road to capture some beautiful photos of the sunrise!
A lot of places are fenced off private property, but you will still get wonderful views along this windy road!
6. Ranch Road 337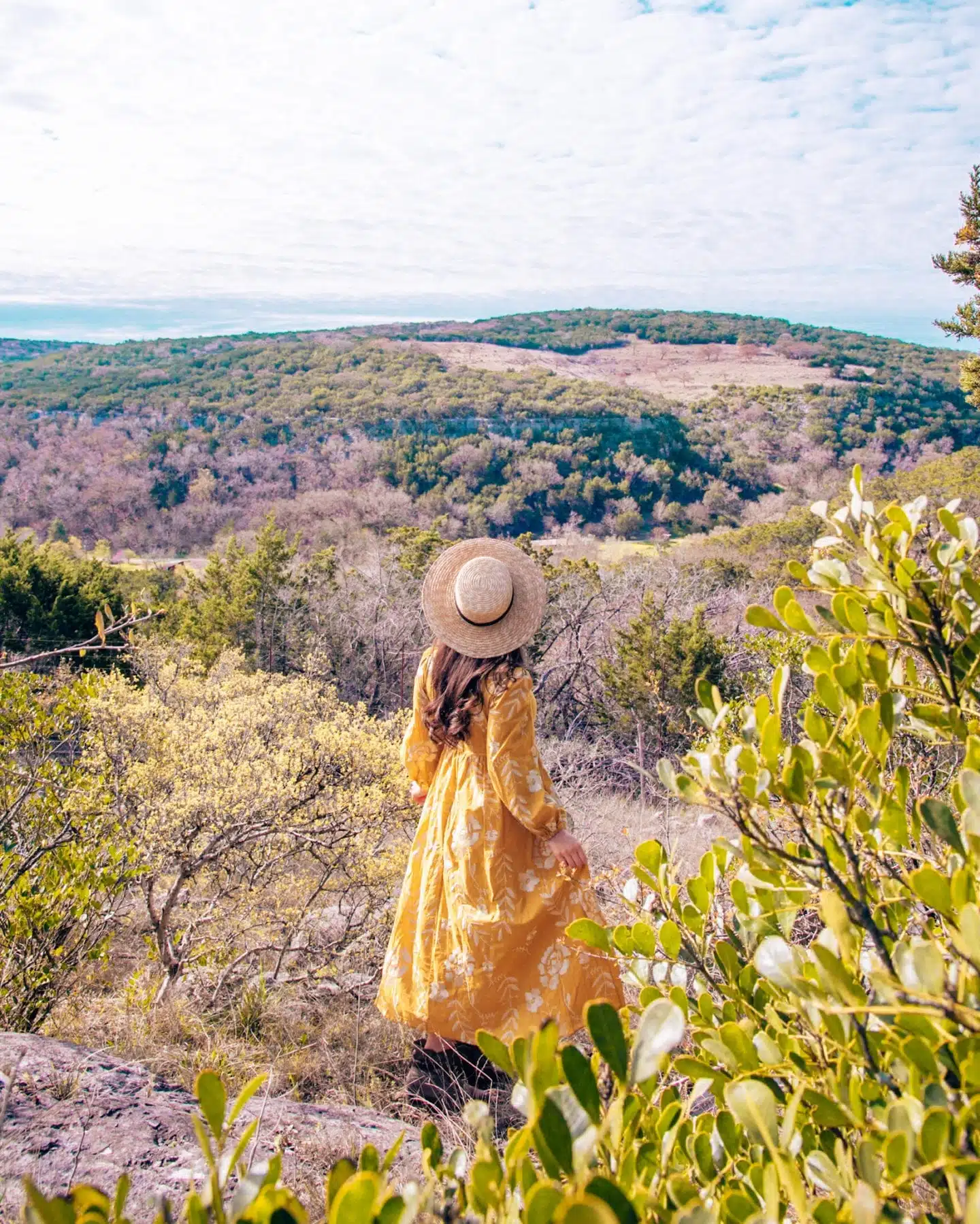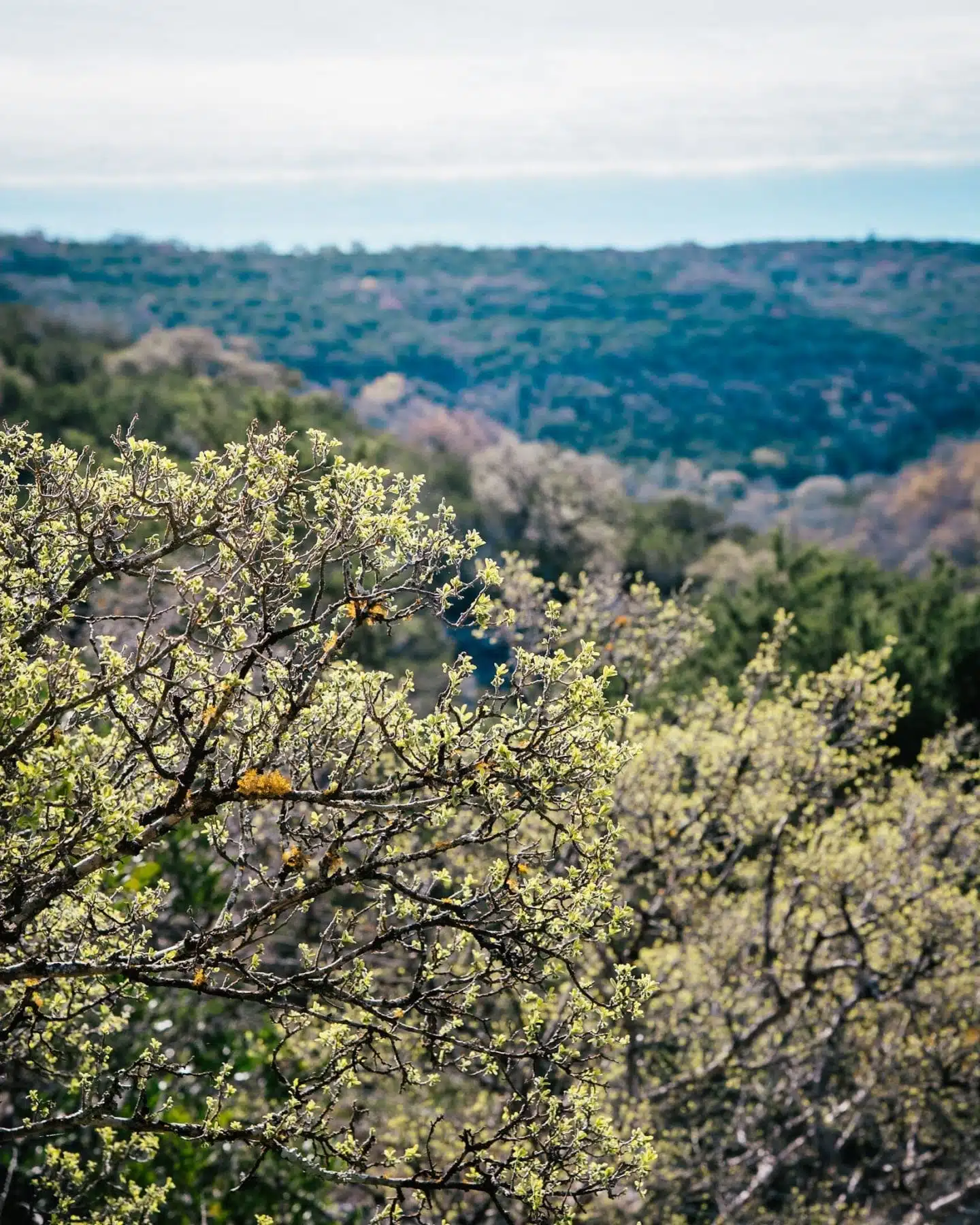 This road takes you towards Utopia, TX from the Medina River.
Keep your eyes peeled for the stunning views that show up every so often!
And if you're in the area during wildflower season, this road is supposed to have fantastic blooms!
7. Willow City Loop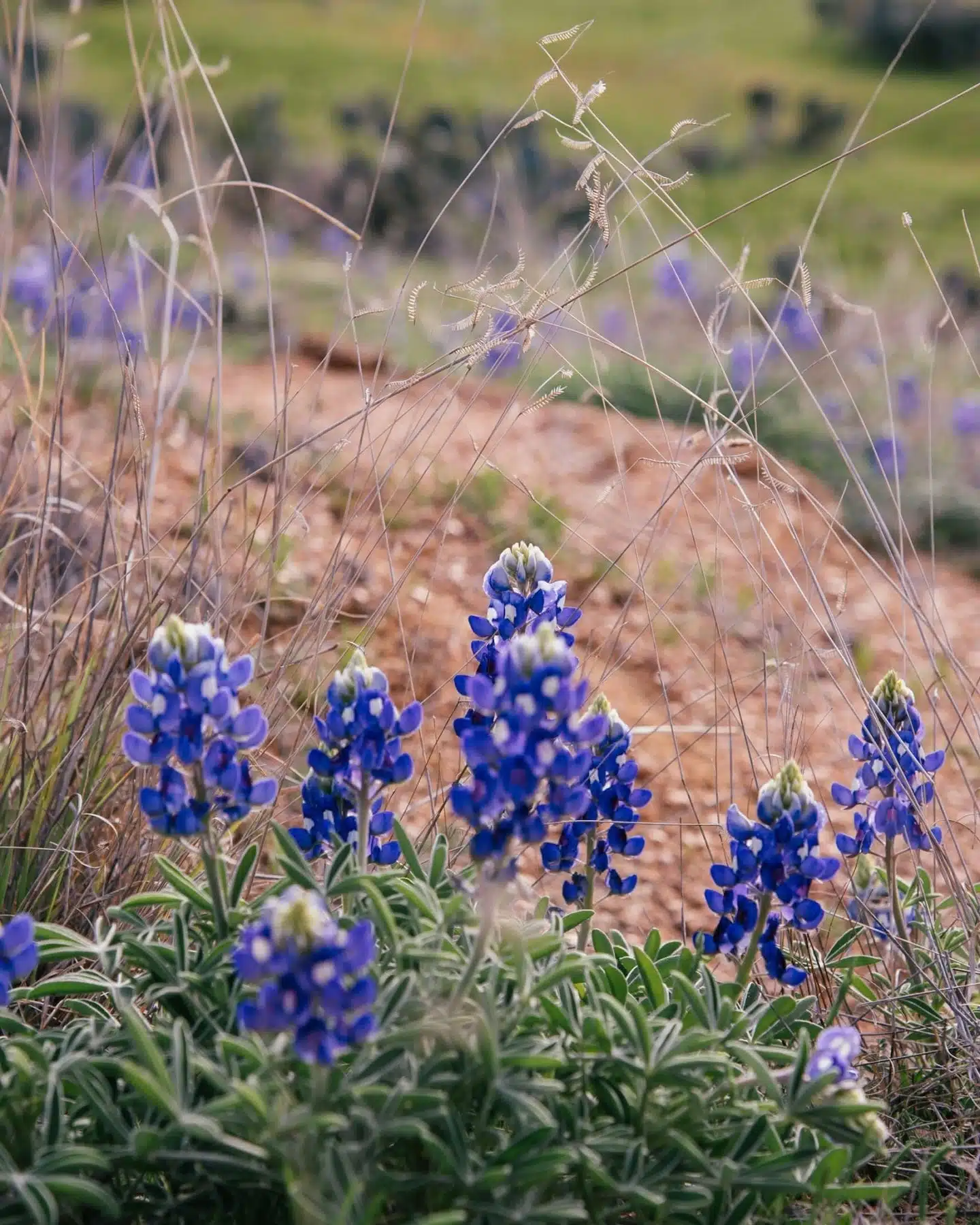 This loop is becoming more and more famous for it's brilliant wildflowers.
We visited in mid-March before the blooms really came out, but got to see some pretty bluebonnets along the side of the road.
If you're staying in Fredericksburg, this loop is an easy drive from the town.
With its increasing popularity, I'd recommend visiting on a weekday or really early on in the day if possible!
Farms & Vineyards
8. Wildseed Farms
Wildseed Farms is a neat store/farm where you can buy plants and see them growing, too.
The main area of Wildseed Farms is stocked with a variety of plants for sale.
But they are most known for their brilliant wildflowers that you can see from their walking paths.
To make the most of your visit, head to Wildseed Farms during wildflower season when their poppies are in full bloom!
9. Wine Castle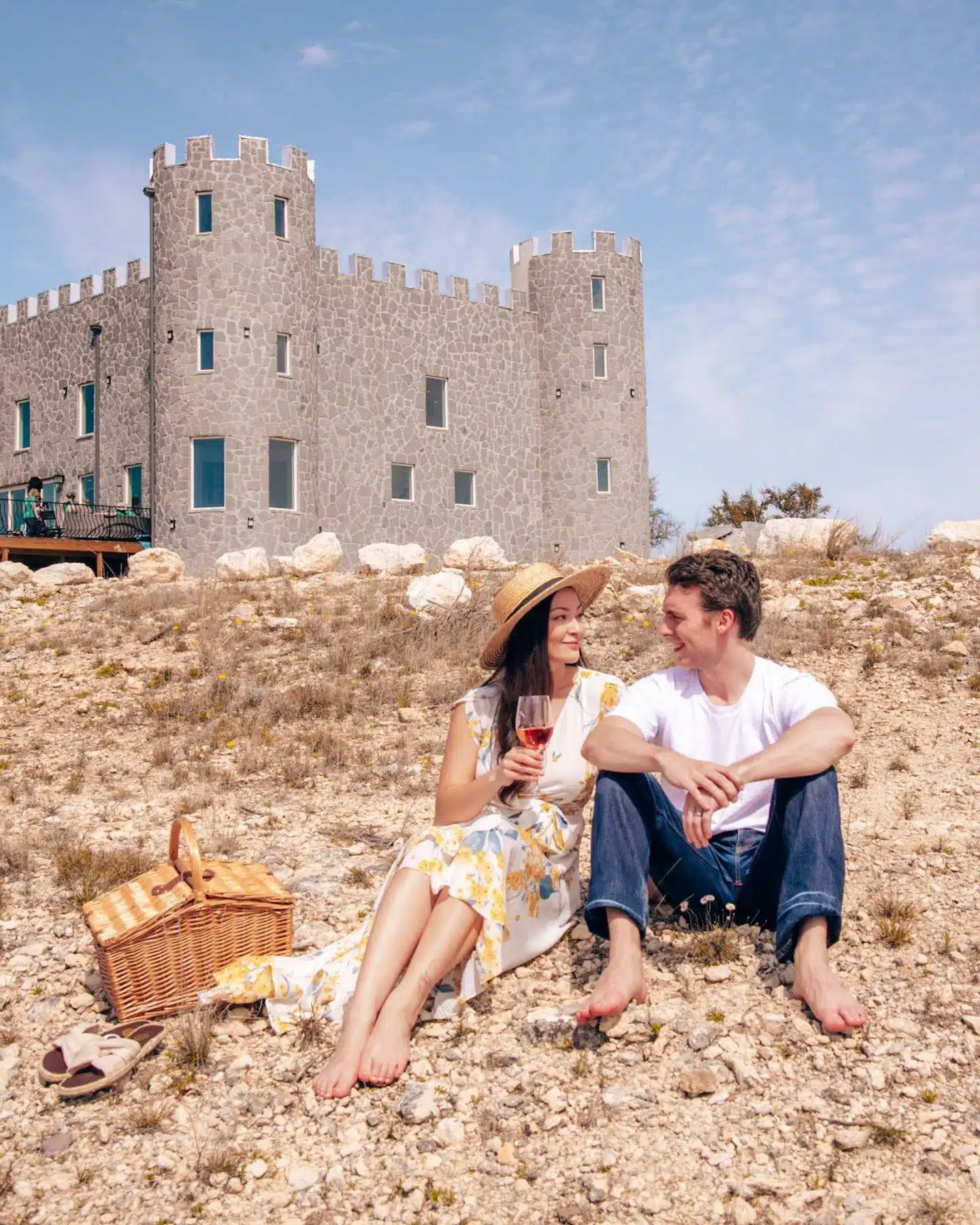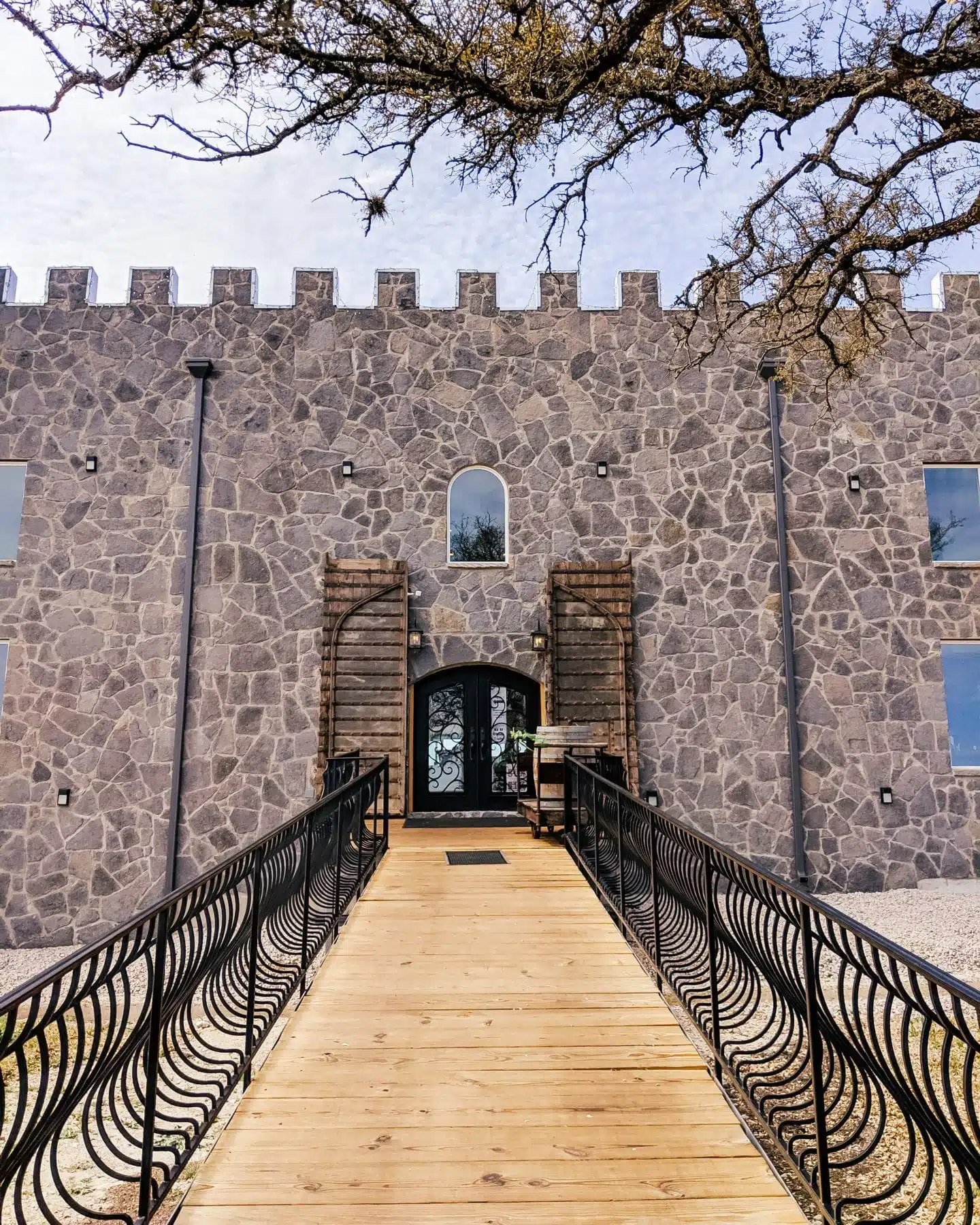 This newly constructed castle has a festive approach to wine country!
We just happened to pass this castle along the side of the road, and of course I made Harrison stop right away so that I could see what was going on.
You walk over a small "moat" to enter the castle, and inside is a modern castle decked out in fun Renaissance flair.
There was actually a guy dressed up in Medieval garb playing the bagpipes out on the patio!
It's a unique experience that you just have to see in real life!
10. Becker Vineyards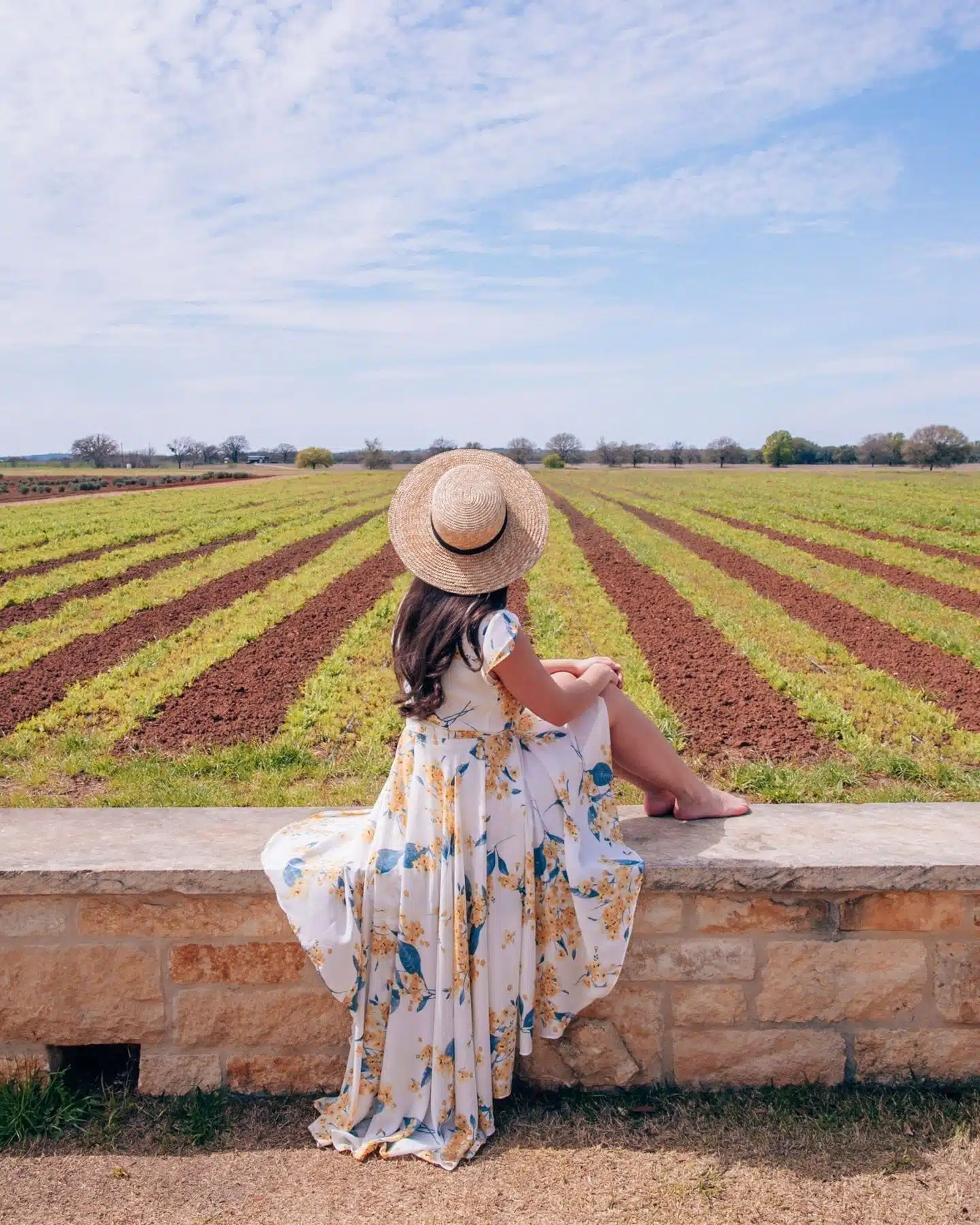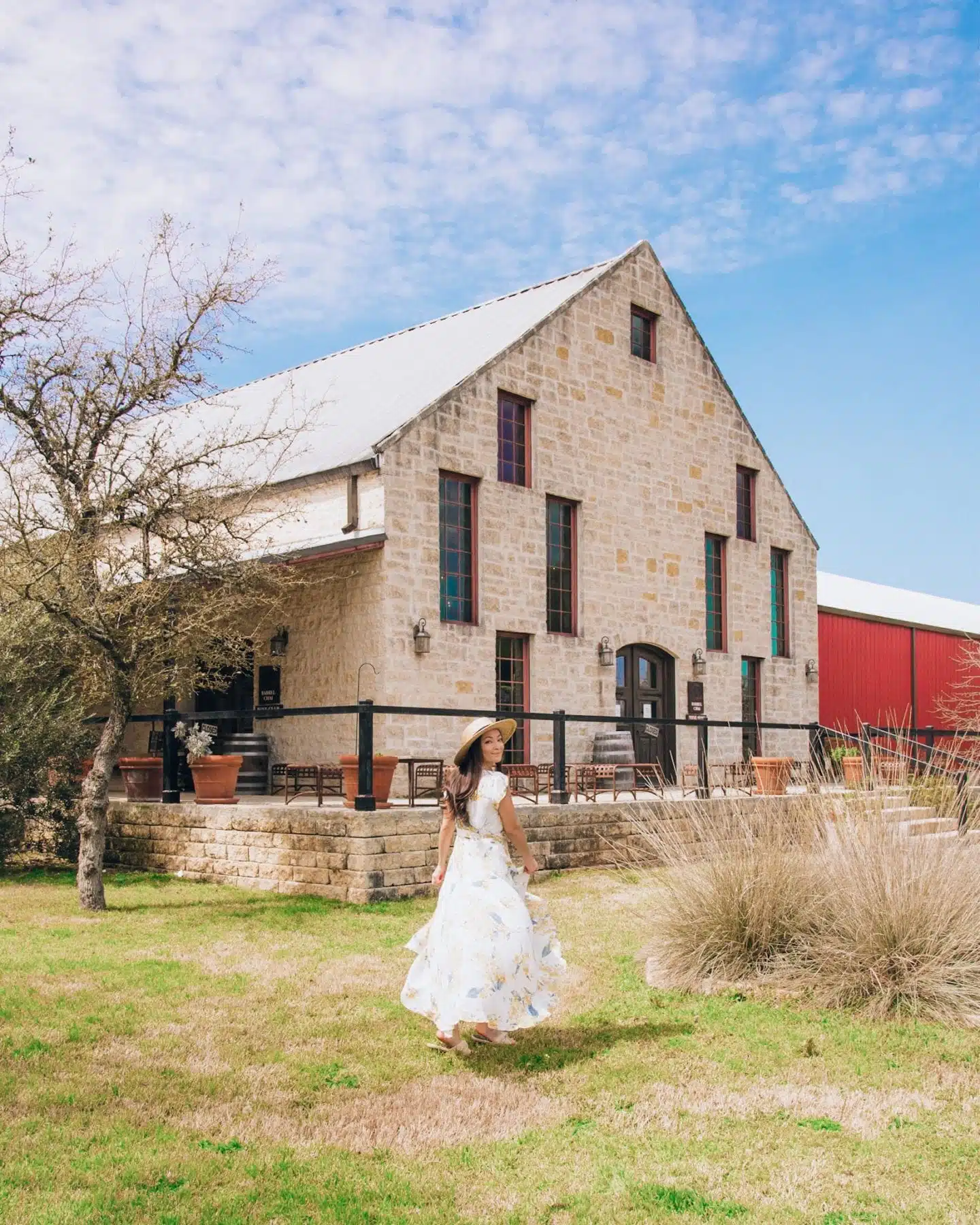 This Vineyard does wine tasting right.
With the backdrop of live music and beautiful vineyards, our visit absolutely brightened my day (even more than it already was!).
The grounds are as lovely as the wine is tasty!
11. Barons Creek Vineyard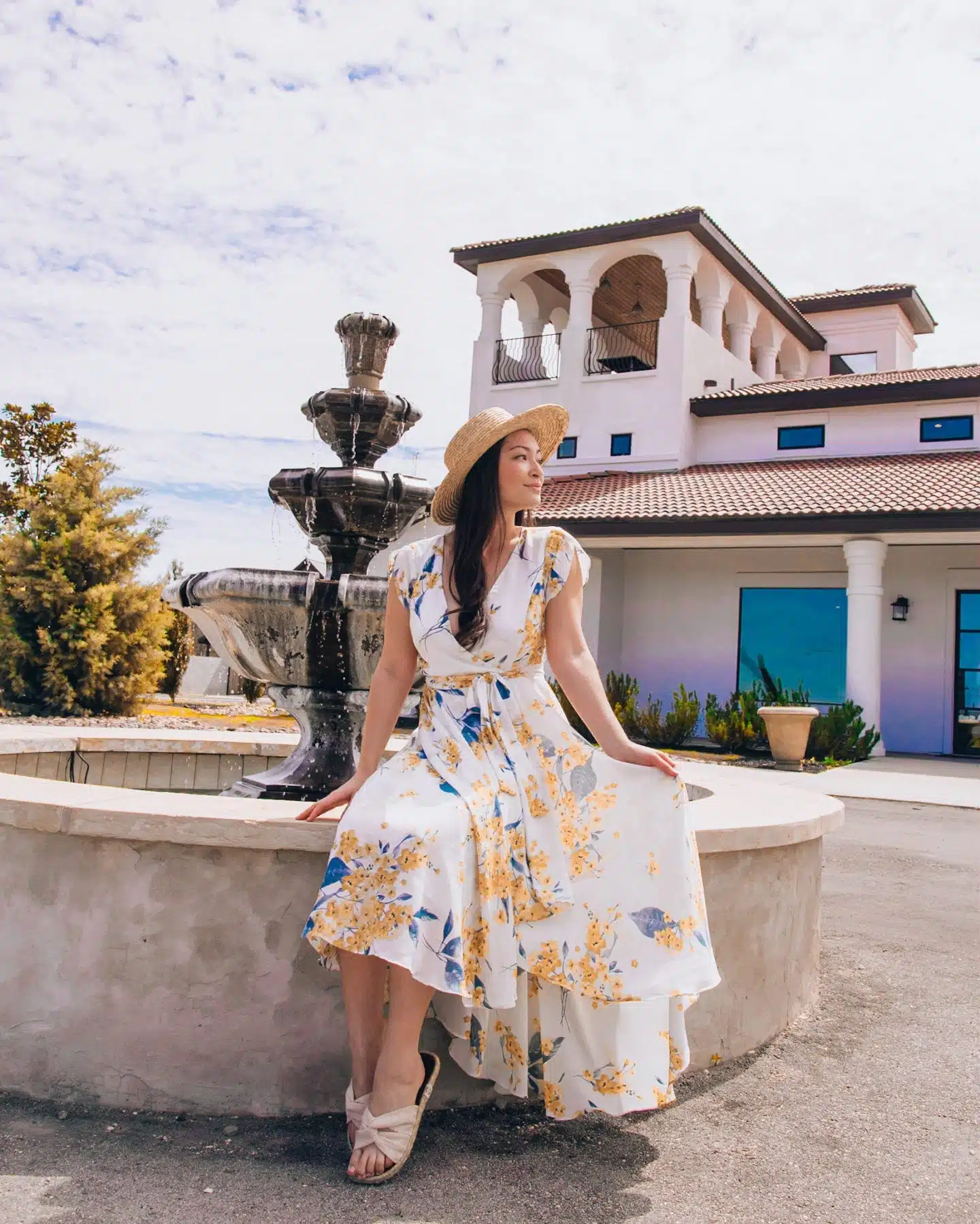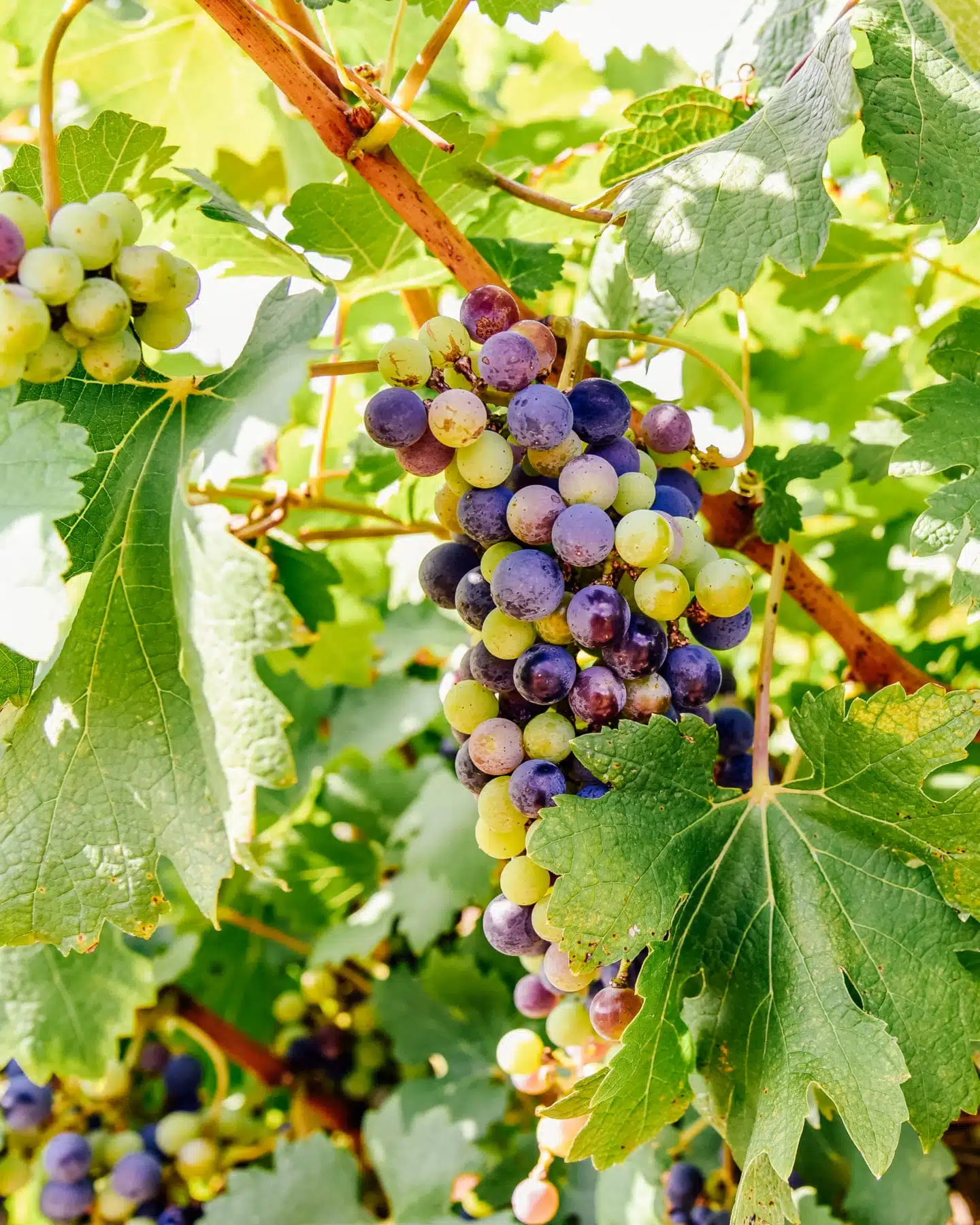 Barons Creek Vineyard has gorgeous architecture and great service.
We visited it based on a recommendation from a friend and after seeing its incredible Google ratings.
The atmosphere is fun and lively and the wine tasting is worth every penny!
Restaurants & Cafes
12. The Laurel Tree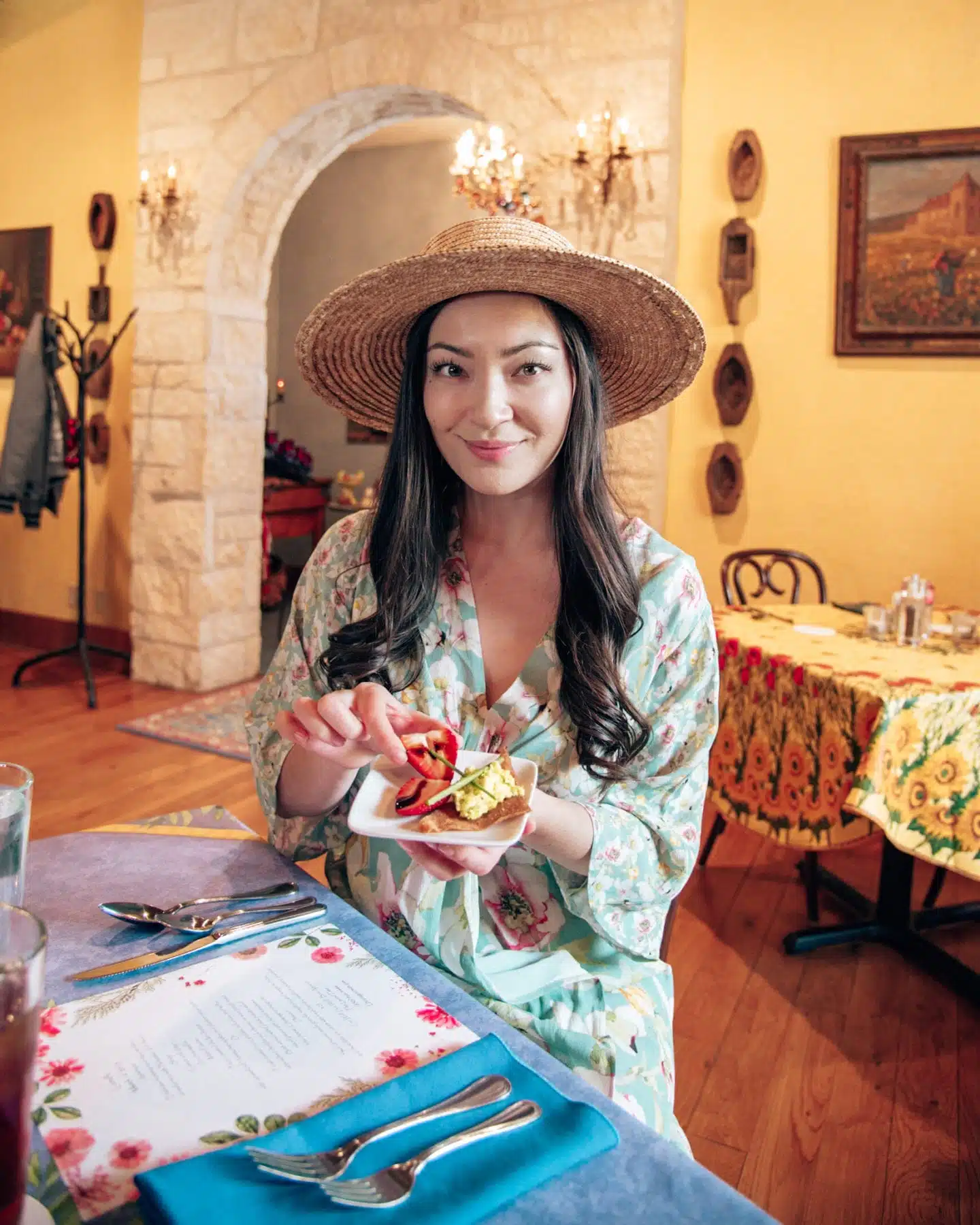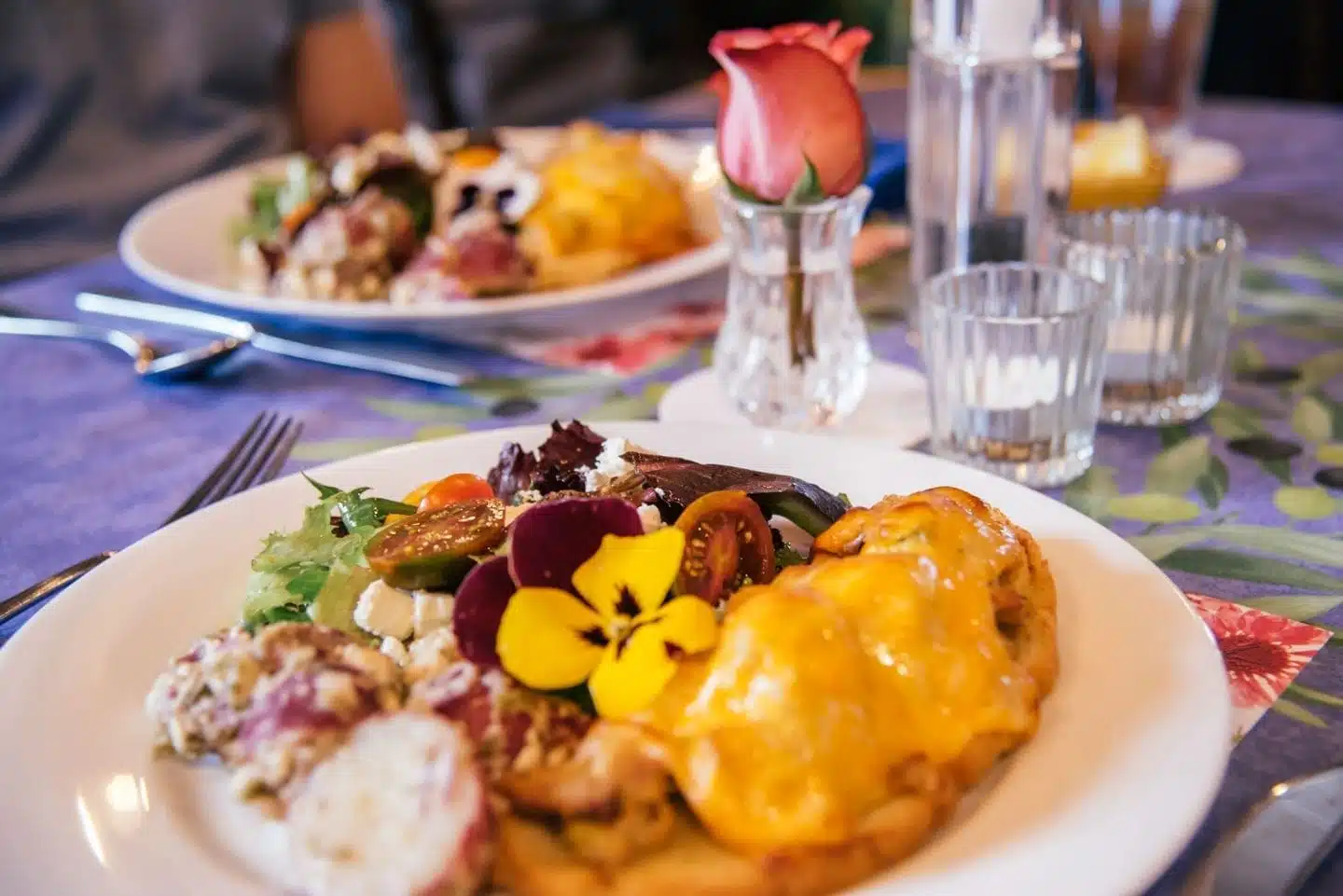 The Laurel Tree is hands down one of the top ten food experiences of my life.
Bold statement, I know.
But it's true!
The Laurel Tree is only open on Saturdays and reservations are definitely required for this gem.
But once you're in, you have your table entirely to yourself for the entire lunch or dinner block.
You'll be served by kind, welcoming people who will time the meal to your specifications.
If you want to take a walk around the grounds between your appetizer and main course, you just let your server know and they will wait to bring out the next part of your meal.
And the meal is actually a set meal based on what Laurel is cooking that Saturday.
She chooses based on what's in season, what's growing in her garden, and what she feels like making!
So the menu is different every single Saturday.
Oh- and there is a treehouse in the backyard that you can reserve if you are hosting a special meal!
13. Love Creek Orchards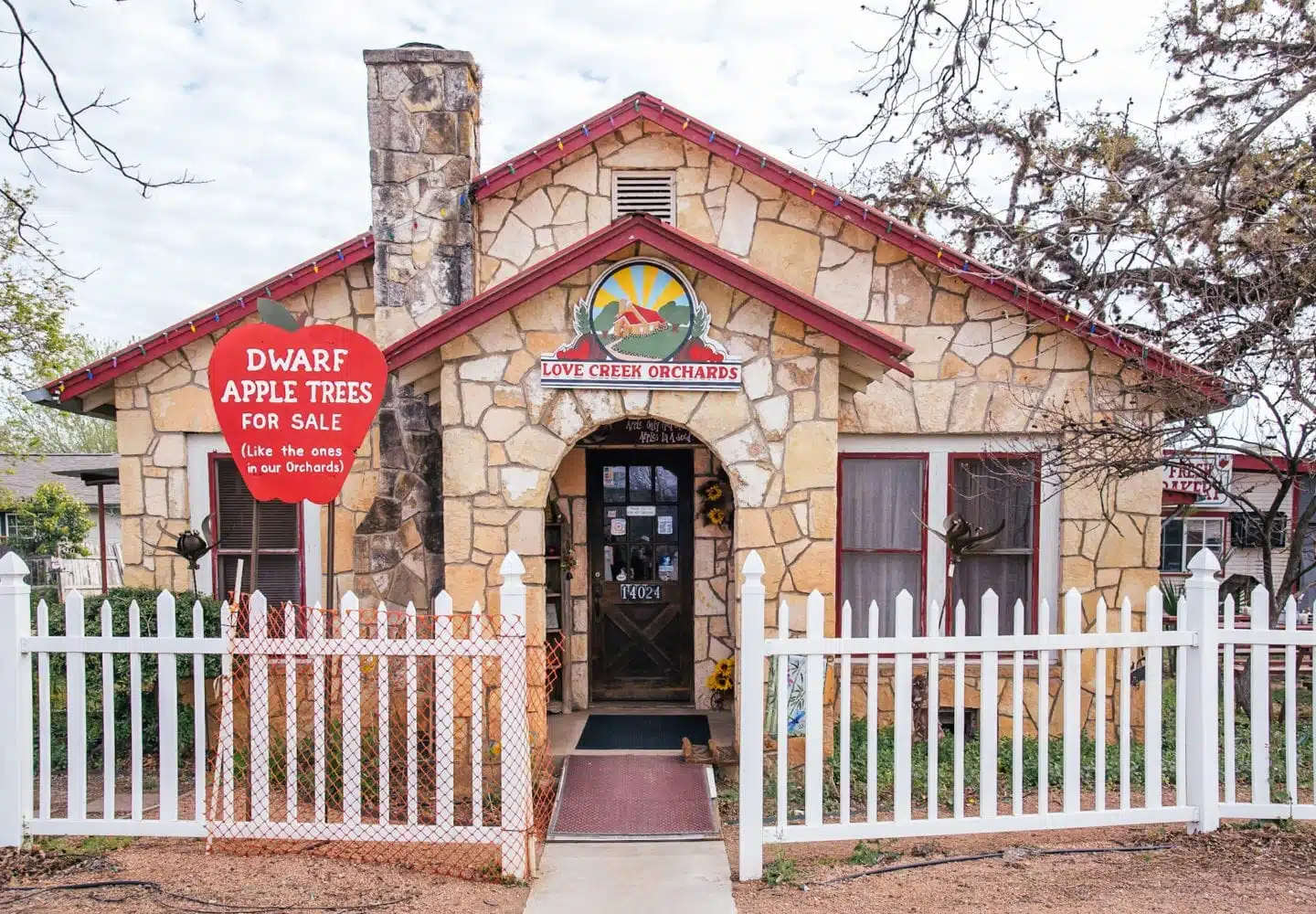 Stop into this adorable shop for a fresh baked apple turnover or an award winning apple pie!
It's right by the Medina River, so we stopped in after our kayaking and picked up some goodies.
If you're looking for a more substantial meal, their patio cafe serves burgers and more during lunch hours!
14. August E's in Fredericksburg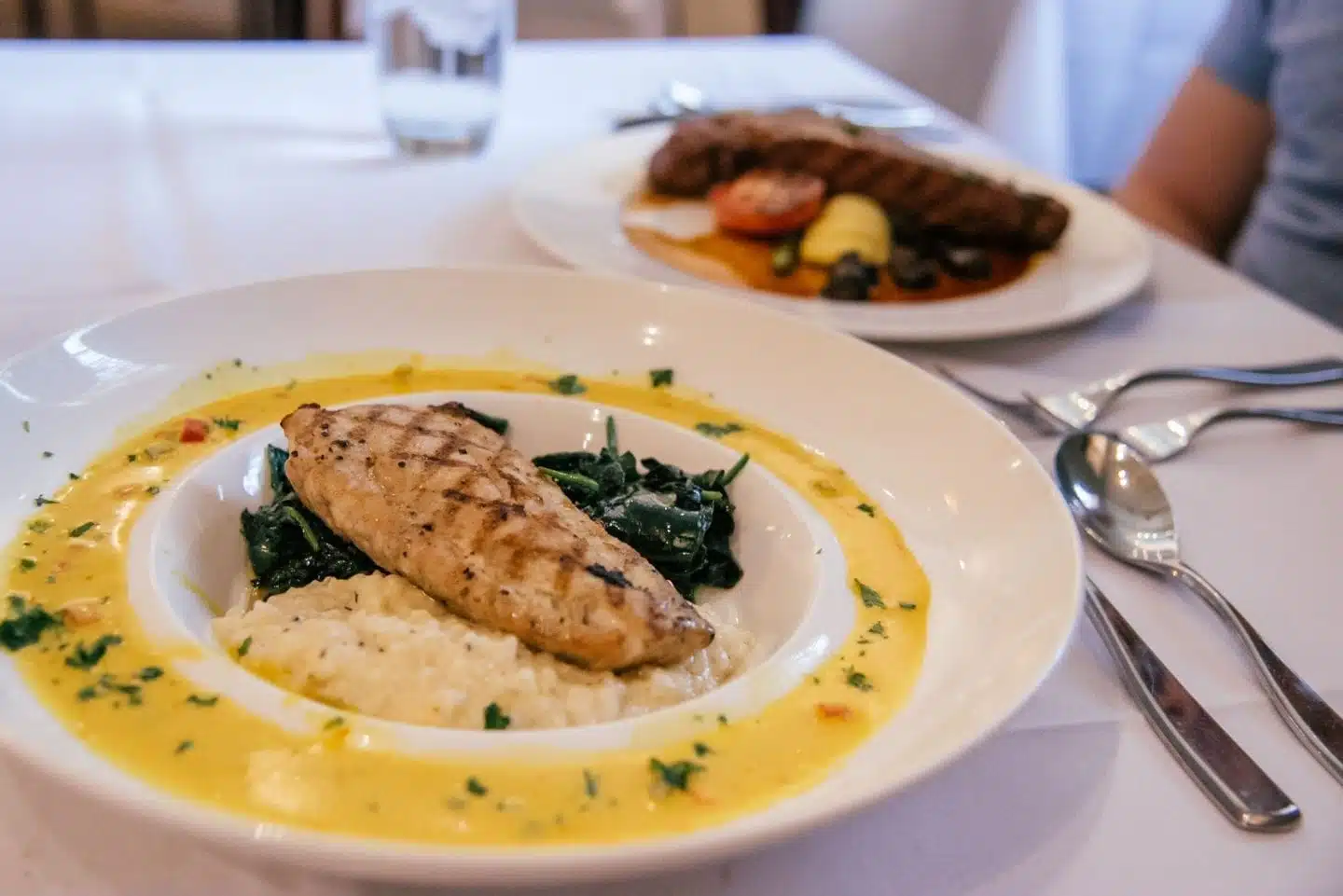 Enjoy high quality food in an art gallery-type setting at August E's in Fredericksburg!
This place is a not-so-hidden gem in Fredericksburg, Texas, but if you're not familiar with the area you should definitely check it out.
This restaurant does come with a price tag, but the food is so worth it!
Harrison ordered a steak cooked medium, and it was literally medium all the way throughout- the sign of an expert chef!
15. The Leaning Pear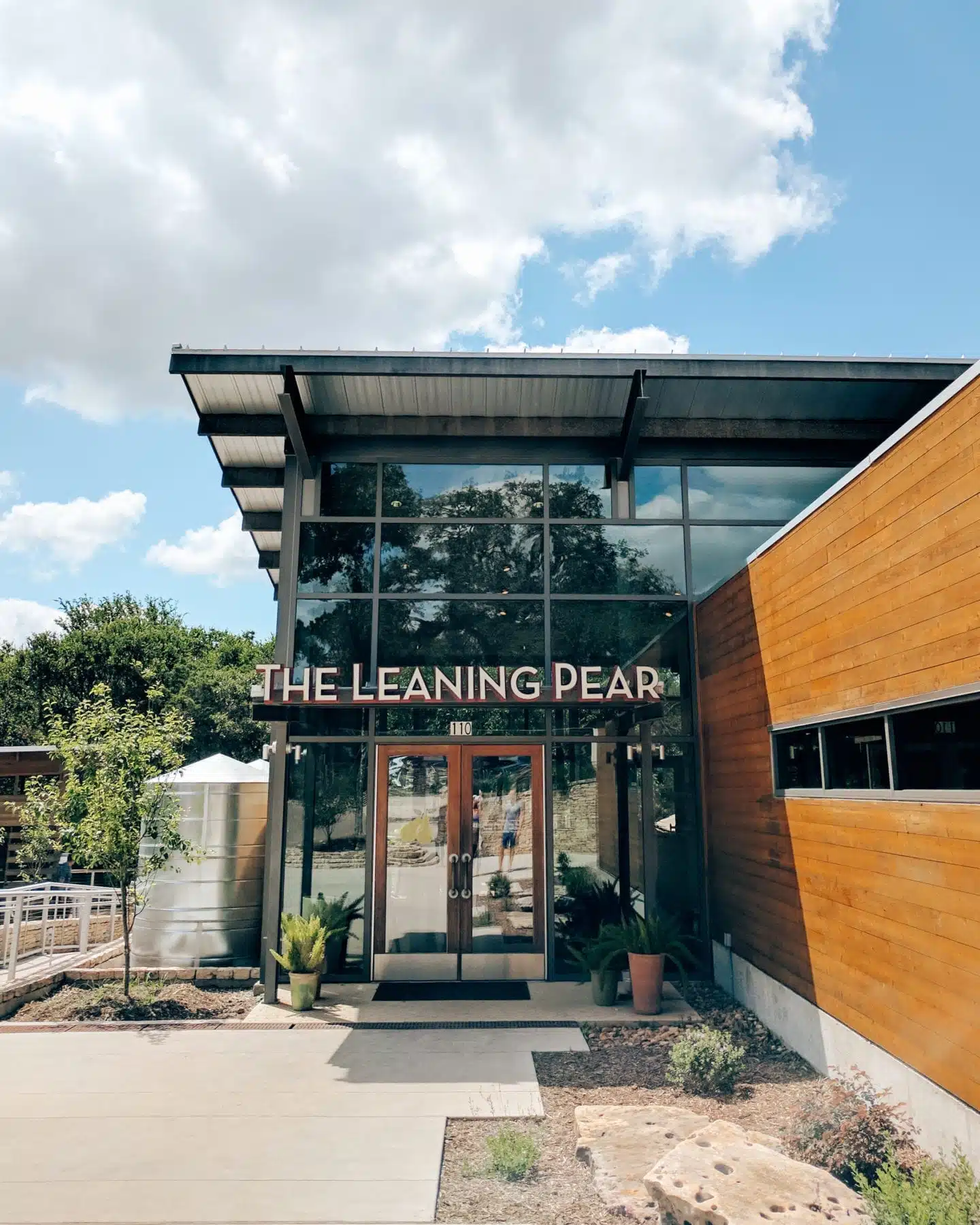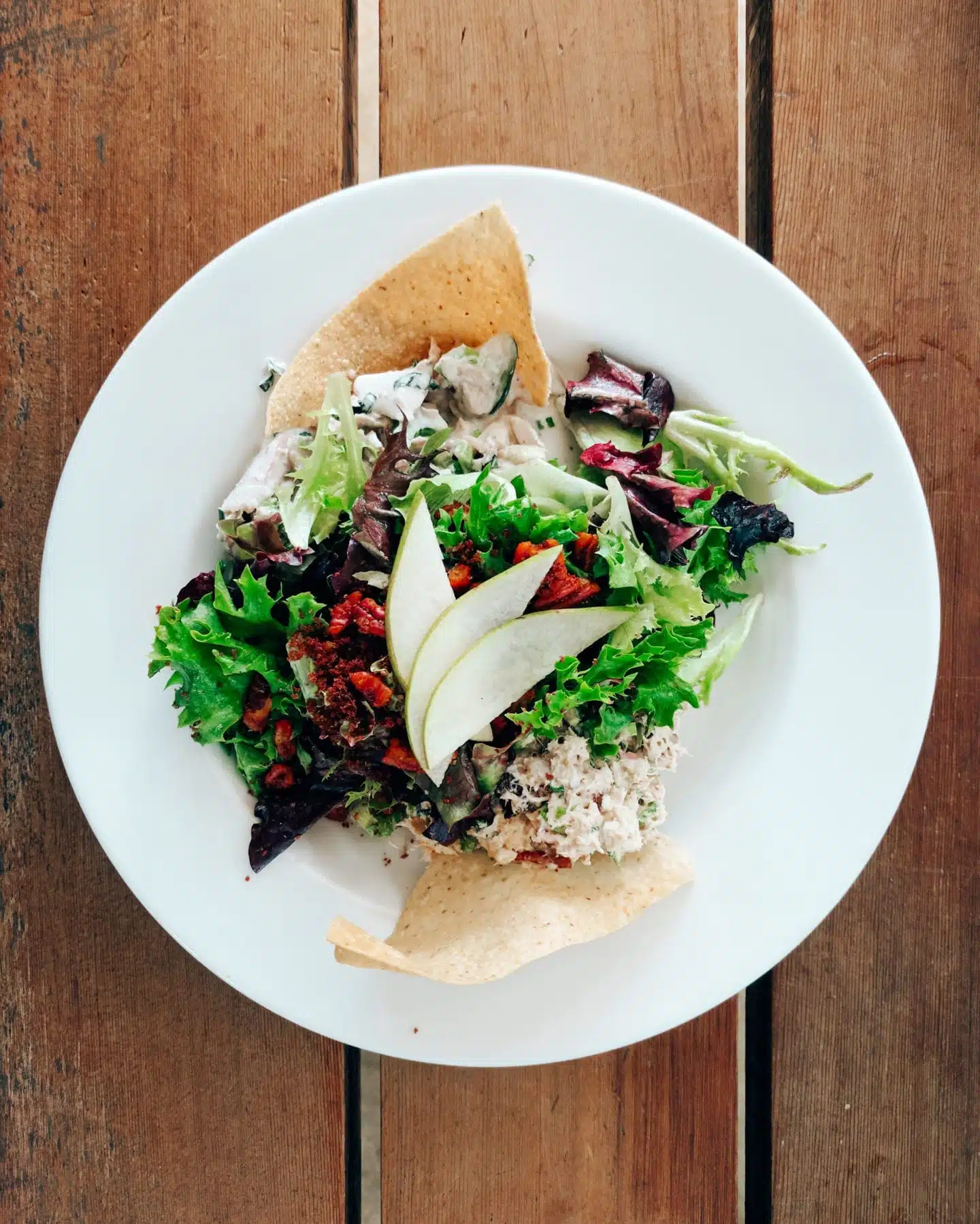 Wimberley's Leaning Pear serves delicious food amidst beautiful decor in a lush setting.
I recommend enjoying your meal out on their back patio- you'll be completely surrounded by gorgeous, dense trees!
Their food is prepared using seasonal, fresh, and local ingredients, supporting the sustainable food movement.
Lodging
16. Wine Country Cottages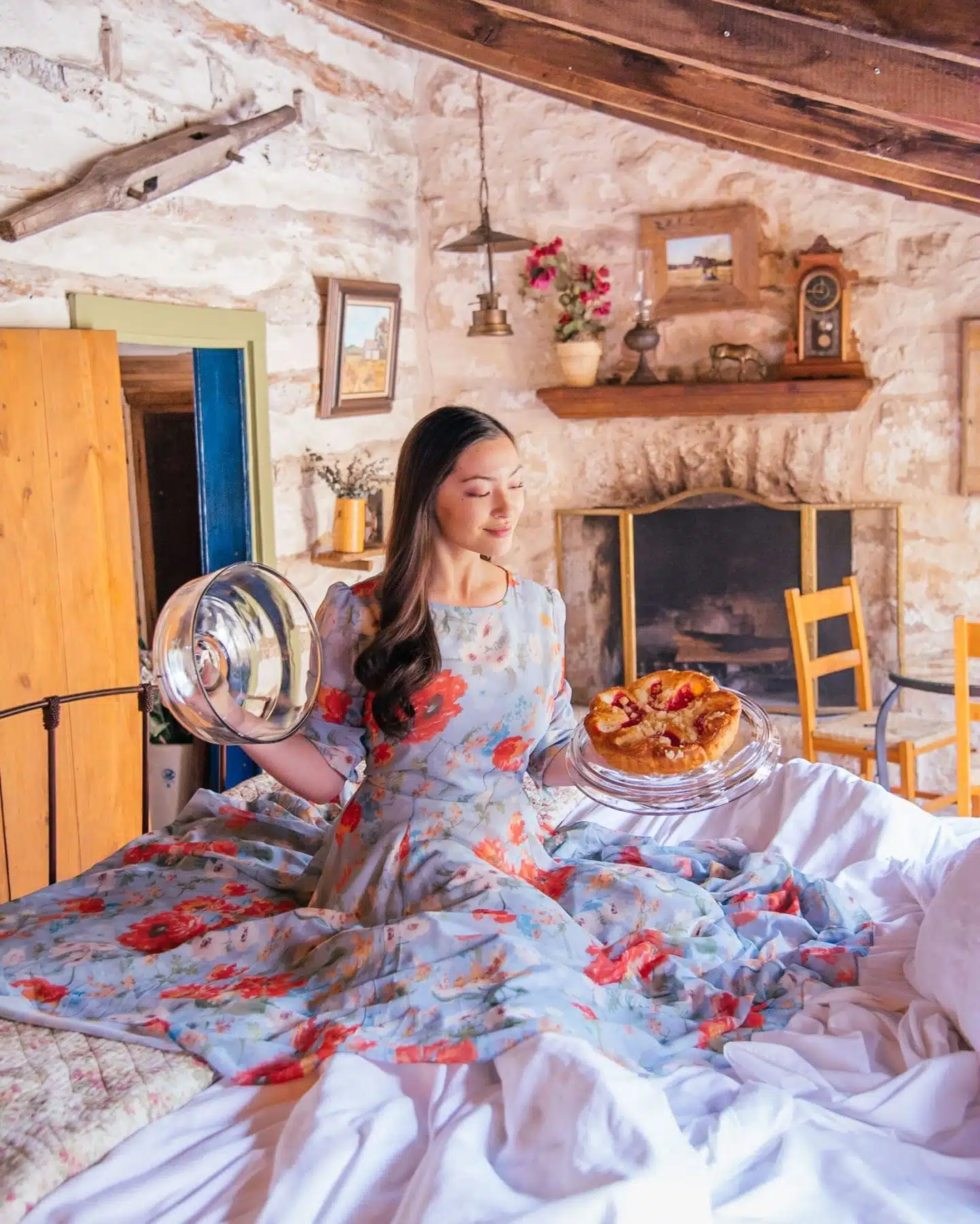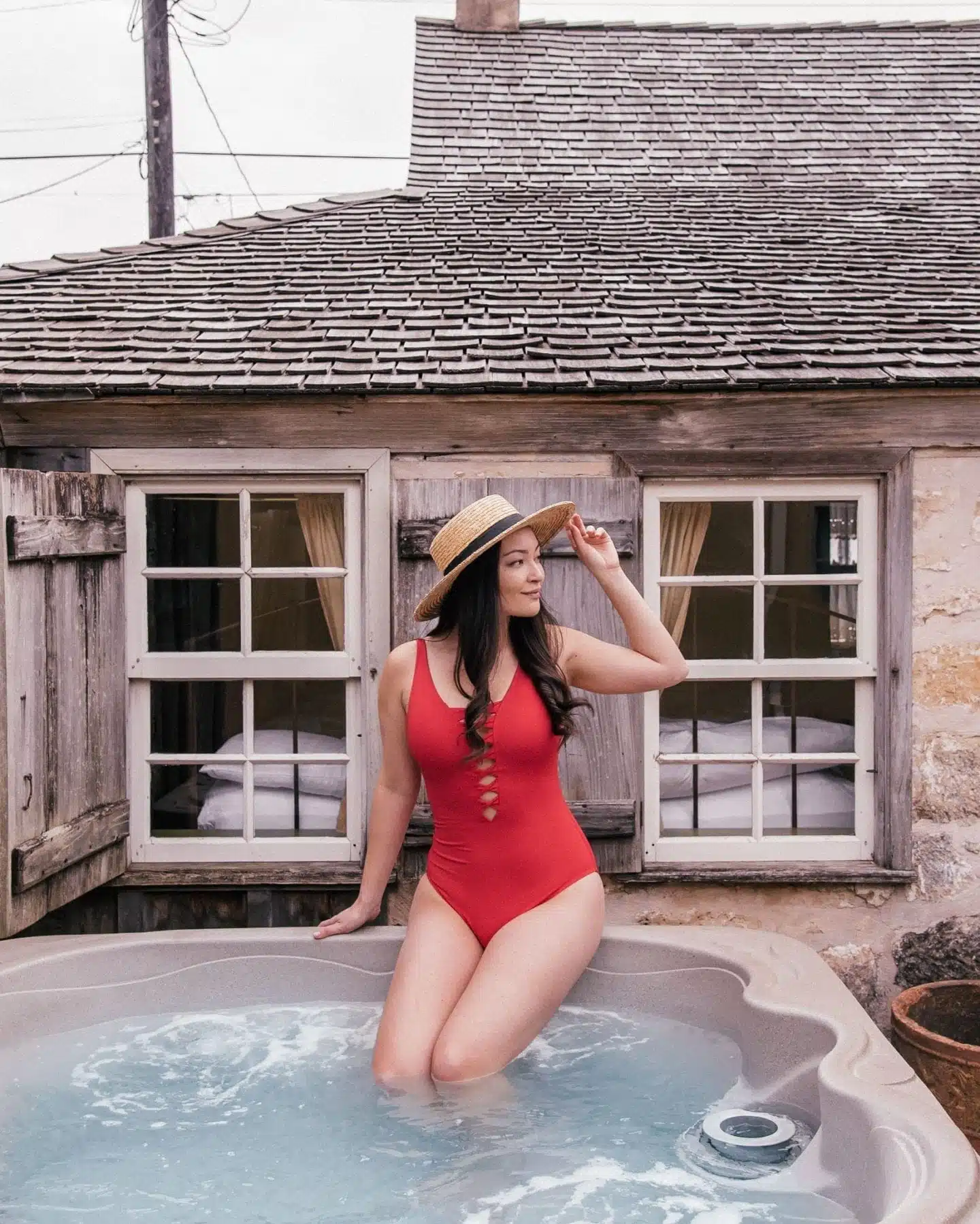 Wine Country Cottage is definitely a hidden gem in Fredericksburg, Texas that has history in its bones!
Our cottage, the Loeffler-Weber cottage, was built in 1846!
While the appearance is true to it's original state, there are all of the conveniences of modern plumbing, central heat and air conditioning, etc.
There's also a hot tub out back for true relaxation!
But my favorite touch was the mouthwatering raspberry danish that came with our room!
The Wine Country Cottages are right on Main Street, so they're walking distance to all of the quaint shops in Fredericksburg!
17. Fredericksburg Herb Garden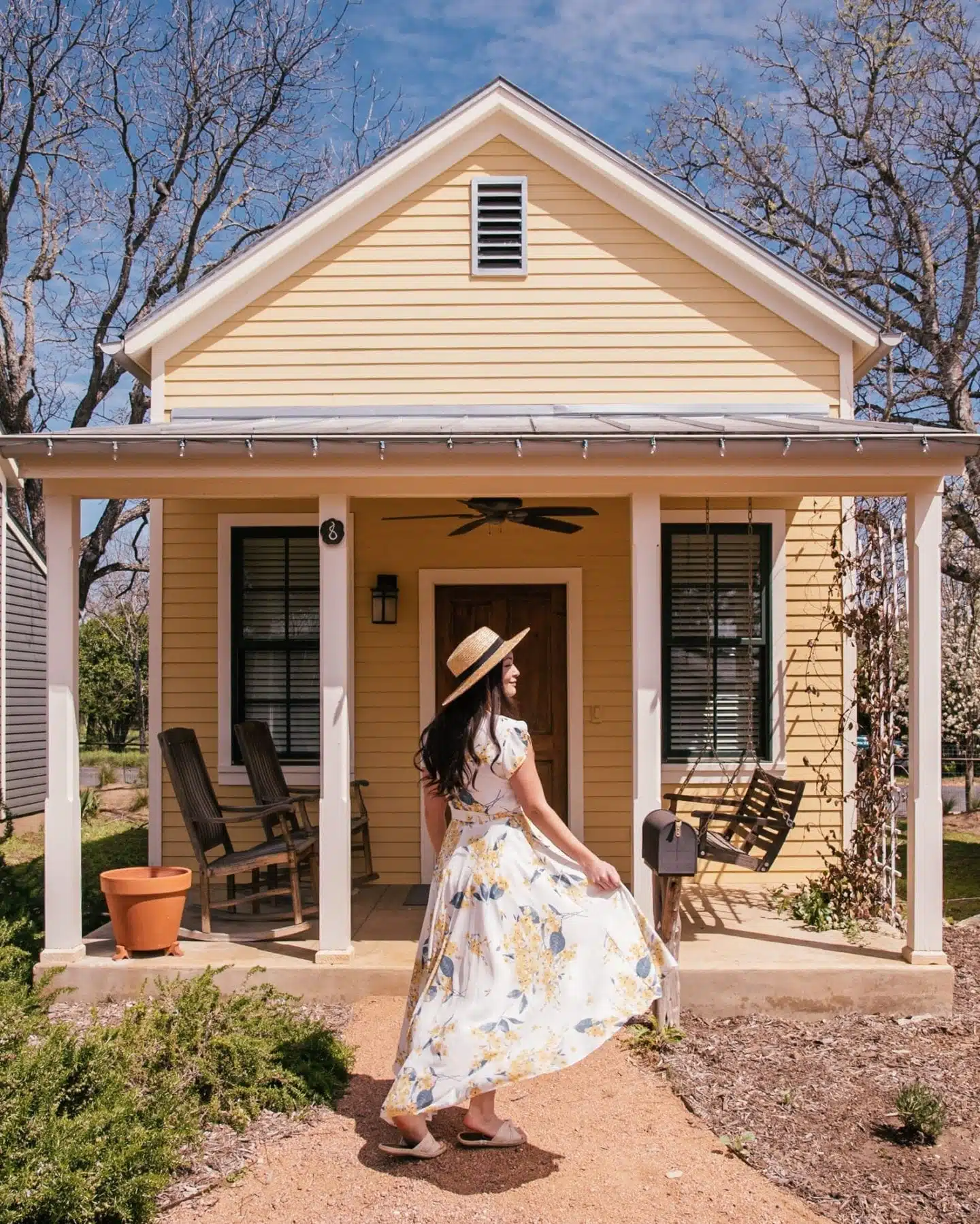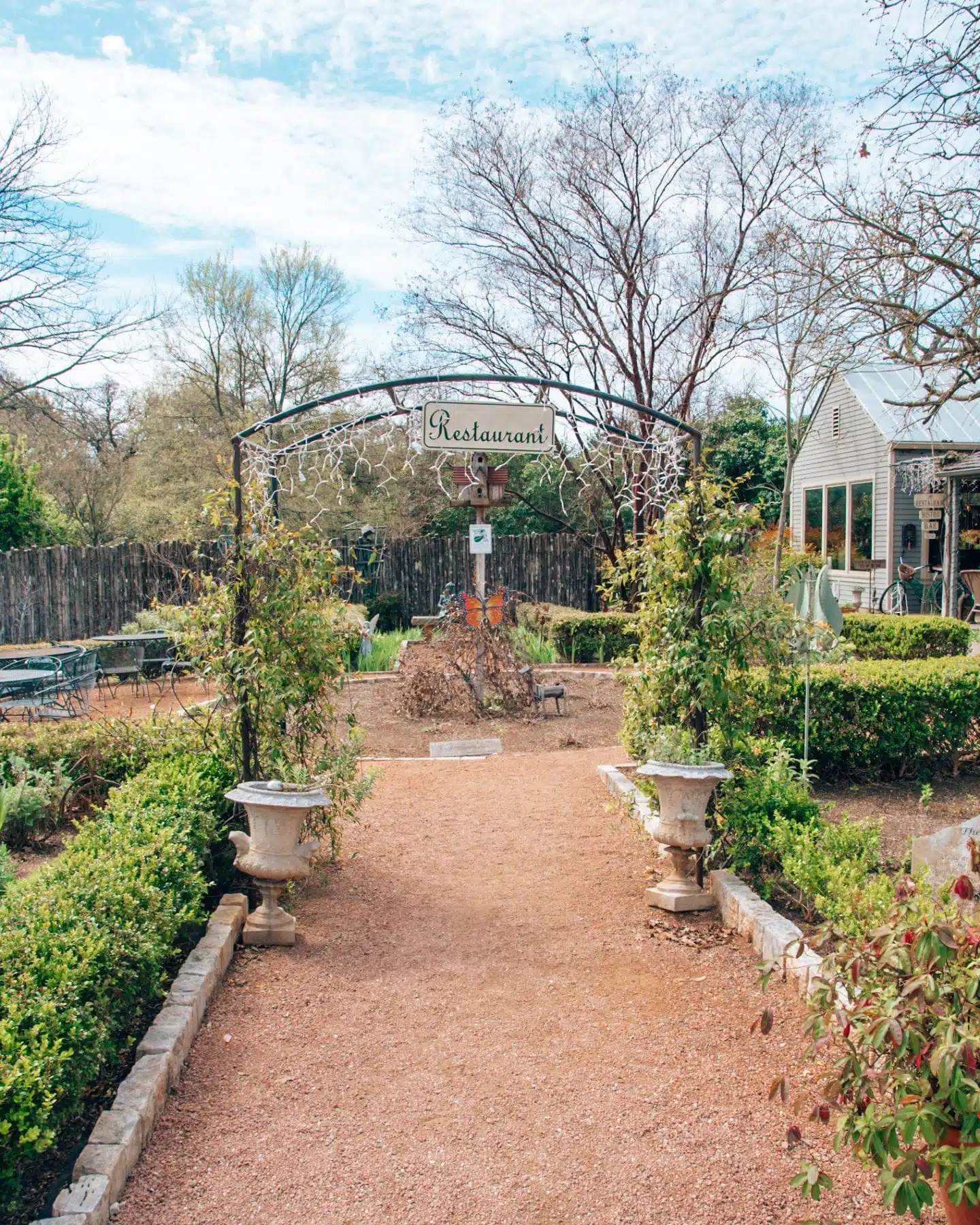 The Fredericksburg Herb Garden Sunday cottages are a modern take on a historical tradition.
German settlers would come into town on the weekends to gather provisions and attend church on Sundays- which is where the quaint name comes from!
In addition to the Sunday cottages, this herb garden hidden gem in Fredericksburg, Texas has a spa, gift shop, and restaurant.
Small Town Hidden Gems around Fredericksburg
18. Fredericksburg Main Street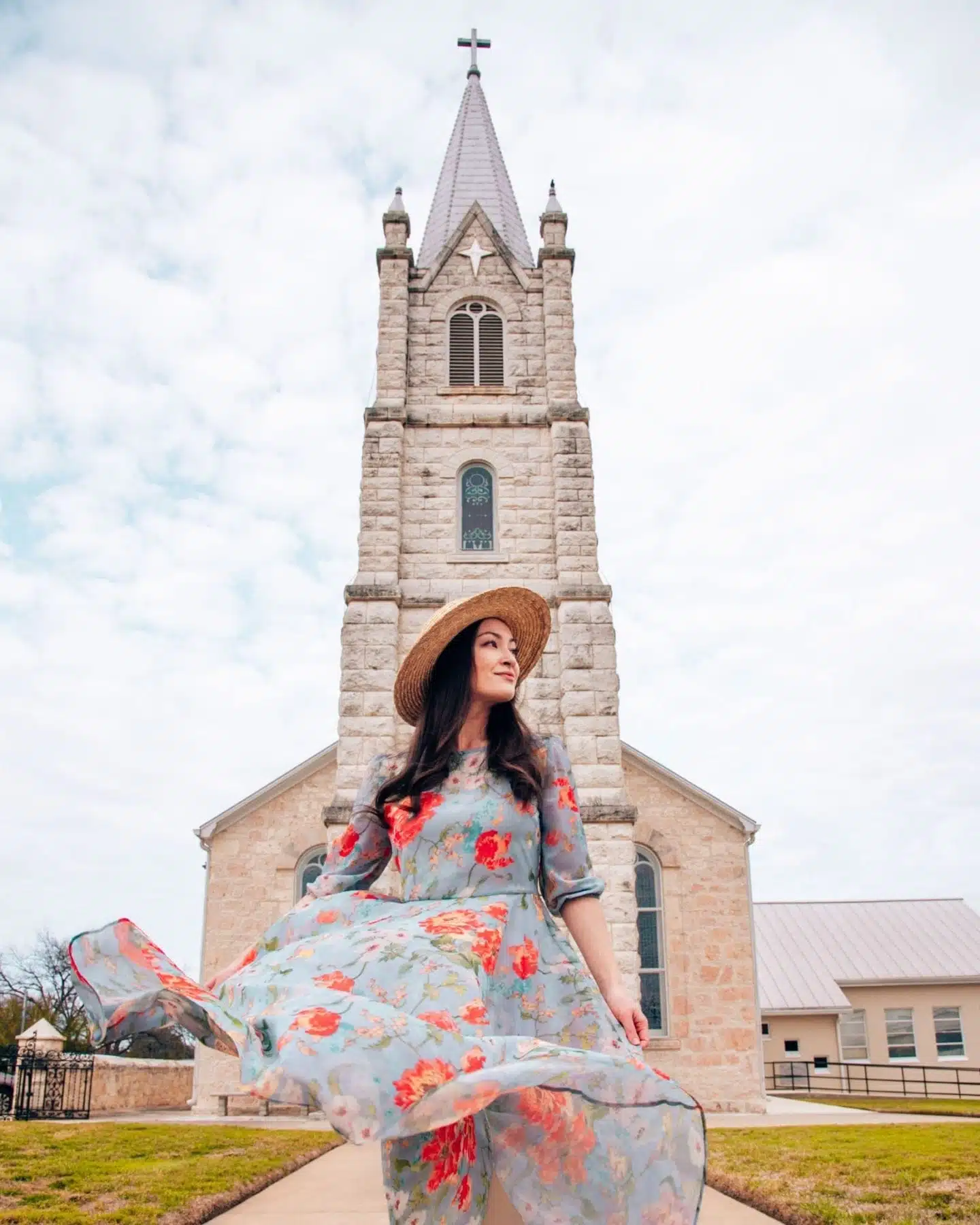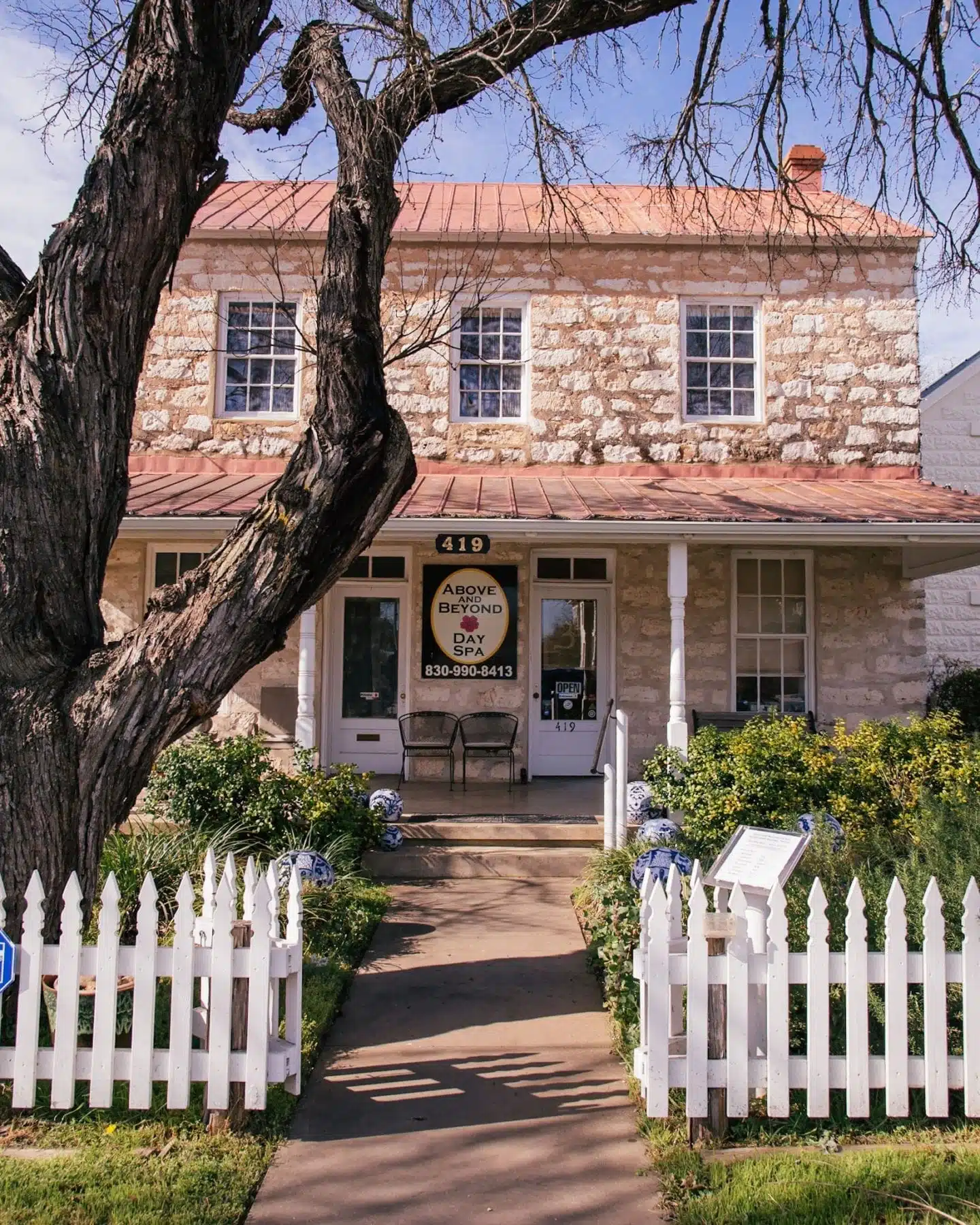 You've got to stop and enjoy this German-settled town if you're looking for things to do in the Hill Country!
A walk up and down Main Street should definitely be on your Hill Country itinerary.
Be sure to explore the antique shops, art galleries, and restaurants.
If you're in town on a Thursday, the Farmers Market is at the market square from 4-7PM from mid-April to the end of September!
There's plenty of history in this town, too. You can learn all about the early settlers and their way of life at the Pioneer Museum.
19. Above and Beyond Day Spa
90 minute Swedish couples massage. Need I say more?
Harrison and I felt absolutely spoiled by ours- it was one of the best we'd ever had (and we have enjoyed several massages at five start resorts)!!
The masseuses at Above and Beyond Day Spa are absolute pros.
Best of all, it's right on Main Street, so it's close to all of the other Main Street attractions!
20. All of the other small towns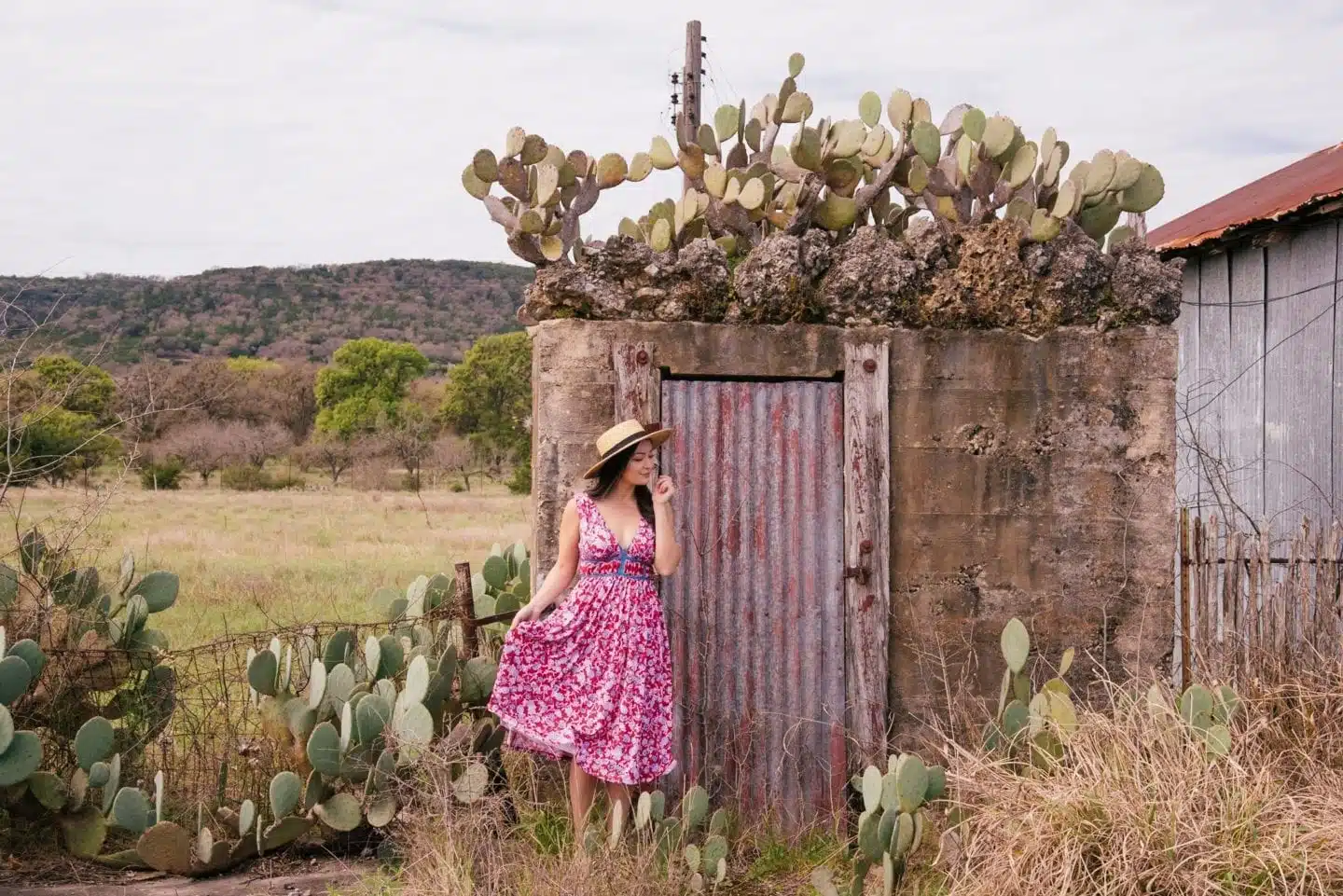 As you're driving through the Hill country, you'll pass so many cute towns with funky gems.
We captured this photo in Bandera, TX on our way from Medina to Utopia.
(How adorable is this cactus covered little hut? My question: did they just grow that awesome or did someone plant them there?)
There is so much to see as you're driving through the Texas Hill Country, passing from town to town.
You can find a replica of Stonehenge (dubbed Stonehenge II) and Easter Island Heads in Ingram, TX.
For lavender farms in the early summer, visit Hill Country Lavender (or other lavender farms!) in Blanco, TX.
You'll find the best barbecue, Salt Lick BBQ, in Driftwood, TX.
There are tree house rentals on the Frio River near Garner State Park.
And so much more! Next time, we'll have to extend our trip beyond a weekend getaway to find more hidden gems in the Hill Country!
A special thanks to Toyota for sponsoring our Texas Adventure to the Texas Hill Country!! This post wouldn't exist without them!
If you're going to be in the Hill Country near Austin, check out my list of 51 Instagrammable Places in Austin!
Safe travels,
Jasmine
Shop the post:

PS. If you found this post helpful, please share it to Pinterest! You can add it to your Texas Travel board (or any other board) so that you can go back to it later! Here's an image for easy pinning!