Heading to Los Cabos? You're in for a treat! There are so many incredible things to do in Cabo that you're bound to fall in love with this place!
Whether you're looking for activities to do in Cabo San Lucas, want to explore the surrounding towns, or are in search of hidden gems in Cabo, you're in the right place.
From incredible nature and tasty authentic restaurants to sea excursions and a hidden desert oasis waterfall, let's get into it!
Without further ado, here are the 50 best things to do in Cabo!
1. Visit the Cabo Arch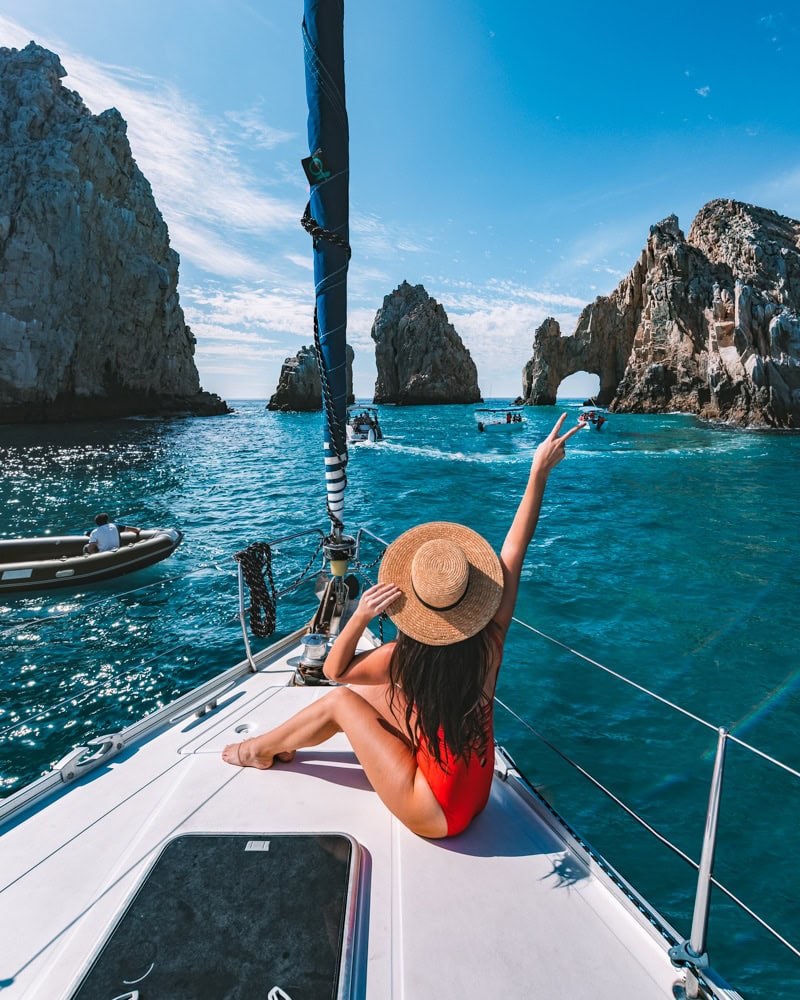 I've got to start with the most iconic natural wonder in Cabo San Lucas! The Cabo Arch is one of the distinctive landmarks in the whole area. So visiting it is one of the most crucial things to do in Cabo San Lucas! This gorgeous rock formation is located at the southern tip of Cabo San Lucas, on the Baja California Peninsula. Kayaking to the arch is the perfect way to see it up close and be surrounded by the sparkling blue waters that the arch sinks itself into. Boat tours are also common ways to see the arch.
2. Sailing
Speaking of the Cabo Arch, a great way to see it is when boating! Prefer to have your adventures to be a little more luxurious? Take a sailing trip around Cabo San Lucas and learn about the locations you're sailing past, while on a beautiful sailboat. One of the best companies to book for your sailing trip is Cabo Adventures. We did this luxury day sail tour with Cabo Adventures and it was great since the smaller group size made for a fun sailing environment.
3. Scuba Diving in Cabo Pulmo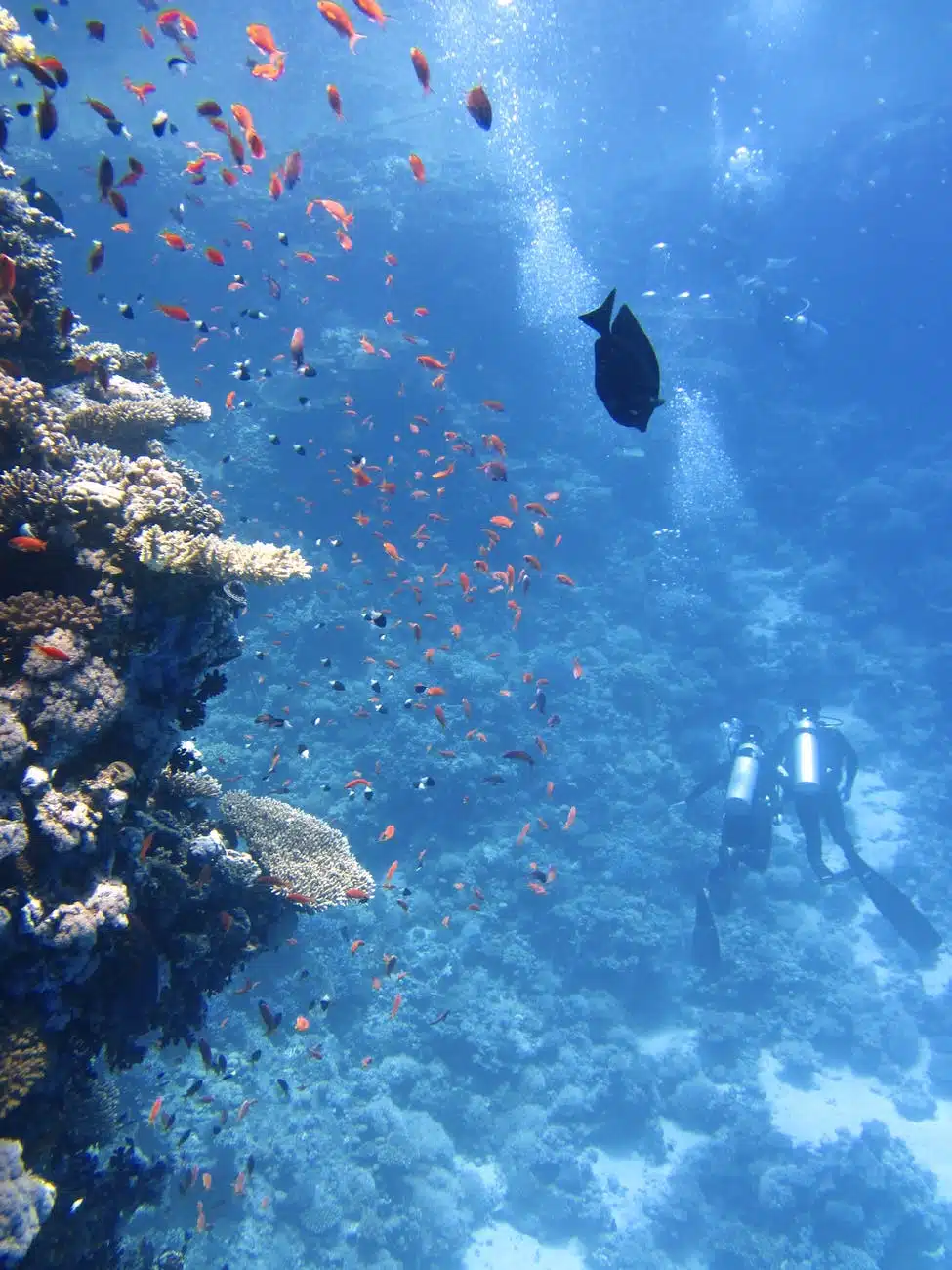 Cabo Pulmo National Park is the best marine park in the country and contains more than 6,000 marine creatures! Snorkeling is a great activity to see all the creatures that live near the ocean's surface at Cabo Pulmo. However, go deeper into the ocean and you'll be greeted by a whole host of new fish and underwater scenes. It's the perfect location for both beginners and seasoned scuba divers. In fact, this tour is perfect for beginners! Named a UNESCO World Heritage Site in 2005, Cabo Pulmo is said to have the most robust marine life out of any reef in the world!
4. Snorkeling in Chileno Bay or Santa Maria Bay
If snorkeling is more your style, both Chileno Bay or Santa Maria Bay are also great places to snorkel to see some ocean wildlife. Just make sure not to swim too close to the rocks as currents could push you into them! After snorkeling, you can also relax on their beautiful beaches! We arrived here by boat on our Cabo Adventures sailing tour.
5. Fox Canyon Waterfall
This is one of my favorite things to do in Cabo! About a 1.5-hour drive from Cabo San Lucas, this Cabo hidden gem is located at Rancho Ecologico Sol de Maya in Fox Canyon. Tucked away at the base of the Sierra Laguna mountains, this waterfall feels like a complete desert oasis. It's the only waterfall in Los Cabos that exists 365 days of the year, instead of drying out! For those that like an adrenaline rush, you can jump off the top of the 25-foot waterfall into the seemingly bottomless pool below! While you can drive to this excursion on your own, we did this tour which I highly recommend! It was a private Jeep tour with lunch included at Los Agaves (I'll talk about Los Agaves later on this list!) and we absolutely loved our tour guide, Maury!
6. Visit the Tropic of Cancer Monument
Along the way back from the waterfall at Rancho Ecologico Sol de Maya, you will come across the Tropic of Cancer Monument. This monument has replaced a smaller one that was previously in its place and celebrates the northernmost of earth's three important lines of latitude.
7. Stay at an All-Inclusive Resort
Cabo is the perfect place to stay if you want to relax and hardly lift a finger. There are many all-inclusive resorts to choose from which make your life easier by having all your meals taken care of – no need to wander around and think about where to eat every night! We stayed at Dreams Resort & Spa and had a wonderful stay! You can see a full list of lodgings here!
8. Experience World-Class Luxury
If you want to step things up a notch and have the funds to do so, Cabo is the place to do it. Cabo has many offerings for those who like to travel in the lap of luxury- and by luxury, I'm talking over $1,000 a night. Some of the most prestigious resorts in Cabo include the Montage Resort which is adjacent to the exclusive private residential community of Maravilla, One & Only Palmilla with its beautiful authentic stylings and butler service, and Las Ventanas al Paraiso which has been known to house many celebrities who holiday in Cabo.
9. San Jose del Cabo's Historic Gallery District
Surrounded by flag-lined streets, the San Jose del Cabo gallery district is a can't-miss! One of the best ways to explore the various art galleries that are within the historic gallery district is by taking part in a walking tour. Join the San Jose del Cabo Art Walk and take a stroll down the quaint cobblestone streets and view artworks displayed in some of the most famous galleries in the area including La Sacristia, Patricia Mendoza Gallery, and Corsica. Of course, you can also explore on your own!
10. Mission de San Jose del Cabo
One of the most visited sites in Cabo, this church is located in the heart of San Jose's historic district. Restored in 1940, this church is a perfect example of beautiful Mexican places of worship.
11. Shopping in San Jose
While you're in the town of San Jose, you'll find plenty of shops selling local goods and wares. But you'll also find shops all over the area! Yup- Cabo is not only a destination where you can relax by the beach but it's also a fantastic place to shop! With a variety of areas from plazas like Puerto Paraiso Plaza, to the sophisticated Shoppes at Palmilla, there is something to suit every kind of taste and budget.
12. La Coyota
Speaking of shopping centers, this colorful shopping area is nothing like you've seen before! If you like collecting quality souvenirs, this will be one of your favorite things to do in Cabo! The uniquely Mexican designed area houses shops that sell unique items from dinnerware to home décor.
13. Day Trip to Todos Santos
This sleepy town is the perfect day trip from Cabo where you can see another side of Mexican life. Todos Santos is located roughly an hour from Cabo and once you arrive you can easily spend the day wandering the cobblestoned streets and small artisan shops.
14. Hike Up Mount Solmar
If you enjoy hiking, add Mount Solmar to your list of things to do in Cabo San Lucas! This mountain is relatively unknown to both tourists and locals, partly because there is no official trail to follow and part of the journey to the top of the mountain passes through someone's private property! The owner of the property now offers tours to the top of the mountain which you can book between 9:30 and 5pm. Alternatively, you can follow the outside fence line of the property and clamber up the mountain yourself. You'll be rewarded with fantastic views once you reach the summit!
15. Tour the Mountain Range
Cabo and its surrounding area have a magnificent mountain range that is waiting to be explored. Travel to "Sierra de la Laguna High Point" to see the highest point in the Baja California Sur state. It stands at an awe-inspiring 6,857 feet.
16. Enthusiast's Beach
Enthusiast's Beach has two sides to it, both with interesting names! Lovers Beach (otherwise known as Playa del Amor) is on one side and is only accessible by boat due to its offshore location. The other side is called Divorce beach because of the large crashing waves that come to its shores from the Pacific Ocean. Once you reach Lover's Beach by boat it is only a short walk to Divorce Beach. Both beaches are perfect places to take beautiful and dramatic photos.
17. Santa Rita Hot Spring
Located in the town of San Jorge, the Santa Rita Hot Spring is definitely a hidden gem. If you've rented a car, make sure it can handle dusty pothole-filled dirt roads. Alternatively, you can join a tour or hire a driver to get there. You'll need to bring pesos with you for the entrance fee (about $180 pesos, though this price might change by the time you visit). Take a dip in the warm water and relax while being surrounded by nature.
18. El Chorro Hot Spring (aka Agua Caliente)
Can't get enough of the wonderful hot springs? Head to El Chorro to soak in these springs, also off the beaten path. Be sure to bring pesos with you for the entrance fee to El Chorro as well- this one is roughly $20 pesos. With temperatures of the springs ranging from warm to hot, there's a perfect temperature for everyone. Unfortunately, this hot spring was closed due to Covid when I visited, but I hope to visit next time!
You can learn more about visiting these two hot springs in Los Cabos here!
19. Stand Up Paddleboard
With its warm weather, Cabo is the kind of place where you always want to be in the water! Stand-up paddleboarding is the perfect activity where you can enjoy beautiful surroundings and cool down. Many different operators offer the activity, such as High Tide Sea Expeditions, Surf in Cabo, and CABO SUP. You can also rent a stand-up paddleboard here for around $25.
20. ATVing
This ATV adventure is perfect for those tight on time who want to see many sights, or for those who love the thrill of driving in an ATV! You'll be amazed at the contrasting landscapes that the city has to offer as you pass through canyons, mountains, and beaches. Best of all if you book a tour like this one with G-Force Adventures, you will get a free tequila tasting as a bonus!
21. Horseback Riding
Horseback riding is a wonderful experience on its own but taking a walk along the coast while on horseback takes it to the next level. The ride can be catered to children and beginners all the way to expert level. Make sure that the tour operator you pick is an ethical one that takes good care of their horses. We did this combo tour with G-Force and loved our experience!
22. Fishing
Cabo is known around the world for its fishing as its waters are filled with brilliant fish such as Tuna, Snapper, Marlin, and many more. October is the peak time for fishing tournaments to be held here as that is when many large Black and Blue Marlin fill the sea of Cortez.
23. Surfing
Surfing is a year-round activity in Cabo thanks to its beautiful climate. May is one of the best times to visit for surfing. Although it is one of the transition months, it has some of the best south swells. If you're looking to avoid the crowds head to Cabo between September to November to catch some good waves and have more space to yourself on the beaches. If you are planning to surf during the colder winter months, don't forget to wear a wetsuit! Don't know how to surf? You can learn how to on this surfing lesson through High Tide Sea Expeditions!
24. Swim with Dolphins
This wonderful experience will have you up close and personal with these beautiful and intelligent creatures. Book a dolphin swim with Cabo Adventures and you can experience a dolphin encounter for $83 and up.
25. Helicopter Tour
If you're looking for an exciting and memorable way to see the city of Cabo then take a helicopter tour! While in the air you will enjoy the spectacular bird's eye views of the city and sparkling beaches below.
26. Road Trip Up Highway 1
Hire a car and take a drive through Highway 1, the road that connects Mexico to the US. This makes a good road trip as the trip takes 27 hours from Cabo all the way to the border. Make plenty of stops along the way to make the journey a memorable one!
27. Mountain Biking
Like to be active while you're on holiday? Take a bike tour like this one around the Baja Peninsula and ride through sandy trails rolling hills and through the Mexican outback. If you're an avid biker, this is sure to be an experience that you will never forget!
28. Whale Watching
The most commonly encountered species of whale in the Cabo area is the Humpback Whale followed by the Grey Whale. Both of these magnificent creatures are a joy to behold and you might even be lucky enough to see them leap out of the water, known as "breaching". Join this tour during whale season for an epic experience! Peak whale watching season in Cabo, from late December to late January.
29. Get a Massage
Visiting a spa is the perfect activity after some jam-packed days sightseeing, or if you are looking to simply relax while on holiday. Sink yourself into serenity at The Sand Bar, or if you're looking for a luxurious pamper session, book yourself in at Dreams Resort. At Dreams, we had our massages done under a palapa at the beach and it was heavenly!
30. Window to the Pacific
Visit the giant rock formation that has an arch-shaped hole at the bottom that allows you to see through to the other side. Because of its window-like appearance that perfectly frames the view out to the ocean, it is called the "Window to the Pacific".
31. Take a Glass Bottom Boat Ride
Taking a glass-bottom boat ride is the perfect way to see into the water below and feel as though you are immersed in it, without hardly getting wet at all. Some of the best places you can go on a glass-bottom boat tour are Land's End, Lover's Beach, and the Window to the Pacific. This one heads to the famous Cabo Arch!
32. Playa Chileno
Chances are when you picture your stay in Mexico you had a beach or two in mind for your plans. Chileno Beach, otherwise known as Playa Chileno is the perfect spot for sunbathing or splashing about in the water. The clear turquoise waters also make a great spot for snorkeling.
33. Medano Beach
Medano Beach is one of the most popular swimming beaches in Cabo, and for good reason. This beach is where many different activities are held such as Jetskiing, Parasailing, or Kayaking so it's perfect to spend a half day here.
34. Walk Along the Marina
The Marina area is one of the main spots for activity in Cabo. There are many hotels, restaurants, and shops to explore. Or, if you prefer, walk along the waterside to see all the luxury yachts that dock here!
35. Watch the Seals Around The Marina
While you're having a stroll around the marina, keep an eye out for some seals splashing about in the water for the perfect photo opportunity! We saw this guy on the way back from our Cabo Adventures sailing tour.
36. Cliff Jump
Thrill-seekers, this one is for you! You'll love cliff jumping off Pelican Rock at Pelican Beach. This rocky beach is famous for its dramatic rock formations (some of which you can jump off into the water below) and for its abundant wildlife. Hop on a group tour and do some snorkeling or explore the beach yourself and enjoy this unique beach at your own pace.
37. Flyboard at Santa Maria Bay
Flyboarding is the perfect activity for those who like to try something new. Blast off from the water with a Flyboarding tour at the safe and calm Santa Maria Bay and enjoy an amazing experience that will make your trip unforgettable.
38. Zip Line at Wild Canyon