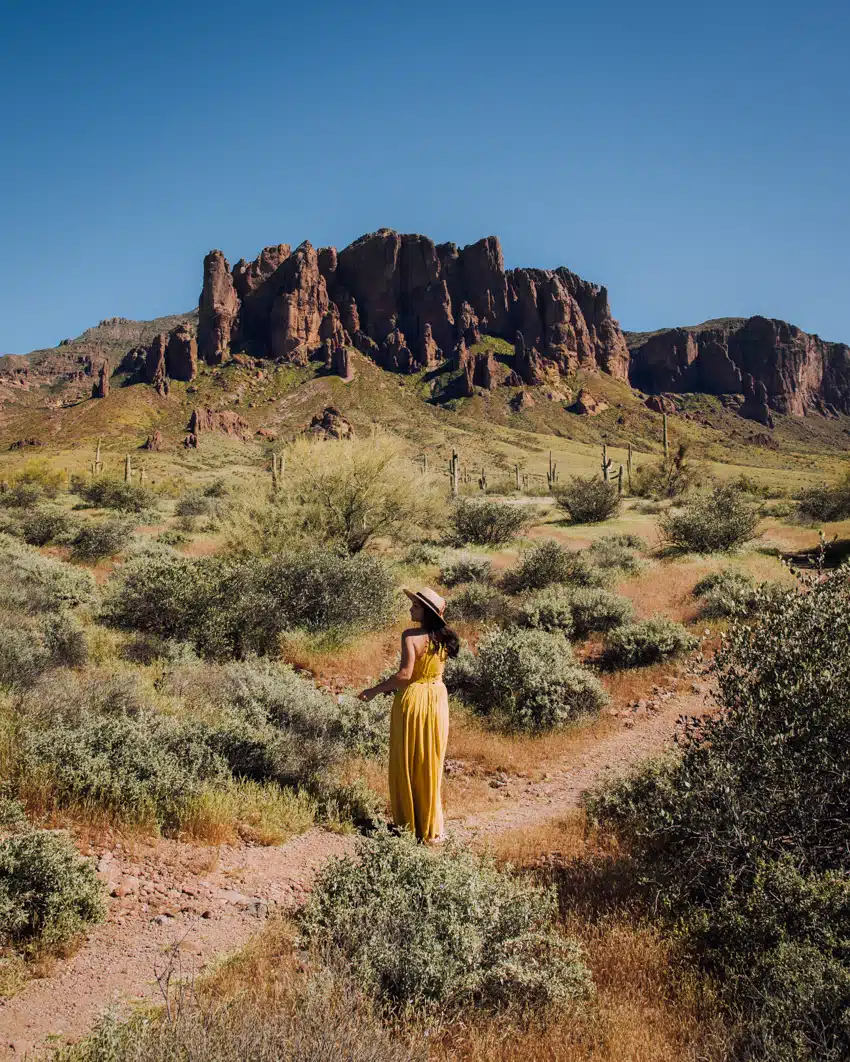 Scottsdale, Arizona is truly one of the most beautiful North American destinations to visit. It is the perfect travel destination if you like sunshine and desert views (I mean, just check out the stunning Superstition Mountains in the photo above!). And it's one of my favorite places in Arizona, so I figured I'd put together a comprehensive guide on things to do in Scottsdale!
Exploring all this city has to offer can take weeks, as the city is so full of life with tons to offer! There are so many things to do in Scottsdale that it was so difficult to compile the list! But here I've chosen the best of the best!
Before you go, it's helpful to know when to visit, where to stay, what to do, and where to eat. I've got all your bases covered right here!
There are activities for every type of traveler, every budget, and every taste. Those who love wildlife, beautiful desert views, and amazing food should definitely put Scottsdale on the bucket list!
Alright, now that we've got all that covered, let's talk about all of the wonderful things to do in Scottsdale!
I've ordered them by different categories:
Parks & Nature
Scottsdale Activities
Arts & Museums
Cafes & Restaurants
Let's get into it! Here's my ultimate list of 55 things to do in Scottsdale, Arizona!
1. McDowell Sonoran Preserve
Budget: Free
Perfect For: Families, solo travelers, couples, and also outdoor enthusiasts.
This 30,500-acre park is located right in the middle of the Scottsdale desert! The McDowell Sonoran Preserve is a beautiful place to come and enjoy nature. Visitors can go hiking on one of the six trails, mountain biking, or even horseback riding. The stunning views of the desert will make you feel like you've been transported somewhere far away. If you're a lover of the outdoors, this is definitely a can't-miss. This protected habitat is full of wildlife, and rattlesnakes are common here, so be very cautious! The park is open daily at sunrise, so head over before the crowds are too big.
2. Lost Dutchman State Park
Budget: $7-$10 per vehicle
Perfect for: Families and Outdoor Enthusiasts.
Lost Dutchman State Park, named after Last Dutchman's Gold Mine, is located 40-miles east of Phoenix. This park has a variety of hiking trails, picnic facilities, campsites, and tons of outdoor activities, so there is plenty to do during your visit. It's such a great way to spend the day outdoors with family or friends while experiencing the beauty of Arizona.
3. Salt River
Budget: $17-$20
Perfect For: Families, friends, couples, and also outdoor enthusiasts.
Visiting the Salt River is a great family activity, minutes away from Phoenix. There are lots of different outdoor activities, such as tubing, paddleboarding, kayaking, fishing, and swimming! Because of the beautiful weather in Arizona, Salt River is open year-round and is a great way to soak up the beautiful Arizona heat.
4. Camelback Mountain
Budget: Free
Perfect For: Hikers.
This gorgeous trail has an overall elevation of 2,704 feet but is a fairly quick climb up.  There are two tails in Camelback Mountain, Echo, and Cholla. Echo is significantly steeper and is a great workout, whereas Cholla trail is longer, with a slower climb. The name "Camelback" came about because- you guessed it- it looks like a camel.
5. Desert Botanical Garden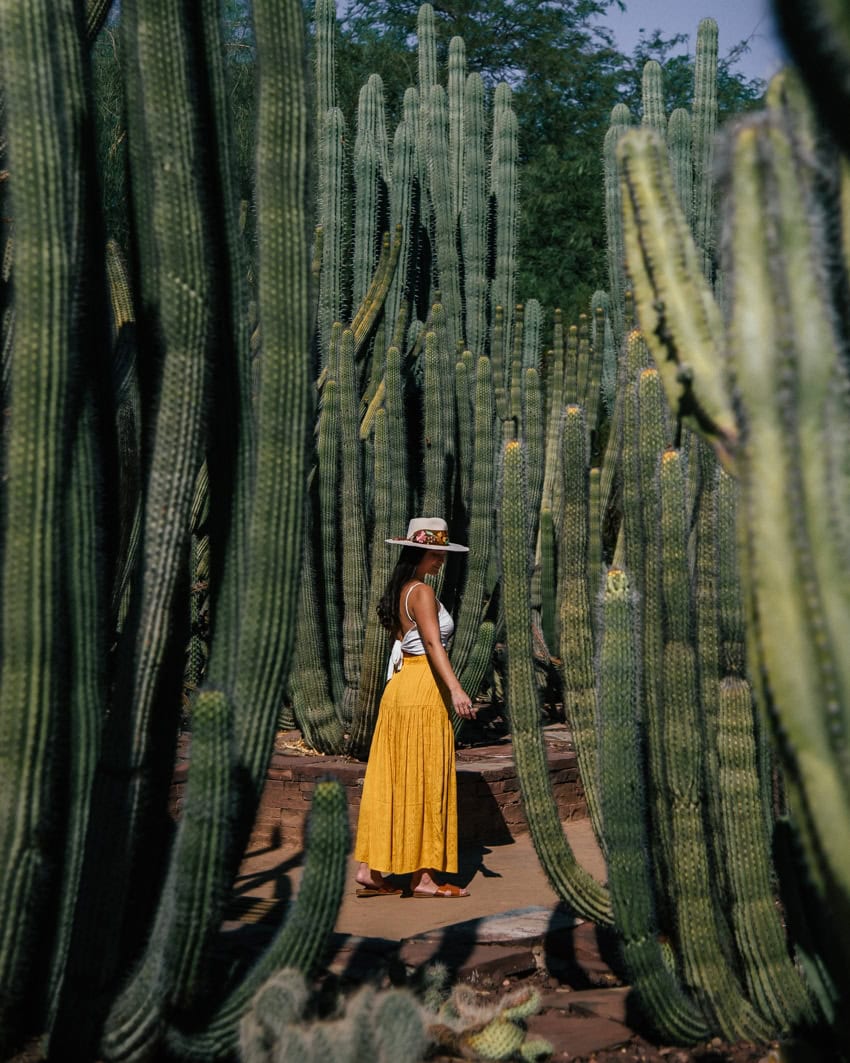 Budget: $12-$25 for admission
Perfect For: Families, plant-lovers.
Okay, this is technically in Phoenix, but it's worth mentioning! Spread out over 140-acres, these gardens have over 50,000 unique plant species and it's a beautiful way to spend the day! The Desert Botanical Gardens will often put on unique exhibits, such as the Monarch Butterfly Exhibit that's happening now until November 22, 2020.
6. Papago Park
Budget: Free to enter but cost will vary depending on which activities you choose.
Perfect For: Golf-lovers, hikers, families.
When you are looking for a great outdoor activity without venturing too far from downtown Phoenix, Papago Park is a great choice. In addition to stunning landscapes perfect for picnicking, the park also consists of a zoo, golf course, gorgeous gardens, museums, and you may even run into some wildlife. There are also several great trails within the park, that are considered easy to moderate, and are open as of 6 AM.
7. Pinnacle Peak Park
Budget: Free
Perfect For: Hikers, Outdoor Enthusiasts.
This gorgeous park offers some of the best views in all of Arizona, and if you're into photography you will get some great content here! Because the trail is considered easy to moderate and well tracked, Pinnacle Peak Park is great for novice and experienced hikers. Rock climbing is also permitted in certain areas of the park, for those with experience. When you're looking for a great photo, Sunrise or Sunset is the best time to visit.
8. The Scottsdale Xeriscaping Garden at Chaparral Park
Budget: Free +
Perfect for: Nature and wildlife lovers.
If you are a nature-lover, the Scottsdale Xeriscaping Garden at Chaparral Park is such a fun way to spend the afternoon. This beautiful garden is also a National Wildlife Federation Certified Wildlife Habitat, and its expansive landscapes will blow you away. It showcases over 7,000 plants and is also home to more than 200 wildlife species. The park usually opens at sunrise, so if you want to avoid the crowds – get there early!
9. Octane Raceway
Budget: $22+ (There are also combo packages for racing, VR, and arcades that range in price)
Perfect for: Families, groups, and also couples.
Octane Raceway offers high-speed kart racing, Velocity VR, arcades, and bowling.  Above all, they are famous for their high-speed kart racing which features a 1/3 mile track, European electric race karts reaching 45 MPH, and a year-round indoor/outdoor track, making it the only one of its kind in the US. 
10. Scottsdale Golf
Budget: $30+++ (your cheapest option is a driving range, but courses are typically upwards of $150)
Perfect for: Anyone who loves to golf or wants to learn.
Arizona is notorious for great golfing conditions and courses. Because of the beautiful weather year-round, it's a great golfing destination almost any time of year. There are over 200 golf courses in Scottsdale alone, ranging from casual public courses to luxury private clubs. When you're looking to hit a few balls in Scottsdale, you'll have plenty of courses to choose from!
11. Scottsdale Wine Trail
Budget: ~ $15 for a tasting
Perfect for: wine lovers!
When in downtown Scottsdale, you can visit five incredible Arizona wineries, such as Aridus Wine Company, Carlson Creek, Merkin Vineyards, and Salvatore Vineyards. If you plan on visiting at least 3, you should purchase the Wine Trail Passport. It costs $5, but you will receive $2 off each tasting and will get some SWT swag and a commemorative wine glass!
12. Arizona Boardwalk
Budget: ~ $20 for a General Admission ticket to an attraction (there are also family packages available).
Perfect for: Families and those looking to have some interactive fun.
The Arizona Boardwalk was previously known as OdySea in the Desert, and it's a 35-acre entertainment complex and features a huge variety of attractions, restaurants, shopping, and events. 
13. Butterfly Wonderland
Budget: $23 adult admission, $15 for kids
Perfect for: Families, couples, and also anyone who likes interactive exhibits.
Imagine walking through a tropical rainforest as thousands of exotic butterflies fly around you.  Sounds like a cool experience, right? If you want to experience it yourself, check out the Butterfly Wonderland at the Arizona Boardwalk. Because of COVID-19, it's operating at a limited capacity so be sure to buy tickets in advance.
14. Desert Splash Adventures
Budget: $$$, varies with package, dates, and group size
Perfect for: Nature lovers and those looking for a unique experience.
This seaplane tour allows you to see Scottsdale's sweeping desert landscape from a totally different perspective, and the views are simply fantastic! It is the only seaplane tour operating out of Arizona and runs from October to April, so be sure to book your spot in advance! 
15. Well & Being Spa at Fairmont Scottsdale Resort
Budget: $70+ for a manicure, $175+ for a facial
Perfect for: Those looking to be pampered and relax.
Scottsdale is the perfect place to combine fun with a little R&R. Fun fact: there are more spas per capita than any other US city. So if you're looking for relaxation, definitely add Scottsdale to your list! When you are ready to recharge, the Well & Being Spa at Fairmont Scottsdale Princess Hotel is where you want to be.  This spa is so much more than a place to get a facial (although they do that really well too!).  They also offer whole health transformations, and a selection of meditation, yoga, and fitness classes.
13. Chocolate Tour of Scottsdale
Budget: $45
Perfect for: Families, couples, chocoholics, and also anyone with a sweet tooth!
The Chocolate Tour of Scottsdale is a 2-mile walking tour through the streets of Old Town Scottsdale, and it takes roughly 2.5 hours to complete. During the tour, you will taste delicious confectioneries and bakeries around Old Town. Even if you don't like sweets, you'll learn a lot about local traditions and the smells are just sooo good! While they are temporarily closed at the time of writing, check their site to see when they'll be up and running again!
17. Southwest Wildlife Conservation Center
Budget: $25+ adult admission, $15+ for kids
Perfect for: Travelers of all ages with an interest in wildlife.
Southwest Wildlife Conservation Center (SWCC) is a non-profit organization that rescues wild, orphaned, injured, or homeless animals. They also provide proper medication and shelter to rehabilitate them effectively.  Additionally, many of the animals are eventually released back into the wild safely so they live long healthy lives in their natural habitat.  Those who cannot safely be released, have a new comfy home at the sanctuary. Overall, the Southwest Wildlife Center is more than a fun tourist attraction – it's also worthwhile cause you can feel good supporting! You can take a tour to see animals like bears, bobcats, coyotes, and mountain lions! 
18. Civic Center Mall
Budget: Free +
Perfect for: Anyone looking to attend a local event or show.
Scottsdale Civic Center Mall is built on almost 3-acres and it's definitely not your typical shopping mall! The mall contains City Hall, Performing Arts Center, Contemporary Arts Center, and Civic Center Library. The Civic Center Mall also holds free events, concerts, and fun festivals on the expansive lawns.
19. Stay at a resort (like The Scott Resort!)
Budget: $250 + for one night stay
Perfect for: Couples on a romantic getaway as well as solo travelers looking to recharge.
There are so many stunning resorts in Scottsdale it can be hard to choose.    However, one of my favorite resorts in the area is The Scott Resort. The resort grounds have two outdoor pools, four restaurants, a fully equipped spa with six private treatment rooms and the rooms are absolutely gorgeous!
20. Relax Poolside
Budget: Complimentary with resort stay
Perfect for: Those looking to relax.
Speaking of pools, regardless of where you stay, most of your relaxation time will probably be spent poolside. Did you know that Scottsdale's 70 resorts and hotels have over 130 pools!? But one thing to note is that Phoenix and Scottsdale aren't pool weather year-round, though you might think they would be! Check out this post on when to visit Phoenix and Scottsdale to make sure you're going at the right time for you!
21. Scottsdale Fashion Square
Budget: Free+
Perfect for: Families, couples, and anyone looking to shop, eat, and explore.
Downtown is a large area the runs from Camelback Park Estates to Scottsdale Crossing, and across from Camel Vista to Siesta Suites.  There are so many incredible restaurants, shopping, hotels, museums, stadiums, and concert halls. But my favorite area is known as the Scottsdale Fashion Square! Full of trendy, hip shops, cafes, and restaurants, one of the best ways to get a feel for the square is to simply walk around it! Many of the restaurants you'll find on this list are in Scottsdale's Fashion Square.
(As you might expect, this mural is on my list of 35+ Instagrammable Places in Scottsdale! Read here for more photo-worthy Scottsdale spots!)
22. Old Town Scottsdale
Budget: Free+
Perfect for: Anyone looking for shopping, art, restaurants, and western feels.
Fun fact: All of downtown Scottsdale will eventually be referred to as Old Town – the city has made the change official! Previously, Old Town was a smaller area within Downtown. And that's the part of Scottsdale that I want to highlight here! Take a stroll in the OG Old Town Scottsdale for fun Western-inspired shops, laid back cafes, the Old Mission (pictured above), and so much more! When you visit, take a horse-drawn carriage ride through the town or visit a Western-style saloon.
23. Cosanti Originals
Budget: Free+
Perfect for: Those with an appreciation for art.
Cosanti is the gallery of Italian-American architect Paolo Soleri. His original bronze Windbells are known around the world and each piece is incredibly unique. When you visit, check out the gift shop for some really interesting, one-of-a-kind, handcrafted gifts. Because of COVID-19, tours are currently limited to groups of 8.
24. Scottsdale Art Walk
Budget: Free
Perfect for: Couples, friends, and also those with an appreciation for art.
Scottsdale's Art Walk was established in 1975, and its events are celebrated throughout the downtown district every Thursday. The Scottsdale Art Walk features special exhibits, entertainment, and galleries. There are also horse-drawn carriages, golf carts, and trolley rides. Great for a date night!
25. Scottsdale Center for the Performing Arts
Budget: $$, varies depending on the event
Perfect for: Those with an interest in performing arts.
Scottsdale Center for the Performing Arts hosts performing arts events throughout the year.  Visitors can purchase tickets for ballets, dance performances, concerts, plays, speakers, and more.  Because the center has been affected by COVID-19, they now offer virtual performances that can be enjoyed from the comfort of your home.
26. Wonderspaces
Budget: $20+, varies depending on the event
Perfect for: Those with an interest in performing arts.
Wonderspaces is an ever-evolving art show with new works and installations appearing throughout the year. The events are also updated often, so you can stay up-to-date and plan ahead!
27. Frank Lloyd Wright's Taliesin West
Budget: $40 adult, $30 student, $19 youth
Perfect for: Those with an appreciation of architecture.
Frank Lloyd Wright was an American architect and designer, and "Taliesin West" was his home and desert laboratory. Today, it's a UNESCO World Heritage site and a fun tourist spot in Scottsdale, where you can learn the historical significance of this talented designer. It's also an amazing way to check out some incredible architecture in Arizona!
28. McCormick-Stillman Railroad Park
Budget: Free
Perfect for: Families, and also those who want to spend time outdoors.
The McCormick-Stillman Railroad Park is a 30-acre park where you can ride the Paradise & Pacific Railroad or a vintage 1950s carousel. There are open spaces for picnics, several playgrounds for kids, and a selection of shops and museums. It's also a great Instagram photo location, so be sure to take some pics!
29. Musical Instrument Museum
Budget: $20 adult, $10 child
Perfect for: Musicians and also anyone with an appreciation for history.
The Musical Instrument Museum is a must if you are a musician or have an interest in culture and history. Even if you aren't that into instruments, it's a cool experience.  The museum's collection features thousands of instruments from 200 different countries, so it's a really great cultural activity anyone can enjoy.
30. Scottsdale Historical Museum
Budget: Free
Perfect for: History buffs.
Set in the Little Red Schoolhouse, the Scottsdale Historical Museum allows you to explore the culture and history of Scottsdale and the entire Southwest. It's also a great experience for families looking to incorporate educational fun into their Scottsdale vacation. It's temporarily closed as I write this, but check their site here for up-to-date information!
31. Scottsdale Museum of Contemporary Art
Budget: Free certain days of the month (check their calendar), GA $10
Perfect for: Those who love modern art.
Scottsdale Museum of Contemporary Art (SMoCA) is located in the heart of the Old Town, and here you'll find an incredible collection of modern art and architecture. This impressive modern art museum has five different galleries and a fine art sculpture garden! The museum also holds various events, exhibitions, and workshops throughout the entire year. If you visit in March, you can even catch the Scottsdale Art Festival the museum puts on each year. 
32. Scottsdale's Museum of the West
Budget: $20
Perfect for: Anyone looking to experience traditional Western culture and history.
This museum is dedicated to the western history that shaped Scottsdale and the 19 western states of the US. In this 35,000 square foot museum, you will find art, artifacts, and educational information about the region's western heritage. This museum holds several old west cultural heritage activities, western movies, paintings, sculptures, and pottery. It's a great activity for couples, families, and also solo travelers!
33. Marshall Way Arts District
Budget: Free+
Perfect for: Those with an appreciation for art.
Marshall Way Arts District is home to the Scottsdale art scene and activities. Here you'll find an array of art created by American and international artists.  Among all the galleries found in the Marshall Way Arts District,  The Signature Gallery Scottsdale is the most renowned. 
Now let's get into the dining portion of this list of things to do in Scottsdale! You'll see that there are a bunch of dining musts on this list- but with so many great food options, I just had to include all of these!
34. Olive & Ivy
Budget: $15 for flatbread, $24+ for entrée
Perfect for: Couples, families, and also, wine-lovers!
Olive and Ivy has a great menu with a Mediterranean ambiance that makes you feel like you've transported to somewhere in Europe!  More specifically, it's inspired by the French Riviera, and their menu offers a selection of seafood and pasta as well as the most amazing baked cod! 
35. Dominic's Steak House
Budget: $48+ for steak, sides are extra
Perfect for: Foodies, couples looking for a nice dinner out, and anyone that appreciates a good steak!
Dominic's Steak house is known for its perfectly seasoned, cooked-to-perfection steak. They use the highest-grade Wagyu and USDA Prime Grade Beef, all cut in-house by their Master Butcher! They also have an expansive offering of fresh seafood including their raw bar which features crab legs, oysters, and shrimp.
36. FnB Restaurant
Budget: $28+ entrée
Perfect for: Families, couples, and also anyone who appreciates quality good and fresh, seasonal ingredients!
FnB Restaurant is in Old Town Scottsdale, and they are known for their amazing food that focuses on fresh seasonal ingredients with loads of flavor. Among many other accolades, FnB's head chef Charleen Badman has an ultra-prestigious James Beard award under her belt. At FnB, Badman highlights seasonal produce in her mouthwatering dishes. You'll want to make a reservation for this one in advance, as it's a definite hot spot! The menu includes a wide variety of salads and entrée's, like Dave's roasted chicken or New Zealand bluenose butterfish, so you definitely won't leave hungry!
37. Hula's Modern Tiki
Budget: $15+ entrée
Perfect for: Girls night, and anyone who loves a good cocktail and island vibes.
Hula's is a tiki bar with a modern flair; the unique decor and menu make it a great spot for late-night drinks.  They have a great variety of Island cocktails to choose from, or you can also stop in for brunch, lunch, or dinner to enjoy some of their island delights. While you're there, try the Hawaiian Jerk Chicken Plate or Crispy Coconut Shrimp Rolls, they are absolutely amazing!
38. Jalapeno Inferno
Budget: $10+ for a margarita, $15+ entrée
Perfect for: Those who love margaritas and Mexican food.
Jalapeno Inferno is a Mexican restaurant with a list of six innovative margaritas and craft cocktails – some are even available by the pitcher! When you visit, treat yourself to their infamous margarita called "The BMW." It's a bit pricey, but it's known as "the best margarita in the world" and worth the splurge!
39. Ling and Louie's Asian Bar and Grill
Budget: $15+ entrée
Perfect for: Those who love spice and Asian eats!
Ling and Louie's Asian Bar and Grill is an Asian-American fusion restaurant located on East Shea Boulevard. Bold flavors and spice are prominent, and menu options include Mongolian flatbread, chicken lettuce wraps, and crispy calamari. They also have locations in Dallas, Texas, and Meridian, Idaho, just in case you can't make it to Scottsdale!
40. Rancho Pinot
Budget: $27+ entrée
Perfect for: Those who like bigger portions of American-Italian food.
Rancho Pinot has been a local favorite for over 17 years. Located in South Scottsdale, this restaurant features both American and Italian cuisine.  It has an upscale but comfortable feel and is perfect for date nights or a family night out.
41. Talavera Restaurant
Budget: $15+ share plates
Perfect for: Couples, and those looking for dinner with a view.
Talavera Restaurant is a Spanish steakhouse offering a Latin focused menu featuring a hearty selection of tapas, charcuterie, seafood, paella, and beef dishes.  When you're here, request a seat on the patio and enjoy a craft cocktail and tapas. When in Scottsdale, book ahead as reservations can be hard to come by!
42. Virtu
Budget: a 3-course meal is around $75
Perfect for: Vegetarians, vegans.
Virtu was named one of the "Best New Restaurants" in America by Esquire Magazine. Although not a vegetarian or vegan restaurant exclusively, there is a wide selection of both vegetarian and vegan dishes.  The menu changes frequently and is based on what's in season, so you are guaranteed fresh, locally sourced food.
43. Breakfast Club
Budget: ~ $15-$25 for brunch
Perfect For: Families, friends, and also couples – anyone looking for great food and a fun atmosphere.
Breakfast Club is located in the heart of Scottsdale and is the best place for … breakfast, of course!  They have both sweet and savory options and is a great place to head for a weekend brunch with the girls.
44. Diego Pops
Budget: ~ $20-$40 for dinner
Perfect for: Girls night out and couples.
Diego Pops is a Mexican Restaurant and Bar, located in Old Town, known for reimagining the classics. This trendy diner adds a modern flair to classic Mexican dishes. The décor is perfectly curated, so it is definitely instagrammable! When you visit, try one of their signature margaritas and enjoy it on their beautiful patio.The food is inspired, the cocktails are delicious, and the decor is perfect for snapping photos with friends. Need I say more?
45. Sweet Republic Artisan Ice Cream
Budget: ~ $6-$10
Perfect For: Families, couples, and also anyone with a sweet tooth.
This is not your average ice cream shop, that's for sure! Opened in 2006 by Helen Yung, Sweet Republic Artisan Ice Cream has the most innovative flavors you've ever seen. When you're there, try their unconventional ice cream flavors, such as pumpkin spice, earl grey tea, and sweet potato marshmallow.
46. Berdenas Coffee
Budget: ~ $5 for a latte
Perfect For: Coffee lovers.
Is there anything better than a good cup of coffee in the morning? This specialty coffee shop located in Old Scottsdale serves the best coffee, so head here in the early morning before exploring the town! They have the classics of course, but the honey-lavender latte is so good, you have to try it!
47. Sugar Bowl
Budget: ~ $10-$25 for lunch/ice cream
Perfect For: Families, Couples.
We all need a sugar-fix every now and then, and if you are visiting Scottsdale, Sugar Bowl is the place to go. Built in 1958, this family-run restaurant and ice-cream parlor has been a tourist hot spot and a local favorite for decades. When you're here, try their famous old-fashioned soda with scoops of freshly made vanilla ice cream. You might recognize this ice cream shop from the "Family Circus" comic strip- its author, Bil Keane, included it a few times!
48. Canal Club
Budget: ~ $20-$40+
Perfect for: Girls night out and couples.
If you love Cuban food (and really…who doesn't?) check out the Canal Club! The food is amazing, and the vibes are on point. The décor is absolutely perfect – you feel like you have transported to Havana as soon as you step in the door.
49. The Herb Box
Budget: ~ $35-$50+
Perfect For: Couples, girls nights, and also families.
The Herb Box was founded in 1995 and has been well-known in Arizona for decades! What started as a catering company, is now a famous Scottsdale restaurant popular among tourists and locals.  They serve up savory, innovative meals, and also have plenty of vegan and vegetarian options available. Additionally, there are two locations in Scottsdale – North, and Old Town. 
50. Culinary Dropout
Budget: $25-$50
Perfect for: Food-lovers, Beer Aficionados.
When you're looking for delicious food with a laid-back vibe, check out this restaurant in Old Town Scottsdale. Founded by Sam Fox in the 70s, it serves bar-food and American classics. If you're a beer lover, they have you covered with a huge selection to choose from. When you visit, try the 36-hour pork ribs, and fried chicken drizzled with honey, they are known for it!
51. Rehab Burger Therapy
Named the best burger spot in Arizona on multiple occasions, the creative burgers at Rehab Burger Therapy are apparently out of this world. If you end up here, fans say you must try out the best-seller, the Elvis burger. It consists of a burger with peanut butter, caramelized bananas, and chocolate bacon sandwiched between two chocolate chip banana buns. Although I haven't tried this, it's on my list to try next time I'm in Scottsdale!
52. Second Story
This one is located in the heart of Old Town on the (you guessed it) second story of a building. Second Story is a whiskey-focused cocktail bar with a full dinner menu. Second Story is dark, elegant, and has over 300 different types of whiskey on the premises. If you're not sure what to order, you can give the bartender a vague idea of what you like and they will concoct a mystery drink for you! I'm not a big fan of whiskey, mojitos are more my style :), so this isn't the place for me. But I wanted to include it for its popularity!
53. Jade Bar
You will find this bar inside the Sanctuary Camelback Mountain Resort and Spa. This bar features a stunning interior and incredible sunset views from the patio. Jade Bar is also known for tasty drinks that feature locally-sourced seasonal ingredients. Fans say it is the perfect place to enjoy delicious cocktails while taking in Scottsdale's natural beauty. I hope to visit the Jade Bar next time I'm in Scottsdale!
54. Craft64
Budget: $15+ for a pizza
Perfect for: Pizza lovers
Craft64 is located in Old Town Scottsdale offers wood-fired pizza and a selection of 36 beers, as well as an expansive wine list. They also offer bruschetta and great charcuterie boards. If you go, I highly recommend the homemade mozzarella!
55. Dinner and a Show at Talking Stick Resort
Budget: $80 -$250 for dinner and a show
Perfect For: Couples, friends, and anyone looking for a fun night out.
Talking Stick Resort is a luxury hotel and casino resort located close to Scottsdale, on the Salt-River Pima Maricopa Indian Reservation.  There are six unique restaurants to choose from, featuring a wide variety of cuisines. When you visit, check out The Orange Sky restaurant – located on the 15th floor, the views alone are worth the trip! 
In conclusion…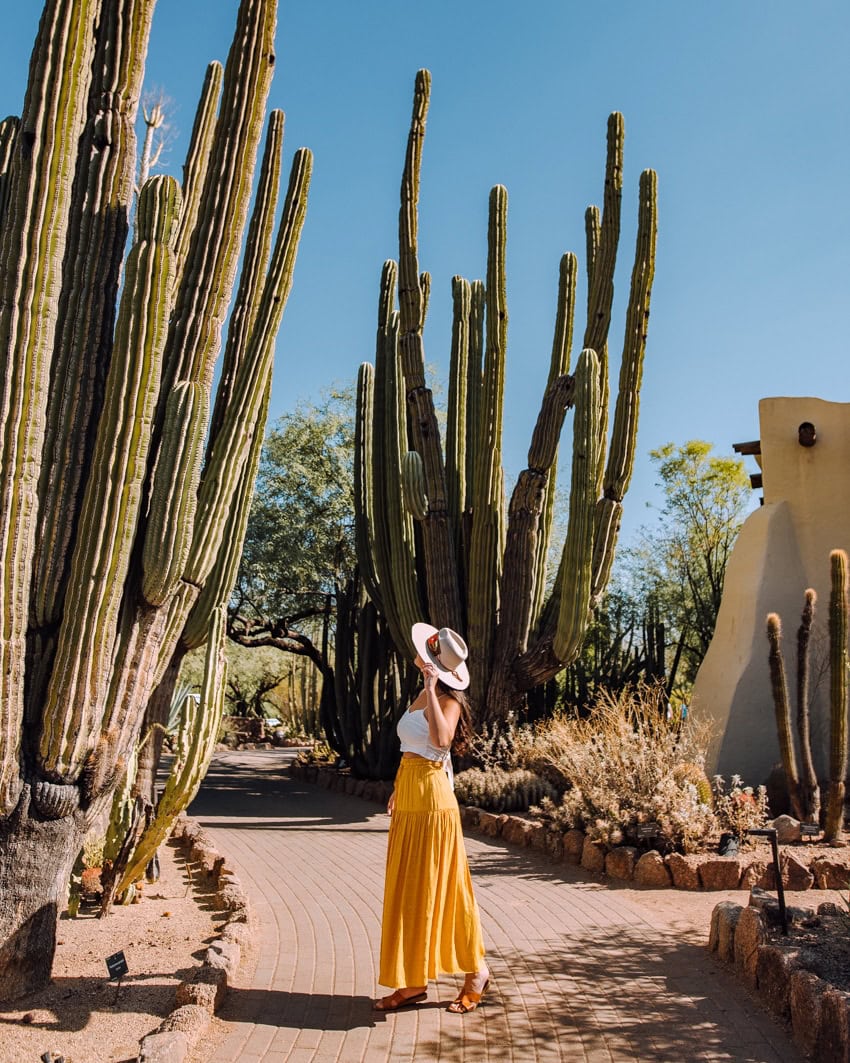 When you're planning a trip to Scottsdale, it can be overwhelming, there is so much to see and do! If you are looking for things to do in Scottsdale Arizona, this list will help you choose the best restaurants, trails, and entertainment. With so many things to do in Scottsdale, you will never be bored! Before you plan your trip, check out my blog posts on the 50 most beautiful places in Arizona to add to your bucket list, here!
You also might enjoy this post on the most Instagrammable places in Scottsdale and Phoenix!
No matter where you decide to stay or what you decide to do, Scottsdale has plenty to offer. Enjoy your stay!
Safe travels,
Jasmine
PS. If you found this post helpful please share it to Pinterest! You can use either of the images below for easy pinning!