If you're looking for Instagrammable places in Phoenix, Arizona you've come to the right place!
There are so many beautiful Phoenix and Scottsdale photo locations to choose from, and this list just scratches the surface!
But I've done my best to compile a solid list of Instagram worthy spots in Phoenix and the surrounding areas.
My husband, Harrison, and I visited Scottsdale after being invited by the Scott Resort to stay at their gorgeous hotel.
I had been dying to see Scottsdale anyway, so it was a perfect situation!
We booked our flights, I asked my Arizona-native friends for location recommendations, I researched on Pinterest, and came up with our itinerary.
We were only in town for the weekend, but I feel like we were able to see plenty of it with my jam-packed itinerary, which I'll share soon!
Let me know of any other Instagrammable places in Phoenix and Scottsdale in the comments!
Without further ado, here are 37 of the most Instagrammable places in Phoenix and Scottsdale.
Map of Instagrammable Places in Phoenix & Scottsdale
Instagrammable Parks & Nature
These beautiful parks and nature spots are some of the most Instagrammable places in Phoenix and the surrounding areas.
1. The Totally Instagram Worthy Papago Park
Papago Park is close to both the Zoo and the airport- we actually made it our last stop before heading to our flight.
It features a community fishing pond, multiple lakes, and great mountain views.
But what it is most famous for is the Hole in the Rock, which is a hike up to a hole in a rock (clever name, huh?) that offers views over the entire city.
2. Salt River- Tubing Exit
If you're lucky, you'll see the wild horses that graze along the Salt River in this area!
This area does require a Recreational Pass (which we didn't know ahead of time and parked anyway- so park at your own risk!).
We visited during an off season when there isn't tubing in the area, but if you visit over the summer, you can actually float the river!
(Also, the photo at the very beginning of this blog post was taken off the side of the road on the way to the Salt River.)
3. Phon D Sutton Recreational Area
The Salt River entrance by the Phon D Sutton Recreational Area is a really neat area to visit if you want to do a little bit of swimming!
We saw a few families swimming in the river off of the shore here, and I waded in to cool off a bit.
Other than swimming, you'll find some stunning water holes, a beachy shore, some interesting light gray rock formations, and a view of the mountains in the distance.
Go at golden hour and you'll be rewarded with gorgeous sunlight streaming through the trees over the mountain.
We captured another great photo on the side of the road after exiting the main road from Phon D Sutton.
There are great blue wildflowers (possibly bluebonnets?) that grow on the side of the road as you're turning right to exit.
4. Lost Dutchman State Park
Lost Dutchman State Park is nestled in the Superstition Mountains.
Be prepared for tall saguaro cacti, wildflowers in the spring, and great views of the Superstitions.
Note that the trails are pretty rough– my friend who has twin babies had difficulty pushing their stroller around at this park, so keep that in mind!
There are multiple parking lots throughout this park and multiple trails to explore. It costs $8 per vehicle for a day pass (and they accept credit cards).
5. Usery Mountain Regional Park & surrounding areas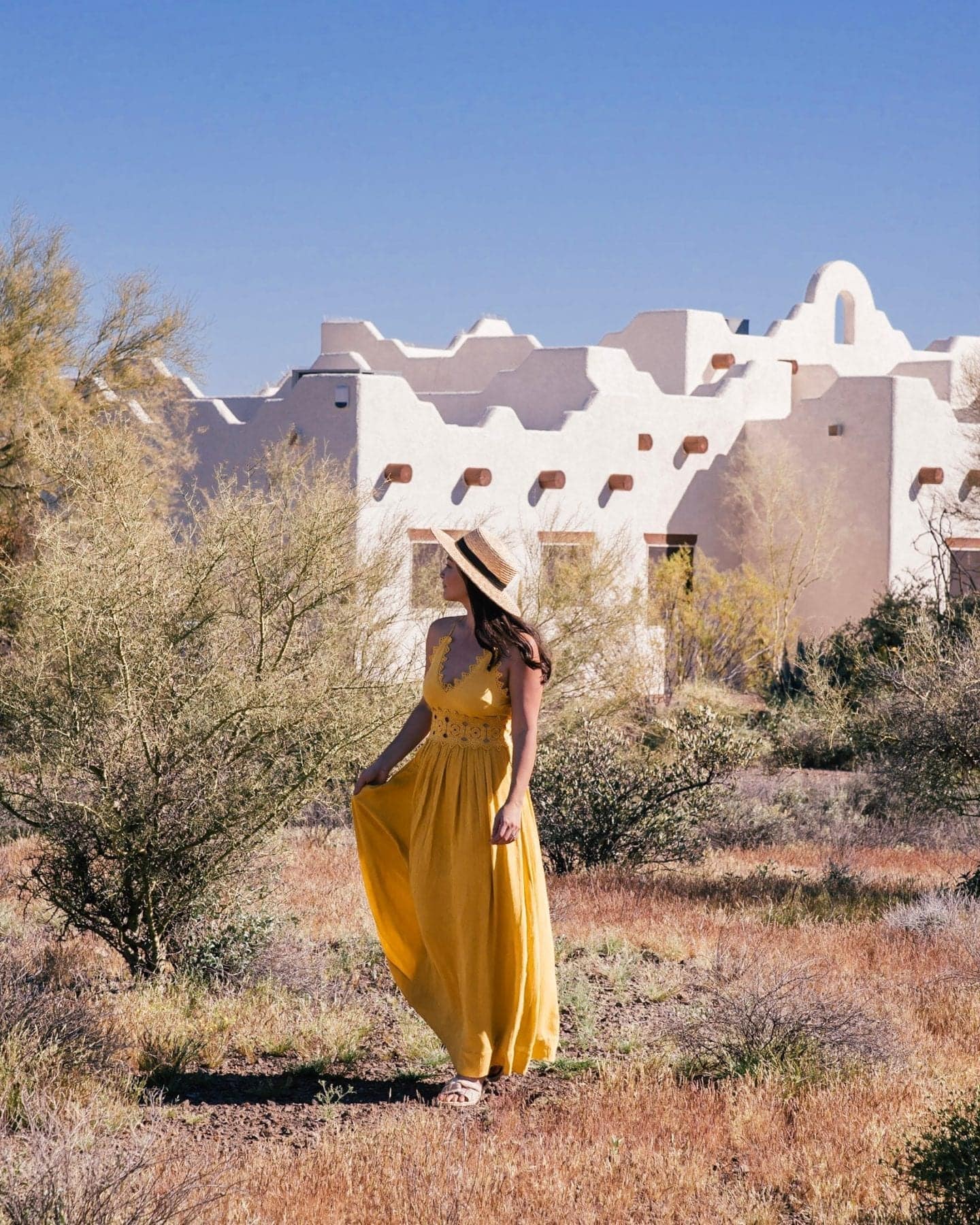 We headed to Usery Mountain Regional Park and on the way I saw these two gorgeous Instagrammable places in Scottsdale off the side of the road.
When we got to the park, we decided we'd rather photograph the surrounding area than pay for access to the park for just a few photos.
So we turned back around and stopped off along the road for these shots!
It's really true when they say it's not about the destination but the journey along the way!
6. The Corner of Hayden and Legacy – One of the Best Scottsdale Instagram Spots
Of all the Instagrammable places in Scottsdale, this location is particularly great for a sunrise or sunset shoot!
When the wildflowers are in bloom, you can get a dreamy shot with them in the foreground.
How to get here: navigate to the intersection of Hayden and Legacy.
As you're driving north on Hayden, there will be a left hand turn onto Legacy. Instead, pull into the little parking lot on the right.
Park and explore for great photo locations!
Also, nearby you'll find a scenic preserve, the McDowell Sonoran Preserve (more about that in a bit!), so you can check out both spots while you're in the area.
7. Camelback Mountain, Paradise Valley
A more challenging than average hike up Camelback Mountain will reward you with stunning views of the valley below and, of course, the entire city of Phoenix!
Climb up to the red-orange colored camel hump-shaped peak and snap photos of yourself looking out over the city and desert landscape below.
The area at the foot of Camelback Mountain is home to excellent restaurants and luxury hotels, for a bit of rest after your strenuous hike.
8. Desert Botanical Garden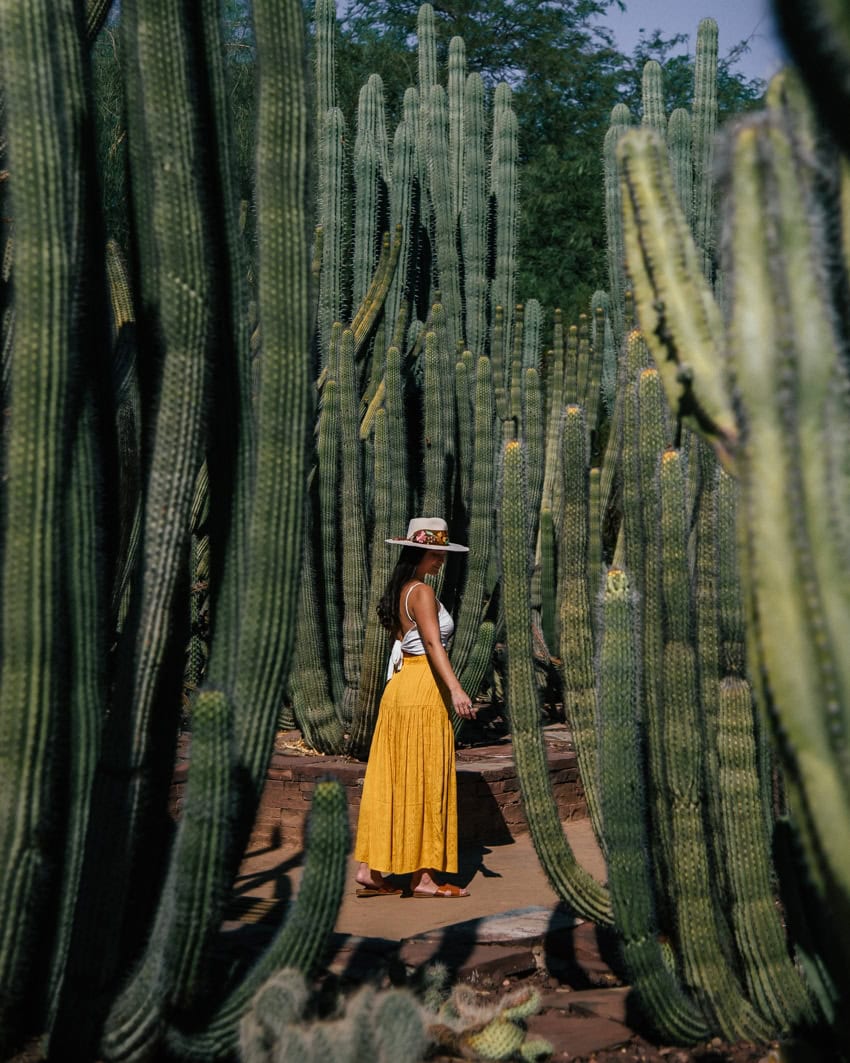 The prickly cacti of the Desert Botanical Garden are the best backdrop for impressive Instagram photos!
The garden is famous for couples' and wedding photos precisely for the tall cacti that envelope the subjects as they lovingly gaze at each other. *Swoon!*
However, don't expect desert desolation, there is a lot of greenery to see here, and the contrast between the green plants and desert soil is exceptional.
9. McDowell Sonoran Preserve
It's time to brave the hundred-degree heat and beaming desert sun for a hike in the McDowell Sonoran Preserve.
The best way to see the rock formations, flowers, and desert landscape at McDowell Sonoran is to follow Tom's Thumb Trail near Scottsdale.
The hike along the four-mile out and back trail is moderate and lacks shade, but has some excellent and easily accessible locations in which to hold a desert photoshoot for your insta followers.
Instagrammable Hotels
These hotels are definitely some of the most Instagrammable places in Phoenix and Scottsdale! With gorgeous pools and fun murals, see which ones made my list!
10. The Scott Resort
If you're visiting Scottsdale, arguably the best place to stay is The Scott Resort.
With its two large resort pools, beautiful interiors, and amenities, it's a no brainer.
The interior is mid-century modern meets jungle, you can rent a relaxing cabana by the pool, and it has amenities like bike rentals or the free shuttle (just runs off of tips) that will take you anywhere within a few miles.
Sure, we were invited by The Scott, but I'd 100% recommend it and book again out of pocket.
It's an absolutely beautiful resort (no joke, even the bathrooms are beautiful) with great customer service.
We absolutely loved our stay and it was so easy to photograph this resort!
11. Hotel Adeline
This charming hotel has an abundance of Instagrammable spots on its grounds!

Popular with pool parties, the hotel's pool area is excellent for photos. Two other spots near the pool for great framing and typography include the "WTF (Where's the Fun?)" sign and "Wanderers Welcome" archway.
The hotel, painted white, reflects the desert sun and stands out among the palms and faraway mountains.
12. Boulders Resort and Spa
In the Sonoran Desert, just outside of Phoenix, is a true oasis and photography mecca in the form of Boulders Resort and Spa.
The location is spread out over tens of thousands of square feet covered in a juxtaposition of manicured lawns and desert landscape.
The main attraction to the venue is the 12-million-year-old boulders that are peppered across the premises.
The rock formations have stood here for time immemorial and have experienced significant erosion causing their surfaces to smooth over time.
13. The Phoenician
The Phoenician is a five-star luxury hotel at the foot of Camelback Mountain and is chock full of beautiful photo spots for your feed.
The hotel's curvature fits elegantly with the towering hills behind it. Whether you find a great spot for a shot by the pool with the hotel lit up at twilight or on the golf course's greens, the luxurious feel of the place will be difficult to exclude from the scene.
A great focal point on the hotel grounds is the small red "mud house" called Jokake Inn, which will be challenging to miss as it contrasts with the mountain in the background.
14. The Saguaro Scottsdale
The Saguaro Hotel in Scottsdale is an explosion of color ascents and plant life! How gorgeous is this shot that my friend Cherise captured with the Saguaro's colorful mural?
This boutique hotel's amenities and furnishings pair well with sundresses and colorful bathing suits. From the guest rooms to the yellow parasols and loungers, every aspect of the hotel will guarantee that your photos will stand out in cluttered feeds.
Bring a friend to snap your way through the grounds of the Saguaro, especially near the pool. The light blue water contrasts beautifully with the yellow parasols. A good tip is to wear a pop of red when getting the perfect shot. And take note that it has a sister location in Palm Springs.
15. Hotel Valley Ho
The iconic Hotel Valley Ho in Old Town Scottsdale has attracted visitors to its beautiful, postcard-perfect mural since 2018!
"It's Always Sunny in Scottsdale," reads the colorful mural painted on a wall near the hotel pool. The mural is an excellent backdrop for your travel photos and looks fabulous with light-colored outfits that stand out from the blues and greens of the painting.
And that leads me to my next section of Instagrammable places in Phoenix… murals!
Instagrammable Murals in Phoenix
This wouldn't be a complete list of Instagrammable places in Phoenix without murals on it! Here are my favorites!
16. "It's That Hot" mural
This is one of the Scottsdale murals located in the heart of a very fun part of the city: the Fashion Square. More on that in a sec!
How gorgeous are the colors in this mural?!
17. MonOrchid bird wall
These murals are such Instagrammable places in Phoenix, I knew I had to include them!
The best part of where these murals are is that this area is literally full of murals, everywhere you turn.
Here's another one that deserved its own spot on this list:
18. MonOrchid wings
So if you're in the market for a mural photo and want your choice of mural, this spot is for you.
We found these murals by navigating to monOrchid.
The fun part is, the monOrchid murals are part of an even larger-scale arts scene: the Roosevelt Row Arts District! Read on!
19. Roosevelt Row Arts District
Roosevelt Row is one of America's best arts districts! The area is full of colorful street art, murals, and indescribable backdrops for your Instagram stories and posts.
Located in downtown Phoenix, Roosevelt Row is more than outdoor paint and art installations; it is a community of artists, delectable restaurants, tattoo shops, and boutique stores.
Roosevelt Row is easily walkable on your own and at your own pace, but you can book a walking tour for a sense of camaraderie, which will take you to all of the significant murals along the way.
20. La Grande Orange Grocery & Pizzeria Mural
Here's another picture of the cutest bulldog in front of one of the most Instagrammable places in Phoenix!
To the right of the main entrance of La Grande Orange Grocery is a lovely and dare I say romantic mural of a lemon placing a gentle kiss on the cheek of an orange.
Place your subject in front of the mural and, for a unique angle, tilt your phone or camera to get the neon "Grocery" sign on the awning in the shot! The mural has a nostalgic look and, when combined with the neon sign, makes for a stunning Instagram photo or video.
21. LOVE Sculpture
Okay, so this isn't a mural. But I figured this was the best category to place this sculpture into!
Completed just before the new millennium by late artist Robert Indiana, the LOVE Sculpture stands near the Civic Center Library and City Hall in Scottsdale, Arizona.
The big and bold red and blue letters of the LOVE sculpture stand out from the area's green manicured lawns and white structures. A great instagrammable spot and reminder to make lots of room for LOVE in your life!
Instagrammable cafes in & around Phoenix
These cafe's exude Instagram vibes! Expect some gorgeous plating, fun food items, and pretty decor!
22. The Canal Club
The Canal Club is located within The Scott and not only boasts a gorgeous setting, but delicious and incredibly photogenic food as well!
I ordered lox toast and Harrison opted for the fruit granola and brunch burger, and we got waffles to share.
Anywhere you go in The Canal Club is photo-worthy which makes it one of the most Instagrammable places in Scottsdale.
For example, they've got a large booth in front of a gorgeous green palm print (you can see it in the back of the photo with me in it), as well as patio seating that is decked out with plants.
23. Diego Pops – a Cute & Yummy Instagrammable Place in Scottsdale
You'll find Diego Pops in The Fashion Square.
It's one of my favorite Scottsdale Instagram spots because of just how cute it is!
You can get your drink in a coconut, there are great neon signs on the walls, and Instagram worthy wallpaper in certain sections of the restaurant.
Also, their food is wonderful. Nuff said.
24. The Sugar Bowl & Fashion Square
Old Town Scottsdale has some of the best and most Instagrammable photo spots in the Phoenix area! It should come as no surprise that many of them are restaurants and bars.
In the Fashion Square you'll find great shopping and dining options.
There's an iconic old ice cream shop, Sugar Bowl, right by The Fashion Square as well.
I actually had seen it on other people's posts for picture spots in Scottsdale, but when we walked in it didn't seem very appealing (we were seated at a sticky, not photo-worthy booth and the store smelled like a dirty mop).
But if you visit on a week day when it's not as crowded, I can imagine that you could get a cool shot if you're seated in a pink booth!
25. Berdena's Coffee
This adorable cafe is located in the middle of Scottsdale. The airy interior is perfect for minimalist photos!
Modern with predominantly black and white strokes and wood-brown table tops, Berdena's has pops of yellow and blue at the coffee bar and tables. Contrast your latte art with the custom tile front counter for some extra texture!
26. Teaspressa
This Phoenix-based tea shop is everything you want for a photo spot!
Their typographic branding is simple and a creative complement to a photoshoot outside of their shop. Pose next to the large "C'est La Tea" sign near their entrance for an impactful shot.
27. Pop 'N Tea Bar
The award for most photogenic ice cream and tea shop, a niche without a doubt, is bestowed upon Pop 'N Tea Bar for their endless list of exciting things!
The shop boasts of a grassy green wall that serves as a perfect photo backdrop. The wall is complete with a hanging neon sign that reads, "Today was a good day."
After a visit to Pop 'N Tea and a taste of their curiously geometrically shaped ice cream pops, it certainly will be!
28. Ruze Cake House
Ruze Cake House is the most colorful bakery with gorgeous pastels and desserts to die for!
Let's start with the desserts. The cake shop and its pastry chefs create delicious and wonderfully photogenic cakes, macarons, ice cream macarons, and drinks. They come in every color of the rainbow with unique textures (the crumbly bits on top) that will look great in anyone's Instagram feed.
Just inside the entrance is an excellent spot for a portrait: a vine-covered neon sign that reads "Stop & Taste the Roses," speaking to the dessert shop's floral cake creations.
Iconic buildings & spots
Last but not least, here are some iconic buildings and spots that definitely are Instagrammable places in Phoenix!
29. The Mission
Here are two great Instagram worthy places in Scottsdale that are diagonal from each other!
We got to The Mission at 8 in the morning on Sunday, but it was covered in tents for an art show!
So instead, we took this photo since the streets were completely empty.
We came back to The Mission after the art show ended to then get the Mission photo.
30. Wrigley Mansion
Those who come to Wrigley Mansion typically do so for special occasions, and a photoshoot in its vicinity qualifies! (How awesome is the car photoshoot in the Instagram above?!)
The fine-dining venue stands on top of a hill overlooking Phoenix. Its white walls and intricate entrance archway makes for an excellent background for fun and sunny photos.
If you happen to have an invitation to a wedding or a private club membership, the interior is quite something, combining modern furnishings and tile work with 1930s architectural charm!
31. Gilbert Water Tower
Wait… she put a water tower on her list?!
Hear me out.
The Gilbert Water Tower stands tall in the Water Tower Plaza of downtown Gilbert, abutting the Phoenix airport.
The entire plaza is a great area to take photos with a splash pad and fountains spraying water below the tower, lit up nightly in a variety of colors.
The space beneath the tower hosts events and get-togethers every weekend, but mostly you will find children splashing in the fountains.
32. Rainbow Ryders Hot Air Balloon Company
The company isn't a structure that can be found in town, though I'm sure they have office space somewhere. No, the Rainbow Ryders Hot Air Balloon Company is your chance to snap some shots of colorful hot air balloons in the Sonoran Desert outside of Phoenix, Arizona.
There are two types of shots that you can get here: from the air or the ground. Opt for both and book a hot air balloon tour to get beautiful views from the air of the desert and city in the distance followed by some shots of you with the colorful balloons on the ground, surrounded by desert brush and a glass of champagne in hand.