Looking for things to do in Ruidoso, New Mexico?
Set in the Sierra Blanca Mountains, Ruidoso is actually home to the southernmost ski resort in the United States.
But while Ruidoso is commonly known for its great skiing at Ski Apache, there is so much more to do in this town besides skiing!
At the end of January, my husband, Harrison, and I were invited to Ruidoso to explore the town, go skiing, and get a true Ruidoso experience.
Over four days we realized that there are quite a lot of things to do in Ruidoso, here are 12 of them (and an interactive map of their locations)!

1. Catch a show at the Spencer Theater
One really neat aspect about this small town is that it boasts a state-of-the-art theater!
The Spencer Theater is a world-class performance hall that seats 514 people.
Being world-class means they get all of the big shows: Broadway shows, orchestras, and everything in between.
And being a more intimate theater means that no matter where you are seated, you'll have a great view of the stage!
It also means that the acoustics are incredible- you can hear a page being turned onstage from the very back of the room.
In addition to the performances, the Spencer Theater has four gorgeous Dale Chihuly installments throughout its space.
Founder Jackie Spencer and architect Antoine Predock didn't leave out a single detail when designing it.
With over 50 fly lines, a space designed with the performers in mind, and fully equipped lighting and acoustics, Spencer Theater was designed for excellence.
One notable thing that we learned is that Jackie Spencer had two pear trees brought in and installed by cranes into the courtyard. She had one purpose in mind: to give the actors a breath of fresh air and beauty during their long rehearsals.
When touring the theater, it became so clear to us that so much thought and care was, and is, wrapped up into the Spencer Theater.

2. Hike around Alto Lake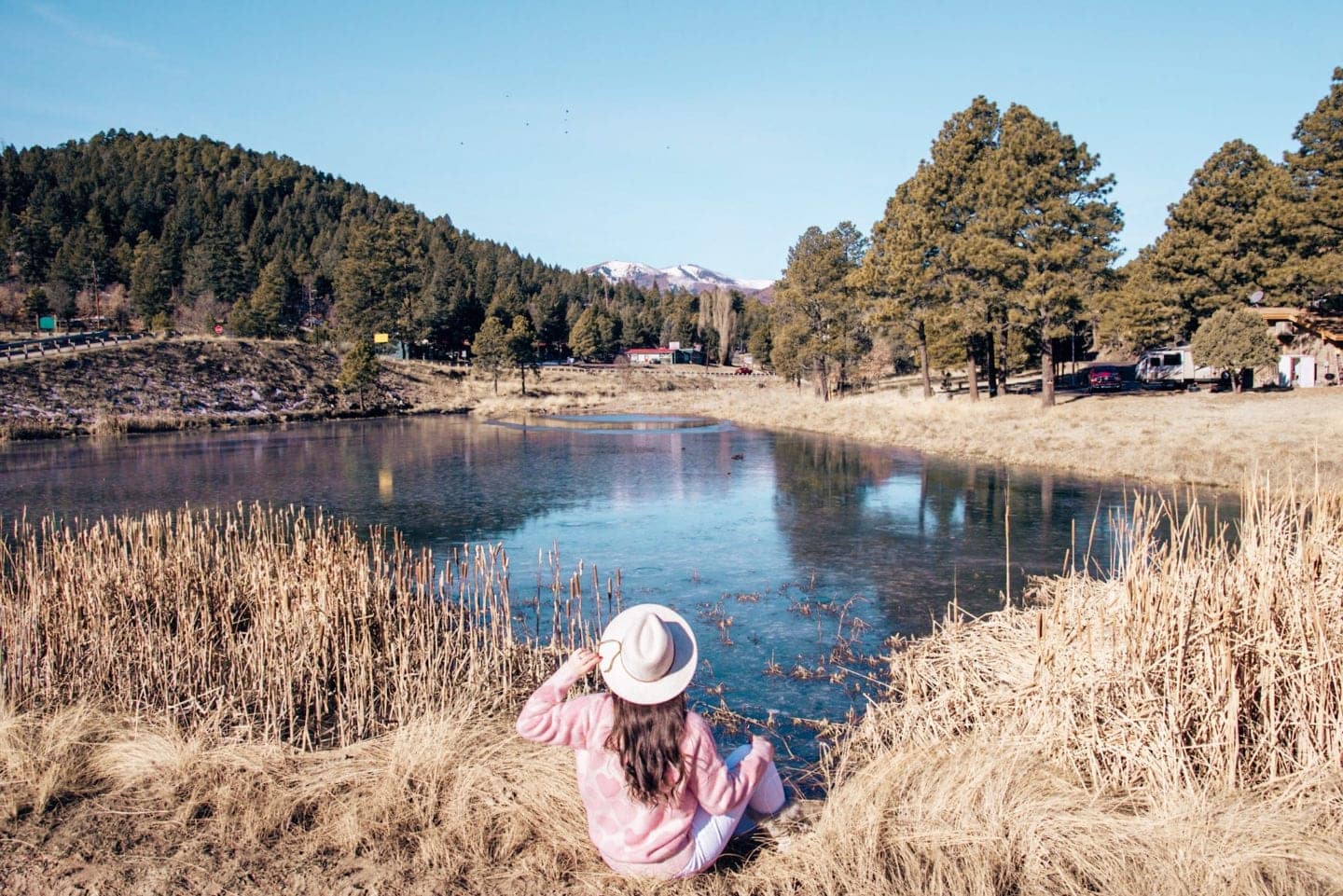 When visiting Ruidoso, you'll find some beautiful lakes and hiking trails throughout the town.
The lake pictured here, Alto Lake, actually has two parts to it.
What you can't see in this photo is the larger part of the lake directly behind me! Catch it when the water is calm, and it shows a beautiful reflection of the sky and trees.
Other than taking in the gorgeous lake views, you can hike, boat and fish.
The lake is stocked with catfish and trout year round, though you do need a permit to be able to fish here.
For hiking, there is an easy half-mile hiking loop that goes around the lake. Alternatively, you can venture out further east on the 2-mile long trail.

3. Visit the Inn of the Mountain Gods
While not technically in Ruidoso, the Inn of the Mountain Gods is a very short drive away.
Located on Mescalero Apache land, this hotel is named after the mountain gods that are significant to the tribe's history.
At the Inn of the Mountain Gods, you can do a lot of things, like spend time at the lake, gamble at the casino, or catch a performance.
When we visited, we got to see Chris Lane perform. The energy that filled the space was incredible, as was the music!
We spent our last morning walking around Lake Mescalero, which is pictured above.
It blew my mind how clear the water was; you could see the bottom of the lake for so long- you can actually tell from this photo!
If you want to rent a paddle boat or get a fishing permit, you can do so at the hotel front desk.

4. Hike at Grindstone Lake
Another lake to visit in Ruidoso is Grindstone Lake, a gorgeous body of water with a vibrant turquoise color.
We visited on a Sunday and it was not crowded at all.
If you're looking for some hiking, check out Fisherman Trail, a roughly 2 mile loop that goes all around the lake and the dam.
If you're wanting a longer hike or a good bike route, there are actually 18 miles of hiking trails in the system around Grindstone Lake. See them all here!
Stocked full of trout, fishing is allowed here, but requires a permit.
Likewise, you may boat on Grindstone Lake as long as you have a permit.
And if you're visiting when the weather is warm, this is one lake in the area where swimming is allowed!

5. Ride up the Ski Apache gondola
All year round you can ride up the only gondola in the state of New Mexico: the Ski Apache scenic gondola.
The gondola seats up to 8 people and takes you 11,500 feet high on the Sacramento Mountain Range.
It is one of the most relaxing things you can do at Ski Apache and the view is breathtaking!
If you are planning to ski, you can actually bring your ski/snowboard with you (there's a designated location for them) and ski from that high up!

6. Stay at the Escape Resort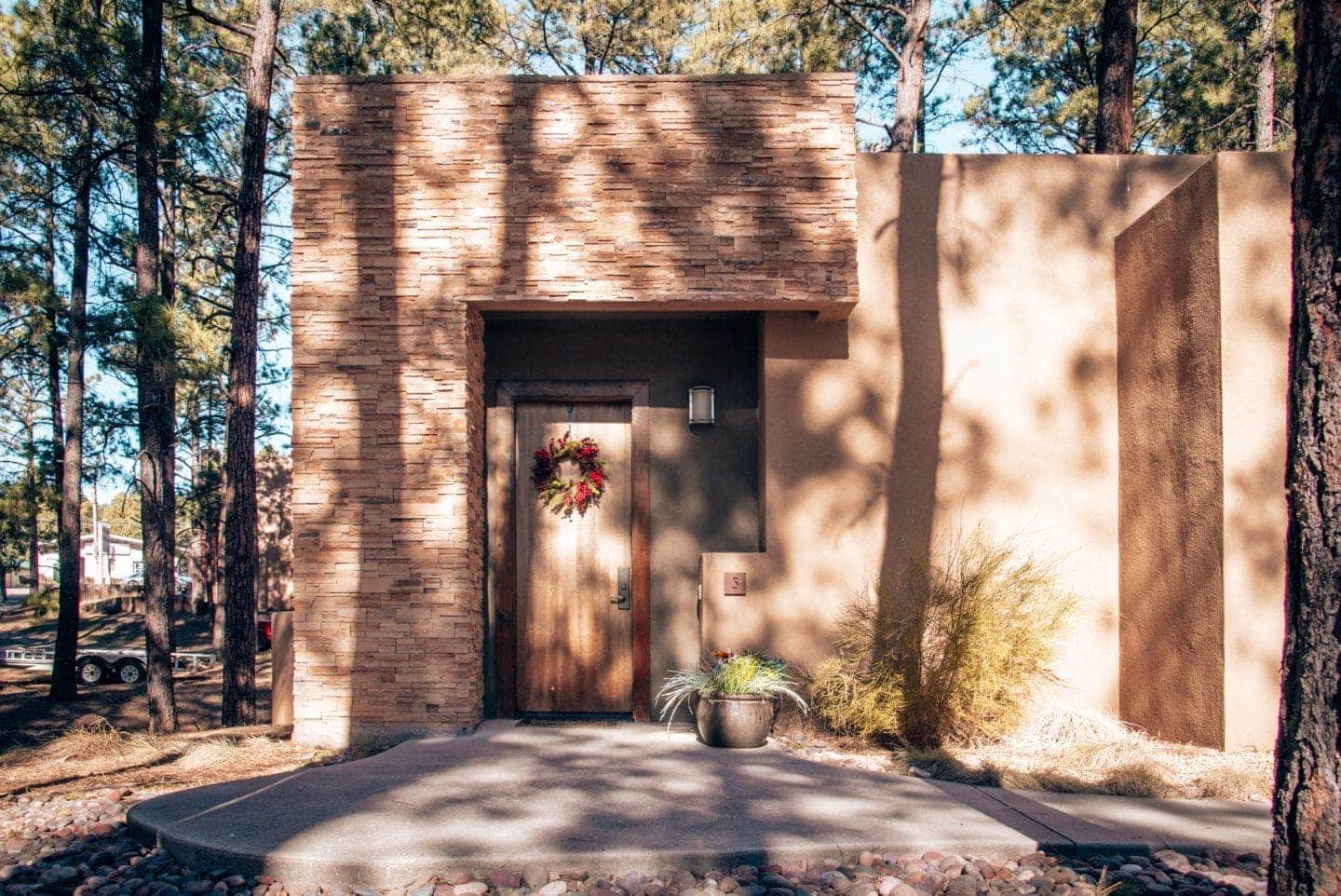 Harrison and I got to stay at a beautiful Casita at the Escape Resort in Ruidoso.
I highly recommend this place if you're looking for luxurious lodging at a good price in Ruidoso.
You get a living room, dining room, and kitchen in addition to your bedroom and bathroom- literally a Casita, or a "little house" in Spanish.
With a Jacuzzi tub and a gigantic shower with three different shower heads, our Casita completely exceeded our expectations.
We learned that Stan, the owner of the Escape Resort and the A-Frame Ski Rentals next door, actually designed the Casitas.
They're beautiful, impeccably decorated, and in a great location in Ruidoso.

7. Birdwatch at Bosque del Apache
When driving to Ruidoso, you simply must stop at this stunning nature preserve along the way.
When you arrive at Bosque del Apache, the first thing to do is to drop by the visitor's center.
There you can ask about any recent bird sightings so that you know what to look for and where to look for them.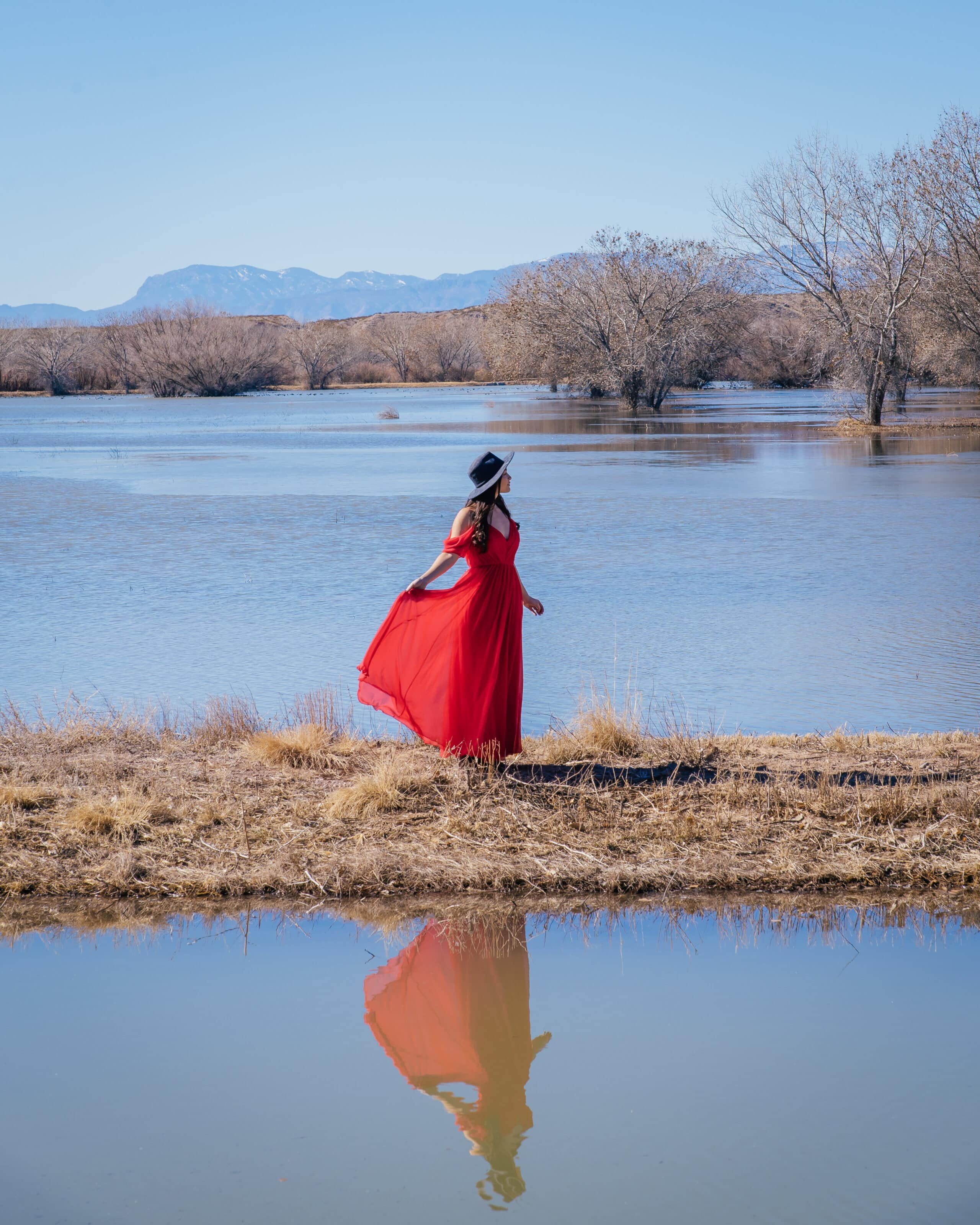 Bosque del Apache covers a huge expanse of land and its flooded plains are home to over 300 bird species!
Conservationists established this sanctuary after seeing the negative impact that modernization had on the land and its animals.
Now you can see plenty of different waterfowl, cranes, geese, and so much more.
When we visited, others had seen eight eagles that morning alone!
Just keep in mind that it is $5 cash to enter the nature loop.
There are also hiking trails around Bosque del Apache if you want to explore even more!
8. Try great restaurants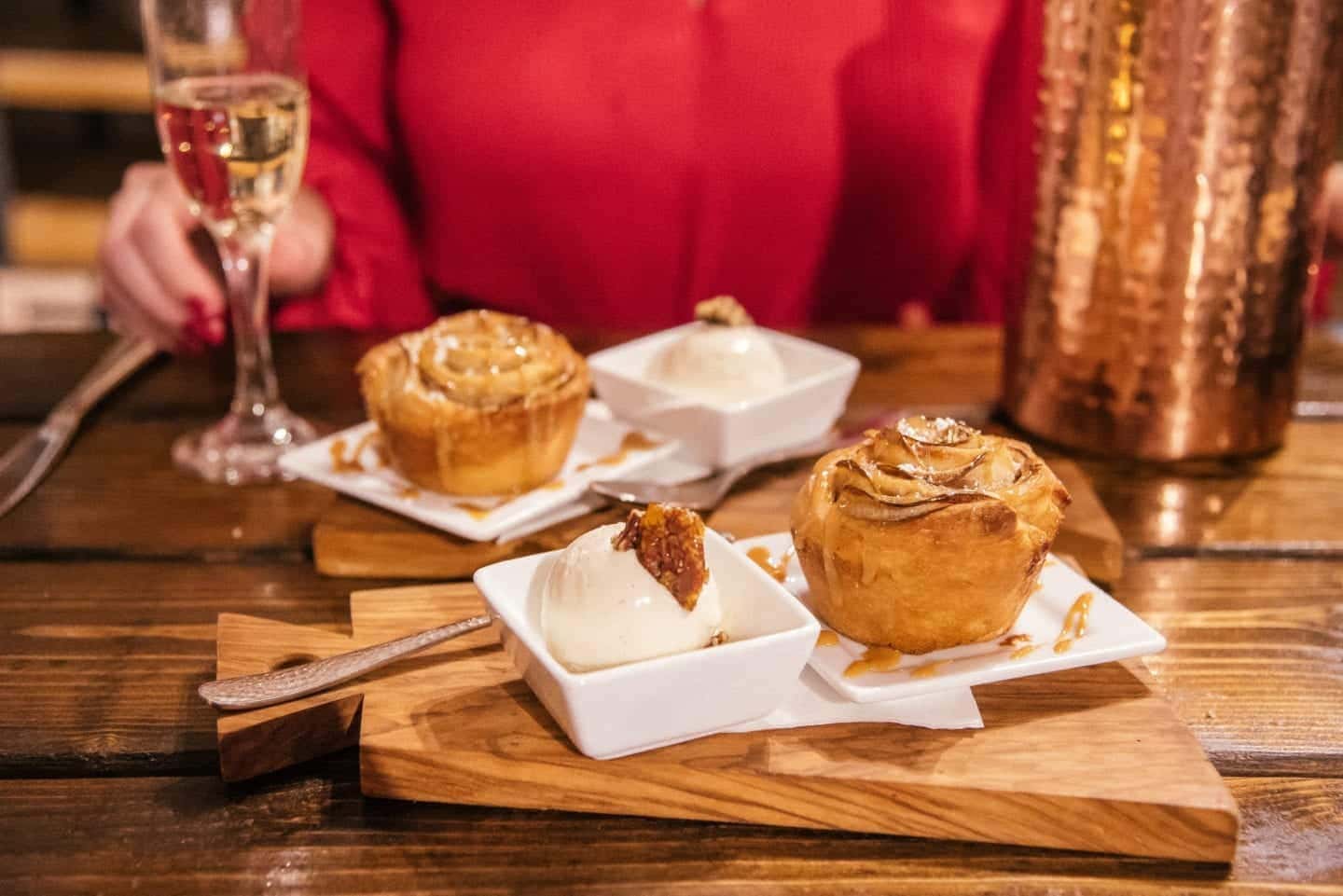 First things first: how incredible does this dessert look?
We got this shot at Hunt+Harvest at The Mercantile, a restaurant that features a contemporary, rustic menu.
We had the most delicious lamb, salmon, and focaccia bread at Hunt+Harvest (and dessert of course!).
There are so many restaurants in Ruidoso, but here are some that are absolutely worth mentioning:

Cafe Rio– we ordered a giant 18″ pizza and almost finished the whole thing. Note that this place is cash only!
Rio Grande Grill and Tap Room– the salmon and mashed potatoes were so good!
Cornerstone Bakery– we got fresh croissants for breakfast. This place takes homemade to another level- they fresh squeeze their orange juice every day, be sure to try it!
Grille Caliente– I ordered tacos!
9. Shop local in Midtown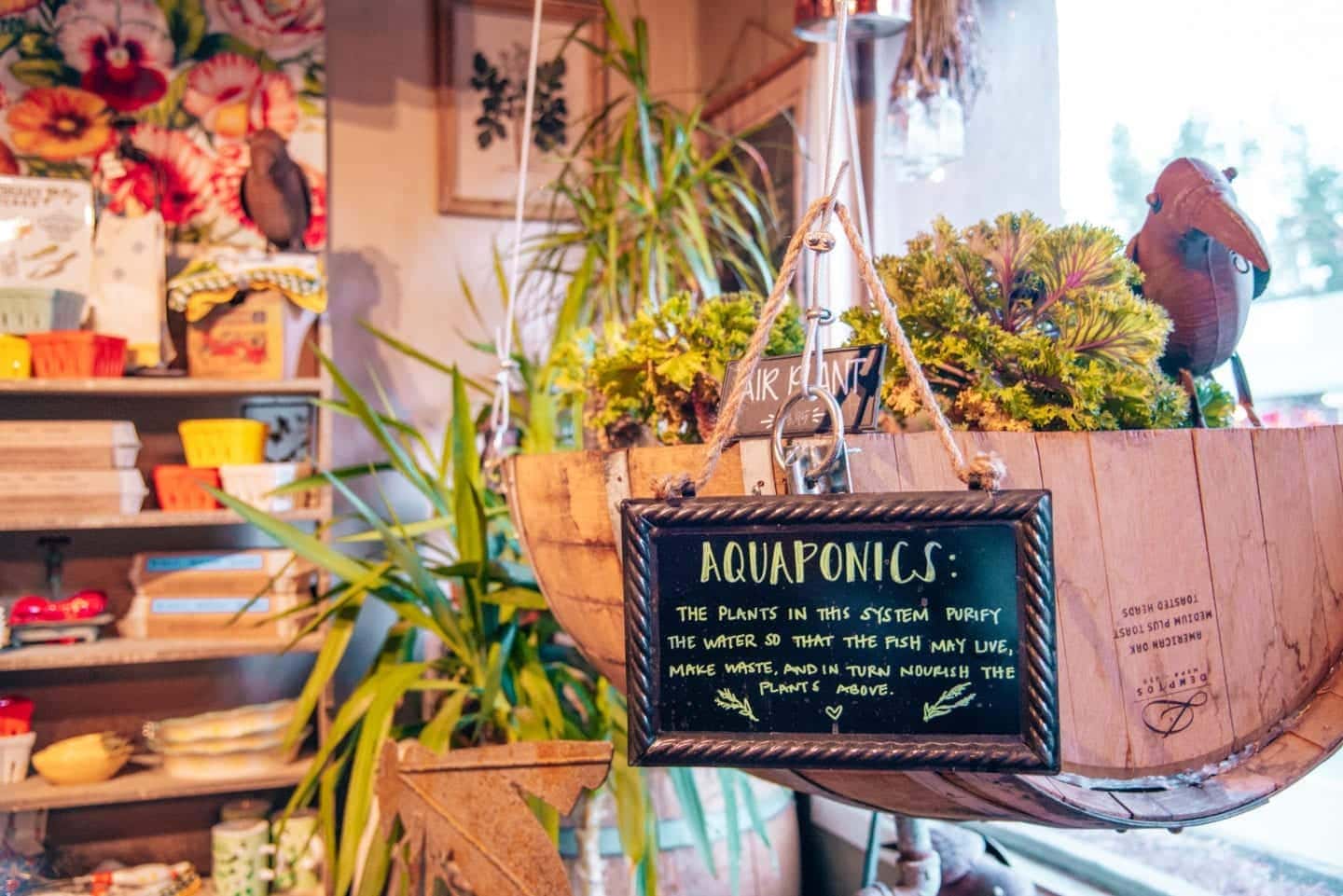 One thing I love to do when travelling is to shop at local stores and boutiques.
Ruidoso is full of them!
From the Old Barrel Tea Company and Noisy Water Winery to The Woodsman, Nomad, Brunells, J Roberts, and so much more, you'll find so many places to find local goods.
And these places are truly local- for example, the Old Barrel Tea Company started in Ruidoso and is family owned and female run.
Noisy Water Winery is actually named after Ruidoso's namesake; Ruidoso is Spanish for "Noisy River."
You'll find the majority of these cute boutique stores in Midtown.
Midtown is located on Sudderth Drive and is incredibly walkable, so I suggest parking anywhere in Midtown (there are free parking lots) and then exploring on foot.
If you like shopping, leave a good chunk of time for this. Personally, I could spend hours browsing these stores!

10. Get a massage
I had never had a full body massage before Harrison and my couples massage at the Blue Lotus Day Spa.
And let me say, the magic that happened at Blue Lotus turned us into massage people.
My masseuse, Debbie, has been a masseuse for 18 years! So you can imagine the expertise that comes with that many years.
Our hour-long couples massage was incredibly relaxing and tension-relieving.
You get to choose your preference for how much pressure is applied and which areas are focused on, so your massage is entirely catered to you.
And if you want more relaxation, Blue Lotus also offers yoga classes!

11. Take a day trip to White Sands
This spot is a bit further out than all of the other places mentioned in this list, but it's worth the drive!
White Sands National Monument is about an hour and fifteen minutes away from Ruidoso.
It features incredible white gypsum sand dunes, and is the only sand dune like it in the world!
There are plenty of things to do at White Sands, like sledding down the dunes, taking in the incredible views, and picnicking.
We visited at sunset and spent about 2 hours at the dunes. It really is an otherworldly landscape like nothing I had ever seen before!
It costs $20 per car to enter White Sands National Monument, and there is one main driving loop in the park with multiple trails.
I recommend going towards the back of the loop where there is less green vegetation and more untouched sand.
There are also picnic benches throughout White Sands National Monument and a gift shop in case you want to purchase a sled!
12. Capture photos at murals around town
One more thing to do at Ruidoso (though this list is not at all exhaustive) is to take photos at murals around town!
I think that this sunflower wall is one of the prettiest I've seen! It seemed only fitting to get into this dress to add to the whimsy!
And when you're walking in Midtown, you'll find a mural of Ruidoso that is just waiting to be photographed!
As a blogger, I'm always on the lookout for great photo spots, and luckily there are plenty to be found in Ruidoso.
I hope this list helps you find some great things to do in Ruidoso! Whether you're in town to ski or not, I hope you have enough time for all of these things!
If you are in town to ski, check out this article on 7 reasons why Ruidoso is an ideal ski destination!
And if you've been to Ruidoso and have more recommendations, comment them below!
Safe travels,
Jasmine
P.S. If you found this post helpful, please share it to Pinterest! You can use the image below for easy pinning!