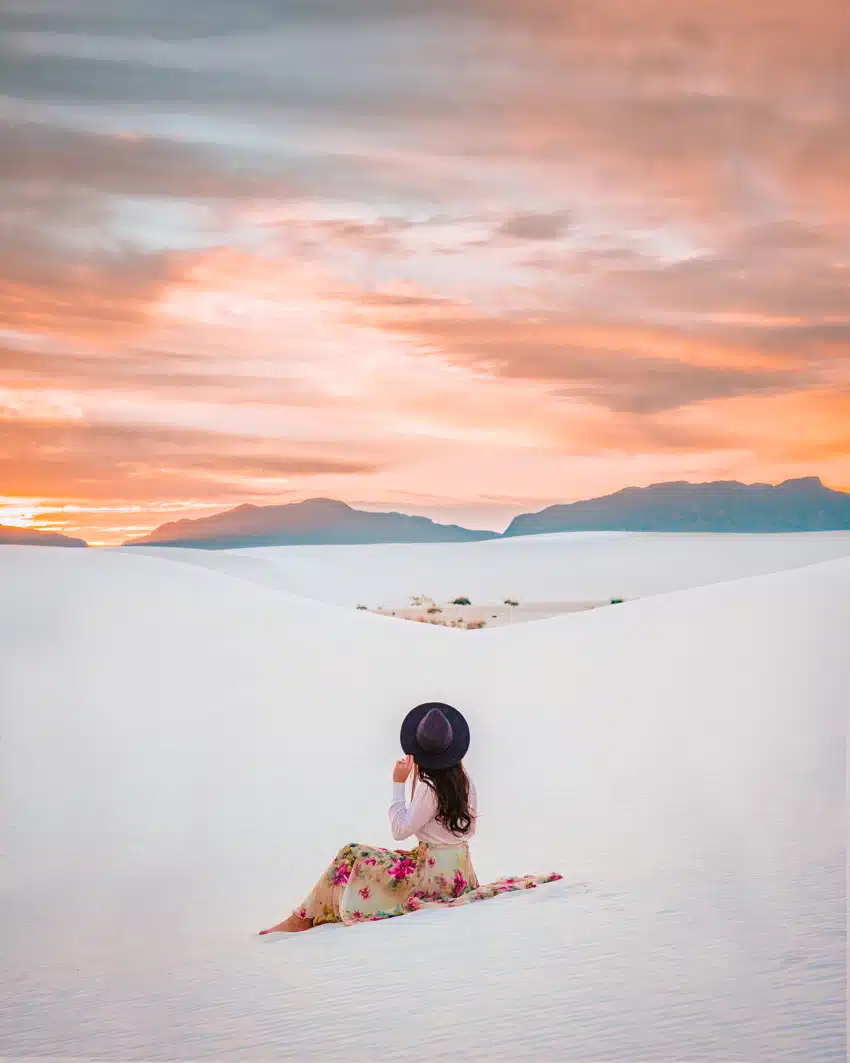 There is no place in the United States like White Sands National Park!
The park has the highest concentration of gypsum sand dunes of anywhere in the world! After the ancient Lake Otero evaporated it left the mineral exposed to the elements, creating these dunes.
Both a photographer's and hiker's paradise, White Sands National Park will stay with you forever!
It definitely has done so for my husband and me! We visited in the beginning of 2019 and it's one of the coolest places we've been to in the US!
Read on to learn about the park and what you can expect to do and see in this ultimate guide to White Sands National Park in New Mexico.
Where is White Sands National Park?
White Sands National Park is located in the very south of the square-shaped state of New Mexico. It's actually just an hour from the Texas border. The nearest large city with an international airport is El Paso, Texas.
White Sands is massive, occupying 275-square miles of the Tularosa Basin which stretches up into the middle of the state. Okay, so it's actually not that large when compared to most national parks in the United States. But it has something that makes it truly special! The gypsum found across the dune field makes it a unique gem in the already diverse Chihuahuan Desert.
If this blog post was written 10,000 years ago, you would not find any sand dunes here at all! The current national park used to be an Alkali Flat and, before that, Lake Otero.
This ancient lake was part of a larger body of water that swallowed the entire southwestern United States millions of years ago. What's left today is the smaller Lake Lucero on the grounds of White Sands National Park. That, and, of course, the massive dunes comprised of gypsum.
This mineral is found worldwide, but nowhere else like the quantities, we see at White Sands National Park. The dune fields that you'll come so far to see are one-of-a-kind, forming a solid portion of the Tularosa Basin.
Getting to White Sands National Park
White Sands' remote location in southern New Mexico means a lack of public transportation to this beautiful place.
Instead, you will need to rent a car to get to the national park and its sandy dunes. The nearest city from which you can rent a car is Alamogordo, New Mexico. Alamogordo is just a 15-minute drive from the visitor center at White Sands.
Before driving to the park, check ahead of time for closures. The park and Highway US-70 can close with minimal notice for missile tests at the nearby White Sands Missle Range (WSMR), operated by the U.S. military.
From El Paso
You will most likely be arriving from a major city. The closest large city with an international airport is in El Paso, Texas, nearly 100 miles away. You can rent a car at the airport or in downtown El Paso,
The drive will take you about an hour and a half along I-10 West, I-25 North, and US-70 East through Las Cruces, New Mexico.
From Albequerque
We actually visited White Sands from Albuquerque, on our trip to Ruidoso. The drive from Albuquerque takes much longer; over 220 miles and three and a half hours along I-25 South and US-380 East.
Use the White Sands National Park visitor center as your landmark. It is located between mile markers 199 and 200 on US-70.
Entrance Fees & Hours
Keep in mind that you need to pay park entrance fees, which are valid for seven days. The vehicle fee to enter White Sands is $25 and $20 for motorcycles. If you are traveling solo, you will need to pay a "per person fee" of $15. (You can see all fee and pass information here).
The national park is open daily from 7:00 AM to 9:00 PM, with reduced hours on holidays and complete closure on Christmas Day. The visitor center is typically open from 9:00 AM to 6:00 PM daily.
Things to do in White Sands National Park
Daytime and Nighttime Photography
If taking photos of the otherworldly landscape at White Sands National Park is the only reason for your visit, I can't blame you. The dune fields are incredible, bringing to mind another planet or a destination far away not even remotely close to the southern states.
You will have plenty of opportunities to photograph the dunes! Getting a unique shot will take a bit of hiking across the dunes. Luckily, they are easy to traverse thanks to their composition.
Photography Tips
Venture further from the road along one of the many trails at White Sands and climb a dune for a different vantage point. Think about what you want your photos to look like. Some will envision a sea of white stretching far into the distance. Others will want to include some of the dune grasses that spring up from the sands here and there.
No matter what you choose, keep some of these things in mind for the best shots!
Time of Day
The park is stunning at all times of the day, but if possible, try to visit during golden hour, a couple of hours after sunrise and before sunset. The light will be most striking during this time and will ensure your photos aren't too flat.
Speaking of avoiding flat photos, you're surrounded by dunes of different shapes and sizes, so try to add some variety and depth to your shots to give your viewers a sense of distance and scale in your photos. Keep a straight horizon and shoot away!
Oh, and if you happen to stay at the park for some backcountry camping (more on that below), the night sky is spectacular. There's almost zero light pollution in the national park; perfect for some night photography. That means you will probably be able to see celestial objects you've never seen before!
A Scenic Dunes Drive
Dune Drive is an eight-mile road that takes you from the visitor center at the entrance to White Sands into the white sand gypsum dunes.
The drive is entirely flat and paved the majority of the way. Towards the very end, you will come across packed sand which won't cause too many problems to drive through for most vehicles.
Dunes Drive is wonderfully scenic with great views of the white sand dunes and far off hills.
There are trailheads that lead away from the road for those wanting to hike through the sands. That being said, keep an eye out for some great spots along the way to park and venture out over the dunes. You can also opt to drive to the very end of Dunes Drive. There, the road loops around and park your car there.
Though a round trip will take a quick 45 minutes, you can take advantage of the picnic areas (with bathrooms) and outdoor exhibits along the way.
---
---
Backcountry Camping in White Sands
Yes, camping at White Sands National Park is normally possible. But be warned that you will be competing for space with many others who want to experience this unique opportunity!
Camping is also not permitted when missile testing occurs.
However, right now, backcountry camping is not permitted due to COVID-19. But by the time you're reading this, that may have changed! So check here for any closures.
When camping is permitted, White Sands National Park only has ten campsites available. All of them are located on the Backcountry Camping Loop.
Here are a few things to be aware of before you decide to camp at the park:
Reserving your spot
You will have to be one of the first people to arrive at the park entrance on the morning of your visit if you want to snag one of the coveted camping passes.
The passes are given out on a first-come, first-served basis. So if you have your heart set on camping in the park, show up at the visitor center at least a half-hour or so before it opens.
You also only get your spot for one night. So if you want to camp multiple nights in a row, you'll need to reserve it again each morning. (Yup, that means hiking back to your car and driving all the way to the visitor center!)
Campsite #5 is the best spot for photography, as it's the furthest campsite. As a result, the sand around you will be completely untouched!
If you aren't able to camp in the park or if you have an RV, there are many campgrounds outside of the park. Here is the National Park Service's list of campgrounds for you to check out if you do want to camp nearby.
Staying safe
The gypsum in the dunes doesn't absorb and retain heat the same way regular sand does, so it won't be too hot to walk barefoot or lay on the sand inside your tent. However, remember that you are still in the desert and hiking to your campground in heat above 85 degrees Fahrenheit could be dangerous.
Speaking of danger, getting lost in White Sands is very easy to do on your way to the campground, or back to the parking lot. It can happen very quickly if you lose sight of the trail markers.
With nothing around you but dunes (the park is 275 square miles after all), you will have a hard time gathering your bearings. And if you're there in the high desert heat, you'll be in real danger before a Ranger finds you! So stay aware of your surroundings!
Cell service is also spotty in the dunes, so keep that in mind as well!
Check the weather
In the summer, the temperature can easily exceed 100 degrees and drop to 65 degrees at night. Thunderstorms, while uncommon, can be an issue in the summer and the park staff will remind you that a tent will not protect you.
In the winter, it can get as cold as 25 degrees at night, so be sure to bring layers with you on your trip. Pack all necessary supplies with you including a tent, food, water, and sunscreen when you hike out to your campsite.
Hiking the Trails and Sand Sledding
White Sands National Park has a variety of hiking trails for all levels of difficulty. Each trail is marked by a symbol from a deck of cards so that you can tell.
The most common hiking trails are Dune Life Nature Trail, Backcountry Camping Trail, Alkali Flat Trail, and Playa Trail.
The Playa Trail is the easiest to navigate at half-a-mile roundtrip. This hike will take you through a dry lake bed covered in brown sands and shrubbery.
Alkali Flat Trail is the toughest at five miles round trip. It will have you roughly three hours to complete the journey over steep dunes in the heart of White Sands. A bit of a misnomer, the trail is definitely not flat and will be strenuous. At the same time, it'll be worthwhile for the remote location and incredible views of the gypsum dunes!
Remember to bring a sled or large flat surface so that you can slide down a sand dune! Remember sledding down snowy hills as a child? It's even more fun to sled down a gypsum sand dune in the heart of White Sands National Park!
You can also buy a sled from the gift shop if you forget to bring your own!
Where to Stay Near White Sands National Park
As I mentioned, you will likely be making the long drive down to White Sands National Park from a major city like Albuqurque, New Mexico, or El Paso, Texas.
Give yourself plenty of time to explore the sand dunes at the park, or perhaps camp overnight, before you make your way back to town as the drive to and from the park will easily take up at least a third of your time.
If you plan to visit the park multiple days in a row, choose to stay in nearby Alamogordo. The town is just 15 minutes away from the entrance to White Sands and has a variety of inexpensive hotels and inns where you can rest your head at night before taking advantage of your weekly entrance pass for a second (or third) day at the park.
While in Alamogordo, visit the New Mexico Museum of Space History to learn about the United States' space program or are some of the best Mexican food this side of the border!
Las Cruces is another option for lodging during your visit to White Sands National Park. All roads to the park lead through Las Cruces, so you will be familiar with the city on your way to White Sands.
Las Cruces is larger than Alamogordo with additional hotel options that cater to a more relaxing visit. What I mean is, the place has pools and spas!
I recommend booking a guest room in a hotel with an outdoor pool or plenty of greenery to contrast with the desolate white sands of White Sands. The trip to town will feel like an oasis in the desert by comparison.
We stayed in Ruidoso (which is where we got the photo above), and loved this charming town! It's also perfect if you're interested in both skiing and visiting White Sands National Park, which is what we did! Ruidoso is the perfect ski town!
In conclusion…
The memories you make and photos you take at White Sands National Park will surely last a lifetime. I hope you will have lots of time at the park to take in more than just the sand dunes!
Keep an eye out for some of the park's camouflaged critters like foxes, porcupines, beetles, and birds!
Take lots of photos, sled down the many gypsum sand dunes, and hike to your heart's content in what is sure to be the most unique national park that you will ever visit in the United States.
Remember to leave the park as you found it. Take nothing with you and leave nothing behind except for the marvelous memories you made with your travel companions.
And if you want to explore more of New Mexico, here are some more posts for you:
And you can read more about travel photography in this article:
Safe travels!
Jasmine
PS. If you found this post helpful, please share it to Pinterest! You can use any of the images below for easy pinning!