San Juan, Puerto Rico is a gem of a city in on an island that is as beautiful as it is full of adventure.
From the nearby rainforest to relaxing poolside stays, there are plenty of things to do in San Juan.
Here are 10 things that I did on my recent trip after doing a ton of research on the area. They definitely did not disappoint- and I hope they make your trip a blast!
A special thanks to Southwest Airlines and the Condado Vanderbilt hotel for making this trip possible!
Did you know that Southwest flies to Puerto Rico? There are multiple flights a day, and it's such a breeze to get to- no US passport required!
And if you're wanting to fly to Puerto Rico using points, check out this helpful Money.com article on which credit cards are best for just that!
1. El Castillo San Felipe del Morro
This citadel was built from the 16th to 18th centuries as a defense at the entrance of the San Juan Bay.
There have been several battles of San Juan by both land and by sea, but the fort has never been taken by sea- only by a surprise land attack.
As you walk through El Castillo San Felipe del Morro (commonly called "El Morro"), you can't help but imagine a time 400 years ago when people used it to defend Puerto Rico!
Nowadays, it's the most visited place on the island.
Even so, you can visit El Morro without hoards of people around.
I recommend visiting right when they open at 9am to avoid the crowds.
We visited around 9:30am on a Saturday and felt like we had the whole place to ourselves for at least an hour!
It costs $10 per adult to enter, but the tickets are good for 24 hours and get you entrance to both El Morro and the nearby San Cristobal fort.
2. Get a dose of color on the streets of Old San Juan
Welcome to what is perhaps the most colorful town in the USA… Old San Juan!
With cobblestone roads and 18th century architecture, you'll fall in love with its charm.
Take an Uber into Old San Juan because finding parking is nearly impossible!
Once you're in Old San Juan, it is extremely walkable. We wandered the streets in search of colorful, Instagrammable places and let me tell you… they are everywhere you turn!
3. Visit the Puerto Rican flag street
You might have seen photos of the colorful umbrella street in Puerto Rico.
But before you waste time looking for it (like I did), know that it no longer exists! Instead, there is now a beautiful Puerto Rican flag strung up over La Fortaleza street!
The Puerto Rican flag replacing the colorful umbrellas was a recent change, so it might change again, but either way, La Fortaleza is a very photogenic part of Old San Juan and is worth the visit!
4. Eat lunch at the historic Hotel El Convento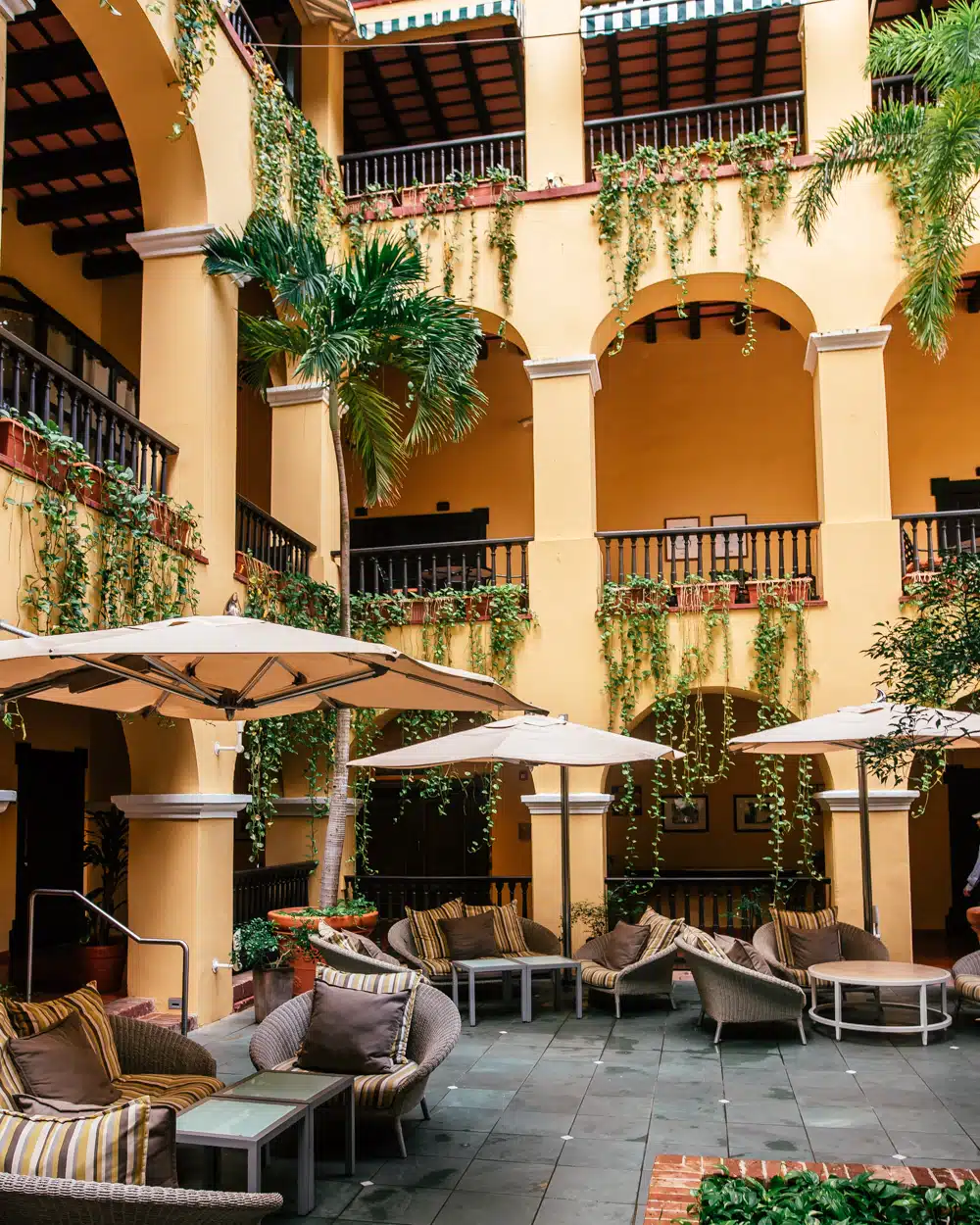 El Convento is among the list of small luxury hotels of the world, and rightfully so!
An old monastery originally built in the 17th century, El Convento is now a boutique hotel with 58 lovely rooms.
Even if you're not staying at El Convento, you should definitely stop by for a meal at the Patio del Nispero.
This restaurant is located in El Convento's inner courtyard, so you'll enjoy your food while surrounded by balconies draped in ivy.
PS. The burger at Patio del Nispero is absolutely delicious!!
5. Grab a mallorca at a local bakery
One thing we noticed about breakfasts in San Juan was the abundance of pastries. And most notable of them all: the mallorca.
The mallorca, a Puerto Rican sweet bread roll with Spanish influence, is a flaky, buttery, powder sugar-covered, layered pastry.
We stopped into La Bombonera for one on our last morning in San Juan before heading to the airport.
Though I must admit, the customer service was a bit sub par, the mallorca was delightful!
6. Visit the most beautiful cemetery you'll ever see
Santa María Magdalena de Pazzis Cemetery is a beautiful cemetery overlooking the water on the edge of Old San Juan.
In between El Morro and el Castillo San Sebastian, it is definitely worth stopping by.
It is free to visit and a typical walk through the grounds takes about 30-45 minutes.
However, if you are in a rush, you can also see Santa María Magdalena de Pazzis Cemetery from the walls of El Morro, which is where we got the above photo.
Note that the cemetery is located near La Perla, which is a slum and considered "the most dangerous" area in Puerto Rico. However, that should not stop you from visiting!
While you always want to use your street smarts and avoid stopping by at night, it is considered very safe to visit this cemetery.
Old San Juan has a very strong police presence, and the locals respect tourists visiting the area.
7. Do a day trip to El Yunque
Did you know that El Yunque is the only tropical rainforest in the United States? So if you're in Puerto Rico, you'll definitely want to take a day to visit.
Check ahead to see which falls and trails are open; following 2017's Hurricane Maria and the subsequent 2020 earthquakes and tropical storms, it's wise to plan beforehand.
Definitely rent a car when visiting because you can visit at your own pace.
You won't want to Uber here; even though it's within 30 minutes of San Juan, once you're in the park it would be quite the hike to explore by foot.
It also rains quite often (it is a rainforest, after all!), so bring an umbrella or reusable poncho.
We used our camera's rain jacket quite a bit- if you have a DSLR, you'll want to bring one of these ($15 on Amazon!) along for protection!
There are some strenuous hikes you can do in El Yunque, but because of time and some pretty lousy weather, we only visited the waterfalls and overlooks that were easy to get to.
La Coca falls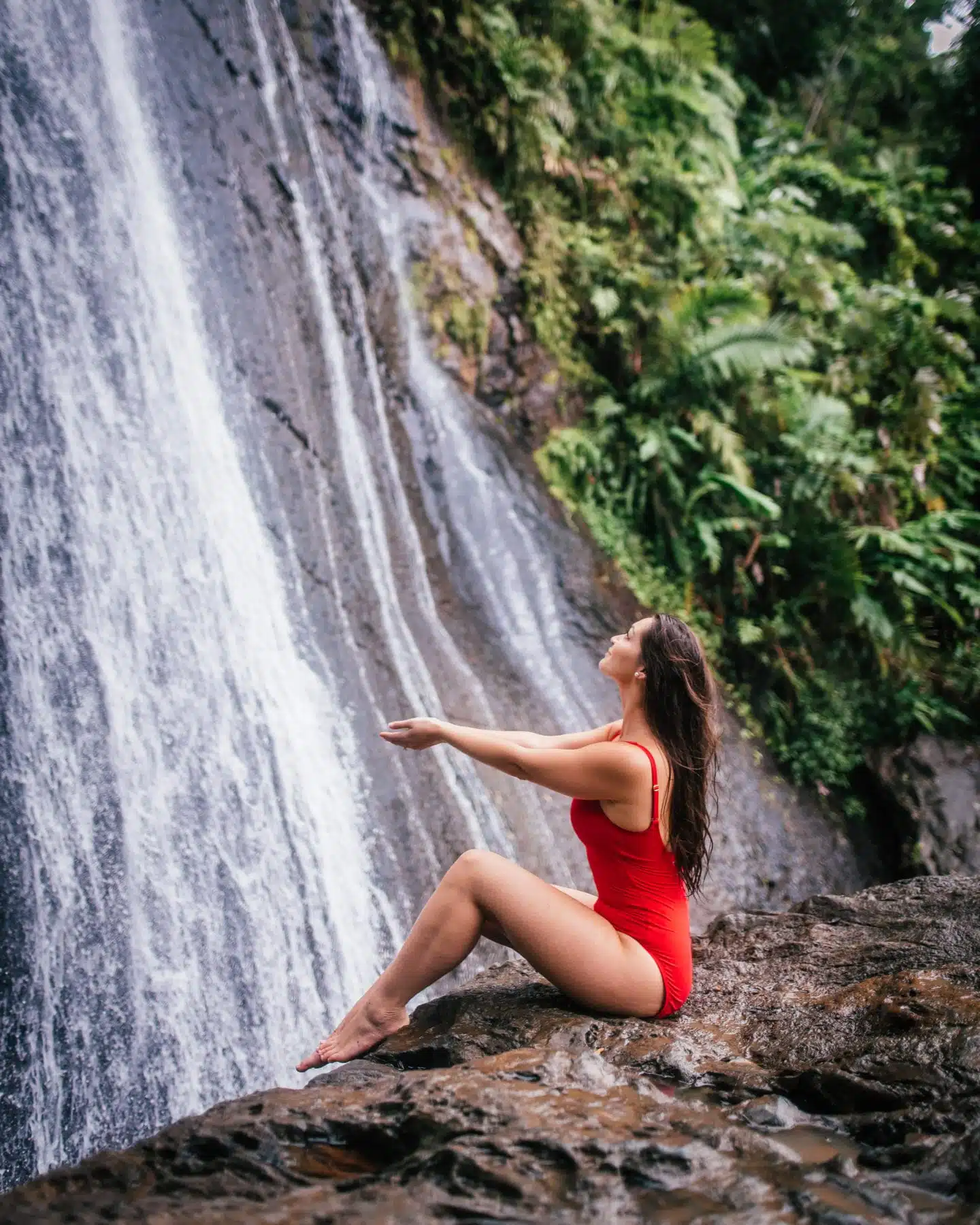 La Coca falls is the easiest waterfall to get to, considering it is right off the side of the road!
There is parking before and after the falls, so no worries if the first place to park is full. There is pretty much a constant flow of people at La Coca falls, so there shouldn't be too long of a wait to find a parking spot.
When you get to La Coca, instead of just seeing the falls from the road, there is a bit of easy rock climbing you can do along the left hand side to get a closer look.
Juan Diego falls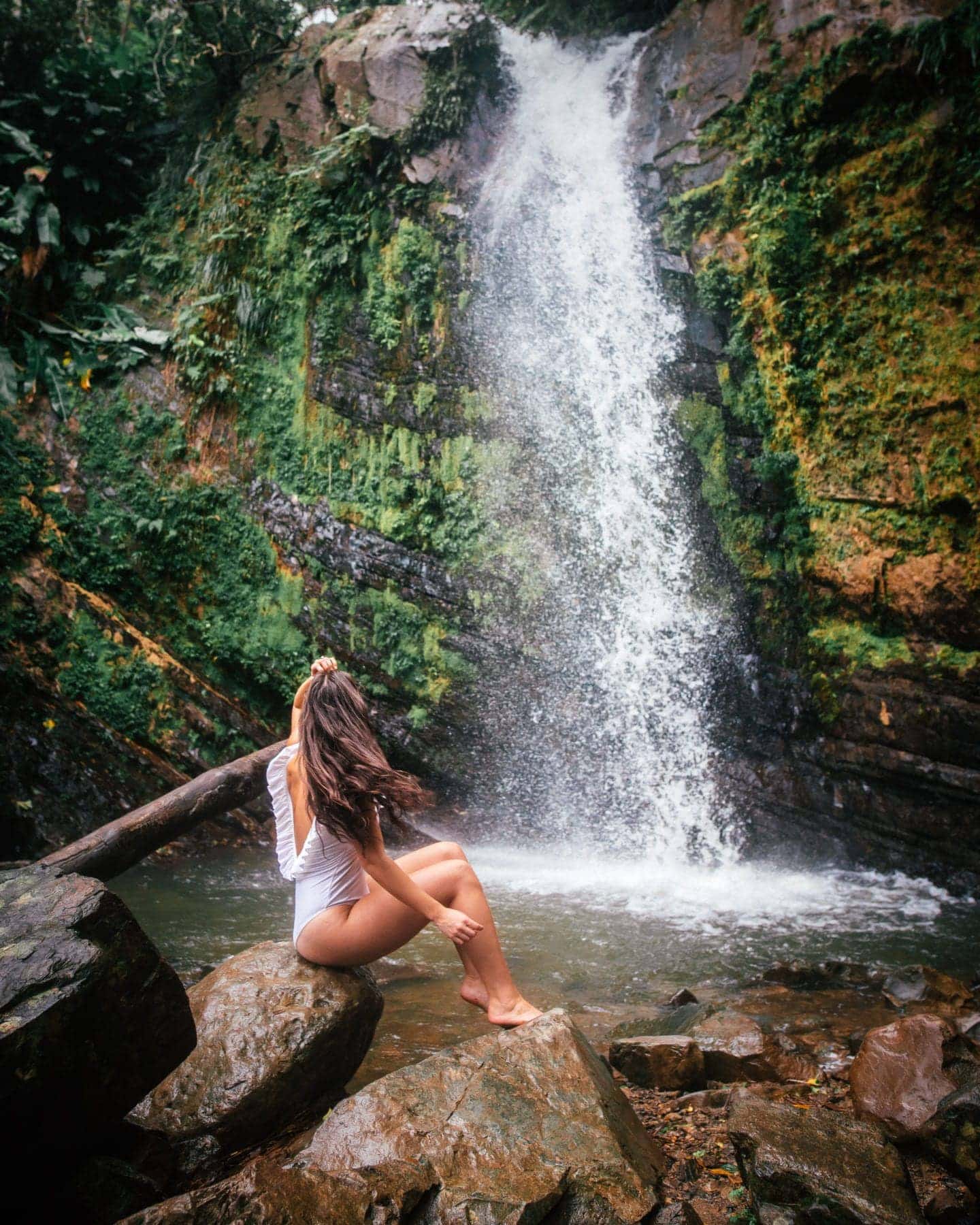 Juan Diego falls is a bit more of a trek to get to than La Coca, but is still relatively easy.
A short, five minute hike from the parking lot brings you to the main part of Juan Diego falls.
But if you want a closer look at the upper part of the falls, look to your right hand side when you're at the main falls.
You should be a path that brings you up a steep, muddy, slippery, rocky hill.
If you're sure footed and in good health, I recommend walking up this path. It'll take you to an epic view with much fewer people around. And when you get to a fork in this path, take the left path to get to the falls.
Just be careful and wear shoes that have a good grip (that you don't mind getting muddy)! I saw some people wearing flip flops and I was pretty concerned about them slipping, I definitely would advise against that!
Yokahu Observation Tower
You'll see this lookout right next to a parking lot, making it super convenient to visit!
With a wide staircase that makes it easy to maneuver, this observation tower is newer and bigger than Britton Tower (which requires a 45 minute hike one way) and offers sweeping views of the rainforest.
Read my full guide to El Yunque (which has a lot more detail and entrance information) here!
8. Stay at the Vanderbilt Condado
**Though our stay at the Vanderbilt Condado was sponsored, all opinions are my own!**
The Vanderbilt Condado is a beautiful hotel perfectly located in Condado (fun fact: it just celebrated its 100th year)!
It is situated on the ocean, walking distance from rental cars and great dining options, and a 7-minute Uber ride away from Old San Juan.
Their attention to detail is superb- if you stay at a suite, you actually get free butler service! Our butler booked our rental car for us and helped us plan our trip.
My favorite thing: their infinity pool with a stunning view of the coastline!
Grab a drink at the VC Louge, enjoy tacos and tequila at Tacos & Tequila, and indulge in pastries galore at the breakfast buffet at Ola.
9. Grab dinner in Condado
I'm all about eating seafood while on an island, and the seafood in Condado did not disappoint!
Here are some options we loved:
Serafina has a great salmon dish which you can enjoy on their lovely plant-covered patio.
Oceano is a bit pricey but worth the extra bucks. Their calamari is scrumptious! Reservations are recommended- we didn't have one and ended up eating at the bar (which was just as great!).
Condal offers great tapas among Gaudi-inspired decor– I recommend sitting on their warmly-lit rooftop patio for great views of Condado. Their service is excellent, as is the food! Harrison and I shared the calamari and the lobster & shrimp risotto.
For a quicker meal, sit down at Cayo Blanco. We tried the conch mofongo- a Puerto Rican specialty made out of plantains- and it wasn't my favorite dish, but I'm still glad we tried the local food.
Follow it all with some dessert! We loved the ice cream at Cool Hope Creamery.
(Also, I love to try local restaurants when traveling, but you also can never go wrong with Ben & Jerry's, located right by the Vanderbilt Condado!)
10. Have a relaxing beach day
There are several beach options near San Juan. You're on vacation on an island around the Caribbean, so build as much beach and relaxation time into your schedule as possible!
For convenience, we mainly stayed at the beach right outside our hotel, but here are some other excellent beaches:
Escambron Beach
Isla Verde (close to the airport)
El Alambique Beach
A bit further out
We visited Puerto Rico two weeks after the major earthquakes in January 2020.
As such, we decided to play it safe and stay in San Juan and the surrounding areas.
However, next time I visit Puerto Rico, here are some places that I'd love to see:
A bio-luminescent bay

Did you know that of the world's five bioluminescent bays, three are in Puerto Rico?
The bay near Fajardo is the easiest to get to, but Mosquito Bay on the island of Vieques (a ferry ride away) is considered the best
You have to plan your bioluminescent viewing ahead of time; the best viewing is right after a new moon!

Vieques and Culebra

These are two islands off the eastern coast of Puerto Rico.
You can get a ferry from several locations on the east coast
Some of Puerto Rico's best beaches are on Vieques and Culebra

The pink salt flats
Beaches in Fajardo
Puerto Rico's black and pink sand beaches! Playa Negra, the black sand beach, is on Vieques. Cabo Rojo, the pink sand beach, is located on the southwestern tip of Puerto Rico.
**Note that unfortunately after the 2020 earthquake, the southern sea arch no longer exists. Otherwise this would definitely be on my list.**
Have you ever visited San Juan? Tell me your favorite things to do in the comments!
Safe travels!
Jasmine