There are so many incredible things to do in Puerto Rico that I decided to compile a list to make it easy for you!
If you're visiting this tropical island, you're in for a treat. From beaches and natural beauty to vibrant cities with gorgeous architecture, Puerto Rico has so much to offer!
Best of all, if you're coming from America, you don't even need a passport to enter this slice of paradise!
I've divided the best things to do in Puerto Rico by region to make it easy for you to plan your Puerto Rico trip.
Map of Things to Do in Puerto Rico
Puerto Rico is divided into seven regions: North, Metro, East, Culebra & Vieques, Central Mountains, South, and West.
Like I mentioned earlier, I've categorized these 60 things to do in Puerto Rico by each of these seven regions.
Metro Region
The metro region of Puerto Rico covers San Juan and the areas around it. Chances are, you'll be flying into San Juan, making this region the most easily accessible for tourists!
If you don't plan on doing a lot of driving, that's not a problem! There are so many things to do in Puerto Rico that fall in the Metro region!
1. El Morro
El Morro is a massive fortress on the tip of San Juan's northwestern end.
The full name of El Morro is Castillo San Felipe del Morro, and you can walk to it from Old San Juan.
The walls of the citadel are well preserved and typically crawling with lizards!
El Morro is probably the most famous and popular attraction on the island, making it one of the best things to do in Puerto Rico!
Visit early in the day when they open if you want to avoid the crowds. And be sure to save your ticket so that you can also visit the nearby Castillo San Cristobal! The ticket is good for both castillos if you visit on the same day!
2. Old San Juan
Old San Juan is a historic district in Puerto Rico's capital city, famous for its 16th-century architecture.
What I love about it is just how colorful it is!
The area has rows of brightly-colored homes and businesses which help make it one of the most beautiful places in Puerto Rico!
It's also extremely walkable, so don't plan on driving much in this area. In fact, it's almost impossible to find parking here. If you're staying in San Juan, your best bet is to grab an Uber and have them drop you off in Old San Juan.
Lines of ancient trees with vines spread all over the cobbled sidewalks, so you'll enjoy a beautiful walk here!
Old San Juan is a great place to grab a meal, a mojito, go for a stroll, or visit nearby attractions like El Morro.
3. Santa Maria Magdalena de Pazzis Cemetery
Latin America and the Caribbean specifically have some of the most incredible cemeteries and monuments to the dead.
The Santa Maria Magdalena de Pazzis Cemetery is no exception, rivaling the very best! It's definitely the most beautiful cemetery I've ever seen!
Also known as the Old San Juan Cemetery, you can see El Morro from it. The opposite is true, too; we got the photo above while on El Morro's grounds .
Visit it (and get a tour if you have time!) by following Calle Tiburcio Reyes from Old San Juan.
4. Casa Bacardi
Across the water from El Morro to the west, you'll find Casa Bacardi.
This distillery produces the famous Bacardi rum and was set up after the Bacardi family fled Cuba after the revolution.
Fans of rum can enjoy tours of the facilities, a rum tasting, and a short mojito making class!
5. Museo de Las Americas
These sprawling 19th-century army barracks in Old San Juan have been converted into a museum of Latin American culture.
Museo de Las Americas's exhibits require at least a few hours to see properly.
And don't forget to visit the stunning inner courtyard on your visit!
6. Plaza Las Americas
Plaza Las Americas is the largest mall in the Caribbean with two stories of shopping, cinema, and dining!
A short drive from downtown San Juan, the mall has a great variety of stores and restaurants under one roof.
7. Casino del Sol
Try your luck at Casino del Sol, one of several casinos in San Juan!
You can find this casino at the Courtyard by Marriott hotel near the Luis Munoz Marin International Airport in Carolina.
8. Condado Vanderbilt Hotel
Whether you stay, eat at, or enjoy the spa at the Condado Vanderbilt Hotel, it is sure to impress!
We stayed here the whole time we were in Puerto Rico and absolutely loved our stay! Their pool has a remarkable view of the coastline, and we enjoyed all of their dining areas!
9. Catedral San Juan Bautista
One of the most beautiful places in Puerto Rico is also one of the oldest buildings in San Juan, and the oldest cathedral in the United States!
The Catedral San Juan Bautista was erected in 1521 and rebuilt in 1540 after a hurricane destroyed the original building.
Today, the cathedral has a freshly painted facade and gorgeous ceiling!
10. Jose Enrique Puerto Rican Restaurant
The much-talked-about Puerto Rican eatery, Jose Enrique, has moved to Condado, on the main strip along Ashford Avenue.
You can find this exciting destination for delicious Puerto Rican fare between the Vanderbilt and Hilton hotels.
While the menu changes frequently, the food is always incredible, so it's no wonder that it is usually booked up for dinner! Be sure to make a reservation ahead of time to ensure your spot!
11. Balneario de Carolina
Balneario de Carolina is one of Puerto Rico's most pristine beaches and apparently one of the most beautiful places in Puerto Rico too! It has received the Blue Flag Award too many times to count for its water quality and cleanliness.
Here, you can play volleyball, enjoy a pina colada on the sand, or swim in the beautiful blue water!
12. Isla Verde
Isla Verde is the name of the area around Luiz Munoz Marin International Airport and nearby beaches to the east of San Juan.
There are several popular hotels here including the Courtyard By Marriott.
Also, Isla Verde Beach is a great spot to just relax and sunbathe.
13. Santurce and La Placita de Santurce
La Placita is the hub of San Juan's nightlife.
A food market by day, the plaza turns into a party as the sun sets and lasts well into the morning.
You can enjoy a drink in the open air and dance the night away to some salsa and bachata!
14. Pinones
Before hurricanes Maria and Irma, locals and tourists loved Pinones' nearby beach.
Since then, the water has receded and exposed a rocky shoreline with small pools of shallow water.
Now these pools have become an attraction of their own, particularly for families with small children.
But the main draw of Pinones is the food!
You can enjoy a meal from any number of local shops here, or, you can do as the locals do and food hop throughout the day.
15. Hotel El Convento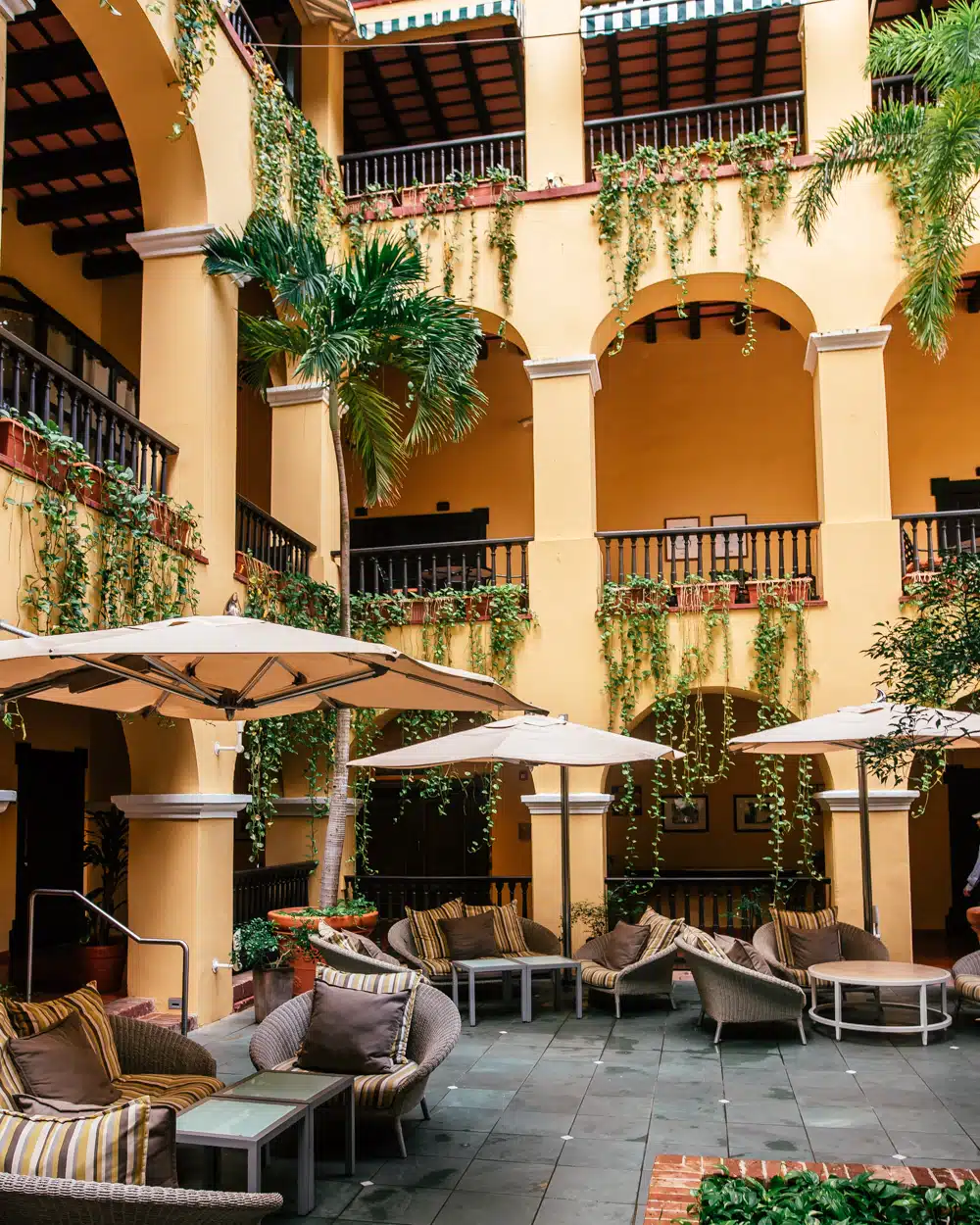 This hotel is beautiful and has a fascinating history!
El Convento is a restored 17th-century monastery turned luxury hotel in Old San Juan.
The building is incredibly well-preserved and painted in a bright yellow color that is hard to miss.
Plus, the accommodations here are fantastic with unparalleled views of Old San Juan.
The inner courtyard restaurant is both beautiful and delicious (I know this isn't Puerto Rican food, but their burger was the best we had on the island!).
East
Puerto Rico's East Region contains an epic rainforest, laid back towns, and great food and beaches! Read on to discover the best things to do in Puerto Rico in the East!
16. El Yunque
Did you know that El Yunque is the only tropical rainforest in the United States?
This lush area covers a mountain range in the eastern part of Puerto Rico.
It's easy to access if you're staying in San Juan, less than an hour away!
You could definitely spend an entire day here hiking and exploring! You can also climb some of the watchtowers built atop the hills here.
Plus, El Yunque has several waterfalls to visit and snap gorgeous photos in front of! Check out my post on El Yunque for a detailed guide on what to expect and the best places to visit!
17. Luquillo Beach
Luquillo Beach is the closest and most accessible beach to the El Yunque tropical rainforest. The water is clear, the sand is clean, and umbrellas are available for rent to get that perfect midday shade!
Fun local shops surround this beach where you can buy drinks or snacks for a full day in the sun.
18. Fajardo
Fajardo is a popular laid-back town in the northeast of the island.
Most visit this region for the wonderful snorkeling spots offshore.
However, some also charter a boat to nearby Vieques or Culebra islands (more on that region later!).
In addition, it is a great place to visit for the downtown area's picturesque architecture and restaurants, or as a hub for visiting El Yunque.
Pictured above is the Catedral Santiago Apóstol in Fajardo.
19. Parque Nacional Balneario Seven Seas
The crescent-shaped Seven Seas beach in Fajardo is calling all snorkelers!
Though the beach is small, it has everything you would want in this tiny oasis.
The beach has perfect sand, shade from rows of trees, and a coral reef just offshore.
These are just a few of the reasons many consider it one of the best places to visit in Puerto Rico!
20. Las Cabezas de San Juan Nature Reserve in Fajardo
You will find Cabezas de San Juan in Puerto Rico's northeastern tip.
This nature reserve on the Atlantic Ocean has some incredible natural treasures.
Some of these treasures include coral reefs, rocky cliffs, mangroves, and bioluminescent lagoons! (More on bioluminescence a bit later!)
21. Humacao
The eastern area of Puerto Rico is also home to the municipality and town of Humacao.
The area has some of the most lush forests outside of El Yunque.
Also, this area offers an ocean path to neighboring Vieques and Culebra.
Humacao is most popular for a tiny island of its coast, Cayo Santiago, which is home to a colony of monkeys (more on this next)!
22. Cayo Santiago
A boat from Humacao's port can take you to Cayo Santiago, also known as Monkey Island.
Nearly 800 monkeys call this island home, though they are not indigenous to Puerto Rico.
The monkeys' ancestors were brought here in the 1930s from India.
This area now serves as a territory for studying the behavior of monkeys in the wild.
23. Palmas del Mar
You will find the stunning area of Palmas del Mar on the southeast side of the island.
A popular spot for resort vacations and allegedly one of the most beautiful places in Puerto Rico, you will have plenty to do here!
You can lounge at a hotel pool, play a few rounds of golf, or explore the rocky cliffs next to the water.
24. La Ruta del Lechon (Pork Highway)
For those who don't know, pork is a staple of Puerto Rican cuisine.
And the town of Cayey along La Ruta del Lechon is one of the best places to try Puerto Rican pork in all its delicious forms.
If you love pork, check out the several restaurants and stalls that make up the famous Pork Highway on Route 184 in Gauvate.
This area features whole roast pig, pork shoulder, and plenty of other dishes.
25. Charco Azul
Charco Azul is a wonderful swimming hole in Bosque Carite. The water is surprisingly clear and surprisingly blue in some areas.
You are almost guaranteed to have a tranquil experience as very few visitors come to this lake in the forest!
Culebra & Vieques
The region known as Culebra & Vieques is made up of the islands with its namesake. A ferry off of mainland Puerto Rico takes you to these tranquil islands where you'll find some of the best things to do in Puerto Rico!
26. Isla de Culebra
One of two popular islands off the coast of Puerto Rico, Culebra is a refuge for sea turtles. It is also a refuge for beach lovers!
Visit the small island by boat from Fajardo and enjoy one of the countless pristine beaches here.
27. Flamenco Beach on Culebra
Make your way to the island of Culebra and stay for the turquoise blue waters of Flamenco Beach. The sand at Flamenco beach is pure white and stretches far along the curved shore.
There are barely any waves here, which makes it a great spot for leisurely swimming!
28. Isla Culebrita
Culebrita is part of the archipelago that makes up the islands to the east of Puerto Rico's mainland.
It's known as the little cousin of Isla de Culebra.
You can take a water taxi from Culebra to one of Culebrita's beaches or visit the Culebrita Lighthouse, a popular tourist destination.
29. Vieques National Wildlife Refuge
Vieques is more than an island known for its parties, it also features a protected wildlife refuge!
Green sea turtles nest in the sands of Vieques.
This habitat, along with a protected coral reef and several ecological areas covered in mangrove wetlands, makes up this jewel in Puerto Rico's natural crown.
30. Mosquito Bioluminescent Bay
Remember when I mentioned bioluminescence earlier? Well, Mosquito Bioluminescent Bay is by far the most popular place to see this phenomenon!
Here you can see the blue glow on the water in the middle of a Caribbean night.
You can find this bay on the island of Vieques, make sure to bring your camera with you and set it to a long exposure for the best shots!
Alternatively, you can actually kayak through the bay to see the glow from up close.
If you want to see this phenomenon, you'll want to plan your trip around the moon cycle. The bay is at its brightest when there is a new moon since dark nights are ideal for seeing the glow.
31. Playa Negra on Vieques
Playa Negra is a famous black sand beach on the island of Vieques!
Volcanic activity in the area created this unique beach.
It offers a beautiful contrast with the white foamy waves that wash ashore. And if you're lucky, you might spot some wild horses here!
North
With its wide span, you're bound to find a bunch of great beaches in Puerto Rico's north region. But there are also plenty of other things to do in Puerto Rico in the North; here are some of the highlights! You'll notice a cave theme in this region, so get ready for epic cave adventures!
32. Kikita Beach
You can find Kikita Beach in Dorado, only a 30-minute drive from San Juan.
This beach is divided into three areas, all of which are popular with locals and surfers looking to catch a few waves!
The beach and surrounding area have plenty of restaurants serving delicious local specialties. (If you have never tried mofongo, tostones, or arroz con gandules, they are Puerto Rican staples!)
And, of course, there are many nearby world-class resorts like the Ritz-Carlton.
33. Playa Mar Chiquita
You will want to visit Playa Mar Chiquita for its waves.
The rock formations that stretch out into the water cause massive waves to crash between them!
Bring your camera and snap a few photos, or walk down the beach for some calmer water and sunbathing.
Along with Playa Mar Chiquita, you will find Playa Retollo on the north of the island in the very middle.
You must hike to get to this small, secluded, crescent beach. (And while you won't find many tourists here, you may find some nudists… don't say I didn't warn you!)
34. Cueva del Indio
If you like caves, visiting Arecibo is one of the best things to do in Puerto Rico! It contains some of the most picturesque caves in Puerto Rico.
You will find La Cueva del Indio just offshore in this region.
It has a large number of petroglyphs carved into its walls.
The ancient natural structure is a beautiful sight to see from the shore and from the water!
35. Rio Camuy Cave Park
Speaking of caves, Rio Camuy Cave Park is one of Puerto Rico's largest cave systems and one of the best things to do in Puerto Rico.
You will find the main entrance to the system in Quebrada.
The entire network stretches over 10 miles, connecting 200 caves!
36. Arecibo Observatory
Until very recently, the Arecibo Observatory was the world's largest single-aperture radio telescope!
The observatory is used by universities and NASA for important discoveries.
It has become famous thanks to cameos in moves and TV shows from X-Files to Contact.
Self-guided and guided tours at the observatory are available to visitors.
37. Rio Abajo Forest Reserve
Puerto Rico has some of the lushest forests in the United States, and the Rio Abajo Forest Reserve is no exception!
There are dozens of hiking paths and nearly 200 species of plants here!
This area also features several limestone caves.
38. Cueva Ventana
One of the most photographed places in Puerto Rico is Arecibo's Cueva Ventana, or "window cave."
You can see the lush green landscape of Arecibo through the cave opening's natural frame.
The area can be reached by hiking trails on your own or with a guide!
39. Lago dos Bocas
This lake on the border of Arecibo and Utuado was created after the construction of an area dam.
Take a trip to this lake for a swim along with a visit to nearby Cueva Ventana, which is only 15 minutes away.
Central Mountains
Tourists seem to frequent the Central Mountains region of Puerto Rico less than other regions, but you won't want to miss this area's charms! Here are the best things to do in Puerto Rico's central mountain region!
40. Caguana Indigenous Ceremonial Center
The Caguana Indigenous Ceremonial Center is great for those interested in history and archeology!
This area is the site of excavations that have uncovered artifacts of the Taino culture, an ancient Caribbean people group.
You can take a guided tour along the grounds and you can check out the petroglyphs and relics housed in the museum!
41. Cemi Museum
The Cemi Museum in Jayuya is an oddity!
It is shaped like a cemi, a spiritual Taino artifact, and sits nestled among the mountains.
This is one of the best things to do in Puerto Rico if you are interested in Taino history and culture!
42. Ciales & Its Waterfalls
Las Delicias Falls is a gorgeous little waterfall about an hour away from the town of Ciales.
Take a short hike from the highway (PR-533), and spend a little time in the shallow pool at the foot of the falls!
Further south, you'll find Dona Juana Falls (pictured above) in Toro Negro State Forest. You can find these falls on Hwy 149 just north of Hwy 143.
43. Toro Verde Adventure Park
Just two hours outside of San Juan, Toro Verde is a massive ecological park popular with zipliners. If you're seeking a thrill, this is one of the best things to do in Puerto Rico!
How come? Well, Toro Verde has the second-longest zip line in the world! Known as The Beast, the zipline is a whopping 1.55 miles long and hangs above the lush greenery of Puerto Rico.
44. San Cristobal Canyon
The hike down into the canyon at San Cristobal will take you roughly 30 minutes and is well worth it!
You can choose to go it alone and swim in the turquoise blue water below.
Or you can join a tour that will allow you to scale the rocky cliff hidden behind a waterfall!
South
Here are some of the best things to do in Puerto Rico that are located in the South region!
45. La Guancha Boardwalk
If you find yourself in the south of Puerto Rico, take a walk down Ponce's lively boardwalk! La Guancha is a great place to eat, drink, and people-watch on the edge of the water.
There is a beach nearby and boat tours for fishing and whale watching leave from the adjacent pier.
46. Ponce's Historic City Center
Puerto Rico's second-largest city, Ponce, boasts of a historic and well-preserved city center.
You can take a self-guided tour through the city and marvel at the beautiful architecture of the Serralles Castle.
I also recommend checking out the fountains at Plaza las Delicias.
While you're at it, you can do a bit of people-watching!
47. Hacienda Buena Vista
Though coffee is not indigenous to Puerto Rico, the island apparently produces some of the very best. (I'm not a coffee expert, so don't quote me on that!)
You can visit a functioning coffee plantation near Ponce at Hacienda Buena Vista.
The well-preserved plantation house that opened in 1986 now operates as a museum.
Here, you can learn about the region and the history of coffee in Puerto Rico.
West
Puerto Rico's West region is also its largest region! As such, there are plenty of things to do in Puerto Rico located in the west. Here are some of the most notable things!
48. Guajataca Tunnel
The Tunel de Guajataca is a 514-foot pathway that cuts through a mountain near the town of Isabela.
The tunnel was originally build to transport sugar between the towns of Isabela and Quebradillas, but today it is a popular destination for tourists.
49. Surfing and Whale Watching at Rincon
Rincon is the most western point of Puerto Rico.
The town boasts some of the best waves in Puerto Rico, making it a mecca for surfers.
If you're not ready to get on a surfboard, you can leave the surf and catch a whale watching tour instead! (That definitely is more my pace though I would love to get up on a surfboard someday!)
The best time for whale watching is during their migration period between January and March.
50. Mayaguez
Mayaguez is the third-largest city in Puerto Rico, after San Juan and Ponce.
It has several interesting landmarks for you to see.
The city's Plaza de Colon is a great hub from which to start a day tour of the city.
The pastel colors of the nearby buildings and cathedral, combined with the fountain in the center, make for a scenic backdrop.
It's also a great place to enjoy a leisurely day in the city and grab a cup of piragua (flavored shaved ice).
51. San German
After San Juan, San German is the second-oldest town on the island. You can see hints of Old San Juan in this town, with 16th-century structures in neoclassical style and cobblestone streets.
As one of the most beautiful places in Puerto Rico, this town is perfect for some daytime photography, so remember to bring your camera!
52. Salinas de Cabo Rojo
You will find the famous salt flats of Cabo Rojo in the southwestern part of Puerto Rico.
Cabo Rojo's salt flats are a natural treasure, and easily one of the best things to do in Puerto Rico!
Las Salinas is part of the wildlife refuge here and spreads out over 1200 acres.
The salt combined with an abundance of brine shrimp in the area cause the water in some of the lagoons here to turn red!
53. Cabo Rojo National Wildlife Refuge
I covered the Salt Flats right before this, but the area is also famous for its wildlife refuge! Did you know that this area is home to nearly 150 bird species and over 200 species of plants?
This wide variety of wildlife makes this refuge one of the most diverse in Puerto Rico and the entire Caribbean!
54. Playa Sucia
Honestly, I'm not sure why they decided to name this incredible beach Playa Sucia (Spanish for 'dirty beach')!
The beach is extremely popular, and is shaped like a thin strip of land connecting two parts of Cabo Rojo.
In fact, many consider it one of the most beautiful places in Puerto Rico, so it's dirty name definitely confuses me!
There are some hills, cliffs, and forests to explore nearby, but the main draw is the wonderful water and perfect sand!
55. Los Morrillos Lighthouse
The picturesque Los Marrillos Lighthouse is a historical landmark on a sliver of land jutting out into the Caribbean Sea.
The 19th-century lighthouse can be found in Cabo Rojo at the top of a 200-foot limestone cliff.
Known locally as El Faro, the lighthouse has been restored many times.
Why the frequent restoration? Well, unfortunately, the lighthouse has required restorations due to hurricane damage and time taking its toll on the structure. I'm glad they are keeping up with this gorgeous structure; it's an iconic part of Cabo Rojo!
56. Guanica State Forest and Biosphere Reserve
This subtropical dry forest in Guanica is a short 40-minute drive from neighboring Ponce in the south of Puerto Rico.
The forest is home to nearly half of the island's bird species and lots of lizards and coqui as well! (Coqui frogs are endemic to Puerto Rico and are named for the loud noises they make that sound like "coqui!")
You could definitely spend an entire day here hiking the forest on one or more of its 40 miles of trails!
57. Gilligan's Island
Gilligan's Island, in the south of Puerto Rico, can be reached from nearby Guanica.
The island has great snorkeling and swimming far away from other tourists!
I should note that Gilligan's Island was not actually filmed here!
58. La Parguera Natural Reserve
La Parguera is a coastal forest and marine reserve in the southern part of the western region.
The nature reserve is one of the most biologically diverse areas in Puerto Rico, rivaled only by El Yunque.
There are many things to do nearby including hiking, surfing, and kayaking!
But the area is best known for nature walks and snorkeling near its coral reefs.
59. Isla Desecheo
Are you interested in scuba diving?
Desecheo Island is a great spot for snorkeling and scuba diving from a chartered boat.
Although you cannot enter the island as of 2020, the waters surrounding it make for a great day trip!
60. Mona Island
Mona Island, or Isla de Mona, is an uninhabited Puerto Rican island half-way to the Dominican Republic.
The boat trip to get there will take nearly three hours!
But when you arrive, you will be greeted with a landscape perfect for hiking and fantastic snorkeling.
In conclusion…
Boy are there a lot of awesome things to do in Puerto Rico! Which of these things would you like to do most?
If you've visited Puerto Rico and can think of awesome things to do in Puerto Rico that aren't on my list, please comment them below!
And if you are planning on heading to Puerto Rico, be sure to check out their Covid requirements here!
Here are a few other posts you might find helpful:
Safe travels!
Jasmine