Trying to decide on whether you should visit Aruba or Puerto Rico?
Well, you've picked two fantastic islands to visit. But, even though both are Caribbean islands, they are considerably different from each other.
Aruba is a small island located just north of Venezuela known for its beaches. Puerto Rico is an unincorporated island U.S territory filled with mountains, waterfalls, and beaches.
I've visited both within the past two years and have thoroughly enjoyed each island- but for different reasons. Here I hope to point out their differences while showing you what each island has to offer.
One thing to note: due to the pandemic, island operations and travel restrictions have changed for these two islands.
The good news for travelers is that both are pretty open. At the time of writing, you essentially just need a negative PCR test and a filled-out travel form to enter. Once you're on each island, you're free to explore while following safety guidelines.
You can see up-to-date Aruba travel restrictions here. You need to fill out an Embarkation/ Disembarkation card and have a certified negative test result. If you're visiting from the United States, you'll need to take another COVID-19 test within 3 days of returning to the states.
You can find up-to-date Puerto Rico travel restrictions here. Since Puerto Rico is a US territory, you actually won't need a negative COVID-19 test to return to the United States.
Aruba vs Puerto Rico: Price
There are many available flights to Aruba, however, prices may vary depending on your departure location.
Prices range from 250USD from Florida to 700USD from California depending on the time of year that you decide to travel as well as your preferred airline.
The flights to Puerto Rico range from 150 USD to 750 USD depending on your preferred airline.
Keep in mind, for U.S. travelers, you do not need a U.S. passport in order to travel to Puerto Rico! A valid U.S. driver's license will suffice.
Aruba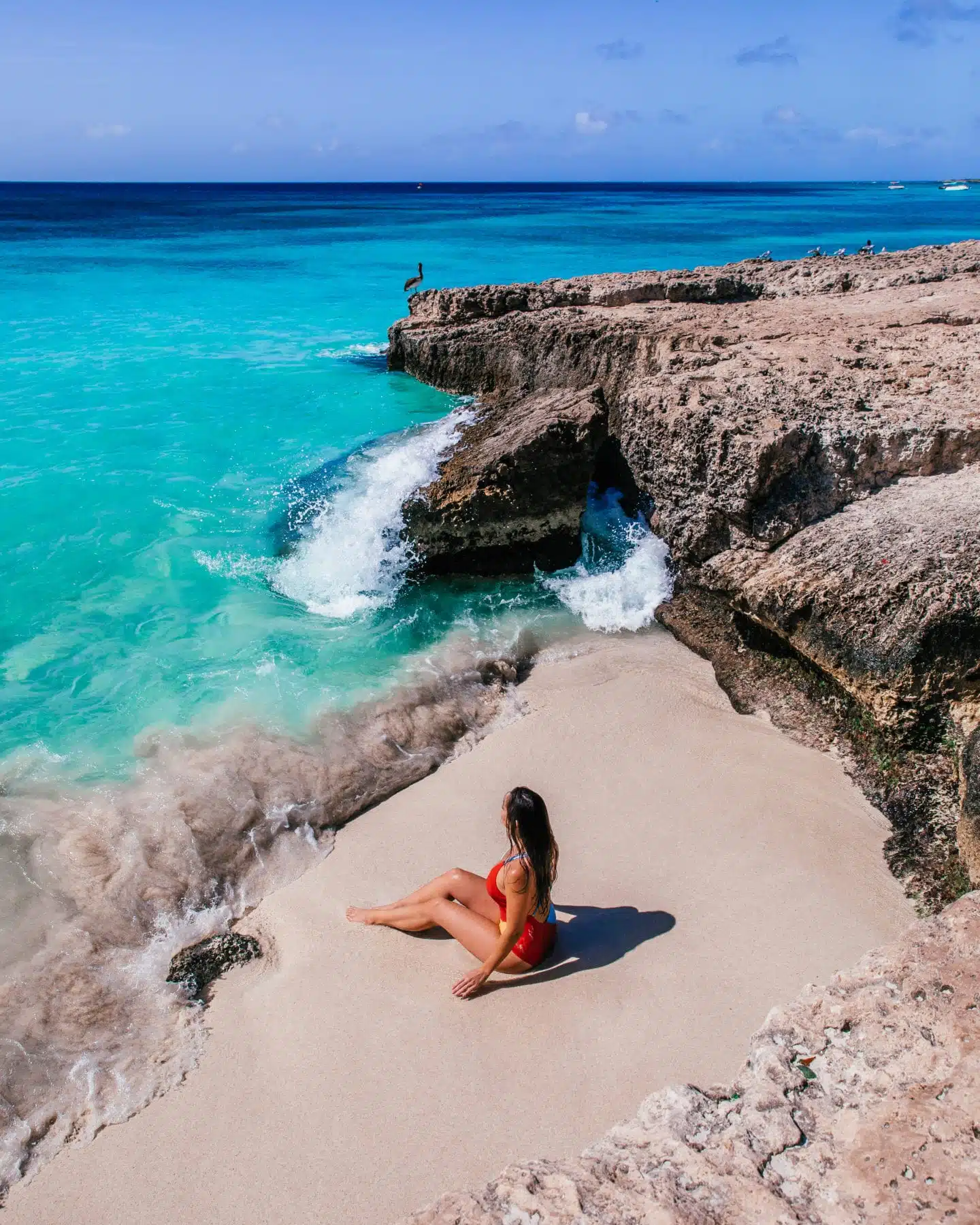 For travel costs besides flights, check out the Budget Your Trip widget below that aggregates travel data from real travelers to give you a ball park estimate of costs in Aruba.
Many wonder if you need to rent a car when in Aruba. My answer is "yes and no."
Public transportation is available and isn't very expensive, and most people do excursions from their hotel to explore the island.
However, if you want to explore on your own at your own convenience, you'll probably want to rent a car. One thing to note is that many roads require 4WD and rental companies might not allow you to visit certain parts of the island that a tour would allow. If you're renting a car, contact them to see if there are restrictions regarding where you can drive.
Puerto Rico
For travel-related expenses in Puerto Rico, check out Budget Your Trip's data below.
Public transportation is limited in this territory so the best way to get around is by renting a car.
If you stay outside of the city of San Juan or plan to explore the island, you definitely will want to rent a car. That said, use caution when driving because some of the roads may not be well maintained.
There are many companies that have vehicles to rent for as little as 9 USD per day.
However, if you're planning to stay in the city of San Juan then no car is necessary. The town is very walkable, and an Uber will easily drop you from place to place.
If you're visiting Old San Juan, you definitely won't need a rental car as it's almost impossible to find parking there. It's also a very small part of San Juan, so you'll be able to walk around it quite easily.
Aruba vs Puerto Rico: Natural Beauty
Natural beauty is a pretty big factor to me whenever I'm choosing where to go. The good news is that both of these locations have natural beauty, just in very different ways.
Aruba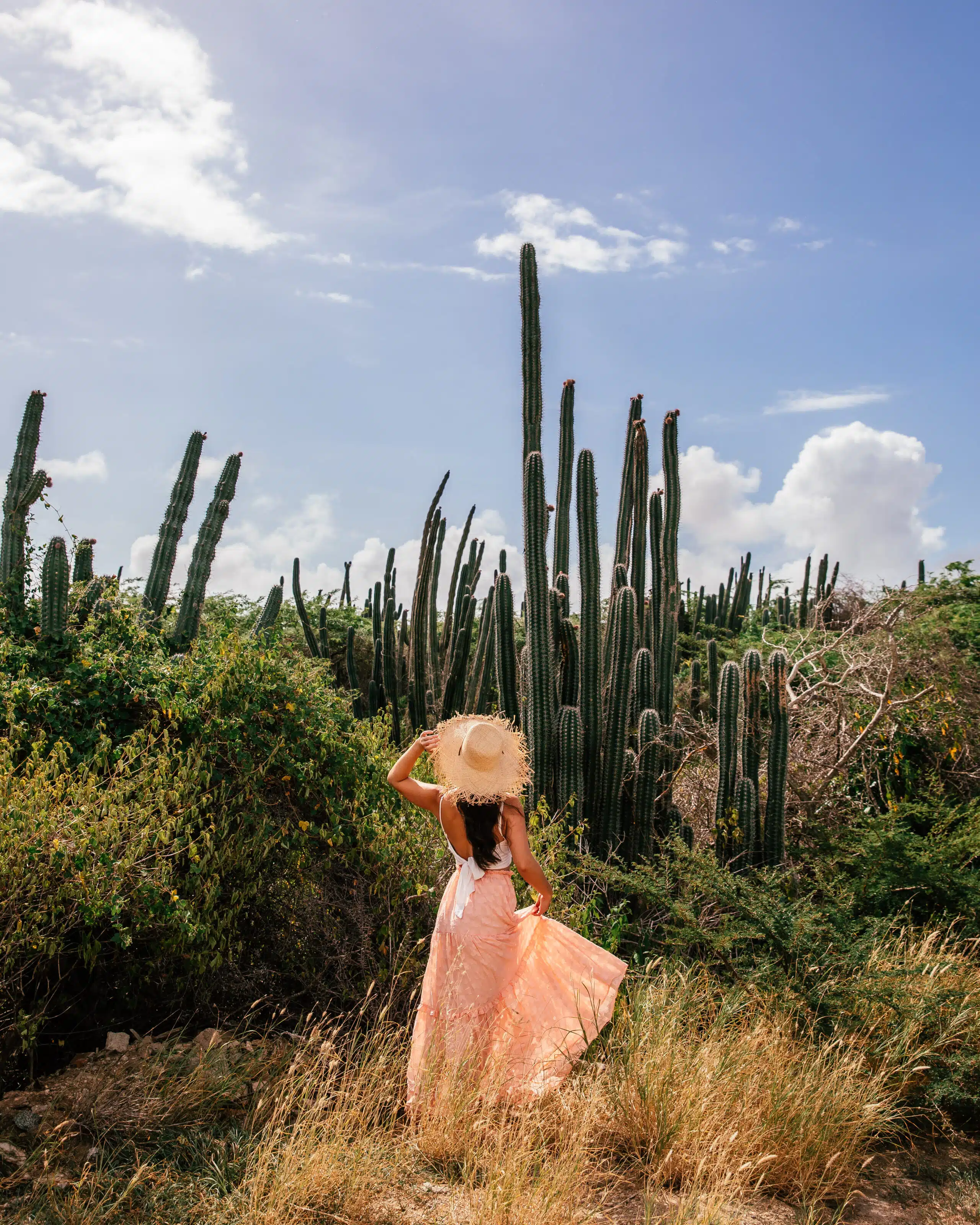 Aruba may be a small country but there is so much to explore!
I'd describe the terrain in Aruba as rocky and cactus-filled. Scattered across the island, you'll find rock formations and natural bridges. Beach coves lead the way to crystal-clear waters. With white sand and turquoise waters, Aruba is known for having some of the best beaches in the Caribbean!
Some natural landmarks you'll want to visit in Aruba include Jamanota Hill, Guadirikiri Caves, Conchi Natural Pool, and Arikok National Park.
Check out my list of the 27 prettiest places around Aruba here!
Puerto Rico
Puerto Rico also has plenty of natural beauty, but it is much more green and considerably less rocky than Aruba. El Yunque National Forest is one of the main attractions you'll want to visit while in Puerto Rico. There are plenty of walking trails in El Yunque that you are able to explore without a guide- many of which feature gorgeous waterfalls! You can read all about it here!
A good thing to note when comparing Aruba vs. Puerto Rico is that Puerto Rico is 50 times as large as Aruba. So if you're looking for a wide variety of landscapes, a great place to road trip, and many different places to explore, Puerto Rico is for you.
With just how large Puerto Rico is compared to Aruba, the list of places to explore is a lot longer. Some of the most popular places to visit in Puerto Rico include the capital of San Juan, colorful and historic Old San Juan, the laid-back beach town of Fajardo, the islands of Culebra and Vieques, and the salt flats in Cabo Rojo.
Aruba vs Puerto Rico: Lodging
Though Aruba and Puerto Rico are considerably different islands, when it comes to the popular areas of each island, their lodging offers are quite similar.
But if you're looking for eco-stays, jungle hideaways, and more adventurous lodging styles, Puerto Rico offers those as well!
Aruba
You can find lodging nearly anywhere in Aruba but the best place to find lodging is in the Palm Beach area. A lot of big-name resorts call Palm Beach home, including the Hilton Aruba where we stayed.
Naturally, the price will depend on the type of lodging you are looking for and which AirBnB options are available.
This is also where you will find the best nightlife. Keep in mind that bars and clubs are only open until 1:00am so "last call" will be around 12:30am.
Some highly recommended hotels include:
(Keep in mind that prices may vary depending on your travel dates and due to COVID-19 restrictions).
Puerto Rico
The most popular place to stay in Puerto Rico is in San Juan. You'll likely fly into San Juan, and it's close enough to El Yunque National Forest that you can make it into a day trip!
Recommended hotels in and around San Juan include:
(Keep in mind that prices may vary depending on your travel dates and due to COVID-19 restrictions).
Aruba vs Puerto Rico: Activities & Things to Do
These two islands offer a pretty big variety of things to do. One major difference is that tourists to Aruba typically do excursions to explore the country, while tourists in Puerto Rico often explore on their own.
A big reason why is how big Puerto Rico is compared to Aruba. Additionally, a lot of the places to explore in Aruba are rocky and require ATVing or a jeep tour.
Let's get into exactly what activities you can expect on each island.
Aruba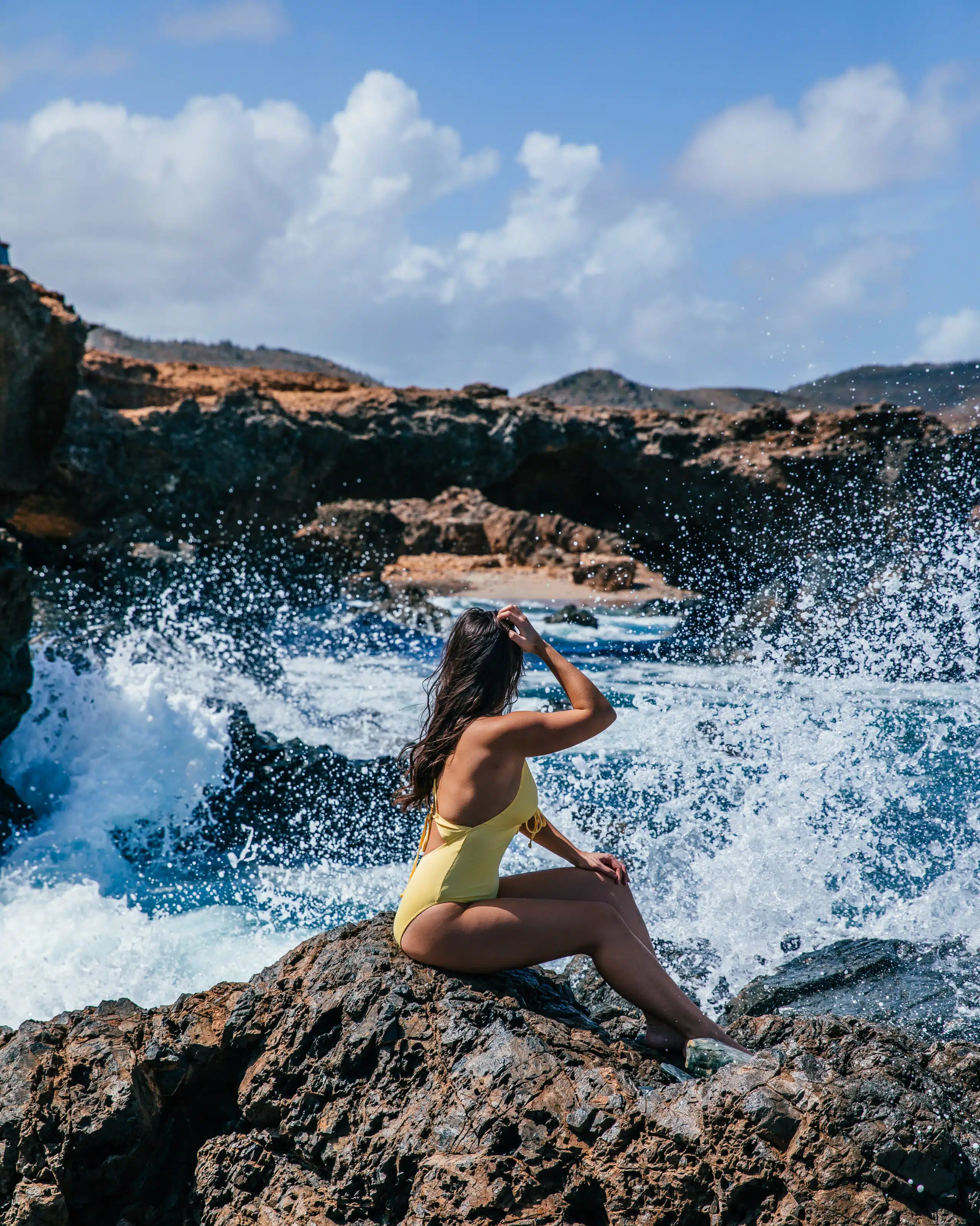 Many couples and families visit Aruba to primarily enjoy the beaches, but there are also many activities to experience during your time in Aruba. Most of them are water activities like kayaking, snorkeling, and joining a sunset sail.
On land, you can walk around caves at Arikok National Park, do a jeep tour of the island, see the gorgeous natural arches on the coast, and more. There are also plenty of museums to visit with family.
Here are some recommendations on the best things to do in Aruba:
Visit the flamingos on Renaissance Island (I detail how you can do that on this post)
Go on a sunset catamaran tour
Visit Arubas many beaches
Go to the Casibari Rock Formations
Visit Arikok National Park
Check out my full list on 20 things to do in Aruba here!
Puerto Rico
During your time in Puerto Rico, there are endless opportunities for adventure seekers. Puerto Rico offers a unique combination of activities, from jungle adventures and ziplining to historic forts and churches.
But one notable activity that you'll find in Puerto Rico that makes it an extremely unique vacation destination is its three bioluminescent bays. You'll only be able to see the algae glow in the water on very dark nights, so this activity is only possible during and around a new moon. Definitely avoid visiting around a full moon if this is on your bucket list!.
Here are a few recommendations:
Explore the colorful and historic town of Old San Juan
El Castillo San Felipe del Morro (save your ticket, you can also use it at Castillo de San Cristobal next door!)
Eat your way through the pork highway (a road lined with vendors selling pork products)
Do a day trip (or longer) to El Yunque National Forest
Visit the pink salt flats of Cabo Rojo
Schedule a night tour of one of Puerto Rico's bioluminescent bays
My list of things to do is actually much longer than just those items. I've created a comprehensive list of 60 best things to do in Puerto Rico here, organized by location!
Aruba vs Puerto Rico: Weather
The best time to visit Aruba is from early Spring until the end of Summer (April – August).
Since Aruba sits close to the Gulf of Mexico, you might expect threats of hurricanes throughout the year. But it's actually south of the hurricane belt, making it generally a very safe place to visit year-round!
If you decide to travel to Aruba during their high season, you must keep in mind that travel expenses will be more expensive during January and March.
Meanwhile, hurricane season in Puerto Rico usually lasts from June to November so it is best to travel to this country from December to June.
This will ensure that you get the best weather possible while hopefully avoiding any major hurricane threats.
Aruba vs Puerto Rico: Nightlife
The pandemic has put a damper on nightlife, but in normal times, both of these destinations have a great nightlife.
In Aruba, the best nightlife can be found on the West side of the island. You can find many bars and nightclubs on the western shore of Noord.
Here are a few recommendations:
Gusto Night Club Aruba
Saloon Bar Aruba
Rock'nRock Aruba
Bugaloe
H2Oasis Adult Pool Bar
Most of the nightlife in Puerto Rico can be found in various cities around the island. In non-pandemic times, many of the bars and nightclubs are open until 01:00 to 05:00 depending on the location.
Here are a few recommendations:
Chico Cabaret
Club Brava
Oasis Tapas and Lounge
Dancers Club
Bar Punta Brava
Aruba vs Puerto Rico: Family-Friendliness
Aruba provides plenty of family-friendly activities including hundreds of free beaches, all-inclusive family resorts, shallow waters, and lots of exploring! Kids will love to experience the natural wonders of this beautiful island.
Puerto Rico is also very family-friendly. Most of the beaches are clean and there are plenty of water sports for children of every age. Many of the waterfalls in El Yunque National Forest (namely La Coca and Juan Diego Falls) are good for families as they are very easy to get to. La Coca is literally off the side of the main road- you can't miss it!
The hidden falls behind Juan Diego Falls do require a bit of a challenging hike (read more here), but the main falls are very easy to get to.
Aruba vs Puerto Rico: Safety
Aruba is considered to be one of the safest in the Caribbean Islands. Crime still exists in this country but most of the reported crimes are petty crimes, like pickpocketing.
According to the WHO, the tap water found in Aruba is safe to drink. They say that the water meets the highest standards of quality because it is treated in a saltwater desalination plant. Many tourists still decide to buy bottled water as a precaution.
Puerto Rico is considered generally safe, however there are certain risks such as natural disasters including earthquakes and hurricanes.
Keep in mind that there are certain neighborhoods that you want to avoid after nightfall.
These neighborhoods include: Pinones, Santurce, Parque de las Palomas, La Perla, Puerta de Tierra. Notably, La Perla is a historical shanty town just outside of the north town of Old San Juan that should be avoided after dark.
Tap water is treated in Puerto Rico but most visitors usually opt to ask for bottled water at hotels, restaurants, and bars just as a precautionary measure.
Aruba vs Puerto Rico: Fun Facts
These probably won't affect which destination you choose, but I'm a sucker for some good fun facts! Here are some good or fascinating (or a combination of both) things to know about each island.
Aruba
The official languages of Aruba are Dutch and Papiamento.
The currency is "Florin," however, US dollars are accepted everywhere.
Aruba was formerly known as the Netherlands Antilles.
Aruba is 20 miles long and 5 miles wide.
Taxi services charge a 3USD surcharge on Sundays.
The average temperature year-round is about 82 degrees Fahrenheit.
The rattlesnake is the only poisonous creature on the island.
Puerto Rico
Puerto Rico has the largest rum distillery in the world, located in Catano.
Three of the world's five bioluminescent bays are in Puerto Rico!
Two of the oldest churches in the Americas are located in Old San Juan.
There are uninhabited islands surrounding Puerto Rico and tourists are able to tour these islands.
The national animal is the Coqui Tree Frog. You'll recognize it when it croaks- it sounds like it's saying "co-qui"!
It is home to the world's largest single-dish radio telescope.
The streets of Old San Juan were once paved with blue cobblestones.
In conclusion…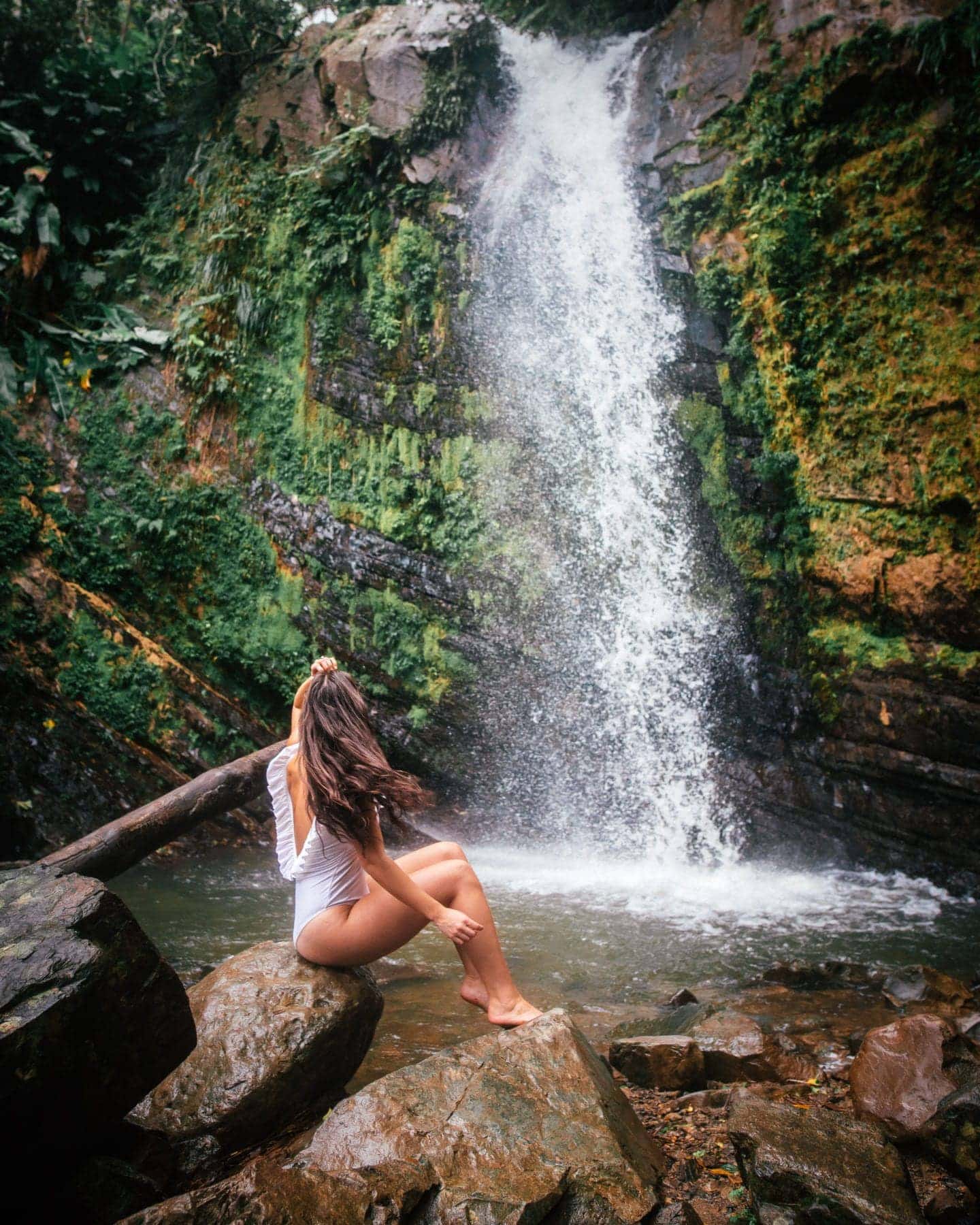 All in all, both countries offer fantastic things to do and unique landscapes to visit. You will find a ton of places to explore during your time on either island.
In a nutshell, I'd recommend Aruba if you want a beach vacation, and Puerto Rico if you want a more adventurous vacation.
There is plenty of lodging, tourist attractions, nightlife, and not to mention the unforgettable natural beauty. Travel to either of these islands and you will not be disappointed!
Safe travels!
Jasmine
PS. If you found this post helpful, please share it to Pinterest! You can use either image below for easy pinning!