There are plenty of reasons to visit Aruba, from the friendly locals and ease of travel, to the lack of language barriers and white sand beaches.
Did you know that Aruba is one of the ABC islands? Aruba, Bonaire, and Curaçao are located just to the north of Venezuela.
Aruba is the most northwestern of the three, and there are some incredible things to do on the island!
From natural beauty and points of interest to adventure tours and white sand beaches, Aruba has them all!
So now that you've decided to head to Aruba, here are 20 things you simply must do during your stay on the island!
1. Swim in shark-free waters
Well, if you go far out enough, you might encounter a shark. But Aruba's waters are known for their lack of sharks!
2. Find a cove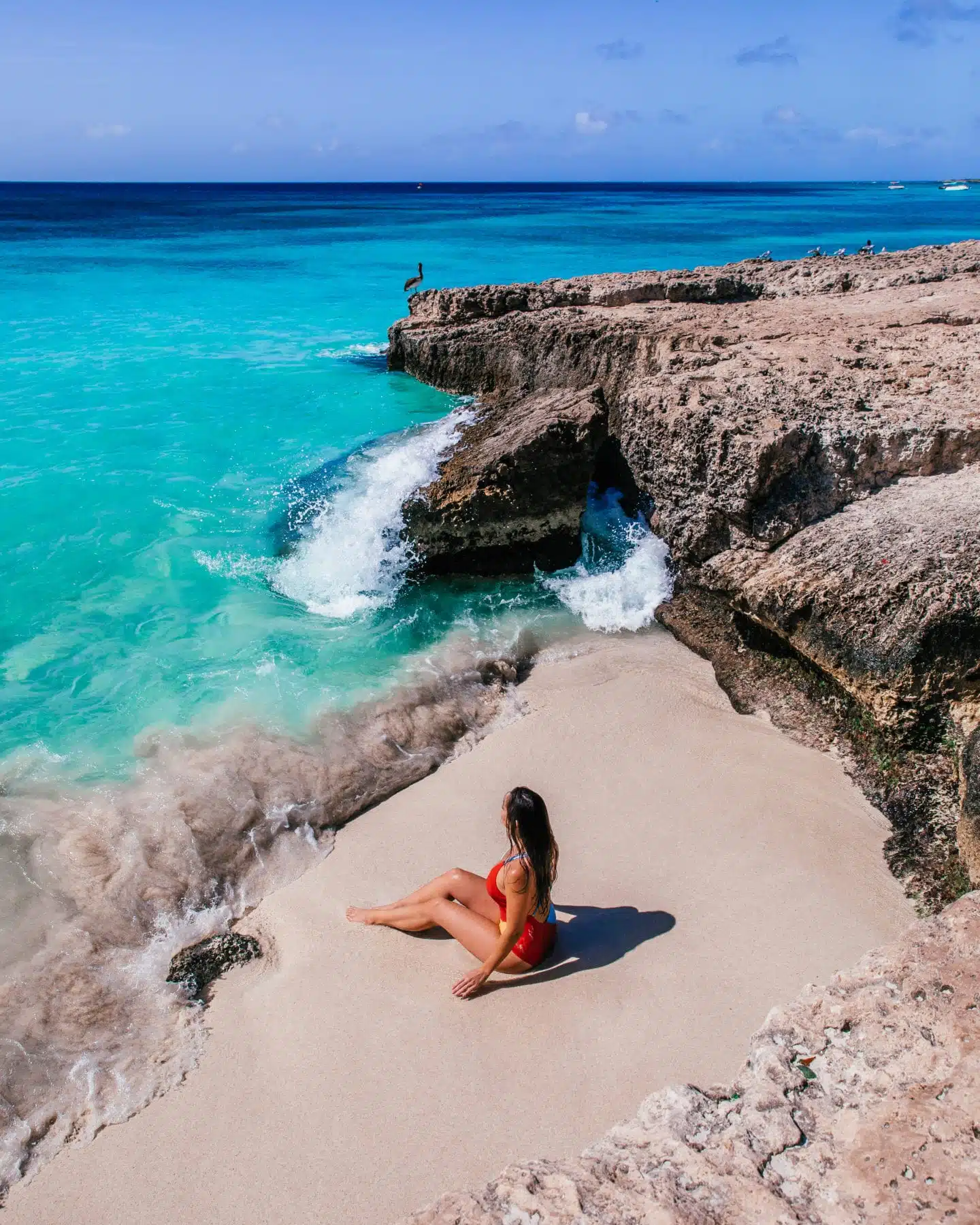 As you drive around Aruba, take your time and explore the many coves around the island!
3. Hop onto a snorkel tour
Snorkeling the crystal clear water in Aruba should definitely be on your list.
Whether you have gear with you or want to join a tour like this one, make sure you experience this at least once while in Aruba!
4. Explore some caves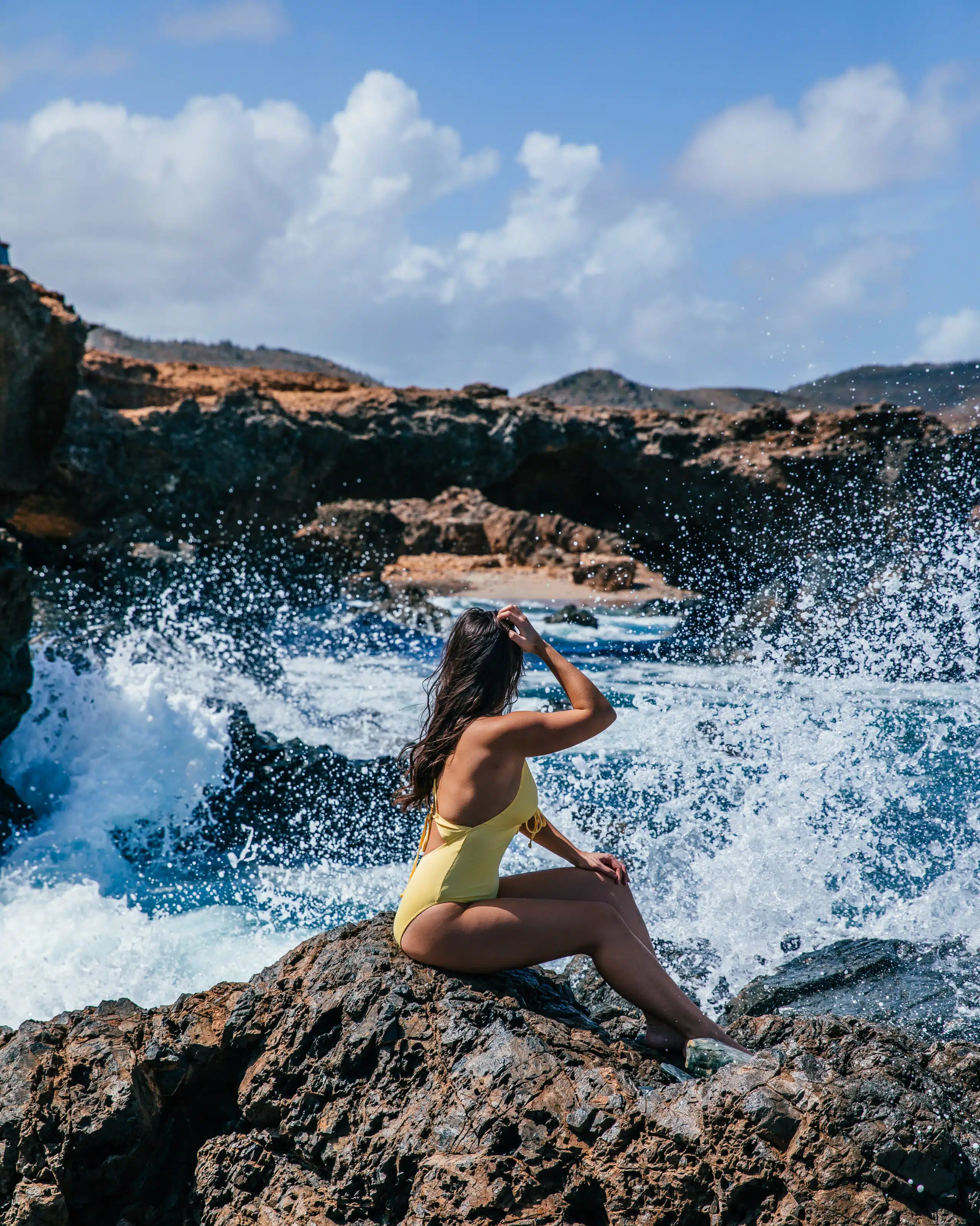 Did you know that Aruba has caves to explore?
While there are several caves in Aruba, the three most famous caves (Guadirikiri Cave, Huliba Cave, and Fontein Cave) are in Arikok National Park.
The road in the park can be rough and requires 4WD.
If you're looking to drive yourself to a cave, the easiest to reach is Fontein cave since it is just off of a paved road.
5. Go shopping downtown
Head to Aruba's lovely downtown for some shopping! Just keep in mind that the stores usually close at 6pm!
6. Stay at a resort
Haley and I were invited to stay at the Hilton Aruba, which I loved!
Between the two pools, great food, and prime location, the Hilton Aruba makes for the perfect stay.
And stop by the casino
While at the Hilton, you can check out their casino!
7. Go to a night market
We went to a night market just across the street from the Hilton Aruba, right next to our dinner at Papillon.
You'll find vibrant colors, handmade crafts, and a lively atmosphere at nighttime in this part of Aruba!
8. Join a sunset cruise
You can join a sunset catamaran tour for a spectacular look at the Aruban sunset.
Our tour included cocktails and local Caribbean snacks- you'll probably be able to see the seagulls fly in once they start smelling the food! It makes for a great photo!
---
Shop the post

---
9. Hire a private jeep tour
I highly recommend doing a jeep tour around the island!
We did ours with Around Aruba, and absolutely loved it. It was the highlight of my time on the island!
If you're willing to splurge, there are a lot of pros to doing a private jeep tour.
Book online:
10. Do an ATV tour
For a more adventurous way to see Aruba, join an ATV tour and cruise around the rugged Aruban landscape.
You'll see some cool ruins, like this!
11. Visit an animal rescue
When we did our Around Aruba jeep tour, we also got to explore Philip's Animal Garden!
You can do a half day animal tour here, or you can drive yourself right to Philip's Animal Garden! They're open from 9 to 5 and if you want a tour, they do tours every half an hour.
Ticket information:
Adults: $10
Kids (3-13): $5
Tots (0-3): free
12. Explore a black pebble beach
This is the gorgeous Blackstone Beach on Aruba's northern coast.
While this beach is definitely NOT for sunbathing or enjoying the ocean (these waters are extremely rough and those pebbles would not be comfortable to lie on), it's a really cool photo spot!
13. Watch the sunset
Aruba is known for its incredible sunsets, so be sure to get outdoors for sunset each night!
Hang around after the sun sets as well, because sometimes the best colors come out after the sun dips down into the ocean!
14. Visit the California lighthouse
This is such a picturesque little lighthouse!
If you want to climb to the top for 360 degree views of the island, you can!
The lighthouse is open from 9am to 7pm and costs $5 per person to enter (no reservations required).
If you're like me and want a photo with the dreamy lighthouse, be careful of the cacti!
I got injured pretty badly when my skirt got caught in one!
It pulled one of these circles down and slammed it into my ankle, leaving one needle wedged deep into my Achilles!
The needles have fish hooks on the end, so it only came out with a lot of force!
All that to say, these cacti are cute but man do they pack a mean punch!
15. Take a photo on top of an arch
There are a few natural bridges around Aruba; this one is close to Black Stone Beach.
16. See the flamingos on Renaissance Island
There are no pink flamingos on mainland Aruba.
If you were expecting flamingos, I hate to burst your bubble! But you can still see them, for a pretty penny.
There are three ways to see these gorgeous pink birds, and all of them involve a boat ride to Renaissance Island.
Stay at the Renaissance Aruba Resort & Casino
Book a day pass to visit Renaissance Island
Book a spa appointment at the hotel
You can book a day pass ($125 last time I checked!) here one day in advance. Tickets are released at 7am each day for the next day (ie. you want to visit on a Thursday? Check their link at 7am on the Wednesday right before).
There are a limited number of tickets (and tickets are only available if the hotel is under 80% capacity), so book right at 7am!
17. Sunbathe on a white sand beach
Aruba has some pretty incredible beaches!
While staying at the Hilton Aruba, we had easy access to Palm Beach, so that became our beach of choice.
Other great white sand beaches in Aruba include:
Eagle Beach
Baby Beach
Mangel Halto
Arashi Beach
18. Visit a picturesque church
Alto Vista Chapel is a little yellow church with incredible views of the ocean and Aruban countryside.
Historically, the original church was built in 1750 and is thought to be the first church established in the Caribbean!
It's a shame that it is no longer there; what stands there today was built in 1952.
Fortunately, it is still a beautiful little chapel that still hosts weekly services.
19. Drive down the coast
My favorite part of Aruba is the northern coastline.
There are so many incredible things to see- many of which have already been mentioned in this post!
Whether you book a tour or have a rental car, the best way to see a lot of Aruba's natural beauty is simply driving along the coast!
Visit Arikok National Park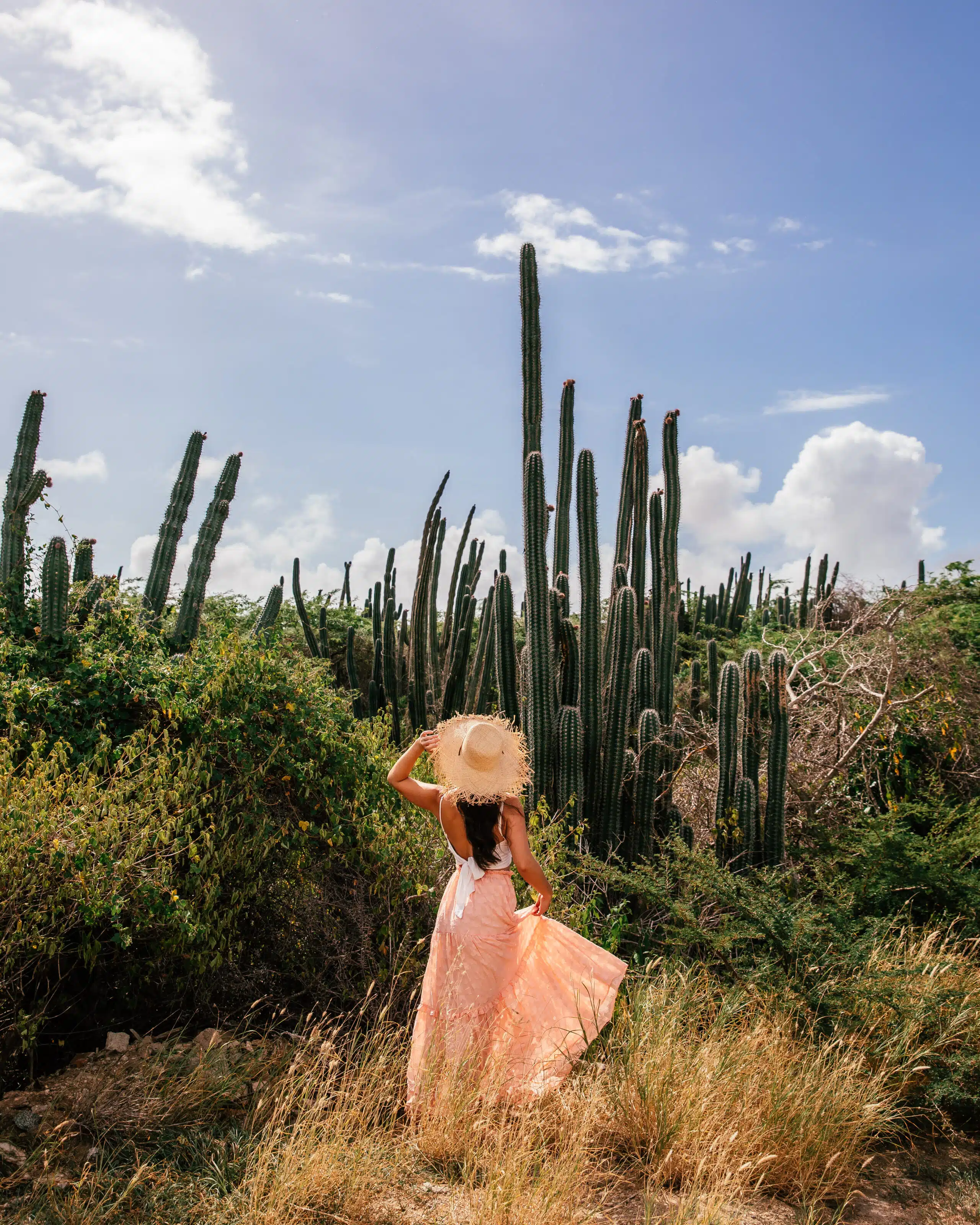 There are some incredible places to explore in Arikok National Park.
From volcanic rock formations and Caquetío cave drawings to natural pools and hilltop views, you'll find all this and more at Arikok.
If you're driving yourself to the National Park, make sure you have a vehicle that has 4WD!
For a tour, here are some popular ways to explore Arikok:
In conclusion…
There you have it! My list of 20 things to do in Aruba!
Have you visited Aruba? If so, let me know what you would add to this list in the comments below!
Also, feel free to drop any questions in the comments as well!
Safe travels,
Jasmine
Shop the post