If you're deciding between Costa Rica and Aruba for your next getaway, you've got two fantastic destinations to choose from.
I've visited Costa Rica twice now, and have loved it both times. In fact, I'd say it's one of the most beautiful tropical countries in Central America!
Aruba is also a great vacation destination, but differs quite a bit from Costa Rica. Each destination has its own style of natural beauty, different things to do, and overall different vacation vibes.
I'll be comparing these two locations in non-pandemic times, but since both are relatively open, things won't be all that different once you're there.
Here's what you need to know at the time of writing regarding travel restrictions:
When visiting Aruba from the United States, you'll need a negative PCR test and a filled-out travel form. See up-to-date Aruba travel restrictions herehere.
Meanwhile, Costa Rica travel restrictions no longer require a PCR test. Instead, they require a travel pass and proof of qualifying travel health insurance that covers COVID-19. You can see up-to-date Costa Rica travel restrictions here.
You'll also need a negative PCR test within three days of departure from either location when you head back to the United States.
Now that we've got that out of the way, let's compare Costa Rica and Aruba to see which is a better fit for you!
Costa Rica vs. Aruba: Prices
First things first, let's breakdown pricing for both countries. Overall, Costa Rica tends to be cheaper; I'll cover that in more details in these next sections.
To get a sense of travel expenses besides flights, you can check out Budget Your Trip's widget below.
This tool aggregates data from real travelers to help you get a ballpark estimate for the sort of costs you may have when traveling to a location.
Here is their information for Costa Rica:
And here is that same widget for Aruba so you can compare:
Now let's take a closer look at some of these spending categories.
Flights
While the cost of flights to both Costa Rica and Aruba varies depending on the time of year you choose to visit, in high season, Costa Rica is definitely the cheaper option.
During peak time, a ticket to San José, Costa Rica, from New York generally starts around $320. This increases to $370 if you're flying from San Francisco. In comparison, peak-time tickets to Aruba's Oranjestad from New York start from $450 vs. $950 from San Francisco.
Food
Costa Rica is often cheaper than Aruba when it comes to eating out.
Costa Rica
Lunch or dinner in a Costa Rican restaurant, serving traditional cuisine, costs around $5 to $7. If you prefer to eat at restaurants serving international food, you can expect to pay between $8 and $15, although you may pay even more in popular beach resorts and hotel restaurants.
Aruba
Aruba is slightly more expensive. For lunch or dinner outside of your hotel, you'd be looking at spending anywhere between $8 and $25. Again, if you choose to eat in hotels or resorts, prices may be higher.
Transportation
Costa Rica
Taxis are a relatively cheap way to get around Costa Rica. Licensed taxis here have meters and cost roughly $1 to $1.50 per kilometer. If you're on a tight budget, check out the bus system which is subsidized by the government. 50 cents is roughly all it costs to get around San José by bus and it will cost less than $17 to ride to anywhere in the country.
Aruba
Aruban taxis don't have meters, and it can end up costing much more than in Costa Rica. Journeys tend to average $45 per hour with drivers charging a minimum fare of $7. We recommend that you agree a price ahead of your trip to avoid any surprises!
Rental cars
Costa Rica
If this is your first-time visiting Costa Rica, I would recommend that you exercise caution when getting a rental car. While some of the roads are well-paved, many are riddled with potholes, unmarked intersections and some crazy river crossings that can be hard to navigate. But with how big Costa Rica is, and how spread out the attractions are, renting a car makes the most sense if you're exploring more than one area/city. If you decide to rent a car, you're looking at around $50 per day for a small 4×4, although other cars are available at cheaper prices.
Insider tip: Use Waze instead of Google Maps when navigating the island!
Aruba
Aruba is also a great place to hire a rental car, especially if you want to explore the island at your own pace. Keep in mind that the island is tiny, especially compared to Costa Rica. That said, it might be preferable to plan excursions from your hotel. f you do choose to rent and explore on your own, it costs approximately $50 per day for a standard rental car but is more expensive if you opt for a 4×4. Keep in mind that there are some parts of Aruba where your rental car policy might not allow you to go. A lot of excursions in Aruba involve off-roading, so for those, you might opt for a jeep or ATV tour instead.
Costa Rica vs. Aruba: Natural Beauty
Both Aruba and Costa Rica are naturally beautiful countries in their own right, but they do have their differences.
Aruba is known for its award-winning powdery white-sand beaches and turquoise water. Meanwhile, Costa Rica also has magnificent beaches but is renowned for its expansive rainforests.
Here are a few of their highlights!
Costa Rica
Costa Rica's spectacular, lush rainforests cover just over 50% of the country. These are teeming with wildlife, including exotic, colorful birds, monkeys, and slow-moving sloths.
Costa Rica has 28 National Parks and 25% of the country is protected from deforestation and urbanization.
Thus, it's not surprising that Costa Rica is considered an area of outstanding natural beauty.
As you can imagine, it also appeals to eco-friendly tourists.
Costa Rica also has stunning tropical beaches. Some, like Manuel Antonio Beach, are on the edge of the rainforest creating the perfect backdrop for photography.
Check out the 41 most beautiful places in Costa Rica here!
Aruba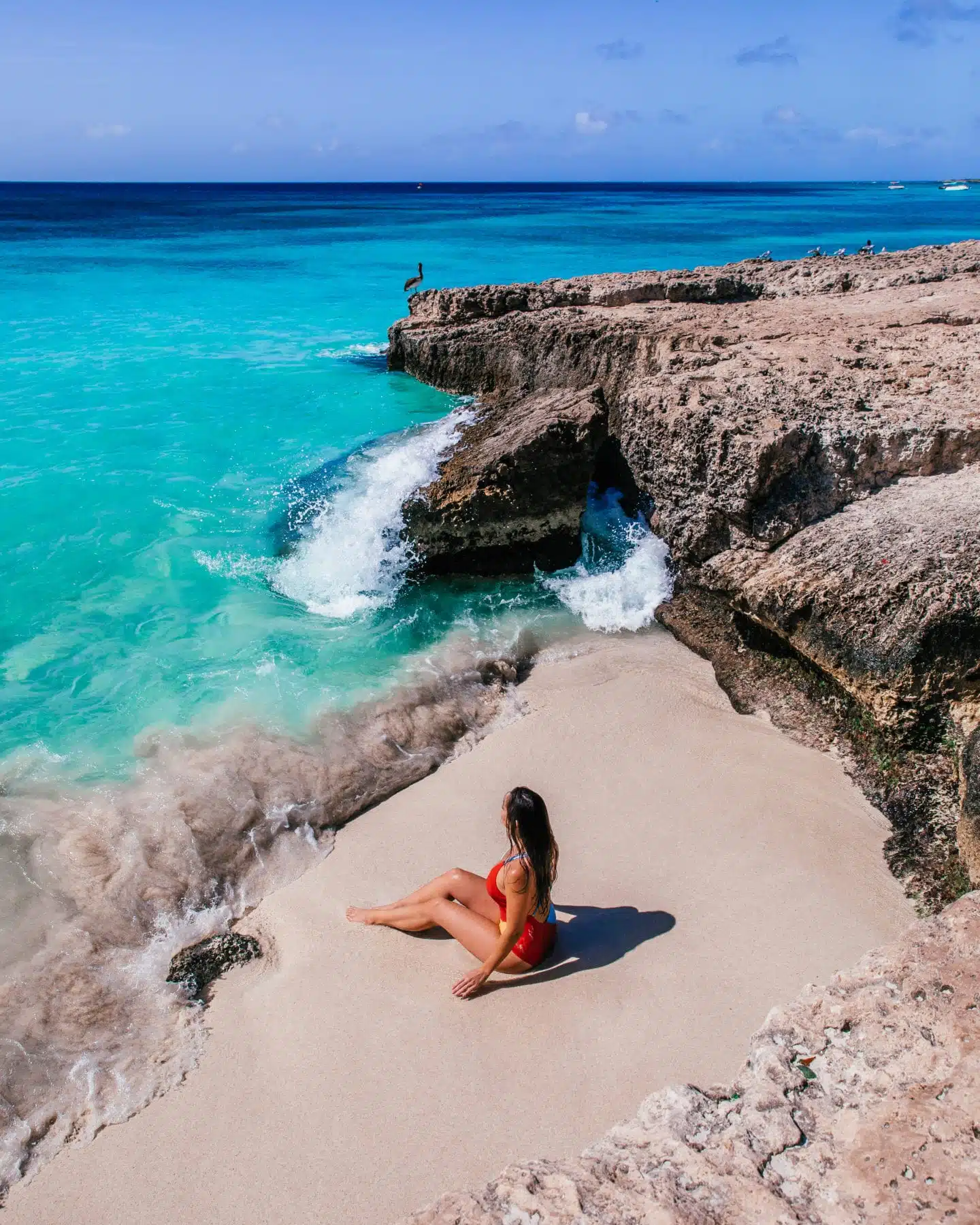 While it is not as lush and green, Aruba has undeniable natural beauty of its own.
This small island is perfect for those looking for white-sandy beaches and sparkling, crystal-clear water. In fact, Eagle Beach was voted the 3rd best beach in the world in TripAdvisor's 2019 Travellers' Choice Awards.
Aruba's Arikok National Park is another area of natural beauty. Here you'll find terrain not unlike the rest of inland Aruba: rugged, cactus-covered, and rocky.
Covering around 18% of the island, it's home to the vividly-colored and photogenic Natural Pool.
I cover the 27 most beautiful places in Aruba on this post!
Costa Rica vs. Aruba: Activities and Attractions
In terms of activities and attractions, Costa Rica comes out on top for those looking for adventure or who are interested in wildlife and biodiversity.
On the other hand, Aruba has plenty of daring water sports to offer, but it mainly appeals to tourists looking for quality downtime.
Here are just a few of the most popular activities and attractions in each destination.
Costa Rica
Explore the La Fortuna area, which has a volcano, waterfalls, and hot springs
The Arenal volcano is one of the most beautiful volcanoes I've ever visited. But the weather here can be tricky, and you can only see the volcano when the clouds part.
But this area has more to offer than just volcano views! Home to La Fortuna waterfall and plenty of hot springs, you'll fill your day with hiking and relaxing in the thermal waters.
Beaches and turtles at Tortuguero
Tortuguero National Park offers hiking trails, boat tours and river kayaking. Besides being a spot for adventure, thousands of turtles nest at Tortuguero each year. July to August is the best time to see the endangered Green Sea Turtles come ashore to lay their eggs.
Explore Costa Rica's Cloud Forests
You can also venture through low-hanging clouds as you explore The Cloud Forest at Monteverde. You've probably seen the forest's iconic suspension bridge on Instagram.
But did you know you can also climb a 40m/120 ft high Ficus Tree and see the forest from above?
Or did you know you can go canyoning or horseback riding through the forest and its rivers? A Curi Cancha Reserve Night Tour is great for people wanting to hear the forest's nocturnal wildlife come alive.
Get your culture fix in San José
When you're not exploring Costa Rica's rainforests or beaches, head to its capital, San José. Here you can browse museums, relax in city squares, or take full advantage of its bustling nightlife.
Check out my list of the most beautiful waterfalls in Costa Rica here!
Aruba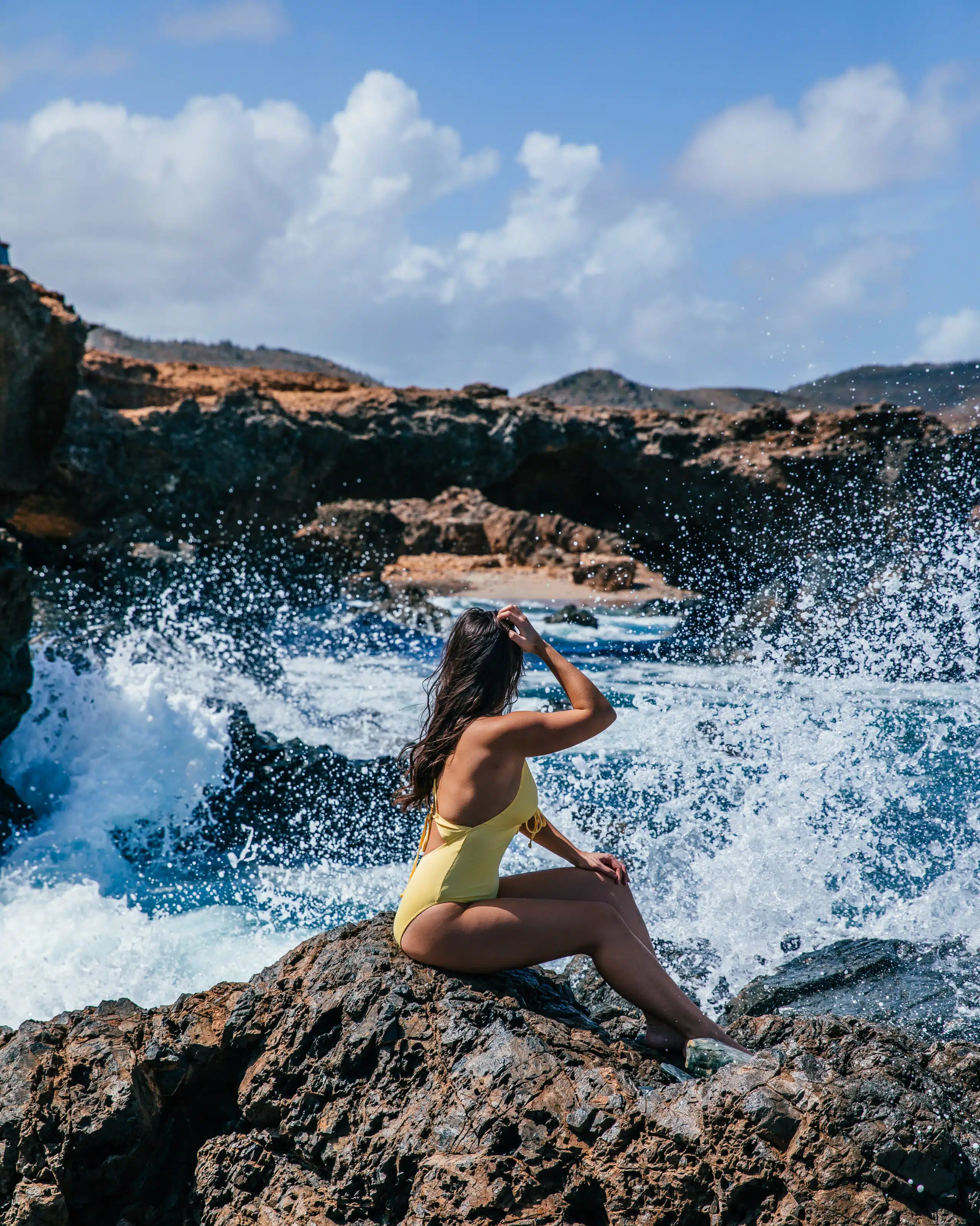 Head to the beach… or bar
Palm Beach is one of Aruba's liveliest spots with many bars and restaurants for you to enjoy. Relax and soak up the sun on its gorgeous beach that stretches down to the white sands of Eagle Beach.
Hit the water
There are plenty of opportunities to swim, snorkel and try various water sports along Aruba's coastline. If you're into diving, don't miss the SS Antilla shipwreck.
This 400ft German freighter was sunk during World War II, and is now home to a wide variety of sea life.
Whether you fancy a romantic sunset sail, a snorkeling trip or a luxury champagne breakfast on the open sea, there are boat trips available for all occasions.
Explore the island
As Aruba only covers around 70 sq miles (180 sq kilometers), it's easy to explore the entire island during your vacation either on an organized tour or by rental car.
Although getting there is an adventure in itself, Arikok National Park's Natural Pool is an idyllic location for snorkeling, swimming and, if you're feeling brave, a little cliff jumping into the Natural Pool.
Costa Rica vs. Aruba: Lodging
While it varies based on the level of luxury, the average cost of standard accommodation is slightly higher in Costa Rica than in Aruba.
Costa Rica
In Costa Rica, the average chain hotel room is priced around $150 per night, although cheaper local hotels and hostels are available starting from $10 per person.
We stayed at three different locations on my most recent trip to Costa Rica:
Here are some more that I haven't personally stayed at, but come highly recommended.
Manuel Antonio
If you're looking for an "Instagramable" hotel, look no further than The Igloo Beach Lodge. As the name suggests, you'd stay in igloo-style rooms, starting from around $150 per room per night. For five-star luxury, check out Gaia Hotel and Reserve. This award-winning boutique hotel sits within 15 acres of pristine rainforest and boasts incredible views from the pool and many of its rooms. Prices start around $300 per room per night, but you can often find better deals online.
San José
With prices from $130 per room per night, the newly-renovated Gran Hotel Costa Rica is in the heart of the city and only a five-minute walk from key landmarks.
There are also several quirky local hotels, homestays and hotels for budget-conscious travelers. The central Hostal del Este Santa Fe has a rustic style with prices starting from just $30 per person per night.
Aruba
Aruba's larger chain hotels can average $100 per room per night but, like Costa Rica, there are budget hotels and hostels available from as little as $10 per person.
We stayed at the Hilton Aruba and had a wonderful stay. But you've got more options in Palm Beach.
Palm Beach
Palm Beach has over 50 resorts and hotels on offer. While the larger hotels can be pricey, places like the Arubiana Inn Hotel cost about $60 per room per night. Arubiana Inn is a short walk from Eagle Beach and has an outdoor pool and sun terrace, and its Caribbean décor gives it an authentic feel.
If you're looking for self-catered options, places like the Sandcastle Beach Apartments, or the island's many hostels, are worth checking out.
Costa Rica vs. Aruba: Family-Friendliness
Good news- both of these countries are family-friendly with plenty of activities for all ages.
Costa Rica
Costa Rica is very family-friendly, with plenty to do for those with adventurous children.
Besides playing at the beach and exploring towns and rainforests, there are many activities that the whole family can enjoy together like surfing lessons and ziplining.
Aruba
Aruba is also welcoming of families and young children. There are many family-friendly resorts on the island. Plus, most hotels have kids' activity clubs.
Children and their parents will love snorkeling, bowling, and wandering through gentle nature trails.
Costa Rica vs. Aruba: Nightlife
Whether you want to unwind at a local bar after a long day of exploring, or hit the clubs, there's something for everyone in both destinations.
Costa Rica
San José has a vibrant nightlife. The city boasts many restaurants, bars and the popular nightclub, Club Vertigo. Sing your heart out at Castro's Discotheque karaoke bar, or sample the city's craft beers on the Carpe Chepe Craft Beer Walking Tour. For a laid-back evening, visit Jazz Café that hosts live jazz, salsa and reggae performances.
Costa Rica's coastal towns, like Jacó, Tortuguero and Limón, are also full of restaurants, lively bars and clubs. Tamarindo, on the western coast, hosts a beach and pool crawl.
This crawl enables party-goers to spend their Sunday touring the area's best bars, but only those that have a pool or are situated on a beach.
Aruba
Aruba's Palm Beach has a buzzing nightlife scene.
One of its nightclubs, Gusto, was voted Aruba's number one club three times in a row! There are several bars, casinos, and even comedy clubs.
The Kukoo Kunuku party bus is quite popular. These brightly-colored, hand-painted, open-air buses take guests on a guided crawl through Aruba's lesser-known, but seriously fun, bars. They pick up and drop off each guest at their hotel, so you can enjoy your night without worrying about finding your way back.
Costa Rica vs. Aruba: Safety
As in most countries, petty crimes, like pickpocketing, do occur in Costa Rica. However, if you take reasonable and sensible precautions, you're unlikely to experience crime.
In the 2020 Global Peace Index, Costa Rica ranked 32 out of 163 countries. That's ahead of The United Kingdom, Spain, and France!
And while Aruba wasn't included in the 2020 Global Peace Index review, it is widely regarded as one of the safer destinations in the Caribbean. The friendly locals welcome tourists, and there is a low rate of petty crime.
Costa Rica vs. Aruba: Weather
Both Costa Rica and Aruba have tropical weather systems. Aruba has pretty consistent weather all year round.
But Costa Rica is more extreme.
The timings and intensity of Costa Rica's dry and rainy seasons vary throughout the different regions, each of which has its own microclimate.
Rainfall
Costa Rica
Costa Rica's average annual rainfall is 100 inches during the rainy season between May and November. However, its Caribbean coastal regions, like Tortuguero, can receive an average of 140 inches and can be wet and humid for most of the year.
Aruba
In comparison, Aruba only receives around 18 inches of rain each year with most rainfall occurring between October and January, usually in short, sharp bursts that quickly clear.
Sunshine
Aruba enjoys sunshine almost every day.
Costa Rica, on the other hand, has a lot more variation.
The likelihood of sunshine at any given time is around 80% in the northwest of the country. This decreases to around 40% as you travel further south.
Temperature
Costa Rica
While this varies greatly by region in Costa Rica, temperatures in San José fluctuate between 24 and 79°F (14 to 26°C) throughout the year. The temperature in Tortuguero is similar but can reach highs of 83°F (28°C) in the summer months.
Aruba
January is generally Aruba's coolest month, with temperatures of 77 to 86°F (25 to 30°C). September is one of the hotter months when the temperature can reach 91°F (33°C).
Costa Rica vs. Aruba: Best Time to Visit
For the majority of Costa Rica, the best time to visit is between December and April, when rainfall is at its lowest. However, if you plan to visit the country's Caribbean coastal regions, it's better to visit in March or October. This is when the rainfall here tends to ease.
Meanwhile, in Aruba, due to the low rainfall and relatively consistent warm temperatures, you can visit Aruba at any time of year. January to March are popular months, which bumps up the price of vacations. So, I recommend that you consider visiting between April and August when average travel and accommodation costs are lower.
In conclusion…
Although you'll have a fantastic holiday in either Costa Rica or Aruba, which one you choose depends on the type of holiday you prefer.
With its predictable weather, award-winning beaches and gentle activities, Aruba is the perfect choice for those looking for relaxation. It's also an ideal spot for people with young children who want to spend days at the beach, playing in the sea or making the most of kids' activity clubs.
While you can relax on Costa Rica's beaches, we wouldn't recommend this location if you're looking for a chill vacation. With its unpredictable weather patterns, magnificent rainforests, wildlife and adventure-based activities, Costa Rica is the perfect choice for active and adventurous tourists who want to truly explore the landscape and who won't let a bit of rain dampen their holiday!
So, after reading, which would you choose?
And if you have any questions about either location, let me know in the comments! I'll do my best to answer based on personal experience!
Safe travels!
Jasmine
PS. If you found this post helpful, please share it to Pinterest! You can use either image below for easy pinning!