Heading to El Yunque National Forest in Puerto Rico? You're in for a treat! Why? Simply put: Puerto Rico lo hace mejor; Puerto Rico does it better!
The tourism motto of Puerto Rico is a unique case of truth in advertising. This Caribbean island and territory of the United States has an abundance of natural wonders, vibrant culture, and terrific cities with plenty to do and see.
However, I'm here to tell you about an extraordinary place on the island that is close to my heart. I'm talking about the eye-opening, jaw-dropping El Yunque National Forest!
Where is El Yunque National Forest?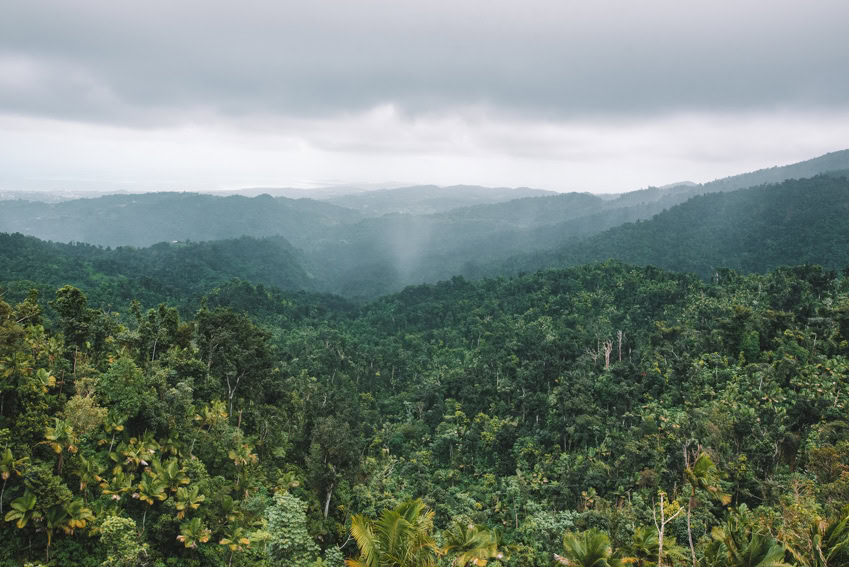 El Yunque is often described as the only rainforest in the United States. And that is partially true (you'll find the other one on this post!). In actuality, El Yunque is the only tropical rainforest in the United States national forest system!
Located in the northeast of Puerto Rico, this tropical rainforest sits on the slopes of the Sierra de Luquillo, or Luquillo Mountain Range in English.
It covers close to 29,000 acres of land. Though relatively small in size, it is home to nearly 240 species of trees, of which 23 are found nowhere else in the world!
El Yunque's footprint stretches into eight neighboring municipal areas and can be reached from the nearby coast within 15 minutes. Cities and towns near El Yunque include the eponymous Luquillo, Fajardo, Ceiba, Naguabo, and Loiza.
What's open in El Yunque?
Unfortunately due to Hurricane Maria, and more recently, Tropical Storm Isaiah, the Forest Service has closed certain trails and falls to the public.
La Mina Falls is still closed following Hurricane Maria, however, it is expected to open sometime in 2021.
The visitor center is also closed until 2021.
The park is rebuilding some of the other trails in El Yunque as well, so as a rule of thumb, check here for current Alerts & Notices.
This Visitors Access Report is also a helpful tool, though I'm not sure how often it is updated!
And PLEASE NOTE that the forest entrance gate at La Coca falls closes at 5:30pm… so keep track of the time so you don't get stuck in El Yunque!
Entrance Cost, Reservations, & Permits
Normally, El Yunque is free to enter and you don't need a permit. However, due to park regulations regarding COVID-19, you need to reserve your time slot online here ahead of time.
It's still technically free to enter, but there is a $2 service fee, which you pay by credit card online.
You can reserve your ticket up to one month in advance, and the park releases a number of tickets 24 hours in advance.
The 24-hour advance tickets go quickly, so get yours the minute- no, second!- that they're released!!
And be sure to have a recreation.gov login before you try to reserve your ticket! Otherwise you'll have to create an account at checkout and by then, the tickets will probably be gone. (This happened to me when trying to reserve sunrise tickets to Haleakala Volcano in Hawaii. I was very sad.)
For more El Yunque COVID-19 related information and reservation details, check here.
Getting to El Yunque National Forest
Booking a tour
While a drive to El Yunque is necessary, booking a tour is not. This option is a personal preference and comes at an elevated cost. The reality is that, with a reliable GPS and game plan, El Yunque is easy to navigate on your own.
However, there are instances where you might want to book a tour. Suppose you are uncomfortable driving along Puerto Rico's notoriously potholed highways or have a fear of driving along cliffsides in the Luquillo Mountains. (The normal areas on PR-191 through El Yunque are not cliffside, though some less common areas can be!) In that case, you may want to book a tour for transportation alone.
A guide will remove any level of stress, no matter how minimal, out of the planning process so that you can focus on the natural marvels in the national forest. This includes building an itinerary of all of the main spots to visit, as well as places only locals know about.
Having said that, the best option by far is to rent a car and make your own way to El Yunque.
By car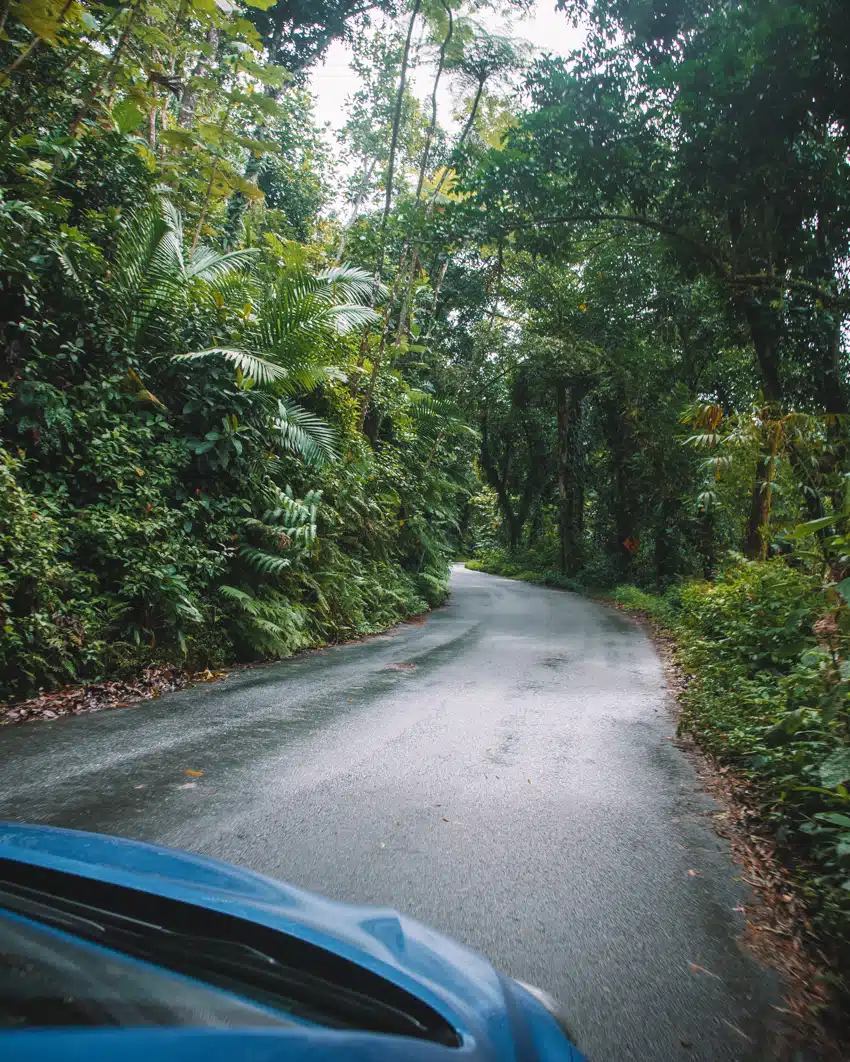 Rental cars are readily available in Puerto Rico's capital, San Juan. Chances are high that you will arrive at Luiz Munoz Airport in Carolina. The airport is just east of San Juan and you can book your car at the airport.
Alternatively, for a lower price, rent your car in the city proper without paying the inflated airport cost.
We did a day rental from the Enterprise in San Juan and it was ridiculously easy! When we returned the car, we just left the keys in a drop box and walked back to our hotel!
The drive from San Juan usually takes you about 45 minutes, but plan for the trip to take longer. Traffic can come out of nowhere along PR-3, the main highway that you will be taking. Switch on Google Maps and may special attention to the turn into El Yunque when you reach Rio Grande. The exit is in an unassuming residential area and very easy to miss!
The trip from Ponce in the south of the island will take you twice as long. You'll travel along PR-52 until you reach Rio Grande and enter at the same location.
If you plan to hike your way through the rainforest and up towards one of the peaks, you can leave your car near the visitor center. (The visitor center is currently closed and expected to reopen sometime in 2021).
However, a comfortable option is to drive up as far as the road will take you. Then you'll park your car along the side of the road or at one of the small lots near the forest's popular landmarks.
** Note that rideshare services do not work in El Yunque **
---
---
Things to Do in El Yunque
El Yunque is a tropical rainforest which means rain can fall at any point during your visit. (It definitely did when we visited!)
The rainforest sees approximately 200 inches of rain annually! This rain can make hiking (or driving) a bit of a challenge.
El Yunque's soil has a high concentration of clay and that makes for some muddy and slippery climbing every once in a while!
Though it can be a curveball, the soil appears in a variety of colors from yellow to red. It creates a beautiful tapestry below the lush plants that stretch into the sky.
Whether you choose to hike or drive to El Yunque's top spots, bring a raincoat or a change of dry clothes if you can. We definitely got poured on, but it just added to the rainforest fun!
There is one main road, PR-191, that takes you through El Yunque, and along the way you'll find various waterfalls, towers, and trails.
La Coca Falls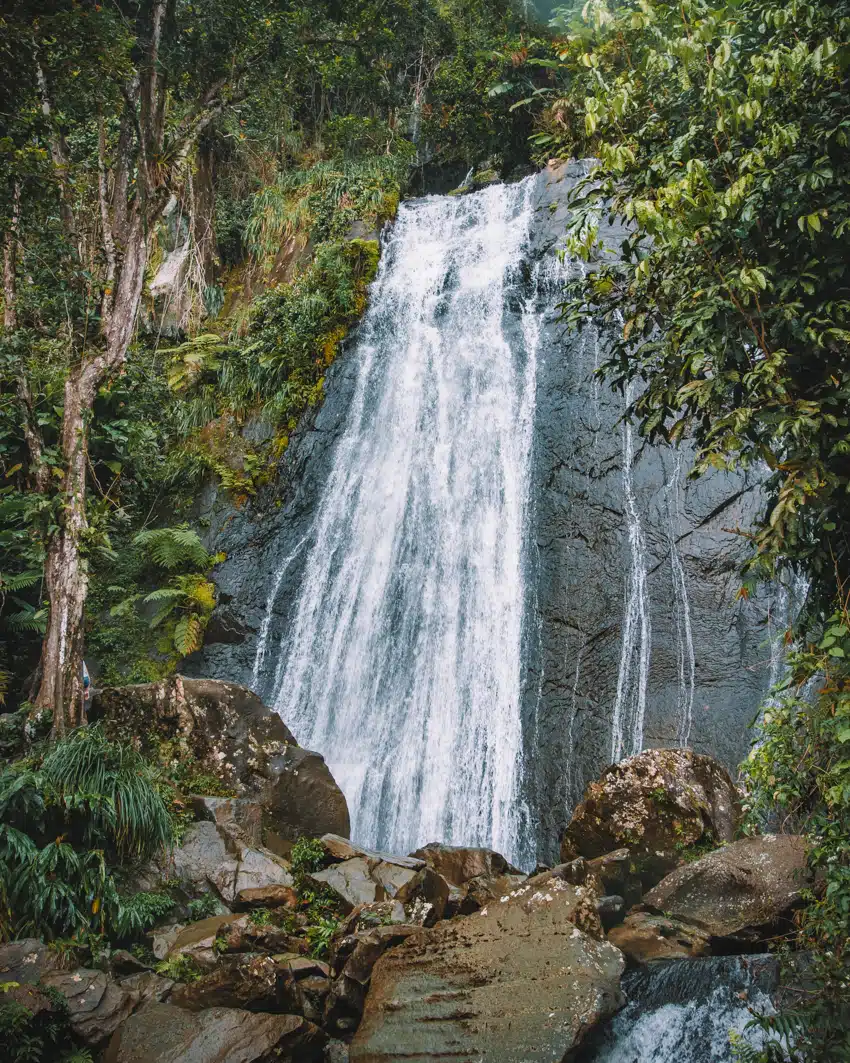 La Coca Falls is the easiest large waterfall to access in El Yunque. It is right on PR-191, across from a scenic lookout.
The waterfall drops 85 feet, more than double the distance of La Mina! Most of it cascades across the face of a massive rock formation. A great stop along a drive or hike through El Yunque at an elevation of 1,476 feet above sea level.
Most people just walk up to the edge of the road to get the photo above.
But my recommendation is to actually climb up the rocks on the left side of the falls.
You'll get to see the falls close up, and the photo ops here are way better!
Across from La Coca is Las Cabezas Observation Point. There, you can see the rainforest and the mountain range spread out as far as the eye can see.
Juan Diego Falls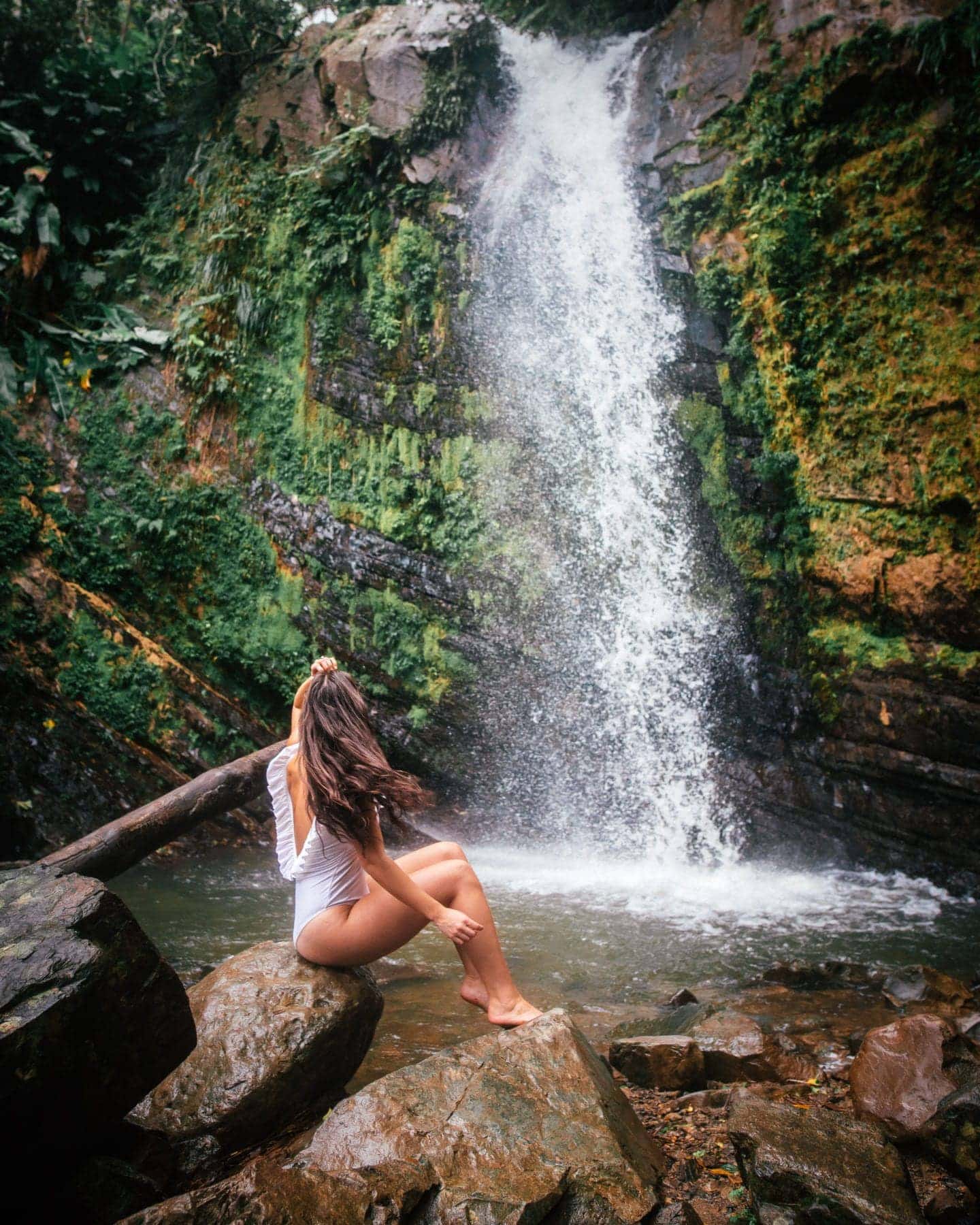 This is by far my favorite waterfall in El Yunque!
A quick hike (probably about five minutes or so from the parking lot) and you'll arrive at the main part of Juan Diego Falls.
The thing is, there are two sections of Juan Diego Falls.
You'll arrive at the lower section of the falls, and it's honestly not that impressive, especially compared to the other falls in El Yunque. It's also where you'll find a bunch of people.
But if you look off to the right when you arrive, you'll see a small dirt path in the forest.
The path brings you up a steep, muddy, slippery, rocky hill, so I recommend only traversing it if you're in good health! And I advise against flip flops since it's so slippery, though I did see a girl do it in flip flops.
When you reach the fork in the path, go left. A few minutes later, you'll reach a clearing where you'll see this way more epic waterfall!
The upper falls are a bit of a hidden gem- chances are there will only be a handful of people there!
We actually had it all to ourselves for a good while! (Hence, why I'm so happy in the photo above!)
As you walk to the falls, you'll see some of El Yunque's unique trees and shrubs. Along your walk, see if you can identify the plant varieties or the calls of birds chirping in the canopy!
La Mina Falls
Like I mentioned earlier, La Mina falls is currently closed, with an expected reopening date in 2021.
The good news is, there is still plenty to see at El Yunque, including the other two waterfalls on my list!
I still want to share what you'll find at La Mina for when it does reopen!
La Mina Falls is a beautiful gem of a waterfall at the end of a hike along the Rio de la Mina.
Follow PR-191 until you reach the parking lot of the Palo Colorado Information Center where you will find the trailhead for La Mina Trail.
The trail is heavily trafficked so be prepared to share the narrow dirt paths and stone steps with other visitors walking to and from the falls. The trail is 1.5 miles roundtrip and has multiple areas with steep steps making it a strenuous trip for some.
The total elevation of your hike is 1,640 to 2,132 feet and the journey will take you roughly an hour and twenty minutes to and from the falls. There are picnic facilities along the trail for those who planned ahead and packed a lunch.
However, the area near the waterfall itself is not for picnicking and there are no trash cans around, so make sure to take everything you bring with you back to the car or the visitor center.
When it's open, La Mina is a popular waterfall! The water from Rio de la Mina drops 35 feet into a pool that is open for swimming. The rocks can be a bit slippery, so mind your step when getting into the water. Stack your shoes and belonging away from the water and take a dip!
Yokahu Tower
Further down the PR-191 stands the 69-foot Yokahu Tower. It is temporarily closed, but check here to see if it has reopened by the time you're reading this!
The tower was built in the 1960s as part of observation and conservation efforts in the national forest.
You can climb the spiral steps for views of four different types of forests including Colorado, Tabonuco, Palm, and Cloud forests.
On a clear day, you can even see the Virgin Islands!
Be sure to have your camera at the ready because the views are incredible, especially the misty mountains and clouds hanging above the rainforest canopy.
Mt. Britton Tower
Mt. Britton Tower, or Torre Britton, is the other observation tower you'll find in El Yunque. Get ready for some sore limbs!
In less than a mile, you'll climb 594 feet! The hike has an elevation of 2,493 feet, and as such, offers some spectacular views.
The 0.8 mile hike takes about 45 minutes one way.
El Toro Peak
This peak is the highest in the Luquillo Mountain Range and very difficult to reach. The hike will take you roughly three hours one way along a 2.3-mile El Toro Trail.
The trail and peak are located in the El Toro Wilderness, a remote area of El Yunque where few dare tread.
It's actually in a whole different section of the forest- you won't find it along PR-191. It's on Road 186, and if you're driving it, proceed with caution as it has poor road conditions.
And for those who do venture into the wild, the trail to the peak provides ample opportunity to see Puerto Rico's wildlife.
There are only a handful of animal species that are endemic to Puerto Rico including varieties of frogs, bats, and the Puerto Rican Parrot.
Listen for the sound of the ubiquitous Coquis, a collective term for dozens of small frog species that have become an unofficial symbol of the island.
The elusive Puerto Rican Parrot is another creature that you should keep an eye out for. The tropical bird has been endangered for a while. To make matters worse, recent damage from Hurricanes Irma and Maria hampered ongoing conservation efforts. Finding a Puerto Rican Parrot is equivalent to finding gold!
Other hikes
There are a variety of other hikes in the main section of El Yunque. Again, check before going to see if the hike you want to do is open!
Here are a list of some of the hikes in El Yunque that I haven't already mentioned:
Angelito Trail
El Yunque Peak Trail
Baño De Oro Trail
Big Tree Trail
Sabana Trail
La Coca Trail
Where to Stay
San Juan
Since the drive from the capital city, San Juan, takes just under an hour, I recommend staying here and making a day trip (or two) to El Yunque.
The city is full of history and is the undisputed capital of culture as well. The nightlife in La Placita is booming, with music and dancing stretching well into the night. You can visit Old San Juan in the daytime where colorfully painted buildings full of cafes and boutique stores line narrow streets.
There are several lodging options in the city, including hotels, resorts, and apartment rentals.
We stayed at the Condado Vanderbilt and loved it! How gorgeous is the view from the pool?
Another great option is to book an apartment along the beach in Condado which is a five-minute drive from the main strip. That way, you get to experience the sea, sand, and city life when you aren't exploring the tropical rainforest.
Check out my post here on my favorite things to do in San Juan!
Staying in El Yunque
Staying inside the rainforest is an option as well, though you will be further removed from the city. But perhaps that's the idea!
There are a handful of eco-lodges inside the national forest with limited space available for guests. The Rainforest Inn is one such place, located in a remote area nestled among the forest's trees.
Twenty-minutes drive from the beach in Luquillo and five-minutes walking to several trailheads, the inn has access to a private trail that will take you to a personal waterfall that only guests get to see!
History and Culture
Here are some fast facts about El Yunque to give you some context of the tropical rainforest's importance to Puerto Rico.
The rainforest was not always known as El Yunque. Though commonly called El Yunque by Puerto Ricans, the rainforest was called the Caribbean National Forest until 2006. President George Bush issued an executive order which officially renamed it to El Yunque National Forest.
El Yunque has a lot of biodiversity packed into a small area. Though the rainforest only occupies 30,000 acres, it has a greater variety of tree species than all of the other national forests combined. That's 192 million acres!
The approximately 200 inches of annual rainfall that travel along the rivers in El Yunque do not go to waste. Other than providing the flora and fauna of the rainforest with fresh water, El Yunque also contributes twenty percent of Puerto Rico's drinking water.
Though tough to see with the naked eye, there are Pre-Columbian petroglyphs in the forest! These rock carvings can be found near rivers and streams some of which date back nearly 5,000 years!
With the arrival of the Spanish in the 16th century, the forest became the site of gold mining and the subjugation of the Native population near El Yunque.
Rebellions against the Spanish colonialists' forced labor lead very quickly to the end of the gold mining industry only 30 years after it began. This was eventually replaced with plantation work after coffee was introduced to the Luquillo Mountains, in addition to logging activities.
Concerned about the preservation of the forest and wildlife in the area, the Spanish King Alphonso XII proclaimed that the area around the Luquillo Mountains would become a nature reserve to protect the area.
El Yunque has been a protected national forest since that time, even after the handover of the island to the United States at the end of the Spanish American War.
In conclusion…
A visit to El Yunque National Forest is an absolute must when traveling to Puerto Rico!

Fortunately, it's relatively easy to see the only tropical rainforest in the United States! It is easily accessible from the Puerto Rican capital, San Juan, and nearby beaches and smaller towns.
The Luquillo Mountains and lush rainforest are calling. Will you answer?
Safe travels!
Jasmine
PS. If you found this post helpful, please share it to Pinterest! You can use one of the images below for easy pinning!