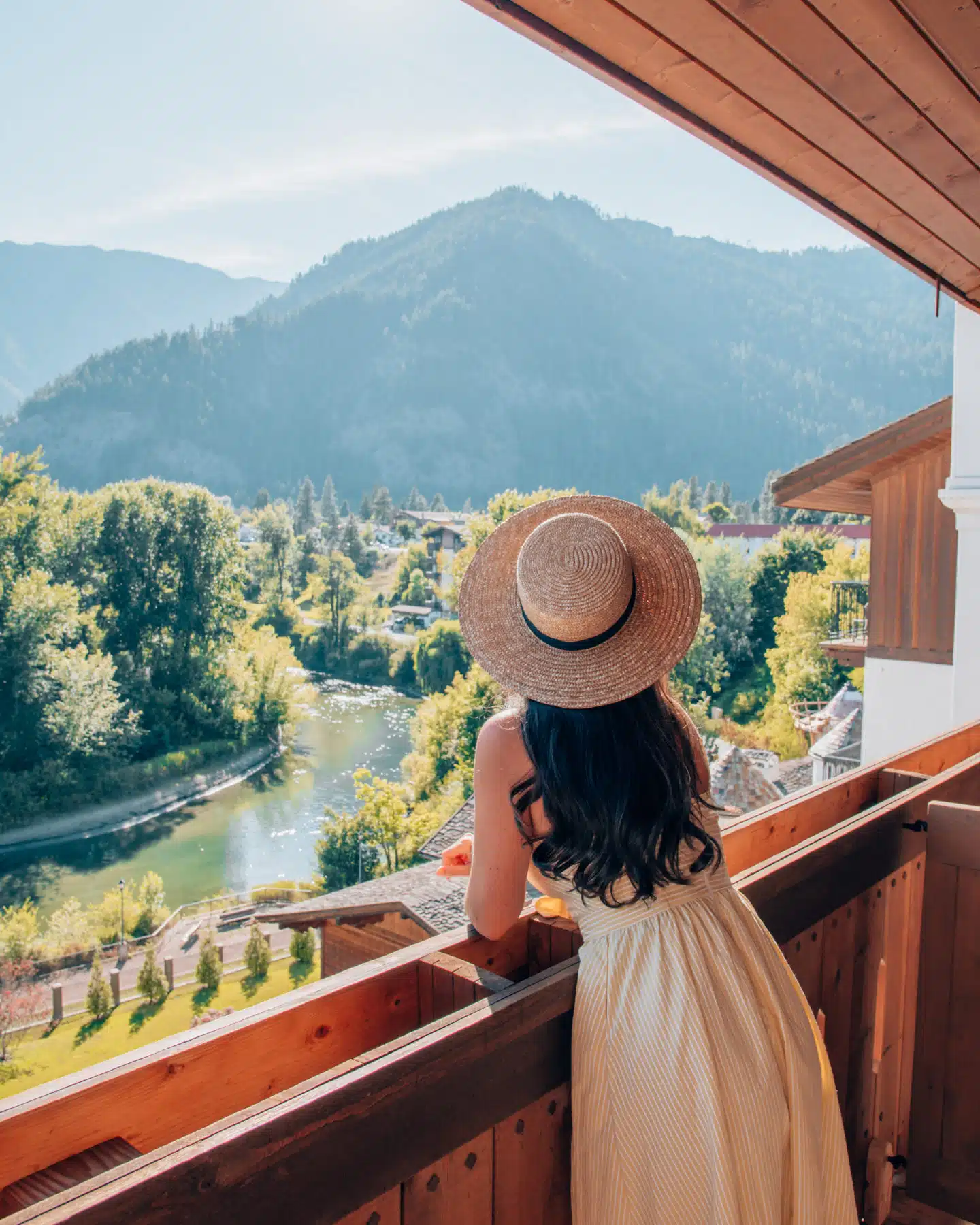 The most beautiful places in Washington are arguably some of the most beautiful places in the whole world!
Just wait until you see the 50 locations I've picked out after visiting multiple times and doing plenty of research.
If you've never been or have only explored some parts of Washington, this list is for you.
If you're considering planning a trip to Washington but aren't sure what to see, this list is for you too!
And for those of you planning a Washington state road trip… this list is most definitely for you!
I can assure you visiting this state is more than worth your time.
Washington offers so many wonderful spots for you to visit!
Washington State has a piece of my heart, and I hope to share that with you through this list.
So without further ado, here are the 50 most beautiful places in Washington state!
Map of the most beautiful places in Washington
I've color-coded this map the way I've categorized the places on this post.
Since Washington state is so large, I ended up just doing generic regions, named by the biggest point of interest in the region.
Seattle area
Chances are, if you're flying to Washington, you're headed to Seattle. Fortunately, Seattle and the area around it hold some of the most beautiful places in Washington!
1. Kerry Park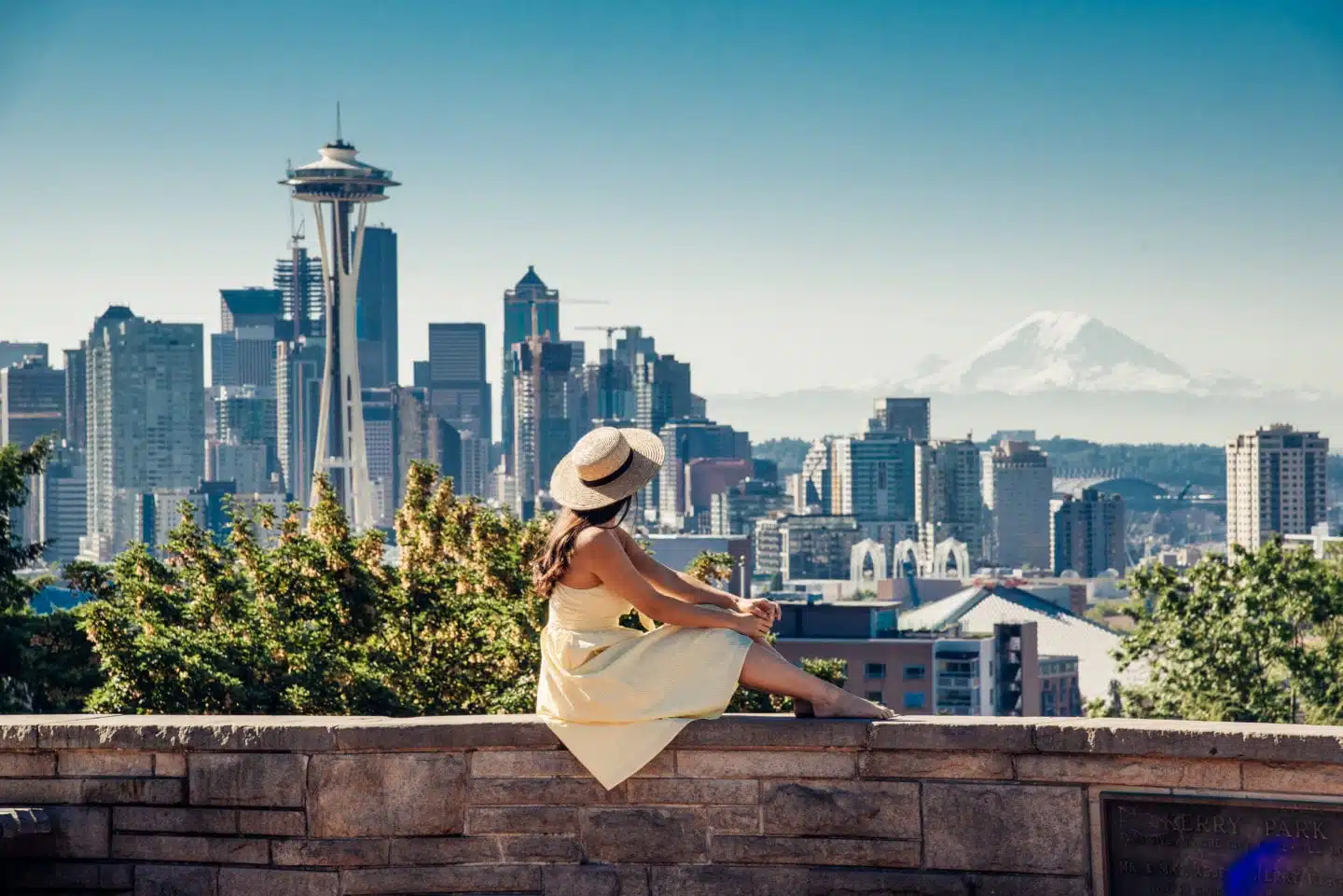 Seattle has one of America's most recognizable skylines and the best place from which to see it is Kerry Park.
This small public park is located at the top of Queen Anne Hill and makes for a mecca for landscape photographers.
Boasting views of the Space Needle, Elliott Bay, and even Mount Rainier on a clear day, it's the perfect place to watch the sunset and enjoy the views of the city.
2. Pike Place Farmers Market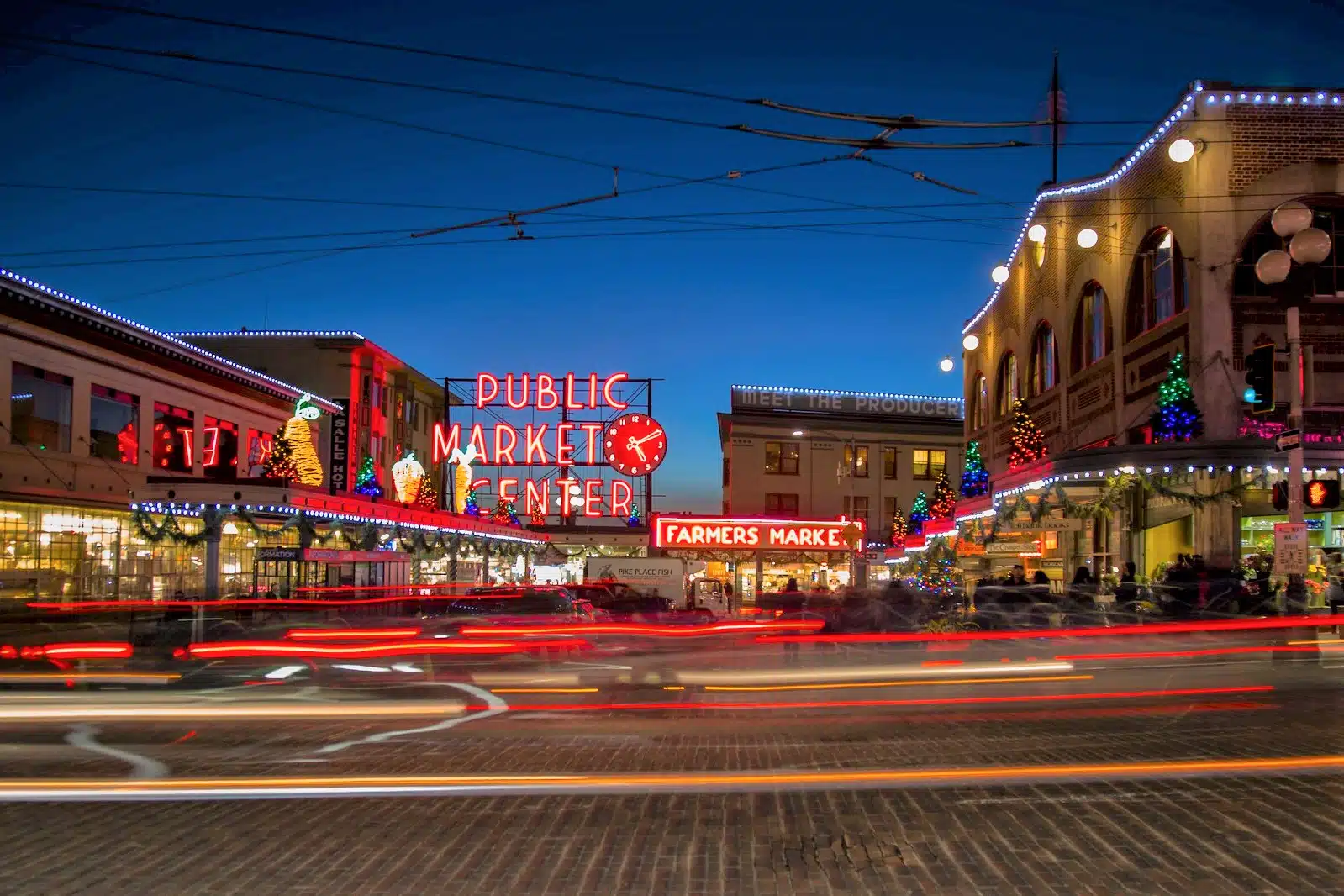 If you have ever ordered a "Grande Pike" coffee at Starbucks, you need to make a pilgrimage to its namesake, Seattle's Pike Place Farmers Market!
Open since 1907, Seattle's original farmers' market is located downtown. You won't be able to miss its massive "Public Market Center" entrance.
Nestled amongst historic buildings, the fresh food market promotes healthy, local eating and has a history of activism in support of marginalized members of the local community.
3. Granite Mountain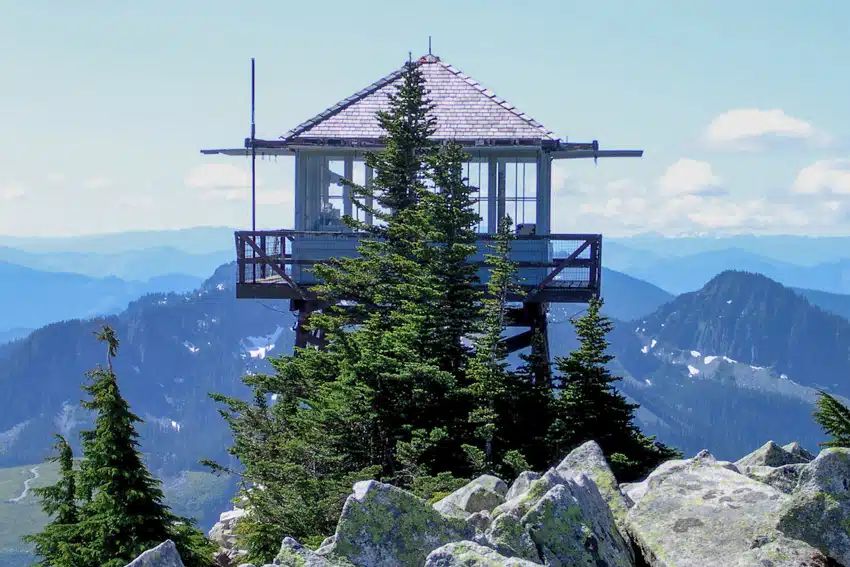 Do you want to stand on top and enjoy a perfect view over a beautiful, astonishing area?
Then Granite Mountain is the place to visit. The hike is approximately 8.5 miles long roundtrip and will have you sweating, but the views are worth it!
Admittedly the elevation of around 1'000 feet per mile is pretty darn steep. But, hey, it provides you with the perfect workout and an astounding view when you reach the Granite Mountain summit.
Not only will you be able to see the mesmerizingly blue Crystal Lake, but also the climber-dotted Tooth, Kaleetan Peak, and Mount Rainier to the south.
4. Point No Point
The northern tip of the Kitsap Peninsula is where the infamous Point No Point Treaty was signed.
The treaty gave the United States possession of Kitsap and Olympic peninsulas from Native tribes.
It is home to the historic landmark Point No Point Lighthouse, which has stood here since the late 19th century.
5. Poulsbo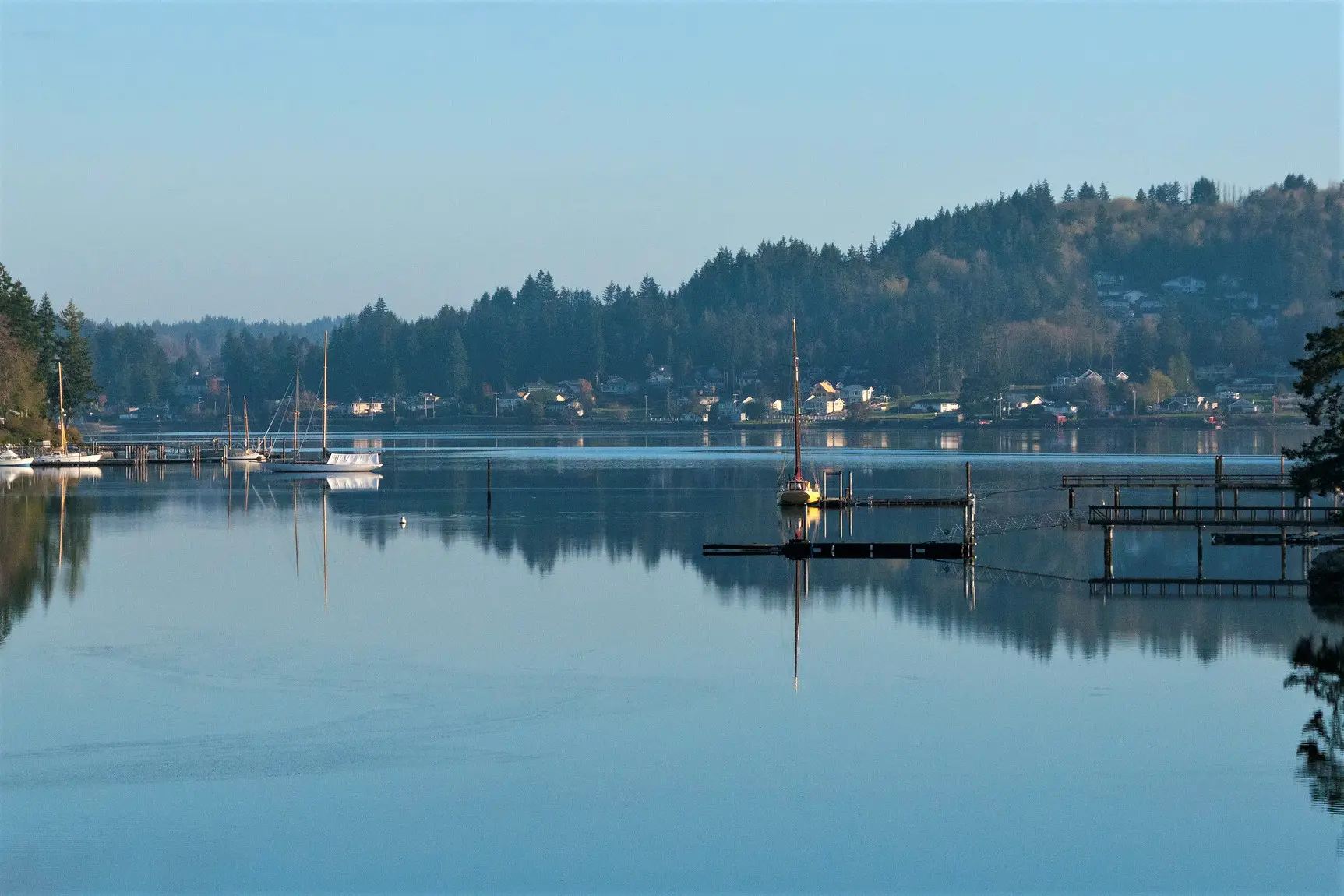 If Leavenworth is Little Bavaria (I'll talk about this charming town later on this list!), then Poulsbo has to be Little Norway!
Situated on the Kitsap Peninsula, Poulsbo is a charming town with great local markets, museums, and an alpaca farm.
The main street's decor serves up Scandanavian vibes and hosts an annual Viking festival known as Valisblot.
6. Rattlesnake Lake
There are several unique things to see at Rattlesnake Lake.
Before it was a lake, it was a thriving community where a forest was once cleared. You can see evidence of this when the water is low, and tree stumps appear above the lake's surface.
A trail leading to Rattlesnake Ledge offers a great vantage point from which to see the lake and the entire tree-blanketed valley.
---
7. Hot air ballooning Mt Rainier
The most unique and exhilarating way to see Mount Rainier has to be from the sky! And more specifically- while floating in a hot air balloon.
Feel the warm sun and fresh air on your face at 4,000 feet. Look out over the rivers and treetops and find the glorious Mount Rainier in the distance!
There's no better way to spend an hour in the Cascades. Well, above the Cascades anyway.
So why is this view of Mount Rainier in the "Seattle" section of this post? Well, you don't actually go to Rainier to see it by balloon. We did our hot air ballooning with Seattle Ballooning, which departs about 40 minutes south of Seattle.
8. Snoqualmie Falls
One of Washington's tallest falls, Snoqualmie is a 268-foot drop that's easy to get to. This waterfall is best known for its cameo in the TV show Twin Peaks.
A popular tourist destination, the hike to Snoqualmie is not strenuous and can be reached from Seattle within 30 minutes.
The gift shop at the falls sells a Snoqualmie Falls oddity: a pancake and waffle mix that's actually very popular with many of the 1.5 million annual visitors to the falls.
9. Washington State Capitol Building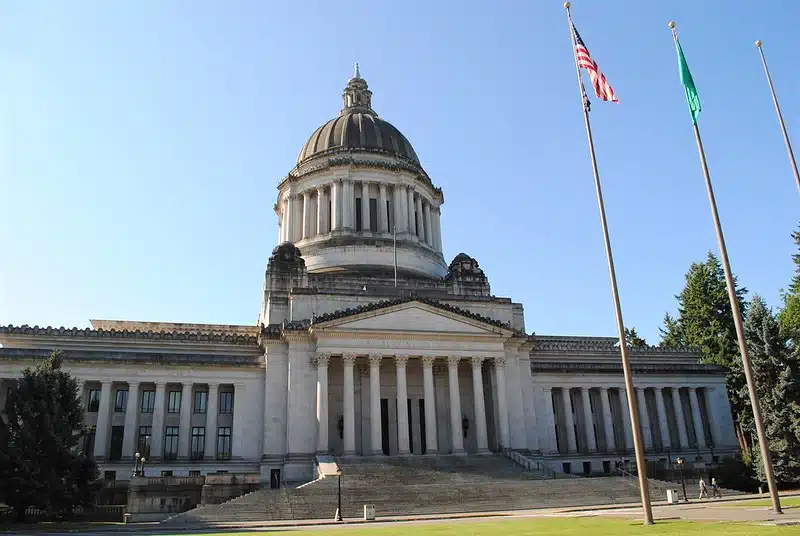 Wait… she put a building on her ilst of the most beautiful places in Washington?
Okay, I know you're expecting nature galore on any post about Washington state, but this totally deserves a spot on my list.
The Washington State Capitol Building in Olympia is a sight to see!
Its dome is the fourth tallest masonry dome in the entire world and has withstood three major earthquakes.
Just outside of the building is a replica of Copenhagen's famous Tivoli Fountain.
It has been a popular attraction for visitors to the state capital since the mid-1950s.
Mount Rainier area
Mount Rainier is home to some of the most beautiful places in Washington, without a doubt. Striking mountains, wildflowers, and waterfalls await you!
10. Paradise
Welcome to Paradise, the aptly named area at the foot of Mount Rainier.
The area is an excellent hub for visiting the rest of Mount Rainier and finding lodging, dining, shopping, and trailheads.
During the peak flower season in mid-July, the valley is covered with a rainbow of wildflowers!
11. Alta Vista Trail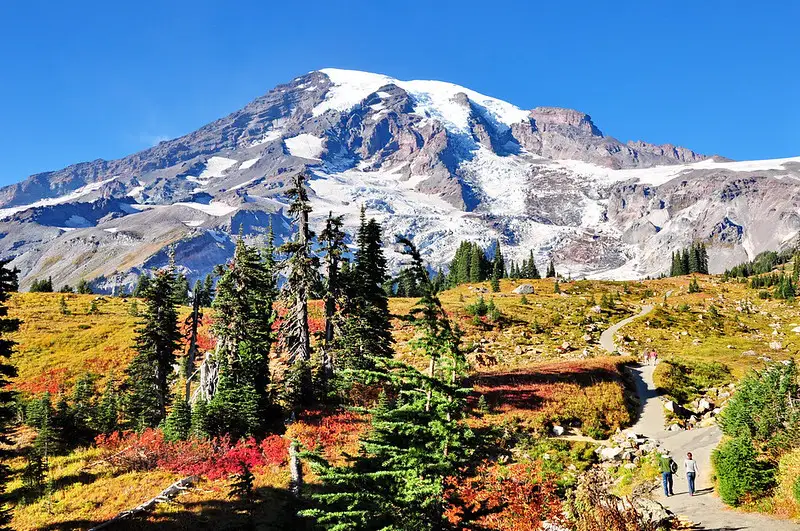 If you enjoy hiking, both alone or with family and kids, then the Alta Vista Trail is for you.
The Alta Vista Trail lies in the Paradise area and is 18 miles long.
It is snow-free from Mid-July until October and during summer the landscape is full of colorful wildflowers.
And in autumn it offers the perfect background for lovers of bright oranges.
The trail can be walked in running shoes and accommodates everybody no matter what age and knowledge of hiking.
Here you'll find panoramic views and you'll for sure be charmed by the marmots wandering around.
12. Myrtle Falls
Mount Rainier looks excellent from just about any angle, but Myrtle Falls might just win you National Park photo bingo: towering pines, a mountain, and a waterfall all in one shot!
It's definitely one of the most beautiful places in Washington!
Myrtle Falls is located in Paradise, the charmingly named town at the foot of Mt. Rainier. The hike to the overlook is a short 0.3 miles and worth the trip for the beautiful view.
13. Nisqually Vista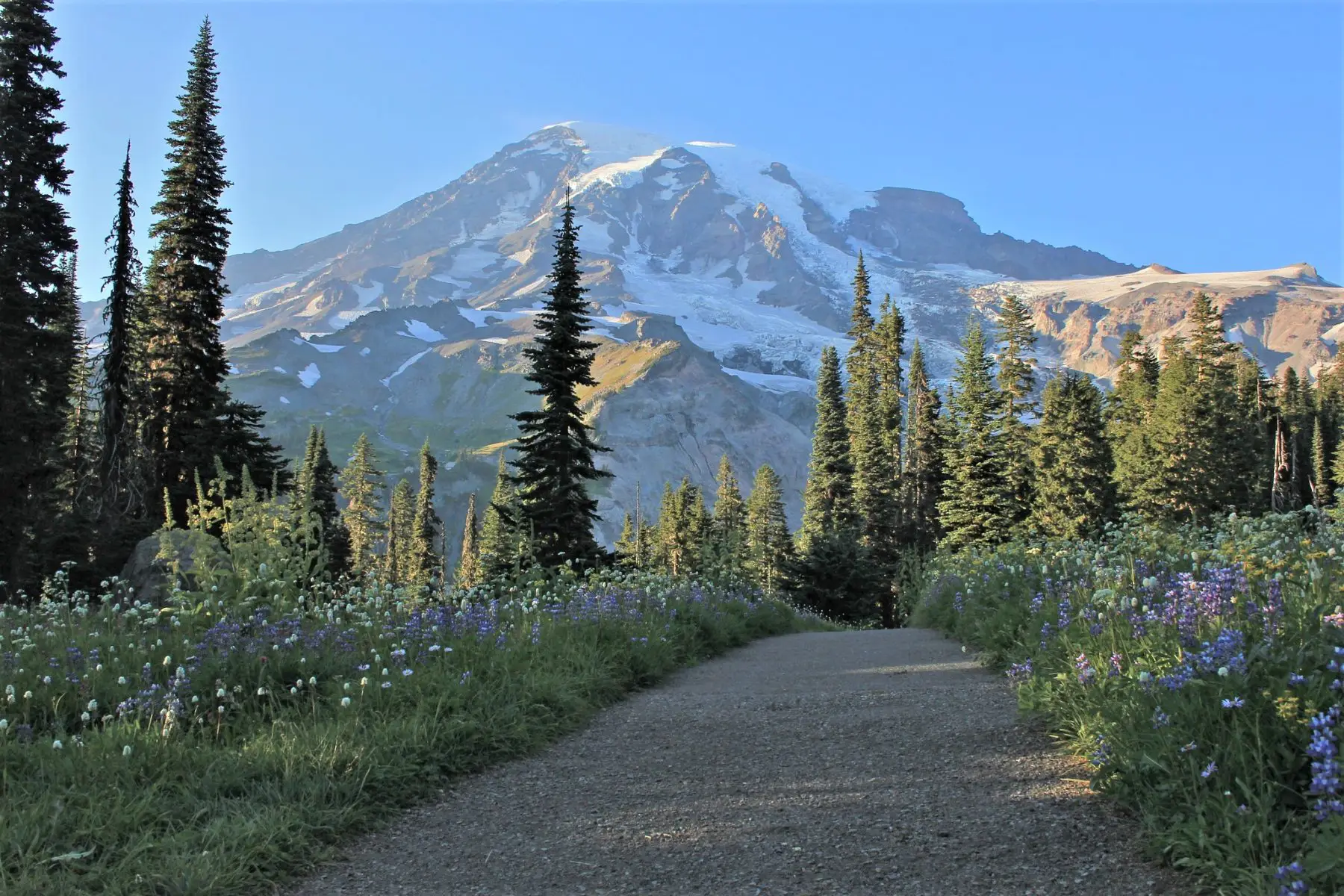 Easy trails with incredible views are perfect for those who aren't always keen on breaking a sweat. Nisqually Vista Trail is one such path.
The 1-mile loop to the west of Paradise is dotted with beautiful wildflowers. Perhaps more importantly, it has some of the most incredible overlooks with panoramic views of the valley and Nisqually Glacier!
14. Silver Falls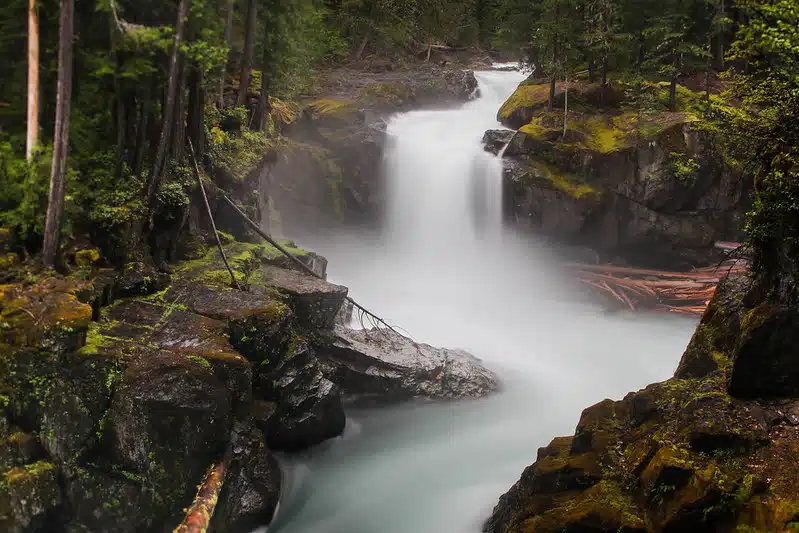 Follow the 3-mile Silver Falls Trail to the plunging Ohanapecosh River at Silver Falls.
Though the hike can be beautiful, but strenuous, the views are worth it. Silver Falls has a powerful 97-foot drop into the canyon below. For you campers out there, there is also a nearby campground at which to spend the night.
15. Spray Falls
As the name suggests, you are bound to get a little wet at Spray Falls in Mount Rainier National Park. The waterfall breaks upon the rocks below and sprays out into the area!
You can reach the falls by following a 6-mile hike which will easily take up half a day. The view of the sunset at the falls is well worth the visit.
16. Sunrise Visitor Center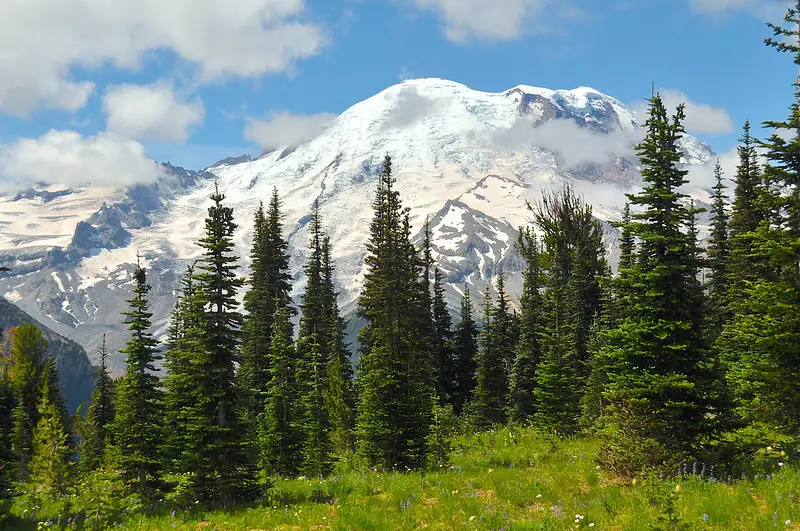 A cousin of Paradise, Sunrise is Mount Rainier's highest visitor center situated at an elevation of 6,400 feet.
The area housed an extensive cabin operation in the 1930s which was later converted to World War II housing and eventually torn down.
This means there isn't any lodging in the area.
However, it's a great hub for hiking the many friendly trails near Mount Rainier, away from the trail traffic in Paradise.
17. Tipsoo Lake
Take the Tipsoo Lake Loop Trail for less than a mile and you'll see a view of Mount Rainier like no other.
Get your camera ready!
Reflected in the waters of Tipsoo Lake is a mirror image of Mount Rainier, a unique photo opportunity that will definitely stand out in cluttered Instagram feeds.
Okanogan-Wenatchee area
You might have never heard of this area in Washington, but it is one of my favorite areas I've visited in the state! Check out the most beautiful places in Washington that are found in this region!
18. Colchuck Lake
The 8-mile long roundtrip leading to Colchuck Lake is strenuous!
But as soon as you emerge from the trees and see this stunning lake, it will take your breath away!
The glacial water at Colchuck is a gorgeous deep blue that shimmers in the sunlight.
It's one of the prettiest places in Washington if you ask me!
And yes, I did jump into this lake, and yes it was some of the coldest water I've ever felt!
In the distance you can see the start of The Enchantments, which is the next item on my list!
19. Enchantment Basin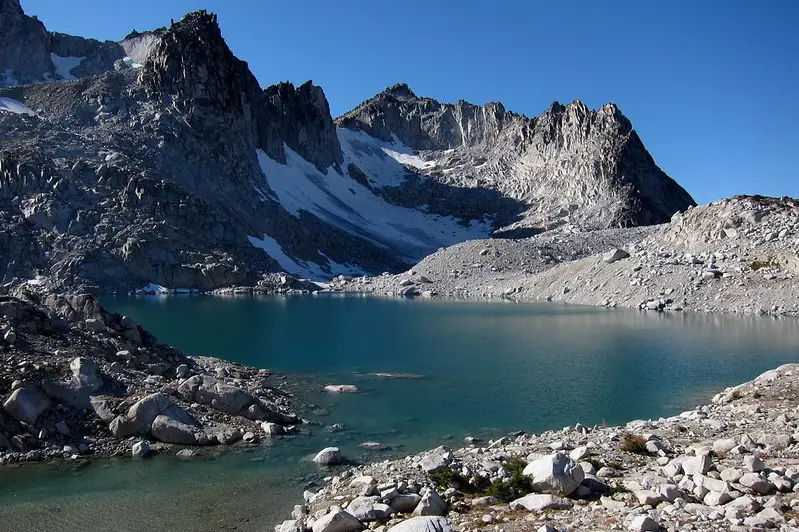 To be precise there are two Enchantment Basins, an upper and a lower, together simply referred to as The Enchantments. The area is one of the most spectacular locations within the Alpine Lakes Wilderness and in the Cascade Range.
Here you will find crystal blue lakes paired with a creek that runs between them.
But getting to the Enchantments is not easy!
The easiest of the three ways to get there is a 7-mile long hike with an elevation gain of 4,400 feet.
Nevertheless, if you are an experienced hiker, visiting the stunning Enchantments is more than worth it.
20. Jade Lake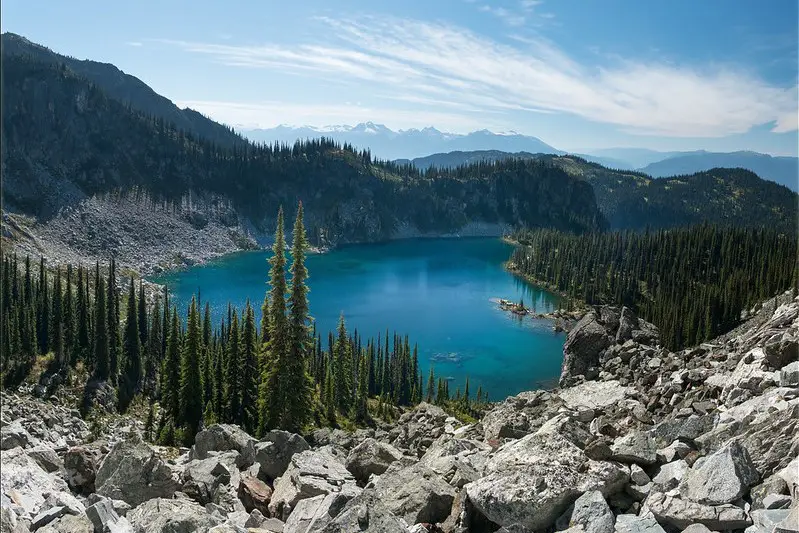 At the end of a 19-mile, out-and-back trail in the Cascade Mountain Range is Jade Lake.
The photo above depicts one of the lakes you'll pass as you walk along the Jade Lake trail.
The turquoise pastel water of Jade lake is stunning!
The lake gets its color from rock flour runoff caused by glacier activity, and it is a must-see.
21. Lake Chelan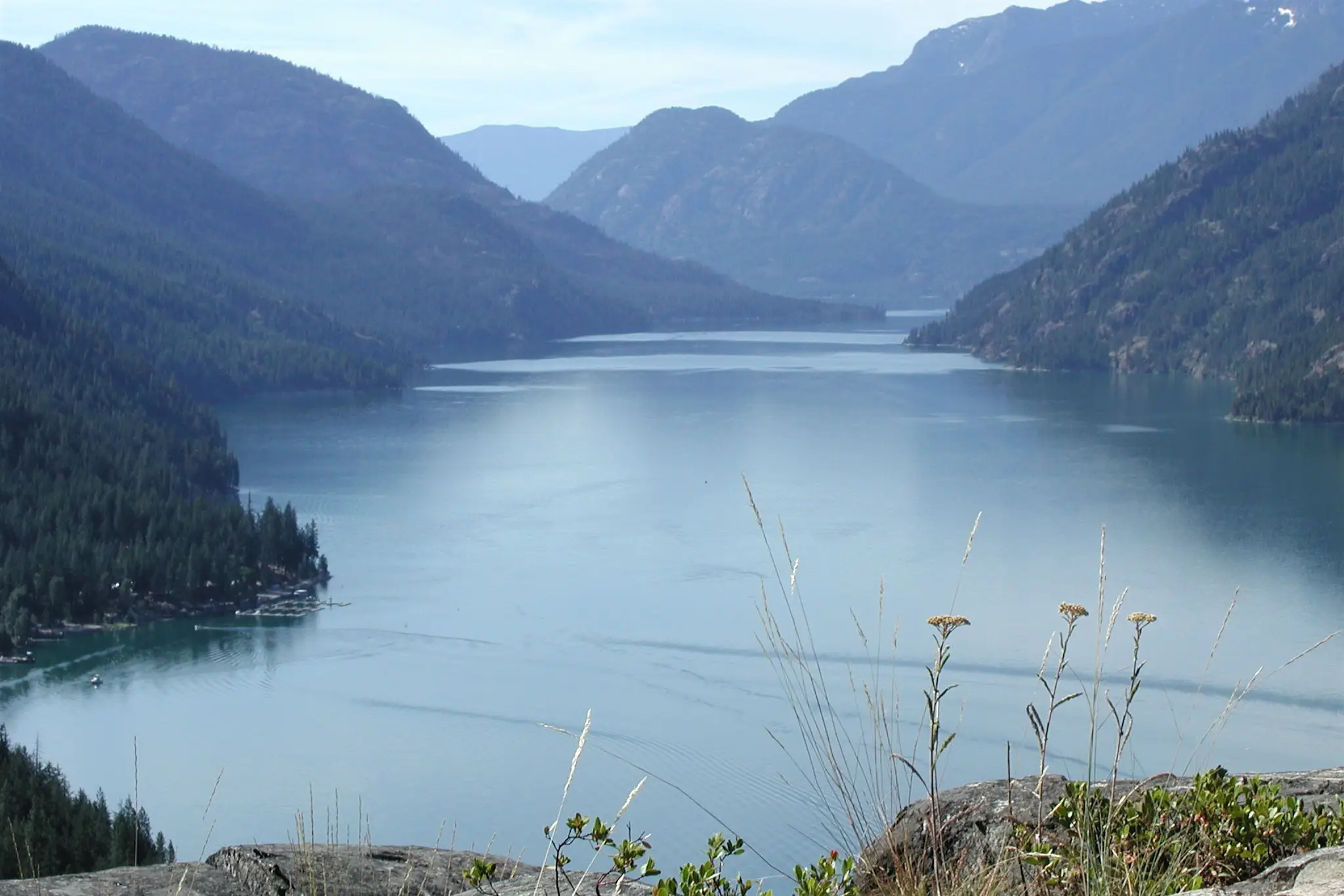 Come for the views, stay for the wine!
Nature excursions abound in the Lake Chelan Valley, with plenty of water sports and hiking to satisfy your adventuring itch.
Make sure to stop at one of Lake Chelan's 30 wineries. There are over 250 acres of wine grapes growing in the fertile soil.
22. Leavenworth
When you think of Bavarian villages, Washington likely never comes to mind. Yet the Cascade Mountain Range is home to one such charming place: Leavenworth.
And let me tell you- Leavenworth is definitely one of the most beautiful places in Washington!
A visit to this gorgeous town results in delicious brews and bratwurst, with a bit of whitewater rafting in between!
Leavenworth Village holds several annual German festivals, from the Bavarian Icefest to Oktoberfest to Christkindlmarkt.
Learn more about the best things to do in Leavenworth here!
23. Perfection Lake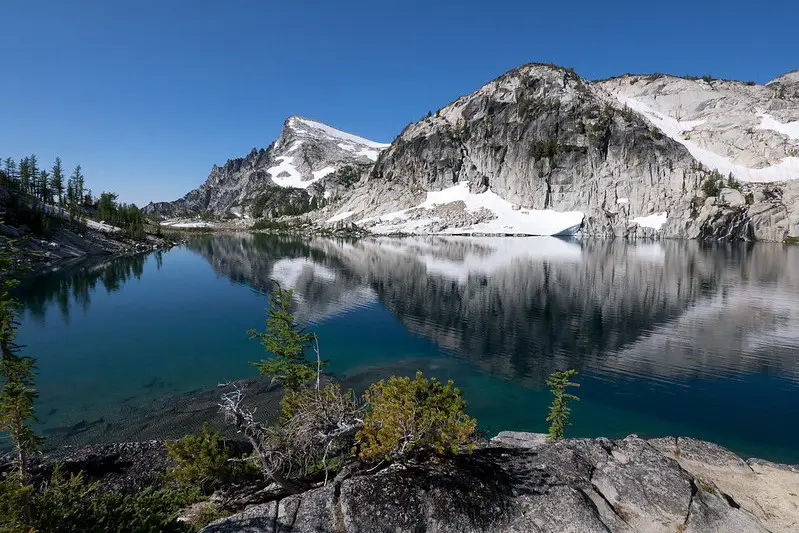 Perfection Lake and its surroundings are best seen in the fall when the trees change color to an auburn tone!
It is one of several lakes in the Enchantments and is known for its crystal clear water and scenic views of the landscape from nearby ridges.
A breathtaking marvel worthy of its name.
Northwest area
The northwestern area of Washington State is home to some of the most beautiful places in Washington- and they're all quite different! Keep on reading!
24. Deception Pass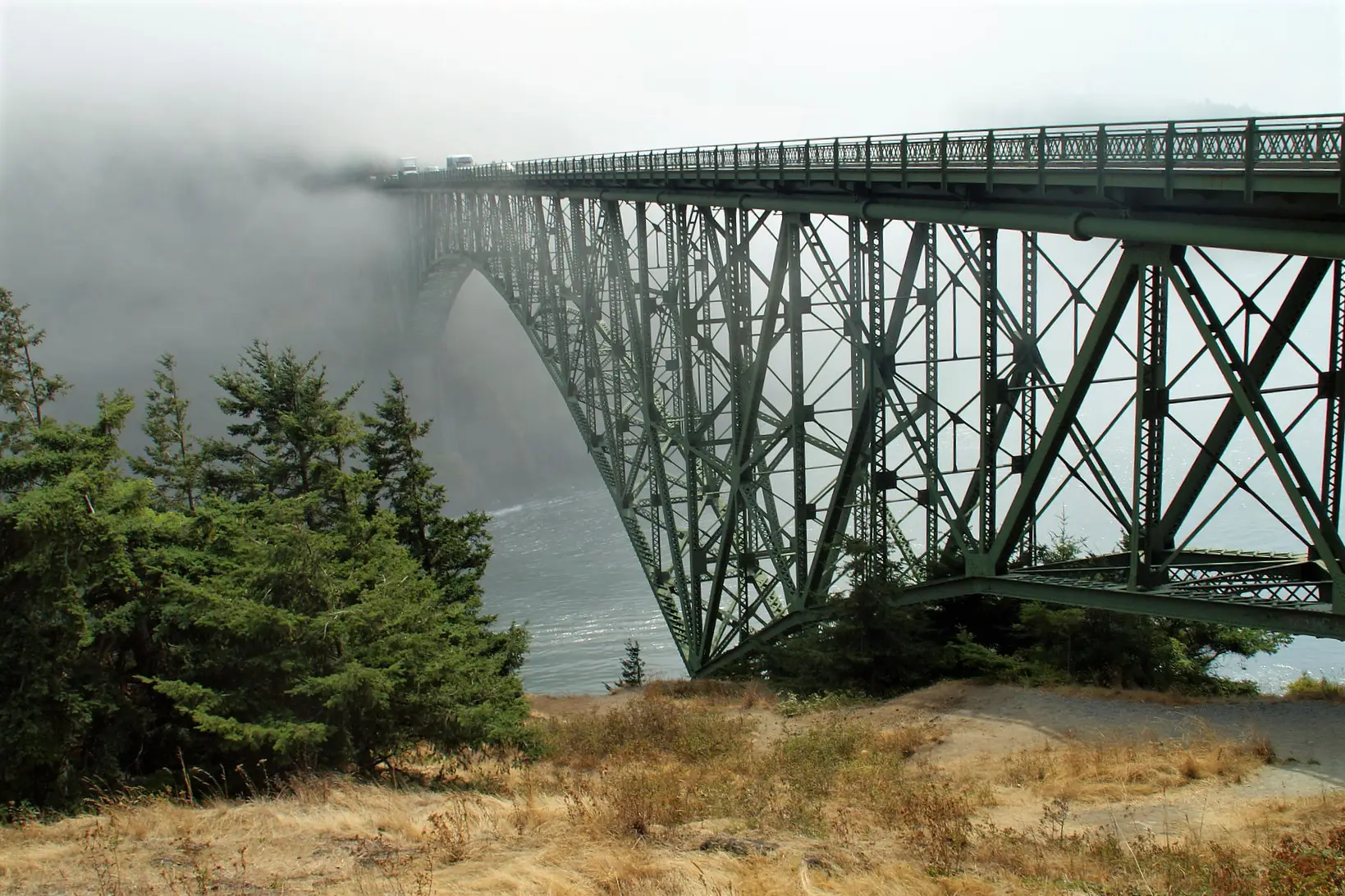 Deception Pass has several interesting features including beautiful sunsets, coves, rugged cliffs, and most notably, a high bridge that will make your jaw drop.
No wonder this state park is beloved and well-visited by locals as well as international guests!
Besides hiking, you can also enjoy a day at the beach fishing and swimming.
You might even get the chance to see seals and whales or get to watch birds as a birdwatcher.
Whatever you chose to do with your time, this is a fun sight-seeing location.
25. Friday Harbor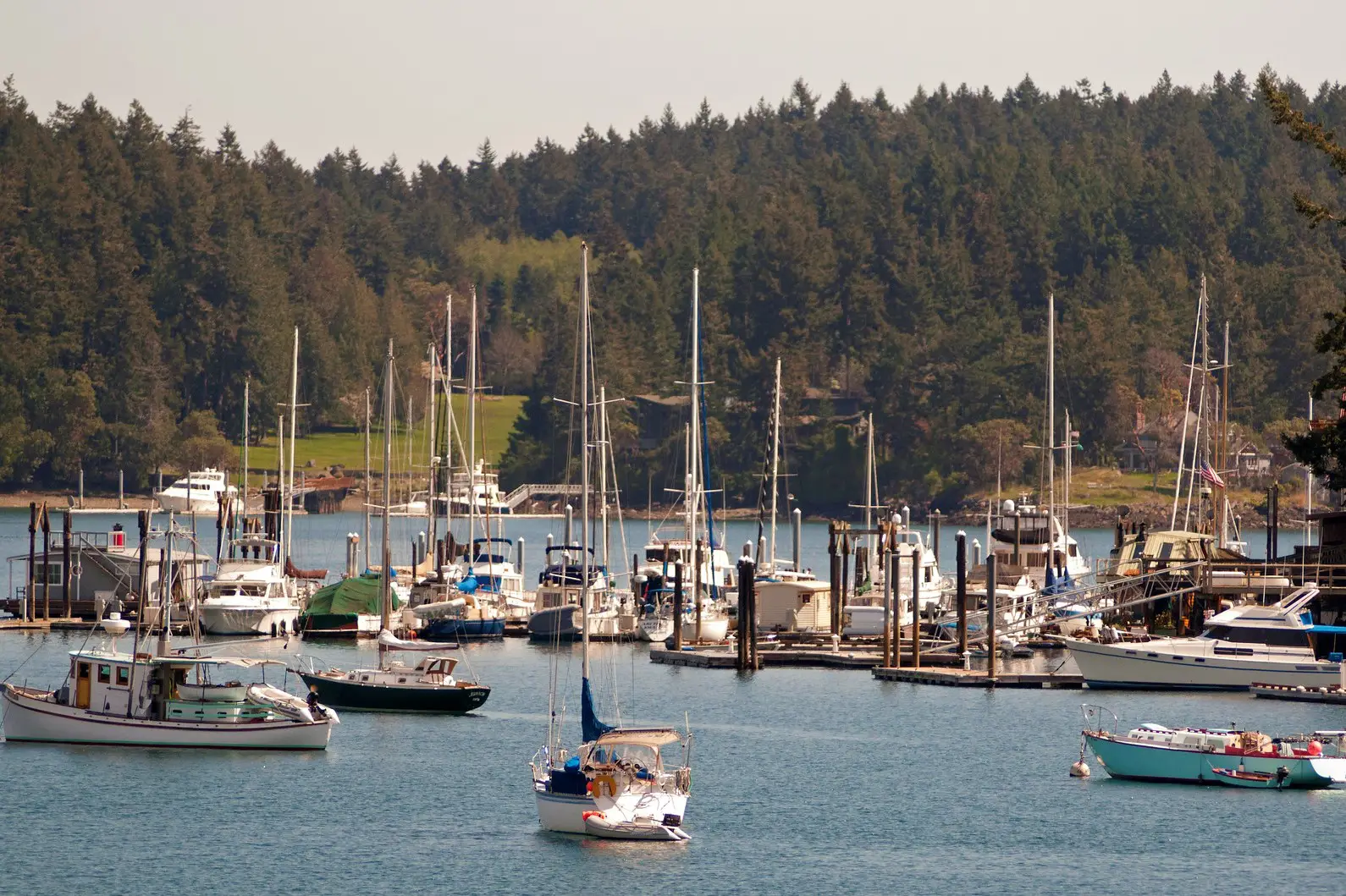 Up for a quaint town visit? Friday Harbor is for you!
This town is located on San Juan Island and is the major commercial center of the archipelago known as the San Juan Islands.
If you are looking for a charming and enchanting seaport that you can explore, look no further!
You can enjoy beautiful waterfront views and wonderful historic buildings. Friday Harbor also offers kayaking, whale watching, and many other outdoor activities.
26. La Conner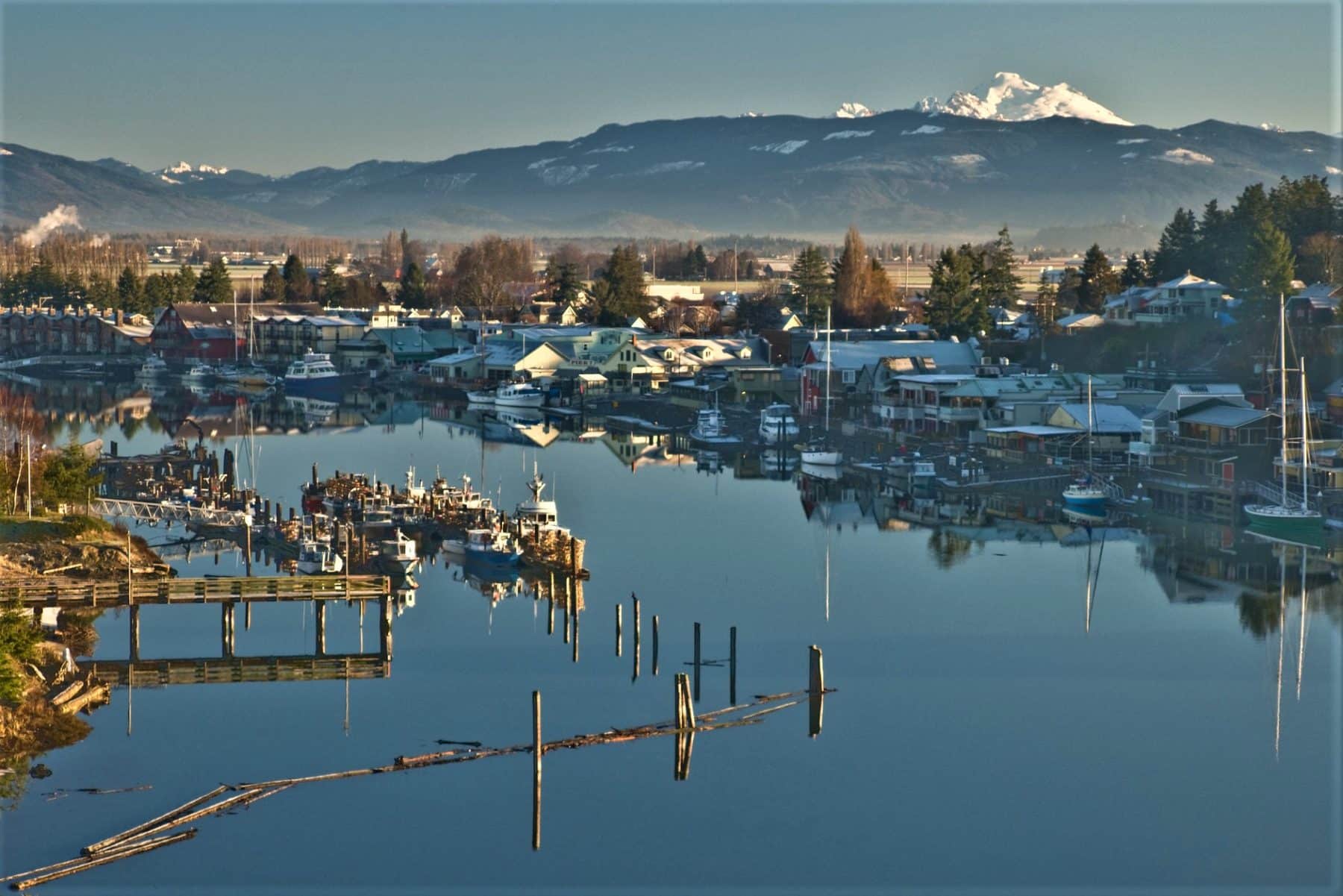 The town of La Conner only has a permanent population of just 800 people, but it is by no means sleepy!
Only 60 miles from Seattle, La Conner is home to many museums like the Pacific Northwest Quilt & Fiber Arts Museum (how unique!) and the Museum of Northwest Art.
Every year, La Conner hosts the majority of the Skagit Valley Tulip Festival, when a colorful sea of endless tulip and daffodil bulbs flood the town.
27. San Juan Islands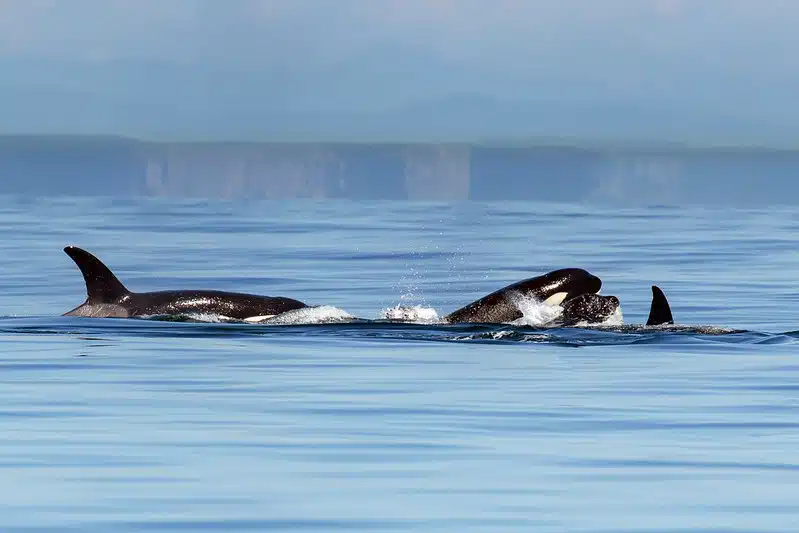 This series of islands in Northwest Washington is only accessible by ferry from neighboring Anacortes. You can take the ferry to any of the four terminals in the islands (Lopez, Orcas, San Juan, and Shaw), but the main attraction is San Juan Island itself.
Here, you will find delicious dining options, wine tastings, and whale watching tours!
Stop by the Whale Museum in Friday Harbor before venturing out to catch some breaching whales in the Pacific Ocean.
28. Skagit Valley Bulb Fields
Millions of tulips line the fields of Skagit Valley and draw thousands of visitors every April for the Tulip Festival.
It's a breathtaking sight to see so many of the colorful tulips bloom before your eyes- definitely one of the prettiest places in Washington!
The fields rotate annually depending on the rotation of crops any given year, but you will find tulips blooming in the valley just about anywhere you go.
29. Whatcom Falls Park
Whatcom Falls is a not-so-hidden treasure in Bellingham. Several trails will take you to this small, yet picturesque waterfall.
The falls plunge into a shallow pool of water that runs underneath a moss-covered stone bridge nearby.
North Cascades Area
The North Cascades area boasts stunning lakes, mountains, and valleys. These are definitely some of the most beautiful places in Washington!
30. Diablo Lake
Diablo Lake is a reservoir in the North Cascade mountains with beautiful turquoise water and loved by canoeists and kayakers .
You can reach the Diablo Lake via a hike of around 7.5 miles.
It is best to visit this lake in the early season, since a big part of the North Cascades National Park which contains Diablo Lake, is inaccessible during the spring and winter.
Check out Diablo Lake and the surrounding area for cascading waterfalls and awesome views!
31. Methow Valley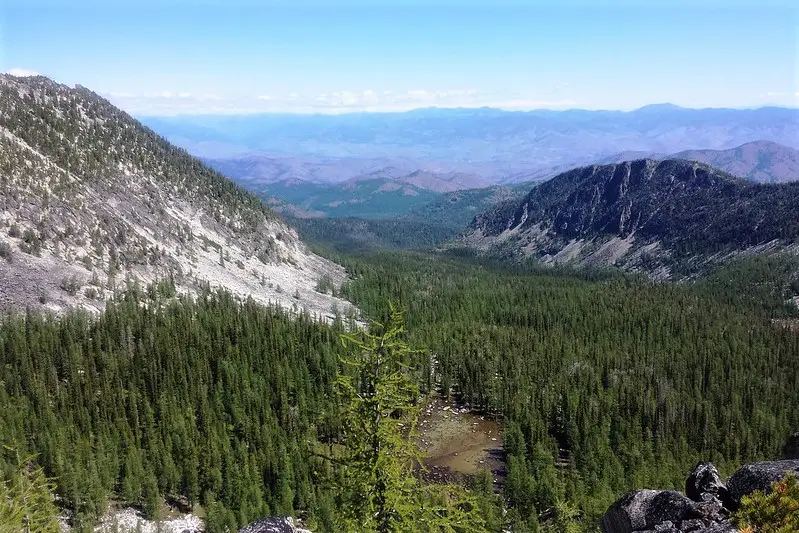 Fishermen come from all over the world to catch massive fish in the Methow Valley where Methow and Columbia rivers meet.
Cross-country skiers will also find the most extensive trail system in the US in the area with over 120 miles of groomed trails!
32. Mount Baker
The youngest volcano in its volcanic field might be one of the prettiest.
Mount Baker, as you may have expected, has some of the best skiing in the area. The Mt.Baker Ski Area is practically in Canada and holds the record for the most significant seasonal snowfall ever recorded!
33. Mount Shuksan
Easy to access and fall in love with, Mount Shuksan is one of the world's most photographed mountains.
The view from the top and surrounding areas looking up at Shuksan is incredible, and its many faces are popular with climbers from around the world!
34. North Cascades National Park
One of Washington's three national parks, North Cascades provides opportunities for hiking, climbing, skiing, and much more in these gorgeous glacial mountains!
The park's massive size means tons of diversity of animals and plant life, with over 1,600 species of plants already identified and some elusive animals like the wolverine and gray wolf lurking in the mountains.
35. Ross Lake
This recreational area on a large reservoir is a great spot for some scenic canoeing, kayaking, and hiking.
The most popular attraction to Ross Lake is also its most unique: the Ross Lake Resort which floats on the surface of the water!
The resort is a series of floating cabins connected by a narrow boardwalk. You can lay out on a lounger at the edge of the turquoise lake and take in the panoramic views of the mountains and forests.
Olympic National Park area
Washington's northwestern coast is truly a unique part of America. With a rainforest, miles of coastline, lakes, and more, you definitely need to visit this area!
36. Cape Flattery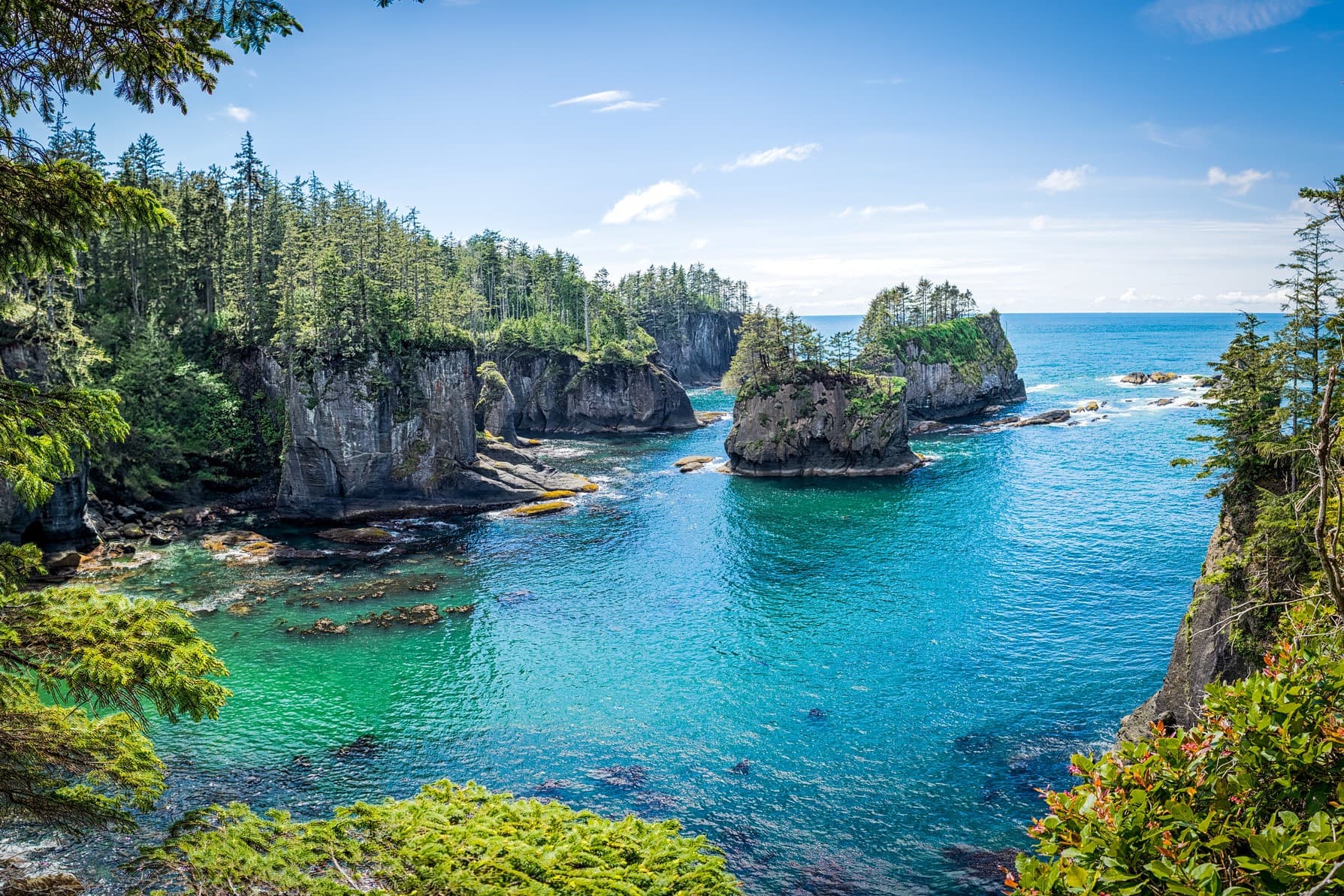 Cape Flattery was named by James Cook in 1778 and is the oldest named feature in the beautiful state of Washington.
The 1.5 mile roundtrip hike along this part of the Pacific Peninsula known as Cape Flattery is highly accessible, mostly board-walked, and still provides you with a scenic and truly dramatic backdrop.
37. Enchanted Valley & Enchanted Valley Chalet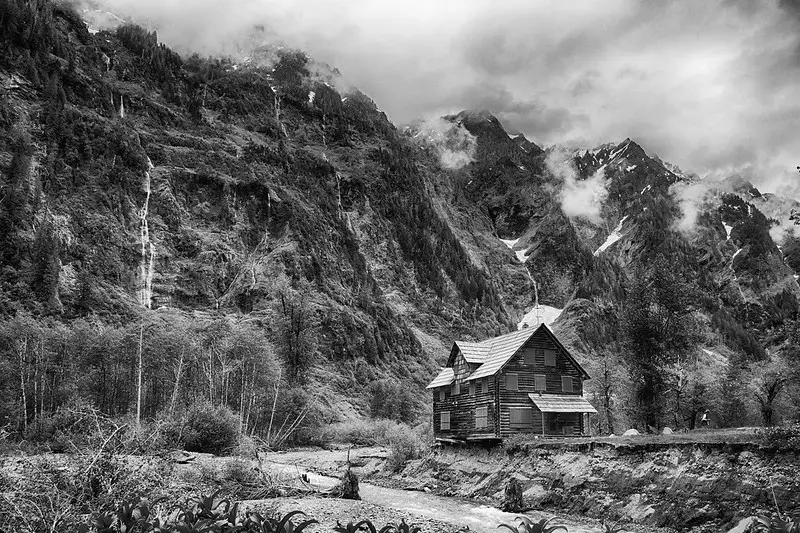 Enchanted Valley is in Olympic National Park within the Quinault Rain Forest.
Most people access the valley via the East Fork Quinault River Trail, a 30.6-mile roundtrip hike gaining 4,642 in elevation.
Camping is available for this long, gorgeous hike, so don't let it's length deter you!
38. Hoh Rain Forest
You might not know, but within the State of Washington is a rainforest!
The Olympic Peninsula harbors the Hoh Rain Forest, one of the most exotic and beautiful places in Washington.
This area receives about 14 feet of rainfall every year!
Along with the rain comes fog and mist which make the Hoh Rain Forest particularly photogenic!
Whether you're looking for epic hiking or the perfect backdrop for photos, Hoh Rain Forest is a sight to see!
---
---
39. La Push Beach
(Does anyone else immediately think of the first Twilight movie when they hear "La Push?")
La Push, the town on the coast of Washington State, is where you will find not one, but three mile-long beaches!
The nearest beach to town is First Beach, most commonly known as La Push Beach, but all three are technically part of the series.
A walk down the mostly empty sandy shore will reveal massive driftwood and rock formations just off the coast.
40. Lake Cushman
West of Seattle in Olympic National Park is where you will find the long Lake Cushman.
This gorgeous, scenic lake offers the opportunity for plenty of lake activities as well as hiking in the surrounding area.
41. Olympic National Park
From beaches and rainforests to waterfalls and mountain ridges, Olympic National Park truly has it all.
Not to be seen in one day, the nearly million-acre park has some of the most scenic locations in the Pacific Northwest and, really, the entire United States!
Is it any wonder it's on my list of the most beautiful places in Washington state?
Take the Olympic Peninsula Loop Drive, a 450-mile loop through the park, to see much of the area.
42. Olympic Wilderness Coast
Where else can you see coastal forests, mountains, and beaches in the same place, if not the Olympic Wilderness Coast?
Black bears and sea otters call this place home, but so do many hikers who pass through this section of the Pacific Northwest Trail.
Whether you fancy a dip in the ocean, teeming with marine life, or camping out on the sand under the stars, this might just be the coastal hike for you.
43. Sequim Lavender Festival
The picturesque purple fields in the Sequim-Dungeness Valley are the location of the annual Sequim Lavender Festival!
Lavender plants thrive in the area's temperate climate.
If the photo looks familiar, you may be thinking of the Provence region of France, known for its rolling purple hills of Lavender.
Visit a lavender farm or bike along the Sequim Lavender Trail for the views (and smells) of these gorgeous purple fields.
44. Sol Duc Falls Trail
Hiking trails, lush forests, waterfalls, and hot springs are just a handful of the things to see in the Sol Duc Falls area.
The waterfall here is impressive, with perpetual rainbows hovering over the water!
The nearby resort has three mineral hot spring pools for a refreshing soak at the end of a long day of hiking.
Southwest area
Washington's southwest area is perhaps less frequented than other parts of Washington, but no less beautiful!
45. Cape Disappointment & Dead Man's Cove
Don't be deceived by its name!
Cape Disappointment is an incredibly beautiful state park to visit in the far southwest of the state of Washington.
Within the state park also is a historic lighthouse as well as the famous Dedman's Cove, which has the most spectacular sunset views.
Cape Disappointment is one of the most beautiful places in the state of Washington and you will find some of the most scenic hikes here.
46. Columbia River Gorge
The Columbia River Gorge is about 90 miles long and cuts through the Cascade Mountains which run from Canada, through Washington, and into Oregon.
The canyon is up to 4,000 feet deep in some places!
The view of the Columbia River flowing right through a mountain range makes this place so special and one of the seven wonders of Washington state.
You will also find several state parks in the Columbia River Gorge including Beacon Rock and Spring Creek Hatchery.
Also, keep in mind that the gorge crosses the border from Washington State to Oregon and can more easily accessed from the Oregon side.
47. Mount Saint Helens National Volcanic Monument
Mount St. Helens needs no introduction.
We all know this famous mountain and the despair it caused by its eruption in 1980.
If you are looking for a famous place to visit in Washington that provides astonishing views then Helens National Volcanic Monument is perfect for you.
The area is a U.S. National Monument and covers 110,000 acres.
It provides several hiking trails and viewpoints but also information stations, picnic areas, and camping grounds.
Southeast area
Last but not least, the southeastern area of Washington. This area might be the hardest to get to, as it's the furthest from Seattle, but it's worth a visit to see these last three prettiest places in Washington!
48. Palouse Falls State Park
The small state park is named for the Palouse Waterfall, which is its focal point. The falls were recently designated Washington's state waterfall, and it's easy to see why!
You can see the incredible Palouse River Canyon and watch the river drop 200 feet over the edge of a cliff into the pool below.
49. Steptoe Butte State Park
The Steptoe Butte juts out among the low Palouse hills in this nature preserve.
The summit offers those who reach it some phenomenal views of the green Steptoe hills formed by lava flows from millions of years ago.
This is truly one of the most unique and most beautiful places in Washington state. Just Google "Steptoe Butte" to see some unbelievable photos!
50. Walla Walla
Walla Walla is known for many things, but wine is at the top of the list.
Thanks to its fertile soil, the valley is the location of some 100 vineyards producing delicious wines!
Visit the town's many museums or bike its numerous hiking trails before enjoying some of their fine reds.
In conclusion…
I hope you can see just how stunning Washington state is!
Do you know of any spots you'd consider to be the most beautiful places in Washington that aren't on this list? Let me know in the comments!
And if you're heading to Washington state, here are some more blog posts you might find helpful:
Safe travels!
Jasmine
PS. If you found this post helpful or if it inspired your bucket list, please share it to Pinterest! You can use the pins below for easy pinning!