Welcome to Leavenworth, Washington, the most charming Bavarian town in the Pacific Northwest!
This gorgeous place is perfect for a weekend getaway from Seattle, less than two and a half hours away.
Set in the mountains, the drive to Leavenworth is incredibly scenic and follows the Wenatchee River as you approach the town from the north.
Once you arrive in Leavenworth, you'll forget you're in Washington! A total shift in architecture and ambiance greets you. (The only reminder that you're in America is that everyone is speaking English!)
There are so many things to do in Leavenworth, regardless of what season you're visiting in.
I've come up with 32 incredible things that you can- and should- do while you're in the area to get the full Leavenworth experience!
I've divided these into various categories. Feel free to select one to jump right to it in the article!
Map of things to do in Leavenworth
Nature
1. Waterfront Park
Waterfront Park is situated right along the Wenatchee River next to Blackbird Island.
It's a peaceful park that has trails for walking and biking, as well as open green spaces, benches, and small beach areas along the river.
The trails are flat, so they are highly accessible and easy to wander. If you follow the trails, they'll take you both along the river and through the trees along the Wenatchee.
2. Colchuck Lake
For the most scenic lake view in the area (and arguably one of the best in Washington State), head to Colchuck Lake.
The waters are vividly turquoise on a sunny day, with a gorgeous reflection of Dragontail and Colchuck Peaks.
But know that you'll have to earn that view!
Honestly, this eight-mile round trip hike is probably one of the most strenuous hikes I've been on.
What to expect:
It's long and pretty steadily uphill as you hike the four miles to the lake.
And then when you're heading back, be prepared for some achy knees on the sharp decline back down.
You'll start off at the Colchuck/Stuart trail head where you'll hike for rwo and a quarter miles before the trails split off. You'll then turn left to continue on to Colchuck Lake.
As you near the top, you'll see a huge boulder on your right that you can climb up for the view pictured above.
It took us two hours and fifteen minutes to reach the lake from the trail head.
Coming back, it took us about an hour and a half.
As you're hiking, you'll be following a river for quite some time, you'll see a few waterfalls, and if you're lucky, some wildlife along the way!
Tip: you'll need the $5 Northwest Forest Pass in order to park at the trail head. Find it here and note that the forest you need to enter is "Okanogan and Wenatchee Forests".
Things to bring:
Water, water, water! We brought two standard-size water bottles and it wasn't enough for the both of us.
Bug spray: there are flies and mosquitoes everywhere! The second you stop for a water break, they'll start pestering you.
Swim suit: the lake is FREEZING but the jump is worth it, especially after a long summer hike! A towel is optional if you don't mind air drying on a warm day.
A print out of your Northwest Forest Pass to leave on your dash.
3. Lake Stuart
For a slightly easier hike than Colchuck Lake, you'll want to hike to Lake Stuart.
You depart from the same trailhead as Colchuck Lake, but instead of turning left, you'll continue straight where the trail splits.
Again, you'll need the Northwest Forest Pass for parking, and be sure to bring enough water and bug spray.
One more thing to note about the Stuart and Colchuck Trailhead: when driving by car, note that there are a lot of potholes in the road! So be sure to be in a car that can handle that!
4. Lake Wenatchee State Park
This state park covers over 489 acres and offers access to Lake Wenatchee, the Wenatchee River, and the surrounding mountains.
With an amphitheater, boat launch, restrooms, showers, ranger station, and office, Lake Wenatchee State Park is set up for both day and overnight stays.
The park is split into two by the river; the south side is more accessible with areas for activities such as swimming and horseback riding. The north section is less developed with thick forests.
Lake Wenatchee is surrounded by gorgeous mountains with plenty of hiking trails.
One of the most notable trails for hiking is Dirtyface Peak; this 9-mile trail takes you up 3,950 feet in elevation gain, so get ready for some incredible views!
If you prefer to stay by the water, the lake is definitely big enough for all sorts of water activities, and you can rent boats and other equipment right by the lake.
In the winter you can go cross-country skiing, snowshoeing and sledding!
The park is open for day use from 6:30 a.m. until dusk year round.
5. Icicle Gorge
For an easy trail that takes you along the Icicle River, explore the Icicle Gorge Trail.
The trail loops for about four and a half miles. Along the way, you can expect to see a waterfall, dense forests, and the beautiful river.
Unlike the Colchuck Lake and Lake Stuart trails, dogs are welcome at the Icicle Gorge as long as they are kept on a leash.
Note that you'll need a Northwest Forest Pass for this trail.
6. Front Street Park
Front Street Park is right in the center of the many Leavenworth shops and restaurants, and is marked by its beautiful gazebo.
This park is most commonly used by the town for fun exhibits like "Art in the Park" where you can see gorgeous local artwork, or many of Leavenworth's many festivals.
Some notable events are found below:
See the City of Leavenworth's full event calendar here!
Christkindlmarkt
Christmas Lighting Festival
Falling Leaves Square Dance
Icefest
Leavenworth International Accordion Celebration
Leavenworth Spring Bird Festival
Kinderfest
Maifest
Starlight Lantern Parade
Village of Lights
Washington State Autumn Leaf Festival (source)
7. Blackbird Island
Take the bridge to Blackbird Island for some fun trails on this little island in the middle of the Wenatchee River!
The island contains a 2 mile loop that you can access all year round, as well as benches and views of the river.
This trail is completely flat, so it's good for all skill levels and for riding your bike from the town.
8. Enchantment Park
Throughout Enchantment Park you'll find trails, open green spaces, a baseball field, soccer field, picnic areas, and public restrooms.
Informative plaques are strategically placed along the trails, which teach you about local history, wildlife, and plant life.
This park also is set along the Wenatchee River, and is a lot bigger and more open than Waterfront Park and Blackbird Island.
9. Icicle Ridge Trail
This trail extends for 5.5 miles, and is great for hiking, horseback riding, and mountain biking.
You can climb up the 1800 elevation gain for views of Leavenworth, the Wenatchee River, the Icicle River, a few waterfalls and various mountains in the distance.
Since it does not loop, you can basically hike the trail for as long as you want. According to this guide, the best place to turn around comes at 2 miles, where you'll find a flat ridge top.
If you're looking for better views beyond that point, you'd have to continue hiking a long way.
Tip: Climb this trail for about a half mile for a beautiful view of the Leavenworth Valley.
Dining
10. Rhein Haus
When in a little German town, eat like the Germans do!
For one, grab a giant pretzel from Rhein Haus- it boasts the best pretzel in Leavenworth!
Pair it with gourmet brats and classic schnitzels, as well as a beer- Rhein Haus is Front Street's largest biergarten!
Enjoy your food out on their patio, because it has fantastic views of the town!
11. Enjoy local wines from Washington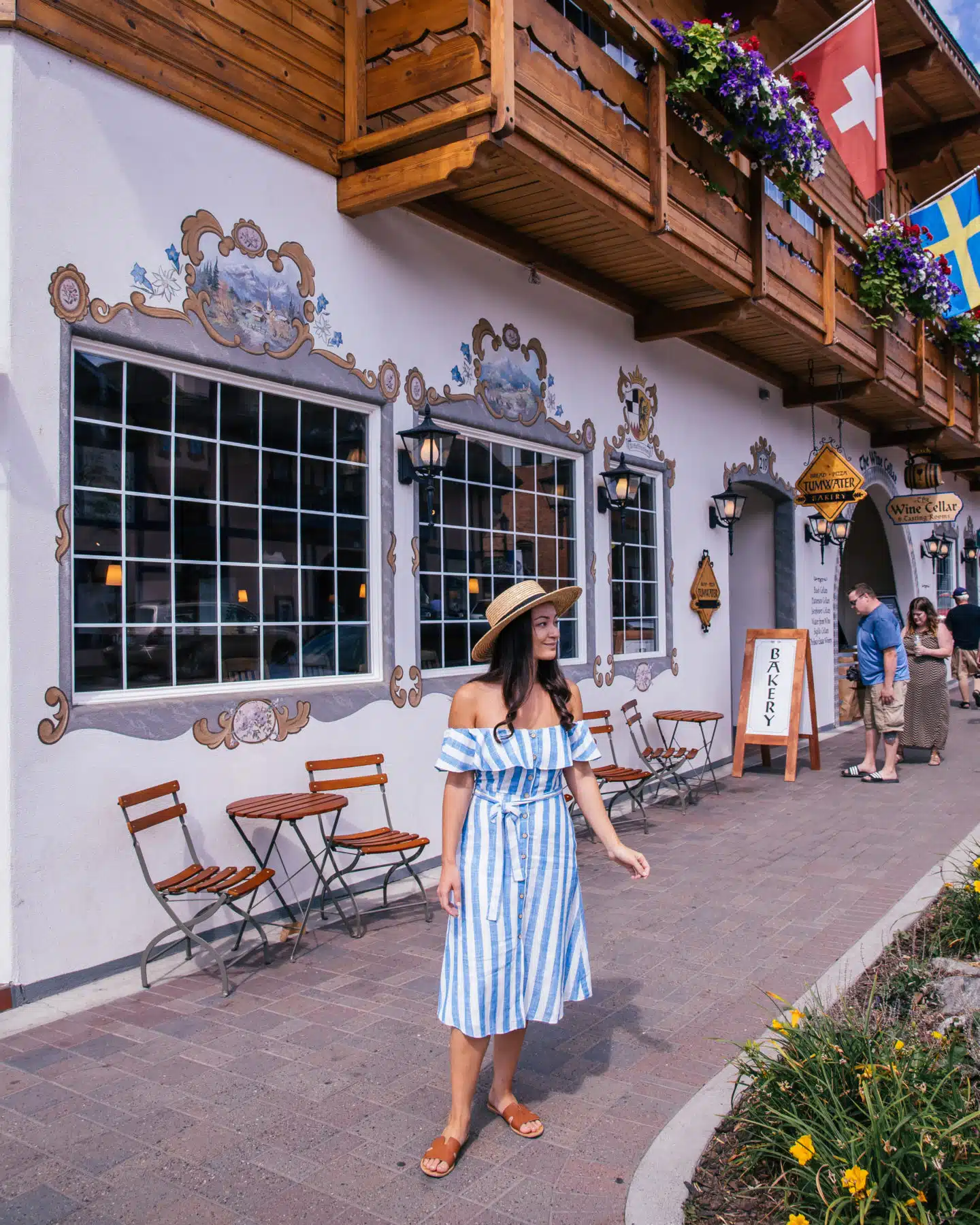 Be sure to hit up the many wineries in Leavenworth! There are over a dozen wineries and tasting rooms.
If you'd rather walk to a tasting room from your hotel, check out The Wine Cellar, which is comprised of 6 tasting rooms in one location!
You'll find wines from Basel Cellars, Patterson Cellars, Isenhower Cellars, Napeequa Vintners, Obelisco Estate Winery, & Sigillo Cellars.
They also hold fun weekly events like Wine Trivia Night!
The Leavenworth Wine Walk:
If you're visiting in either June and September, don't miss out on the Leavenworth Wine Walk!
Beyond getting to try a ton of wonderful local wines, you'll leave with a tasting glass and bottle tote! There are live music performances and cheese pairings from The Cheesemonger.
12. Enjoy the local fare at the Watershed Cafe
Watershed Cafe does farm-to-table the right way!
They offer only a few menu options each night, but each is absolutely mouth-watering and cooked to perfection.
They serve fresh ingredients from local farms and seafood from the Pacific Northwest.
We actually ate here twice because it was so good!
Note that they are only open for dinner, and are closed on Tuesdays and Wednesdays, and reservations are highly recommended.
13. Kingfisher Restaurant at The Sleeping Lady Resort
You can also enjoy great local fare at the Kingfisher Restaurant, which is a part of the Sleeping Lady Resort.
Their gourmet meals are made with the freshest local ingredients, a lot of which come from the resort's two-acre organic garden.
Go for the food, and for the view! From the restaurant you'll see sweeping views of Icicle Canyon.
Reservations are recommended for those who are not guests of the resort.
14. Icicle Brewing Co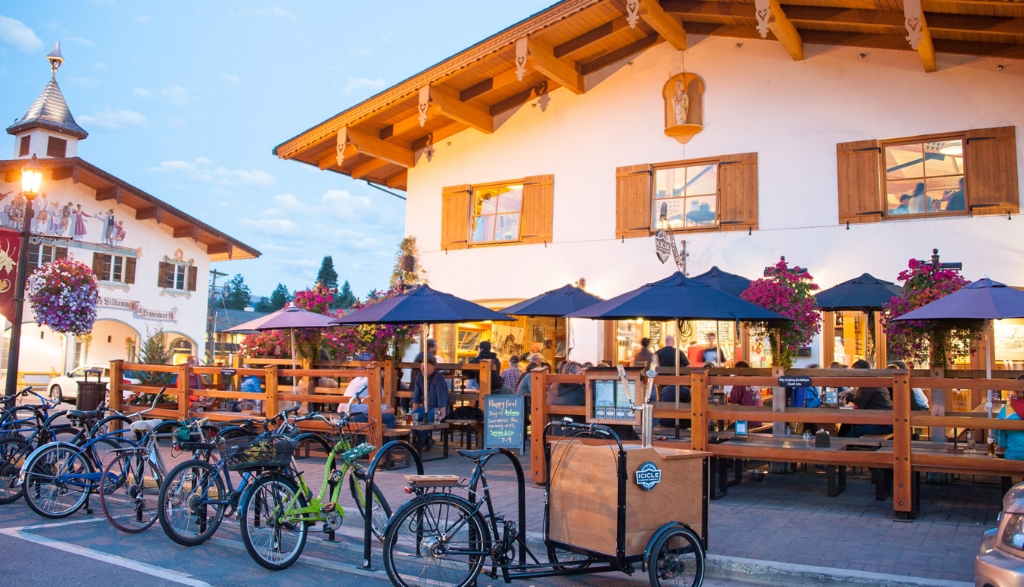 This beer is as local as it comes!
The Icicle Brewing Company uses mainly local ingredients to produce their ten craft beers.
The water comes from Icicle Creek (hence the name), which is less than a mile from the brewery.
The bulk of the malted barley comes Vancouver, Washington, their hops are from the owner's hometown, the Yakima Valley, and the yeast is from a lab in the Columbia River Gorge.
Activities
15. Take a scenic drive along Icicle Creek Road
Icicle Creek Road travels 25 miles into Icicle Canyon.
Expect some scenic nature views as you'll be following the windy road through Alpine Lakes Wilderness!
Keep going until you reach Icicle Gorge Trailhead if you're looking to go hiking!
You'll also pass the road that leads to the Colchuck/Stuart Trailhead.
16. Drive around the surrounding vineyards
If you're in the mood for a drive, there are a lot of beautiful farms and vineyards surrounding Leavenworth!
For a winery you can visit, head to Eagle Creek Winery!
Nestled in the foothills of the Cascade Mountains, Eagle Creek Winery contains a winery, tasting room and cottage.
Their wines are made from grapes from both their own vineyard and other exquisite vineyards in the Columbia Valley.
Note that the winery is only open on Friday, Saturday, and Sunday from May through October.
Not visiting during those days/months? Their corresponding tasting room on Front Street, d'Vinery Tasting Room, is open seven days a week, all year round.
17. Float the river with River Rider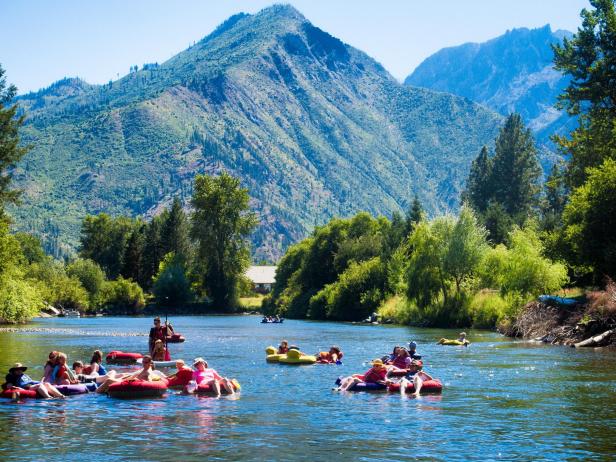 There are several options for floating the river, but one of the most highly reviewed tubing companies is River Rider.
The best tubing months are from late July up until August- though depending on river and weather conditions, you may be able to tube up until Labor Day!
River Rider will provide the river tube (with handles and cup holders), life jackets, private parking and a shuttle to the river.
If you're wanting to tube, make a reservation to make sure that they are planning on tubing on the day you want. (Though walk ups are welcome!)
It costs $20 per person, and they operate between 11:30am-4:30pm and you'll be back by 6pm if you take a later tube ride.
Due to the nature of the activity, kids under 4-5 years old are not allowed. Pets are though- they rent pet tubes!
Wear a swimsuit or T-shirt/shorts that you plan on getting wet!
18. Go white water rafting with Osprey Rafting Co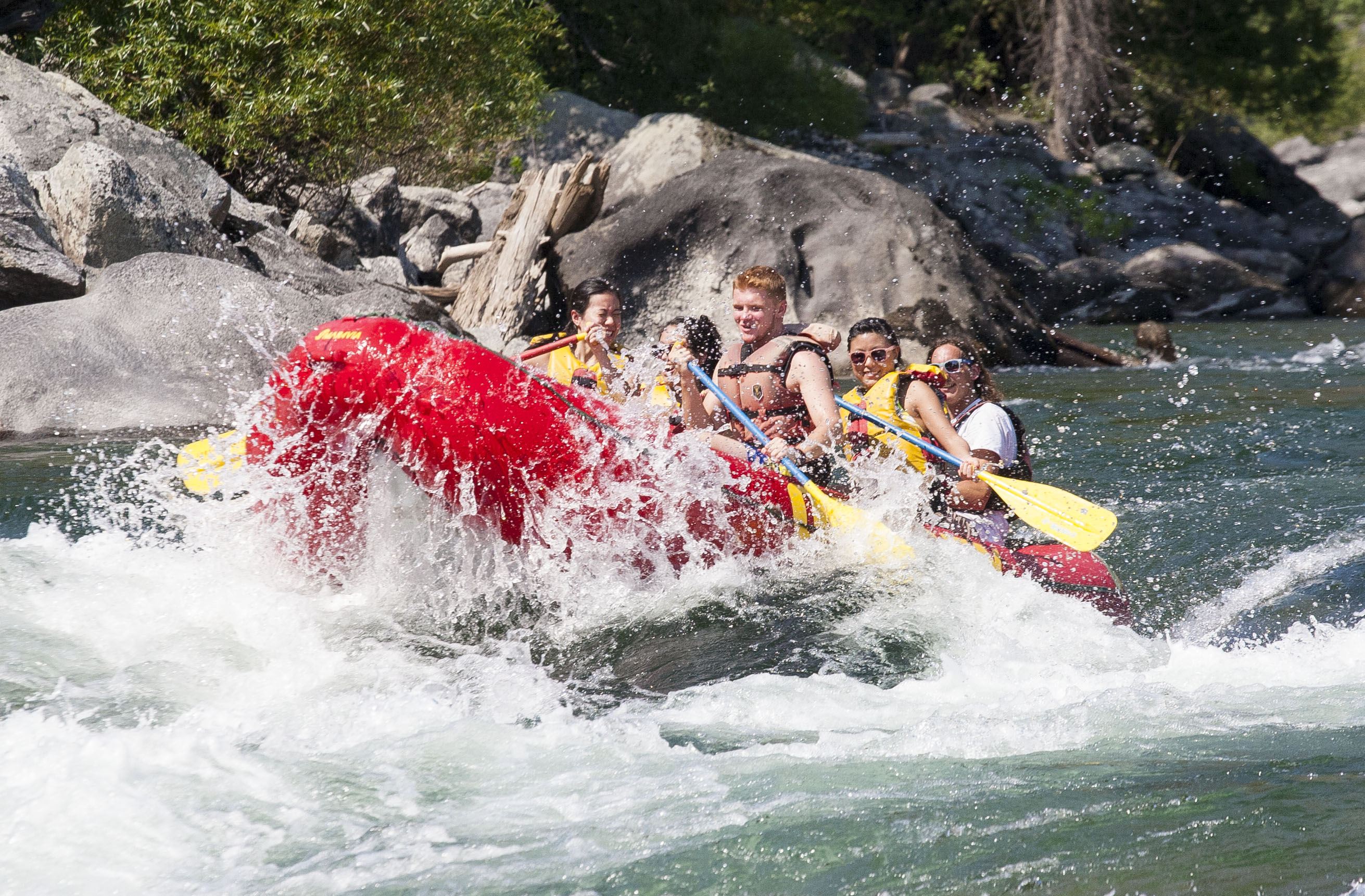 Interested in rafting instead? Check out the Osprey Rafting Company!
They offer different kind of rafting opportunities, so you can choose which one suits your group.
The different options vary in the level of rapids you'll be riding, activities while you're floating, and age requirements.
The family float is suitable for children ages 4 and older (they must be 40 lbs), and you'll float on small class I and II rapids.
The beach party is for ages 9 and up, and you'll actually stop off at a beach for some sports and a picnic!
Check their website for more options!
As you raft the around 2 hour ride along the Wenatchee, you'll catch spectacular views of the Pacific Northwest; the Cascade foothills and mountains will amaze you!
Reservations are recommended, and you should call the office the day prior to your trip to get directions to where you'll be floating.
19. Horseback ride at Eagle Creek Ranch
One of my favorite ways to explore a new place is on horseback!
Eagle Creek Ranch offers trail rides from April to October that'll bring you through the Cascade Mountains.
It's open all four seasons though- head to this section if you're planning on visiting in the winter!
You'll want to make a reservation since rides and guides are scheduled based on reservations.
The trail rides start at either 10 (summer) or 11 AM depending on the season, and the last ride out is either at 3 or 4:30 (summer) PM.
Kids ages 6 and up are welcome to ride! Beginners are also more than welcome- they'll make sure to pair you with a calm, gentle horse!
What to wear on your ride:
Closed toed shoes that have a heel strap- boots are ideal, but sneakers are just fine.
If you opt to wear a hat, it must have a chin tie! Other than that, just dress comfortably; pants are probably your best bet for comfort.
20. See the town via a carriage ride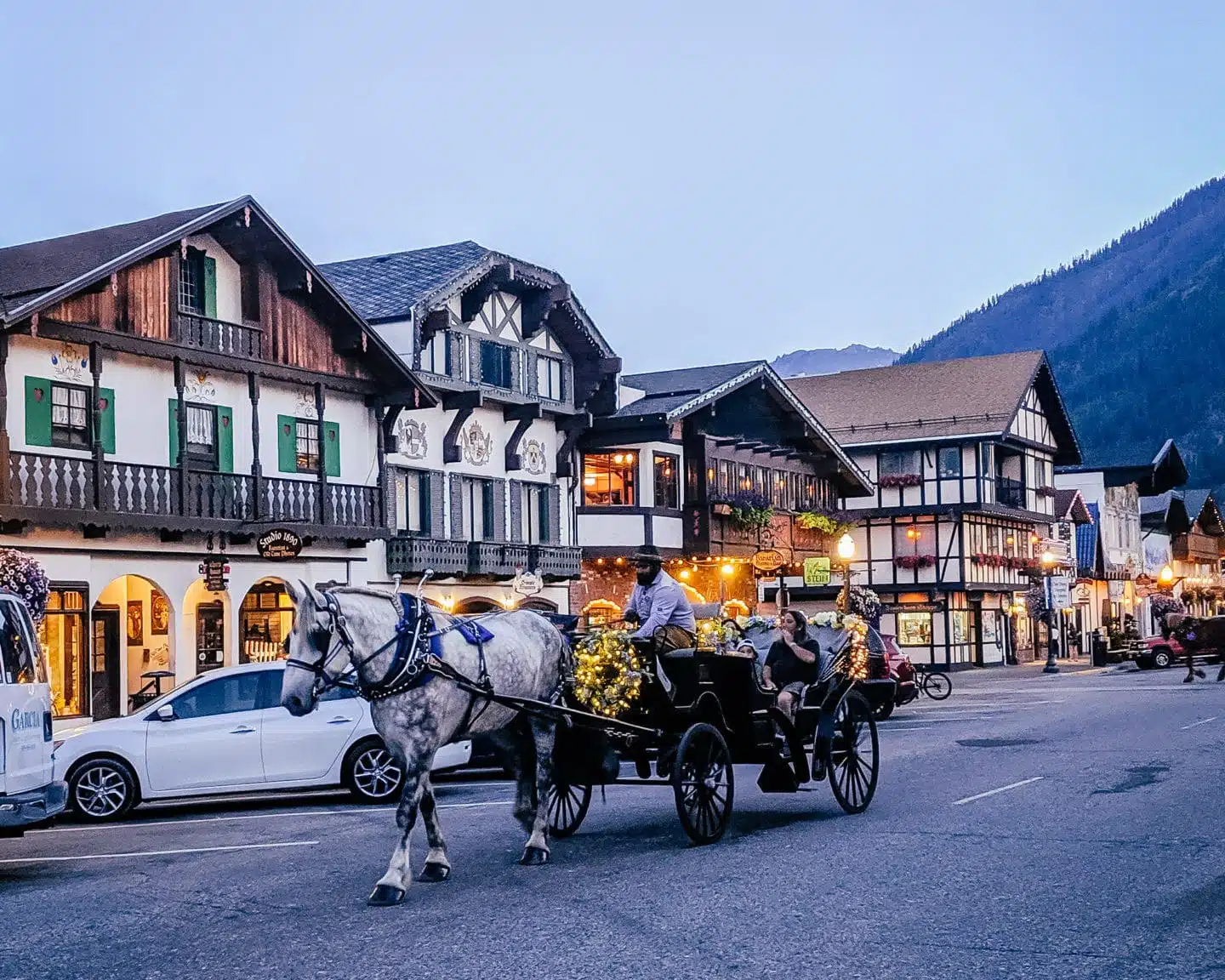 What better way to see a Bavarian town than via a horse drawn carriage?
There are several different companies that offer carriage rides, so if you're walking on Front Street, you'll have options.
They usually cost about $30- cash only (and bring some extra for tip!).
Contact them to find out when they'll be operating the carriage rides! I've included their contact info below.
Here are your best options for carriage rides:
Hans Christian Andersen Carriage Company– departs next to the Mai Pole (the big blue striped pole, you can't miss it!) on Front Street. Call Hans at (509) 885-0084.
Leavenworth Carriage Company– departs at 9th and Front Street. Contact them at (509) 421-0679.
---
Shop the post

---
21. Bike through town
Many hotels offer complimentary bikes that you can use to see the town!
While Front Street is incredibly walkable, riding a bike is a great way to explore greater Leavenworth.
Notably, a lot of the park trails around the Wenatchee River (Enchantment Park, Blackbird Island, and Waterfront Park), allow bikes and are easy to explore.
22. Leavenworth Reindeer Farm
This Christmas town brings Rudolph to life at the Leavenworth Reindeer Farm!
Don't worry, it doesn't have to be Christmas to see a reindeer. The farm is open all year round!
Visit the farm for a 30-45 minute Reindeer Farm Tour, which you can do from Friday-Monday.
Make a reservation ahead of time, then head over to learn about, feed, and photograph some adorable reindeer!
Beyond the reindeer experience, you'll also get to enjoy seasonal refreshments, gather around a campfire in the winter, enjoy shaded picnic tables in the summer, meet some miniature ponies, and play with their two friendly pigs!
Pricing & seasonal information:
November- Februrary: $20/per person (and in November & December you can grab a picture with Santa!)
March- June: $12/per person (limited availability due to calving season and weather, call for reservations!)
July- October: $15/per person (and this is prime time to meet some reindeer babies!)
23. Leavenworth Summer Theater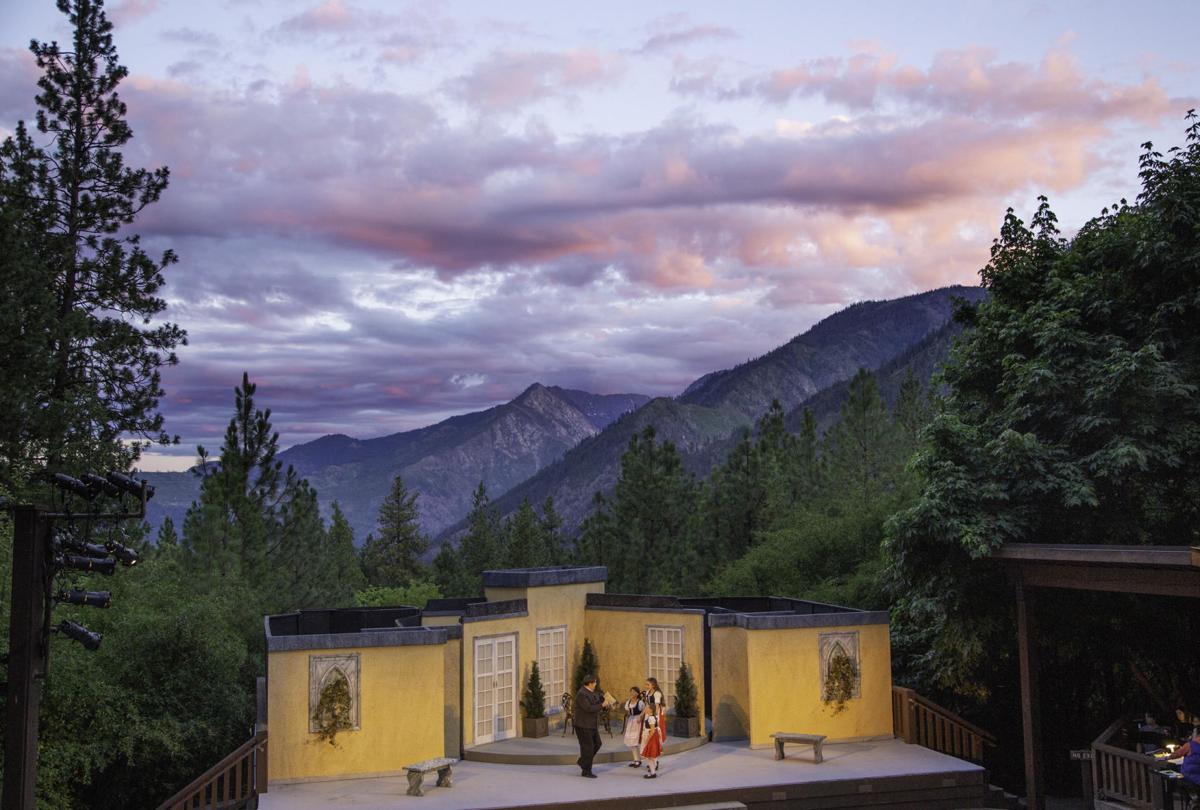 One of the neatest things to do if you're visiting in the summer time is to catch a performance at the Leavenworth Summer Theater.
Formed in 1994, the Leavenworth Summer Theater is currently the largest theater between Seattle and Spokane!
They perform notable titles such as The Sound of Music, Pirates of Penzance, and Hello, Dolly! (Summer 2019 titles).
Get your tickets here in advance, because these shows are extremely popular!
Note: It is an outdoor theater, which is usually fine since summers tend to be dry. But if a show is canceled due to weather, you'll get a full refund.
Where to Stay and Relax
24. The PostHotel Leavenworth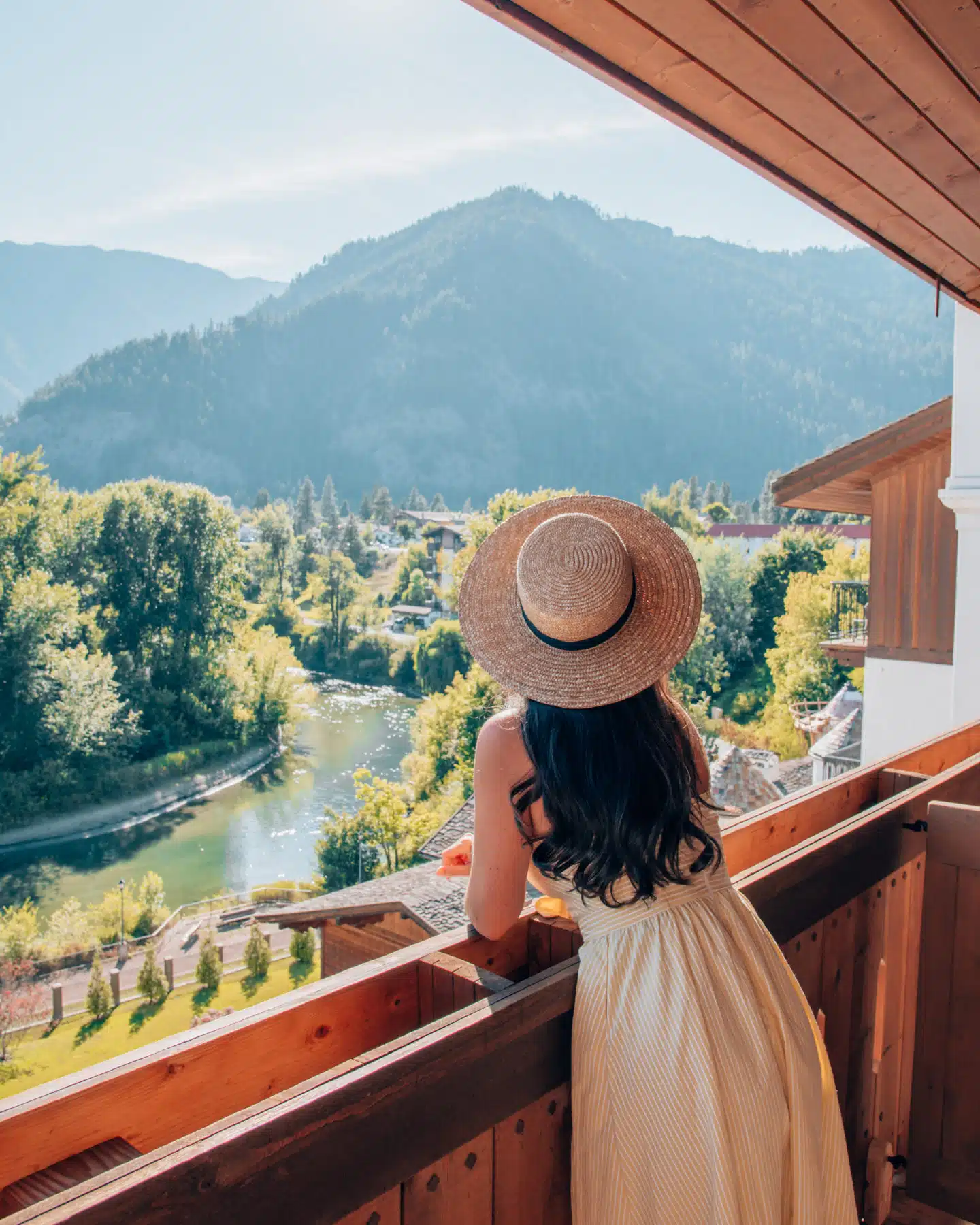 If you're looking for a luxury getaway in Leavenworth, The PostHotel is bar none.
I'd recommend this gorgeous, adults-only spa hotel to every single person.
With immaculately designed interiors right out of a Restoration Hardware catalog, a kind and courteous staff, delicious European fare, and a pristine spa- The PostHotel Leavenworth does things right.
The price may be a bit steep (you're looking at roughly $500 a night), but when you think about all it includes, it's completely worth it.
Their attention to detail is impeccable- from the most perfect, ripe fruit you'll find in your meals to the reusable PostHotel water bottles supplied in your room that are yours to keep. Even the AC in the rooms doesn't make a sound- so you drift off to sleep in total silence.
Along with regular amenities, you get: breakfast, lunch, evening desserts, luxury living, free bike rentals, incredible views, and full access to the spa. And it's not just any 'ol spa…
What you'll find at The PostHotel Spa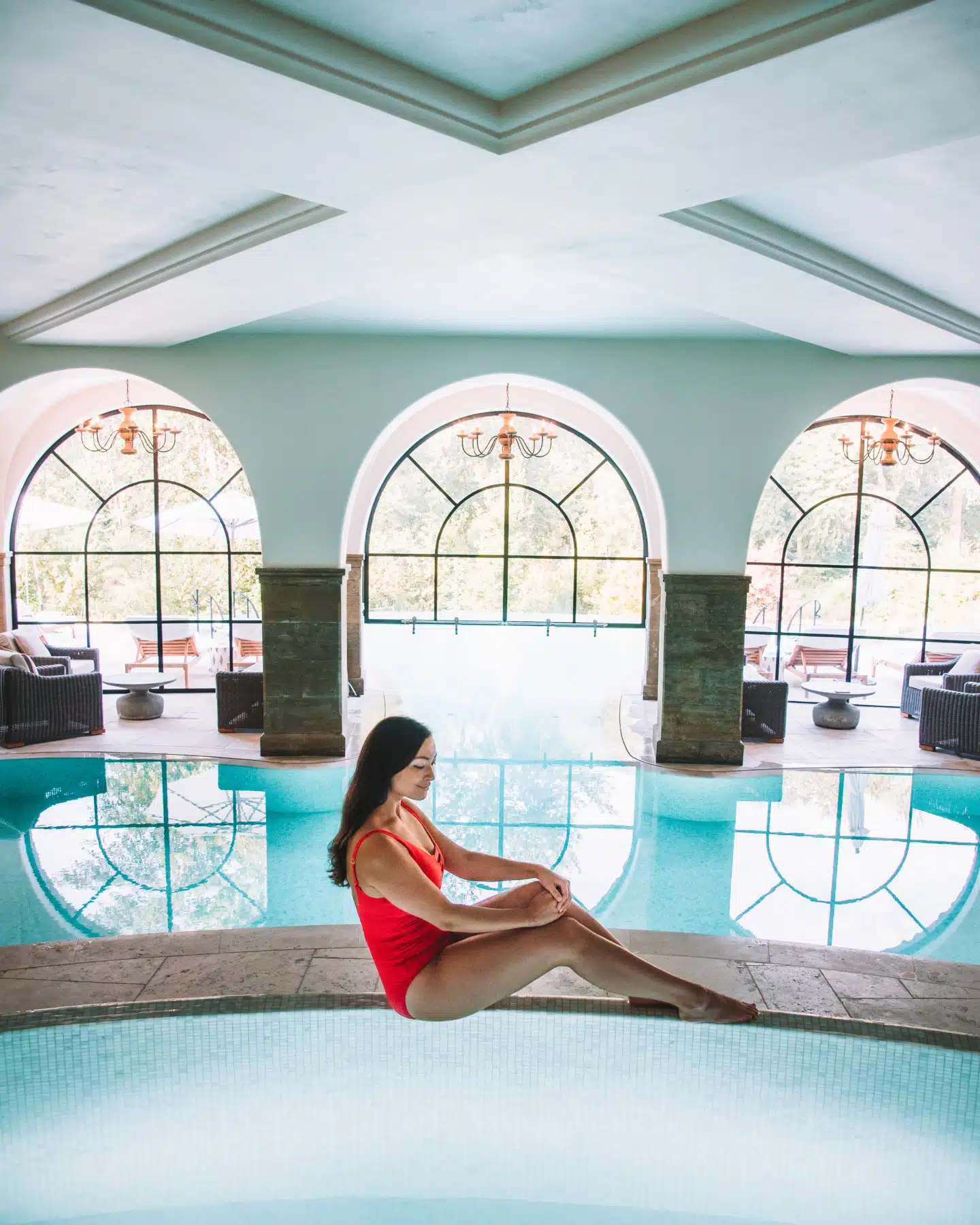 The spa is completely decked out with multiple tubs, lounge areas, an inside-outside pool, steam rooms, saunas, and more.
My favorite spa features include:
the salt hot tub (pictured in the right photo- when you sit in it, your arms float because of the salt!)
the lavender high-humidity room
the eucalyptus infusion room
the customizable shower that mimics tropical rain forests, a summer thunderstorm- whatever you want it to
You're given a robe and new slippers to use during your stay, and oftentimes guests move throughout the hotel wearing them (even to breakfast and lunch!).
I cannot recommend this hotel enough! It provides comfort like none other, and totally brought our stay in Leavenworth up to a whole other level.
25. Icicle Village Resort
For a relaxing stay that isn't adults-only, check out Icicle Village Resort.
Typical nights are in the $200's, and though it doesn't include free access to a spa, you can make a reservation at the on-site spa, Alpine Spa.
It also has two restaurants on site, an outdoor pool and hot tub, free bike rentals, and complimentary American and German-style breakfast.
26. Stay at the Leavenworth Tiny House Village
Try your hand at tiny-house living at the Leavenworth Tiny House Village!
They have five different tiny homes available.
These tiny houses are both adorable and affordable (around $150 or less), and most of them can sleep 4 or more, believe it or not!
Other places to stay
For more budget-friendly stays with great reviews, check out:
Stores & Museums
27. Explore Front Street
This is *hopefully* a no-brainer, but make sure you stop and smell the roses!
Get out and about around Front Street- there are so many shops to see, foods to try, and activities going on.
It's also decked out in fresh flowers!
How Front Street got its Bavarian looks:
Ever wonder where the Bavarian theme came from?
It all happened in the 1960's when the Great Northern Railway Company pulled out of Leavenworth and the town started declining.
Town officials decided to use their Alpine backdrop to their advantage, and gave the entire town a Bavarian face-lift, completely redesigning the town and its festivals.
It worked! Now almost 2,000,000 tourists visit Leavenworth each year! (source)
28. Kris Kringl, the Christmas store
Don't worry, it's open all year round!
This popular Christmas store has been open for over 33 years and has grown tremendously in that time.
You can find all sorts of Christmas-themed things, from ornaments and trees to home decor and other treats.
29. Leavenworth Nutcracker Museum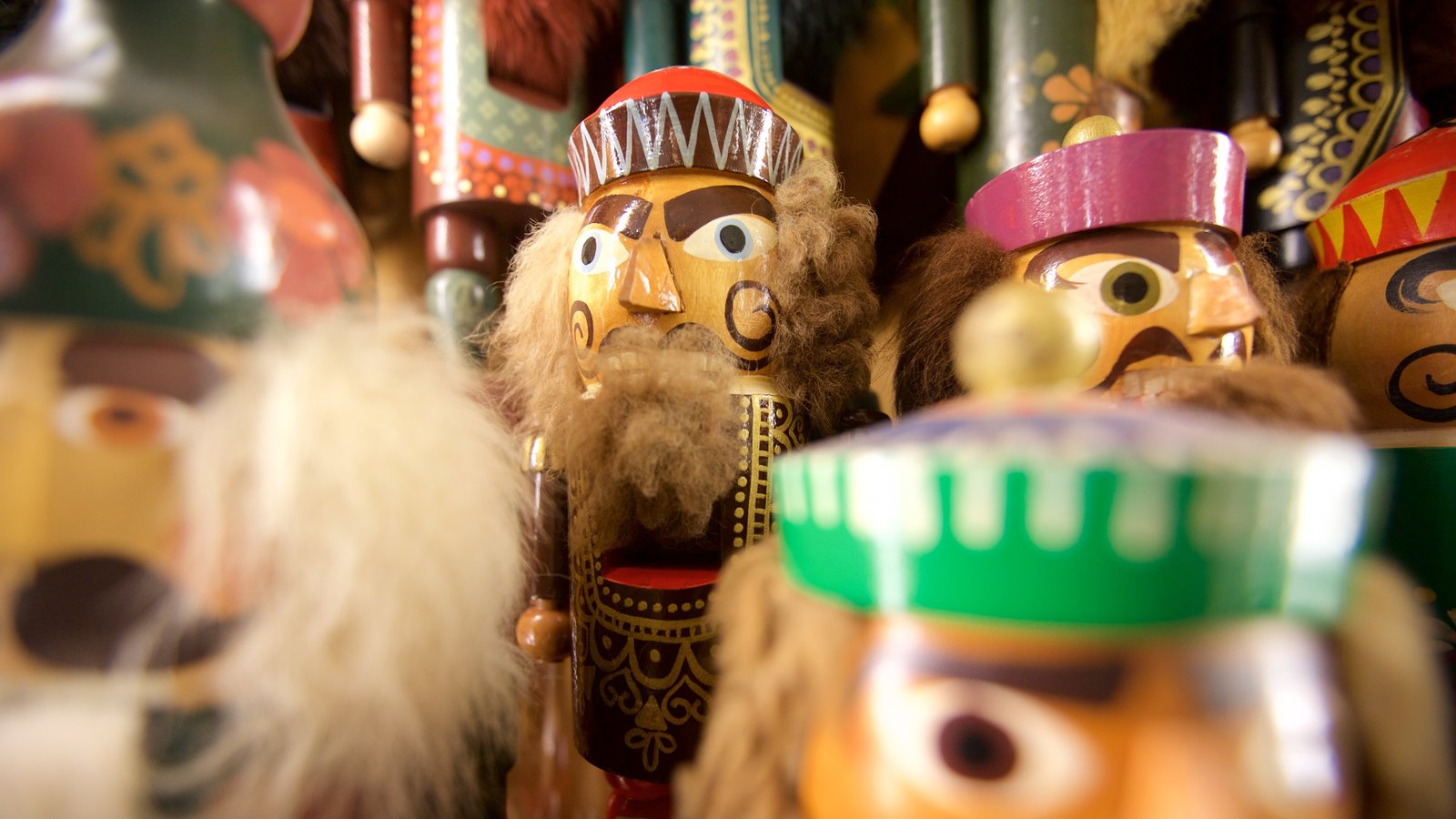 This noteworthy nutcracker museum has been in all sorts of popular news channels and publications (like Food Network and CBS), and rightfully so!
It's a fascinating museum that has over 7,000 nutcrackers from all over the world- some that go all the way back to 2,000 years ago!
You can learn about the history of these unique devices, see how different cultures created them, and see interesting pieces created out of atypical materials.
The museum is open every day from 1PM-5PM, and adult admission is $5/ per person.
While you're there, check out the Upper Valley Museum
At the Upper Valley Museum, you can learn all about Leavenworth and its rich history of lumbar and railroads.
They'll be relocating in November 2019 to a space on the second floor of the Leavenworth Nutcracker Museum!
Wintertime-specific activities
Wintertime in Leavenworth turns an already beautiful town into magic.
With lights lit up, a fresh blanket of snow, and the perfect Bavarian decor, Leavenworth shines in the wintertime.
30. Sleigh rides
One of the best ways to see the town in the winter is on a sleigh ride!
There are multiple options for riding in a horse-drawn sleigh; here are a few of them with pricing and what they offer!
All of them provide you with a blanket, but still remember to dress warmly!
31. Leavenworth Ski Hill
This winter wonderland wouldn't be complete without some great skiing!
Just minutes from downtown you'll find great trails for cross country skiing, snowshoeing, and downhill skiing at the Leavenworth Sports Club.
There's also a tubing park with a lift and trails that are lit up at night for some night skiing.
Click here to get your day pass! Pricing ranges from $19 for alpine skiing/snowboarding to $34 for a combo of activities, and there are options for snowshoeing, tubing, and even sledding!
Note that rentals are not available though the Leavenworth Sports Club, so you'll need to grab gear beforehand.
For a shop in Leavenworth, go to Osprey Ski Shop for anything you could need- alpine skis and snowboards, snowshoes, and cross-country skis. (Sound familiar? It's run by the Osprey Rafting Company!)
32. Plain Valley Ski Trails
If you're looking for more Nordic trails (ie. good for cross country skiing), The Plain Valley Ski Trails cover over 24km of skate and classic cross country ski trails.
There are trails for all ski levels, from beginners to pros.
A day pass is $18 per adult, and kids under 18 ski for free!
You'll park at Plain Hardware, then cross the street to access the trail system.
Need gear? No worries, you can rent them directly from Plain Valley!
Check here for pass and rental info!
In conclusion…
Leavenworth has a ton to offer!
Whether you're looking for adventure and excitement or good meals and relaxation, you'll find it in this wonderful Bavarian town.
Have you ever visited? If you have or are if you are local, drop your recommendations in the comments!
Safe travels!
Jasmine
Shop the post

PS. If you found this article helpful, please share it to Pinterest! Here are a couple of pins you can select from!