Bellevue, Washington is a gorgeous city right next to Seattle that offers all of the attractions of Seattle but with a luxurious, small town vibe.
Set between Lake Washington and Lake Sammamish, Bellevue features both local and high-end shopping, plenty of dining options, and tons of parks and nature.
The city is quite aptly named Bellevue- or Belle (beautiful) Vue (view)!
I'd recommend at least 3 days in Bellevue if you're visiting the Seattle area.
Between Bellevue and the surrounding attractions, your itinerary will be packed! There are just so many things to do in this gorgeous city!
Things to do in Bellevue
Depending on what it is you want to see, I've sorted the 27 things to do in Bellevue into a few different categories.
Here's a color-coded map of all locations:
You can click on any category below to jump straight to it within this post.
Without further ado, here are 27 things to do in and around Bellevue!
Parks and nature
Sandwiched between Lake Washington on the west and Lake Sammamish on the East, Bellvue has plenty of waterfront parks.
The western shores of Bellevue have multiple parks dotted along the lake. You'll find that the majority of the parks in Bellevue are on the western side of town.
The eastern side has one waterfront park (Idylwood Park), and the rest of the Bellevue property facing Lake Sammamish is privately owned with houses and docks lining the lake.
Here are some of the notable parks you'll find in Bellevue!
1. Meydenbauer Bay Park
Located on Lake Washington, Meydenbauer Bay Park has plenty to offer.
You'll find boat rentals (more about that in a second!), a sandy beach, and a designated swimming area here.
There are also public restrooms here, so definitely bring a bathing suit with you if you think you might want to get in the water!
Since Meydenbauer Bay Park faces west, you'll get some breathtaking sunsets from this park.
2. REI Boathouse
The REI Boathouse is loacted at Meydenbauer Bay Park, and you can just walk right up to the boathouse to do a rental.
They offer canoeing, kayaking, pedal boating, and stand-up paddleboarding.
Getting a rental is extremely simple, just be sure to bring your ID and a credit card with you!
They provide life jackets and water tight sacks for any valuables you want to bring with you.
Some things you'll want to bring with you:
Water
Sunscreen
Sunglasses
Hat
3. Bellevue Downtown Park
The Bellevue Downtown Park combines stunning city views with a 240 foot-wide water feature that flows into a reflecting pond.
For children there's an architecturally beautiful playground. And be sure to bring their swimwear because during the summer months it has a fun water area that sprays water up from the ground!
The park covers 21 acres and there are plenty of open green spaces for picnics and outdoor activities.
Bring your camera; on a clear day you can even spot Mount Rainier from the Bellevue Downtown Park!
4. Bellevue Botanical Garden
Guess what? The Bellevue Botanical Garden is completely FREE! Yup, you heard me!
This stunning botanical garden with over 53 acres of dense greenery is open everyday and is completely free to the public.
As you explore the Bellevue Botanical Garden, trails that weave in and out through lush greenery will fill your senses with florals and nature.
You'll find gardens, woodlands, wetlands, and meadows here!
Check their calendar for different events and garden shows so that you can plan your visit!
5. Entai Beach Park
The Entai Beach Park is further north along Bellevue's western shores.
While it largely faces Lake Washington, it also branches off into the Mercer Slough Nature Park water trails.
This park has a swimming area right off of sandy shores, along with a swimming dock, boat house, and restrooms.
For park activities other than swimming, feel free to bring a picnic to this park! You can also do seasonal canoe and kayak rentals through the REI boathouse.
6. Larsen Lake Blueberry Farm
Larson Lake Blueberry Farm is such a picturesque place for blueberry picking!
It was actually established in the 1940's and is currently owned by the Bellevue Parks & Community Services Department in an effort to preserve Bellevue's agricultural heritage.
Blueberry picking season is in its prime from mid-July to September, so be sure to visit in that time frame if you want to pick your own blueberries!
With stunning, tall pine trees as a backdrop, there are rows and rows of blueberry bushes ripe for the picking.
Be sure to bring your ID and check in with the produce stand when you arrive. They'll give you a basket to use for picking.
At the produce stand you can also purchase farm-fresh seasonal produce and fresh-cut flowers- not just blueberries!
7. Kelsey Creek Farm
While you're visiting Larson Lake Blueberry Farm, stop over to Kelsey Creek Farm!
This farm is just ten minutes away and has a variety of animals, hiking and jogging trails, picnic areas, a playground, wetlands, creeks and forests.
At the Heritage Center, you can learn about Bellevue's agricultural past.
8. Idylwood Park on Lake Sammamish
Idylwood Park lies on Bellevue's northeastern side along Lake Sammamish, right where it meets the city of Redmond.
This beach park has a swimming area, beach dock, and a remarkable amount of green space for activities!
Arts
9. Bellevue Arts Museum
The Bellevue Arts Museum actually grew out of an art fair. Dedicated volunteers put on the first arts fair in 1947. Decades later, this eventually turned into the Museum in 1975.
True to its roots, the Bellevue Arts Museum focuses on local artists, showing off the beautiful work of talented creators in the area.
There are rotating exhibitions with only a few areas that remain constant, which means that each time you visit you'll probably find something new to amaze you!
When planning your visit to Bellevue, keep in mind that the BAM is closed on Mondays.
They also provide free admission and extended hours from 11am-8pm on the first Friday of each month.
10. Hearts mural
Even when you're not at the Bellevue Arts Museum, you'll still find a ton of art around Bellevue.
There are sculptures and installations around town, but this mural stands to me.
How cute are these hearts?
The mural is a bit hidden because it runs along the side of a building, but if you navigate to Blank Spaces cafe, you'll find it on the right hand side.
Shopping
11. Bellevue Square
The Bellevue Square is huge and contains pretty much any store you'd hope to find in a mall!
You'll find more than shopping here; the collection includes shopping, dining, entertainment, and hotels!
The over 200 shops and 50 restaurants and entertainment venues are connected by sky bridges.
And the entire Bellevue Collection contains the Bellevue Square, Lincoln Square, and Bellevue Place.
12. Old Bellevue
Old Bellevue offers my favorite kind of shopping: local, small businesses and select dining options along a charming street.
These shops are just a stone's throw away from the Downtown Park.
Many locally-owned boutiques and gift shops line Old Bellevue's brick sidewalks.
Bellevue was once a small agricultural town surrounded by strawberry fields! It has grown tremendously, but Old Bellevue does a great job of sticking to the small town vibes.
Be sure to check out Frans chocolate, a personal favorite of former President Barack Obama!
13. The Shops at The Bravern
For upscale, luxury shopping, stop by The Shops at The Bravern.
Here you'll find classic name brands like Gucci, Hermes, and Prada, as well as fine dining options.
Believe it or not, it also has the only Neiman Marcus in the Pacific Northwest!
Dining
Bellevue has some incredible dining options!
So if you're looking for things to do in Bellevue, you definitely need to include breakfast, lunch, and dinner in this city!
This list has a mix of upscale restaurants, more casual dining, and quick bites and desserts.
14. Seastar Restaurant and Raw Bar
Created by renowned chef John Howie, Seastar Restaurant and Raw Bar combines fresh food and luxury.
As expected from its name, Seastar has freshly prepared seafood and raw bar items.
You'll want to try their great steaks, poultry, pastas, and desserts as well.
When we visited we got to experience their wonderful customer service and talented staff- our server had been working there for over two decades!
15, Daniel's Broiler
Located on the 21st floor within Bellevue Place, as you dine you can see spectacular views all around.
From the Olympic Mountains to the Seattle skyline, you're surrounded by beauty as you enjoy your meal.
Their USDA Prime Steaks are incredible and I highly recommend the Dungeness crab leg appetizer!
16. Ascend Prime Steak & Sushi
This stunning restaurant is on the 31st floor, so you can bet you'll have gorgeous, panoramic views of surrounding mountains and of Seattle.
We ran out of time and didn't get a chance to stop into Ascend, but from what I've heard it is worth the visit (and worth every penny)!
17. Monsoon Restaurant & Lounge
For modern, eclectic Vietnamese fare, head to Monsoon on Main Street.
The modern setting perfectly accompanies the contemporary cuisine.
Their crispy vegetable rolls (pictured in the grass-fed beef entree) are so delicious- a definite MUST when heading to Monsoon.
18. Fern Thai
I'm a huge fan of Thai food, and Fern Thai did not disappoint!
Their fun pastel pink and green floral interiors are complemented by delicious Thai food!
Their roti is the perfect appetizer (if you've never had it, think of a warm, flaky, delicate buttery bread, almost like a flat asian-style croissant).
For a main course, the pineapple fried rice or flat rice noodles make for a satisfying meal.
19. Juice and Glow
Looking for a quick, healthy bite?
Juice and Glow is a great place for organic juices and smoothies and small to-go meals.
For a smoothie, I highly recommend the Greenya Colada; it's actually their most popular smoothie!
For a raw cold-pressed juice, my favorite is the One in A Melon.
20. Belle Pastry
While you're on Main Street in Old Bellevue, stop by Belle Pastry for a huge selection of tasty pastries.
Ever since it was founded in 2003 by renowned Pastry Chef Jean-Claude Ferré, Belle Pastry has focused on high quality ingredients and crowd pleasing favorites.
They've got macarons, croissants, quiches, tarts, and other sweet treats- stop by more than once during your stay and try something new each time!
21. Molly Moon's Ice Cream
Located right across from the Bellevue Downtown Park, Molly Moon's Ice Cream really focuses on being local; they emphasize sustainability and giving back.
A large majority of their ingredients are actually sourced from farmers in the community throughout the Pacific Northwest.
I had a scoop of their sweet cream (best sweet cream ice cream I've ever had!) and Harrison opted for cookie dough, which had an added cinnamon twist.
Where to stay
22. Bellevue Club Hotel
If you're looking for a place to stay in Bellevue, we stayed at the Bellevue Club Hotel and absolutely loved our time there!
The Bellevue Club Hotel is a 67 room boutique luxury hotel that is attached to the Bellevue Club.
The hotel was actually built around the Club, a premier athletic and social club that boasts 200,000 square feet of world-class exercise and wellness facilities.
In addition to these facilities, you can enjoy multiple dining options as well as a spa. Definitely stop in to the spa for some extra pampering while you're in Bellevue!
Tip: One thing to note if you're staying in the hotel- it's actually much cheaper to valet than to park in the club parking lot!
A bit further away:
23. Rattlesnake Lake
Distance from Bellevue: 28 miles, 32 minutes
Whether you want to drive to the lake or if you're up for a hike, this is the place to be!
There is a 4-mile round-trip hike that you can do that offers views of the Cedar River watershed, Mount Si, Mount Washington, Rattlesnake Lake and Chester Morse Lake.
Alternatively, you can jump out of the car for a glimpse of beautiful Rattlesnake Lake. (From personal experience, when the wind is still it has a gorgeous mirror lake effect early in the morning, before 8AM).
While you're there, enjoy the views while having a picnic by the lake, getting your feet wet in the freezing cold waters, or bringing a boat out!
24. Kerry Park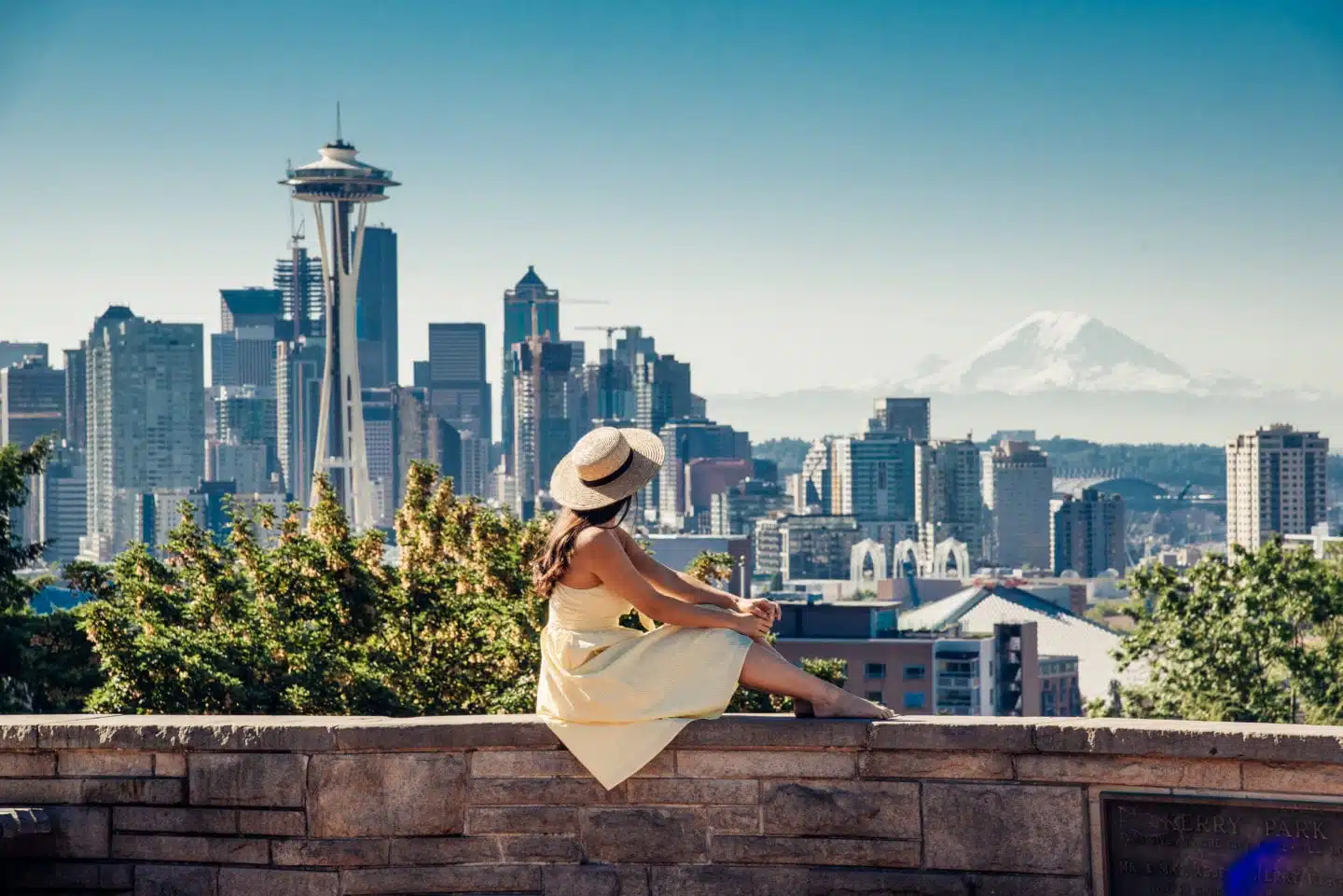 Distance from Bellevue: 12.3 miles, about 22 minutes with no traffic
If you want a close up view of the Seattle skyline, Kerry Park has the best vantage point.
On a clear day you can actually see Mount Rainier in the distance!
Note that I took this photo with a 120mm zoom lens, so I was able to get the city to really show up in the distance!
Be sure to visit earlier in the day if possible. We went at around 8:30AM on a Sunday, and by the time we were done taking photos, there was already a huge crowd forming at the park!
25. Hot Air Ballooning with Seattle Ballooning
Distance from Bellevue: 27 miles, 40 minutes
One of the most incredible views you can get of the Pacific Northwest is via hot air balloon, hands down!
We experienced our first-ever hot air balloon ride with Seattle Ballooning, and it was beyond magical.
Eliav Cohen, the owner of Seattle Ballooning, flew us in one of three hot air balloons that went up that day.
For our trip, we met at Muckleshoot Casino in Auburn, WA at 5am.
From there, Eliav and his team drove all of the ballooners out to the designated take off point (this spot changes due to wind speed and direction).
On the way, Eliav told us a lot of fun stories about the history of hot air ballooning. My favorite story:
'A hot air balloon aeronaut was late to a meeting with his friend. When he arrived, his friend asked him, "why didn't you check your pocket watch?" He explained that he needed both hands for flying the balloon, to which his friend replied, "well then, I'll put your pocket watch on your wrist!" And so, Cartier (his friend!!) created the very first wrist watch!'
After we reached the designated spot, Eliav and crew blew up the three balloons and off we went!
We reached an altitude of about 4,600 feet and were in the air for over an hour!
Once we landed, there was a celebratory feast of chocolate croissants and champagne waiting for us.
I highly, highly (pun intended) recommend this experience!
26. Winery hopping in Woodinville
Distance from Bellevue: 10.6 miles; 20 minutes
Woodinville is a charming town that is just north of Bellevue that is most commonly known for its elegant wineries!
As you drive down a scenic two lane road, you'll have your pick of wineries to visit.
We stopped by Chateau Ste. Michelle Winery and Columbia Winery right across the street.
27. Snoqualamie Falls
Distance from Bellevue: 23 miles, 30 minutes
This waterfall is beyond stunning, is so easy to get to, and is beautiful in every season!
Parking is really easy (park in the lot that says "free parking for Snoqualamie Falls"), then you'll walk across a bridge to the main area.
There's a path that takes you to two separate viewing areas for the falls.
I'd recommend visiting earlier in the day if you'd prefer to avoid crowds!
In conclusion…
I hope you can see just how much there is to do in and around Bellevue!
This growing city is absolutely the perfect place to stay when visiting the Pacific Northwest!
If you've visited or live in Bellevue and have additional recommendations, comment them below!
Safe travels!
Jasmine