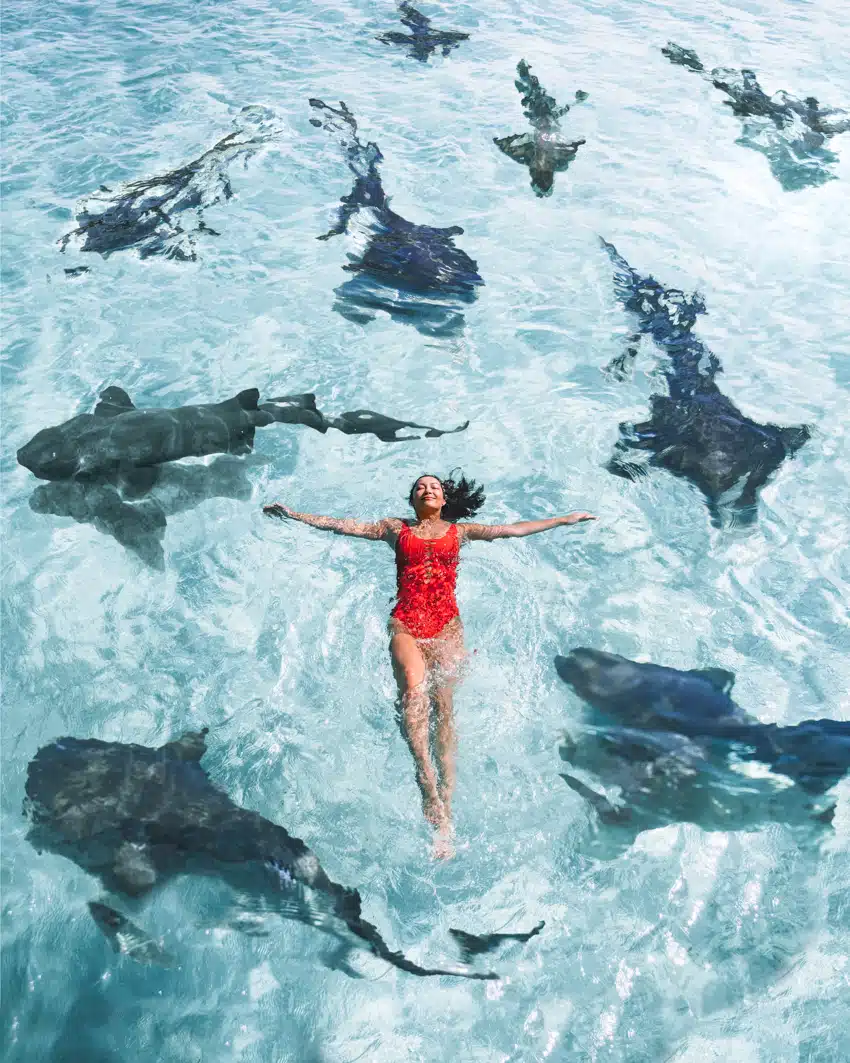 If you're deciding on whether to visit the Bahamas or Puerto Rico, those are two great options to choose from.
But while both are Caribbean destinations, they differ quite a bit. Whether you're looking for water activities and beach time or adventures and jungle exploration, you'll find very different opportunities on each.
Here you'll learn all about what each destination has to offer, and I'll also cover things like family-friendliness, safety, and more.
At the time of writing, both are relatively open regarding pandemic travel restrictions.
Both require PCR tests and travel forms to enter; you can find up-to-date entry information for Puerto Rico here. For the Bahamas, you'll find up-to-date travel restrictions and entry information here.
Since Puerto Rico is a US territory, you don't need a passport to enter or a negative COVID test to return to the US- both of which you'll need for the Bahamas at the time of writing.
I'm writing this article based on the "normal," non-pandemic experience of each location, so please bear that in mind as you read.
Let's get into it!
The Bahamas vs. Puerto Rico: Price
Flights from the US to both the Bahamas and Puerto Rico are pretty inexpensive.
From most major US hubs, flights to San Juan, Puerto Rico can run for less than $200 round-trip, and under $300 for other arrival points like Vieques and Culebra.
Flights to the Bahamas are slightly pricier, but still well within an affordable range, with round-trip flights to Nassau and Freeport going for under $400.
Flight prices to the Bahamas also tend to vary more from city to city, so be sure to check your local airport for the best deal.
Puerto Rico
Besides flights, you can get a sense for other travel expenses on your trip from Budget Your Trips data from real travelers visiting Puerto Rico below.
Puerto Rico offers a wide range of options for lodging, especially in the capitol of San Juan.
You can find luxury hotels from $300 per night, or hostels and Airbnbs under $50 per night, so it all depends on your preference.
Puerto Rico also has a lot of lavish resorts outside of San Juan.
If you want to explore more than San Juan, you'll likely need a rental car to get around the island.
However, they're not too pricey, and you can pick one up at the San Juan airport for around $20 a day.
Overall, Puerto Rico is relatively inexpensive to explore.
However, the islands of Vieques and Culebra, some of Puerto Rico's most popular destinations, get much more pricey.
The Bahamas
For comparison, here's Budget Your Trip's aggregated travel data for the Bahamas:
The Bahamas, is known for their more affordable all-inclusive resorts, which average around $500 per night for a family.
That may not sound affordable, but that price tag often includes your food, transportation, and some activities or excursions you might take.
There are hotels outside of these resorts, but they vary in price and quality, going anywhere from $150 to $300 per night, and the affordable gems seem to be less common compared to Puerto Rico.
Food and drink in the Bahamas is typically more expensive than Puerto Rico probably because of import taxes.
There are street stalls and local joints where you can get a meal for under $10, as well as fancier restaurants that will cost $40 per meal.
Getting around the Bahamas is a bit more complicated because of the sheer amount of islands to explore.
There are cheap bus and taxi services on the main islands, but to do some island-hopping, you'll need to budget money for ferries, boat tours, or flights (especially if you want to get further afield).
The Bahamas vs. Puerto Rico: Natural Beauty
Both destinations are filled with beautiful sights, but each has a different vibe. In this section, we'll cover the kinds of natural beauty you'll see in each location.
Puerto Rico
Puerto Rico is a fairly large island, so there are opportunities for more than just beautiful beaches.
The center of the island is home to a dense rainforest called El Yunque National Park. El Yunque is full of waterfalls and cool views; you can read all about it here.
The island's interior has plenty of other rugged scenery, so it's great if you're looking for a more active vacation.
Puerto Rico has plenty of beaches as well, including some famous bioluminescent bays, where the algae in the water glows blue some nights. (You'll only be able to see this phenomenon on very dark nights- avoid planning your Puerto Rico trip around a full moon if this is on your bucket list!)
The Bahamas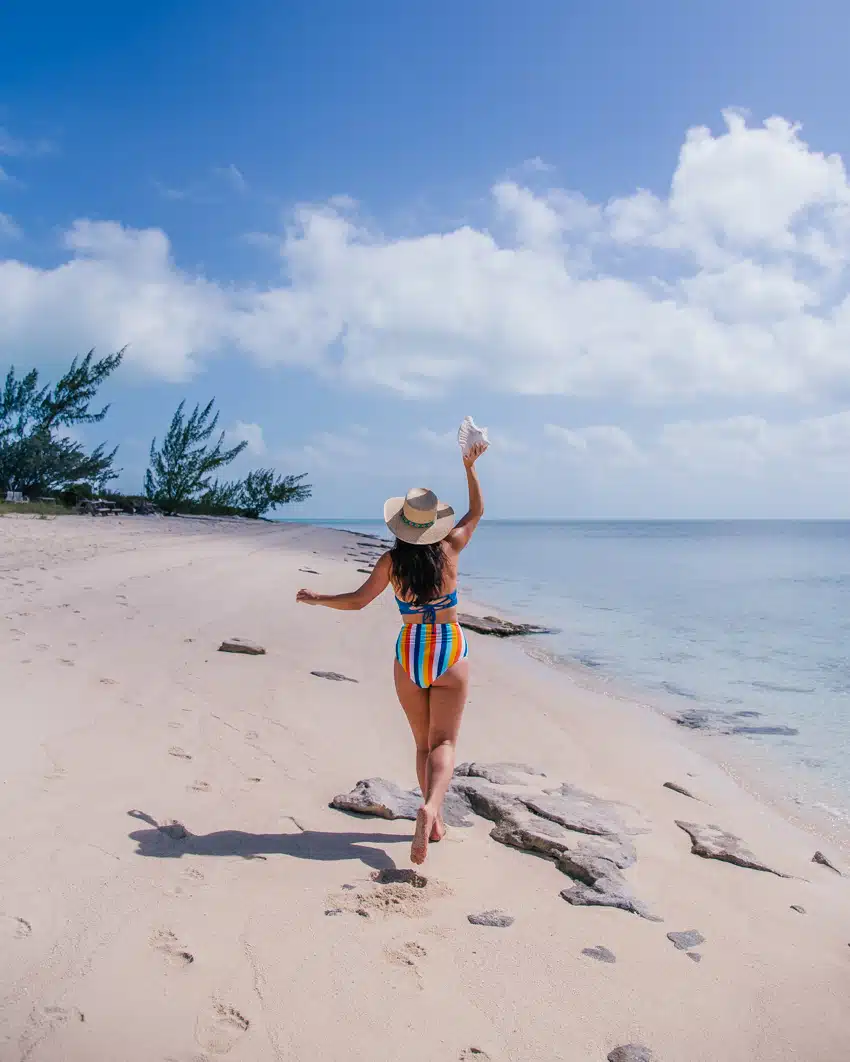 On the other hand, the Bahamas is made up of hundreds of smaller islands.
So its natural beauty comes in the form of that deserted island atmosphere.
You could pick almost any spot in the Bahamas and find a pristine white sand beach.
There are some other interesting spots, too, including the caves and grottoes at Lucayan National Park and tons of marine life for some of the best scuba diving in the world.
Check out this article for the 30 most beautiful places to visit in the Bahamas!
The Bahamas vs. Puerto Rico: Lodging
Lodging is another way the two locations will differ, from pricing to lodging style.
Puerto Rico
Like I said earlier, Puerto Rico has several options when it comes to lodging. Airbnb is more popular in Puerto Rico than in the Bahamas.
So there are a lot of quiet, locally-run spots all over the island.
Puerto Rico also has several reasonably-priced, family-run hotels and guesthouses for those on a budget.
For a more luxurious stay in San Juan, check out the Condado Vanderbilt, which is where we stayed.
Want to stay directly in Old San Juan? You can't beat El Convento Hotel.
There are also many unique lodging options away from the coast with everything from glamping to haciendas and farm stays.
So if you're looking for a variety of lodging experiences, Puerto Rico could be the spot for you.
The Bahamas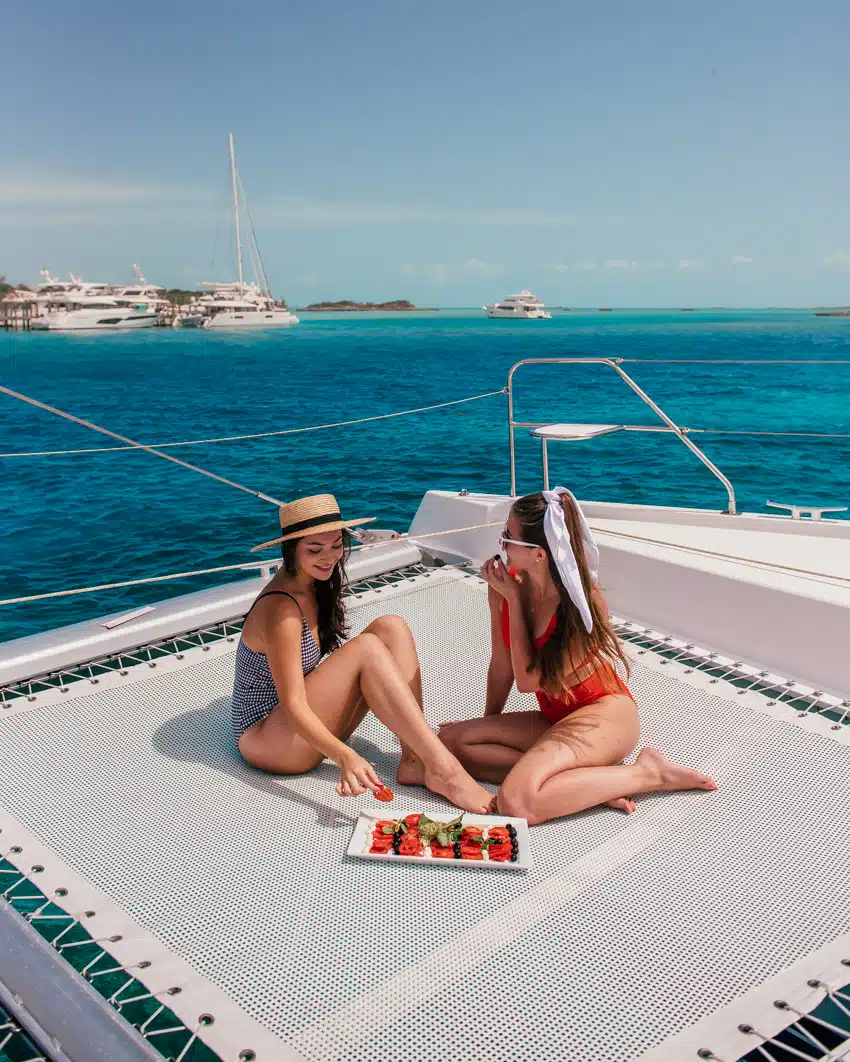 The Bahamas, on the other hand, is one of the top Caribbean destinations for all-inclusive resorts, and rightfully so.
If you've seen photos of the famous Atlantis resort, you'll find it in Nassau.
If you're looking for the ultimate relaxing vacation, an all-inclusive resort could be a great option.
All-inclusive resorts are also good for divers, as many resorts offer specific dive packages.
Also, if you want to experience some Bahamian culture, there are also many chain hotels and guesthouses on most islands.
As you get further away from the main hub of Nassau, you'll find several locally-owned guesthouses offering more of an authentic experience.
You can also splurge and live on a catamaran- which is arguably the best way to see the Exumas in the Bahamas. We did that for a week with The Moorings Yacht Charters. Hopping from island to island, it was one of the most unique trips I've been on!
Activities and Popular Attractions
No matter which destination you choose, you will have plenty of things to do. But exactly what you do could differ a lot based on where you go.
Puerto Rico
One of Puerto Rico's top attractions is Old San Juan.
There is a lot of history here, with colorful architecture and the evocative fort of El Morro.
Since most people fly into San Juan, you'll probably want to spend at least an afternoon exploring this area. Even if you only stay in San Juan, you'll enjoy plenty of beauty with great food and popular attractions. (Check out this post on 10 things to do in San Juan!)
Ponce, on the south side of the island, also has a beautiful historic town.
You won't want to miss Puerto Rico's beaches either.
Culebra and Vieques are some of the most famous, though they are islands that require ferries to get to. If you'd rather stay on mainland Puerto Rico, know that the coastline is filled with great sand.
There's also plenty to do inland.
El Yunque National Park has everything from waterfall chasing to hiking to wildlife-watching to ziplining.
For a calmer excursion, you can also visit the coffee plantations at Jayuya, in central Puerto Rico.
Check out this list of the 60 best things to do in Puerto Rico!
The Bahamas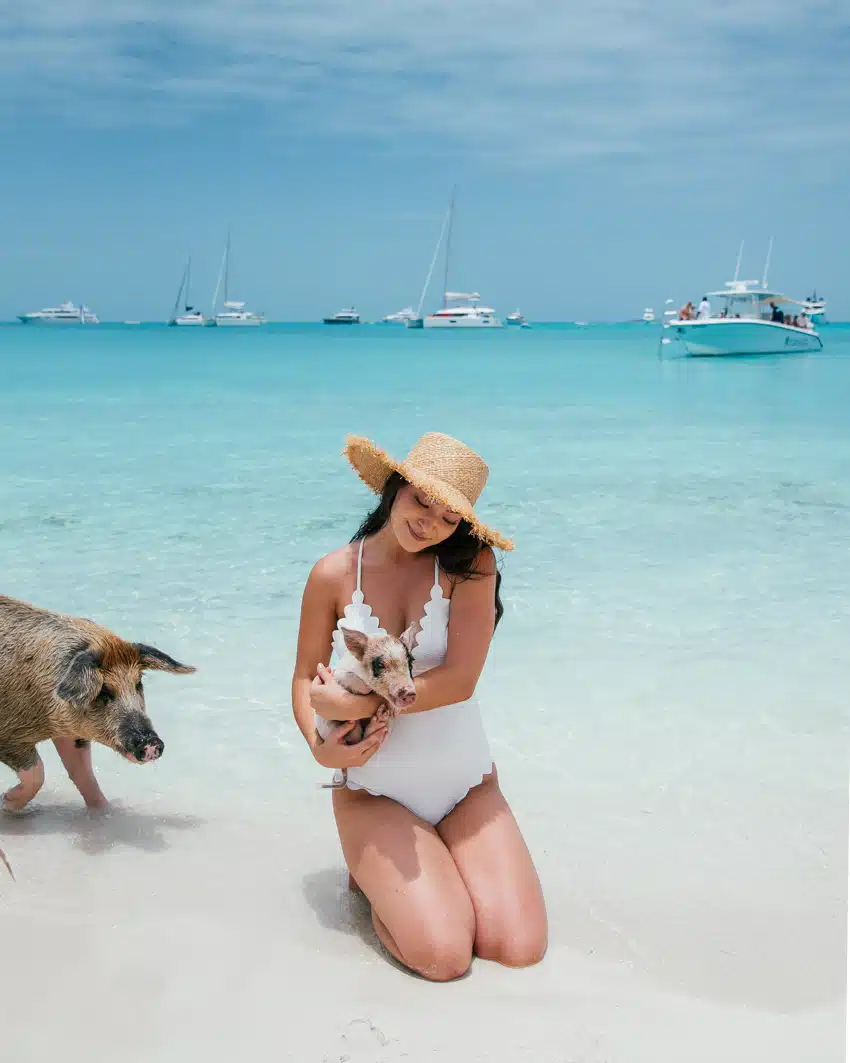 The Bahamas has over 700 islands (and 2,400 cays!) to its name, so there is definitely plenty to experience.
As you can imagine, most activities here involve water.
First off, it's one of the world's top destinations for scuba diving.
Andros Reef is the third-largest coral reef in the world and is famous for its wildlife. In Andros Reef, you'll find eels and sea turtles and intriguing blue holes.
Like Puerto Rico, the Bahamas has plenty of amazing beaches- but even more so.
The Pink Sands Beach on Harbour Island has been called the best beach in the world.
Also, if you can get out to Staniel Cay in the Exumas, you'll find the famous swimming pigs (but watch out, they can pack a mean bite!).
There are other awesome animal encounters in the Exumas, including visiting Allen Cay, home to iguanas, or Compass Cay, where you can swim with nurse sharks!
Here's my list of the 28 best things to do in the Exumas in the Bahamas!
Weather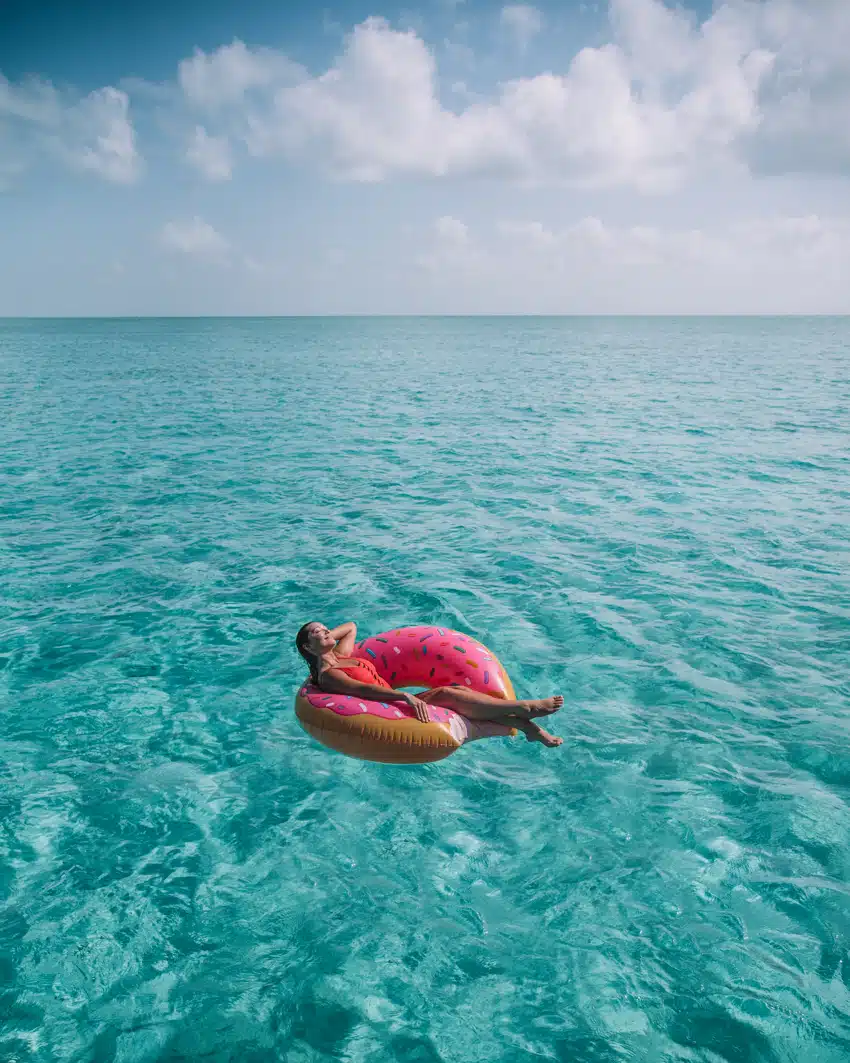 For both destinations, winter and early spring are high seasons.
If you're living in a colder climate, it's a great way to escape into some tropical weather.
Winter temperatures don't get much warmer than the low 80s, so you won't have to deal with the extreme summertime heat, either.
However, while December to March has the best weather, this time also attracts crowds.
If you want to travel during this time, try to book well in advance.
To avoid crowds and save a bit more money, you can also aim for the shoulder season in April and May.
Temperatures are a bit higher, but you should still be early enough to avoid the wetter summer months.
Travel in the summer and fall can be risky because of hurricane season.
It's certainly possible to visit during this time but be prepared for more rain and a possibly abrupt end to your visit.
We visited one year in mid-to-late June and had a couple of cloudy days, but didn't see any rain!
Nightlife
Honestly, nightlife isn't an important consideration to me because my husband and I typically like to turn in early for the night after a day of adventuring.
But both of these destinations have great night life!
Puerto Rico
If nightlife is important to you, know that Puerto Rico has an amazing nightlife with one of the best music scenes in the Caribbean.
If you love dancing, Puerto Rican nightlife should be on your bucket list.
The clubs play salsa, reggae, rumba, and everything in between.
There are lots of bars as well, and Puerto Rico is known for its creative cocktails.
If you want more of a laid-back vibe, check out some of the beachside spots.
While San Juan is the nightlife capital, there are party opportunities in every city and beach town in Puerto Rico.
The Bahamas
In the Bahamas, you'll find most nightlife concentrated in Nassau and Freeport.
Apparently, the scene in the Bahamas is more saturated with Latin fusion DJs and VIP clubs.
Bahamas nightclubs often have a strict dress code, as well, so keep that in mind when you're packing for your trip.
There aren't as many laid-back clubs in the Bahamas, but there are some smaller beachside bars to relax in.
We went out karaoke-ing at a little bar on Rose Island on my birthday and had such a blast!
Family Friendliness
Puerto Rico is a great destination for more adventurous families. Old San Juan is great to explore for a family, especially the nearby beaches and El Morro fort, pictured above.
There are also several tours that are excellent options for families.
For example, kayaking in the bioluminescent bays or hiking in El Yunque Forest are fun activities for active families.
Also, if you're looking for a family-friendly resort experience, the Bahamas is a great choice.
Grand Bahama Island and Paradise Island are top choices, with everything from water parks, family-friendly beaches, and great excursions.
There are also smaller resorts on the outer islands for a quieter, but no less fun experience.
Safety
Some people are hesitant to visit Puerto Rico because of its crime problem.
Thankfully, tourists rarely encounter any serious problems, as the major tourist areas have a strong police presence.
So if you keep to the popular areas, you should have no issues.
In San Juan, the most notoriously dangerous area is La Perla, though efforts to improve the crime in the area have been successful in recent years.
One thing to watch out for, no matter where you are, is pickpockets. Make sure you keep a close eye on your belongings and consider leaving any valuables at home.
Much of the same applies to the Bahamas as well.
Unfortunately, there has been a concerning rise in sexual assault against female tourists in recent years.
Steer clear of non-touristy areas, especially in Nassau, and avoid walking anywhere at night, especially if you're alone.
However, in both Puerto Rico and the Bahamas, you should have no problem if you travel with common sense.
On a lighter note, I never felt unsafe when I was in either destination (though I was never traveling by myself).
In conclusion…
Both Puerto Rico and the Bahamas are amazing destinations. If you're deciding between them, it really depends on what you're looking for.
Puerto Rico is great for those looking for a Caribbean experience outside of beaches and resorts.
The Bahamas is amazing for families, beach-lovers and divers.
No matter what you choose, either place offers the chance of an amazing vacation!
If you have questions as you're deciding which island to visit, let me know in the comments. I'd be happy to answer as best as I can from my personal experiences!
Safe travels,
Jasmine
PS. If you found this post helpful, please share it to Pinterest! You can use either image below for easy pinning!