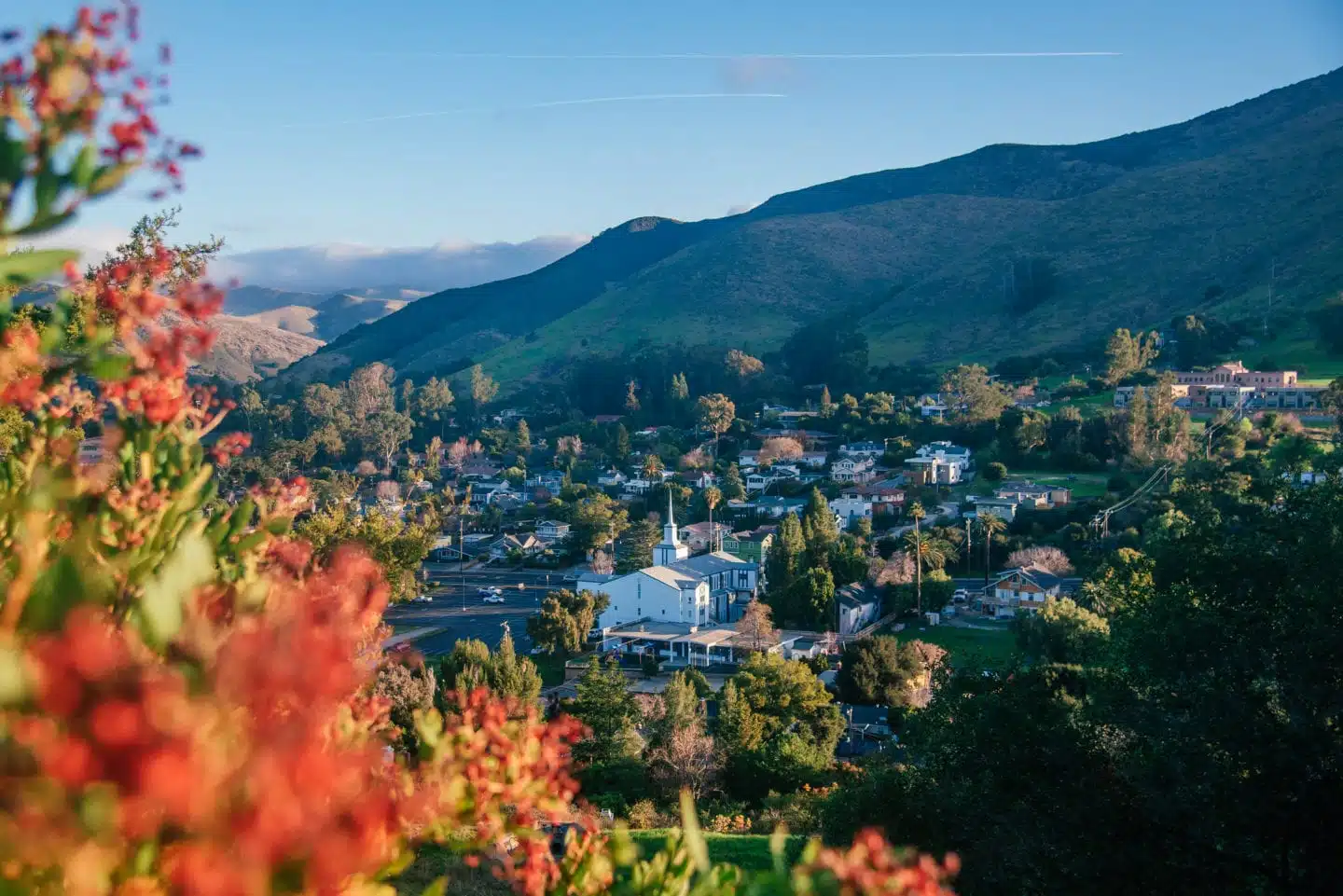 San Luis Obispo is a hidden gem along the California coast, situated between Los Angeles and San Francisco.
As you drive along the coast, your map will likely drive you through San Luis Obispo, but be sure to not simply drive past!
This city is way more than a quick stop- it's a destination all in itself!
In fact, the local airport has several nonstop flight options: Dallas, San Diego, Portland, and San Francisco being a few.
Luckily enough, as a Dallas-based blogger, Share SLO invited me to experience their perfect city for three days!
While this trip was sponsored, the words and opinions in this article are my own!
Harrison and I were handed a perfectly crafted itinerary full of all of the best local spots and things to do, and after experiencing them for ourselves, it's time to share them with you!
I've divided them into five different categories:
Nature
Surrounded by hills and volcanic vents, San Luis Obispo is perfectly situated in a remarkable valley.
As such, you can expect plenty of nature, scenic trails, and hiking paths.
While there are over 52 miles of trails and 3,850 acres of open space to explore, two nature experiences that you definitely need to add to your San Luis Obispo itinerary are Terrace Hill and the Cerro San Luis Lemon Grove Loop for two reasons: time and proximity.
1. Terrace Hill
The hike up to Terrace Hill is very short, in a convenient location, and the panoramic views are incredibly rewarding.
Hiking up to Terrace Hill Open Space takes about ten minutes. You'll hike almost straight up the hill at an incline.
Once you're at the top, you can walk all around the flat top of the hill to see 360 degrees around San Luis Obispo.
My favorite views are of the surrounding mountains and the perfectly picturesque church below (when I first saw it, I thought of the adorable town in Gilmore Girls- but even prettier!).
2. Cerro San Luis (Madonna Mountain)
This trail is notable because you can kill two birds with one stone here: visiting the iconic Madonna Inn, and getting in a great hike.
Commonly called Madonna Mountain, this is one of the volcanic Seven Sisters in the area!
You can also choose different hiking lengths.
The 1.5 mile loop called the Lemon Grove Loop will take you about an hour.
If you'd like to continue on, the trail stays left for a four mile hike with views of the whole city!
Regardless of which one you choose, you'll get some great views of the hills around Madonna Mountain.
3. Drive around the surrounding hills
If you have a car, it is worth it to just take a scenic drive around San Luis Obispo.
Consider driving out to the coast and back. You'll feel like you're in another country as the stunning hills surround you.
It makes me think of Iceland and Ireland instead of California!
This photo was taken at Turri Road.
Do
San Luis Obispo might be ten square miles all around, but let me tell you, there is plenty to do in this city!
Here are things you simply must add to your visit to San Luis Obispo:
4. Mission San Luis Obispo Tolosa
The Mission San Luis Obispo Tolosa is the fifth Mission along the California coast and was built in 1722.
Each hour, the bells on the bell tower ring, and you can actually witness this if you want!
You'll find gorgeous courtyards and gardens around the Mission, and are welcome to go inside!
It actually still holds Catholic mass, and has been in use since its original construction!
5. Shop (+ Farmers Market Thursdays)
As you walk down Higera Street and the surrounding cross streets and intersections, you'll notice an abundance of shops to explore.
Shops in San Luis Obispo range from well known classics (ie. Express, Bath & Body Works) to local businesses, like Blackwater, Ambiance, and Len Collective.
Whatever the price tag you're wanting, you'll likely find it in San Luis Obispo!
Farmer's Market Thursdays
If you're visiting on a Thursday, be sure to go to SLO's huge farmers market, where they close off the streets downtown and bring in all kinds of local vendors!
This is one of the things that have been bringing people to San Luis Obispo from all over, so try to visit if you can!
6. Catch a show at the Freemont Theater
Or just get a photo out front; the Freemont is a historic theater that opened on the eve to the US joining WWII!
It still has its original decor, which definitely makes it photo-worthy!
7. Bike around town
You can easily walk around town, but another great way to get around is by bike!
Check with your hotel to see if they offer bikes (we stayed at the Granada and enjoyed this perk!).
It made it way easier to get to the further corners of San Luis Obispo, and the roads are very biker friendly.
8. Add your gum to Bubblegum Alley
Stop by Bubblegum Alley to see this yucky goodness in all of her glory!
Be sure to chew some gum so you can leave your mark and add it to this 70-foot-long colorful display!
Relax & Stay
There are plenty of great options for your stay in San Luis Obispo.
Here are three options that are very different from each other. Out of these three, you can choose brand new and modern, eclectic and boutique, or kitschy and historic.
9. Get a spa treatment at Hotel Cerro
This hotel opened on January 31st, 2020, and is the newest hotel in San Luis Obispo (at the time that I write this, at least!).
We got to visit two days before they opened for a preview of what you can expect from Hotel Cerro.
Summed up, Hotel Cerro is modern, simply and tastefully decorated, and emphasizes clean living.
Their terrace pool has epic views and their restaurant takes farm to table quite literally- they source a lot of their greens from their on-site edible garden!
My favorite suite is the Garden Suite, where you have a luxurious standalone tub and your patio doors open up to the edible garden!
Regardless of whether you stay at Hotel Cerro, you should definitely book a spa treatment at their beautiful spa!
Harrison and I got a couples Swedish massage and it was incredible (and much needed, if I do say so myself).
Spa goers will get full access to their pool and spa terrace, both of which are beautifully designed.
10. Granada Hotel
The Granada Hotel & Bistro is a boutique hotel with seventeen uniquely beautiful rooms.
The decor here is eclectic and beautiful with exposed brick walls, original hardwoods, and stately Persian rugs.
We stayed in room #2 and loved the cozy fireplace and fun decor!
There is a gorgeous courtyard area and free access to their bikes (first come first serve).
Coffee and pastries greet you in the morning, but for a full meal head to the on-site restaurant, Nourish!
11. Madonna Inn
This famous inn is known for its kitschy decor and uniquely decorated 110 rooms. Oh, and a lot of it is pink!
Pictured above is the restaurant, which is worth visiting even if you're not staying at the Inn!
Pleny of famous people have stayed at this funky hotel, and it's easy to see why!
Wine
The SLO Coast Wine Region is definitely a can't miss!
I have to say, especially when the vines are in bloom, this is one of the most beautiful things to do in San Luis Obispo!
Just picture this: rolling hills full of perfect rows of vines with a gorgeous hilly backdrop.
And then picture tasting some wines from the very grapes that surround you!
There are a lot of tasting options in SLO, but here are two that we were able to visit and experience fully:
12. Baileyana, Tangent, and True Myth Vineyard
We loved our wine tasting at this winery because of the excellent customer service, fun schoolhouse setting, and delcious wines!
Demetra poured us our wine flights and did a remarkable job of explaining what made each one unique!
With both knowledge and enthusiasm, she'll guide you through your tasting and have you leave feeling like a wine expert!
She also told us about Uber Wine, which operates around the SLO Wine Region, where Ubers will wait for you to finish your tasting and then bring you to the next!
We brought our wine samples around with us as we explored their goregous property, and felt at home here!
13. Biddle Ranch
This vineyard is very classy and refined, with elegant ranch decor and a lovely setting.
Between tastings (or whenever, really) enjoy a game of corn hull or take a walk through their beautiful greenery.
Dine
Something that I absolutely LOVE about San Luis Obispo is that they did farm to table before it was a thing.
Even as you walk around SLO, you'll see how abundant the plants and fruits in this area are!
There are lemon and orange trees all over the place, and SLO is surrounded by farms and vineyards!
And let me tell you- when your food is this fresh, you can tell!
Here are several great dining options that show you how you can still eat healthy while traveling- and that healthy doesn't have to sacrifice flavor!
14. The Carissa
I'm convinced that everything you order from The Carissa is going to be a taste of heaven.
The brussel sprouts were divine, the tacos were so yummy, and the salmon was perfect!
For dessert, be sure to order the banana fritter. It is served with a scoop of ice cream that comes all the way from Los Angeles because it is THAT GOOD. They drive down to LA to pick up several gallons, and after tasting it for myself I could see why!
15. Mint + Craft
Mint + Craft was our first stop in San Luis Obispo and gave us our first glimpse into all of the great food we'd have ahead of us.
It's a great little cafe that serves oriental cuisine with a farm to market emphasis.
16. Farmhouse Corner Market
Not only does this place have great food, but it is also hands down the most Instagrammable restaurant in San Luis Obispo!
With the cutest decor and fun photo spots, you'll want to stop in for more than just their yummy food.
Rainbow bleachers, a colorful plant wall, a retro ice cream shop, and a tricked out old truck are just a handful of things you'll find at the Farmhouse Corner Market.
17. Novo
Novo has a wonderful creekside patio that makes dining here extra fun.
With heat lamps, twinkle lights, and fresh outdoor air, you'll definitely want to request a seat outside at Novo.
18. Sally Loo's
Sally Loo's breakfast is farm to table meets healthy comfort food.
WIth fun in-house art installations and signs telling you where the ingredients in your food come from, they emphasize local in a fantastic way.
The food was beyond delicious, and the service here is excellent!
It's also located right by the railroad station, so if you're visiting by train, this is the perfect first stop for you!
19. Nourish
This spot is a great stop for some coffee (or a matcha latte, which is what I ordered!).
You'll also find some gluten free pastries and the most delcious fruit salad I've ever had! It's incredible how much better things taste when they're that fresh!
Looking for more coffee shops? Check out these places:
20. Nightcap
By the end of the day after all of your explorations and shopping (and hopefully some relaxing!), close out the evening with a nightcap at Nightcap!
This bar is attached to the Granada Hotel & Bistro and offers great cocktails for you to enjoy among their mid-century modern decor!
In conclusion…
All in all, I hope that gives you at least 20 reasons to go visit San Luis Obispo!
Between the farm-to-table fare, the stunning nature, and all of the things to do in San Luis Obispo, you won't want to miss this California gem!
Safe travels!
Jasmine
PS. If you found this post helpful, please share it to Pinterest! You can use the image below for easy pinning!