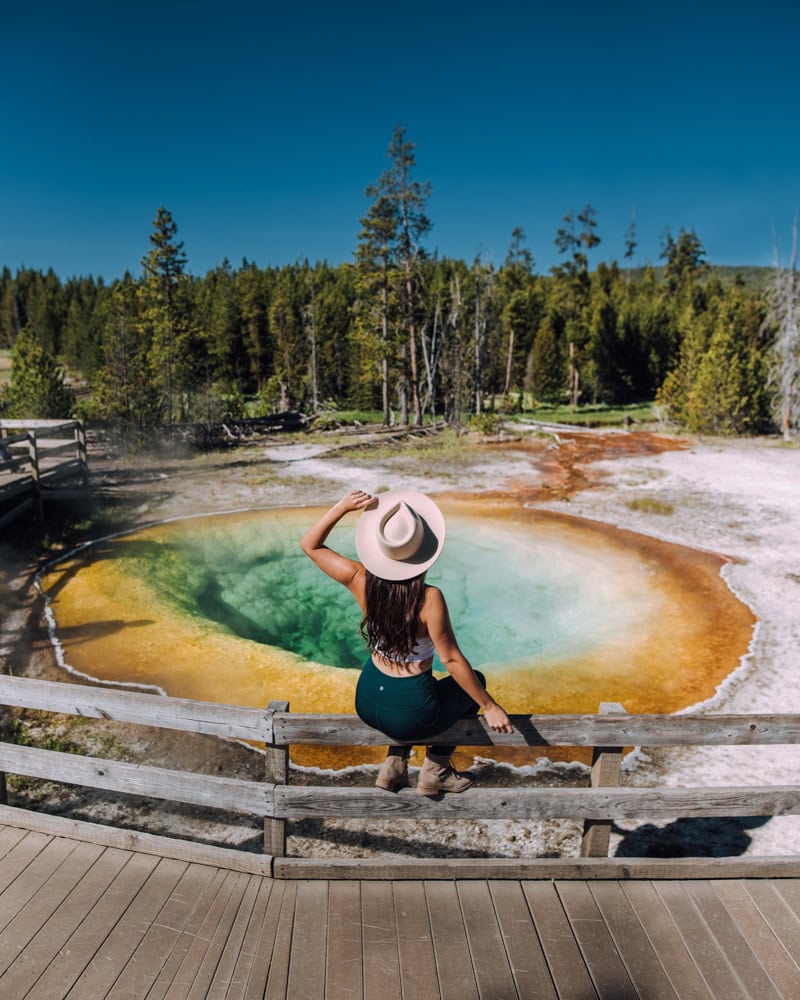 If you're wondering what you should know before visiting Yellowstone National Park, you're in the right place!
Whether you've heard about the crowds in Yellowstone this summer and want to know how to avoid them, have never been and don't know what to expect, or you're just an avid trip planner like me, I've got you covered!
My husband and I spent a week in Yellowstone exploring the ins and outs of the park for five days. Since it was our first time visiting, we came prepared with all the questions we had that we wanted to find answers to.
To get a sense of our trip, be sure to check out the video we made of our visit!
If you don't see a video player below, you may need to disable your ad blocker.
But don't worry, with these 23 things to know before visiting Yellowstone National Park, you'll be prepared for your visit this year.
Whether you're visiting for a day, camping in the park, staying outside of the park, or anything in between, I hope you find this list helpful! I think you're going to love your visit to Yellowstone; it's too unique and beautiful of a place not to appreciate! (Check out these best photo spots in Yellowstone to see just how stunning it is!) As long as you stay safe, know what to expect, and follow these Yellowstone tips, you should have an exciting adventure ahead of you.
So, without further ado, here are helpful things to know before visiting Yellowstone National Park!
1. The first thing to know about Yellowstone National Park: the park is huge!
I've got to put this first on the list to set the tone for your expectations. At 3,471 mi², it's the second-largest national park in the Lower 48 (behind Death Valley National Park). Comparatively speaking, it is larger than Delaware and Rhode Island combined. And it's about the size of Puerto Rico!
This means that you won't be able to explore it all in a day. (If a day is all you have, don't worry, you'll still get your fair share of the park! I'll link my one-day Yellowstone Itinerary here once it's ready!)
2. Get your Yellowstone entrance pass before visiting.
Here's a helpful tip you should know before visiting Yellowstone National Park to save time.
You'll want to buy your Yellowstone Entrance Pass online before arriving at the park. You'll need your license plate number, so if you're renting a car, you'll have to wait to purchase it. At the time of writing, Yellowstone does not have a visitor cap (unlike Glacier National Park).
Once you have purchased your entrance pass ($35 for private, non-commercial vehicles), you can save it to your phone and it lasts for a week. (Unless, of course, you have an annual Yellowstone pass which costs $70).
3. The best time to enter is before 8am or after 11am.
The West Entrance to Yellowstone is the busiest, and rightfully so, as it arguably has the most to see right around it. But that means that from 8-11am, you're likely to see long lines of cars waiting to enter the park snaking into the town of West Yellowstone.
To avoid those lines, try getting into the park before or after those times. We entered the park around 6:30-7am on the mornings that we didn't stay in the park, and only had 5-15 cars in front of us. That brings me to the next helpful thing to know before visiting Yellowstone National Park:
4. When entering, the fastest line is the PrePaid line, even if it looks the longest.
This one is pretty self-explanatory. People with the downloaded park entrance pass can easily show their pass with their drivers license. Those who need to purchase a pass take more time doing so.
5. If you're entering from the South, you'll need a pass to Grand Teton National Park as well.
The main town that people stay in on the southern side of Yellowstone National Park is Jackson, Wyoming. If you want to visit through the south entrance, you'll actually drive through Grand Teton National Park! That said, you'll need an additional park pass to enter Grand Teton. The Grand Teton park pass works the same way as the Yellowstone one; it is good for a week and costs $35 as well in 2021.
Oddly enough, if you're driving from Yellowstone and head south through Grand Teton, you don't have to pay the entrance fee for Grand Teton!
We stayed in Island Park, Idaho for the first part of our Yellowstone trip where we entered through Yellowstone's West Entrance. One morning afternoon, we drove out the South Entrance, visited Grand Teton, went to Jackson, then drove back up to Island Park (outside of both national parks). We didn't even see a place to pay for our entrance to Grand Teton!
6. There is basically no cell service and no wifi in the park.
In this technologically advanced world that we're living in, this might come as a shock. But it's true! Yellowstone is one of the best places to unplug in America due to the fact that there's hardly cell service or WiFi here.
There are areas of the park that claim to have cell service (Canyon Village, Old Faithful, etc.), but we never had cell service in the park in any of those areas. Your cell service provider might have more coverage in Yellowstone than ours, but as a rule of thumb, don't plan on having service.
Some of the lodges and dining areas have WiFi, but just know that many of them move at dial-up speeds!
7. If you are looking for lodging in the park, there's one place to find it all.
You won't find lodging within Yellowstone National Park on sites like Booking.com, Hotels.com, etc. There's one hub for all of the lodging in the park (there are 9 lodges and 5 campgrounds): Yellowstone National Park Lodges, run by a group called Xanterra.
You book everything directly through their website. Try not to have to make any changes, as calling them can be a pain. There's just one phone number for all nine lodges inside the park. I tried calling regarding a dinner reservation (we'll cover more on dining later!), and they had a busy signal 95% of the time. The one time I got through to their answering service, I was waiting for a representative for a good 20-30 minutes.
We stayed at Lake Yellowstone Lodge (our cabin pictured above) one night and Canyon Lodge one night.
8. You could get stuck in a line of cars for over an hour.
We sure did! And I'm not talking about the line at the entrance if you visit during rush hour. I'm talking about animal-related traffic! These traffic jams mainly occur when you're on one of the main park roads where there aren't good pull-offs.
There might be a bison in the road, meandering along without a care in the world. Or, there might be a black bear on the side of the road that every single car is stopping to take a photo of. We even passed a crazy long line of cars that had stopped because there was an elk on the side of the road.
There's nothing you can do except wait it out. But hopefully knowing that this can be a possibility will help you keep a level head when you're stuck in traffic. If you're travelling with children, bring car activities or games if you think they'll need them!
9. You just need a sedan in the summertime.
Rental cars this summer in Bozeman are extremely pricey. Even if you use a rental app like Turo, you'll still find pretty hefty pricing. In the end, we chose the cheapest rental we could find, which was the "dealer's choice" from Hertz.
When we got to the rental counter, the Hertz employee who helped us at the Bozeman Airport tried so hard to get us to pay more for a bigger vehicle. (Like, absurdly hard with a bunch of scare tactics… "You do know that you're going over a continental divide?," "You won't want to get stuck without cell service," etc.) We stood our ground, and I'm so glad that we did!
If your family fits in one, a sedan is all you'll need. In the summertime, you can VERY EASILY drive a sedan through the park. And have great gas mileage while doing so! We were in a Hyundai Accent and that little guy did great. Basically every road we traveled on in the park was smooth and in great condition. The worst thing we came across on the roads was a few minor potholes.
10. There are several useful things to have with you in your car.
Here are some things I'd recommend bringing with you:
electronics car charger with outlets (this is the exact one we have)
phone charger cable
binoculars
a water jug and a water bottle to fill up
snacks
an extra camera battery
umbrella and waterproof camera cover (if rain is in the forecast)
sunscreen
sunglasses
wet wipes to clean your hands (there are lots of portapotties in the park but not many places to wash your hands!)
11. Download the Yellowstone App and Google Maps ahead of time.
First things first: the Yellowstone App is amazing. It works offline and shows you where you are! It's interactive, and you can learn about every place you visit in Yellowstone. There are audio guides, animal facts, gas/dining information, and more. You can find the app on the App Store and on Google Play.
You should also download offline maps from Google Maps before visiting the park. They will work on your phone when you don't have cell service (aka the whole time you're in the park).
12. There are gas stations in the park.
Though it is typically cheaper to fill up outside of Yellowstone, there are several gas stations throughout the park. You can see their exact locations on the Yellowstone App. But still, make sure to be mindful of your gas levels.
13. Buy food and snacks ahead of time!
With this year being the busiest year that Yellowstone has ever had (revenge travel, much?), and dining options limited within the park, you'll want to grab food ahead of time. Here's what we kept in our car as meal replacements and snacks:
Beef jerky
So, so many protein bars
Nuts/ trail mix/ granola
Applesauce
Peanut butter and bread
Apples and bananas
Chips & salty snacks
Gatorade
Gallons of water
14. If you want to eat in the park, go at odd hours.
This is one of the most helpful things to know before visiting Yellowstone National Park if you plan to dine in the park. With summer crowds at an all time high, and limited dining room openings in 2021, there are some insanely long waits for food at peak dining hours.
We stayed at two different lodges in the park: Lake Yellowstone Hotel and Canyon Lodge. We tried to eat at Wylie's Canteen, a restaurant at Lake Lodge, around 5:30 and the line was absurdly long (40+ people standing in line ahead of us). So, instead, we went to the grab & go deli at Lake Yellowstone Hotel and got some hot bison chili instead- there were no lines and it was fantastic.
The next night, while staying at Canyon Lodge, we knew better. Right before they opened at 4:30pm, we got in line to eat at the Canyon Lodge Eatery. Moral of the story: eating at weird times will save you time.
15. Wear layers! Temperature changes here can be drastic.
While on our Yellowstone trip in late June, temperatures ranged from the high-20s to mid-80s. And with Montana's famously big sky, you've also got a powerful sun. Thus, you'll want to wear layers that you can easily take off, and wear sunscreen, even if you don't think you'll need it. Another aspect of the weather is that the air here is very dry and can be dusty. So don't forget some moisturizer, too!
16. Here are Yellowstone's animal population sizes:
Elk: 10,000-25,000
Bison: 4600-4,800
Black bears: 500-650
Pronghorn: 450-500
Grizzly bears: 280-610
Moose: <200
Wolves: 83-108
This list will give you a good estimation of whether or not you're going to see each animal on your visit. Chances are you'll see more than one elk and bison. (We saw around 20-30 elk and hundreds of bison.) You're lucky if you see any of the other animals on this list! We saw two black bears and one cub and were so ecstatic to have seen them!
If you're determined to see a bear and don't see one on your visit, you can stop by the Montana Grizzly Encounter, just about 20 minutes away from the Bozeman Airport. That's what we did spontaneously after seeing a billboard on our way to the airport. You get to safely see and learn about grizzlies at this rescue and education sanctuary.
17. Lamar Valley is the best place to see wildlife.
Quick little side rant about being stuck in traffic to see animals: I 100% get traffic due to a bison in the actual road or something unique like a bear or moose to one side. Totally get that.
But when people stop to take photos of an elk or a bison on the side of the road and cause crazy lines of backed-up traffic, it seems silly to me! There are places in the park, like Lamar and Hayden Valley, where you see hundreds, maybe even thousands, of bison! And elk are also very common, as well.
Thus, if you want to see a ton of bison and get that quintessential Yellowstone experience, Lamar Valley, near the northeast entrance, is the best place to do it. Hayden Valley is another great place, though we saw way more at Lamar Valley.
18. Here are the recommended distances you're supposed to stay away from animals.
You'll find this information in a bunch of different places around the park, but just to reiterate, here it is again! Remember, safety first!
Stay 100 yards away from bears and wolves, and 25 yards or more from all other animals, including bison and elk. (Sometimes, you can't help it when a bison or elk walks past your car on the side of the road. That happened to us more than once).
19. If you don't have bear spray, bells won't work. Use your voice.
It was at the Montana Grizzly Encounter that we learned this fascinating little tidbit! We saw plenty of people with bells attached to their backpacks or children on hikes in Yellowstone. Turns out, this isn't helpful!
Grizzlies are very curious creatures, so they may actually want to investigate what's making the jingling sound of the bells! Instead, the best way to hike is to go in a group of three or more and to use your voice! Yup, keep talking as you hike! If you're solo hiking, then you can put on a podcast (not music). Our guide explained that bears are familiar with human voices and will typically not want to further investigate.
Bear spray is a great thing to have with you if you are hiking in the park. You can rent some directly at Yellowstone if needed!
Here are the basics on how to act in various bear situations (learn more here):
You see a bear: back away slowly, don't turn your back or run. Bears instinctually want to chase.
A bear charges: spray bear spray around you (not at the bear, but around you) and stand your ground.
A bear makes contact: play dead. Lie flat on the ground face down with your hands protecting your neck.
If a bear attacks you in your tent or stalks you and then attacks: fight back. This situation is extremely rare.
I hope this hasn't made you afraid of getting attacked by bears though! Since 1872, only eight people have been killed by bears in Yellowstone (source). The park gets over 4 million visitors each year. I'll leave it at that.
20. Old Faithful goes off every 1.5 hours, more or less.
Old Faithful is probably the most recognizable and well-known attraction in Yellowstone National Park. And they call her 'Old Faithful' for a reason- she goes off pretty regularly.
Every 1.5 hours (give or take ten minutes), Old Faithful shoots up between 106-180 feet in the air! (But, she's not the tallest geyser in Yellowstone! That honor goes to Steamboat Geyser, which shoots up to 300 feet in the air! But Steamboat's major eruptions are very sporadic- it could be days, weeks, months, or years before another major eruption from Steamboat Geyser).
Since there is no service in the park, if you see a park ranger, you can ask them the last time Old Faithful went off or when they predict it to go off next. Then, make sure you arrive at least 30 minutes before the predicted time, since you never know if it's going to erupt early!
21. Most of the must-see things are accessible by a boardwalk.
Old Faithful, Grand Prismatic, Norris Geyser Basin, Artist Paintpots, Mammoth Hot Springs, and more are all easy walks on boardwalks. Many places are wheelchair accessible, making it relatively easy to see incredible things. If you're looking for Yellowstone's accessibility information, the Yellowstone Park app gives details for just that.
I thought this was important to add to this list because I didn't know much about Yellowstone before visiting, including this fact! Typically, when I think of national parks, I think there will be long hikes through forests. While you definitely can find those in Yellowstone, the more popular Yellowstone activities include walking on boardwalks with other people.
Speaking of Yellowstone's attractions, check out this post for the 38 best photo spots in Yellowstone!
22. The hot springs are so hot that some can kill you within minutes.
Here's a tidbit that is a great reminder of the thermal dangers at Yellowstone: water in hot springs can cause fatal burns, and there are instances of people dipping a finger in a hot spring and falling in. YIKES. (Since 1870, 22 people have been killed by hot springs compared to 8 by bears.)
So, keep a very strict eye on children around the boardwalks in Yellowstone. The crusts around the hot springs are delicate and breakable, so be very cautious! (It actually amazes me that many boardwalks don't have railings in Yellowstone! I appreciate that for photo purposes, but it's a bit scary!)
23. The road from Canyon to Tower is closed in 2021.
This is one of the most important things to know as you're driving through Yellowstone National Park. Especially if you are relying on Google Maps to get around, since the offline maps version doesn't register this road closure.
This means that there are two park highlights that are inaccessible in 2021: Mount Washburn and Tower Falls (yes, Tower Falls is closed in 2021, even though it appears open on the Yellowstone App). It also makes the drive from Canyon Village to Lamar Valley almost twice as long.
So, there you have it.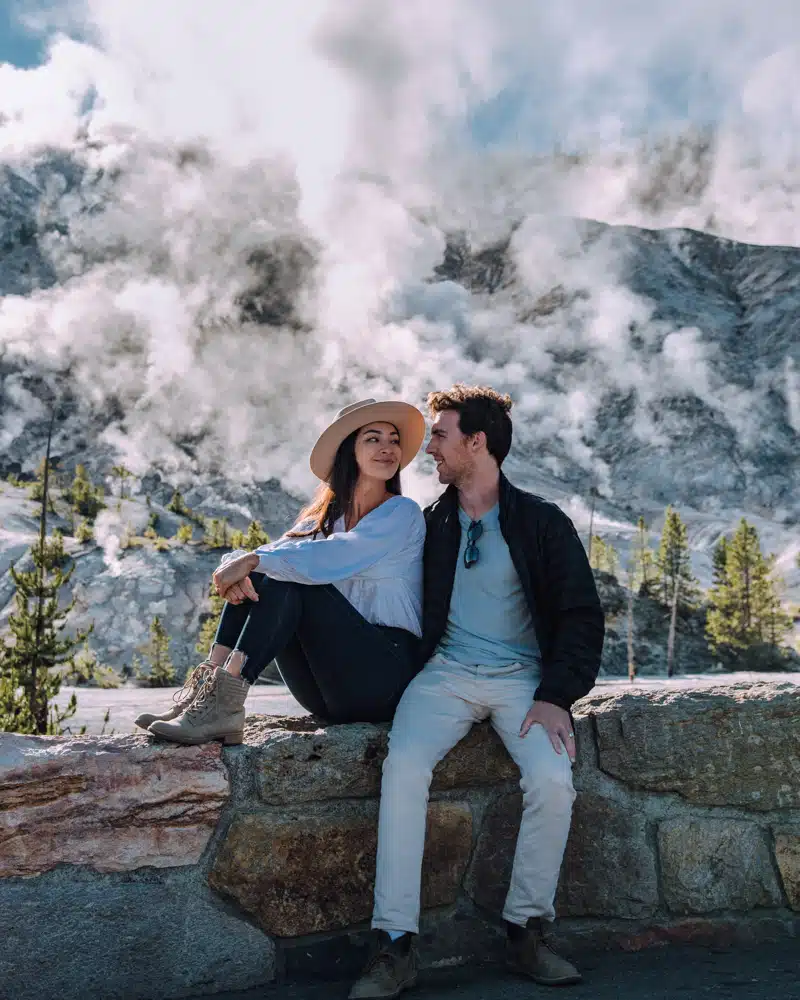 23 helpful things to know before visiting Yellowstone National Park this summer! I hope you found this list helpful, and if you have any questions, let me know in the comments! I'm happy to answer based on what we experienced in the park.
You can also check out this Yellowstone FAQ post that my husband compiled!
Have fun and safe travels!
Jasmine
PS. If you found this post helpful, please share it to Pinterest! You can use either image below for easy pinning!