Fancy a tropical getaway to Hawaii and need to know where to stay in Oahu?
Great, because I'm here to answer just that!
But first, let's talk a bit about Oahu.
Oahu is Hawaii's most visited island. Oahu is where Honolulu, the capital of Hawaii, is located. Waikiki, a beach suburb of Honolulu, is the most popular tourist spot in all of Hawaii!
Waikiki is undoubtedly where most tourists to Oahu (and all of Hawaii) end up staying. In fact, my husband, Harrison, and I stayed in Waikiki on our honeymoon!
But there are definitely some other places worth checking out too! Though we loved our honeymoon, we decided to try a new area on our most recent Oahu trip and were pleasantly surprised. I'll get more into that later.
Also, you can check out my video of our trip to Oahu below!
[You may need to disable your ad blocker if you don't see a video player below.]
Oahu is divided into five main areas:
the North Shore
the Windward Coast on the east
the Leeward Coast on the west
the South (which includes Waikiki, Diamond Head, and other parts of Honolulu)
and the Central area.
In this guide, we'll look at the best places to stay in Oahu and some of the best hotels in Oahu!
Waikiki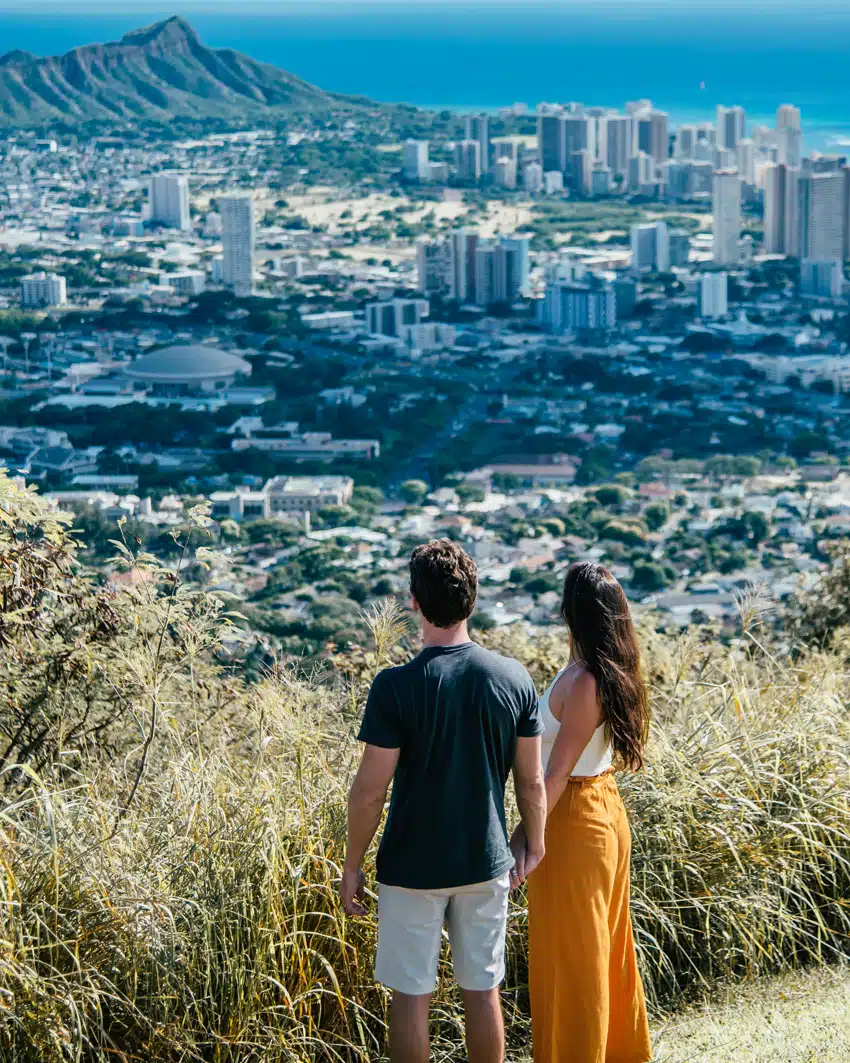 Waikiki is part of the South area of Oahu. We took the photo above at Tantalus Lookout where you can see Diamond Head stretching all the way to Waikiki. (See more great photo spots on my Instagram Guide to Oahu here!)
Waikiki is Hawaii's oldest resort area, and it's been popular for around 120 years.
It's part of Honolulu, which makes transportation easy and affordable. And while it is a crowded and busy area, it is still beautiful.
There are other benefits to staying in Waikiki as well. There are cheaper hotels than elsewhere on the island due to more demand.
This, and the fact that shuttles from Honolulu airport to Waikiki are very affordable, means that it is the most budget-friendly place to stay in Hawaii.
Many tourists 'fly and flop' – they travel to Waikiki and don't leave for the entirety of their holiday. In fact, that is exactly what we did on our honeymoon. We were a poor married couple (my parents had gifted the honeymoon as a wedding present), so we didn't rent a car. Other than traveling by bus one day, we spent our whole honeymoon in Waikiki!
There's certainly everything you need here in Waikiki, as you'll be able to take in a variety of attractions. Nearby attractions include museums, cultural sites, shopping malls, a zoo, and an aquarium.
There are also plenty of restaurants, with something to meet every taste! We would walk to a different restaurant every day!
However, there are plenty of people who opt to stay outside of the Waikiki bubble.
Some people's Hawaii dream isn't sunbathing on a packed out Wakikian beach. In fact, the entire area is crazy crowded, and getting around on the roads can be stressful. Furthermore, some hotels can charge up to $40 per day to park a rental car!
Most people consider the 'real' Hawaii – the beautiful, not so touristy part, to be outside Waikiki. Some people prefer to venture further afield and stay within one of these parts instead.
We definitely felt like we didn't experience Oahu at all on our honeymoon, so on our subsequent visit, we made it a point to stay elsewhere.
That being said, Waikiki is a great place to stay in Oahu for families and people traveling on a budget. It's also the best area in Oahu for nightlife.
Here are some hotel options for Waikiki:
Ritz Carlton Residences
The Ritz Carlton Residences is one of the most luxurious places to stay in Waikiki and the whole of Oahu.
You'll be graced with a beautiful suite looking out over the ocean and deluxe hotel facilities. I'm talking about a world-class spa, stunning pool, and a fantastic restaurant and bar.
Coconut Waikiki Hotel
Coconut Waikiki Hotel is a good mid-range place to stay in Oahu. It has a pool, fitness center, and serves breakfast. Rooms are both modern and comfortable.
Diamond Head
Diamond Head is very close to Waikiki, on its eastern side, but is very different from Waikiki in its atmosphere. It's an area that's home to lots of walking routes and green space. That makes it ideal for getting lost in nature while still being close enough to Waikiki to enjoy its restaurants, bars, and beach.
Diamond Head also has even better value rooms than Waikiki, despite them being so close. There are lots of parks and outdoor gyms in this area – so it's great for families too. While some people opt for the convenience of staying in Waikiki, Diamond Head could be another excellent option for budget travelers, families, and couples.
The best things to do in Diamond Head include the Diamond Head Hike. (You can see the view from Diamond Head Crater in the photo above.)
Diamond Head is just a stone's throw from beaches with surf lessons, protected swimming areas, and the restaurants and bars of Waikiki.
It is about a 10-15 minute walk to central Waikiki. Also, some of the cons of staying in Diamond Head are the same as Waikiki. The beach can be a bit busy, and sometimes a vacation here feels more like a city trip than an island stay!
However, you are closer to the southeastern side of the island where you'll find some of the prettiest views and spots in Oahu!
There are plenty of different accommodation options in Diamond Head, just like in Waikiki.
The New Otani Kaimana Beach Hotel
Our favorite is the Kaimana Beach Hotel. It has its own private beach – a rarity for Waikiki! It is still within walking distance to Waikiki's shops and restaurants. It's a great compromise to enjoy the heart of Waikiki but still feel like you're on a tropical island.
Kailua
A much more toned-down version of Waikiki is Kailua. This beach town does see tourists, but a fraction of Waikiki's.
And great news: around Kailua there are some pretty spectacular beaches. Check out Kailua Beach and Lanika to see what I mean! Both of those beaches were our favorites on the whole entire island!
Kailua is a fantastic place for those who want a chilled out holiday and to enjoy traditional Hawaiian beaches with far fewer crowds.
There are a few drawbacks to staying in Kailua, depending on what you're looking for.
If you're after nightlife, you'll definitely be happier in Waikiki. There are also fewer resorts near Kailua. Since it's more of a local place, you'll be staying in either a small guesthouse or B&B or renting your own apartment.
For some, these are perks to staying in Kailua, so it all depends on your travel preference!
Kailua Beach Studios
The best accommodation in Kailua are rental apartments or studios, and these beach studios are a great option. This studio is kitted out with all the amenities you'll need on a stay, and there is a pool on site.
The Windward Coast
The Windward Coast is home to lots of local, more authentic towns and is a great place to stay to enjoy traditional Hawaiian culture. Many of the places to stay here are guesthouses and B&Bs, but there are also a few resorts.
Kaneohe is the largest settlement in the area. While it's certainly not as busy as Waikiki, it's a great place to stay if you want to appreciate the 'real' Hawaii.
Paradise Bay Resort
I think that Paradise Bay Resort is the epitome of paradise. With a backdrop of the Koolau Mountain Range, here you can enjoy soaking in a hot tub or swimming in the outdoor pool in blissful luxury.
I especially loved our room as it had a huge patio with great views. Every morning, we'd open the doors and windows and simply listen to nature.
I'll never forget our first morning when we stepped out onto the patio and could instantly smell that sweet Hawaiian floral scent. If you've been to Hawaii, you know what I'm talking about! I'm convinced it's the best scent in the world!
Our room had everything we could need including a little kitchenette, and breakfast is supplied each day (except during Covid).
Normally they also have stand up paddle board and kayak rentals as well, though those were not available during our stay.
Even so, staying on this side of the island, so immersed in nature, was a welcome experience after our last time only staying in Waikiki.
Of course, your preference could be the opposite, but this is just how I felt! 🙂
The North Shore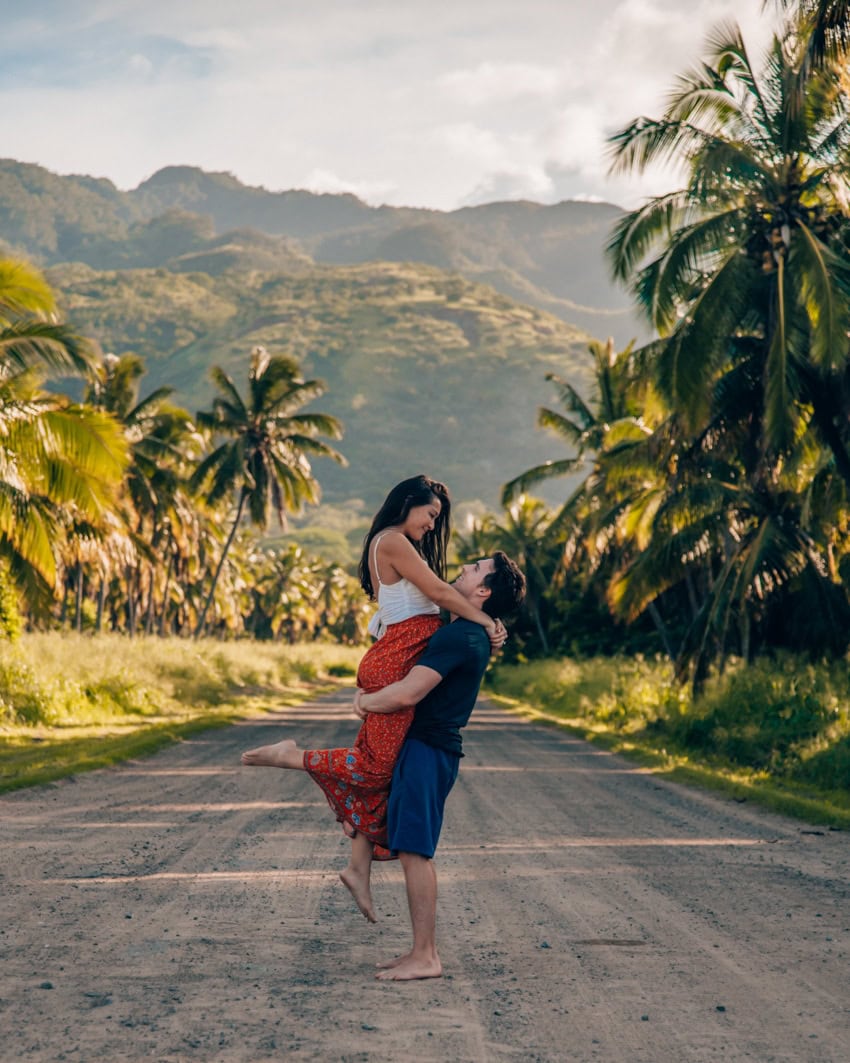 The North Shore is one of the most epic parts of Oahu. Far away from Waikiki's chain restaurants and stores, here there are tranquil surf towns and epic beaches with beautiful waters.
There are plenty of snorkeling areas and coastal walks around the area.
Do bear in mind that you can only swim at these beaches in the summer due to the waves' size. This is a slight disadvantage to staying on the North Shore, as Waikiki has protected areas for winter swimming.
Haleiwa is a decent-sized town on the north shore with shops and restaurants, making it a great place to stay in the area to have some facilities still.
The North Shore has some of the world's best surfing, making it a popular place to stay for surfers and backpackers who are trying the sport. It's popular for snorkeling and famous for its food trucks! There are also some lovely hikes in the rural area.
The North Shore is a one-hour drive to Waikiki, so is a bit more difficult to get to than other areas in Oahu. But it's well worth the journey – this area is spectacular.
Turtle Bay Resort
Turtle Bay Resort is the only resort on the north shore, and it's undoubtedly one of the best places to stay in Oahu. There are lots of resort-style activities here. And since it is peaceful and isolated, you'll have everything you need for a luxury stay.
Backpackers Vacation Inn
This is the cheapest place to stay on the North Shore. The owners of Backpackers Vacation Inn foster a great atmosphere here. They encourage backpackers to make friends, and it's also in the ideal location to go to the beach and snorkel.
The Leeward Coast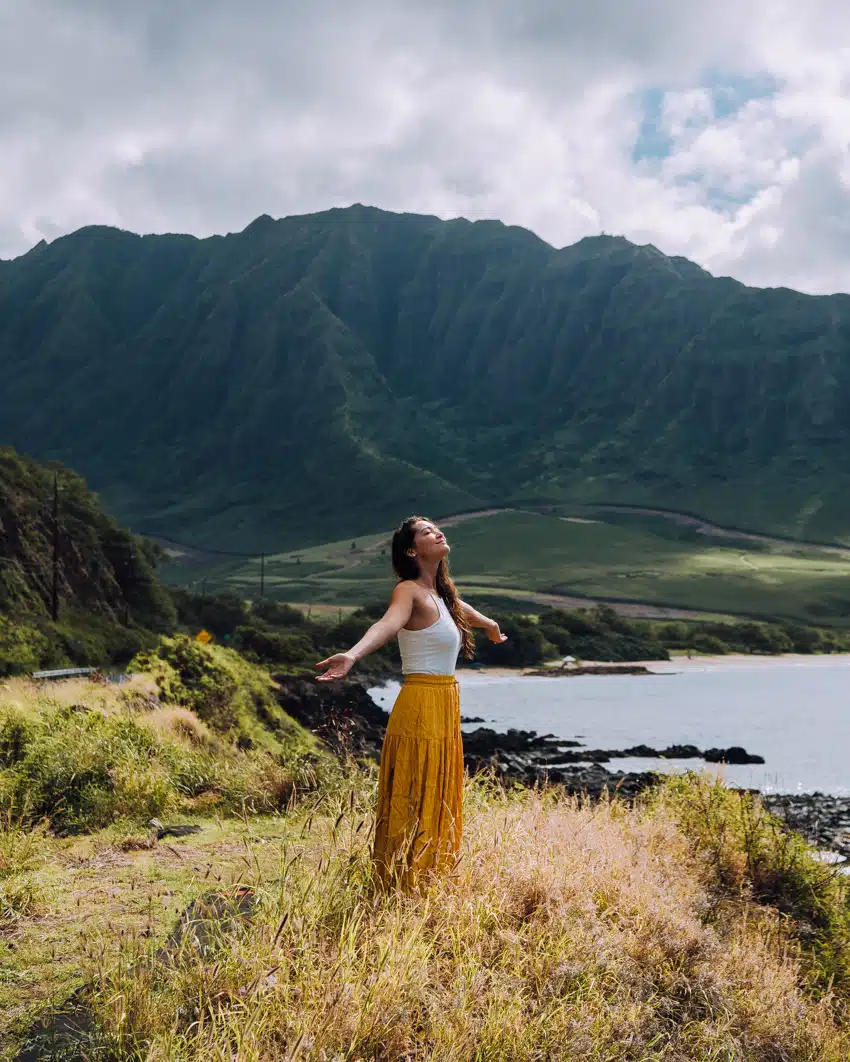 The Leeward Coast is on Oahu's west side. On the Leeward Coast, Ko Olina is an area that's well set up for vacations, but it's nowhere near as busy as Waikiki.
In the Ko Olina area, you'll be able to enjoy resort life and amenities such as a golf course, a shopping center, and a marina. That being said, it's right in the heart of nature and is a beautiful place to relax and unwind.
There's also the chance to go snorkeling near Ko Olina. The surf is good, and there are plenty of hiking opportunities in the local area!
It's quite similar to the North Shore in its remoteness and wilderness, though you'll find more resorts available in the Ko Olina and west side. This area is a popular choice with families looking to get into nature.
It doesn't have the North Shore's food trucks, and it is much quieter than the more common resort areas – but many people prefer this.
Here are some of the best resorts in Ko Olina and the West Side:
Disney Aulani Resort
The Aulani Resort is a high-end resort and isn't cheap, but it is ideal to stay in Oahu with kids. It's got luxury accommodation for you to enjoy, and endless attractions for children. You'll enjoy a lazy river, water slides, ukelele lessons, and lots of activities for all ages. The rooms are luxurious and comfortable, so you'll really feel like you've had a vacation as well!
Four Seasons Resort
The Four Seasons Oahu resort is ideal for couples. It's a relatively quiet place with beautiful rooms with all the amenities you could need. The staff provides exceptional customer service and there are lagoons for swimming.
In conclusion…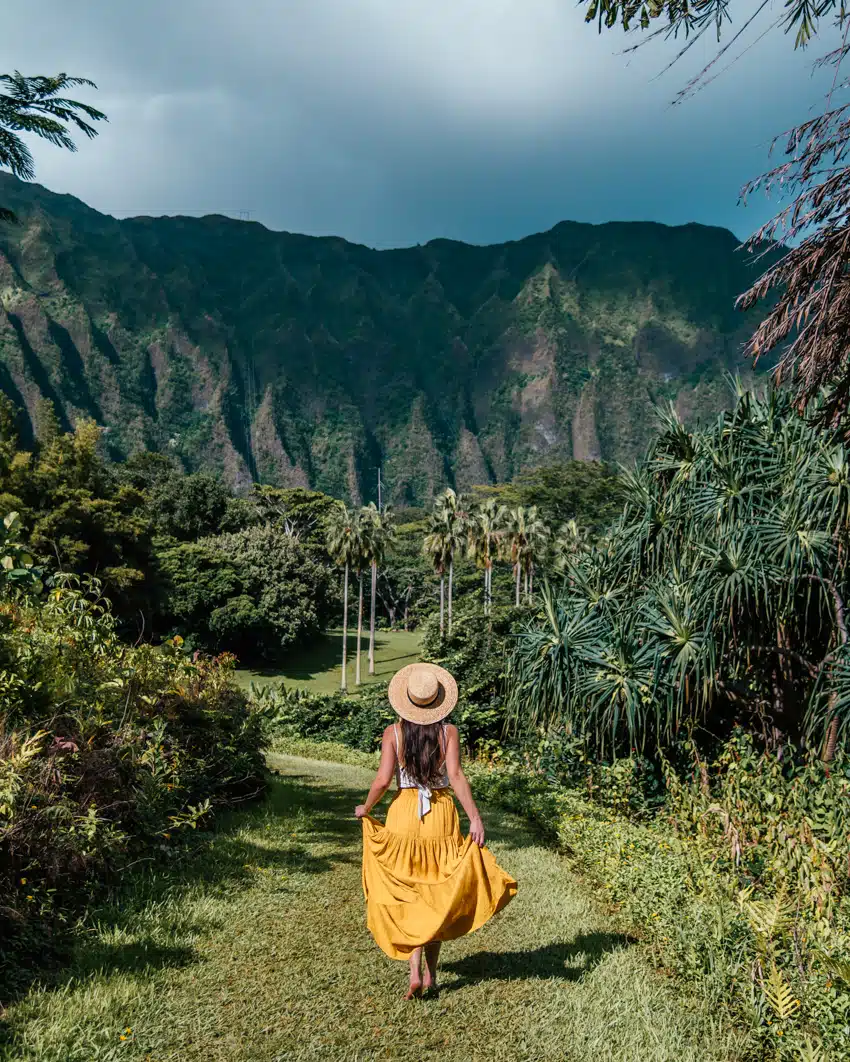 Your accommodation is one of the most important things to sort when planning your Hawaii vacation. I hope this list of where to stay in Oahu made your decision easier!
You can also search for places to stay in Oahu using this map:
And if you're looking for great photo spots around Oahu, check out this post!
Safe travels!
Jasmine