If you're planning a trip to any of the Hawaiian islands, you might be wondering what to pack for Hawaii.
It's such a different place to the other states, with its own climate and traditions, that it's worth taking a bit extra time to assess what to include in your suitcase carefully. 
Precisely what you pack will depend on your type of trip:
If you're backpacking and island hopping, you'll want to bring a backpack and travel light.
However, if you are flying into a resort and are planning on dining at fancy restaurants in Waikiki every night, you'll probably want a few cocktail dresses. 
There are some staples, though – and some things that you really need to know about what to pack for Hawaii.
Let's take a look at them…
Clothes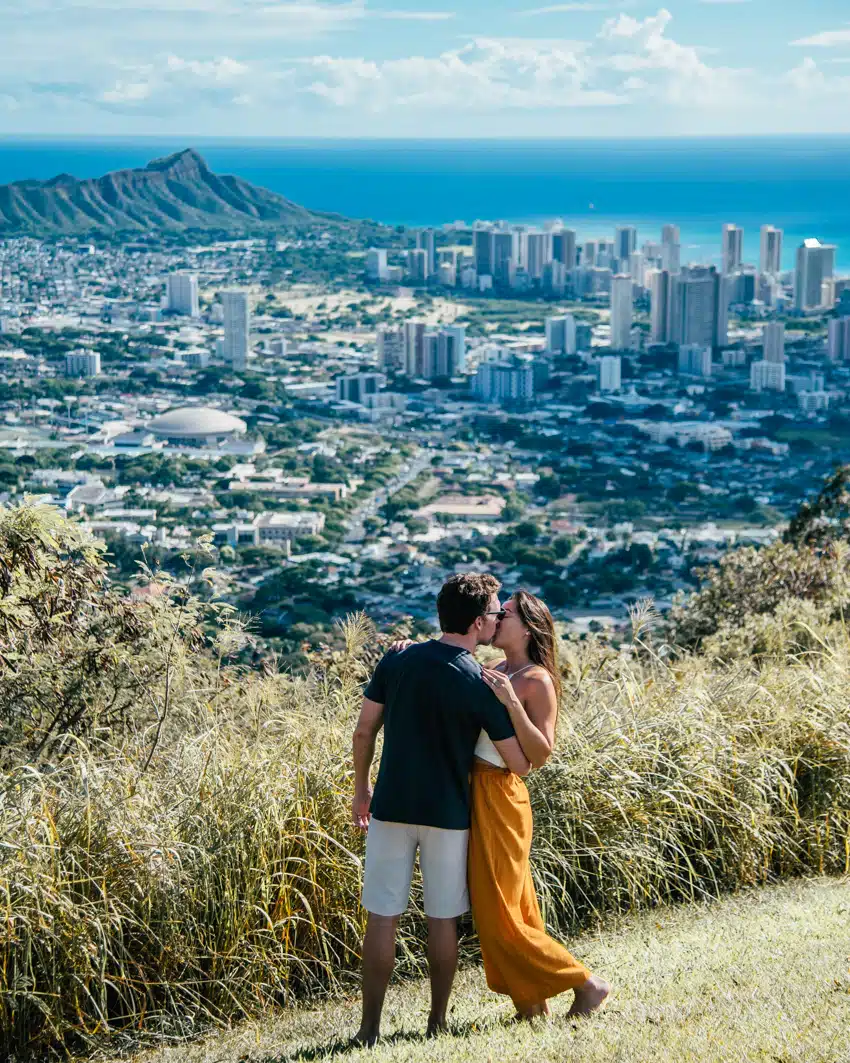 Hawaii basks in warm weather all year round, and there isn't a tremendous amount of disparity between summer/ winter temperatures.
It's about 78°F in the colder months and 88°F in the warmer months. This means that you can *usually* forget the winter gear and pack your summer gear!
However, there are a few exceptions to these temperatures! If you're heading to Haleakala on Maui or Mauna Kea or Mauna Loa on the Big Island, it can get very cold! In fact, there can be snow on Mauna Kea and Mauna Loa in the winter!
If you're not heading to those spots, it still does get slightly chillier at night, so you might want to bring an extra pair of pants and a light sweater for these instances. 
November to March is Hawaii's rainy season, so be prepared to bring some extra rain clothes if you're visiting during this time. 
All year-round, you'll want to remember to pack the following:
T-shirts
Shorts
Light pants
A light jacket for the evenings
A hat to protect yourself from the sun
Socks
Sandals 
Hiking shoes if you are planning on going hiking
Underwear
Sleeping wear
Jeans for the evening if it's particularly chilly
Fancy clothes for any nice meals out
Cover up to throw over your swimsuit
Toiletries
Let's get into what toiletries to pack for Hawaii. Don't forget your usual toiletries, including:
Toothbrush
Toothpaste
Face wash
Hair products
Shampoo & conditioner (these may be provided at your hotel)
Deodorant 
Make up
Make up remover
Q-tips/ cotton rounds
I usually bring a hair curler with me when I travel, but I never seem to use it in Hawaii! Between the beach and Hawaiian humidity- it feels pointless to curl my hair.
There are also some particular things to remember for Hawaii that you might not take if you're going on a city break to another location. This includes:
Reef-safe sunscreen– even if you're not planning on snorkeling, swimming, or surfing, you should still wear sunscreen to protect your skin. Traditional sunscreen can damage the reef, so be sure to pack some specialized sunscreen before going. If you're staying at a nice resort, they usually provide this by the pool area.
Insect repellent- while mosquitoes haven't been a huge problem for us on any of our trips to Hawaii, you should still consider applying insect repellent, especially if you're going hiking.
Relief for bites – even if you're as careful as possible while in Hawaii, the chances are that you will get bitten at some point. Most mosquito bites are safe, so try not to worry too much if you do. If you pack some bite relief, such as Tiger Balm, you'll find them a whole lot easier to deal with!
If you're on any medication, make sure to bring these as well! Don't forget any vitamins or supplements you're taking.
Beach gear
I'm going to guess that you're planning on spending some time at the beach while on your Hawaii vacation! If this is true, remember to pack the following:
Swimwear – you might want to bring a few changes if you're planning on spending every day at the beach!
Water shoes – these come in handy if you're swimming in waterfalls
A snorkel mask – these can be easily rented in Hawaii. However, if you have your own it can be much cheaper if you plan on doing a lot of snorkeling! You also don't have to deal with renting and returning. 
A quick-drying, light towel – it's a good idea to get one that dries quickly, so you can use it on your adventures every day!
A dry bag (this one floats!)– this will keep your valuables safe from sand and water. 
Waterproof case for your phone – if you want to take underwater videos.
Hiking gear
Hawaii is also a fantastic place for hiking. If you're planning on spending some of your vacation exploring the trails, here are some essential things to remember:
A first aid kit – include things like bandages and plasters, as well as some antiseptic, to account for small injuries that may happen while hiking. 
Hiking-appropriate clothes – you should definitely pack a rain jacket, and should also think about leggings for hiking, thick socks, and supportive hiking boots. 
A phone with offline maps – Download a maps application to ensure that you won't get lost while hiking. 
A lightweight backpack- this should be able to accommodate some food, water, and any extra layers. Ideally, it will be waterproof!
Electronics to pack for Hawaii
Don't forget your camera (here's what's in my camera bag!) or at least a smartphone that takes great images. Hawaii is an immensely photogenic place and it's somewhere that you'll want to have memories from! If you're thinking of investing in a new camera, Hawaii is the ideal place to practice photography skills. It's also fun to travel with the Instax pictured above!
If you're bringing a few electronics, don't forget a power bank. You can use this to charge your phone and most other USB powered electronic devices. They're great for when you're going on a day trip and using your phone a lot!
Chargers, chargers, chargers! (For your camera, phone, laptop, etc.)
If you are visiting Hawaii from another country, make sure that you have an appropriate adapter that will work in the USA. 
A Kindle or other e-reader is a great travel item to bring, especially if you're the type who reads a lot on vacation. Books are heavy, so why not bring your virtual library with you? You can even download books onto your e-reader while you're away, as long as you have a decent internet connection! 
If you need to work, you might want to take a laptop with you. However, if you can afford to leave the laptop at home for a week or two, you might find that you appreciate your vacation even more! The decision's up to you!
If you don't take your laptop, you may find it beneficial to bring an iPad or a tablet. With these devices, you can watch movies and do other admin tasks that are a bit tricky to do on a small phone screen. 
If you're snorkeling or diving, you might want to bring a GoPro so you can get underwater footage. 
Miscellaneous items to pack for Hawaii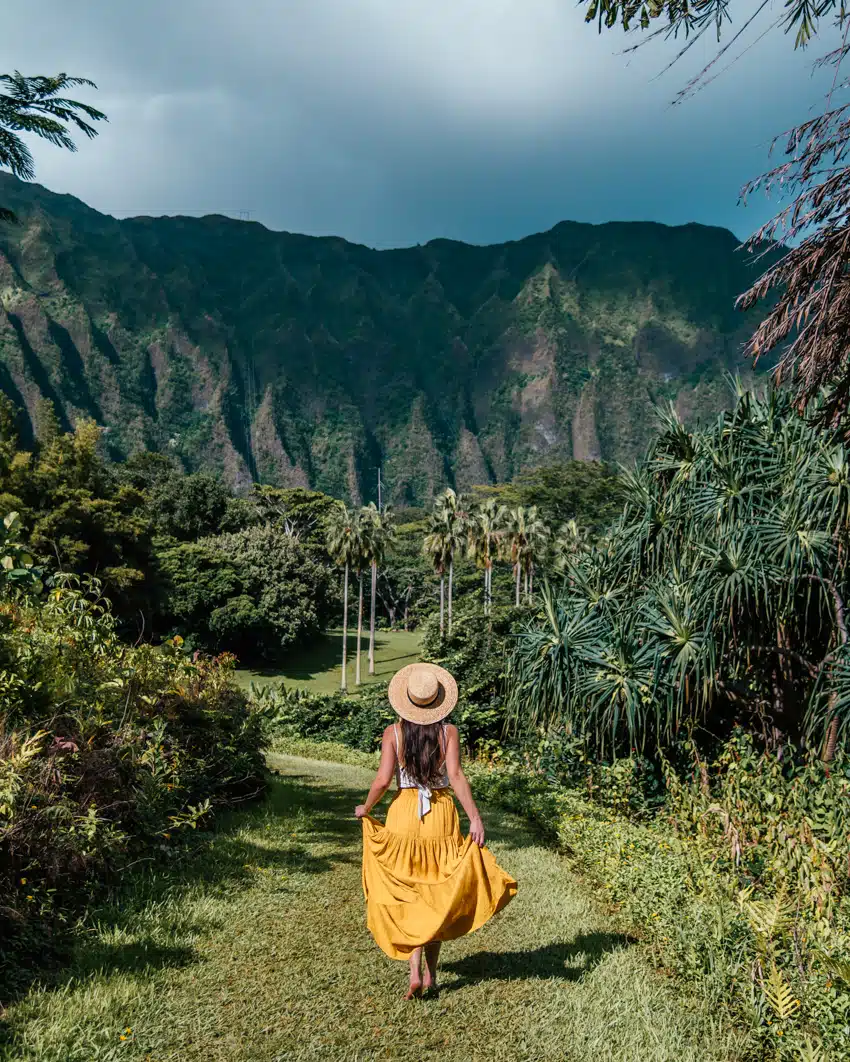 A deck of cards is great to include for your Hawaii vacation. There will be plenty of times when you'll be sitting around relaxing, and cards are a fun way to pass the time!
If you're traveling with kids, don't forget to bring any of their toys or special equipment that they need while on vacation. 
There are lots of blogs about Hawaii where you can get all the information you need (including mine, wink, wink!), but you might also want to purchase a physical travel guide. Lonely Planet does a great Hawaii travel guide! 
If you are staying in a hostel, don't forget a travel lock. You can use this to lock away your possessions in communal rooms. You could also use a padlock for your suitcase while you travel.
Remember to pack hand sanitizer to keep yourself safe from any germs!
If you're a bad sleeper, you might want to take some earplugs and an eye mask – sometimes hotels can be brighter or noisier than expected. We had a rooster that would wake us up at 5am when we were in Oahu!
If you're bringing your DSLR, be sure to bring a rain jacket for your camera! That way you won't miss out on cool photos when there's a bit of rain.
And if you're reading this while we're in a pandemic, don't forget your mask!
What to pack for day trips in Hawaii
While you're exploring Hawaii, you'll probably do some day trips around the islands. Ensure that you have everything you'll need for these day trips, as they can be long and tiring (but great fun, of course!).
Sunscreen and mosquito repellent 
A rain jacket and other suitable rain gear
Your dry bag to keep your belongings dry and sand-free
A water bottle. It is safe to drink tap water in Hawaii, so save on buying bottles of water and bring your own to fill up! 
Any snacks that you might need – take some reusable containers from home so you can easily transport snacks!
A book or an e-reader, such as a kindle, for entertainment. 
Your camera's rain jacket if there is rain in the forecast
Documents to bring to Hawaii
The most important document for your Hawaii vacation is your license or passport.
If you're flying from the states, you don't need a passport, but you will need some form of ID to board the plane.
If you're traveling from overseas, make sure that you have the correct visa for the USA, or an ESTA if your country doesn't require a visa. 
I recommend either printing your flight details out or having them handy on your phone and making sure that your phone has enough battery.
Also, have on hand (or on phone) useful documents like hotel reservations, car rental verifications, and any other transfer info. Having proof of these will make your travel day a lot easier! 
Make sure that you have relevant insurance for your vacation to Hawaii.
If you are not American, be aware that many international policies don't cover the USA – check with your policy before you travel.
Again, it's advisable to have a hard copy of your insurance somewhere on your person. Hopefully, you won't need to use it, but if you do, having the details in paper form will make the process a lot less painful! 
If you are planning on hiking, doing watersports, or any other activities, check that these are covered by your insurance, as they are not included in every policy. 
Hawaii Packing List Checklist
You can open this image in a new tab to print it out or save it to your phone to mark up virtually. That way you can cross off things as you pack for Hawaii!
In conclusion…
I bet you can't wait for your Hawaii trip!
With stunning beaches, beautiful blue waters, and fascinating traditional culture, it really is a dream destination.
With this Hawaii packing list, you'll be fully prepared for island life. Don't forget to go through it again just before you go to make sure you've packed everything!
And if you're heading to Hawaii, here are some more posts you might find helpful:
Safe travels!
Jasmine