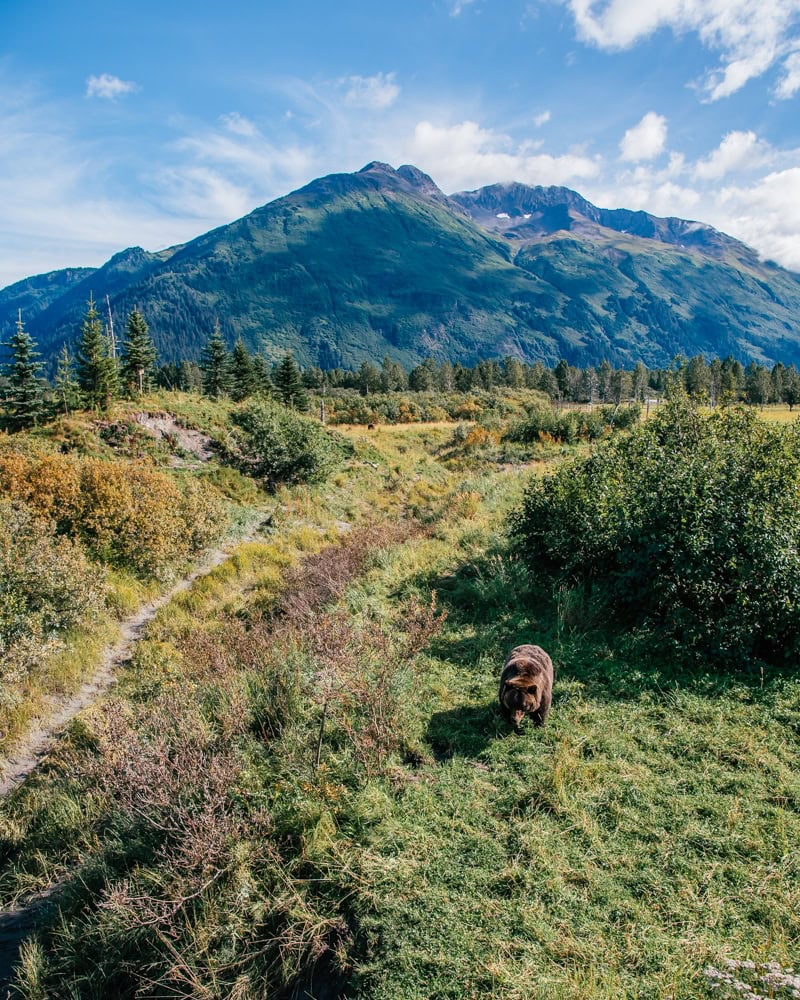 Nestled along the Turnagain Arm on the Scenic Seward Highway, you'll find the Alaska Wildlife Conservation Center: a sanctuary that preserves Alaska's wildlife through research, public education, and impeccable animal care.
Initially named 'Big Game Alaska,' the Alaska Wildlife Conservation Center started its operations in 1993 thanks to its founder, Mike Miller.
Today, most importantly, the organization takes care of orphaned, injured, and endangered animals.
And let me tell you- it's a must if you're in Anchorage or on the Kenai Peninsula!
You can see some footage from this location in my Alaska video here:
[If you don't see a video, you may need to disable your ad blocker.]
The Alaska Wildlife Conservation Center
Spreading across 200 acres of land, the Alaska Wildlife Conservation Center (AWCC) is a sizeable habitat that accommodates different species of wild animals.
The Alaska Wildlife Conservation Center turned into a non-profit organization in 1999, and in 2007, the organization fully adopted the name Alaska Wildlife Conservation Center.
They extend their services to wildlife by giving animals care in spacious, safe enclosures.
In essence, this haven gives refuge to animals that would otherwise be too fragile to survive in the wild.
Here, the animals enjoy maximum protection from human dangers (ie. hunting, destruction of habitat, etc.), predators, and diseases.
There are hundreds of wild species that call this center home. This includes elks, moose, caribou, lynx, black and brown bears, and many more.
It's a great stop for wildlife viewing in their near-natural habitat. In fact, I highly recommend stopping here when visiting Alaska! It's the safest way to see these beautiful creatures up close!
Where is the Alaska Wildlife Conservation Center?
The Alaska Wildlife Conservation Center lies on the shores of the stunning Turnagain Arm.
More specifically, it is located 11 miles from the Girdwood turnoff, roughly 45 miles from Anchorage.
Like I mentioned earlier, if you're driving from Anchorage to Seward or anywhere in the Kenai Peninsula, stopping here is a must! (Check out all of the best stops along the Seward Scenic Highway here!)
It's nestled between snowcapped mountains that are home to numerous glaciers- you can just imagine the views that await you!
So, besides being an excellent spot to learn about Alaskan wildlife, you'll also be treated with astounding views of the surrounding areas.
How to Get There
There is more than one way to enjoy your visit to the Alaska Wildlife Conservation Center.
You can either do a self-guided visit, jump on the Turnagain Arm Shuttle, or book a tour.
If you want to dodge the crowds, I recommend the solo visit. This will not only allow you to walk around at a leisurely pace, but it also tends to be much cheaper than booking a tour.
By Car
The most common way to visit the Alaska Wildlife Conservation Center is by car. This is how we visited, and it was the perfect stop off on our way to Seward from Anchorage.
If you're traveling to Alaska, chances are you'll be renting a car anyway! This is a perfect way to both get to and explore the center.
The Turnagain Arm Shuttle
Alternatively, you can board a Turnagain Arm shuttle to enjoy a guided drive along the spectacular Turnagain Arm.
There are multiple Turnagain Arm shuttle tours, but the specific tour that takes you to the Alaska Wildlife Conservation Center is 5.5 hours long from Anchorage. You can expect dramatic scenery and amazing views along the way!
As you proceed from Anchorage to the wildlife center, you will travel down the Seward Highway, which is arguably one of the most scenic byways in America.
This type of tour is great if you (a) are uncomfortable driving in new places, (b) want to do a day trip from Anchorage, and (c) want to let someone else handle the schedule/driving.
At the time of writing, the Turnagain Arm AWCC tour is $89.00 per person.
The Alaska Railroad
A portion of the Alaska Railroad runs along the Turnagain Arm. It has a stop in Portage from which you can catch a shuttle to visit the AWCC.
You can find more detailed information (including cost) here!
A Tour
If you'd rather have a tour guide handle all the planning and hassle, then there are plenty full-service tours available. Most tours offer hotel pick-ups.
In most cases, such tours also offer other excursions alongside the Conservation visit.
If you're cruising, most ships offer their own tours. You can confirm if this excursion can be included in your cruise itinerary; your cruise port will most likely be Anchorage or Whittier.
Highlights of the AWCC
A visit to this sanctuary is perfect for the whole family. This short adventure is entertaining for adults and kids alike!
You'll find animals in different settings throughout the area. You can choose to stroll around on foot or drive around the 1.5-mile loop.
Every habitat area has a sign with a detailed history that explains the animals' history, species, and the conditions under which the animal was adopted.
As such, you can easily do a self-guided tour!
If you want to come up close with all the species in the center, you can easily take your time in the center. I'd say it takes 2 hours if you want to stop and watch and learn about all of the animals at the Alaska Wildlife Conservation Center.
The whole sanctuary is a great place to spend a few hours, but if you have limited time, two unmissable stops include:
The Bear Education Awareness Research Sanctuary (B.E.A.R.S) – Here you can very easily spot black and brown bears. Also, there is an educational center that creates awareness for black, brown, and polar bears.

Within this area, the BEARS Boardwalk is a must!

The Wood Bison – you get a chance to see the biggest land animal in the western hemisphere up close!
What to Bring
Regardless of the season, be sure to check the weather forecast to avoid any unpleasant surprises.
Additionally, dress in layers to be prepared for unpredictable Alaskan weather. (Check out my post on what to wear in Alaska in each season here!)
Although this will largely depend on season, here are a few things you should bring along during your visit:
Water
Sunscreen
Snacks
Layered clothes
Binoculars (optional- most of the animals will be relatively close by)
Camera
A good pair of walking shoes (preferably waterproof if you're visiting on a rainy day). Note that the walking paths can be muddy after rainfall, so also wear shoes you don't mind potentially getting dirty!
Also, be sure to save some spending money for their gift shop. It's the perfect place to buy a souvenir for your friends and family while supporting a noble cause!
When to Visit the Alaska Wildlife Conservation Center
Alaska Wildlife Conservation Center is open throughout the year, though their daily times vary based on month. Check out their full schedule here.
In winter from November to January, the conservation center is open four days a week (Friday, Saturday, Sunday, and Monday).
For the rest of the year, the center is open every day.
In the winter, the hours from 10 am to 3 pm. Though you might not think an outdoor animal visit is as fun in the snow, you'd be wrong! If you're up for more than just driving or walking, the AWCC offers complimentary kick-sled rentals! Or, you can bring your own cross-country skis or fat bike to tour the place. If you do choose to walk, it's always helpful to wear ice traction cleats like these in the snow.
But if you want to know the classically best time to visit the AWCC, I'd have to say June through August.
At this time of the year, the weather is surprisingly warm and you can comfortably explore the grounds. (However, there is something magical about viewing elks and moose with a snowy background!)
To avoid the crowds, you can plan to visit around the shoulder season or in the winter. Shoulder season in Alaska is typically between April to May and September to October.
Planning and Booking
While it's possible to book your visit at the entrance, you can also book your tickets online if you're visiting during peak season.
The Alaska Wildlife Conservation Center can get pretty busy in the summertime. (Particularly when cruise ships are operating. We visited at the end of summer in 2020 and were just two of a handful of visitors in the center).
If you're driving yourself, I recommend visiting in the morning hours. From noon on, the center can get packed with tour buses ferrying cruise ship passengers.
Entry Cost
The entry fee is reasonable and varies by age groups. Children six and below are free!
If you have young kids – student within the age bracket of 7 to 17 years, you will pay $ 13.
For any seniors above 65 years and the US military, need to pay 15 dollars whilst adults between 18 and 64 years pay around 17 dollars.
Where to Stay
The center is awesomely situated a few hours' drive from bustling towns such as Seward.
However, if you're looking for a relaxed stay, the sleepy town of Girdwood is a perfect option. And it's also relatively cheaper.
Alternatively, you can lodge at Anchorage.
There are lots of accommodation options that can cater to any budget or preference.
Whether you want a luxurious hotel, cabins, or even a budget-friendly Airbnb, the options are limitless.
And if you're a tent or RV camper, you'll find a lot of camping ground along the Seward Highway.
Special Tours and Programs at AWCC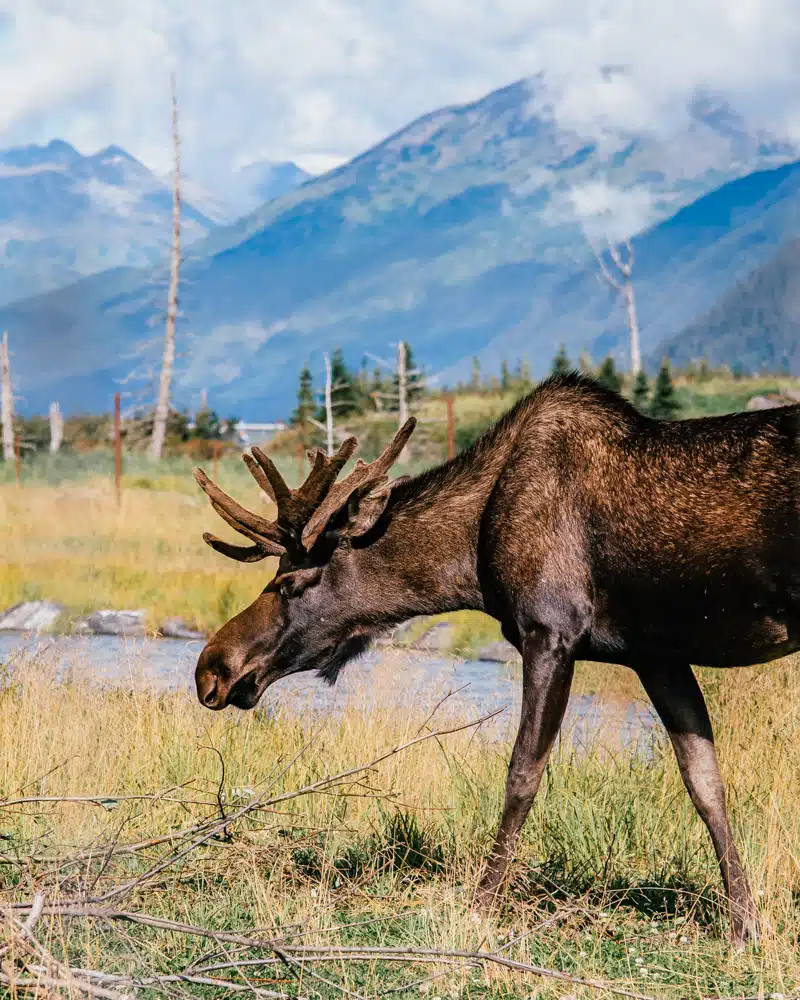 AWCC has great programs that make it outstanding for everyone. Some of these include the following:
a) Bear Encounter
If I'm being honest, the bears are what I was most looking forward to while visiting the AWCC.
If you feel the same way, consider signing up for the Bear Encounter! This $85 30-minute tour is only available from June until mid-September on Mondays, Wednesdays, and Fridays at 5pm.
You'll get to participate in the bears' daily training and feeding! Obviously, you won't be actually touching the bears, but you will learn all about them in a group of 10 or less!
Book ahead of time here to ensure your spot!
b) Moose Encounter
Also from June 1st until September 15th, you'll have the option of participating in the Moose Encounter!
For $10 on top of the admission fee, you can hand feed, and of course, snap a photo with, a moose!
This thirty-minute tour is available on Tuesdays, Thursdays, Saturdays, and Sundays at 10:30 am. All ages are welcome for this tour, and the group size is max 35 people.
c) Walk on the Wild Side Tour
This is a special tour with a personal guide who will share everything you could want to know about the furry residents at the AWCC.
The 90-minute session also includes going inside an enclosure to feed an animal (typically deer or porcupines).
It costs $100 per person at the time of writing (which includes admission) and is only available for ages 10 and up.
Reserve this tour here!
d) Free Educational Programs
These educational programs are available to all visitors. You'll get to learn in-depth about the featured animals.
Any daily or yearly program happens outside the designated enclosure. You can check their full schedule here!
e) Virtual Tours
If you love the AWCC and aren't able to visit soon, I have good news for you! The AWCC does Zoom tours! For $50 for 30 minutes or $100 per hour, you can chat with and learn about the AWCC animals from their naturalist staff. Learn more about it here!
Safety Guidelines
Before you visit, here are some helpful safety tips you should bear in mind (see what I did there?).
You should stay a safe distance from the fence.
You shouldn't touch or feed an animal unless you've been given a go-ahead.
Be gentle with the vegetation.
Throw away your trash in the appropriate bins. Litter can be a hazard to wild animals!
Pets aren't allowed in the conservation center.
It's illegal to harass or taunt the animals.
The facility is a non-vaping or smoking area.
No drones allowed.
Now that we've got all that out of the way, you're ready to visit the Alaska Wildlife Conservation Center!
I hope you enjoy your time there, and drop a comment letting me know your favorite thing about it!
Safe travels!
Jasmine