If you're wondering what to wear in Alaska, you're in the right spot!
Have you ever gone on vacation expecting it to be either super cold or hot and sunny, only to arrive and find out you were very wrong? If you've ever packed for the wrong weather, you know the struggle!
I always take a look at the weather before I travel to make sure I pack clothes and shoes that are weather appropriate. I'd rather focus on my trip than spend time trying to find a pair of boots in a city I don't know – shopping under pressure isn't as fun!
As such, I have compiled this complete packing guide of what to wear in Alaska.
You can get a sense for what I wore on our summer road trip to Alaska in the video I made of a trip here:
[If you don't see a video below, you may need to disable your ad blocker.]
The climate in Alaska is unique and unlike any other state. That said, it's often not what people expect!
If you are planning on traveling to Alaska, and wondering what to wear, it depends largely on when you're going.
I will tell you exactly what you can expect, weather-wise for each season. And let it be said: no matter what time of year you are visiting, you'll need layers and a jacket.
Let's start off with an Alaskan winter…
What to Wear in Alaska in the Winter
The further north you go, the longer the winter season is.
Alaska's winter lasts about half the year, from October to March. Weather varies depending on where in Alaska you are.
Remember, Alaska is as big as Texas, California, and Montana combined, which means the south's weather is very different from the north!
Around Anchorage, the southern part of the state, you are closer to the coast, which means a lot of snow! There are also subarctic temperatures, which can drop lower than 20 degrees Fahrenheit, and it can get quite windy!
If you head into the interior near Fairbanks, you will experience cooler temperatures and less snow than coastal areas.
Northern regions that reach beyond the Arctic circle see extreme cold, with temperatures dropping below -20 degrees Fahrenheit!
Alaska's northernmost city, Utqiagvik, hit a record low due to the polar vortex. The weather here is dry but bone-chilling cold, and there are weeks where the sun never rises.
Chances are you'll be visiting the more common areas, but I just want you to understand how vastly different Alaska's weather can be depending on region!
What to wear during winter in Alaska:
An Alaska proverb says, "There's no such thing as cold weather – only cold clothing!".
If you have the proper coat and appropriate clothing, you can go outside and enjoy all the beautiful things Alaska has to offer. The objective is to trap your body's heat, head to toe.
This includes wearing a pair of warm boots that are at least mid-calf and made for Arctic temperatures, as well as a hat, mittens, scarf, or balaclava.
Layering is key.
Having multiple thin layers will keep you warmer than one thick layer.
This is the type of weather you wear long underwear in! There are special shirts and sweaters that are made to be layered; they will trap the heat yet are still breathable and wick away sweat.
Innovative materials developed by companies specializing in coats and clothing for polar temps can do this very effectively!
The most important thing you need is a parka or winter jacket that is made for Arctic winters.
It will be layered with down or synthetic material and should cover your thighs and rear. A lined hood is also a must to keep cold winds and the blowing snow off your face.
These are two of my favorite coats that'll keep you cozy, even in the Arctic:
Fjällräven Greenland No.1 Down Parka W
The word Fjällräven means Arctic fox, and this parka is made for Arctic winters! Fjällräven is world renowned because of the unique G-1000 material they created that is perfect for polar temperatures.
The Fjällräven Greenland No.1 Down Parka is one of their most popular coats (I linked the male version there). The coat is longer, which will keep more of your body warm and is down filled. The outer layer is made of their patented wind and water-resistant G-1000 material. This is one of their most popular coats, you may have seen some famous names like the Duchess of Cambridge and actor Casey Affleck wearing them!
Here's a more affordable Fjallraven coat (the women's version), which is still reputed to beat Greenland winters!
Orage Riya Jacket
If you plan on doing some skiing or snowboarding, you'll need a jacket that keeps you warm and dry while still being light and flexible.
The Orage Riya jacket is insulated with synthetic down and is considered one of Orage's warmest coats. The quilted construction makes this jacket breathable, waterproof, and makes movement easy.
This jacket has additional features designed with snow activities in mind, including hand gaiters, goggle pocket, rescue sleeves, and helmet hood.
What to Wear in Alaska in the Spring
Spring in Alaska runs from April to May, although some say Alaska has just two seasons; winter and summer.
But there is a difference in the weather during April and May- mostly that it is wet. You have an increase in temperature that causes lakes and rivers to thaw and snow to melt.
Anchorage, Fairbanks, and their surrounding areas can reach temperatures of 54 degrees Fahrenheit. There are a lot of rainy days!
What to Wear During Spring in Alaska:
If you are traveling to Alaska during the spring (April – May), you will still need to prepare for cool and wet days. Just as they are in the winter, layers are a must.
(In fact, it's safe to say you should wear layers in Alaska year-round. Layers allow you to have better control over your body temperature.)
Have you ever worn a big wool sweater over a tank and become hot, just to take the sweater off and feel cold?
It can be such a struggle!
Layering thin items will prevent this; you can take off layers until you feel comfortable. Thin layers are also super easy to put in a bag, so you aren't carrying around a big coat all day if you get too hot.
Your footwear will depend on your activities. If you are visiting a glacier, you want to have warm footwear with traction. For glacier hiking, crampons will help you keep your footing. You should also still bring a pair of light gloves and a hat.
For your coat, an option that has removable layers is perfect! It should be lightweight and fit comfortably. When trying on a jacket, make sure it is loose enough to fit multiple layers underneath. The outer layer of your jacket should be waterproof, ideally with a hood.
Although many materials claim to be waterproof, they don't all protect you in the same way. Look for items made specifically for rainy weather to keep yourself dry. Here are two of my favorite coats for the season:
Helly Hansen
Those who live in Alaska, know this brand. The Kirkwall II Raincoat is made for Alaskan showers. It will keep you warm and, most importantly, dry. The coat is wind and waterproof and has a tie waist for a cute, fitted look.
Charles River Apparel
This New Englander Wine & Waterproof Rain Jacket is 100% polyurethane, which means water is not getting in here! This jacket is at a great price point too! It's wind and waterproof and lined with grey mesh and nylon sleeves.
It's not as warm as the Helly Hansen jacket listed above, but it will keep dry. This jacket is a great outer layer!
What to Wear in Alaska in the Summer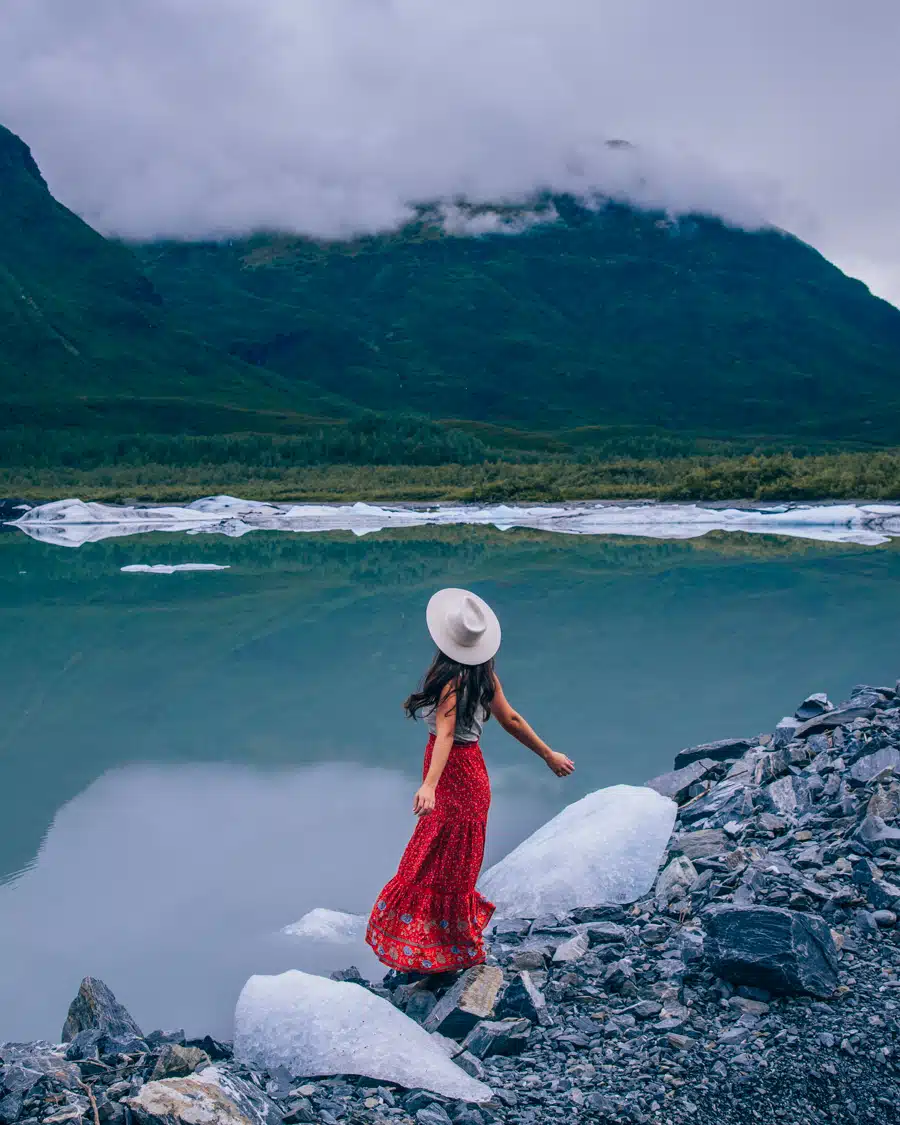 Summer in Alaska is between June and early September. A magical season with mild temperatures and begins with wildflowers. Just like the other two seasons, temperatures will range depending on where you are in Alaska.
The interior can reach anywhere from 70 – 90 degrees Fahrenheit! The mountain and coastal regions are cooler and don't get much warmer than 60 degrees Fahrenheit.
The end of May and early June is the driest, but by August, there is a lingering chance of showers.
When it's not raining, it's sunny. Very sunny. In June and July, many parts of the state will get 17 to 18 hours of sun, with the North having 24 hours of sun!
This unique climate means you will need to put some extra thought into your clothing, specifically your coat.
What to wear during summer in Alaska:
We already know layers are the functional fashion of Alaska. That said, you need to consider your activities when planning what to wear.
You will want to stick with waterproof or quick-dry clothes, in case of a downpour. (Downpours can be especially common towards the end of the summer).
Additionally, you may be doing a lot of walking so comfortable shoes and socks are a good idea. If you are heading out into the bush, long sleeves and pants can help protect you from bug bites!
For a coat, look for lightweight and waterproof.
A light fleece is a great option because the fabric doesn't easily absorb water and can keep you comfortable through changing temps.
Waterproof shells to put on top of fleece or a zip-up are great for Alaska summer days.
Sometimes it can be quite warm and nice, and if you are out enjoying the sun, you will probably not need a jacket at all. But, the temp can drop in the evenings, in the bush, or on the water, and you don't want to take away from your experience because you are shivering!
The North Face
A cute trench that can handle the rain is a great choice for summer in Alaska. There are plenty of options out there, but North Face's waterproof technology has made their Westoak City Trench a winner!
This jacket has an adjustable hood, internal drawstring, and Velcro cuffs. It has a really versatile look, too; you can dress it down and pair it with a pair of leggings or dress it up and wear it to dinner.
What to Wear in Alaska in the Fall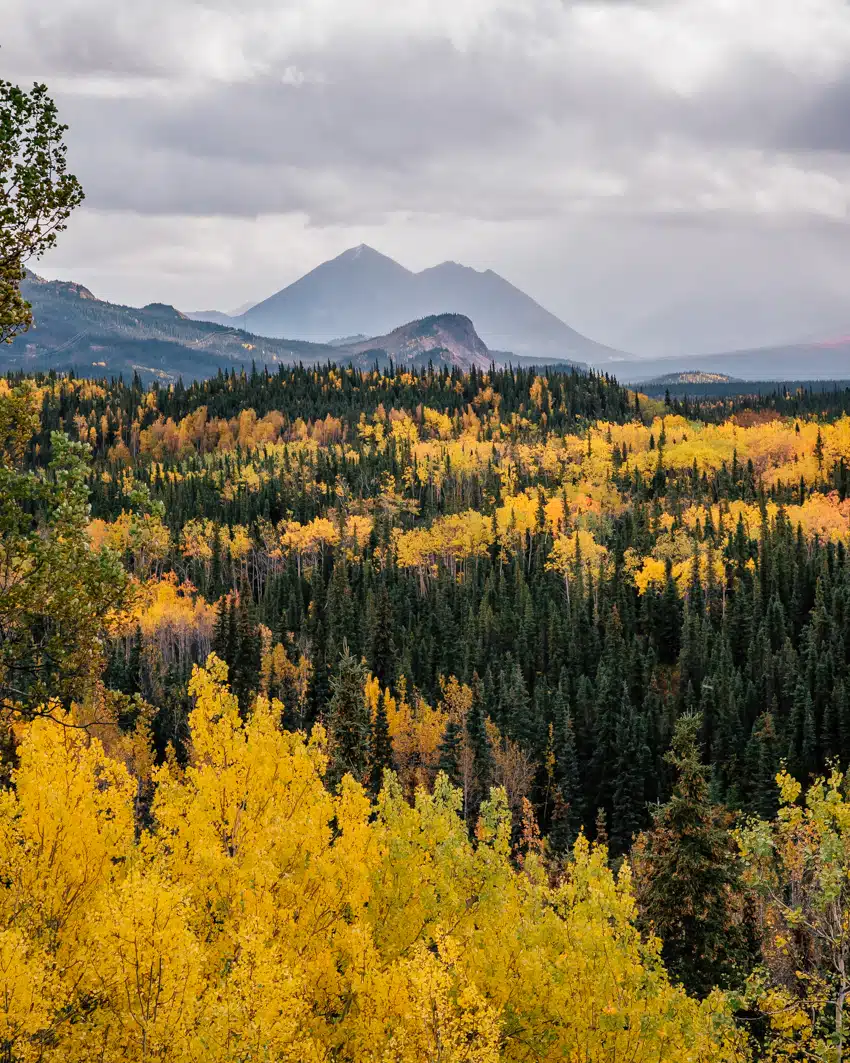 In Anchorage, snow can start as early as September, but the winter weather typically doesn't make an appearance until the end of October.
In Fairbanks, the snow will start by Oct. 1st.
The Alaskan fall is short and sweet, lasting from September to October. If it's not snowing, you still risk the chance of rain. Average temperatures are about 55 degrees Fahrenheit in Anchorage and Fairbanks and 34 degrees in the North.
What to wear during Fall in Alaska:
If you're packing for your trip, and wondering what to wear in Alaska during fall, you'll definitely need layers.
There can be some very cool days, so you want to make sure you are dressed warmly. A scarf can help keep the wind off your face and neck, and it is a good idea to pack some gloves just in case.
A warm sweater on top of some layers is a good idea.
Keeping your head and feet warm is important for maintaining your temperature, so a cute hat and boots are perfect!
For boots, you don't necessarily need snow boots but something that comes up the ankle to cover your entire foot.
Fall can be a tricky season; you could have snow and cold temps or mild, sunny days. When picking a jacket, you want to make sure it will do the job no matter the weather. Coats with detachable layers are a great option! You can remove the inside or outside layer depending on the weather.
Lululemon
If you're looking at your jacket as an investment, the Lululemon 3-in-1 Parka is great for multiple seasons. This jacket will "take you from cold to colder." It has a goose down fill and snap-apart layers that can make it lighter or warmer, perfect for snowy winter weather. It is waterproof and has a waist string and hood.
Here's a cheaper 3-in-1 parka for you to consider as well- it's not quite as heavy duty but should get the job done for fall in Alaska!
Renting Gear in Alaska
If there is one day you are going skiing or dog sledding, you can rent an outdoor gear package that includes a parka, snow pants, and boots for around 40 USD.
There are different options, but Alaska Outdoor Gear is one of the biggest (they also have skis, fishing equipment, bikes, etc.). All you need to do is give them a call, let them know your plans, and they will take care of the rest.
What to bring for all seasons:
In conclusion…
Alaska weather can be tricky, but hopefully, this guide of what to wear in Alaska will have you set for any season!
Also, to help plan your Alaska Itinerary, here are some more Alaska posts you might enjoy:
Do you have any questions about what to wear in Alaska? Drop a line in the comments below!
Happy packing!
Jasmine