Alaska is one of the most beautiful states in the US with some incredibly charming towns and dramatic nature. Harrison and I absolutely fell in love with Alaska and I couldn't wait to share its beauty on my blog! Naturally, that led me to write this post detailing the 18 most beautiful towns in Alaska!
Some of these towns are only accessible by boat or plane, but don't let that stop you from visiting them! You can find some great ferry rides from one town to another, and prices can be pretty reasonable between most Alaskan towns!
Each town is so unique and offers its own array of nature activities. I've listed these 18 most beautiful towns in Alaska alphabetically since it would be way too hard to rank them any other way!
You can see some footage from some of these towns in the video we made of our trip below:
[If you don't see a video below, you may need to disable your ad blocker.]
Though I haven't been to all of these towns, my extensive research on Alaska has put them on my bucket list! And as for the many Alaskan towns that we have already visited- I recommend them all! You'll see why as you read about these various beautiful towns in Alaska.
PS. We took the photo above in Valdez, which you'll find on this list!
The 18 Most Beautiful Towns in Alaska:
Anchorage
Cordova
Fairbanks
Girdwood
Gustavus
Haines
Homer
Juneau
Ketchikan
Kodiak Island
North Pole
Petersburg
Seward
Sitka
Skagway
Talkeetna
Valdez
Wrangell
1. Anchorage
Nestled between the towering peaks of the Chugach Mountains, Anchorage is the largest city in the state of Alaska.
With its size, it comes loaded with unique landscapes, from cityscapes and the suburbs to the mountains and waterfront. (Pictured above, you can see the mountain views from the Turnagain Arm).
Chances are high you'll be flying into Anchorage anyway, and it makes for the perfect home base for plenty of getaways. (Check out this list of 12 perfect weekend getaways from Anchorage!)
It's one of the best hubs from which you can explore glaciers, spot local wildlife, and go hiking and fishing. A ride on the Alaska Railroad makes for an incredible day trip.
Besides being surrounded by a huge outdoor playground, the city portion of Anchorage boasts some beautiful botanical gardens and cultural & historical museums.
Although summer is the most popular time to visit, winter offers just as much charm when the snow sets the scene for winter sports.
In the winter, spots close to the city offer vantage points from which you can spot the northern lights.
Top 3 Things to Do in Anchorage
See grizzlies at the Alaska Wildlife Conservation Center
Visit the Anchorage Museum (it's the largest museum in the state!)
Go on a helicopter tour with Alaska Helicopter Tours
2. Cordova
This laidback town is southeast of Valdez and sits on the east side of Prince William Sound. It's in a remote location- so remote that you can't drive to it!
To get to Cordova, you'll have to take a flight or a ferry.
But that makes it an incredible getaway spot if you're looking for an off-the-beaten-path destination in Alaska.
With only 2500 residents, you'll definitely feel the small-town vibes here. While Cordova is rather isolated, this just means most of its gems are unspoiled!
All in all, this secluded part of Alaska offers visitors incredible wildlife spotting opportunities, pristine nature, and a welcoming small-town ambiance.
It's also a great place specifically for bird watching: every year millions of migrating shorebirds hover over the tidal mudflats in Cordova. It's such a great spot for bird-watching that there is an annual bird festival, the Copper River Delta Shorebird Festival, usually held in May.
Although there are countless places for wildlife viewing, The Copper River Delta is an excellent spot for bird watching.
Pictured above, the Sheridan Glacier is a fantastic sight to behold… and you can go ice skating right beside it in the winter!
In addition to outdoor adventures, Cordova is a treasure trove for history geeks.
If history interests you, be sure to stop by the Cordova History Museum, Ilanka Cultural Center, and the Fisherman's Memorial.
Top 3 Things to Do in Cordova
Go bird watching, river rafting, and kayaking
Join a tour to Kayak Island State Marine Park
Visit Sheridan Glacier or Child's Glacier
3. Fairbanks
Located in Alaska's interior, Fairbanks is definitely a prime year-round destination.
With endless days in the summer and magnificent aurora borealis viewing in the winter, this small town might be one of the most unique places you'll ever travel to!
Spanning across 85 km², Fairbanks is rather small by Alaskan standards.
However, the town is packed with the incredible beauty of towering peaks, huge rivers, and lush forests.
With Alaska's most easily accessible hot springs, northern lights as early as August, and neat places to stay, Fairbanks is definitely one of the most beautiful towns in Alaska!
We stayed at Borealis Basecamp, pictured above. They have the only glass-roofed igloos in Alaska!
Top 3 Things to Do in Fairbanks
Soak in the Chena Hot Springs
Chase the northern lights
Go on an ATV or snowmobile tour
Fairbanks has a vibrant culture and rich history along with so many things to do! Check out my list of 27 things to do in Fairbanks here!
4. Girdwood
Girdwood is a beautiful town, situated approximately 30 minutes from the town of Anchorage.
It's easily accessed via the scenic Seward Highway that connects Anchorage and Seward.
This hub has been named as one of the greatest mountain towns in the world. It's also ranked among the best ski towns!
In addition, this quaint hamlet sits in the middle of a lush forest on the foothills of the majestic Chugach Mountains. One of the coolest spots in Girdwood is Virgin Creek Falls, pictured above. Just a short hike brings you to these stunning falls!
Although this town draws hundreds of snow enthusiasts every year, it has managed to retain its small-town charm.
Surrounded by Alaskan scenery, this resort town makes a great stop, whether you're looking for a short weekend getaway or just a brief stop on your road trip to Seward and Anchorage.
Top 3 Things to Do in Girdwood
Go on a boat tour to nearby Portage Glacier
Take the ski lift up to the top of Alyeska Mountain
Do the short hike to Virgin Creek Falls
Besides its natural beauty, Girdwood is also great for foodies! Sample some Alaskan delicacies while you're here.
5. Gustavus
This seaside town is one of the most charming towns in Alaska.
Gustavus is about 60 miles east of Juneau. You can only access the town by a ferry ride (four hours from Juneau) or by plane.
Needless to say, the town's isolated location can make you feel like you've discovered a pristine piece of Alaska.
Given that there are less than 500 people that call this small yet idyllic town home, moose probably outnumber human beings here!
It's surrounded by beauty as far as you can see, with snow-capped mountains on one side and Glacier Bay National Park on the other.
Additionally, this town has looked the same for ages. Dotted with wood-framed houses and log cabins, Gustavus has been undisturbed by the modernity of the outside world. It makes it one of the prettiest towns in Alaska!
The old-time atmosphere, friendly feel, and the peaceful environment draw thousands of holidaymakers who come to experience Gustavus.
Top 3 Things to Do in Gustavus
Explore Glacier Bay National Park
Go whale watching
Do some saltwater fishing
6. Haines
There is something fascinating about small villages, and Haines is a great example of Alaskan village novelty.
A five-hour ferry ride from Juneau and a two-day drive from Anchorage might sound like a long trip. But Haines is actually one of the most accessible towns in southeast Alaska!
How did I come to that conclusion? Well, it's one of the few places in southeast Alaska that can be accessed by road, sea, and air.
Haines, with a population of around 2000 people, is a gem of Southeast Alaska. It's a great place on earth where history, culture, and incredible nature experiences mingle together.
The town boasts one of the most picturesque settings on earth since it is on the shorelines of one of North America's deepest fjords.
This makes it a favorite connecting spot for travelers heading to Fairbanks and Anchorage.
Beyond that, the town is a popular cruise docking spot, fishing village, and an adventure junkies' playground.
Top 3 Things to Do in Haines
Go bear watching on the Chilkoot River
Visit the American Bald Eagle Foundation
Take a boat or plane to Davidson Glacier
7. Homer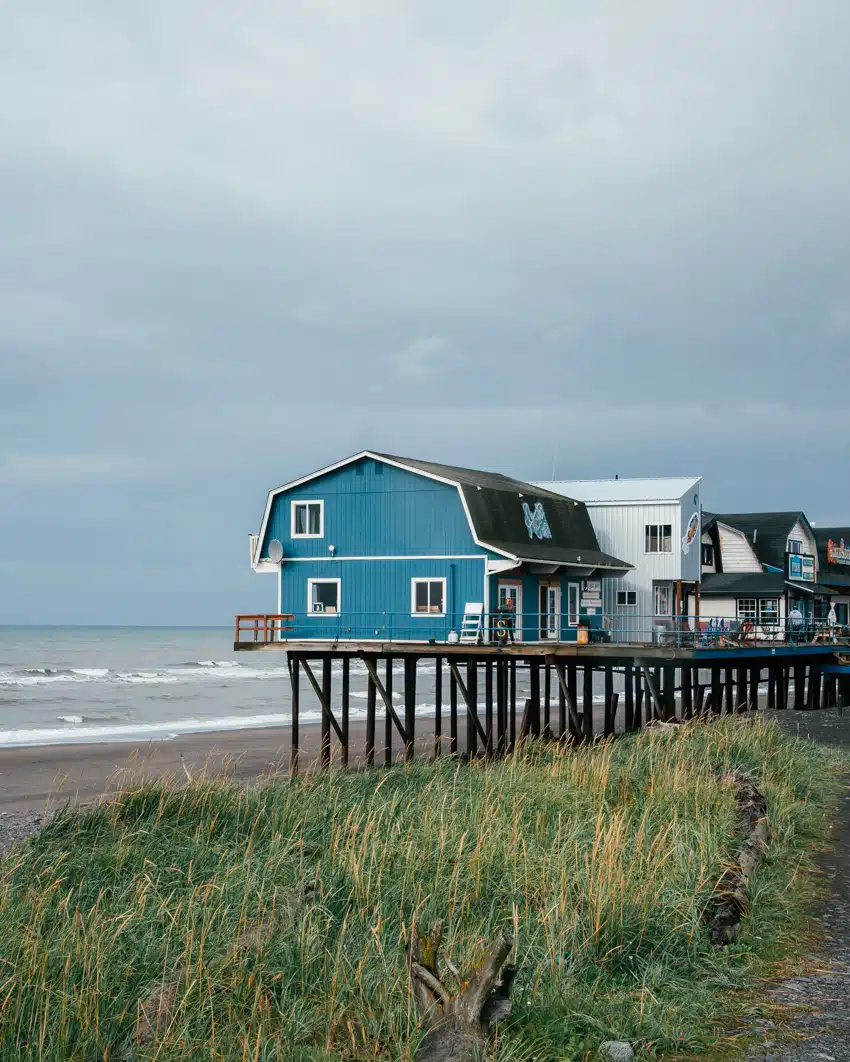 Nestled between the beauty of the massive Kenai Peninsula and Kachemak Bay, Homer is a tiny town about four hours south of Anchorage.
In a sentence, this bustling hub boasts a mild climate, a picturesque setting, and great fishing.
On one side, just beyond the waters, the majestic Kenai Mountains dominate the horizon.
And on the other side of Homer, you're treated to stunning vistas of Kachemak Bay.
In addition, Homer has been dubbed as the "Halibut Fishing Capital of the World". Since we aren't big fishers, we made sure to enjoy eating some halibut while we were in Homer!
The famous Homer Spit is a road that stretches across the peninsula, lined with cafes, shops, and excursion booths.
You've to got stop into The Salty Dawg Saloon, stay at Land's Edge Resort, and then get breakfast at Captain's Coffee! You can camp right on the Homer Spit beaches as well.
Top 3 Things to Do in Homer
Halibut/ world-class fishing
Visit the shops along the Homer spit
Bear viewing (especially in Lake Clark National Park)
8. Juneau
The capital of Alaska, Juneau is a beautiful and a quite fascinating town.
Did you know that it's the only capital city that can only be accessed by air or water? Yup, there are no roads connecting the town to the rest of the state!
Since it's so hard to access, you might expect Juneau to lack a bunch of activities or tourism.
Yet, it's one of the most popular towns in Alaska.
Many flights to Alaska make a stop in Juneau. As such, it makes for a perfect layover- but if possible, it deserves more than a day.
The center of the town is chock full of activities. On the harbor, you'll notice cruise ships and seaplanes ferrying hundreds of people to this waterfront town.
In addition to the town's natural beauty, the oldest Alaskan city has garnered lots of history over the years.
This, coupled with its artistic flair and an array of outdoor activities, makes it a must-see for anyone visiting Alaska.
Top 3 Things to Do in Juneau
Hike to Nugget Falls
Go whale watching between April and September
Visit the Mendenhall Glacier
9. Ketchikan
Located on the south-eastern edge of Alaska, Ketchikan is the entryway to the Inside Passage.
It is typically the first city you cruise to before heading toward Northern Alaska.
Nicknamed "Salmon Capital of the World", this bustling town is famous for its fishing, cherished native culture, and awe-inspiring scenery.
Three Native Alaskan groups call Ketchikan home, which contributes to this town's rich cultural traditions.
Ketchikan's walkable downtown showcases local artisans who sell their art, carvings, weavings, and more. And the town's Waterfront Promenade circumnavigates Ketchikan's busy shorelines and is a fun place to explore.
Top 3 Things to Do in Ketchikan
Join a fishing charter and catch some fish
Hike to the top of Deer Mountain
Visit the Saxman Native Village
10. Kodiak Island
Situated along the coastlines of Alaska, few places on earth beat the impressive natural beauty of Kodiak Island.
In fact, two-thirds of Kodiak Island is set aside to preserve the wildlife. And, the lush greenery engulfs the town, making this fishing village rightfully an ''Emerald Isle''.
In addition, majestic glaciers, wildflower-filled meadows, and stunning shorelines all surround this quaint town.
Plus, it's a migratory route for different species of whales, and the huge lush forests host an abundance of wildlife.
So, if you're an outdoor or nature enthusiast this town will warm your heart.
Also, here's a fun fact: it's the largest island in the United States after Hawaii! So you're bound to have plenty to explore on Kodiak Island.
Top 3 Things to Do on Kodiak Island
Visit the Kodiak National Wildlife Refuge
Explore Fort Abercrombie State Historical Park
Search for fossils during low tide at Fossil Beach (but only look, don't touch! Culture, history, and nature are crucial to preserve.)
11. North Pole
In this tiny town just south of Fairbanks, every day feels like Christmas!
If you're a big fan of the holidays, you should visit North Pole, Alaska.
(We stopped here specifically so we could tell our children one day that we had crepes in the North Pole 🙂 We ate them at the North Pole Crepery and they were divine.)
Here, the locals keep the Christmas cheer alive throughout the year.
While the town itself isn't jaw-droppingly beautiful per se, the Christmas inspired decor that lines street lamps and signs make it one of a kind.
The Santa Claus House is at the heart of the town, featuring aisles of Christmas toys and ornaments. Don't be surprised by life-sized statues of Santa around the town!
With its Santa House, a Reindeer Farm, and more, North Pole, Alaska draws in both kids and adults. At the very least, you'll want to take a selfie at the welcome sign by the visitor center!
Because lets be real… everyone wants to say they've been to the North Pole!
Top 3 Things to Do in North Pole
Attend an ice carving exhibit
Cruising With Santa Festival
Pick up souvenirs from the Santa Claus House
12. Petersburg
Petersburg is among the most authentic towns you'll find in Alaska.
In fact, unlike most touristy destinations where the streets are dominated by gift shops, Petersburg stands out. In this town, most eateries, hardware stores, shops, and grocery stores are owned, operated, and frequented by the locals.
This waterfront town is lined with weathered boatsheds, working boats, seaplanes, ferries, and wharfs.
Yet, beyond the lively and fast-paced harbor lies endless opportunities for adventure.
Situated on Frederick Sound in the heart of Tongass National Forest, Petersburg offers plenty by way of nature activities and wildlife viewing.
Just thirty miles north of Petersburg by boat, you'll find some of the best humpback whale watching in North America!
You can navigate through icebergs in Leconte Glacier Bay, the southernmost active tidewater glacier in North America. It is easily explored by boat and is absolutely beautiful!
You should drive all over Mitkof Island, since it is part of the largest temperate rainforest in the world! On Mitkof, you can go fly fishing, hiking, rent a rowboat, and so much more.
As you can see, while the town is small and rather isolated, it more than compensates with outdoor adventures, and there are plenty of unspoiled gems to explore.
Top 3 Things to Do in Petersburg
Explore Mitkof Island
Kayak on iceberg-filled waters
Do some humpback whale watching
13. Seward
Nestled between Resurrection Bay and Mount Marathon, Seward is a tourist-friendly village with plenty to explore. What adds to its popularity is that it is just a few hours away from Anchorage at the end of one of the prettiest drives in Alaska, the Seward Scenic Highway.
It is also a gateway to one of the smallest (yet incredibly beautiful!) national parks in Alaska: Kenai Fjords National Park.
From glacial lakes to snow-capped mountains and coastal fjords, the natural beauty of Seward earns it a spot among the most beautiful towns in Alaska.
With a walkable downtown full of great places to eat (The Cookery was our favorite dinner spot!) and a beautiful harbor to see, Seward is absolutely charming.
We spent three days in Seward, but could easily have stayed longer! We called Resurrection Lodge on the Bay home and set off on adventures each day.
Seward is home to the Kenai Peninsula's most famous hike, the Harding Icefield Hike. We did half of the hike and saw some incredible views- check out my post on the Harding Icefield here to see!
A boat tour through Kenai Fjords National Park like this one comes highly recommended as you can come up close with some beautiful glaciers!
And don't forget to take a helicopter tour like this one if you're here and your budget allows it! It's truly a memorable experience. You can even fly to a glacier where you can go dog sledding, even in the summer!
It's no wonder the town receives so many tourists each year!
Top 3 Things to Do in Seward
Check out my Guide to Seward here, complete with the 18 best things to do in Seward.
14. Sitka
Although Sitka isn't a regular on most Alaskan itineraries, it is such a gem! (But before you go thinking that it'll be exactly like The Proposal, know that the movie was actually filmed in Rockport, Massachusetts!)
Regardless of where the Sandra Bullock movie was filmed, this serene hub is one of the most beautiful towns in Alaska.
Accessible only by air and sea, Sitka has everything any traveler could ever yearn for.
This includes a unique history, access to incredible national parks, pristine wilderness, and an amazing list of outdoor adventures.
And you don't need a sightseeing tour to experience the beauty of Sitka.
You'll find beauty everywhere you go! Go hiking on one of its peaceful trails, wake up for a 4am magical sunrise in the summer, and take a stroll around the town!
Top 3 Things to Do in Sitka
Visit Sitka National Historical Park (aka Totem Park)
See bears at the Fortress of the Bear animal sanctuary
Visit rescued birds of prey at the Alaska Raptor Center
15. Skagway
Located at the edge of the deepest fjord in North America, Skagway is surrounded by some dramatic scenery.
Due to its location, Skagway is a renowned cruise destination. Over a million tourists stroll along the boardwalks into the town every year.
This tiny town offers thrilling train rides, epic wilderness adventures, and loads of Gold Rush history.
Whether you're a nature lover or a history fanatic, this charming town has something for you.
Top 3 Things to Do in Skagway
Hop on a vintage train car on the White Pass & Yukon Route Railway
Do a helicopter tour to Denver Glacier and go dog sledding
Take a gold panning tour and explore the Klondike Gold Rush National Historical Park
16. Talkeetna
The tiny town of Talkeetna is a popular hub for thousands of travelers looking to explore Denali National Park. It's the last "major" town near Denali National Park as you head north from Anchorage. (I put "major" in quotes because less than 1,000 people call Talkeetna home!)
But don't let its size fool you! The ambiance here gives it a big personality. And as a historic town with panoramic views of the Alaska Range, you'll be surrounded by beauty!
Though Talkeetna is a tiny village, there are lots of activities you can do here. From flightseeing and fishing to mountain climbing and mushing, you'll find it here!
In the charming downtown, you'll be welcomed by friendly locals who love to share their town with you. Explore art galleries, catch some live entertainment, stop into a museum, explore Riverfront Park, and try some Denali craft beer.
Top 3 Things to Do in Talkeetna
Drive into Denali National Park
Go flightseeing
Do some gold panning
17. Valdez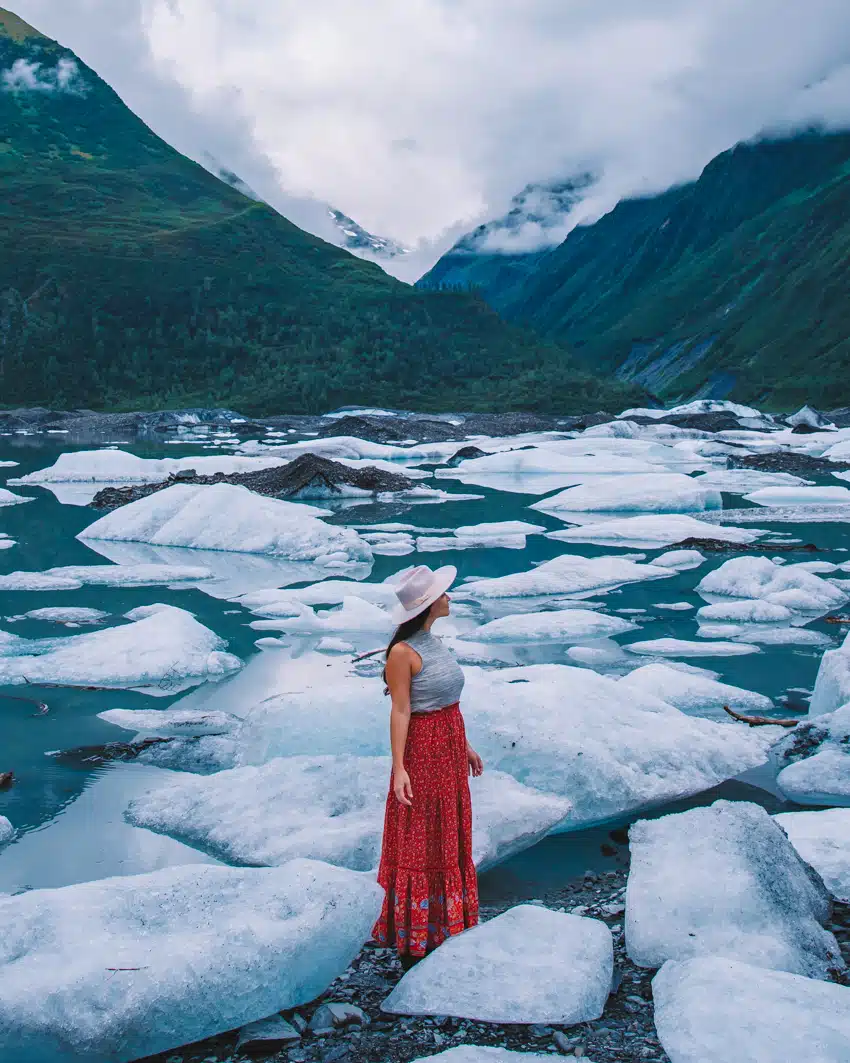 Set in the heart of the massive Prince William Sound, it's safe to say that this town is among the prettiest towns in Alaska. And it is also one of my favorite towns we've visited in Alaska!
We drove over five hours from Anchorage to get to Valdez, and it was so worth it! But you can also fly or take the ferry from Whittier to get here, too.
There's a reason this town is referred to as "Little Switzerland!" Valdez is surrounded by some strikingly tall mountains which offer great skiing, hiking, and plenty of glaciers to visit.
Waterfalls cascade down the canyon as you drive into Valdez, welcoming you to this scenic seaside town. (You can see three of these waterfalls on this post about Valdez!)
There are some great food trucks and boat tours right around the bustling harbor. The Nat Shack's 'local's favorite' crunchwrap was absolutely delicious- I highly recommend it!
And the surrounding town gives out a relaxed vibe that mirrors how the surrounding nature offers unrivaled tranquillity.
It's also a gem in both the summer and winter. Summertime begs for boat tours and hiking, while winter boasts incredible winter sports.
Did you know that Thompson Pass near Valdez is the snowiest place in Alaska? Needless to say, you'll have plenty of opportunities to hit the slopes in this picturesque town!
Top 3 Things to Do in Valdez
Do a boat tour through Prince William Sound
Kayak on the Valdez Glacier Lake
Do some epic snowsports in the winter
Check out more things to do in Valdez on my Valdez Guide here!
18. Wrangell
Wrangell (not associated with Wrangell- St.Elias National Park) is among the oldest Alaskan towns.
It is accessible by boat or plane and is a great place to visit in southeast Alaska.
As the only Alaskan town to have been ruled by four nations: the Tlingit, the Russians, the British, and, lastly, Americans, this fishing town has a fascinating history!
You can learn all about its history and culture at Wrangell's museum.
In addition, Wrangell claims abundant wildlife and magnificent scenery.
Home to the Anan River, one of the most densely salmon-populated rivers in the summer, you can see bears aplenty at peak season. The Stikine River is also one of Wrangell's best features.
So, if you love the outdoors or are a history buff, you should make a stop here! Surrounded by islands, winding rivers, and rugged mountains, Wrangell's beauty will amaze you!
Top 3 Things to Do in Wrangell
In conclusion…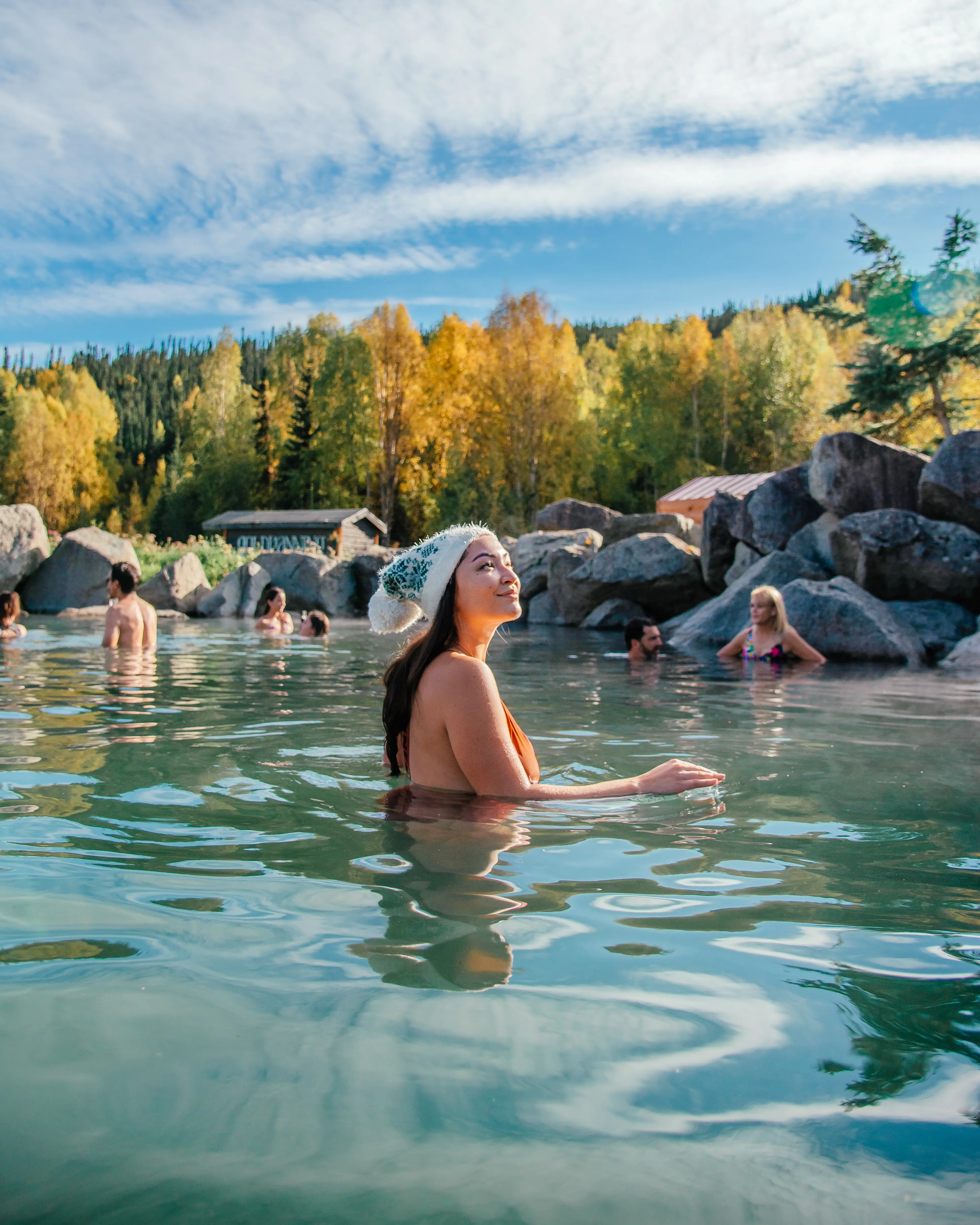 Alaska is filled with incredible beauty. I hope this list of the most beautiful towns in Alaska has fueled your wanderlust!
(The photo above is from Chena Hot Springs, one of my favorite things to do around Fairbanks!)
And no matter which beautiful town you visit in Alaska, be sure to check out what Alaskan Native events are happening. The Alaskan Native culture is beautiful and important, and many of these towns have museums or cultural centers where you can learn more!
Also, one of my other favorite ways to get to truly experience a town is by asking the locals what they suggest! That's how I planned my Alaska road trip itinerary and it made for a beyond memorable and magical trip.
Seeking more beauty in Alaska? Here are the 40 prettiest places in Alaska!
And if you're planning a trip to Alaska, check out these posts:
And if you know of any other towns that deserve a spot on this list, comment below!
Safe travels!
Jasmine