Alaska is hands down one of my favorite states in the United States, and here I'm sharing the 40 prettiest places in Alaska so you can see why!
My husband, Harrison, and I were fortunate to get to visit most of these beautiful spots in Alaska, but not all of them. For the past four years that I've been a travel blogger, I've saved Instagram posts to my Alaska bucket list. You'll see some of those photos here, but I can't wait to visit all of the prettiest places in Alaska on my list so that I can see them for myself!
Check back by the end of summer, as we will hopefully be visiting Southeast Alaska this year!
I also include a map of the prettiest places in Alaska at the very bottom of this post. That way, if you're visiting one area only, you can see which spots are closest to you!
(PS. The photo above is from spot #6 on this list!)
You can see some of these amazing spots in the video we made of our trip below!
[If you don't see a video below, you may need to disable your ad blocker.]
Without further ado, here are the 40 most beautiful places in Alaska!
1. Thompson Pass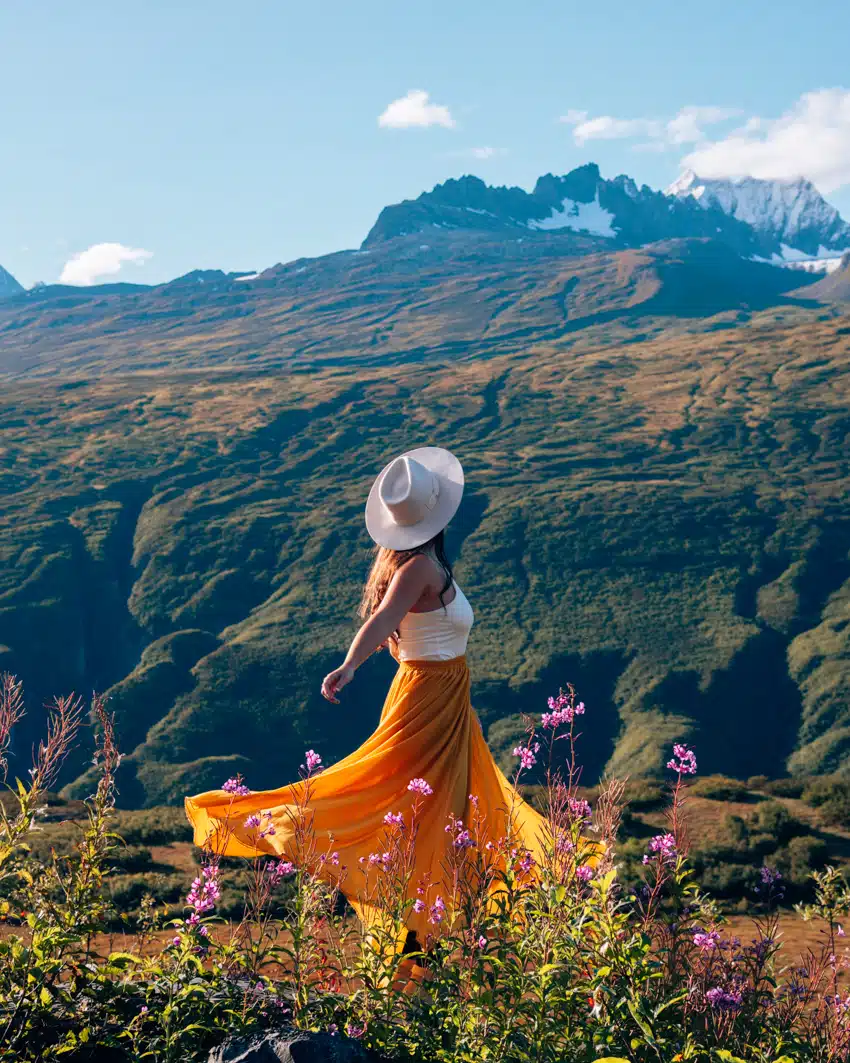 Not only is this one of the prettiest places in Alaska, but it's also the snowiest! You probably wouldn't guess that from this photo that we took in early September, but it's true! Thompsons Pass holds the record for most snow in Alaska. Come summertime, it's ready to be explored, so bring your camera and your hiking boots, and hike one of the many trails throughout Thompsons Pass. (Or, if you're like me, stop off on the side of the road where you can still get epic photos… wearing a skirt haha!)
2. Keystone Canyon
The road to Valdez, Richardson Highway, drives through Keystone Canyon right before it enters Valdez. Keystone Canyon should be called Waterfall Canyon, if you ask me! There are so many waterfalls you'll see along your drive, like Bridal Veil Falls, Horsetail Falls, or this lesser known waterfall pictured above, Rudleston Falls. In the wintertime, you can actually scale the falls when they turn to ice!
3. Valdez Harbor
All year round, Valdez is a sight to behold! Whether you visit in the summertime or when the mountains are covered in snow in the winter, the Valdez harbor is a photographer's dream!
4. Valdez Glacier Lake
Valdez Glacier Lake was covered in icebergs when we visited in the summer of 2020, but its appearance changes throughout the year. Regardless of when you visit, it remains one of the prettiest places in Alaska. You can kayak or stand up paddleboard right up to the glacier!
For more things to do in Valdez, check out this post!
5. Wrangell-St. Elias National Park & Preserve
Wrangell-St.Elias National Park is actually the largest national park in the United States. Yet, shockingly, so many people have never heard of it! That's probably due to the lack of easy accessibility, as the park roads don't go very far into its massive expanse. The roads are also gravel roads that rental cars are typically prohibited from driving on. If you do drive them, be sure to have a spare tire! Wrangell-St.Elias is pretty much as rugged as it gets. If you get the chance, take a plane tour of the park or do some hiking to appreciate its beauty.
6. Matanuska Glacier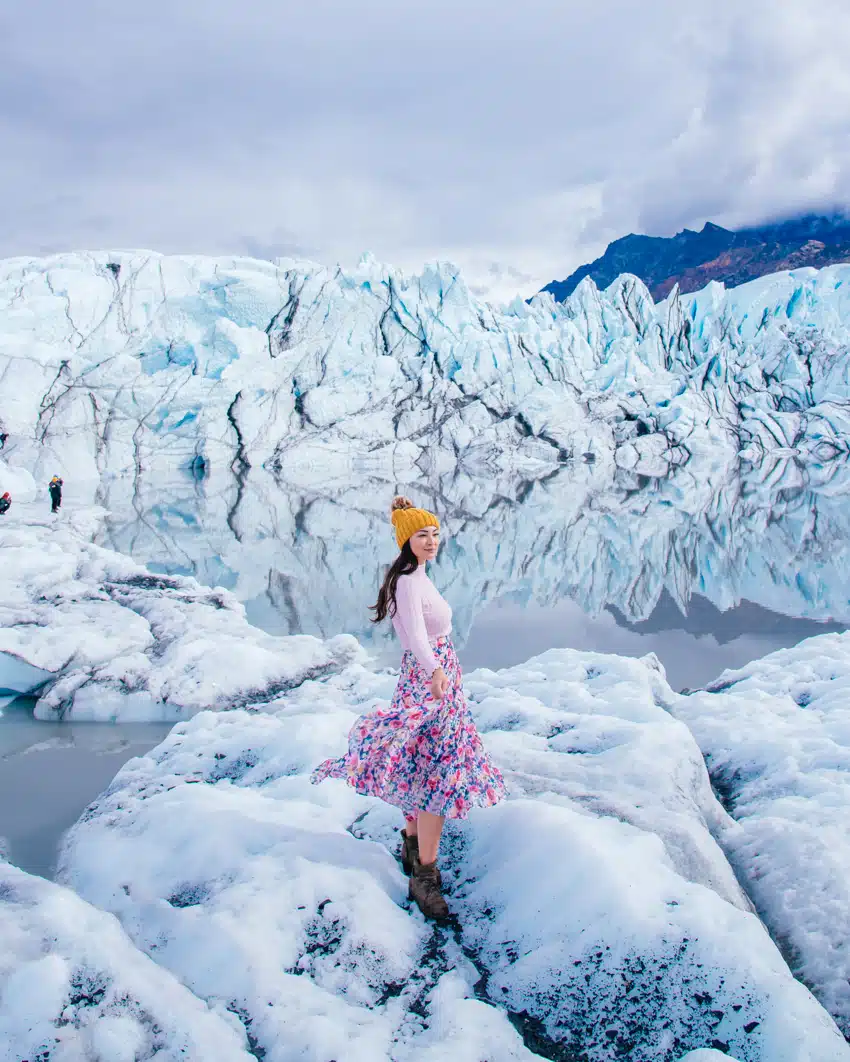 Meet my favorite glacier in all of Alaska: the Matanuska Glacier. You can walk on this stunning glacier doing a self-guided or guided tour. Learn all about hiking the Matanuska Glacier here!
7. Long Lake
As you drive down the Glenn Highway from the Matanuska Glacier towards Anchorage, you'll notice a very long lake. It's quite appropriately named Long Lake! Since it's not a very highly frequented lake, the waters here are pretty undisturbed on a quiet day, giving you a marvelous reflection.
9. Glenn Highway Pulloff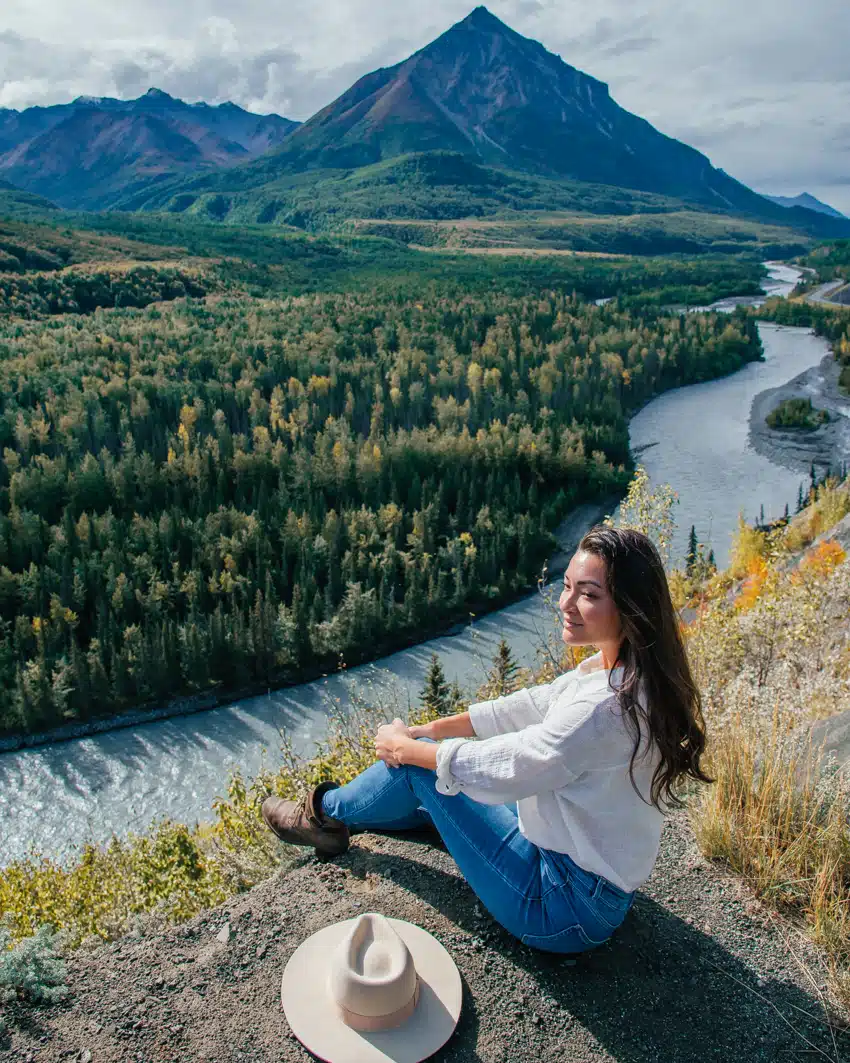 Go further down the Glenn Highway until you spot a pull off, which is where you'll find this spot! I've marked the exact location on the map at the bottom of this post. With a view like that, it's no wonder why I consider it to be one of the prettiest places in Alaska!
6. Hatcher Pass
If you're in the area, a drive to Hatcher Pass Lodge is worth it to see these stunning red cabins. I feel like this is a must on every photographer's Alaska bucket list, as I've seen so many epic shots of Hatcher Pass on Instagram. Yet, we were the only people here when we visited!
There are little paths in the grass here; be careful of where you step so that you don't disturb the greenery. I should also mention that Hatcher Pass is equally as stunning in the winter with snow everywhere!
8. Knik Glacier
We did a helicopter tour to visit the Knik Glacier, and I highly recommend it to anyone looking to splurge a little! We flew with Alaska Helicopter Tours on their Grand Knik Tour. It was epic! The very first photo in this post is from our helicopter tour, as we did three different landings.
Check out the 17 most beautiful glaciers to visit in Alaska here!
7. Eklutna Lake
I think this photo speaks for itself! Located relatively close to Anchorage, Eklutna Lake offers a tremendous view of the surrounding mountains. Bonus points if you have a pet husky to show off in the photo 🙂
12. Anchorage
High rises and mountains in the same photo? Sign me up! You can get a photo with both in Anchorage, but there are so many other stunning photo spots in Anchorage. The Eagle River Nature Center definitely qualifies- how incredible are these fall colors? Unfortunately they were closed when we were in Anchorage, but we'll visit next time!
13. Turnagain Arm
As you head out of Anchorage toward the Kenai Peninsula, the stunning Turnagain Arm greets you. The midnight sun really added to the beauty here in my opinion! You get plenty of golden hour sunlight in the long days of summer. Head to Beluga Point along the Turnagain Arm during whale season for the chance to spot some whales!
14. Virgin Creek Falls
Virgin Creek Falls is one of the prettiest places in Alaska in my book, and it's quite easy to get to, too! Located in the back of a neighborhood in Girdwood, you'll hike for 5-10 minutes through an enchanting forest (one of the prettiest forests I've ever been in!) before reaching these stunning falls. Watch where you step- there are a lot of giant tree roots on the ground!
15. Alaska Wildlife Conservation Center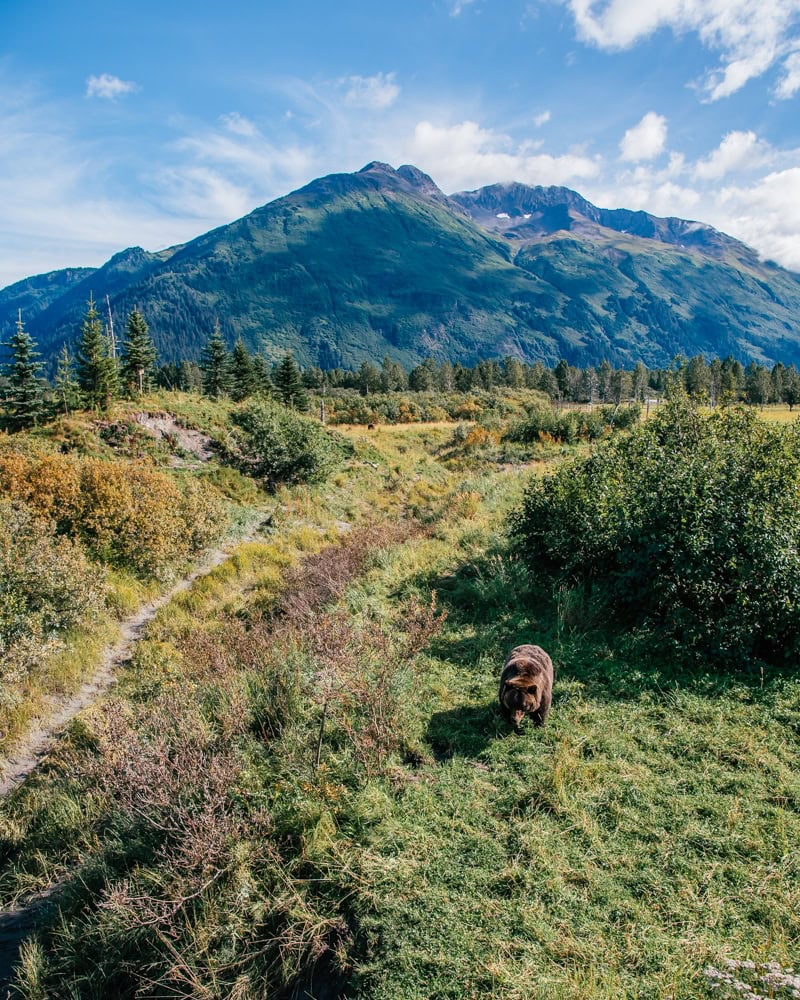 The Alaska Wildlife Conservation Center is set in a beautiful plot of land along the Turnagain Arm, and is home to Alaska's native animals. If you're looking to do wildlife photography but don't have time for a bear-watching tour, the AWCC is the place to be. The Bear Boardwalk is a great (and safe) place to photograph both brown and black bears. Learn what animals you'll find, entrance cost, and more about the Alaska Wildlife Conservation Center here!
16. Portage Lake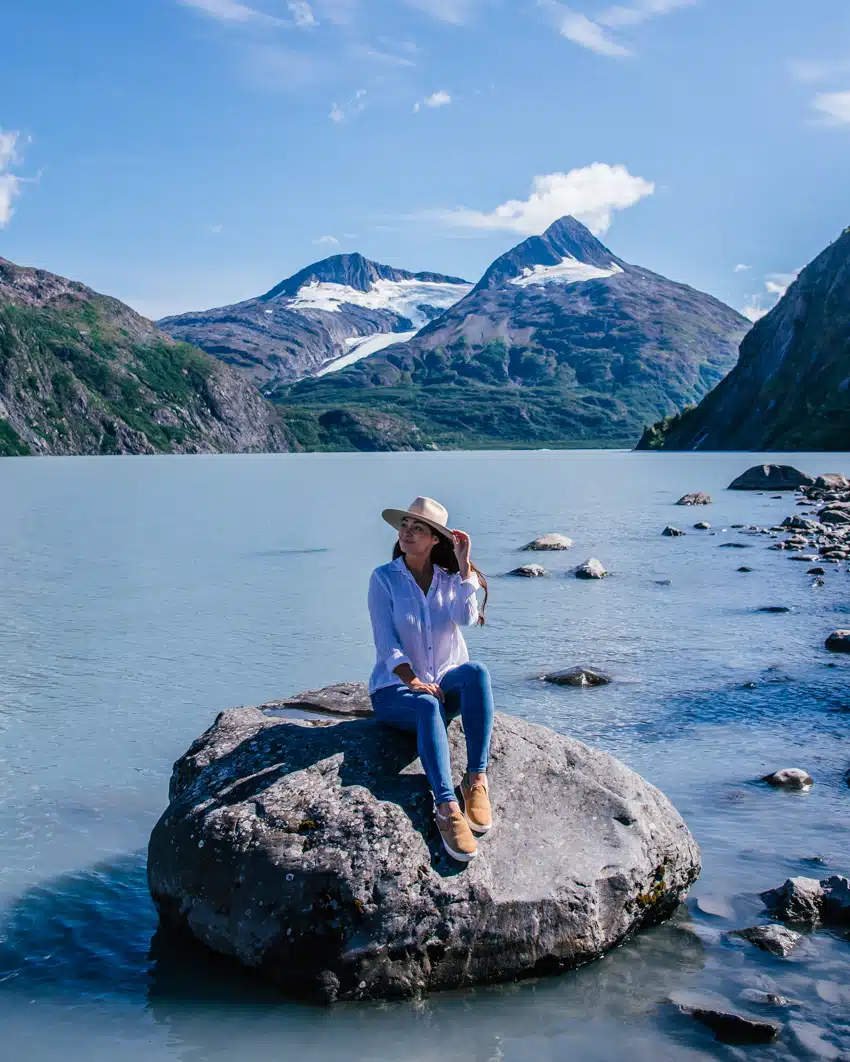 Oftentimes, you'll find that the water in Alaska is a sort of icy gray-blue color. I think it might be a cool effect that glacier ice has on it, but regardless of the cause, it's stunning to see. Head to Portage Lake and you'll see what I mean! You can do a boat tour here to see Portage Glacier but the lake itself is gorgeous as well! Can you spot Shakespeare Glacier behind me?
17. Seward Scenic Highway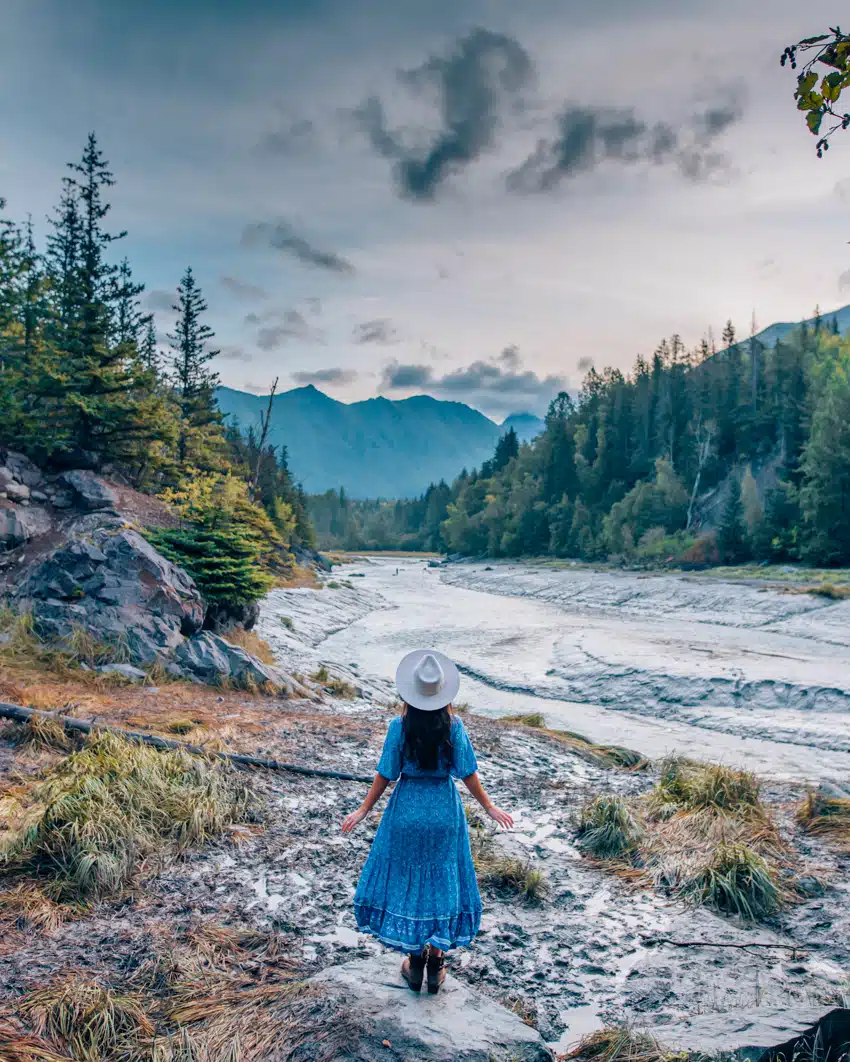 The Seward Scenic Highway is the long but easy drive from Anchorage to Seward, filled with remarkable views. Pictured above is Bird Creek, very close to Anchorage. I include all of my favorite 18 stops along the Seward Scenic Highway here!
18. Moose Pass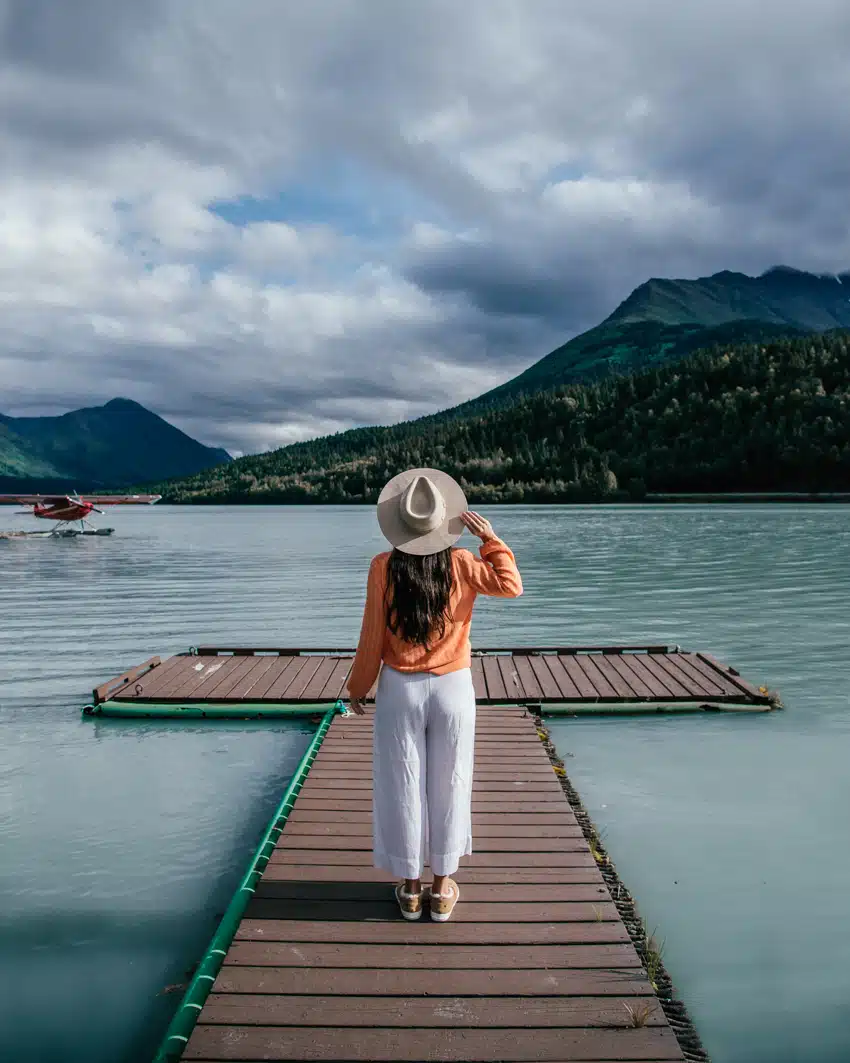 Floatplanes, an icy blue lake, mountains, and a symmetrical dock- what more could you want in a photo? The dock belongs to the Trail Lake Lodge, and is technically only open to guests. So stop on by their restaurant, or go flightseeing with Scenic Mountain Air, who they partner with! But also explore more of Moose Pass while you're there- plenty of photo opportunities await you!
19. Kenai Lake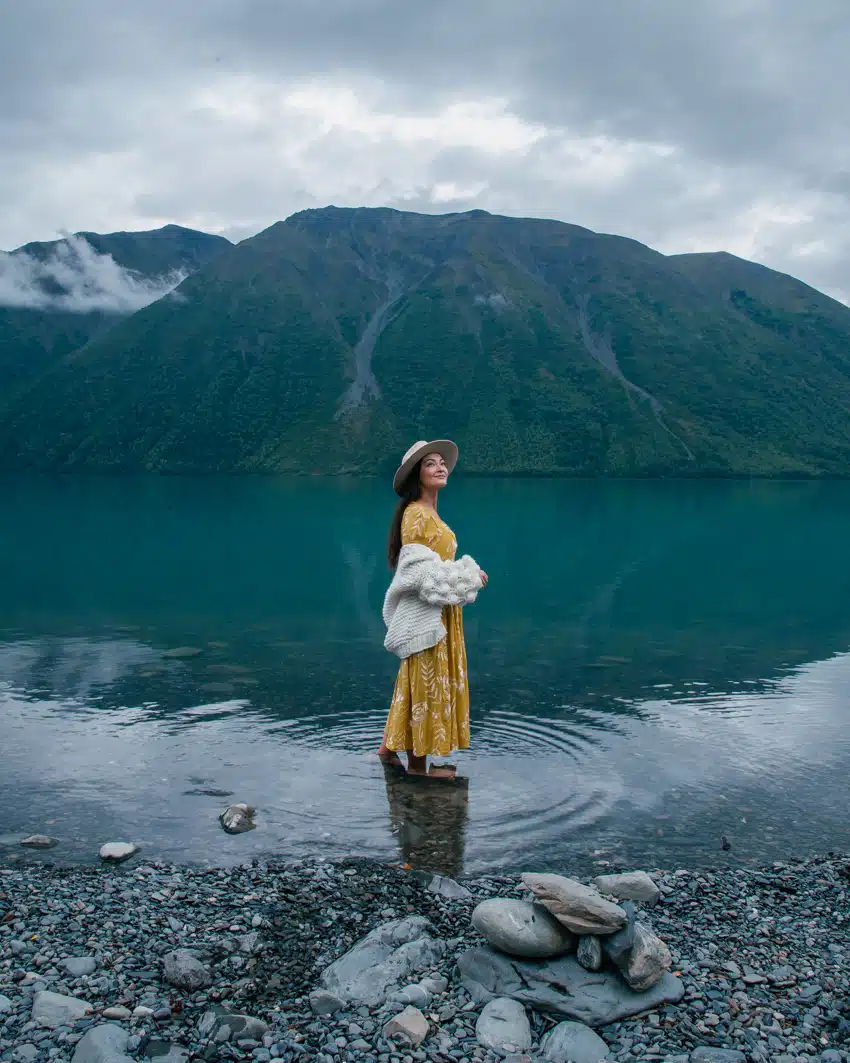 Kenai Lake is known to be the bluest lake in all of Alaska! Even on a cloudy, rainy day, Kenai Lake is vibrantly blue. Our GPS took us to a random pull off on the side of the road that led to a hike through the forest. It brought us to this part of the lake, where there was not a single soul in sight! We were surrounded by jaw-dropping beauty, alone in the middle of the Kenai Peninsula, in dead silence, marveling at the lake until it started to rain. It's one of my sweetest memories from that Alaska trip. (And yes, the water was freezing, but refreshingly so!) Not only is Kenai Lake one of the prettiest places in Alaska, but, to me, it's the most beautiful lake there too!
20. Kenai Fjords National Park
Kenai Fjords National Park is one of seventeen national parks in Alaska. It is most famous for its stunning glaciers. You'll explore most of it by boat or floatplane, but it does have one entrance by land, pictured above. What you see here is Exit Glacier, shot with my 120mm zoom lens. (See exactly what gear I carry in my camera bag here!) Whether you explore Kenai Fjords by land or sea, it's one of the most beautiful places in Alaska.
It's also home to the next spot on this list!
21. Harding Icefield
The Harding Icefield is no easy feat to get to, but it's worth the hike! Even if you only do half of the Harding Icefield hike you'll be rewarded with great views. There are a few good stopping/turnaround points on this hike, and I cover what you'll see at each of them here. The Icefield itself is at the very top and connects over 40 glaciers across 700 square miles. Mind. Blown.
22. Seward
Seward is the gateway to Kenai Fjords National Park, and is a gorgeous seaside town with plenty to offer. My favorite views in Seward include the spot pictured above, taken at The Lagoon, and the Seward harbor with its crazy blue waters. Learn more about the best things to do in Seward here!
23. Resurrection Bay
The Seward harbor sits at the edge of Resurrection Bay, a gorgeous inlet flanked by striking mountains. We stayed at Resurrection Lodge on the Bay where we had remarkable views of the water. In May and June, whales swim right into the bay- you can just imagine the incredible views you'll have then!
24. Alaska Wildflowers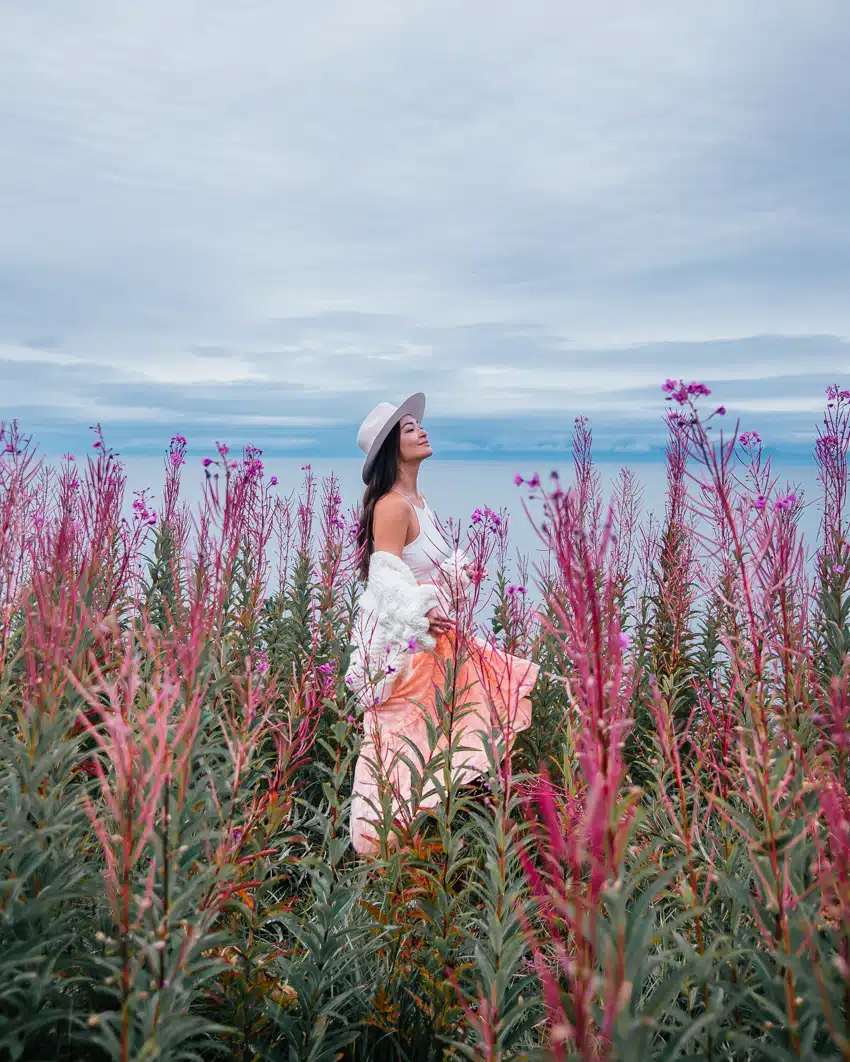 This isn't a place per se, but definitely something beautiful to look out for as you're exploring Alaska. If you're visiting in the summer, wildflowers bloom along the side of the road, dotting the Alaskan landscape with gorgeous shades of pink and purple. By August, most of the wildflowers are no longer in bloom, but you'll still see some areas if you look hard enough. For example, we saw this fireweed in Happy Valley on our way to Homer at a pull off along the main highway.
25. Homer Spit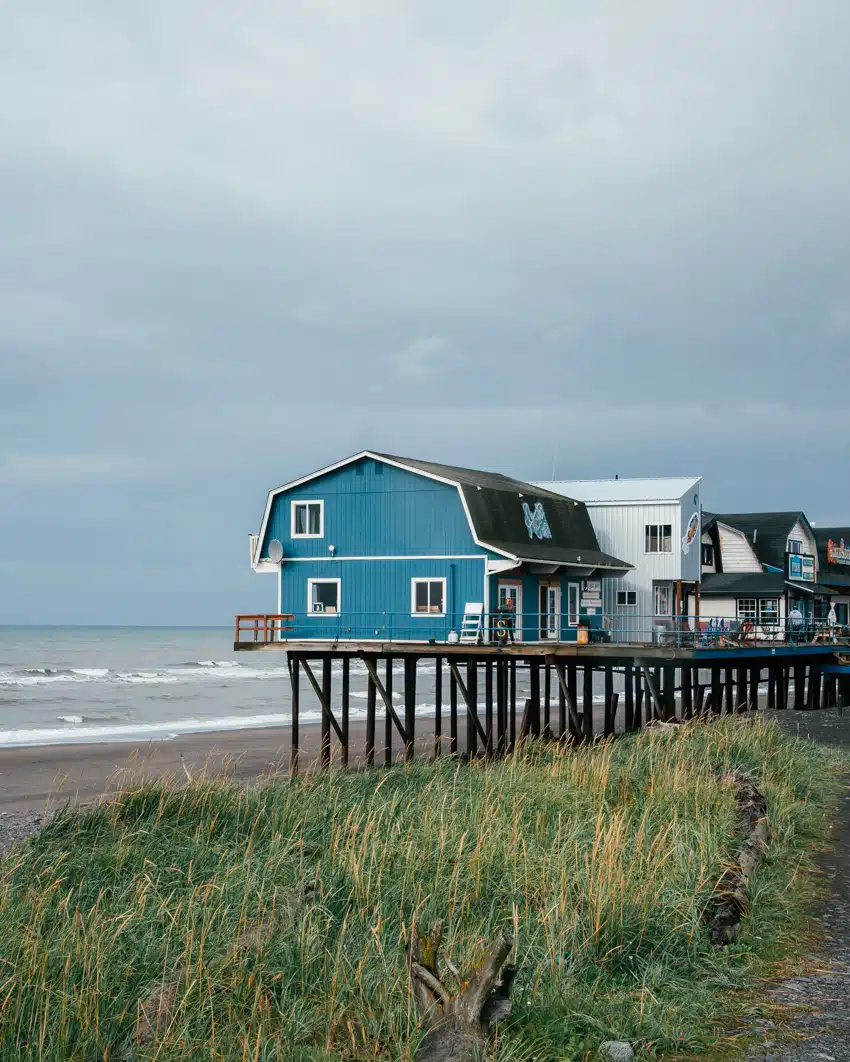 Situated at the very end of the Kenai Peninsula, Homer is a gem of a town that is almost completely surrounded by mountains. The Homer Spit is a single road that goes straight to the tip of the Peninsula. Along the Spit, you'll find many shops, cafes, and more. People camp right on the beach here- imagine waking up to stunning mountain views! While we didn't camp on the beach, we loved the hot tub views at Land's End Resort.
Homer is the last spot on this list from the Kenai Peninsula, but if you're looking for more things to do or photos I took on the Kenai Peninsula, check out this post.
26. Katmai National Park and Preserve
Bear lovers, Katmai National Park is for you! It's one of the prettiest places in Alaska because it offers incredible wildlife viewing. You might have heard of Brooks Falls in relation to grizzly bears in Alaska- well, this is where you find it! There are lookout platforms at Brooks Camp where you can see these gorgeous creatures up close. Though we haven't been yet, you can bet it's on our Alaska bucket list!
27. Kodiak Island
The largest island in the United States after Hawaii, Kodiak Island is home to a 1.9 million acre wildlife refuge! Kodiak Island contains Alaska's largest fishing port and is known as Emerald Isle, though the photo above doesn't quite do it's vibrant greenery justice. Come summertime, this island has stunning, deep greens, made even more vibrant by the blue waters surrounding it.
28. Denali National Park and Preserve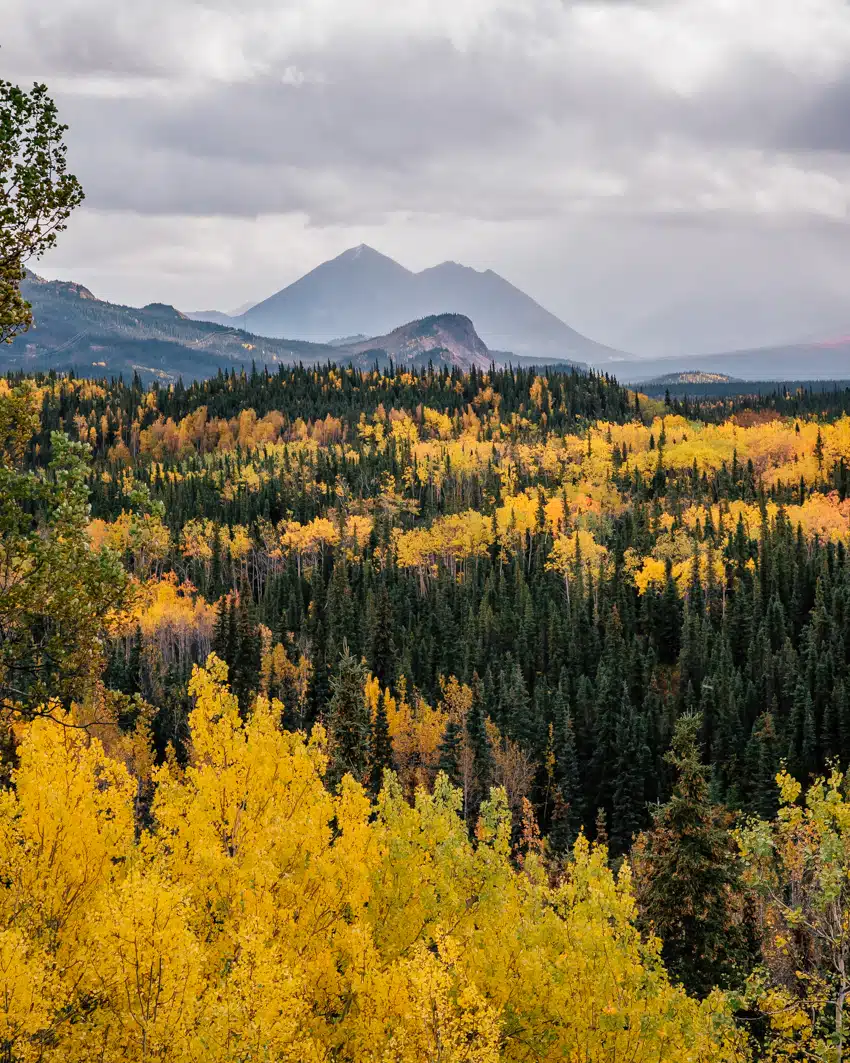 Even on a cloudy day, Denali National Park is full of beauty! We visited in early September and it rewarded us with gorgeous yellow fall colors! But regardless of when you visit, Denali remains one of the most beautiful places in Alaska. If you're not familiar with the park, you should know that you can only drive into the park up until a certain point. After that, you can hop on a shuttle (unless you have a permit to drive the roads deeper in the park). Hiking and ATV tours are another great way to see Denali as well. And, as you probably already know, it's home to the next spot on this list, Denali!
29. Denali
Denali deserves her own spot on this list for two main reasons. One, it's the largest mountain in North America, and two, you actually don't need to see it from Denali National Park. In fact, some of the best views of Denali are from a few highway pull offs outside of the park. The best spots include Denali View North, Byers Lake, and Denali View South. (I go into more specifics under the Denali section of my Alaska Itinerary). I'm not sure where Nate got this photo, so if you know, please share!
Unfortunately, there is one major heads-up I need to give you about Denali. Oftentimes, Denali is shrouded by clouds and you can't see the peak. When we visited, the clouds were so thick that we could barely see 30 feet in front of us! It was a relentless wall of clouds- so we have yet to see Denali for ourselves.
30. Sheldon Chalet
This spot has been on my bucket list for ages since it's one of the prettiest places to stay in Alaska! The five-room Sheldon Chalet is so remote on the slopes of Denali that it requires a plane to get to. It's actually just ten miles from the summit, located on Ruth's Glacier. Its unique location puts it at one of the thinnest spots of the troposphere, allowing you to see the aurora in remarkable clarity from September and April (though the aurora is usually only visible one in three nights, due to weather). As you can imagine, this is a once-in-a-lifetime stay and costs a pretty penny. You're looking at $2,300 per person a night, with a three-night minimum. (Price includes the 45-minute helicopter ride to get there). I'll keep dreaming about this one!
31. Alaska Railroad
The Alaska Railroad gives you a chance to see a bunch of the prettiest places in Alaska as it stretches across the Alaskan landscape. Be sure to capture part of the train itself in your shot to add that sense of wanderlust. I think that the beautiful yellow and navy design even enhances the colors of the landscape. It's worth splurging on the Alaska Railroad Goldstar Service, which is about $190 – $300 depending on when you go. With the Goldstar Service, you'll be in one of six luxury domed railcars with a 360 degree view of the landscape.
Here are 20 other fun experiences worth paying for if you're looking to upgrade your Alaska vacation!
32. Borealis Basecamp
Borealis Basecamp was my favorite place we stayed at in Alaska because of its cool architecture and its spectacular view of the northern lights between September and March. It contains the only glass-roofed igloos in Alaska. If you've seen the incredible northern light lodgings in Lapland (Finland), an experience like this might be on your bucket list. Well, compared to Sheldon Chalet, Borealis Basecamp is much easier to get to and way more affordable! They recommend staying for three nights for the best chance at seeing the Aurora Borealis. We only stayed for two nights; we saw it on our first night and didn't the next night, so I'd say that's a pretty accurate estimation!
33. Chena Hot Springs Resort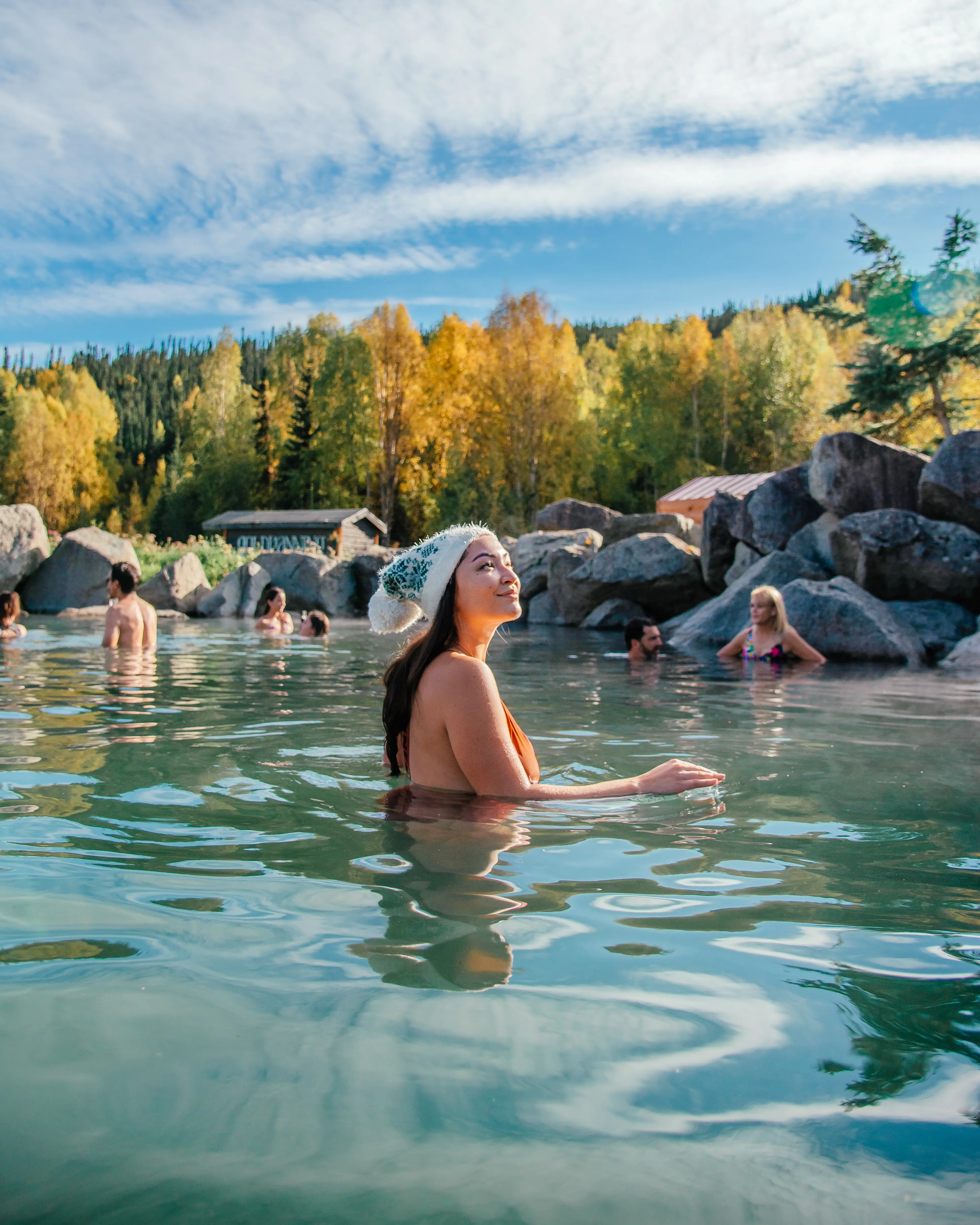 Though somewhat touristy since it's located in a big resort, Chena Hot Springs still deserves a spot on this list. Try planning your visit on a weekday to truly get to appreciate the beauty of these hot springs when fewer people are around! The springs become particularly magical in the winter when they're surrounded by snow and you can even (sometimes) see the northern lights at night.
34. Dalton Highway
This road stretches from Fairbanks to Prudhoe Bay along the Trans-Alaska Oil Pipeline. Nicknamed 'the loneliest highway,' the 414-mile long Dalton Highway is home to only three small towns and contains a 240-mile stretch where there's no gas station. But, much like you'd imagine of the vast Alaskan wilderness, there are some incredible views along this road (New York Times has called it "Tolkienesque scenery"). There's also something remarkably beautiful about being alone in the wild, with not a single bar of cell service in sight.
There's actually a chance that you'll lose cell service in many parts of Alaska, not just the Dalton Highway, so I recommend downloading offline maps before your trip. Read this post for 32 more crucial things to know before visiting Alaska.
35. Gates of the Arctic National Park and Preserve
Along the Dalton Highway, you can hike into the northernmost national park in the United States: the Gates of the Arctic National Park and Preserve. Since it's not an easy hike (there aren't even any official trails and it involves crossing a river!), most people fly into the park from Fairbanks. Situated above the arctic circle, Gates of the Arctic contains most of the Brooks Mountain Range and some of the most rugged, beautiful views in Alaska.
36. Glacier Bay National Park and Preserve
Now let's explore some of the prettiest places in Southeastern Alaska, starting with Glacier Bay National Park. As you might glean from its name, this national park is full of glaciers. In fact, there are 11 different glaciers across its 6 million acres. You can only access it by plane or boat, either of which will provide incredible views.
37. Juneau
The city of Juneau is the state capital of Alaska, and is the only US capital that you can't drive to! Sandwiched between mountains and the sea, there are plenty of breathtaking views here, making Juneau one of the prettiest places in Alaska. For a birds-eye view of Juneau, take the Mount Roberts Tramway. There are also almost as many bald eagles in Juneau as there are residents, so keep your camera handy!
I especially love how they've incorporated their love of the sea into their art- the photo above isn't a real whale (can you tell at first glance?), rather a sculpture of a whale breaching.
38. Mendenhall Glacier
Just 15 miles away from Juneau is the city's most famous landmark: the Mendenhall Glacier. Whether you take a boat tour or hike on the glacier itself, you'll get awe-inspiring views. It's about 13 miles long and covers roughly 36 square miles. If you're up for a moderately easy hike, the hike to Nugget Falls brings you a 377-foot tall waterfall. With the glacier in the background, it's easily one of the coolest waterfalls in Alaska!
39. Sitka