Wondering where to stay in Alaska to make the most of this beautiful state?
You've come to the right place!
Alaska is a world-renowned travel destination that has so many unique cities and towns.
Known for its staggering natural beauty, incredible wildlife, and unique culture, Alaska is a dream. When planning your dream Alaska vacation, deciding where to stay can be tricky.
One thing I learned about Alaska is there aren't traditional 5-star hotels- even in Anchorage! That gets tricky if you are looking for a luxury vacation. But don't worry- there's so much to do in Alaska that you won't even have time to enjoy a luxury hotel.
You could choose an all-inclusive lodge at the price of a 5-star hotel that flies you out to their remote location. But if you're looking to stay in the best towns Alaska has to offer, exploring during the day, and retreating at night, this is the post for you.
I did plenty of research when finding where we would stay in Alaska, looking through countless reviews and checking different booking sites.
Because when Harrison and I travel, I try to choose pretty hotels with great reviews at the best price. A view is a must, a hot tub is nice, and comfort is key.
You can get a better sense for what to expect in Alaska from the video I made of our travels below:
[If you don't see a video player, you may need to disable your ad blocker.]
So here you go! Here are my top 17 choices for accommodations in Alaska as well as an interactive map!
(And if you're curious about my Alaska itinerary, you can see it here!)
Where to Stay in Valdez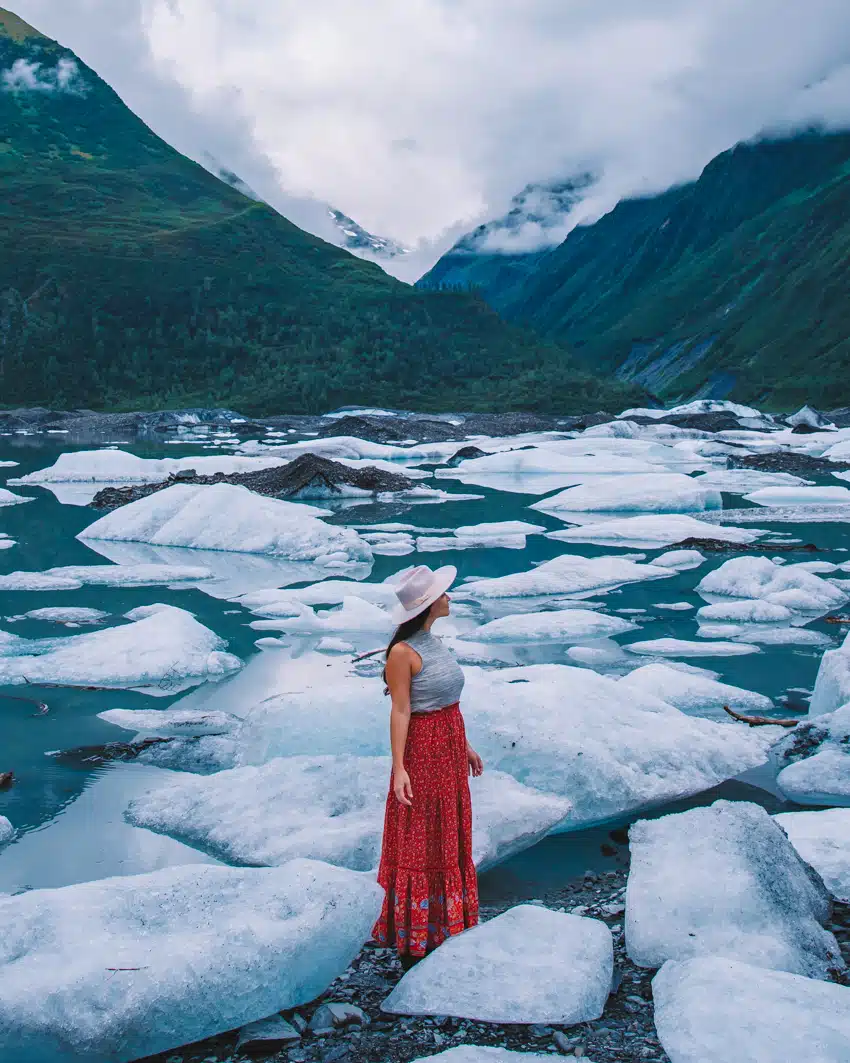 Known for its astounding beauty and wide array of wildlife, Valdez is a local favorite.
One of the top reasons people travel to Valdez is the fishing. You can find huge halibut and almost every type of salmon imaginable.
In addition to extraordinary fishing, travelers can take their pick of skiing, whale watching, or glacier climbing. We got the photo above at the dreamy Valdez Glacier Lake, a must if you're in Valdez!
This charming cedar chalet is right in the heart of Valdez. Big, bright windows throughout the home allow you to enjoy your coffee with 360-degree views of the mountains.
The A-Frame Chalet is just a short walk away from the harbor along with countless restaurants, bars, museums, and trails. After a long day of adventuring, you can come home and relax by the fire or play one of the many board games the owner provides.
If you've never used AirBNB before, you can book through this link for $65 off your first trip!
Learn more about Valdez and the 21 best things to do on my post here!
Where to Stay in Seward
Nestled between the mountains and the ocean you'll find the stunning city of Seward.
Seward is the gateway to Kenai Fjords National Park and features jaw-dropping views of the glaciers.
For a day on the water, you can take a wildlife cruise to see whales, otters, and sea lions. For a bit of a splurge, I highly recommend taking a helicopter or floatplane tour of the national park!
This is the best way to get some of the most incredible views you'll ever see.
And for the most epic hike on the Kenai Peninsula, you've got to do the Harding Icefield hike for some incredible views! You can read about the Harding Icefield and things to know before you hike here!
Located just 3 miles from the city, Resurrection Lodge is an amazing place to wind down. Guests can enjoy a hot breakfast buffet and relax on the deck while taking in the majestic wildlife.
One of my favorite things about Resurrection Lodge is the incredible views of Resurrection Bay. In May and June, there are constantly humpback whales diving in the fjord- you can watch directly from the porch!
There is also a wonderful, friendly atmosphere. You can easily get to know other guests out by the covered porch by the kitchen. And the Adirondack chairs that sit in a row with views of the beach just add to the charm!
We had a rental car, but Resurrection Lodge also offers a shuttle service to get to and from town, making it a breeze to get around.
As you might imagine from its name, the Harbor 360 Hotel is right on the Seward harbor. That makes it a prime walking location from the restaurants and fun of downtown Seward.
Boat tours depart right from Seward Harbor, too.
When staying at this hotel, a harbor view is ideal- the Seward harbor is incredibly scenic!
And if you need a food rec in the area, my favorite restaurant is The Cookery!
Learn more about Seward and the 18 best things to do in Seward here!
Where to Stay in Glacier View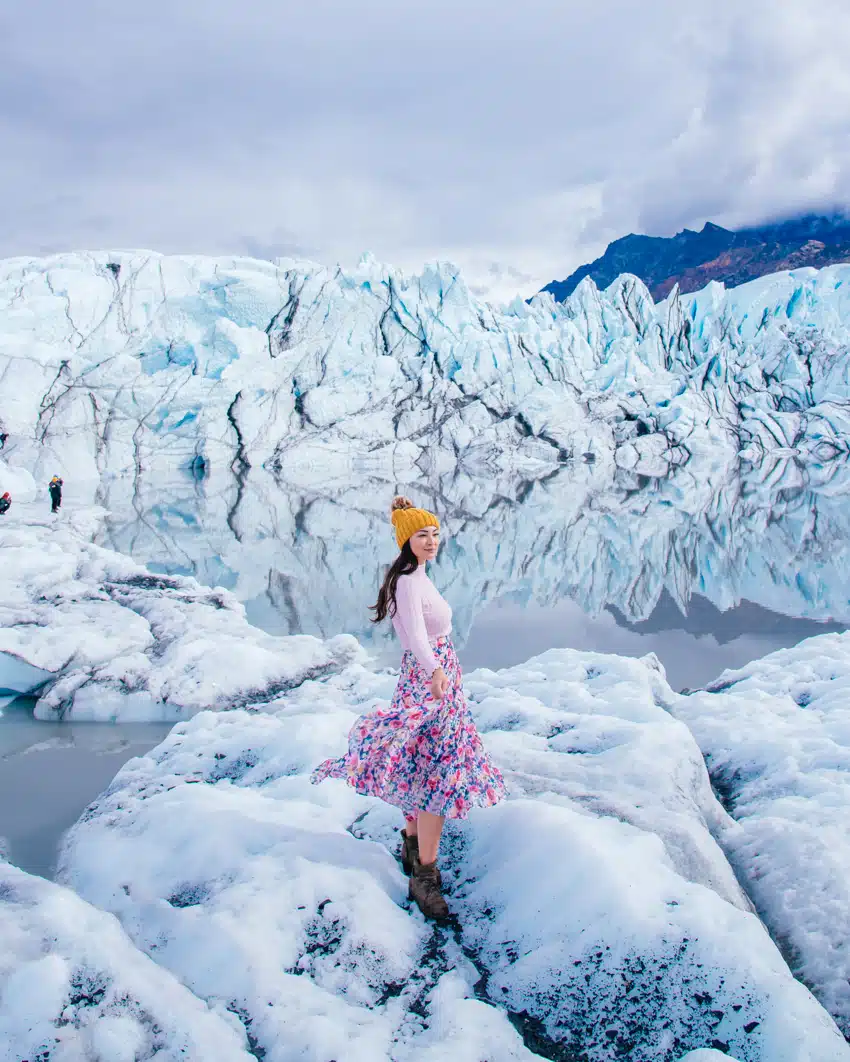 For the true Alaskan experience, a trip to Glacier View is a must. Just two hours from Anchorage, Glacier View is the perfect getaway for adventure lovers. Come experience the famous Matanuska Glacier with a self-guided tour or professionally-led climb.
The photo above is from our self-guided tour of Matanuska Glacier. It's a must if you want some of the coolest glacier views in Alaska! Read all about what you should know before visiting the Matanuska Glacier here!
Alternatively, you can soar down Alaska's fastest zipline, go whitewater rafting, or take an ATV tour. Glacier View is home to hundreds of miles of unspoiled wilderness just waiting to be explored.
Located along Glenn Highway, even the drive to Majestic Valley is a show-stopping experience.
This lodge is the perfect balance of elegance and rustic charm. Because of this, it is by far my favorite place to stay in Glacier View. The meals highlight the best of Alaskan cuisine using only fresh, local ingredients.
Winter is also a great time to come, as guests can take in views of the Northern Lights from the comfort of the lodge's covered porch!
Also, they offer heli-skiing year-round, so if you love to ski, Majestic Valley Wilderness Lodge is for you!
Where to Stay in Fairbanks
The vibrant city of Fairbanks is world-renowned for its views of Aurora Borealis, aka the Northern Lights.
People travel from all over the world to get a glimpse at the light display each winter.
In addition to the views, Fairbanks is known for its world-class accommodations, art galleries, and historic sites.
The city is also the basecamp for Denali National Park and the Arctic. So, it's perfect for those seeking adventure!
It also has one of the most easily accessible hot springs in Alaska: Chena Hot Springs. That's where we got the photo above! It's a must if it's chilly out- the hot springs stay at 106 degrees year round!
Located just 25 miles from Fairbanks, Borealis Basecamp is so much more than just lodging. It does come at a higher price point than the other places on this list, but it is worth it!
The basecamp is set on over 100 acres of boreal forest, offering a close-up view of the Alaskan wilderness. It's also the only glass-roofed igloo lodging in Alaska!
Staying in one of the Borealis Basecamp igloos is an experience unlike any other, with luxurious interiors and clear ceilings that highlight the Arctic sky.
Additionally, the basecamp offers daily dogsledding and snowshoeing tours to give guests the full Alaska experience!
Since it was summer when we visited, we went dog carting and ATVing. It was so much fun!
You can read more about that and the other incredible things to do in Fairbanks here!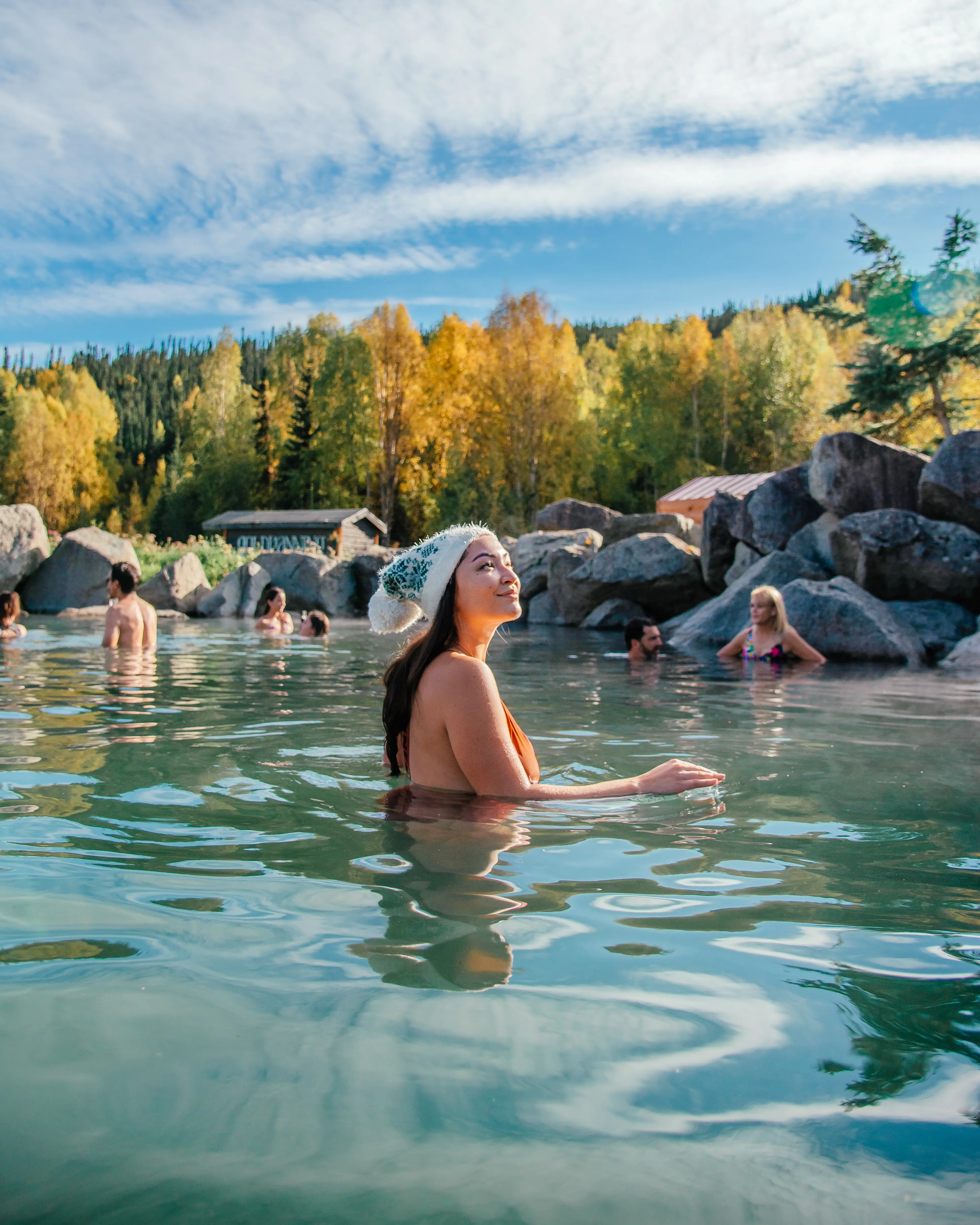 If you love hot springs, you can actually stay at the Chena Hot Springs Resort!
This has a way more touristy vibe than Borealis Basecamp, so it's not the place for me, but it definitely draws hot spring lovers!
The Chena Hot Springs Resort combines an RV park, hotel, hot spring, ice museum, and more all into one. It's huge, so you won't get that catered attention that you'd get elsewhere.
But with free access to the hot springs, I can definitely see its draw, so I knew I had to include it on this list!
Where to Stay in Anchorage
The largest city in Alaska gives you a great look at all that Alaska has to offer.
With fascinating cultures, remarkable wildlife, surrounded by stunning mountains, Anchorage is a traveler's paradise.
Whether your interest is in outdoor adventures, museum hopping, or world-class spas, there's something in Anchorage for everyone!
We got the photo above as we were driving next to the Turnagain Arm on our way out of Anchorage! The mountains plus the midnight sun is a sight to behold!
It's also super easy to take short trips from Anchorage. Check out these 12 perfect weekend getaways from Anchorage here!
As the top-rated property in Anchorage for three years running, you can't go wrong with A Goldenview Bed & Breakfast.
While the city center is only 15 minutes away, the serene forest will make you feel like you're miles from civilization. Relax in the year-round hot tub spa or spend time on the 2,000 square foot deck to take in hillside views of Anchorage.
It was very foggy during our stay at the Bed & Breakfast, so you can't see the view in the photo above! But our stay was cozy and wonderful regardless.
Also, for hikers, the nearest trailheads are a few minutes away, so you'll have plenty of opportunities to spend time out in nature.
We stayed at the Hotel Captain Cook on our first night in Anchorage and loved its location. Downtown Anchorage is incredibly walkable, and the Hotel Captain Cook was perfect for just that.
We walked around to our dinner spot and got to watch the sunset from our room!
The hotel is a bit outdated (it seems like most hotels are that way in Anchorage!) but the views are amazing and it has a fantastic location.
Talk about a stunning view!
Though we didn't stay at The Lakefront Anchorage because we simply didn't have enough time in Anchorage, I definitely plan to next time!
It is also one of the most updated hotels I've found in Anchorage, with gorgeous interiors that match its exterior style. And with friendly staff and picturesque setting right by the airport, this hotel has it all!
Where to Stay in Homer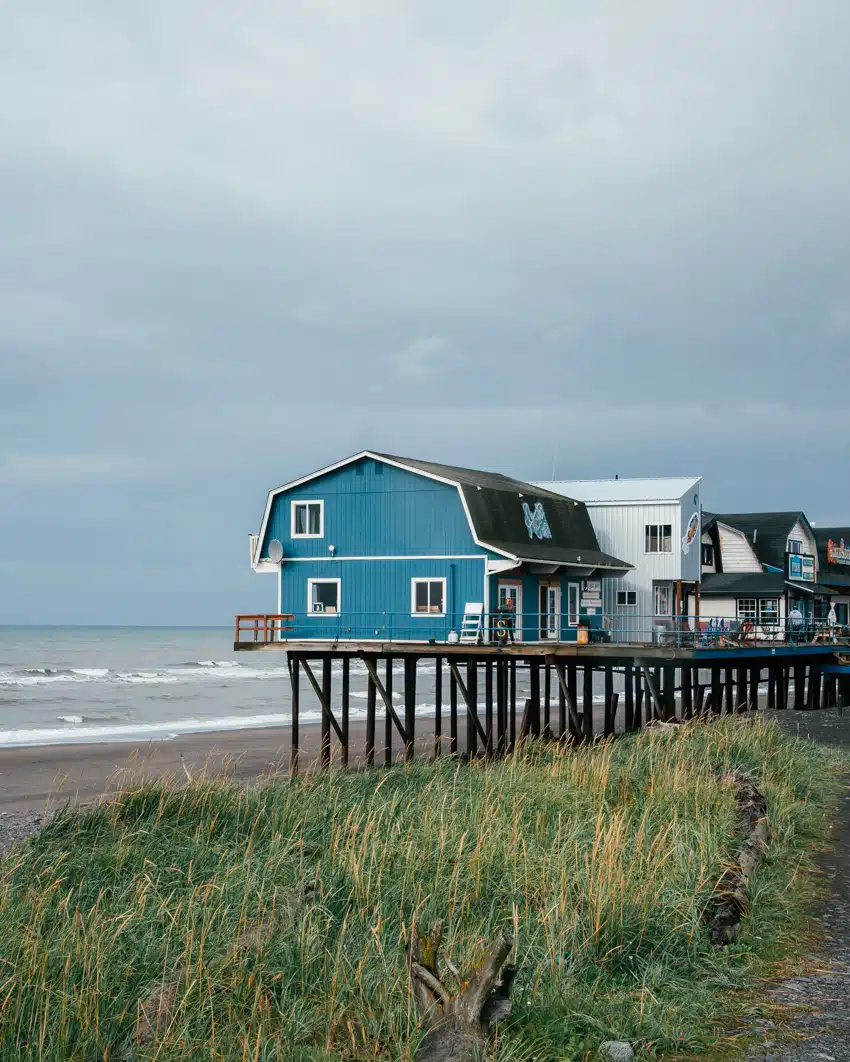 One of the top vacation destinations in the state, this city is home to natural beauty, fine arts, and world-class fishing.
Located at the end of the Kenai Peninsula, Homer is the halibut fishing capital of the world. Because of this, many tourists come to try their luck at reeling in one of the monster-sized fish.
In addition to fishing, Homer is a premier spot for bear viewing, kayaking, and flightseeing.
The Homer Spit, partially pictured above, is lined with the cutest fishing shacks, restaurants, ice cream shops, stores, and more!
It's such a charming town, I highly recommend visiting! Even though it rained almost the whole time we were in Homer, it didn't detract from its charm!
And if you're looking for more things to do on the Kenai Peninsula, check out my post here!
Land's End is one of the nicest waterfront hotels in the state. It's actually at the very end of the Homer Spit, which is why it's appropriately named "Land's End".
Guests can stay in one of the spacious rooms, suites, or fully furnished beachfront homes. We stayed in a regular hotel room with an incredible view of the bay.
Regardless of which lodging style you choose, I highly recommend springing for the beachfront view. Waking up to the view of the icy blue Alaskan waters is unreal. (And otherwise, you'll be looking at the parking lot.)
My favorite thing about Land's End? The outdoor hot tub overlooking the ocean and the indoor pool with a sauna! Amazing!
This boutique hotel is another great place in Homer!
While the Homer Inn & Spa isn't on the Homer Spit, it is located right before it and has incredible views.
Each room here faces the stunning ocean and Kachemak Bay, so you know you'll have a great view regardless of the room!
They also have townhouse options if you're traveling with a big group.
And of course, since it is an inn and a spa, you should definitely book a spa treatment while staying here! (The photo above is from the sauna at the spa!) Advanced appointments are required, so be sure to book ahead of time.
And if there's not enough time in your itinerary for a full spa treatment, you can also soak in their outdoor hot tub as well!
Where to Stay in Palmer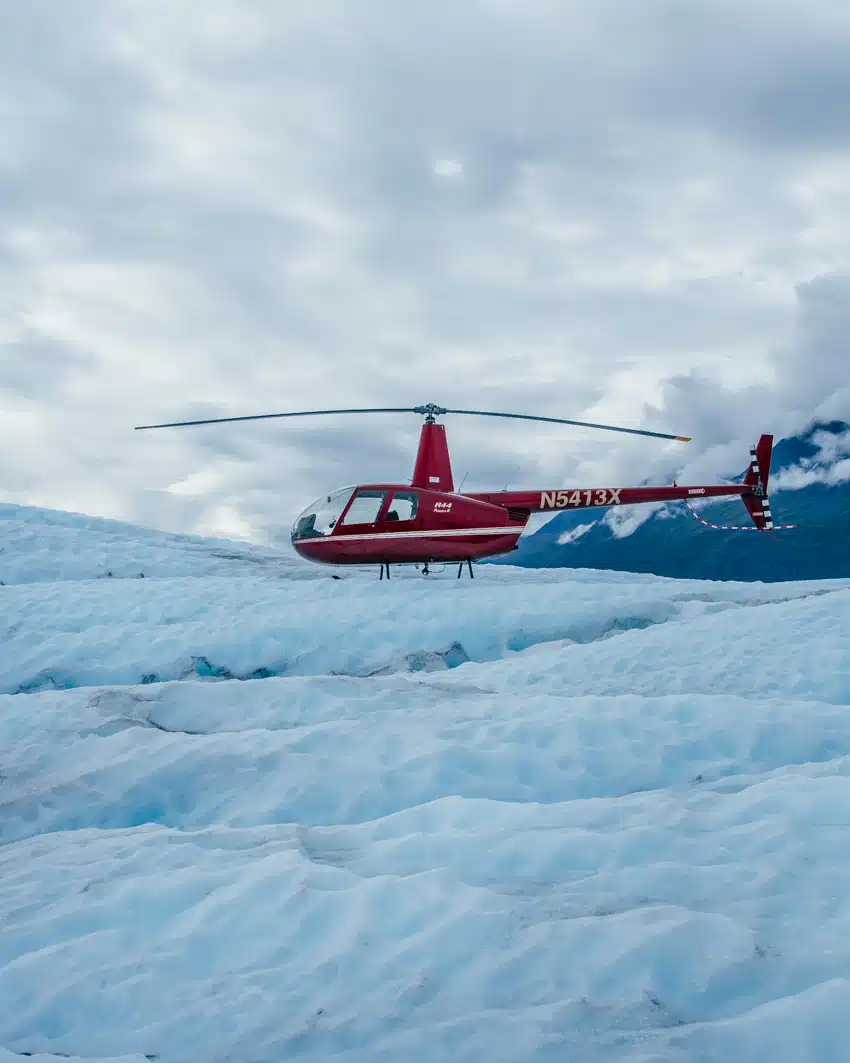 Because of its seclusion and unparalleled beauty, Palmer (and the Knik River area) is a honeymoon destination for many.
Every inch of this quaint farm town is soaked in breathtaking beauty. Everywhere you turn there are sights that look like postcards come to life.
The Mat-Su Valley is the top attraction in Palmer, where visitors can enjoy outdoor activities in every season. You've got whitewater rafting, hiking, and fishing in the summer. And then you'll find dogsledding, skiing, and snowshoeing in the winter!
But the best activity in my opinion is a helicopter tour! Alaska Helicopter Tours flies from the Knik River Lodge right by Palmer. In fact, that's why we chose to stay at this destination, and it was a great decision!
The Knik River Lodge offers an up-close and personal view of Alaska's rugged landscape. The lodge features 22 private cabins fully equipped with everything you need for a comfortable stay.
The cabins are cozy and beautiful!
For WiFi, farm-to-table dining, and access to the sun deck, guests can head over to the main lodge. If the restaurant is closed, head over to Turkey Red in Palmer.
Knik River Lodge also serves as a year-round helicopter base for flightseeing adventures!
Where to Stay in Hatcher Pass
Hatcher Pass is an incredibly scenic area in between Anchorage and Talkeetna, near Palmer.
In fact, all three of those towns are more "popular" and touristy than Hatcher Pass. But I'd be remiss if I didn't include the most picturesque lodging in all of Alaska (to me!).
We didn't stay here but we sure as heck made a detour to photograph these cabins! Are these the most charming little cabins you've ever seen? Because they are definitely that to me!
Though the interiors need updating, the views more than make up for it. There's also yummy food at the lodge's restaurant, and great hiking in the area.
So if you're a photographer or simply want a peaceful stay with an incredible view, Hatcher Pass Lodge is for you!
Where to Stay in Talkeetna
This historic village is tucked at the base of Denali, the tallest peak in North America. The locals are wonderful, the activities are plentiful, and the panoramic views are unmatched. You can visit Talkeetna in any season and find plenty of things to do. Be sure to check out the Denali Brewing Company to try some of the locally-brewed beer while you're in town.
I haven't stayed here, or at the next two towns (Juneau and Sitka), but wanted to include recommendations for these towns! I've done the same research I would've if I were visiting these towns.
Susitna River Cabins is perfect for couples and families. The rustic riverside cabins are just a 5-minute drive from Talkeetna's town center. Situated on the river with stunning views of the mountains, they're a scenic and cozy place to stay.
These cabins feature bedrooms, relaxing living areas, and kitchenettes, so you can really make them feel like home. Additionally, the property features outdoor grills, fire pits, and picnic tables for the perfect evening barbecue.
If you are planning a visit to Denali National Park, this is a great spot near the base of the mountain!
Where to Stay in Juneau
Juneau is the capital of Alaska and the second largest city in the country. It is the only capital city in the country that is not accessible by car, only plane or ferry.
The city sees over a million visitors each year, so clearly the isolated location doesn't hold anyone back!
Juneau is an oasis of breathtaking views and astounding wildlife, where the adventures are endless.
It easily made my list of the most beautiful towns in Alaska. Check out this post to see which other towns made the list!
How cozy is this place?
This historic mansion is right across from the Alaska State Capital building. The staff at Alaska's Capital Inn and Breakfast is world-class and makes you feel like royalty.
Bathrobes and slippers are provided to guests and the daily breakfast is to die for. Most importantly, there is an on-site hot tub which makes every stay more enticing!
Where to Stay in Sitka
This thriving island town sits between the mountains and the ocean. Cultural influences from the Russian, American, and Tlingit settlers remain in Sitka today.
Art is everywhere and the marine wildlife is abundant. Whether you are a lover of museums or the outdoors, you'll fall in love with Sitka's charm all the same.
This charming apartment is fully furnished and boasts panoramic ocean views. Both the beach and the city center are just a short walk away, making this the ideal location.
Additionally, 4 Sea's Cottage was built in 2019, so all the amenities are contemporary and brand new.
This would definitely be my budget-friendly option of choice. It's one of the prettiest budget-friendly places in all of Sitka!
If you're looking for more of a luxurious stay and are willing to splurge, Stone Lantern House is my top choice for you.
The floor-to-ceiling windows offer a stunning view of the nearby dormant volcano! If you scroll through the photos on their AirBNB link, you'll see just what I mean!
Furthermore, it features an open concept designed to immerse guests in the Alaskan wilderness. The Japanese influences in the design of the home are evident in the Tea Room and tranquil bedrooms.
To sum it up, this house is a showstopper.
In conclusion…
Though Alaska may not have 5-star hotels, it has its share of charming stays! I hope you found this list of where to stay in Alaska helpful!
If you've stayed somewhere special in Alaska, comment below! I'd love to stay there next time I'm in Alaska!
And if you're heading to Alaska, check out these posts:
Safe travels,
Jasmine