At a whopping 27 miles long, the Matanuska Glacier is the largest glacier in America accessible by car. It's also my favorite glacier in the world, which is why I wanted to share with you everything you need to know before visiting the Matanuska Glacier!
This valley glacier is found in the Mat-Su Valley and ends in the Matanuska River. You can pay to visit the glacier and it is worth it! (More on that in a bit.)
The glowing ice-capped mountains and sparkling blue lakes are like the set of a movie brought to life. You may even be able to spot some rafters floating down one of the majestic rivers.
If I can give you one important piece of advice, it's to remember to bring your camera at all costs.
This one of the most remarkable trips you'll ever take and you're going to need lots of photos to show your friends!
Glaciers are always changing, so try not to rely too heavily on photos you may have seen before your trip. With ice collapsing and new crevasses opening up, you never know what you're going to get when you arrive.
Appreciate the beauty of nature and the fact that no two photos of the Matanuska Glacier will ever be exactly the same. Your photos will be unique from a traveler who may have been to the glacier even just the month prior.
So grab your coat because we're going to the Matanuska Glacier!
History of the Matanuska Glacier
Formed over 10,000 years ago, Matanuska Glacier is one of the most impressive glaciers in the world. It has receded over time, but despite climate change the glacier hasn't changed too much in the past few decades.
Originally occupied by the Athabaskan people, the origin of the name 'Matanuska' is still a mystery. It is believed to be derived from the Russian word 'Matanooski' which translates to "Copper River people," but no one knows for sure.
At 27 miles long and 4 miles wide, Matanuska Glacier is one of Alaska's most identifiable natural landmarks. It's also a very popular tourist destination in the state!
And you can check out some more epic glaciers to visit in Alaska on this post here!
Where is the Matanuska Glacier?
The Matanuska Glacier is in Glacier View, Alaska.
It makes for the perfect day trip if you're staying in Palmer or Anchorage.
If you're traveling from Palmer, it's only an hour and a half drive. If you're traveling from Anchorage, the journey is a little over two hours.
You can check out more perfect weekend getaways from Anchorage here!
Taking a day trip to the Matanuska Glacier from Anchorage or Palmer is no sweat, but staying in Glacier View is an unbeatable experience.
The quaint town of Glacier View has several lodging options, as well as some great dining options. For the best of both, I recommend the Majestic Valley Wilderness Lodge.
(Read about my favorite places to stay in the most popular Alaskan towns here!)
Matanuska Glacier State Recreation Site
Let me just start this section by saying this is not where you hike to the glacier, though it seems like it would be.
Matanuska Glacier State Recreation Site is at milepost 101 on the Glenn Highway Scenic Byway. The site extends out 300 acres and offers glacier viewing starting right at the parking lot.
You can not access the glacier from the recreation site, but it's a great starting point for photos.
This is also a great place to stop if you want to take in the beauty of the glacier, but are unable to hike it.
The entrance to the Matanuska Glacier trekking area is just a bit further down the Glenn Highway if you're heading east from Anchorage.
It's here that you'll get an up-close-and-personal experience with the glacier!
Getting to the Real Matanuska Glacier Trekking Area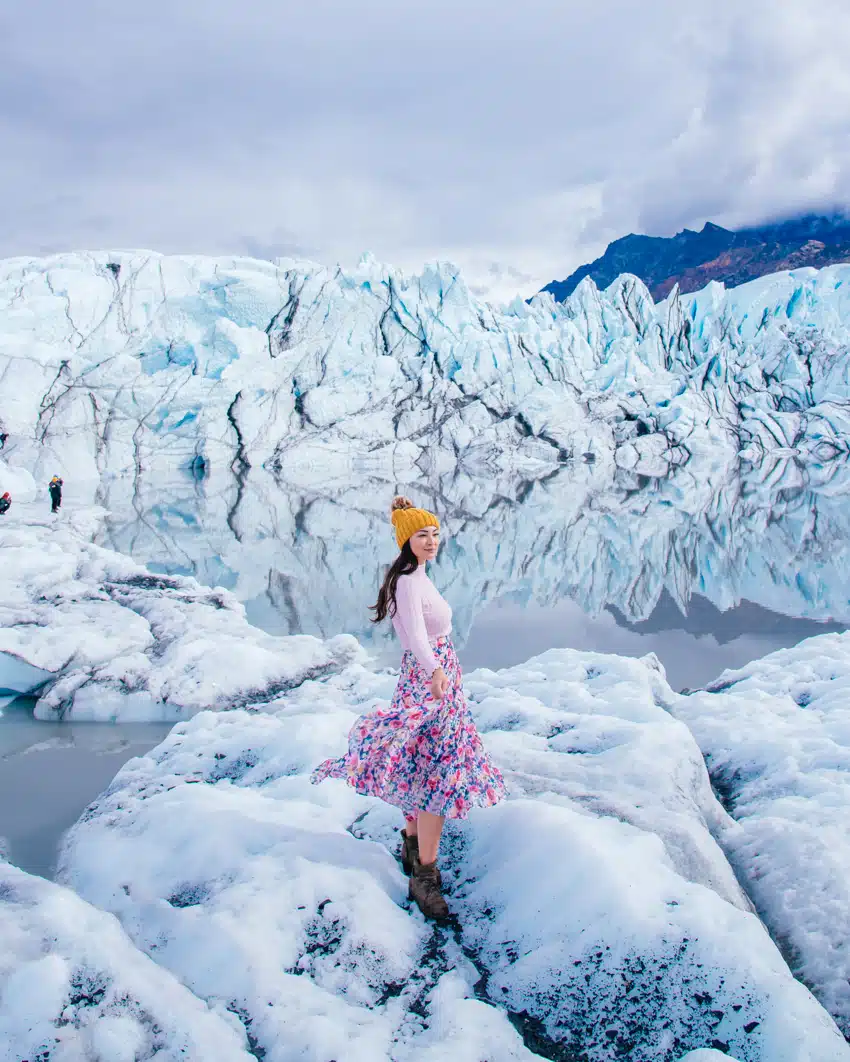 The Matanuska Glacier hike is one of the most popular attractions in Alaska.
And interestingly enough, it is a privately-owned activity!
Glacier Tours is the company that runs Matanuska Glacier tours, and they do a great job of showcasing this beautiful place.
Tourists flock in every year to experience the once in a lifetime trek. If you're planning a trip to Alaska, then this should definitely be on your list of sights to see!
You can do a tour from Anchorage like this one, and they'll handle everything you need, including getting you to the glacier.
If you opt to drive (it's the perfect stop on an Alaska road trip, check out our itinerary here!), you'll probably want to be in an SUV.
We rented an SUV from Thrifty Car Rental, and you can use promo code 101247 through September 2022 for 10% off your Thrifty car rental!
The road leading to the Matanuska Glacier is mostly unpaved. This gets especially tricky during the transition from winter to spring when slush covers the roads.
When you reach the part of the road that has a bunch of signs that say "glacier tour," etc. on them, you've reached the right pull off.
Drive down a long, narrow, windy road until you reach the parking lot. (You'll know you're there when you see a boom gate- that pole barrier that prevents cars from going further.)
Choosing Your Matanuska Glacier Tour
At this point, you'll need to go into the Ticket Office to purchase your tour, and then they'll let your car continue on the road to the glacier.
Note that the self-guided Matanuska Glacier hike closes at 5pm and is only offered in the summer!
How much does the Matanuska Glacier cost?
You will need to pay an entrance fee upon arrival, and the amount depends on the tour you're doing.
The land is privately-owned and the fee goes towards maintenance of the entrance road.
Here's also where you need to decide whether you want to do a self-guided tour or a guided tour.
At the time of writing, the self-guided tour costs $30 per person. This option is only available in the summer.
The guided tour costs $100 per person
The Matanuska Glacier Guided Tour
I won't go too in-depth in this section, mainly because we chose the self-guided tour. I'll explain why we chose that here in a bit.
If you've never explored a glacier on your own, I recommend using one of the tours offered at Matanuska.
Having a tour guide helps keep you safe. They also provide you with climbing gear and show you parts of the glacier you wouldn't find on your own.
If you're visiting in the winter, the guided tour is the only option you'll have.
In short, some of the perks to doing a guided tour are:
Getting to access parts of the glacier you wouldn't normally see
It's available year-round (self-guided is only in the summer)
Trekking with experts who will share their glacier knowledge with you
More adventurous glacier activities
They provide the necessary gear for those adventurous activities (ie. ropes, crampons, a helmet, etc.)
Group environment- you might make some new friends!
There's a chance you'll go into an ice cave if your guide sees one that day.
The Matanuska Glacier Self-Guided Tour
Here's the tour that I feel I'm more of an expert on! Keep in mind that this option is only available in the summer. Check the Glacier Tours site here to see if the self-guided option is available when you're visiting!
In fact, I highly recommend the self-guided Matanuska Glacier tour if you're visiting in the summer. Here's why:
It's much cheaper at $30 per person compared to $100 per person.
You can go at your own pace.
It's more camera friendly. You don't have a bunch of gear and you can take as long as you want for photos without worrying about holding anyone else up.
You get to see so many tremendous views. I'm sure the guided tour has a few more views since they go places where the self-guided tour doesn't, but regardless you see incredible parts of the glacier!
You don't need to wait to access the glacier; tours depart at specific times each day.
So you can compare those two lists to see what tour is best for you and your group!
The Matanuska Glacier Hike
I say hike, but it's really a moderate walk that happens to be partially on ice.
The trail is 1.6 miles total, so you won't actually have to do that much walking.
To properly visualize it, let me break it into parts:
First, you'll walk from the parking lot to the glacier.
Next is the cool part: walking on the ice around the glacier in somewhat of a loop.
The last part is walking from the glacier back to the original path back to the parking lot.
The self-guided tour takes about two hours at a minimum, including the time you'll spend stopping for photos and navigating the ice.
You can see the glacier from the parking lot, so it's easy to see how much further you need to hike to reach it. But if you want a measure of time, it took about 20 minutes to hike from our car to the edge of the glacier ice.
Exploring the glacier takes up the majority of the time, and it is such a visual treat! You basically alternate between carefully hiking along the ice (and sometimes on a rocky pathway on the glacier) and taking photos!
It's an incredible experience with otherworldly views.
On the self-guided tour, you follow a series of yellow and orange cones that mark the path.
You'll want to make sure you're within the cones since they mark which areas are safe to walk on, too.
I will say that even with the cones marking where to walk, there were often areas that were very slippery! So be sure to wear shoes that have good traction.
You might consider bringing crampons, like these, too! While they're not necessary to hike on the glacier, they'll make your footing way more sturdy.
When to Visit the Matanuska Glacier
You can visit Matanuska Glacier in any season but keep in mind temperatures are colder up there. If you aren't prepared for the icy chill of a glacier in the wintertime, go in the summer.
At 13,164 feet in elevation, the winters can be brutal up there. That being said, the views are quite stunning in the winter, so take that into consideration.
Also, no matter the time of year, the weather can affect the amount of time you can spend at Matanuska Glacier.
Fortunately, its location in the Chugach Mountains gives it some of the best weather in Alaska year-round!
And let me tell you, it is worth the visit year-round, barring bad weather. As I mentioned earlier, if you're not visiting in the summer, you will only have the guided tour option.
We visited at the very end of August and it was perfect! The self-guided option was still available, the leaves had started changing color, and it wasn't even very cold!
Regardless of when you do the Matanuska Glacier hike, this glacier will take your breath away.
Other Things to Do Around the Matanuska Glacier
Viewing the breathtaking beauty of Matanuska Glacier is an experience all on its own.
However, there are several activities to choose from if you want to heighten your adventure.
During the summer months, glacier trekking, river rafting, and ziplining are the most common activities. Once winter hits, the most popular activities become skiing, snowshoeing, and snow machining.
No matter what you choose to do, you're going to have an incredible time. Dress in warm layers, bring protective eyewear, and get ready for an adventure.
Glacier Trekking
We already covered this one, but I'll reiterate that this is one of the best things to do at the Matanuska Glacier!
Exploring a glacier by foot is an experience you will remember for the rest of your life. The Matanuska Glacier hike gives you the opportunity to get up close and personal with one of nature's wonders and its icy blue waters!
River Rafting
You may think that a glacier is just a giant ice formation, but think again! Flowing from the Matanuska Glacier, the Matanuska River is just waiting for you to explore.
There are several tour companies you can raft with (like this one) that will provide you with everything you need and take you to the best spots.
Ziplining
For the ultimate adventure, ziplining is the way to go. Soar across the Alaskan wilderness while taking in views of the mountains around you.
Ziplining near the Matanuska Glacier is an epic experience- it actually features the fastest zipline in Alaska!
Naturally, this is a popular activity with tourists, so try to book your reservation in advance.
Skiing
During the winter, there are several trails you can use to go skiing at Matanuska Glacier. To get the most out of your experience, you should definitely go with a tour guide.
Not many people can say they went skiing down a glacier, so it's definitely an awesome item to cross off your bucket list!
The lodge we stayed at also offers heli-skiing, so if jumping out of a helicopter wearing skis is more your pace, feel free! (It is most definitely not for me!)
Snowshoeing
It may sound extreme, but snowshoeing is essentially just hiking with different footwear.
It's a great way to hike Matanuska Glacier in the winter, as the snowshoes help prevent your feet from sinking into the snow.
If you hike with a tour company, they will provide you with snowshoes and any other equipment you may need.
Snow Machining
Snow machining is a popular way to explore Matanuska Glacier in the wintertime. For those who aren't fans of hiking, this is the perfect way to get around the glacier.
Snow machines are basically the snowy versions of ATVs and are a blast to ride around in.
In conclusion…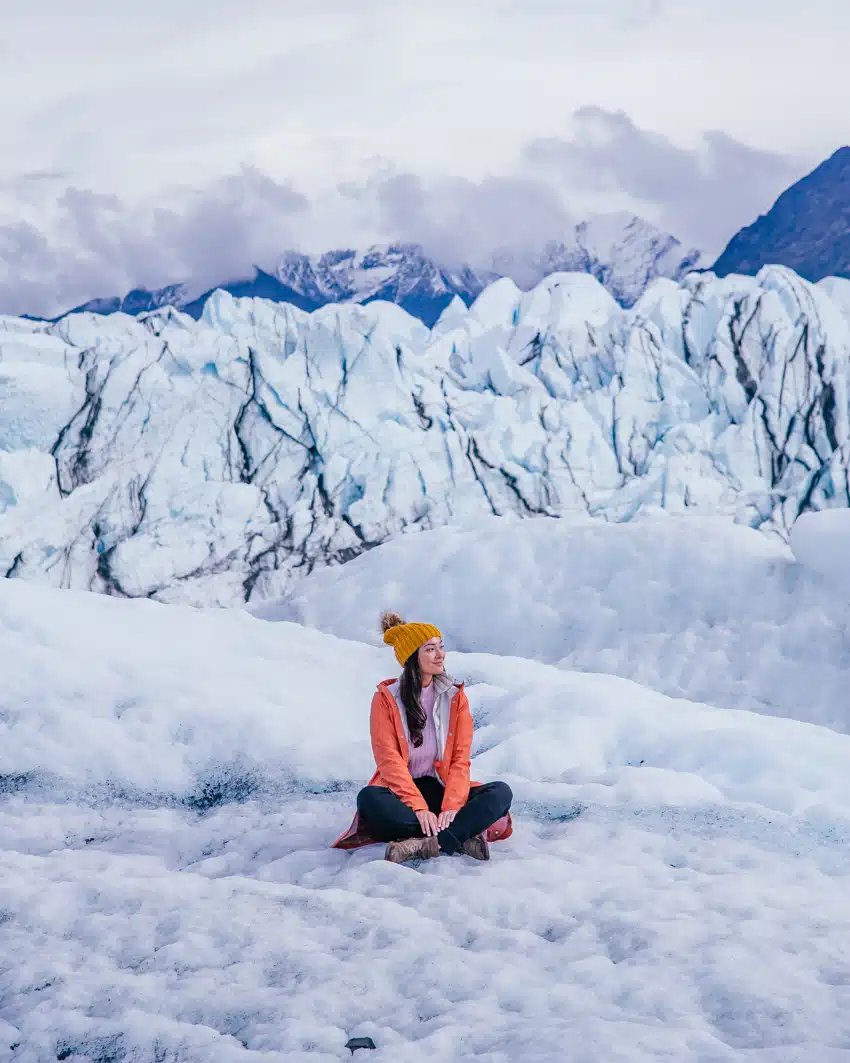 The Matanuska Glacier is one of the most remarkable examples of natural beauty Alaska has to offer.
You'll love it whether you're a self-proclaimed thrill-seeker or simply someone who appreciates beauty,
Seeing the glacier is something out of a fairytale. The forest opens up to a stunning view of the icy blue Matanuska Glacier and it's a moment you won't soon forget.
Glaciers might not be around forever, so there's no time like the present. In other parts of the world, the glaciers are receding so quickly that visitors can no longer touch them. Matanuska Glacier is still very much intact, but it will never again be as pristine as it is at this very moment.
To sum it up, you can choose from one of the many activities the glacier has to offer or take in the views from your car at the Matanuska Glacier State Recreation Site.
Many people who have traveled to multiple glaciers in their lives will tell you that the Matanuska Glacier hike makes it the best one. But don't take my word for it, see for yourself!
Everyone should experience a glacier at least once in their lives. So, why not choose one of the most amazing one in the world, especially when it happens to be right in our own backyard?
Have you ever done the Matanuska Glacier hike? Or do you have questions? Let me know in the comments!
And if you're visiting Alaska, check out these other posts:
Safe travels!
Jasmine