Alaska is a state so huge that there is an endless amount to see. Well, I'm going to attempt to make it easier for you by selecting the 50 best places to visit in Alaska!
From glaciers and lakes to towns and national parks, you'll find them here!
I've separated them out by geographical location to make it easier if you're planning a trip to certain parts of Alaska.
And if you want an Alaska itinerary, you can see our exact itinerary here!
We did an epic road trip from Anchorage where we hit all of the major towns and saw the most scenic beauty! I recommend renting an SUV of some sort, especially if you're adventuring a lot!
You can see some of this scenery in the video we made of our trip below.
[If you don't see a video below, you may need to disable your ad blocker.]
We road tripped in a Toyota 4Runner from Thrifty Car Rental (use promo code 101247 through September 2022 for 10% off your Thrifty car rental!!).
Anchorage
These are the best places to visit in Anchorage and the Anchorage borough.
1. Anchorage
You probably won't be surprised to hear that Anchorage is the largest city in Alaska. In fact, chances are, this is where you'll fly in to see this great state!
Well, good news: Anchorage is an excellent hub from which to visit some of Alaska's very best natural attractions. (Check out this list of 12 awesome weekend getaways from Anchorage!)
As you head from Anchorage to the Kenai Peninsula, you'll get tremendous views of the Turnagain Arm from the highway!
And don't you dare leave Anchorage without checking out the city's excellent museums and restaurants. Simon & Seafort's and Crow's Nest both have a delectable menu and mountain views!
2. Alaska Native Heritage Center
Located in Anchorage, the Alaska Native Heritage Center offers guests an educational and cultural opportunity. Here you'll learn about the cultures, traditions, and heritage of the state's eleven native groups.
The center is spread out over 26 acres in Alaska's wild forests. You can take part in cultural awareness workshops year-round or learn Alaska Native dance in the summer!
3. Alaska Railroad
Traveling by train was a great way to see the best places to visit in Alaska.
What started in the early 20th century as a way to move goods across an unforgiving terrain has become a magical way for travelers to see the very same landscape.
The Alaska Railroad brings travelers to and from top destinations across 470 miles of rail tracks. It's easy to depart from Anchorage and head to places like Denali National Park and Kenai Fjords National Park. The views are worth the ride! You'll get to spend hours staring out the window at Alaska's snowcapped mountains and valleys.
4. Chugach State Park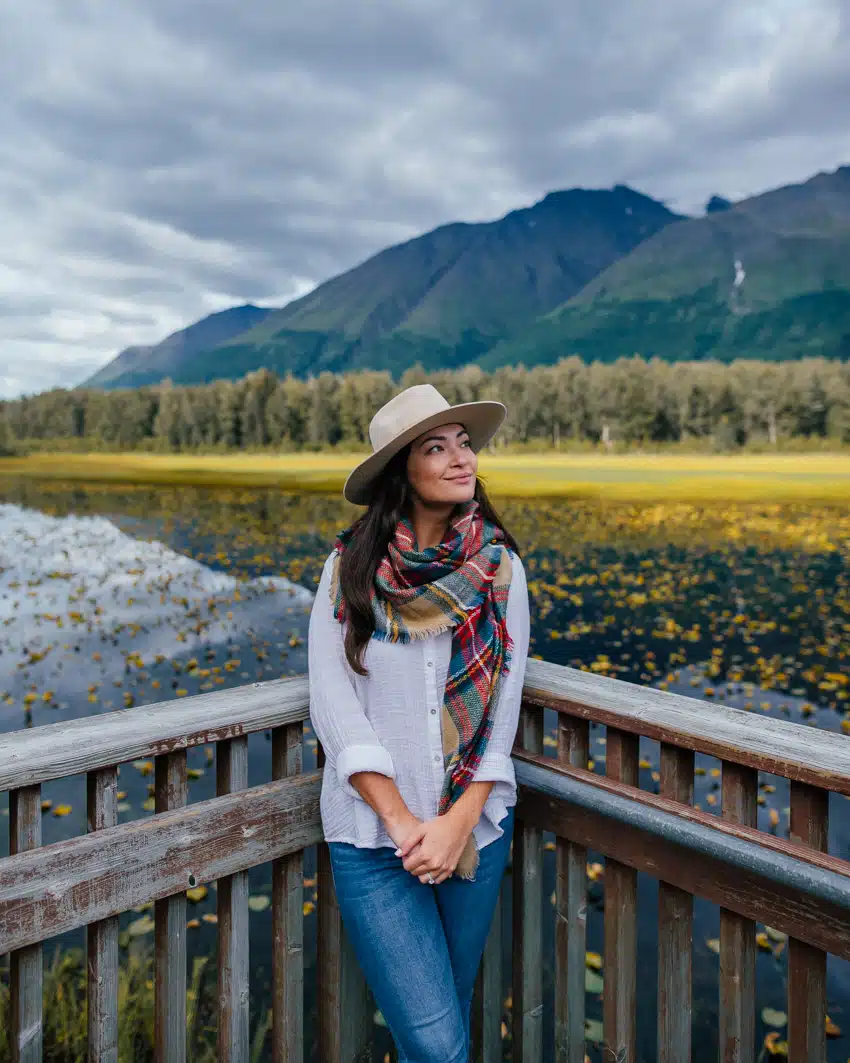 A massive state park just east of Anchorage awaits!
You are undoubtedly visiting Alaska for the bounty of natural wonder, and Chugach has it all. Waterfalls, wildlife, and accessible hiking trails perfect for all levels of physical fitness.
On its eastern side, the park shares a border with the Chugach National Forest, the second largest national forest in the United States. (By the way, the first largest national forest in the US is also on this list! Keep an eye out!)
We didn't have time to go into the state park, but a LOT of our drive was spent in the Chugach National Forest! We snapped the photo above there.
While you're in Chugach State Park, be sure to visit The Eagle River Nature Center. It's more than a non-profit and building on the edge of Chugach State Park; it is a family of nature enthusiasts whose mission is to connect visitors to nature through education and preservation.
Visit the nature center before you venture into the park for some wildlife education and a reminder of the leave no trace seven principles.
5. Girdwood
Take the Seward Highway to Girdwood, a cozy resort town. Girdwood sits nestled within a forest, hugged by the Chugach Mountains.
The Alyeska Resort is famous for its trails, ski slopes, and perfect bed and breakfast spots!
And while you're in Girdwood, you absolutely must check out my favorite waterfall in Alaska: Virgin Creek Falls! A short five-minute hike takes you to the most picturesque, moss-enveloped falls! It's definitely one of the best places to visit in Alaska- especially since it's so easy to reach!
6. Alaska Wildlife Conservation Center
This 200-acre non-profit is open to the public for $17 per adult, and trust me, it's worth it! It's one of a handful of places where you can see grizzly bears and bison safely in Alaska!
Our favorite part of the Alaska Wildlife Conservation Center is the boardwalk that traverses a section of the bear habitat! You get to be so close to the grizzlies!
During the summer months, the conservation center hosts free animal programs, too! With these programs, you can get to know everything there is to know about bears, wolves, and many more Alaskan creatures.
The Kenai Peninsula
You definitely need to check out these spots on the Kenai Peninsula! Since the Kenai Peninsula is close to Anchorage and a scenic drive away, it's one of the best areas to visit in Alaska.
7. Portage Glacier & Portage Lake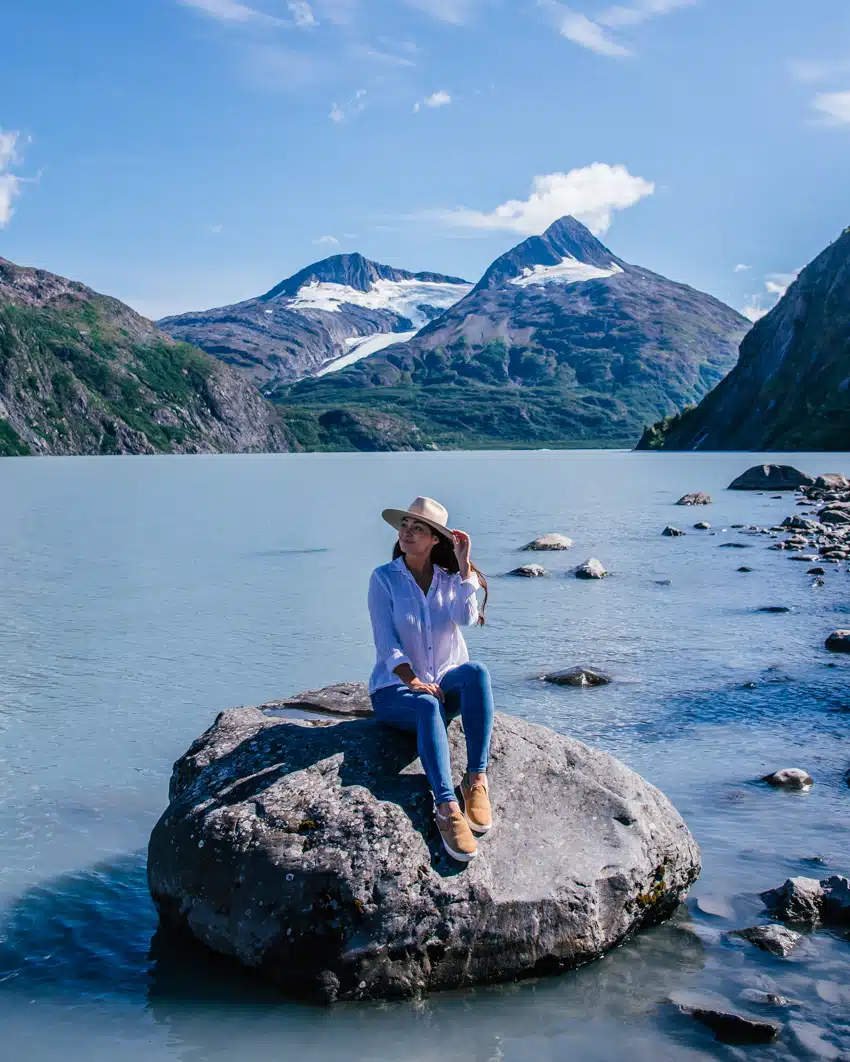 This 6-mile glacier and Portage Lake are located right between the Anchorage and Kenai Peninsula boroughs.
The glacier is a popular spot to visit via a glacier cruise. It is nearly 10-stories tall and has a tail of smaller glaciers known as the Trail of Blue Ice further back on land.
We didn't get up close to the Portage Glacier, but we did hang out at Portage Lake! Here you can see the Shakespeare Glacier in the distance!
Also, isn't the water color here insane? It seems like a lot of glacier water here is a surreal milky gray-blue color.
8. Seward
Seward is a getaway on the Kenai Peninsula, a port city where the mountains and ocean touch!
The city can be reached by train or by car. The ride takes you along the Seward Scenic Highway, which is one of the most scenic drives from Anchorage. Take in the views of the mountains and lush forests that line the periphery of the city.
Check out the 18 best things to do in Seward here!
9. Kenai Fjords National Park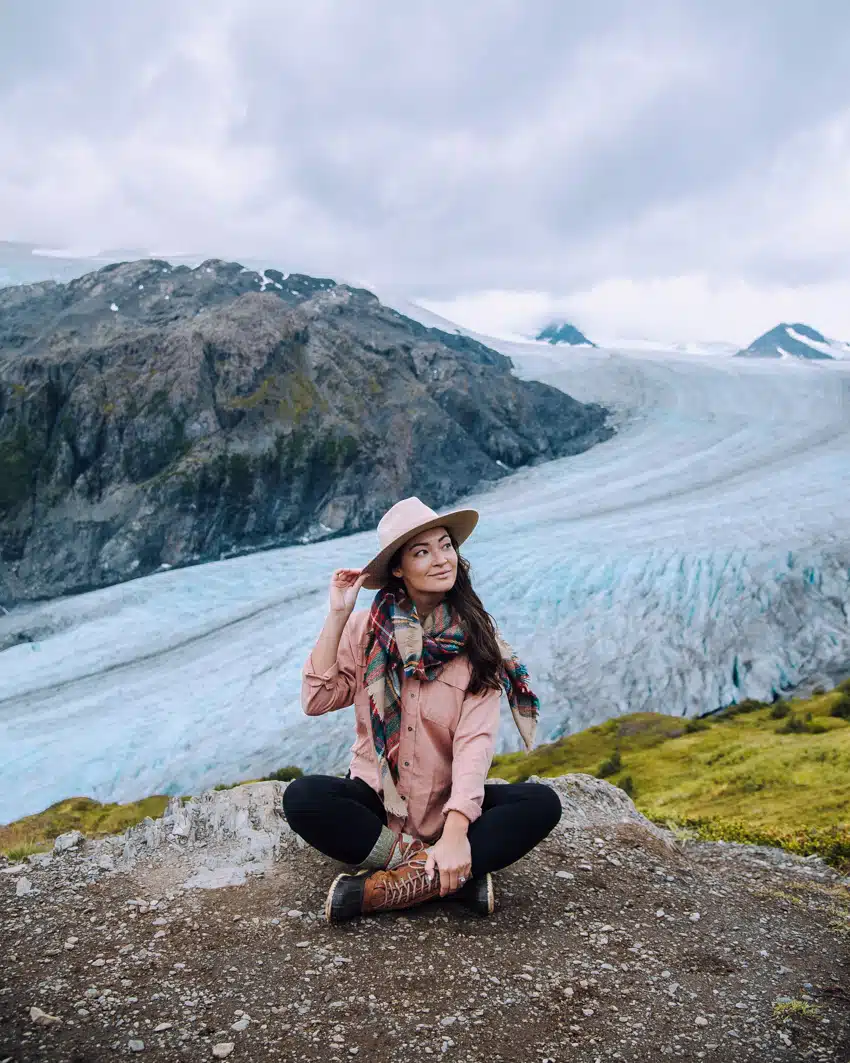 Whales, puffins, seals, and other Alaskan wildlife await your visit to Kenai Fjords National Park! The park is near the port city of Seward.
At Kenai Fjords, you will be able to witness the melting glaciers or hike the Harding Icefield Trail! The Harding Icefield is at the top of Exit Glacier (which is next on this list of places to visit in Alaska!). We did half of the difficult 8-mile round trip hike and boy, was it tough! You experience 1,000 feet of elevation with every mile, but the views are worth it.
Check out everything you need to know before visiting the Harding Icefield here!
10. Exit Glacier
Located in Kenai Fjords National Park, you'll find Exit Glacier. No need for cruises or helicopters here; the glacier is easily accessible by road and only a 15-minute walk from the parking lot to the ice.
There are several trails that you can take at the glacier. The best one for photos is the Edge of the Glacier Trail. You'll walk to the edge of Exit Glacier where you can get a great shot of the front of this prehistoric chunk of ice.
11. Kenai Lake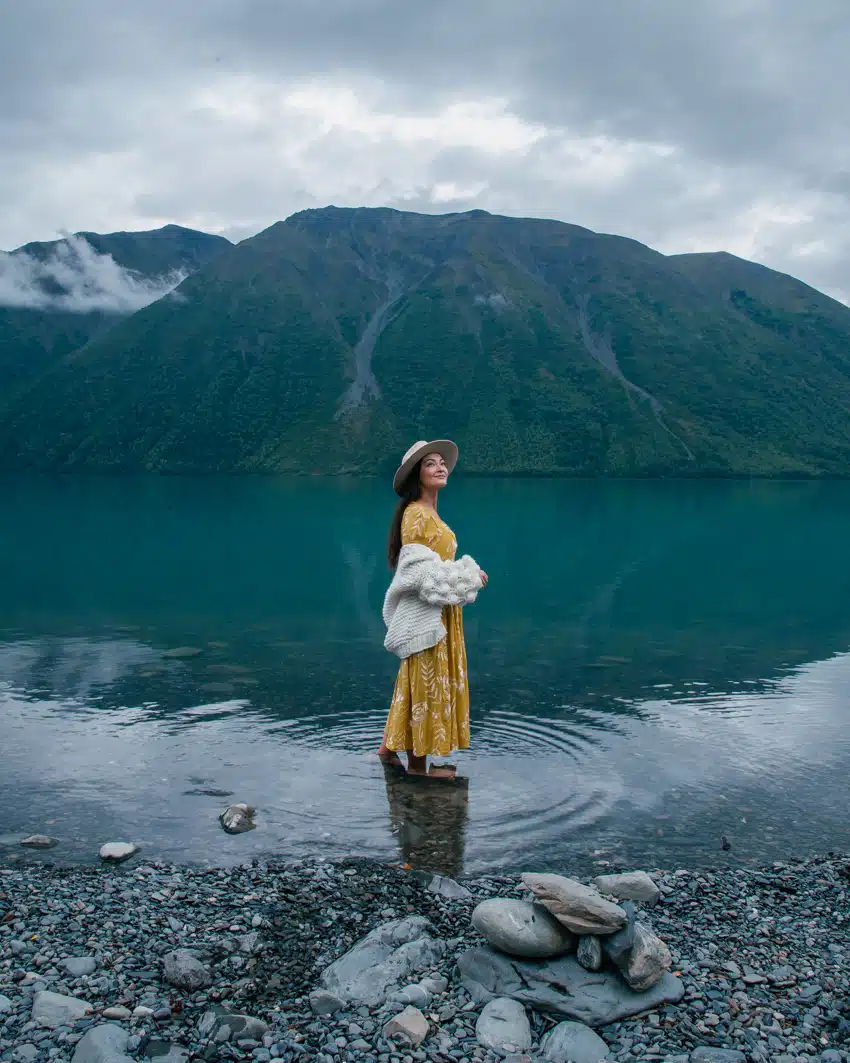 The glacial flow that formed this zig-zag shaped lake guaranteed the water's turquoise blue-green hue.
Kenai Lake is a popular spot for kayaking, hiking, or just a quick visit for an unbelievable photo!
We visited on a cloudy day and were stunned by how blue the water was, even without sunshine!
12. Soldotna
Cross-country skiing, wildlife tours, and fishing await in the city of Soldotna!
Book a fishing boat and get out onto the water of Kenai River to catch some of the largest Alaskan King Salmon or Rainbow Trout you have ever seen.
13. Homer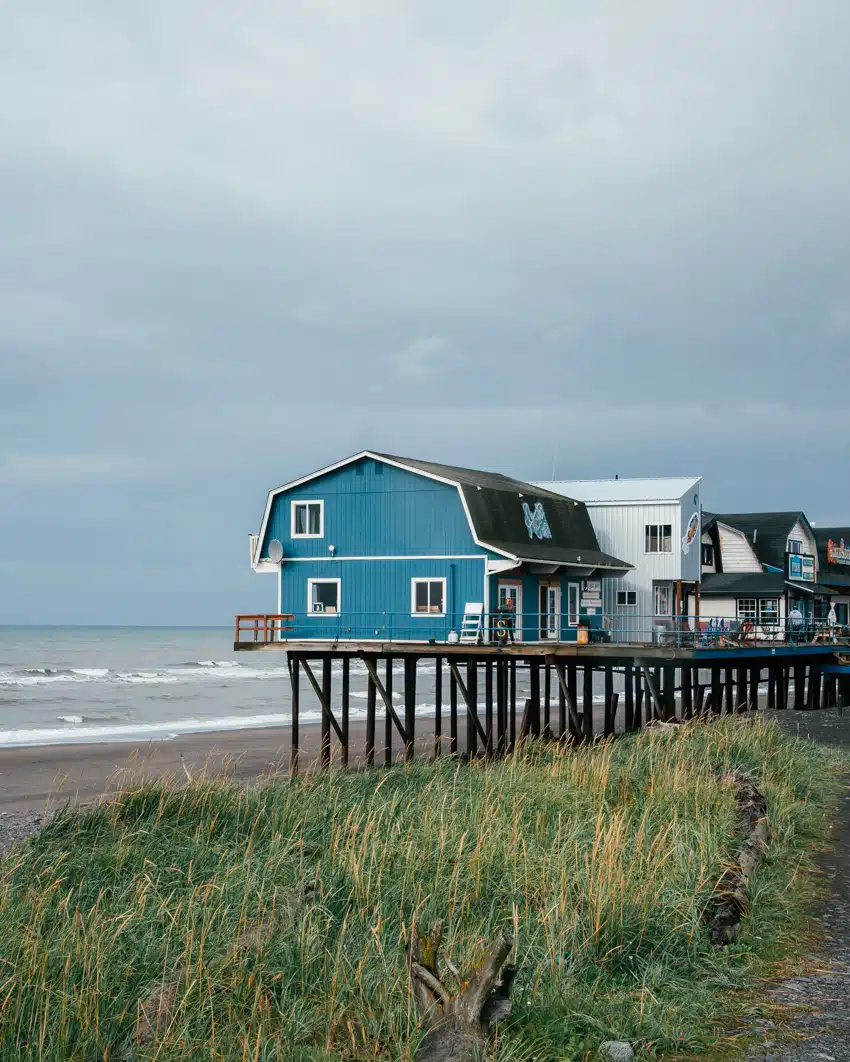 As the Halibut Fishing Capital of the World, Homer is a special town on the Kenai Peninsula.
As you would expect, the hamlet has great fishing in addition to kayaking, bear watching, and a helipad for helicopter tours of the peninsula and nearby mountain ranges.
A sliver of land juts out from the downtown area at the end of which sits Land's End Resort. We stayed at Land's End Resort and loved having a room with water views!
Also at Land's End you'll find the Chart Room Restaurant where you can order food with a view. Grab a delicious steak and look out at the ocean and mountains in the distance. Another notable food and drink stop in Homer is the Salty Dawg Saloon.
14. Hope
Hope sits across the waters of the Turnagain Arm from Anchorage.
A former gold mining town, Hope is where you will find the start of the Resurrection Pass Trail, a 36-mile series of trails through the Alaskan wilderness.
The tiny downtown area is so charming! Their Seaside Cafe serves up the best Caesar salad I've ever had!
For more things to do on the Kenai Peninsula, read this post!
Matanuska/Sustina & Denali
These boroughs encompass a lot of areas and have some really special places to visit in Alaska. In fact, my favorite experience in Alaska is the next item on this list!
15. Alaska Helicopter Tours, departing from Knik River Lodge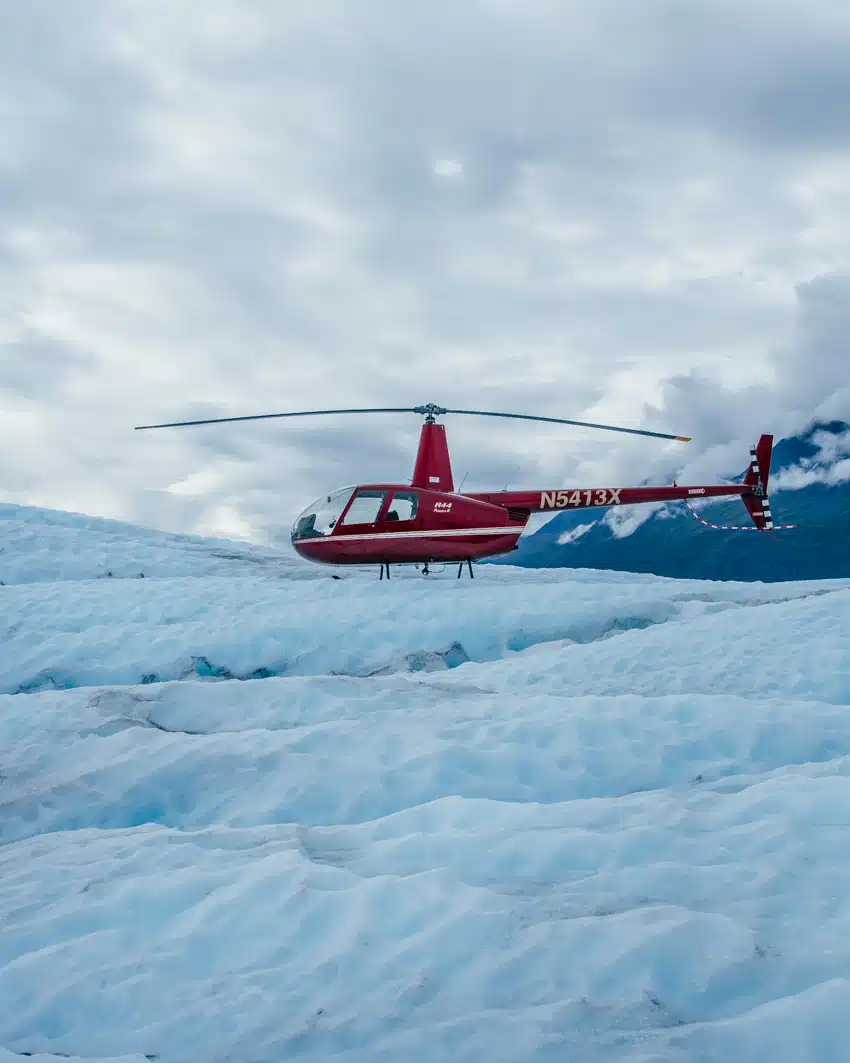 Alaska is big! Larger than Texas, California, New York, and Montana combined, in fact! And much of the land would be impossible to see if it wasn't for helicopters.
A helicopter tour brings you up close and personal with glaciers and remote wildlife! We did an epic tour with Alaska Helicopter Tours and it was our favorite experience of our whole trip! Their tours depart from the Knik River Lodge.
On their Grand Knick Tour, you do three different landings, each with a different epic view! Landing on the Knick Glacier was my favorite because it just felt so surreal!
Flying by helicopter is the best way to see the best places to visit in Alaska if you ask me!
16. Hatcher Pass
Carved into the Talkeetna Mountains is Hatcher Pass, a perfect scenic drive!
The road along Hatcher Pass goes on for 60 miles. Hatcher Pass Lodge is a great detour on your way to Denali National Park or Fairbanks when departing from Anchorage. There are several scenic overlooks along the way, but most scenic of all is the lodge's three perfect cabins.
The red contrasting with the green mountains looks like something out of a fairytale! If you're a photographer, this definitely is one of the best places to visit in Alaska!
And if you're looking for more awesome places to stay in Alaska, here are the 17 best places in the most popular Alaskan towns!
17. Matanuska Glacier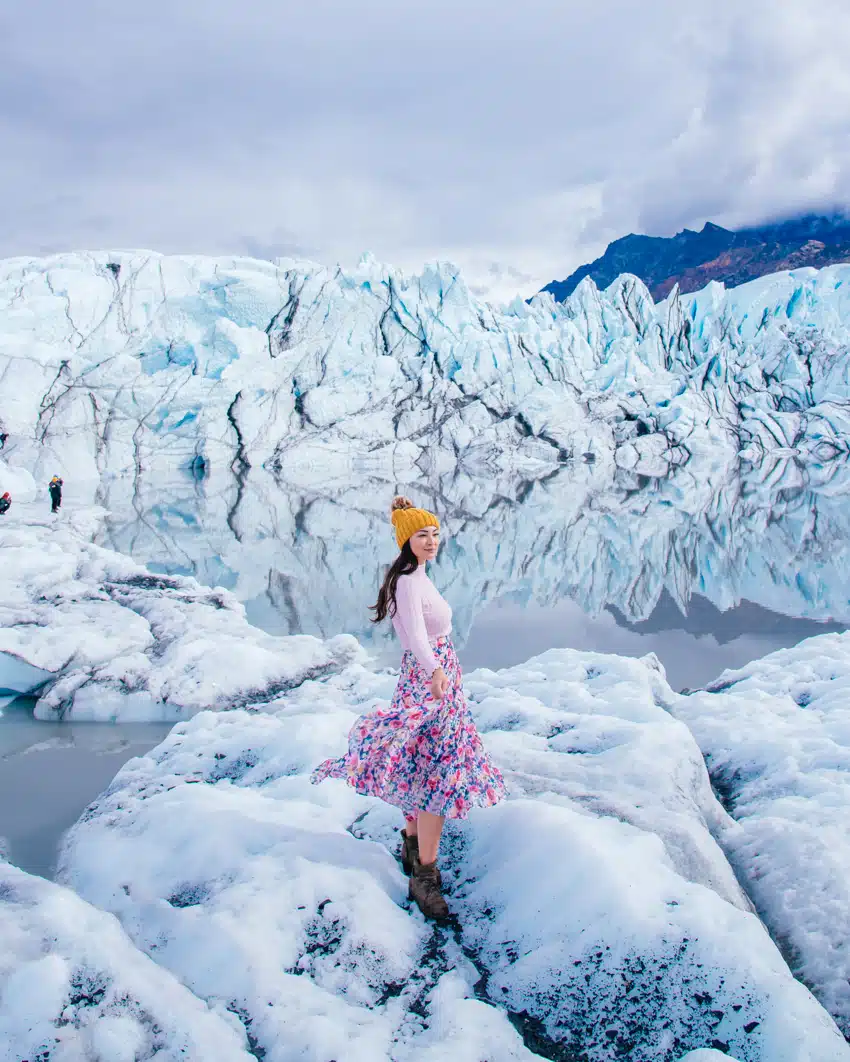 This is my favorite glacier to explore in Alaska! If you're going to visit one glacier in Alaska, make it this one! You'll find that most glaciers in Alaska are not easy to access on foot. But fortunately, that's not the case for Matanuska Glacier! You'll reach the ice after about 15 to 20 minutes of hiking! And that makes it one of the best (and coolest!) places to visit in Alaska!
It costs $30 per adult for the self-guided tour. You can do a guided tour for $100 but honestly, I don't think it's necessary. Particularly because I like moving at my own pace for photos. And, trust me, you get plenty of incredible views on your own. You simply follow a path marked by orange cones and make your way around the glacier.
Read about everything you need to know before visiting the Matanuska Glacier here!
This area is great for adventure tours like rafting, heli-ski, hiking, and more. It is just 60 miles from Palmer on the Glenn Highway.
18. Talkeetna
The small town of Talkeetna sits between Anchorage and Mt. Denali and has that Alaskan small-town charm that visitors to the state should experience. Unfortunately, on the day we were heading from Denali to Anchorage and planning to stop in Talkeetna, it was pouring! Since we could barely see through the fog, we decided to head straight to Anchorage. But someday we'll make it to Talkeetna.
Since Talkeetna is one of the closest major towns near Denali, many people come here before setting off on their Denali adventures. On a clear day, you can actually see the Denali mountain range from Talkeetna's Riverfront Park.
Fun fact: Perhaps Talkeetna's biggest claim to fame is its former feline mayor! Stubbs the Cat ruled the town with an iron paw as Mayor of Talkeetna for 19 years until his passing in 2017. RIP Mr. Mayor!
19. Denali National Park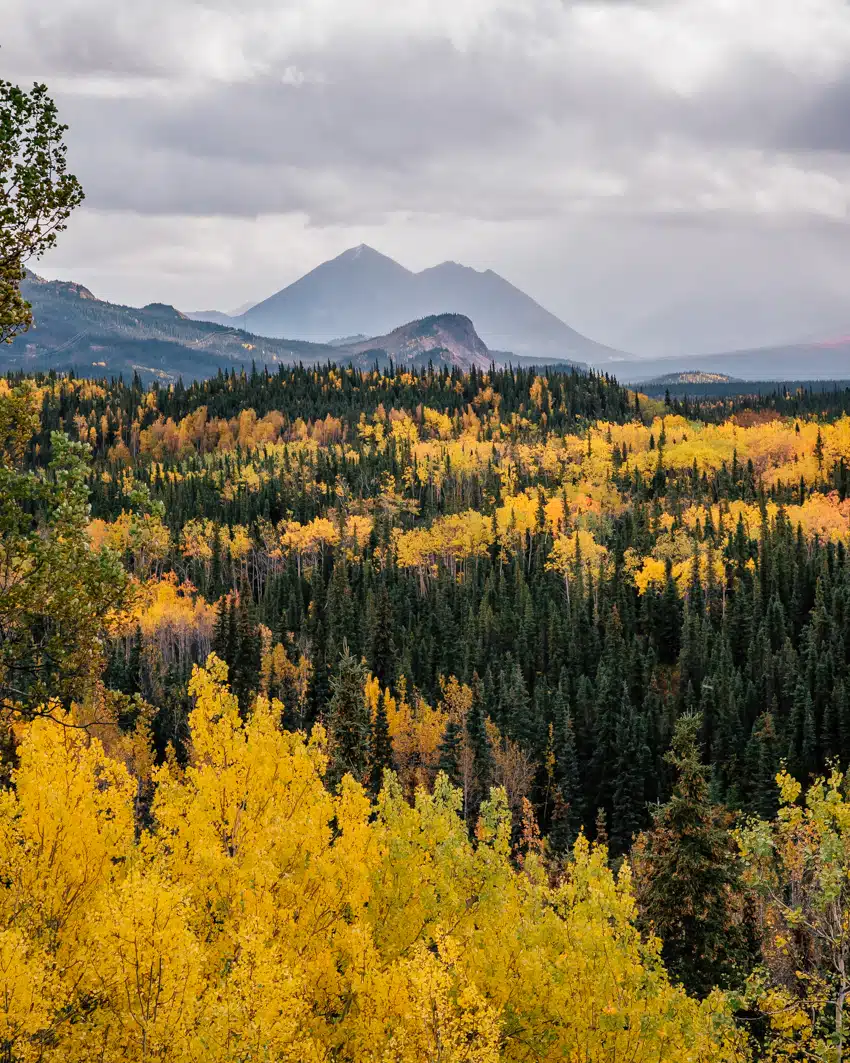 The site of North America's tallest peak, Denali National Park and Reserve has much to offer visitors.
Mount Denali is one of the world's Seven Summits, rising 17,000 feet above the plain that surrounds it! While a climb up Denali may not be in the cards, there are great places to view it. Some notable spots outside of the park include Denali View North, Byer's Lake, and Denali View South. You can also take a helicopter to Denali in good weather!
Unfortunately, when we visited Denali, it was so foggy that the mountain was totally obscured. In fact, seeing the Denali peak itself is actually pretty rare; locals told us you'll see the peak only about 10% of the time!
But regardless of whether you get to see Denali, the park itself is spectacular, especially when the leaves change! We got the photo above when we visited at the beginning of September. I can only imagine how it looks at the peak of autumn!
Valdez-Cordova
This area is bordered by the ocean and contains the United States' largest national park, making it an incredibly scenic part of Alaska! Be prepared for epic mountains, glaciers, waterfalls, and a charming seaside town.
20. Valdez
A small city on Prince William Sound, Valdez (val-deez) is the terminus of the Trans-Alaska Pipeline. Most people have heard of it because it's the site of the eponymous Exxon-Valdez oil spill.
Today, the destination is best known as a charming mountainous town on the Sound. Many day cruises to the Columbia Glacier depart from Valdez. There are also many trailheads from its downtown area to mining areas in the mountains, waterfalls, and glaciers.
We stayed in Valdez for two nights and loved our time in this town. It might be a bit of a drive from Anchorage, but it's a scenic one! And with all the stunning nature in Valdez, it's one of the best places to visit in Alaska.
Check out the 21 best things to do here in my Guide to Valdez!
21. Worthington Glacier
This valley glacier, just 29 miles from Valdez, is one of the more car-accessible glaciers in Alaska!
Take Richardson Highway and stop at the Worthington Glacier State Recreational Site. Here you'll find the best views of this receding icy giant. You can actually walk up to the glacier, which is what we did! To the right of the overlook, you'll find a trail that leads right up to it. It does say 'This trail is not maintained, hike at your own risk,' or something like that. So be careful when hiking!
I've listed the 17 best glaciers to visit in Alaska here!
22. Thompson Pass
The Thompson Pass in the Chugach Mountains is your entry to the alpine tundra!
The Pass is known for its unique weather conditions and massive annual snowfalls. The Pass holds the record for the largest single-day snowfall anywhere in the United States at 90 inches! There are some great scenic spots at which to spot along Thompson Pass. You'll find excellent views of the mountains and Worthington Glacier.
There are hiking trails (like the one I photographed above) if you want to explore Thompson Pass!
23. Bridal Veil Falls
Depart from Valdez for two remarkable waterfalls in Keystone Canyon.
Bridal Veil Falls is the first one you'll see as you drive towards Valdez. It has a unique shape, just like a bridal veil. It cascades from a small flow of water into progressively larger flows until it eventually empties into the river below.
24. Horsetail Falls
Horsetail Falls is on the opposite side of the road, and you can drive right up to it!
25. Rudleston Falls
This is a much less visited waterfall in Valdez, but I think it's one of the coolest in the area! It's a bit of a hidden gem, both literally and figuratively. You probably won't notice this waterfall from the highway since it's tucked away from sight.
I love it because you can hop on the rocks to get a close up look at the gorgeous waterfall! It's also shaped in a cool wishbone-like shape, which makes it stand out in photos.
26. Valdez Glacier Lake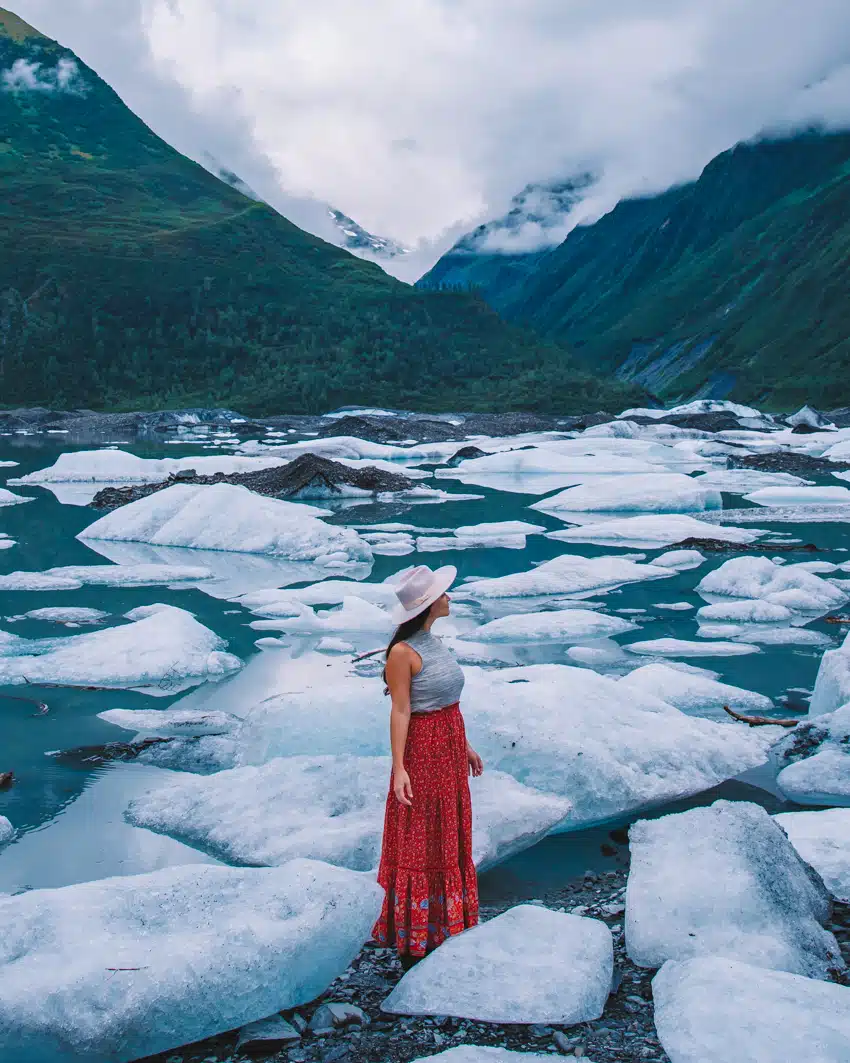 Caused by runoff from the Valdez Glacier, the lake is a must-see when in Valdez. It's the perfect place for summer kayaking through the icebergs that float around you!

The area was originally used by gold prospectors who traversed the Valdez Glacier. However, many years of warming have caused the glacier to recede, and more-or-less created this beautiful lake.
27. Columbia Glacier
Take a boat tour from Valdez to see the magnificent Columbia Glacier!
The glacier covers 400 square miles and weaves through the Chugach Mountains until it empties into Prince William Sound.
28. Wrangell-St. Elias National Park
A national park to rival Yellowstone in both size and abundance of flora and fauna, the Wrangell-St. Elias National Park is a must-see for wildlife lovers! In fact, it's the United States' largest national park, six times the size of Yellowstone! (And yet, hardly anyone has even heard of it!)
Pictured above is Mt. Drum at sunrise. Talk about a beauty!
Explore the rugged landscape and take in the views of snow-capped mountains and pine forests. Visiting Wrangell-St. Elias is sure to be an awesome nature experience along the border with Canada's Yukon Territory.
Fairbanks
This borough in Alaska is most commonly visited for one main reason- the northern lights! If you haven't seen them before, get ready to learn about the best place to do so!
29. Fairbanks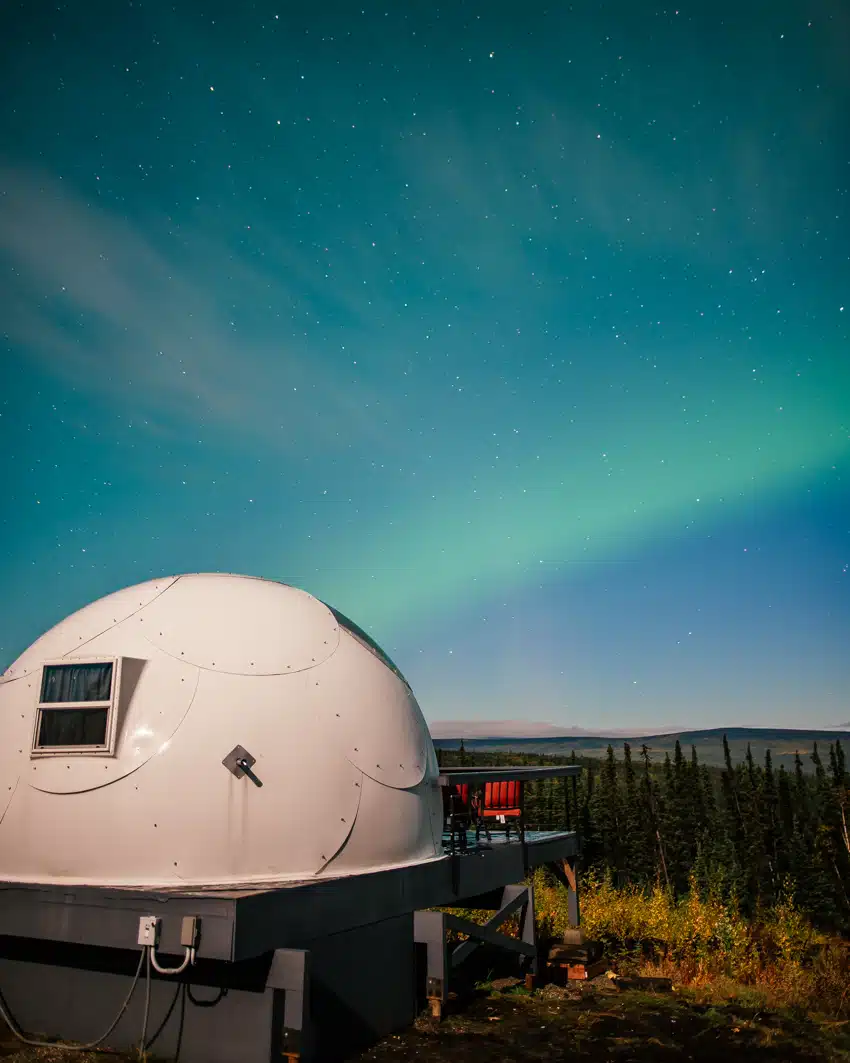 This town is worth a visit if you want to see the northern lights! Fairbanks' northerly location just south of the arctic tree line means nearly 20 hours of sunlight in the summer and some of the most vivid auroras you will ever see!
The city sits in a valley at the confluence of the Tanana and Chena Rivers with hills to the north. This makes for a unique natural landscape. You can visit the city's comprehensive antique auto museum and the Fairbanks Ice Museum with incredible ice sculptures on display.
The photo above is from our time at Borealis Basecamp, which is cool enough to make it its own item on this list!
Read about the 27 best things to do in Fairbanks here!
30. Northern Lights at Borealis Basecamp
As I mentioned, Fairbanks is perfectly positioned under the Auroral Oval for the light show of a lifetime! It's one of the best places to visit in Alaska for just that reason!
And the best place to stay for the coolest northern light experience is Borealis Basecamp! Here you'll stay in these awesome glass-roofed igloos just 30 minutes north of Fairbanks. I recommend staying at Borealis Basecamp for two or more nights to increase your chance of seeing the lights.
We saw the lights on our first night, but not on the second.
Even at the end of summer, there is a solid chance that you will get to see the northern lights. The aurora borealis is visible to the naked eye if it is dark with the right conditions. Our trip was in early September!
31. Chena Hot Springs
An hour northeast of Fairbanks is Chena Hot Springs, located in the Chena River State Recreation Area.
Relax your muscles while taking a dip in the warm natural waters of the natural hot springs lake and watch the steam rise and disappear into the hills!
(We visited at the end of the summer when it was 60 degrees out. I have to say, soaking in the springs got too hot too fast. I'd recommend visiting in the winter since a hot soak feels way nicer in the cold!)
You can also stay at Chena Hot Springs Resort.
32. Alaska Highway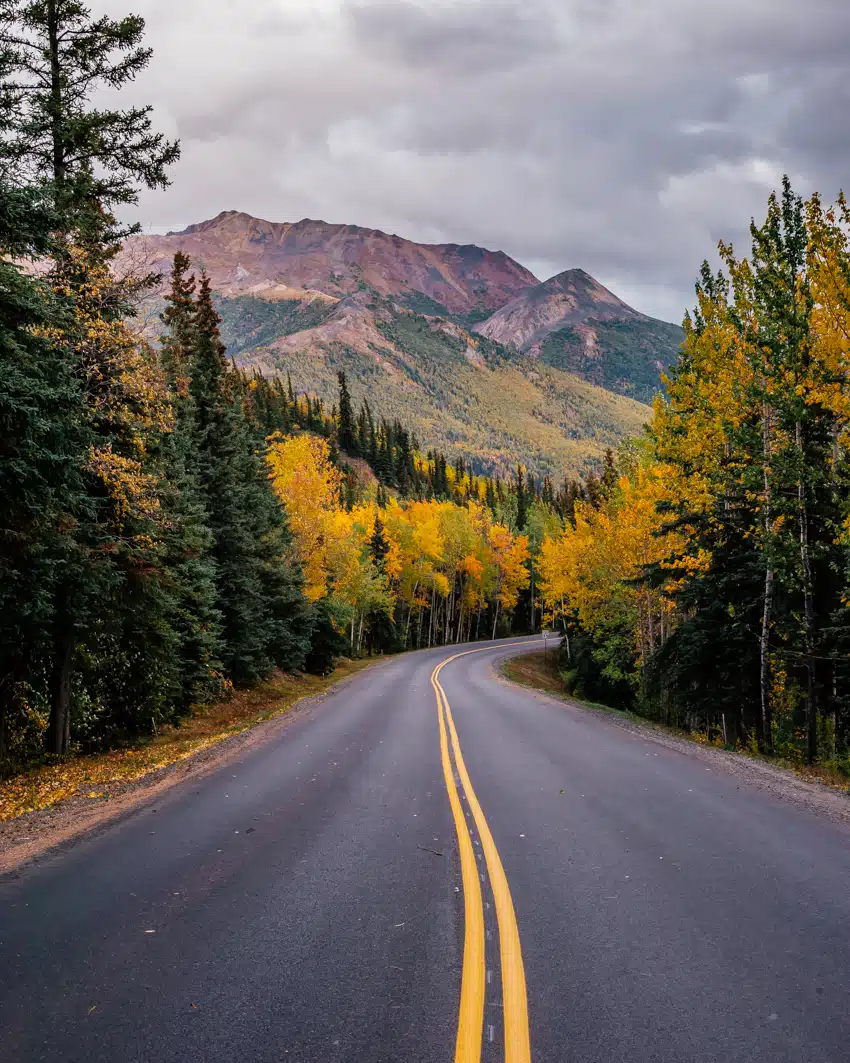 The Alaska Highway is also known as the Alcan Highway (Alaska-Canadian). Why? Well, it goes through both Canada and Alaska, connecting the two.
The Alaska Highway begins in Dawson's Creek in British Columbia, Canada. It connects Alaska to the rest of the country while passing through a Canadian province and territory to a terminus in Delta Junction.
A journey from end to end would take roughly 1,400 miles. The highway is a scenic drive covering valleys, mountains, forests, and stop-over towns with lots to do and see!
Southeast Alaska
Unfortunately we didn't visit Southeast Alaska on our road trip through Alaska. But I couldn't write a complete list of best places to visit in Alaska without including this area! So here's what I've researched (and what friends have told me) to be the best stops in Southeast Alaska.
33. Inside Passage
The Inside Passage spans the coastline from Washington State to Canada's British Columbia and Alaska. Alaska's portion stretches for 500 miles of islands, bays, and fjords full of wonder and wildlife.
Book a boat tour and discover the three regions of the Inside Passage, along with all of the natural secrets it has to uncover.
34. Juneau
Though many think the title belongs to Anchorage, it is Juneau that reigns as the capital city of Alaska.
Juneau is one of the best places to visit in Alaska if you want to get a little bit of everything; glaciers, wildlife, culture, and dining.
Fun fact: The residents of the city are said to schedule their activities around the annual salmon migration! You can see it from a charter boat that departs town early each morning.
35. Haines
Haines bills itself as the adventure capital of Alaska, and there is plenty of evidence to support the boasting.
The town is the premier spot to partake in guided hunts of mountain goats, wolves, and bears, take an hour-long boat tour of Chilkoot Lake or hit the snowy slopes for a bit of skiing.
36. Ketchikan
Ketchikan is many things: the salmon capital of the world, the start of Alaska's Inside Passage, and quite possibly one of the most beautiful fishing towns in the state. It also has the world's largest collection of totem poles!
A visit to Ketchikan will require fully charged camera batteries and plenty of memory on those SD cards. The town sits in a unique spot among the rainforest trees of Tongass National Forest where you will never be too far away from a waterfall, deer, or eagle.
37. Sitka
Sitka has an interesting claim to fame as the former capital of Russian America!
Formerly known as Novo-Arkhangelsk, the site was a Russian settlement before it served as the place where the Alaska Purchase handover ceremony occurred in 1867.
Today, Sitka welcomes visitors for fishing steelhead and salmon as well as those who want to learn about the area's historical Native and Russian cultures.
38. Skagway
The city of Skagway sits at the foot of a mountain range!
From here, you can explore the area's natural landscape and take an excursion to Alaska's icefields and glaciers or hope onboard a scenic train ride through the valley nestled between snowy mountains.
39. Tongass National Forest
Tongass is a massive national forest- the largest national forest in the United States- and swallows over 80 percent of southeast Alaska!
This national forest is home to the world's largest temperate rainforest and 11,000 miles of rugged coastline perfect for that Alaskan cruise you've been dreaming about.
40. Tracy Arm Fjord
The Tracy Arm Fjord is a natural marvel, just 45 miles from Alaska's capital city, Juneau. The narrow waters of the fjord cut through 3,000-foot tall cliffs on either of its sides!
Tracy Arm Fjord spans 27-miles in length and is worth the trip from Juneau on a day tour by boat.
41. Mendenhall Glacier
Just 12 miles from downtown Juneau in Tongass National Forest is Mendenhall, a small and easily accessible glacier.
Depart down one of a handful of trails from the Mendenhall Glacier Visitor Center for the best views of the glacier and the thirteen-mile river of ice.
42. Misty Fjords National Monument
Travel to Misty Fjords from Ketchikan in the very south of Alaska for a jawdropping trip replete with fjords, cliffs, rainforests, and wildlife.
Misty Fjords is the largest wilderness area in Alaska and sits inside Tongass National Forest. Due to its remote (and wild) nature, Misty Fjords is generally visited by boat or plane. If you prefer to take the path less traveled, this is one of the best places to visit in Alaska.
43. Glacier Bay National Park
Over three million acres of temperate rainforest, fjords, glaciers, and mountains can be found within Glacier Bay National Park in southeast Alaska.
Visitors share the massive area with scientists who strive to learn all they can about the flora, fauna, and landscape within the park, though there's plenty of all of the above to go around!
You can take a cruise to see the glaciers or hike the many trails in the park. Just be sure to pack mosquito repellant and bear spray!
44. Klondike Gold Rush National Historical Park
The Klondike Gold Rush National Historical Park sits 15 miles from Alaska's border with British Columbia and serves to commemorate the famous gold rush that brought nearly 100,000 prospectors to the region at the end of the 19th century.
Much of the park is comprised of historic downtown buildings that will make you feel as if you traveled back in time, with museums at every corner where you can learn about every aspect of the gold rush and its impact on the people here.
Pictured above is the mossy bedding of the coniferous forest trail section of the Chilkoot Trail between Finnegan's Point and Canyon City. Today this 33-mile trail connects the Inside Passage to part of the Yukon River.
45. Totem Bight State Historical Park
Just north of Ketchikan is Totem Bight State Historical Park, a former traditional Native campground and current 33-acre state park.
Here, you will find a vast collection of totem poles and perfect views of the ocean along short hiking trails.
Elsewhere in Alaska
These five places didn't quite fit in any of the other locations I've mentioned, so they get their own! We weren't able to visit any of these since they're quite a bit further out, but hope to someday!
46. Dalton Highway
One of America's loneliest and most dangerous roads, the Dalton Highway is just over 400 miles of slippery, muddy, and desolate driving through Boreal forests and gravel roads with barely anyone or anything in sight!
The highway was originally built for truckers bringing supplies for the construction of the Trans-Alaska pipeline. However, today, many drive it for what the New York Times described as "Tolkienesque scenery" and a sense of being alone in the wild.
You won't have any cell service and there's a 240-mile stretch without a gas station! For more crucial things to know before visiting Alaska, check out this post!
Pictured above you can see where the highway approaches Sukakpak Mountain.
47. Hubbard Glacier
Named after the founder and first president of the National Geographic Society, Gardiner Greene Hubbard, the Hubbard Glacier is the largest tidewater glacier in North America.
One thousand two hundred feet deep and 76 miles long, this glacier is a massive chunk of ice!
Though you won't be driving over to the glacier any time soon, it can be seen close up by cruise or helicopter tour.
48. Katmai National Park
Katmai National Park was originally established after the eruption of Novarupta, considered one of the five largest volcanic eruptions ever!
Bear watchers, rejoice! Other than the Katmai Caldera, which was caused by the eruption, the national park attracts visitors for its famous bear watching excursions in Brooks Camp and Geographic Harbor. It won't be hard to find one of the 2,200 bears who call the park home. After all, bears outnumber people in Alaska!
49. Kodiak Island
Just south of Katmai National Park, in the Gulf of Alaska, lies Kodiak Island.
This island is popular for its large wildlife refuge and excursions on which you can see brown bears, bison, foxes, deer, and fabulous photogenic birds such as eagles and puffins!
50. Nome & Iditarod National Historic Trail
The famous Iditarod National Historic Trail is a network of over 2,000 miles of trails that connect communities in Alaska. The main route spans 1,000 miles linking Seward and Nome, though much of it is off-limits to hiking unless you are close to Nome.
The trail's history cannot be understated; famous for the 1925 serum run to Nome following an outbreak of diphtheria in the town, the trail is followed annually by participants of the Iditarod Trail Sled Dog Race who traverse the distance along with their dogs in 8 – 15 days!
PS. If you haven't seen Togo on Disney Plus, it is about the 1925 serum run and it's a must!!
PPS. The photo above is from when we went dog carting in Fairbanks. We did not do any dog sledding in Nome, though that would probably be epic!
In conclusion…
I hope you're filled with some major Alaskan wanderlust by now!
And if you know of a place that deserves to be on this list of the best places to visit in Alaska, comment below! I'd love to check it out on our next trip to Alaska!
Also, if you have any questions about our Alaska experience or activities we did, let me know in the comments!
Lastly, here are more Alaska posts you might find helpful:
Safe travels!
Jasmine