If you're looking for some great weekend getaways from Anchorage, you've come to the right post!
Whether you're in search of a romantic weekend getaway, an adventure filled journey, or a nature retreat, you'll find it here.
I recently went on an 11 day trip to Alaska, flew into Anchorage, and drove over 33 hours during the course of my trip to several cities around Anchorage. (If you want to see my exact itinerary or my suggestions for different trip lengths, check out this post!)
Whether you're an Anchorage native or a visitor from out of town, there are plenty of excellent weekend getaways from Anchorage to nearby beautiful towns!
You can see some of the natural beauty we captured in these towns in the video we made of our trip to Alaska below:
[If you don't see a video player, you may need to disable your ad blocker.]
Here I rank them by distance to Anchorage so that you can plan accordingly!
Let's get into it, shall we?
Girdwood: Just Under an Hour-Drive from Anchorage
Girdwood isn't like your typical resort municipality.
It is mostly famous because of the Alyeska Resort, a luxurious resort that draws thousands of tourists each year.
But there is so much more to do here!
What To Do In Girdwood
Girdwood was initially known as Glacier City for the frozen behemoths that border its mountains.
And seeing them is a must if you're in the area! There are a couple of great ways to see glaciers in the summer:
The first option is to take the ski lift/ aerial tram at Alyeska Resort up Mount Alyeska. From right around the summit, you'll be able to see not one but seven glaciers in the distance!
The second option is to drive to Portage Lake and take a boat tour to Portage Glacier. If you want to skip the boat tour, you can also hike to Byron Glacier. From Portage Lake, you can see Shakespeare Glacier.
The third option is an Alpine Air helicopter tour with a glacier landing! It's definitely a pricier option, but is a fantastic experience!
But there is more to do than check out glaciers!
Non-glacier activities
My main recommendation is to not leave Girdwood without visiting Virgin Creek Falls!
This easy and short 5-minute hike will take you to Alaska's most scenic moss-blanketed waterfall. You'll have to watch your step as it can be muddy here and there are giant tree roots to traverse. But a short distance later, you'll be enveloped in a scene out of Rivendell (any Lord of the Rings fans out there?)!
If it's hot out and you dare to get in, bring water shoes as the rocks on the bottom are incredibly slippery. (I know this from personal experience… I actually got in barefoot and basically was stuck in one spot for fear of slipping. It was also ICY cold water!).
For more Girdwood adventures, there is even a gold panning tour you can take to try your luck at striking it rich.
The Alaska Wildlife Conservation Center, located just 11 miles past the district turnoff, is a 200-acre piece of land that allows you to view wildlife up close. It's worth the $17 entry fee (pricing at the time of writing) for adults! It was the only place we were able to see grizzly bears up close.
You might've guessed this from the ski lift mention earlier, but Girdwood is also a great destination for skiers and snowboarders.
Last but not least, when in Girdwood, enjoy breakfast at the flower-covered Bake Shop. I ordered an omelet and enjoyed it on their patio- it was delicious!
Moose Pass: Just Under a 2-Hour Drive from Anchorage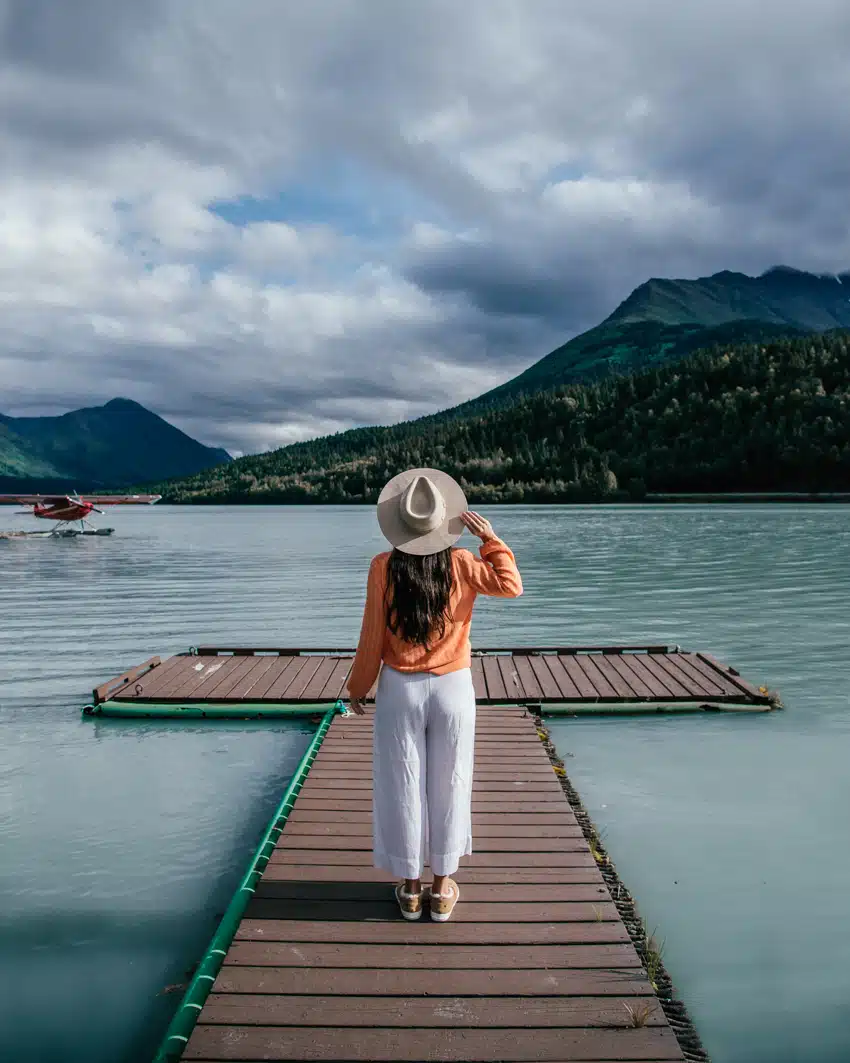 Only two hours away, Moose Pass is a great weekend getaway from Anchorage.
The spruce trees, crystal blue waters, mountains, and abundance of pristine nature provide a perfect excuse for spending the weekend here.
What To Do In Moose Pass
This tiny town is snuggled inside the sub-polar Chugach National Rainforest.
Their trails take you along gorgeous mountain lakes, alpine panoramas, and berry patches.
There are plenty of hiking trails beginning from Crescent Lake and going all the way to Primrose.
You can also rent kayaks or schedule air tours in the area.
Stay at The Inn at Tern Lake for spectacular views!
Glacier View: About a 2-Hour Drive from Anchorage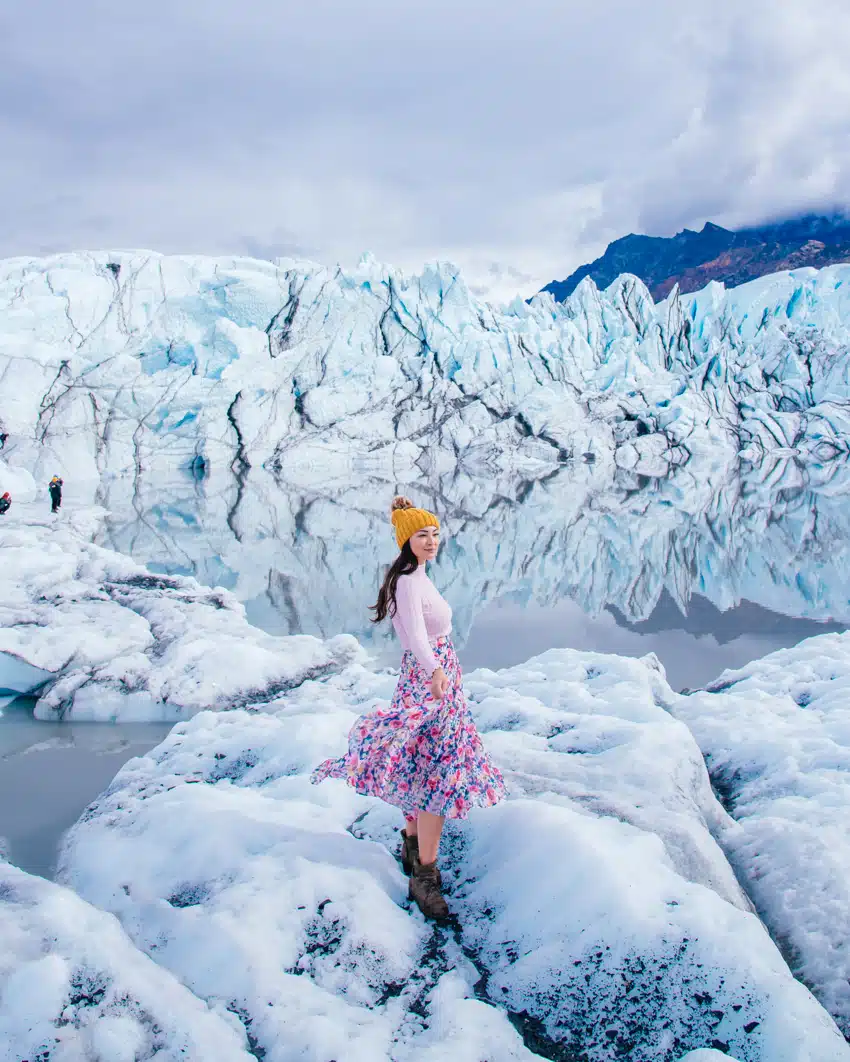 The 30-mile-long Glacier View stretches along the National Scenic Glenn Highway.
The Matanuska Glacier is the main attraction of Glacier View, and also one of the most accessible roadside glaciers in Alaska. (For a list of the best glaciers to visit in Alaska, check out this post!)
The contrasting colors of ice, mountains, rock, and fauna and make for picture-perfect views for photographers. It was one of my favorite glaciers we visited in Alaska! Read about what you need to know before visiting the Matanuska Glacier here!
What To Do in Glacier View
Glacier View is a great place to visit regardless of the season.
Witnessing the crevasses of glaciers is a popular summertime activity, which isn't surprising when you consider how breathtaking glaciers are!
River rafting, zip-lining, berry picking, wildlife sightseeing, and hiking local trails are also some of this spot's highlights during the summer months.
And fall is perfect for going camping and hunting with your friends and family.
But other than visiting the Matanuska Glacier, heli-skiing is this area's primary attraction.
We loved our stay at Majestic Valley Wilderness Lodge– and they offer heli-ski!
For this activity, a helicopter will fly you to areas where you can ski in conditions rarely found in other resorts!
I'm not nearly competent enough at skiing to jump out of a helicopter, so I think I'll pass on this.
Talkeetna: About a 2-Hour Drive from Anchorage
Talkeetna features three of Alaska's most breathtaking glacial rivers that you can explore by water, air, or land.
Experiencing at least one river and one air tour is a bare minimum while you are visiting Talkeetna. I know that sounds like a lot (and pricy, too), but these are some of the best ways to see the area!
What To Do In Talkeetna
The astounding views of Denali (formerly Mt. McKinley) and Alaskan Range serve as a perfect backdrop on a day with clear skies.
You can do a riverboat tour which takes you to scenic points like Devils Canyon, Talkeetna Canyon, and Tokositna and Chulitna Rivers.
These are the same boats often used for charter fishing expeditions.
You can also admire the majestic Susitna River, and stay at the Sustina River Cabins.
Denali: A Little Over a 2-Hour Drive from Anchorage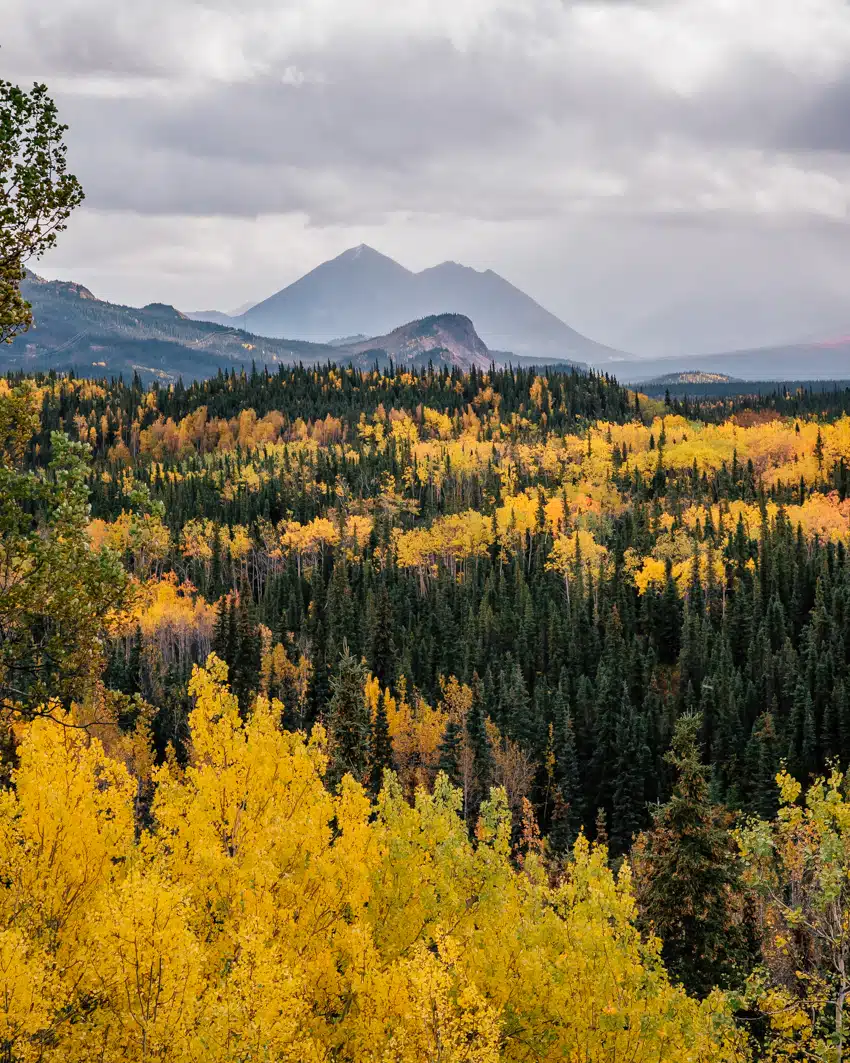 Denali, formerly known as Mount McKinley, is the tallest mountain crest in North America!
Its pinnacle rises 20,310 feet above sea level.
Denali National Park is also famous for many reasons.
This is probably one of the best spots to view Alaska's most picturesque venues such as:
Mount McKinley and its crest
Exotic wildlife creatures like grizzly bears, caribou, Dall sheep, moose, wolves, etc.
A pristine wilderness of colossal peaks, glacial rivers, fauna and flora, and tundra.
As such, these make it one of the most famous weekend getaways from Anchorage!
What To Do In Denali
For the particularly adventurous, you can climb this peak! Would you dare? You'll need to visit the Mountaineering Ranger Station before you do so.
The Denali National Park bureau also offers many adventures in and around Denali in the summer months.
Perhaps the most popular is taking the shuttle bus around the park, since it travels where cars cannot usually go.
If you want to stay directly around Denali, the Denali Lakeview Inn is a great choice!
We didn't spend as much time as I would've liked in Denali because the weather wasn't great. I know we probably should've planned for more than one day here (hence why it's on this weekend getaways from Anchorage post), so we'll just have to return someday.
Here's the thing. A good reason why you should spend more than a day here is because the weather might affect your plans. We were essentially in a cloud as we drove around Denali National Park and Preserve- we could barely see a thing! And we definitely couldn't see the famous mountain itself.
My Denali travel tip: set your expectations on seeing Mount Denali low so that you won't be disappointed. Locals say there's about a 10% chance you'll get to see the peak since it is usually shrouded in clouds.
We did get to see the gorgeous fall colors you see in the photo above, though! How stunning are those yellows? I got that shot on September 7th, which just goes to show how early fall colors can show up in Alaska!
Seward: About a 2.5-Hour Drive from Anchorage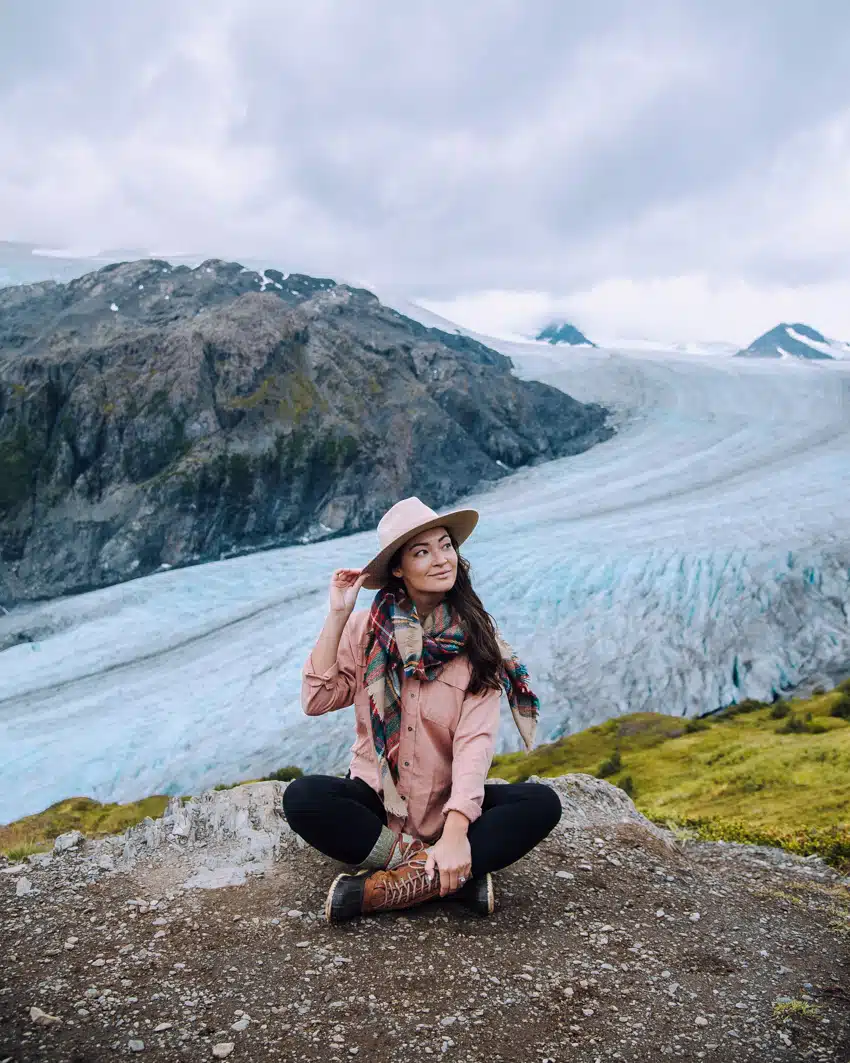 The magnificent Seward, cushioned between the ocean and mountains, is one of Alaska's must-visit places.
We spent two days in Seward, and I could've easily spent longer!
It's another ideal spot for adventurers.
Seward is a great place to see wildlife, hike on beautiful trails, and fish in its sparkling waters.
What To Do In Seward
The Lowell Point stretches across Resurrection Bay to its beach, featuring a long trailhead and several campgrounds.
From the beach, you can sometimes see sea lions and sea otters! In the late spring and early summer, whales are common in Resurrection Bay!
A trip to the Kenai Fjords National Park should also be on the top of your itinerary.
When you're there, be sure to check out the Harding Icefield Trail.
Hiking even just halfway up the trail makes for a great workout and provides stunning views! It's one of the most famous trails on the Kenai Peninsula, and gains 1,000 feet in elevation per mile. Get ready for a major hamstring workout. When we got to the halfway point, I was physically exhausted, but the views were so worth it! Read more about it here!
And if you're looking for the perfect home base in Seward, check out Resurrection Lodge on the Bay. We stayed there and loved our stay! The views here are spectacular!
Check out my Seward Guide here for more incredible things to do in Seward!
Kenai: About a 3-Hour Drive from Anchorage
Just a short distance away from Anchorage is Kenai, a fun town with many recreational activities with easy access to the Old Town Kenai Park and Kenai Beach.
What To Do In Kenai
Kenai beach is a great place to lounge, swim, fish, and more.
It's a prime spot for fishing, and you'll do plenty of that staying at the Salmon Catcher Lodge.
You might also take a stroll along the Meeks Trail or hike up to the Crescent Lake in Chugach National Park.
For beautiful architecture, check out the Russian Orthodox Church pictured above!
If you want to try some fresh-out-of-the-sea, scrumptious seafood, you should definitely grab a bite at Louie's.
Homer: About a 4-hour Drive from Anchorage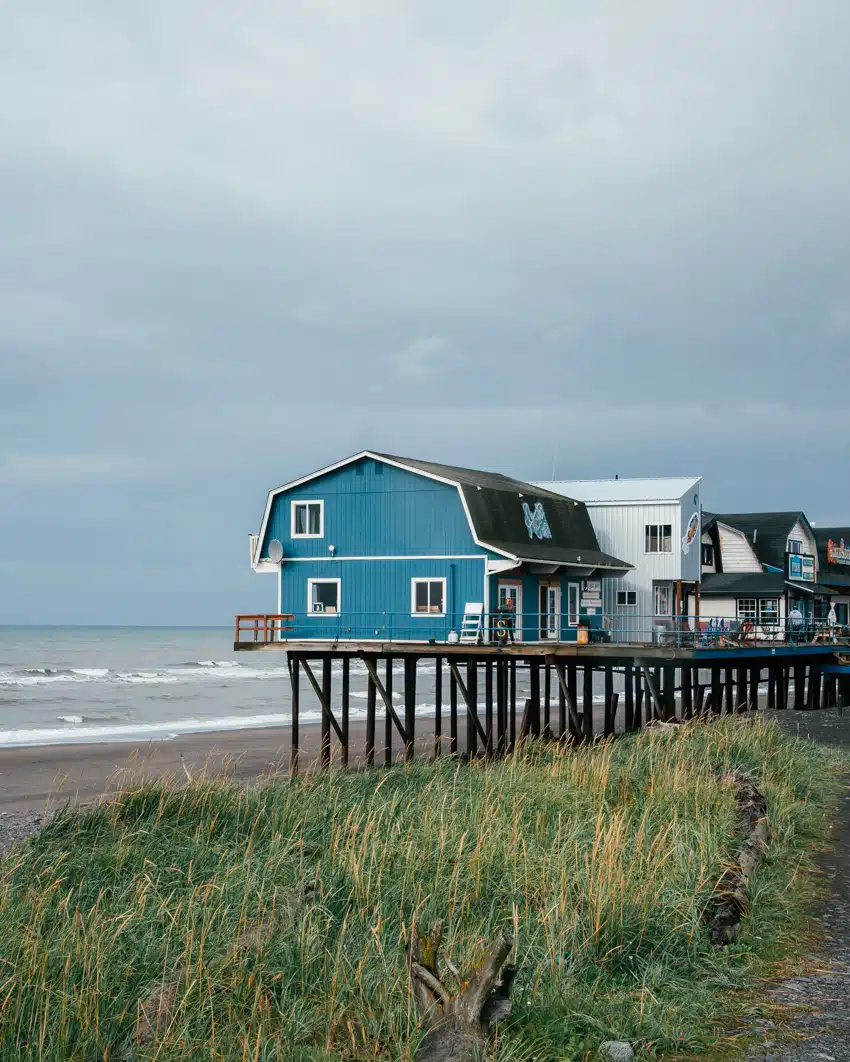 This quaint town is surrounded by gorgeous scenery and is one of the most perfect weekend getaways from Anchorage!
I wish we had spent more time in Homer since it basically rained on and off the whole time we were there!
Regardless of the weather, Homer is a must.
Homer offers views of the Kenai Mountains, Kachemak Bay, and many volcanic crests along the Cook Inlet. As you drive into Homer, the views will astound you! They totally took my breath away- seeing mountains all around you is magical!
It is particularly famous for the Homer Spit, a 4.5-mile-long stretch of land extending into Kachemak Bay.
The Spit houses port amenities and a little boat harbor along with plenty of cute restaurants and shops.
What To Do In Homer
The busy summer months on the Spit are the best time to enjoy charter fishing and the surrounding views.
Homer is known as "The Halibut Fishing Capital of the World," so if you like to fish, here's where to do it!
In addition to fishing, this area also offers helicopter tours of the stunning surrounding mountain ranges and peninsula.
And like many areas of Alaska, you may even see grizzly bear!
We stayed at Land's End Resort. Make sure you request a room with a view of the bay!
Our favorite breakfast was at Captain Coffee's Roasting Co. I got the breakfast panini and Harrison ordered the steak breakfast burrito, and both were beyond delicious.
Wrangell-St Elias National Park: About a 4.5-Hour Drive from Anchorage
Wrangell – St. Elias National Park is unbelievably huge!
It is about 13.2 million acres! That makes it the largest national park in the United States!
Together with the Canadian National Parks Tatshenshini-Alsek and Kluane, and Glacier Bay, the St Elias National Park is the largest stretch of secured land on earth. How's that for a crazy statistic?!
Desolate and wild, it features world-class glaciers and mountains.
This national park is definitely worth visiting for nature enthusiasts!
As you can imagine, it's absolutely full of wildlife!
What To Do In Wrangell – St Elias National Park
Besides hiking, this area offers whitewater rafting, mountain biking, fishing, birding, horseback riding, ice climbing, flightseeing, hunting, and wildlife sightseeing.
I don't recommend traveling solo here since this national park is isolated and vast with few signs, amenities, and trails to follow.
This is really a weekend getaway for adventure seekers and nature lovers. Specifically, those who want to travel off the beaten path.
Surprisingly, even though it's the largest national park in the USA, it's not as popular as other parks. My guess is because of how remote it is, and how undeveloped it is. (I think those two things make it even cooler!).
As such, there aren't really notable lodgings that I know of nearby. Your best bet is to find somewhere in the nearby towns of Glennallen or Copper River. Alternatively, spend more time in the next place on this list… Valdez!
Valdez: About a 5-hour Drive from Anchorage
Situated close to the bottomless creek entrance in Prince William Sound lies the beautiful and mountainous city of Valdez.
This town makes for one of the best weekend getaways from Anchorage. In fact, if you have more time, Valdez deserves a longer stay!
Valdez was one of my favorite towns to visit when we were in Alaska. Three days here wasn't enough!
Valdez offers diverse scenery from rainforests to tidal glaciers and magnificent mountain peaks.
Prince William Sound is also an ideal fishing destination.
What To Do In Valdez
Valdez has a lot to offer for adventure seekers.
There's plenty to do on the nearby Chugach Mountains which are blanketed with more than 600 inches of snow every year from snowcat and heli-skiing to ice-climbing on frozen waterfalls.
If you're visiting in the summer, you can also do a helicopter tour or glacier cruise and kayak or hike this town' many beautiful natural areas.
Check out my Valdez Guide with 21 fantastic things to do in Valdez for more.
We stayed at this AirBNB which was the cutest A-Frame!
If you've never used AirBNB before, you can book through this link for $65 off your first trip!
Fairbanks: About a 6-Hour Drive or 1-Hour Flight from Anchorage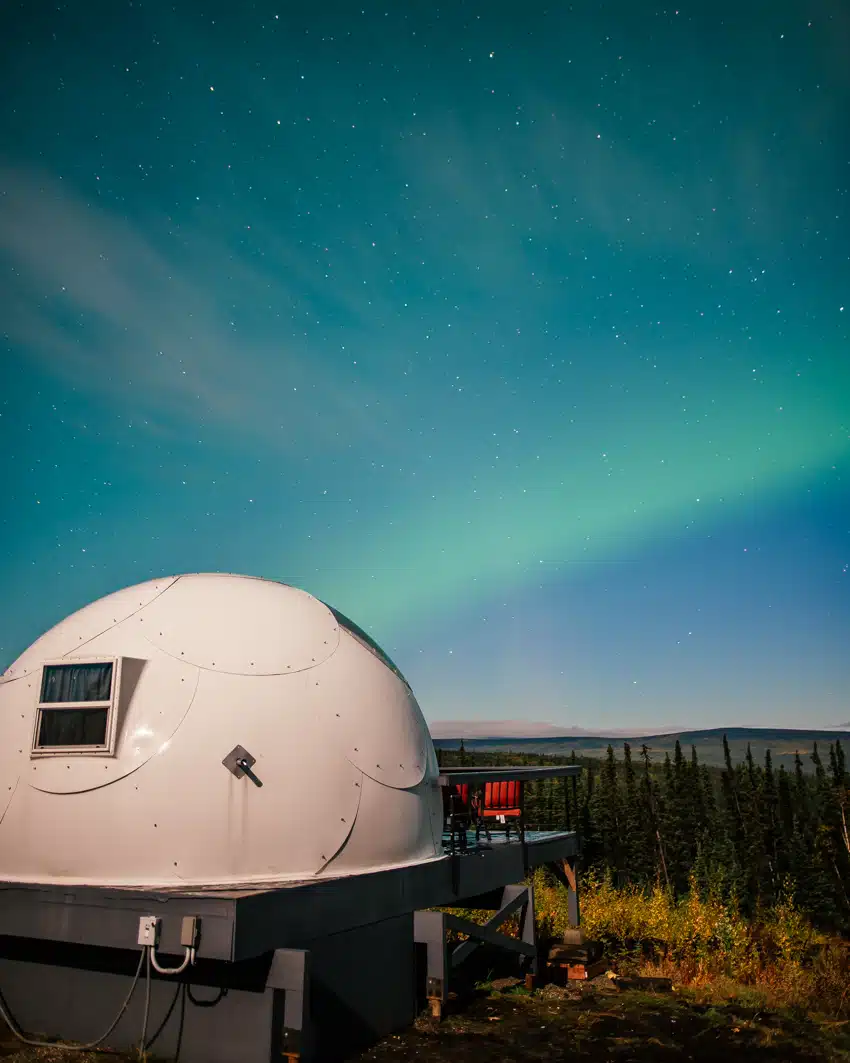 Fairbanks is the ultimate place to visit in Alaska if you want to experience the northern lights!
In fact, it is known for being the best place in the United States to view the northern lights.
It sits in a valley where Chena Rivers and Tanana meet, and has pretty different terrain from the parts of Alaska on the coast. You'll see fewer mountains surrounding you, fewer glaciers, and more flat land. It still has remarkable beauty, though!
What To Do In Fairbanks
As I mentioned, Fairbank's position under the Auroral Oval makes it one of the best places to see the northern lights.
This once-in-a-lifetime kind of experience is the main reason Fairbanks is somewhat well-known!
And Borealis Basecamp is the perfect destination where you get a chance to stay in glass-roofed igloos and witness the spectacular northern lights! They have the only glass-roofed igloos in Alaska, so if you don't mind the higher price point, this is the place to book. They even alert you if the northern lights come out before around 2am, so you can sleep peacefully.
You can see the aurora borealis with the naked eye, provided the weather conditions are appropriate. However, my biggest recommendation for seeing the northern lights is to take a long-exposure photo with your camera if there is a clear sky and you don't see anything. Our chef at Borealis Basecamp gave us that tip, and it was a lifesaver! I didn't see them with my eyes until my camera showed me that they were there!
Also, Chena hot springs is about an hour away from Fairbanks. If you're visiting in the winter, the hot springs make for a relaxing and fun experience!
We visited these hot springs on Harrison's birthday at the beginning of September and it was still warm out. That translated into feeling overheated when we were in the springs, so we didn't stay long.
And although I didn't visit it, I've heard great things about The Fairbanks Ice Museum's ice sculptures.
Check out the 27 best things to do in Fairbanks here!
Juneau: About a 1.5 Hour Flight from Anchorage
In case you thought that Anchorage is the capital city of Alaska, it is not.
The capital is actually Juneau!
Known as one of America's biggest wilderness areas, Juneau is an excellent place for wildlife sightseeing, admiring icy glaciers, and fishing in pristine waters.
The strikingly picturesque Mendenhall Glacier is definitely one of the most famous tourist attractions in the area.
You should definitely include it in your itinerary if you're in the area!
What To Do In Juneau
If you are keen on exploring the wild side of Juneau, hop on to a wildlife excursion!
You may get to see some amazing animals like bears, whales, eagles, seals, and goats up close!
Plus, exploring Alaska on foot is a great way to experience this gorgeous state.
If you have the stamina, the 250 miles of hiking tracks in Juneau are worth exploring.
These trails let you see some amazing natural beauty including meadows, mountains, lush forests, and mining ruins.
You can make Alaska's Capital Inn Bed & Breakfast your home base for exploring Juneau!
In conclusion…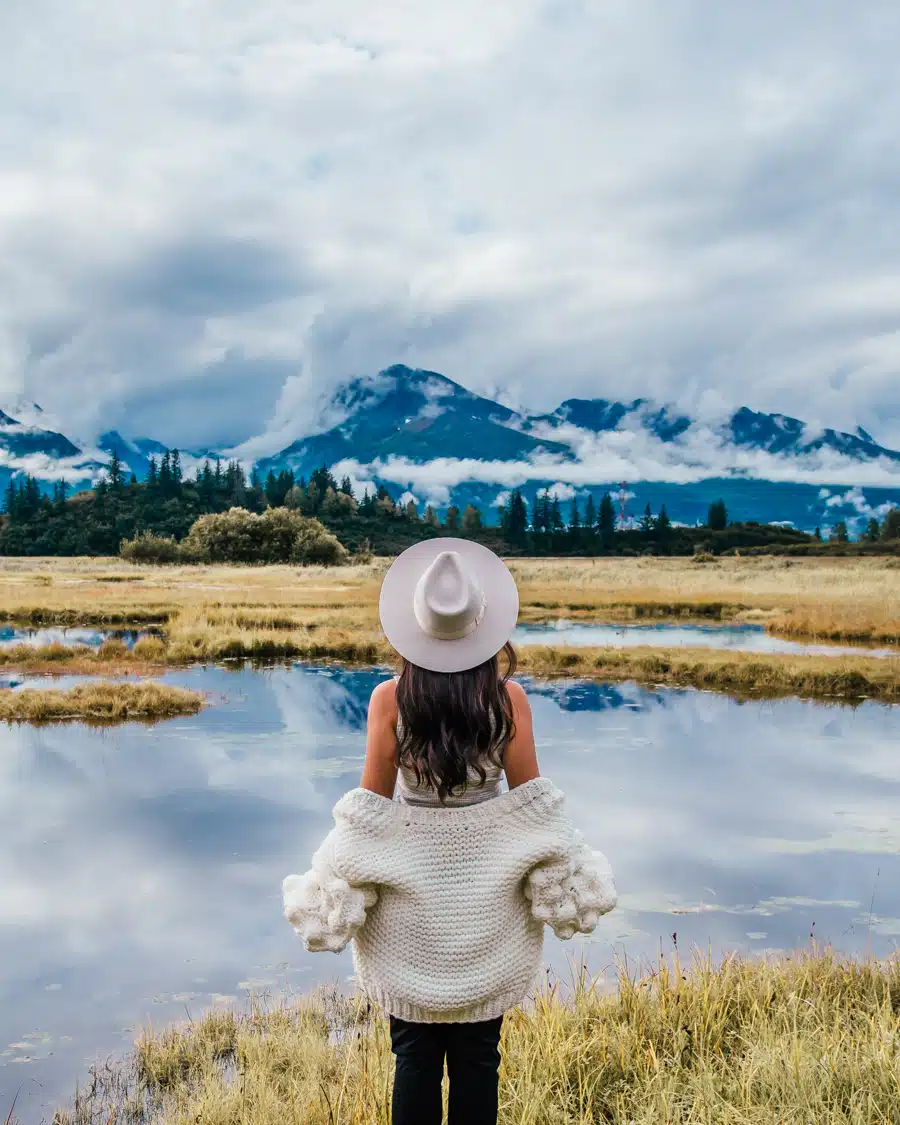 I hope this article has sparked your wanderlust!
These are just a handful of the breathtaking attractions that Alaska offers. If you can think of more great weekend getaways from Anchorage, let me know in the comments!
Have questions? Let me know in the comments, too!
And if you're looking for more articles about Alaska, check these out:
Safe travels!
Jasmine