Alaska makes for the perfect road trip destination. It's huge, which means there is so much to see! After plenty of research and after exploring it for myself for almost two weeks, I've come up with the ultimate Alaska itinerary for your next trip!
First I'll show you my exact Alaska itinerary in detail with photos, helpful information, and what we did. We were in Alaska for 11 full days.
Then you'll find a map of where we went. You'll see that an Alaska road trip calls for a lot of driving, but it's so scenic you won't mind!
And finally I'll provide Alaska itineraries for shorter and longer trips:
2-3 days
4-6 days
7-10 days
15+ days
1 month (you lucky duck)
Please keep in mind that you'll need to do a lot of driving to explore Alaska as much as possible, so be sure to have a good car!
We got our rental through Thrifty Car Rental which is located at the airport which makes getting the rental insanely easy! I recommend getting an SUV, especially if you're visiting in the winter! We had a Toyota 4Runner and it was perfect!
Use promo code 101247 through September 2022 for 10% off your Thrifty car rental!!
You can see some of the amazing beauty of Alaska in the video we made of our trip below!
[If you don't see a video below, you may need to disable your ad blocker.]
We've got a lot to cover, so without further ado, here is my exact Alaska itinerary including where we stayed, how much we drove, and where we ate!
(Also, read this post next: 33 Crucial Things to Know Before Visiting Alaska!)
The Ultimate Alaska Itinerary
This 11-day Alaska itinerary can easily be stretched into 14 days. You should add an extra day at Denali National Park & Preserve and one or two days in Talkeetna on the way from Denali back to Anchorage.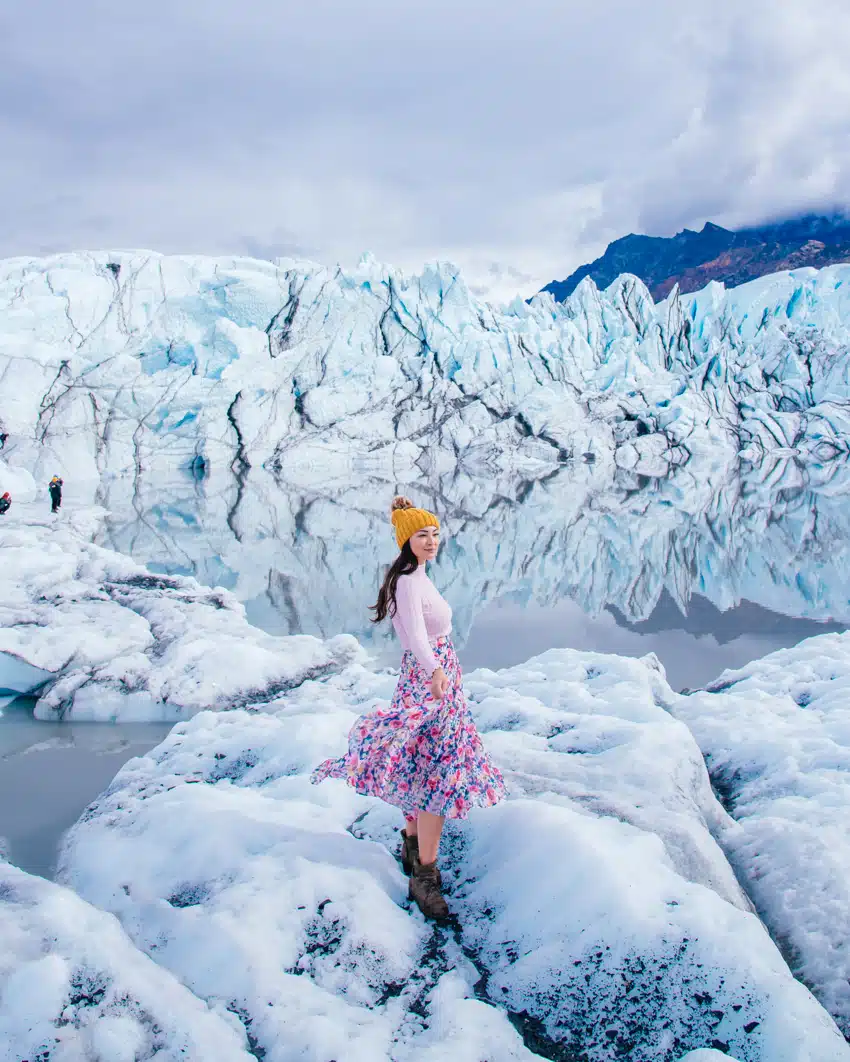 Day 0: Start your Alaska itinerary in Anchorage
20 minutes of driving
Tonight's lodging: Hotel Captain Cook
6:30 PM Arrive in Anchorage
After getting a negative COVID PCR test within 72 hours of departure, we flew into Anchorage, went through the COVID screening area, and picked up our bags.
You can find current COVID travel restrictions for Alaska here!
Pick up the rental car
Like I mentioned earlier, we used Thrifty Car Rental (which is family owned by great people!) and picked up our Toyota 4Runner straight at the airport. Easy peasy!
Check into our hotel & grab dinner
For our first night in Anchorage, we stayed at the Hotel Captain Cook, which had great views over Anchorage!
Day 1: Anchorage to Seward
3 hours 47 minutes of driving
Tonight's lodging: 2 nights at Resurrection Lodge on the Bay
7AM Depart from Anchorage
The early morning departure should be no problem with your jet lag if you're visiting from what Alaskans call "The Lower 48" (aka the Continental United States).
Beluga Point Sight
This lookout is especially great for whale watching in the early summer!
Bird Creek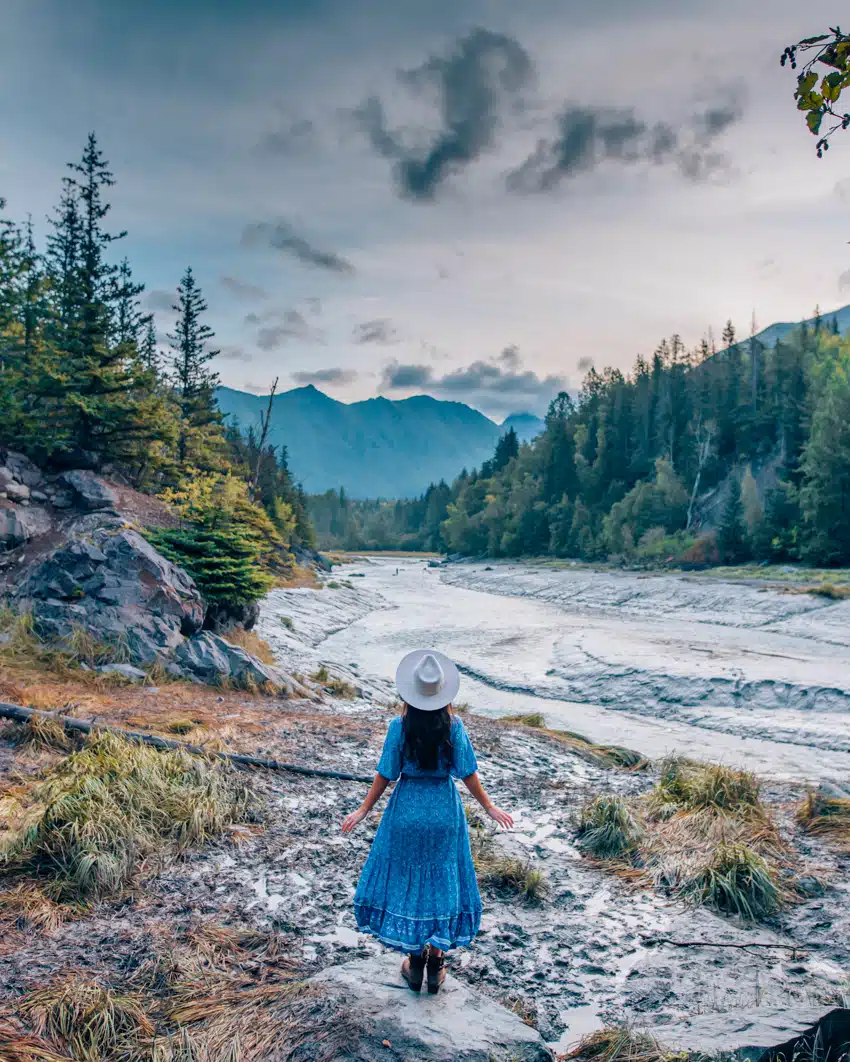 Next, we headed to Bird Creek. A short hike from the parking lot took us to these pretty views!
Turnagain Arm
At Bird Creek, there is a trail that goes underneath the railroad where you can see these pretty views of Turnagain Arm.
Be sure to not venture onto the mud flats as they can act like quicksand in certain conditions! We just scrambled along the rocks.
You can also skip this entirely if you just want the views. You'll have views of Turnagain Arm throughout the majority of the drive from Anchorage to Seward!
Virgin Creek Falls in Girdwood
This is an absolute must for any Alaska itinerary!
This is the easiest hike to my favorite waterfall in Alaska! It takes about five minutes and you'll have to cross over a ton of tree roots in a magical forest that is just at the end of a neighborhood!
If you want to take a photo like this where the water flows smoothly, you'll need a tri-pod. I always have this exact tripod with me when I travel since it is lightweight, versatile, and compact!
The Bake Shop
This is the perfect brunch spot! Grab a coffee and an omelet and enjoy on their flower-covered patio!
Alaska Wildlife Conservation Center
This is the ultimate way to see a grizzly bear up close in Alaska! You're totally safe on a boardwalk as the grizzlies live their best Alaskan life at the Alaska Wildlife Conservation Center.
It costs $17 per non-Alaskan adult but it's so worth it! You can buy tickets directly at the entrance.
Portage Lake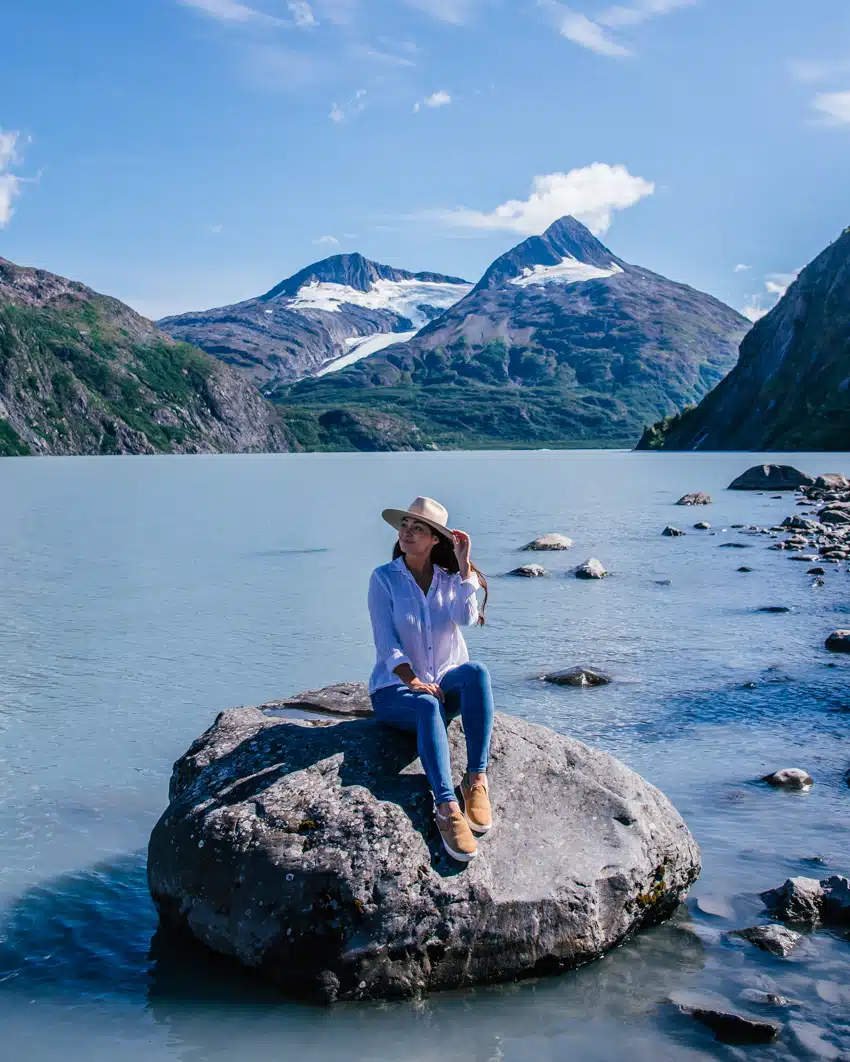 We didn't do a boat tour to Portage Glacier since we weren't sure how long today's journey would take, but you do have time for it if you plan around it!
Instead, we just enjoyed Portage Lake and were basically the only ones there! You'll get views of glaciers along the drive as well as from the lake. In the background here is Shakespeare Glacier.
By the way, I brought four pairs of shoes (I know, I'm a huge over-packer!) and these ones you see in this photo were the ones I wore 95% of the time! So insanely comfortable with the softest lining!
The Cookery
The Cookery was one of our favorite dinner restaurants, and is a must if you're in Seward! They serve up farm-to-table style food that you can tell has been expertly put together. The summer berry salad was excellent!
Resurrection Lodge on the Bay
This lodge is so cozy and has the best views of Resurrection Bay! The owner told me that in May and June you can see whales all the time from the front porch! It's a gorgeous property with a homey feel. Great views and people.
Day 2: Seward & Harding Icefield Hike
1 hour of driving
Tonight's lodging: second night at Resurrection Lodge on the Bay
7AM Breakfast at the lodge
Resurrection Lodge serves up a hearty breakfast with your favorite breakfast staples: eggs, bacon, sausage, biscuits, yogurt, and more.
Kenai Fjords National Park & Exit Glacier
Today's main activity is the Harding Icefield Hike, located in Kenai Fjords National Park at the very top of Exit Glacier. It is free to do and offers spectacular views!
Harding Icefield Hike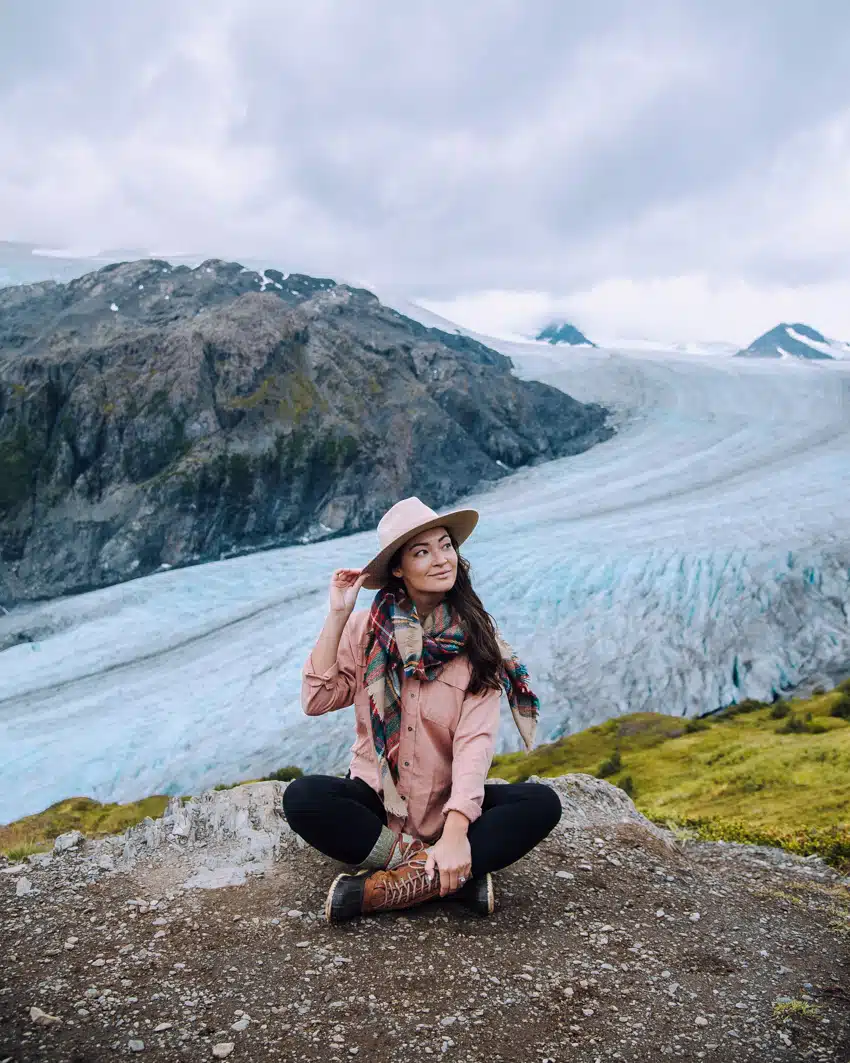 The whole hike is about 4 miles each way with 1,000 ft elevation gain per mile. It's strenuous, and be sure to pack a lunch if you're going all the way to the top! Due to weather, we made it up halfway to the Cliffs viewpoint. From there, we saw a black bear in the distance!
Read about everything you need to know for the Harding Icefield Hike here!
The Highliner Restaurant
After our hike, our legs couldn't take much else. We showered, changed, and enjoyed an early dinner at The Highliner. Another great dinner option is Ray's Waterfront.
Day 3: Seward to Homer
3 hours 41 minutes of driving
Tonight's lodging: Land's End Resort
7AM Breakfast at the lodge
You get another yummy breakfast at Resurrection Lodge!
Lowell Point and Resurrection Bay
You can walk a bit on the beach at Resurrection Bay or rent a kayak and do some boating!
Or, if you're like me, you'll do crazy things like wade out in a bathing suit for a photo 🙂 Resurrection Lodge has galoshes that you can borrow for water activities (or crazy photos).
Explore Seward
Before you head out of Seward, explore the cute town a bit! There is a huge harbor here with plenty of boat cruise options. Visiting the Alaska Sealife Center is a great choice if it is raining. You can fish at The Lagoon or just walk the bridge to see the view pictured above. Read all about the 18 best things to do in Seward here!
Explore Moose Pass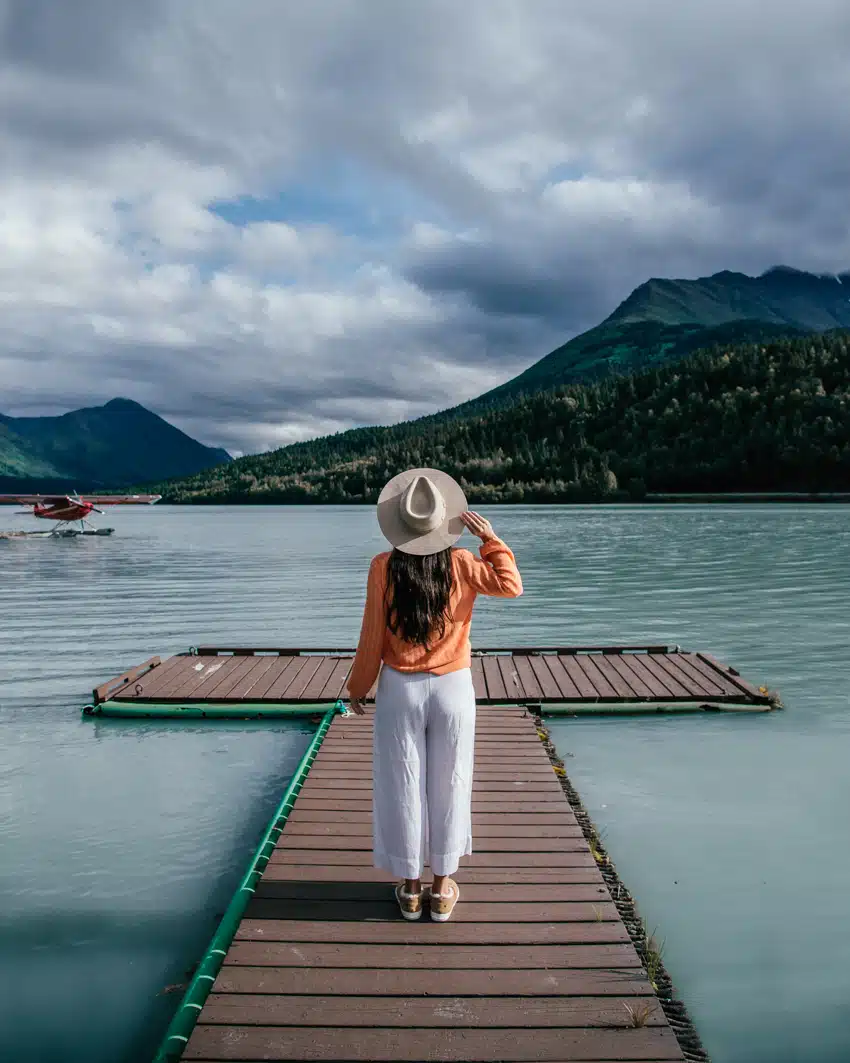 On your way out of Seward heading back onto Alaska Highway 1, stop in Moose Pass to check out one of their various lakes. Though we didn't do a floatplane tour (next time!), it was fun to see them on different lakes in the area!
Cooper Landing
If you love fishing, this is a great place to do it! I'm not a fisher so I just drove by and kept my eyes peeled for grizzlies! (Sadly, I didn't see any).
Soldotna
Drive through True Blue Drive Thru coffee shop for a drink! I got a chai latte and Harrison got a smoothie! Then, stop at the visitor's center and walk on the boardwalk that runs along the river! It's another great fishing spot.
Happy Valley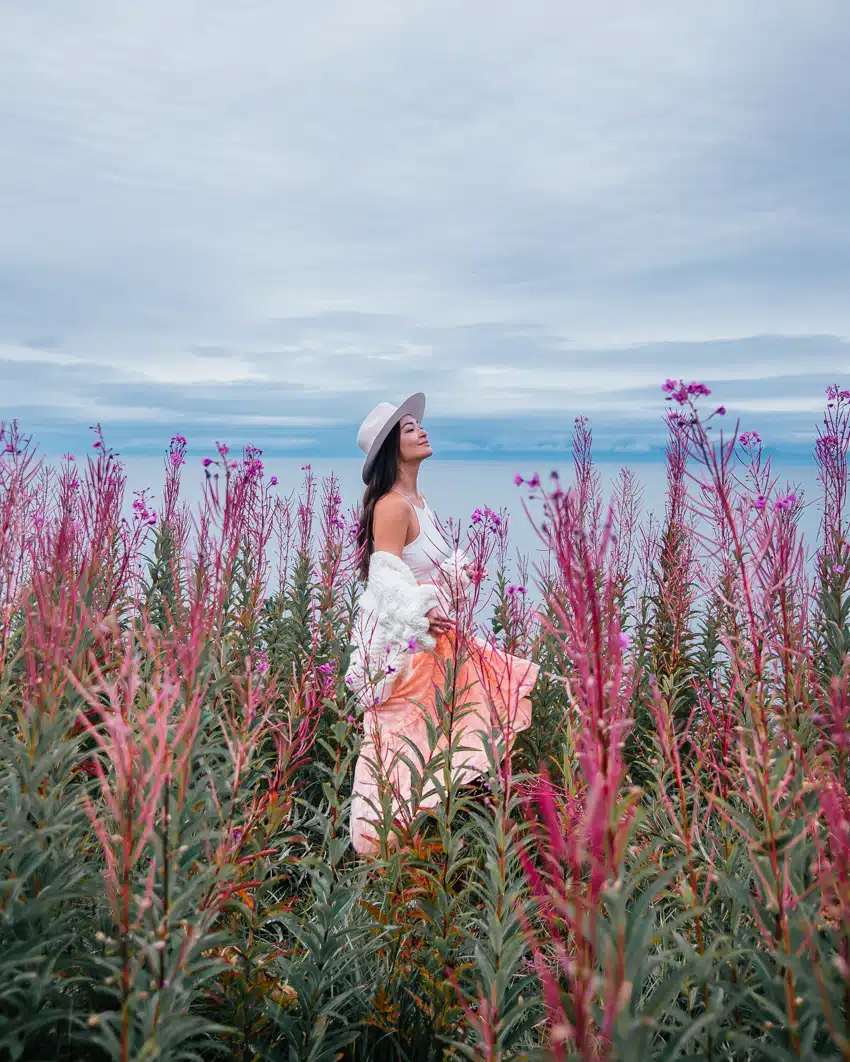 This is a pretty coastal cliff on the side of the highway to Homer. We saw fireweed in bloom and jumped on the chance to get some flower shots in Alaska!
Homer Overlook Point
This overlook has a great view of Homer and the surrounding mountains. Don't these mountains look like they're watercolor? It's spectacular on a clear day! Unfortunately, it started raining when we were there, and then rained almost nonstop until we left Homer the following day!
We still got some cool photos since we had this rain jacket for our camera! I highly recommend it!
Drive into Homer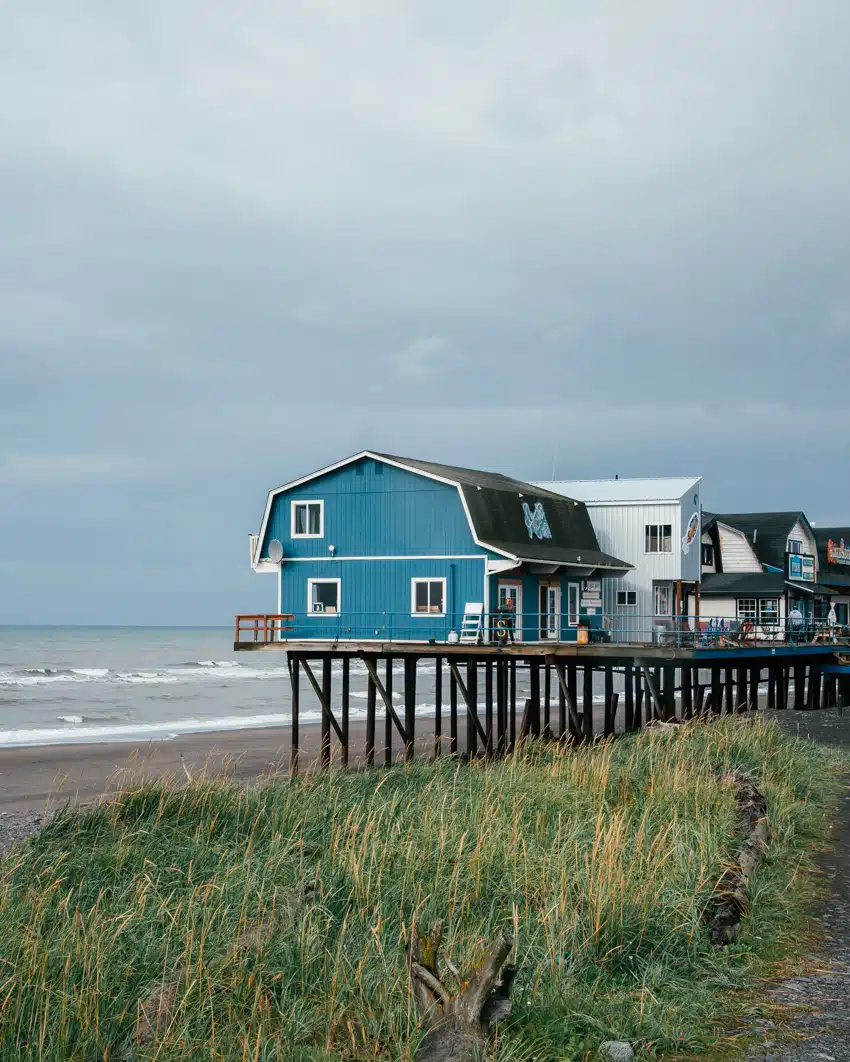 The Homer spit is so unique! It's one main road to leads all the way down to the tip of the peninsula. Shops and restaurants line the street- you'll find so much character here!
Captain Pattie's Fish House
Homer is known as the halibut fishing capital of the world, so of course, we ordered halibut!
Carmen's Gelato
Stop by Carmen's for an afternoon treat.
Salty Dawg Saloon
This bar is famous in Homer! We aren't much for alcohol but if you want to, then be sure to grab a drink here!
Land's End Resort
Land's End Resort is great! Be sure to request a bay view room (otherwise you'll be looking out on the parking lot). The bay view is spectacular and Land's end also has a hot tub and an indoor pool! Due to COVID, you need to make a 30-minute reservation and can only do one reservation a day. We reserved the pool at night and the hot tub in the morning.
Day 4: Homer to Anchorage
5 hours of driving
Tonight's lodging: A Goldenview Bed and Breakfast
8AM Check out and then have breakfast at Captain's Coffee Roasting Co.
This was our favorite breakfast restaurant during our whole trip! Harrison got the steak breakfast burrito and I got the panini (a croissant, bacon, egg, and cheese, panini-style). I also got matcha (not too sweet, just the way I like it!) and Harrison got a pomegranate-acai-blueberry smoothie with whipped cream. Such a treat!
Weather permitting, visit Kachemak Bay State Park
Unfortunately, it was raining cats and dogs on the day we were in Homer. Otherwise, I would've visited Kachemak Bay and explored a bit there. Instead, we lounged around our hotel room, used the hot tub, and had a leisurely morning. It was actually pretty awesome!
Kenai Lake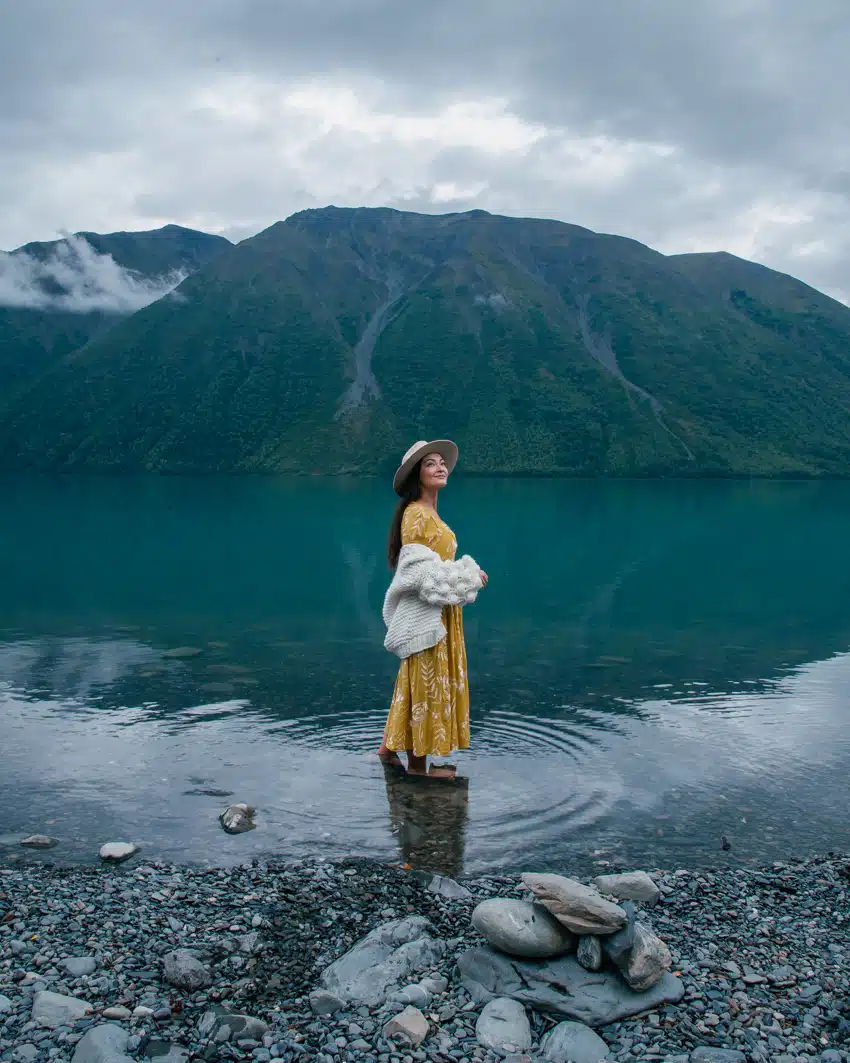 Kenai Lake is stunning, even on a cloudy day! I had seen pictures of it on a sunny day and, boy, is it a beauty! I was so glad to find it was just as beautiful on a cloudy day! The water was so calm and clear. We didn't see another soul on the lake from where we were! We simply pulled off on the side of the road where there was a pull-off for cars, then hiked down and enjoyed its beauty!
Explore Hope
Next, stop into the adorable town of Hope! This coastal town is right on the Turnagain Arm. There are charming historic buildings here as well as nature activities like hiking and camping.
Seaview Cafe & Bar
Stop in for a meal! This cafe has the best caesar salad I've ever had. Hands down.
A Goldenview Bed and Breakfast
We got in to our cozy lodgings, A Goldenview Bed and Breakfast, super late, so don't be surprised if you do the same! There is just so much to explore on the way from Homer!
Day 5: Anchorage to Knik River
1 hour 44 minutes of driving
Tonight's lodging: Knik River Lodge
8AM Breakfast and check out
A Goldenview Bed and Breakfast serves up a full spread for breakfast! Homemade bread, jam, eggs, quiche, yogurt, and more! Since the Eagle River Nature Center (next on today's list) was closed, we ended up soaking in the hot tub here for quite a while! It was a relaxing start to the day!
Eagle River Nature Center
As I mentioned, the Eagle River Nature Center was closed on the day we were there, but if it's open when you visit, definitely add it to your list. There are great hiking spots and beautiful views here!
Alaska Helicopter Tours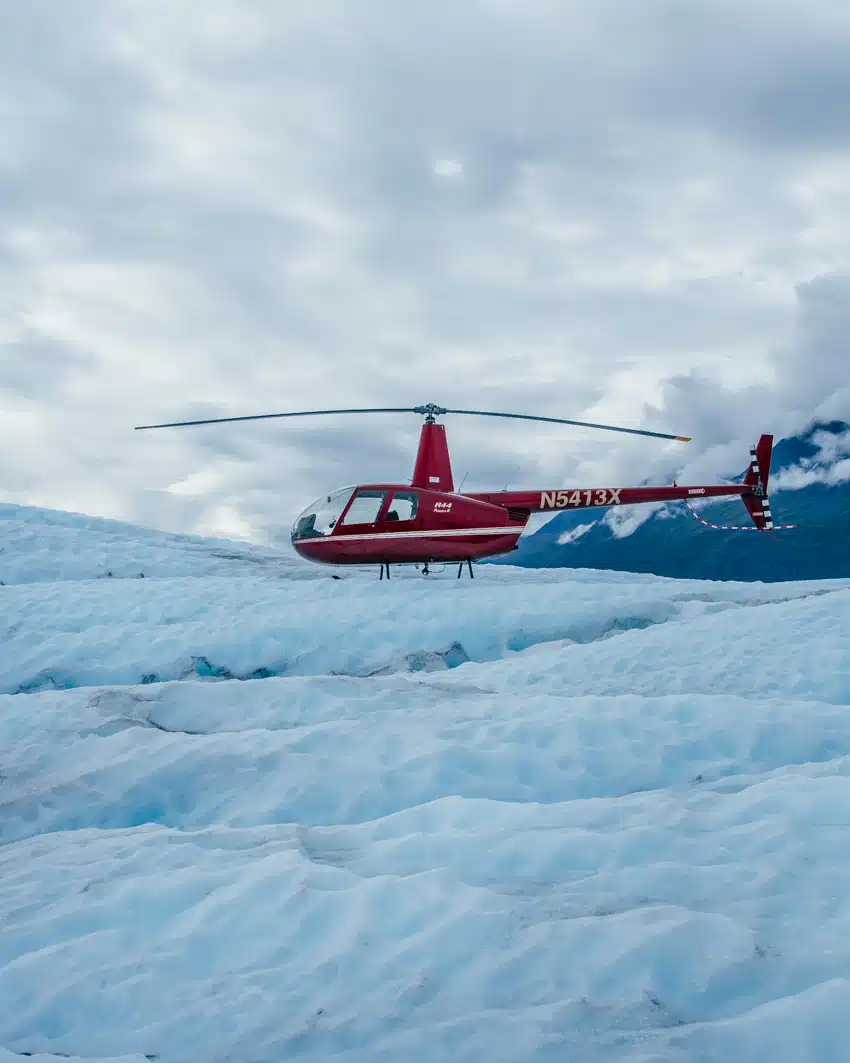 Alright, now for my favorite activity of the WHOLE ALASKA TRIP! We got to do the Grand Knik Tour with Alaska Helicopter Tours which includes three landings! Ours included an Ice Fall add-on as one of the three stops.
This was by far my favorite experience in Alaska, and is arguably the best way to see Alaska! It takes off from the Knik River Lodge, so I booked lodging at the lodge for tonight. If you have the chance to do a helicopter tour, sign up for this one!
Turkey Red
Since the Knik River Lodge restaurant was only open on weekends when we visited, we headed into Palmer for dinner. Turkey Red serves up fresh, organic, local food that is absolutely delicious! I ordered the chicken funghi, Harrison ordered the Moussaka, and we shared a peanut butter tart for dessert!
Knik River Lodge
This place is so charming with its rows of cabins! The only downside: WiFi doesn't work in the rooms (at least it didn't for us), so we had to walk to the lodge to get any work done.
Day 6: Knik River to Glacier View
3 hours of driving
Tonight's lodging: Majestic Valley Wilderness Lodge
9AM Check out, then breakfast at Turkey Red
Last night's dinner was so good that we came back in the morning for breakfast!
Hatcher Pass
We tacked on an extra hour of driving just to visit Hatcher Pass because of how charming it is! I had seen it on my friend Jillian's Instagram once upon a time and knew I just had to visit someday! So glad that day finally happened! These cabins looks like they're out of a fairy tale and the drive is incredibly scenic as well.
---
---
Matanuska Glacier
This is a must for any Alaska itinerary!
Hiking the Matanuska Glacier also makes my list of favorite Alaskan experiences! You pay $30 per person for the self guided hike. It is so worth it! The guided hike is $100 per person but explores further, but if you just want to walk on a glacier and get amazing views, the self-guided tour is just fine.
You can book either option right at their front desk, though guided tours are at specific times, so you might want to call ahead for those.
For the self-guided tour, you just follow a series of cones to know where to walk. You don't need ice shoes for this since the trail is rocky and well marked, but it does get slippery at times! Be prepared for AMAZING views along the whole hike!
Read all about everything you need to know before visiting the Matanuska Glacier here!
Majestic Valley Wilderness Lodge
Tonight's lodging is what I'd describe as hotel meets bed & breakfast in a picturesque setting. The Majestic Valley Wilderness Lodge is so cozy and welcoming with the organization of a hotel. The food here is superb- they offer a three-course set dinner for $35 per person. Additionally, they offer to heli-ski adventures here, which you should book way in advance if that's something you're interested in! (I'm not nearly good enough at skiing to jump out of a helicopter onto a mountain!)
Day 7: Glacier View to Valdez
3 hours 10 minutes of driving
Tonight's lodging: two nights at an A-Frame Air BNB in Valdez (pronounced Val-deez)
11AM Have breakfast and then check out
Majestic Valley Wilderness Lodge served up breakfast for $16 per person and it was quite a feast! This was a very fun breakfast to eat- so many delicious options!
Rudleston Falls
On your way to Valdez, you'll drive through Keystone Canyon. In one section along the drive, you'll see a ton of waterfalls! Rudleston Falls is one of them- but it's really a hidden gem in Valdez. Most tourists only check out the next two on this list! However, I think this one is the best of the three! Why? Well, you can walk right up to the falls here, it's much more secluded, and the falls are a cool shape.
Bridal Veil Falls
Next you'll see Bridal Veil Falls on your left, and there's a parking pull off on the right. The only way to get right near these falls is to kayak up the Lowe River. Otherwise, you just park along the side of the highway and see Bridal Veil Falls from across the river.
Horsetail Falls
And last major waterfall you'll see is Horsetail Falls. It'll be on your right, and there's a huge pull-off parking area for this one. These falls are neat because you can park right next to them and walk right up to the waterfall!
Auntie Yum Yum's Thai Food
This food truck serves up authentic Thai food- yum!
A-Frame AirBNB
This AirBNB is a perfect home base! It's right by the Safeway if you want to grab groceries, and since Valdez is so small, it's easy to drive anywhere from the A-Frame. It's also so charming! Our host was so easy to contact and gave us a great breakfast recommendation: The Fat Mermaid.
If you've never used AirBNB before, you can book through this link for $65 off your first trip!
Day 8: Exploring Valdez
40 minutes of driving
Tonight's lodging: second night at the A-Frame in town
Brunch at The Fat Mermaid
This place seems to be a staple in Valdez! Everyone told us about this place. They serve up delicious food and they're the only restaurant we visited that had WiFi, so maybe that's why! The reindeer sausage and french fries were AMAZING.
Valdez Glacier Lake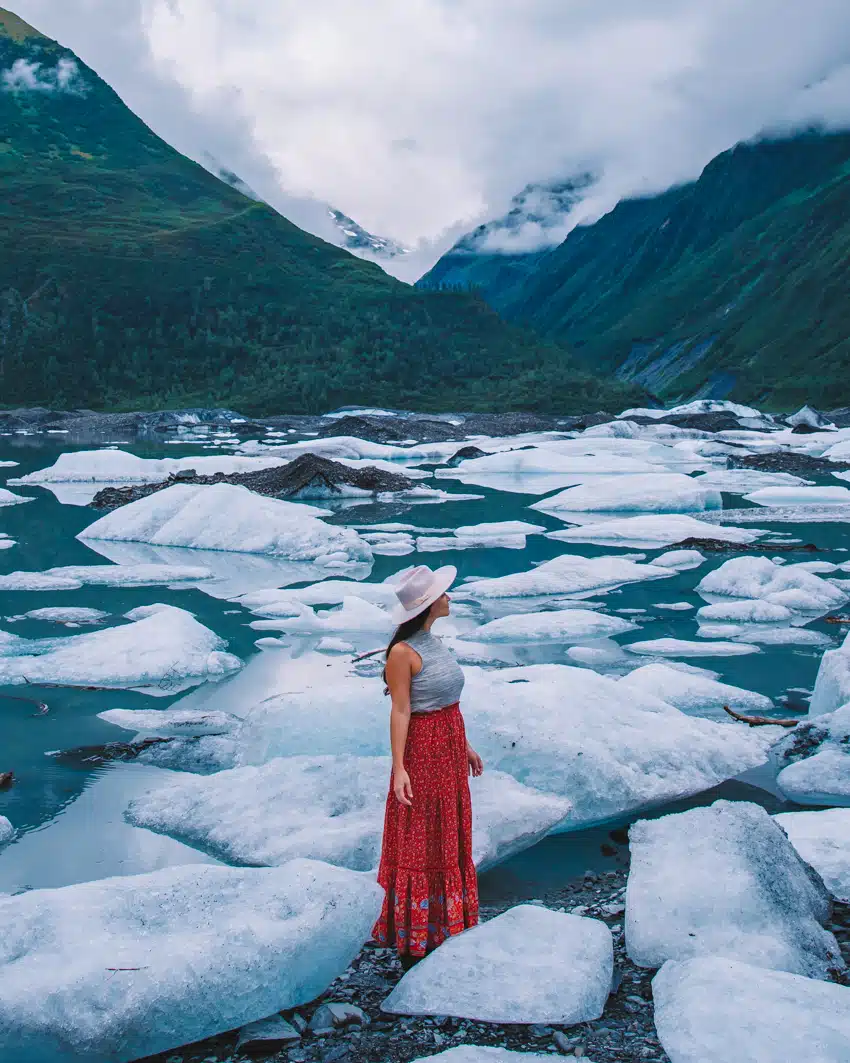 You can basically drive right up to this lake. We just walked around the lake and admired the icebergs in the water, but you can also kayak and stand-up paddleboard (wear a wetsuit!) here. In fact, if you kayak, you can go all the way to the Valdez glacier!
Hiking Trails
We did two short hikes. The first was the Civic Center Overlook Trail (a 15 minute hike), which gives you a cool view of Valdez from up high. Then we did the Dock Point Trail (a 30-45 minute hike), which is toward the docks and harbor.
The Dock Point Trail is supposed to have great views, but unless we took a wrong turn, all the views we saw were obscured by tree branches. We got the shot above at the Dock Point Trail. There are also plenty of more trails in Valdez if you want something more strenuous!
Walking around the harbor & around town
Valdez is a very small coastal town with a pretty harbor and mountain views all around. It's easy to stroll along the main downtown area and by the docks. (You can read more about things to do in Valdez in my Guide to Valdez here!)
Nat Shack
This food truck has the best reviews in town. The Nat Shack serves up delicious tacos and crunch wraps. I got "the local's favorite" crunch wrap and it was amazing!
A-Frame AirBNB
Second night at the AirBNB. We got ice cream from Safeway since the local ice cream shop had closed for the summer.
Day 9: Valdez to Fairbanks
6 hours 50 minutes of driving
Tonight's lodging: two nights at Borealis Basecamp
9 AM Depart from AirBNB
Leaving by 9AM ensures you'll have plenty of time to stop and see the sights along the way. It also gets you in the North Pole in time to grab a crepe or ice cream and some souvenirs!
Thompson Pass
Thompson Pass is a remarkable place with loads of mountain views and hiking trails. There are parking areas right off of the main highway where you can walk around the paths and take in the sights.
Worthington Glacier
Earlier when you were driving to Valdez, you would've seen Worthington Glacier from the road. In fact, the photo above is pretty much what you'll see since I took this from the road! Well, if you didn't stop on your way to Valdez, now is the time to go visit it! When you stop at the Worthington Glacier State Recreation Site, there is a path that walks down to an observation lookout. A path lies to the right of the lookout with a sign that warns you to hike at your own risk. If you follow that path, it takes you right up to the glacier! It took us roughly about 45 minutes to an hour to reach the glacier and come back.
Tok Thai in Glenallen
There are hardly any restaurants on your way from Valdez to Fairbanks. We stopped off at one of two places in Glenallen right at the gas station. Tok Thai is an authentic Thai stand with plenty of dishes to choose from. It's $12 cash only for chicken or veggie meals and $15 for beef and seafood meals. And if you've seen Soup Nazi from Seinfeld, I kind of got those vibes here lol! I ordered the veggie stir fry and it was delicious! Harrison ordered chicken fried rice, and he ate everything- except for the chicken. So maybe go with a veggie option here.
North Pole and the North Pole Creperie
The next stop is North Pole Creperie so you can say you've had crepes in the North Pole! 🙂 Delicious ones, at that! There is also a highly rated creamery if you'd prefer ice cream here! Also, be sure to stop off at the North Pole Visitor Center for a photo in front of their "Welcome to North Pole" sign!
Santa Claus House
When in North Pole, Alaska, you need to stop at the Santa Claus House! Here you'll find a huge Santa Claus gift shop. I wish they decorated it more Christmassy instead of just selling Christmas-themed things, but maybe that happens in the wintertime.
Dinner and lodging at Borealis Basecamp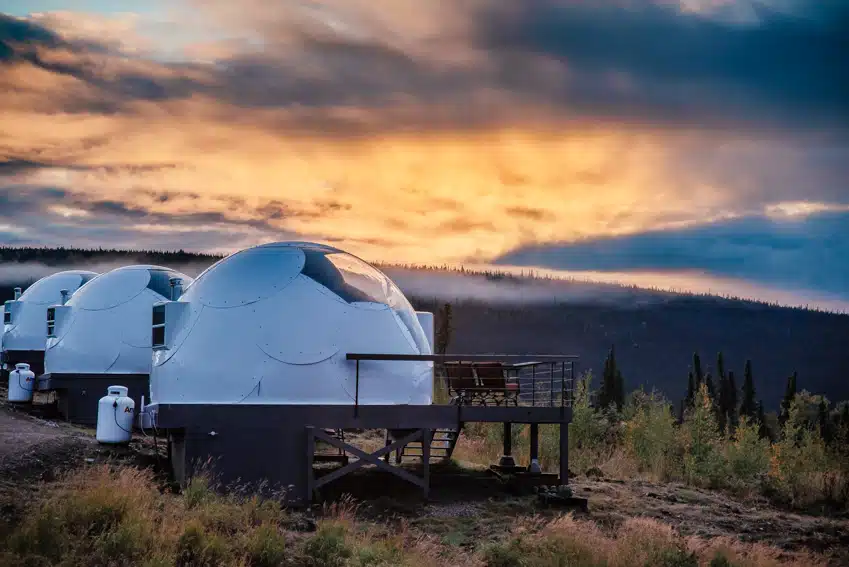 And now it's time for the COOLEST lodging in Alaska! Borealis Basecamp has Alaska's only glass-roofed igloos! (Not made of ice, but igloo-shaped.) With a top-notch restaurant, awesome activities (more on that on tomorrow's list), welcoming staff, and a front-row seat to the Aurora Borealis, this place is an absolute MUST! And I actually recommend at least two nights here to improve your chances of seeing the northern lights! Check out more on their site here!
Be ready for Northern Lights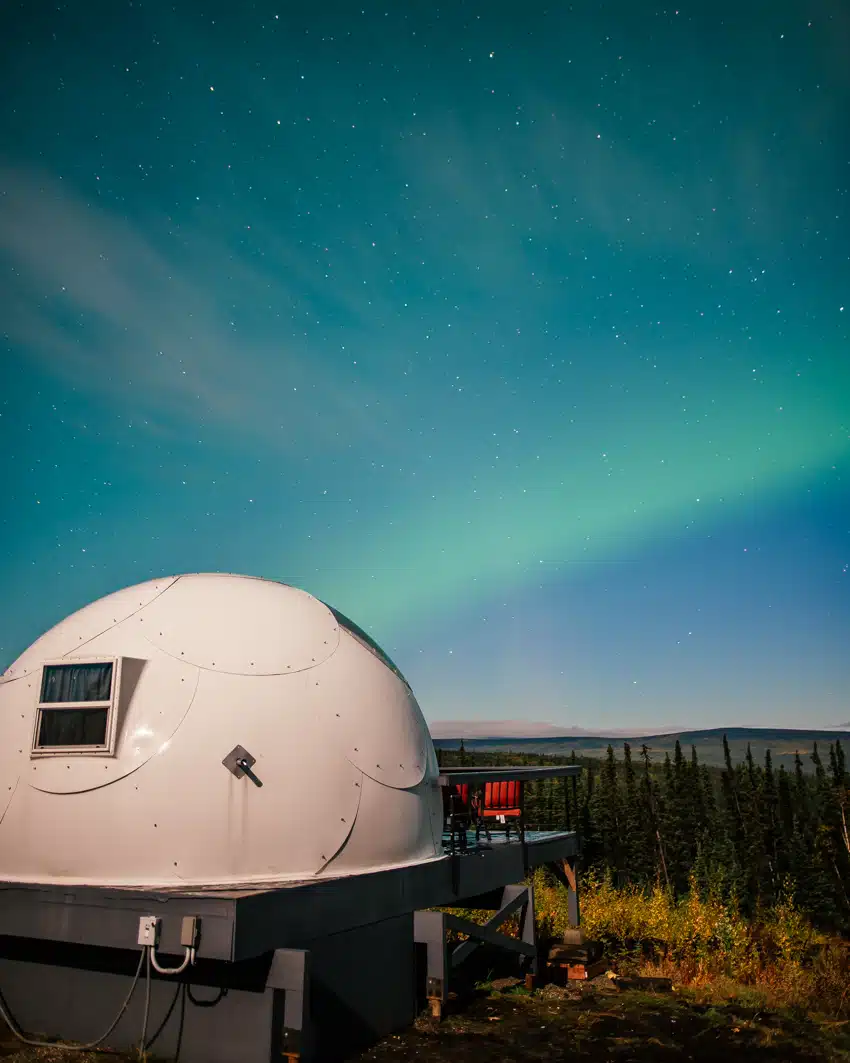 The staff at Borealis Basecamp will call you if the northern lights come out before 2am! It's also helpful to track the lights using an app and then set an alarm. We saw the lights at 3:30am on our first night! As Chef George at the Basecamp restaurant told us, even if you don't see the lights, take a picture! If it's a clear sky, chances are your camera will capture the lights even if you don't see obvious lights, then you'll realize they are there! That is exactly what we experienced. We visited in early September and saw the lights, so don't think you can only see them in the winter!
Book your stay at Borealis Basecamp here!
Day 10: Fairbanks
3 hours of driving
Tonight's lodging: second night at Borealis Basecamp
7:30AM Breakfast at Borealis Basecamp.
Breakfast is served from 7:30-8:30AM at Borealis Basecamp.
Dog carting/dog sledding in the winter
When in Alaska, you simply must try dog carting (or dog sledding in the winter). For our first activity at Borealis Basecamp, we got to see what mushing is really like! Our guide, Dave, took us about four miles around Borealis Basecamp. He leads a team of sled dogs named Racing Chaos, and they are champions! They've won various races that are even 300+ miles sometimes! It was so cool getting to be pulled around by award-winning dogs. You'll notice that the dogs don't look like your typical Alaskan husky. That's because they're bred with Pointer to make them faster- and boy does it work!
ATVing/Snowmobiling in the winter
Our next activity at Borealis Basecamp was ATVing. (In the winter you go snowmobiling). Our guide, Sam, took us out by the Alaska oil pipeline and educated us on various Alaska-specific things. It was fun and so interesting to learn about! We went pretty far out and got to ride for a full hour. TIP: Wear gloves, even in the summer! I brought mine and had them in the front compartment of my ATV and didn't think to start with them on! My hands felt like they were going to fall off! I quickly put them on and it was so much better.
Chena Hot Springs
Chena hot springs is a 1.5-hour drive away from Borealis Basecamp. Honestly, if you've ever been to Iceland's Blue Lagoon, you might be disappointed by Chena Hot Springs. Take away your expectations and you'll appreciate this spot!
I'd recommend visiting in the winter when it's cold out and you can freeze your hair into cool sculptures (actually!). When we went, it was warm out (in the 60's), so the combination of the heat, the many people around (I know it doesn't look like it from the photo… we got lucky), and the steam just made us feel a bit claustrophobic.
But don't let my feelings deter you- we did visit on Labor Day after all, so it was tourist central. Chena Hot Springs is part of the Chena Hot Springs Resort, so it's not just a hot springs destination. But if you've never been to a hot spring or if it's the winter, be sure to visit this place. It's $15 per adult and the springs are 18 and up only. They do have a pool and hot tubs for all ages.
Three things to note about Chena Hot Springs:
First things first, you're going to need a swimsuit! This is the one I'm wearing in the photo!
Bring flip flops! The floors are yucky and you can't wear your normal shoes.
Bring quarters! It costs $0.50 to rent a locker.
Bring a towel, otherwise you have to pay $5 to rent one. This compact travel towel dries quickly!
Alternately: Running Reindeer Ranch
We didn't visit Running Reindeer Ranch due to time constraints, but if you'd rather do this instead of Chena, feel free! Friends we made at Borealis Basecamp did this though, and raved about it! For $70 per person, you get an educational animal encounter with reindeer all around you! The reviews speak for themselves!
You can read more about the 27 best things to do in Fairbanks here!
Dinner at Borealis Basecamp & Hope for Northern Lights
Finish your last night in Alaska with another great dinner by Chef George and hope that the northern lights come out on your last evening in Alaska! Clouds and rain kept us from seeing them, but at least we got to see them the night before!
Day 11: Fairbanks to Anchorage (with Denali on the way)
6 hours 45 minutes of driving
Flying home tonight at 11:45pm
7:30AM Breakfast at Borealis Basecamp, then check out around 9AM to make