When is the best time to visit Alaska? Great question, I'm glad you asked!
Alaska is the northernmost state in the USA, with a land border only with Canada. In fact, it's much closer to Russia than New York! With sub-freezing temperatures and an incredibly sparse population, it's a unique place to visit.
You will probably be surprised at how different each season can be in Alaska. Before I visited for the first time, I thought that Alaska was freezing with snow on the ground year-round! Boy, was I wrong!
But now you can learn from my faulty thinking… Alaska can be drastically different and has wildly things to offer in each season.
Check out this video I made of my Alaska travels to get a better sense of what Alaska is like in the summer:
[If you can't see the video, you may need to disable your ad blocker.]
And there are some specific need-to-knows for when is the best time to visit Alaska. Let's take a look at them!
Visiting Alaska in the summer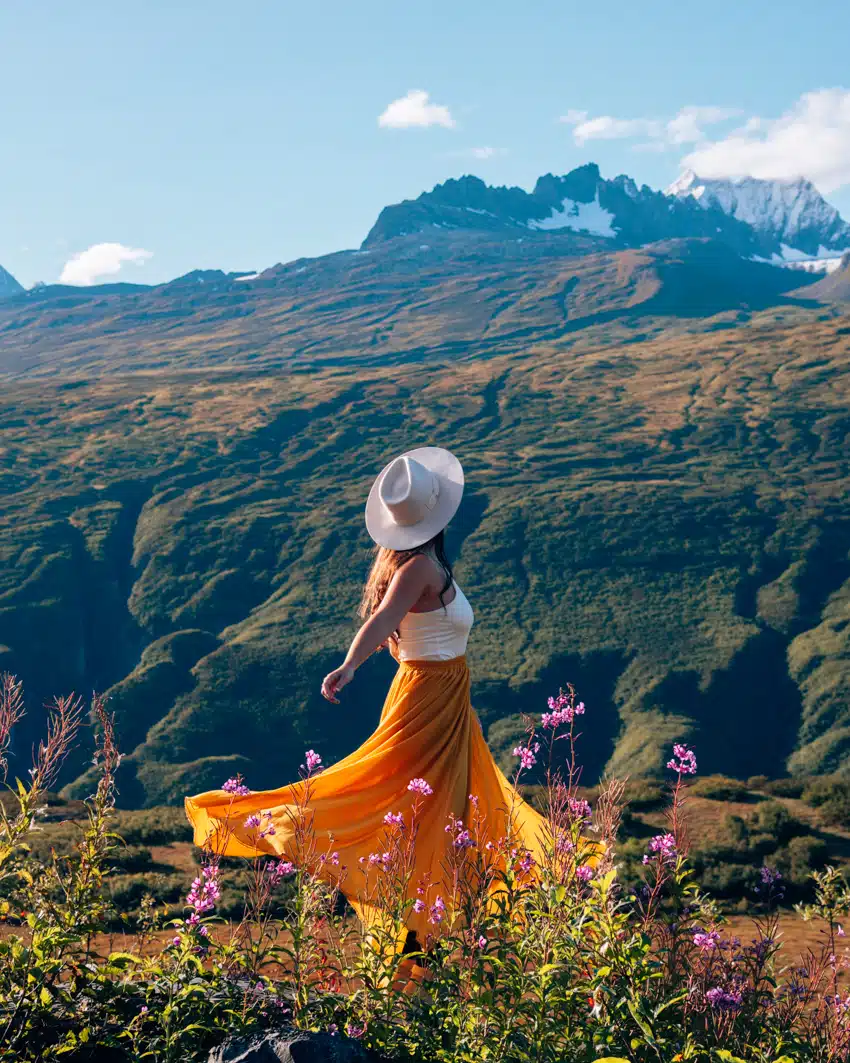 Stereotypically when you think of Alaska, you might picture a frozen, snow-covered tundra with igloos, polar bears, and dog sledding.
But if that's the image you have in mind, Alaska definitely will surprise you- especially in the warmer months.
Instead, temperatures rise, wildflowers bloom, and black and brown bears emerge from hibernation. Summertime is full of life in Alaska!
And chances are, that is when you will choose to visit.
Summer in Alaska is the most popular time of year – particularly in July and August when children are out of school.
Daylight
If you visit Alaska in the summer, especially any time around June 21st, you'll be graced with an incredible amount of daylight. In Anchorage, you'll have around 19 hours of daylight, and in Fairbanks, you'll be able to enjoy 22 hours of sun! In some parts of Alaska, the sun doesn't set for three whole months!
This generally means that you can do activities a lot later and things are open into the night, maximizing your vacation time. Of course, you will need to fit some sleep in as well – so it's best to choose a hotel with blackout curtains! Check out my post on where to stay in Alaska's most popular towns for lodging recommendations!
Temperatures
You'll be surprised at how warm Alaska can get in the summertime as well. In the southern regions, expect temperatures from 60°F to 80°F. That's right, in Alaska! The interior can get even warmer than that- temperatures have been known to reach up to 100°F! Nights are cooler and the northern regions are, as usual, colder.
Accessibility
Summertime is the only season in which all of Alaska is accessible for tourists. If you're planning on hiking around Denali, North America's highest peak, you won't be able to until June, and it typically closes in mid-September. Other northern regions, especially those in the Arctic circle, remain closed until May, making summer the only narrow window to see them. Hiking is only possible in the mountains in the summer and in the couple of months that bookend it. Check out my favorite Alaskan hike, the Harding Icefield Hike!
Wildlife spotting
Summer is generally a good time to see Alaskan wildlife. If you know where to look or join a tour, you may have the opportunity to look out for moose and bears, as well as lots of birdlife. Summer is definitely the best time to see bears, who are hibernating in the winter! Humpback whales show up from May to September, and you might also get the chance to see orcas in the sea. For an easy, safe, relatively cheap way to see wildlife, check out this post!
Festivals
The Alaska State Fair is in the country from late August until early September. Held in Palmer (right by Anchorage), it is an annual celebration of all things Alaskan. Enjoy rides, delicious food, and the midnight sun at this end-of-summer celebration!
Things to do in Alaska in the Summer
Check out 30 free things to do in Alaska here!
Alaska in Spring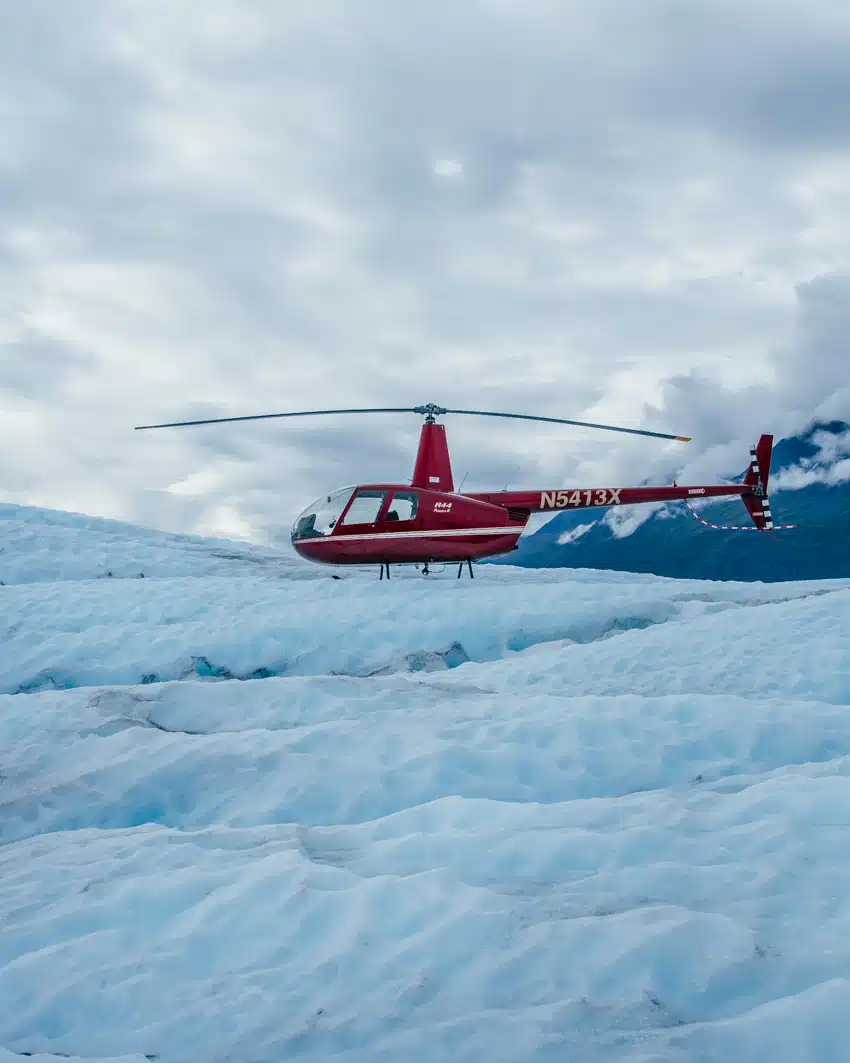 Spring is shoulder season in Alaska. Come March, it's time to experience winter activities in the perfect climate. You will have snowy days in early spring, and sun in late spring – and on both sides, you should be able to enjoy fewer crowds and cheaper prices!
Daylight
The nights start getting shorter noticeably starting in February, and then progressively shorter as spring advances towards summer. By April in Anchorage, the sun rises at 6 am and sets at around 9:50 pm, giving you plenty of time to do activities throughout the day and evening.
Temperatures
Spring temperatures vary wildly depending on where you are and what end of the season it is. In Anchorage in March, you'll have a high of 30 – 38°F, and a low of 14 – 24°F. In May, this rises to a high of 53 – 62°F, and a low of 38 – 47°F. Fairbanks has much cooler weather in March, with a high from 18 – 35°F and a low from -5 F to 11°F. However, in May, Fairbanks temperatures are only slightly colder than Anchorage.
Accessibility
If you want to hike or visit remote northern regions, you'll have to wait until the very end of spring. Most seasonal places start opening up in May. If you get to them right at the start of the season, you may be able to get cheaper shoulder season rates. If you are in Alaska to hike, expect to have to stick to the lower-altitude places in the spring. Most mountain routes are not accessible until the summertime.
Wildlife Spotting
You should be able to see some wildlife in spring in Alaska, especially during the latter part, when bears are out of hibernation. Moose can generally be spotted all year round, as can some of Alaska's birdlife. In March – April, expect to see Gray whales across the coast.
Festivals
The Anchorage Market begins in May and runs to September. You also may be able to enjoy the Kodiak Crab Festival in May, the Slush Cup skiing festival in April, and the Fur Rendezvous Dog Sledding Festival in March. And most famous of all… the Iditarod happens in March and starts in downtown Anchorage!
Things to do in Alaska in the Spring
Alaska in Fall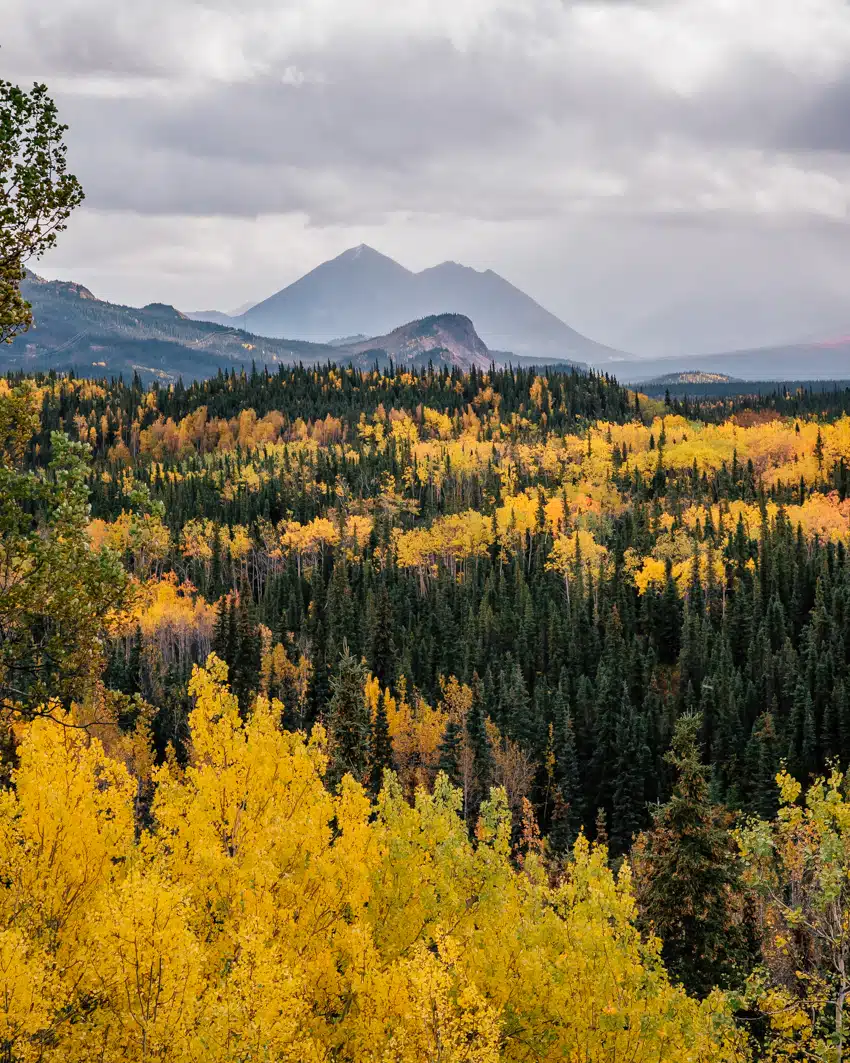 Fall is quite similar to spring in regards to when activities are available, just in reverse. You'll find that most activities are open in September, and things will gradually start closing from October onwards, apart from all-season destinations. Traveling in the fall will also mean that you are likely to get a discount on accommodation and tours.
We visited in late summer/early fall and I personally think that it's the best time to visit Alaska! (But I prefer avoiding crowds, so shoulder season is a familiar friend). The one noticeable thing we weren't able to do was a boat tour, as most shut down come September. Check out our Alaska itinerary here, it is formatted for all trip durations!
Daylight
Daylight is generally pretty good in September, with relatively long days, but by October, the nights start drawing in. November is one of the darkest months of the year, with only an average of six hours of daylight in Anchorage. However, fall is one of the best seasons to spot the elusive Northern Lights. Days are short enough for them to make an appearance in dark enough places all over Alaska, and this is one of the most spectacular sights to witness in the state! Fairbanks, Alaska is known as the best place for viewing the Northern Lights, so consider adding that to your Alaska itinerary!
Temperatures
Fall temperatures start off fairly warm but drop quickly. In Anchorage in September, you're looking at around 50 – 62°F in the daytime and 39 – 49°F in the nighttime. By November, expect snow and temperatures around 23 – 33°F in the day, and 10 – 23°F at night. If you're staying in Fairbanks, temperatures will be similar to Anchorage in September, and 5 – 20°F in the daytime and -9 – 6°F in the nighttime.
Accessibility
Early September is one of the best months for hiking, but that changes by the time October rolls around. By mid-to-late September, most mountains are off-limits for hiking and other activities. You should still be able to access lowland areas. However, pretty much every seasonal location is blocked off by October, so most of the season isn't suitable for extensive hiking.
Wildlife Spotting
There are some year-round animals that you will be able to spot – such as moose on land and orcas in the sea – but many mammals will be in hibernation by the middle of September. When the snow begins, you may see some animals, like moose, more frequently as they make journeys to feed.
Festivals
Although there are many more festivals in the summer months, there are a few in fall too. The Sitka WhaleFest is a popular tribute to Alaska's much-loved whale population, and Alaska Day is in October (also fun to celebrate in Sitka; you'll find a parade!).
Things to do in Alaska in the Fall
Alaska in Winter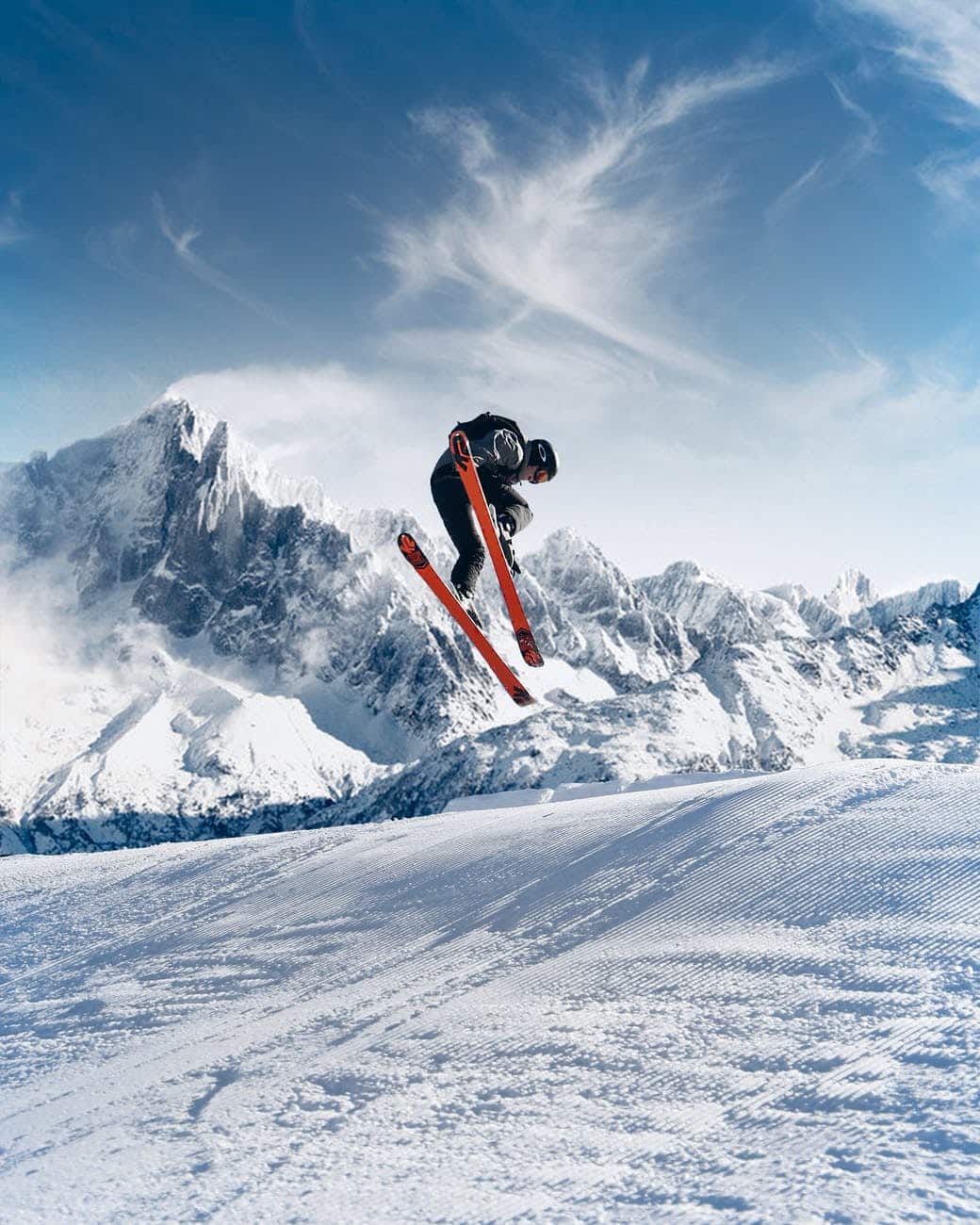 Alaska in winter is a time unlike any other. Days are short, the scenery is snowy, and it is pretty much the best time of year for snow sports like skiing, dog sledding tours, and seeing the elusive northern lights. (The only time I'd say it's potentially even better is in March).
Daylight
If you're visiting Alaska in December, you won't get much daylight at all. Juneau's shortest day sees 6 hours and 22 minutes of sunlight, Anchorage sees five hours, and some northern towns only get an hour or two of light. (Barrow, the northernmost town in Alaska, doesn't get any sunlight at all for 67 days!) You also might feel like it never properly gets light. February has slightly longer days and shorter nights, so it is the best month of winter to visit if you're hoping to have more daylight for activities.
Temperatures
It's no surprise that Alaska in winter is cold. You can expect temperatures to be below 32°F everywhere, with below zero temperatures common up north. You can also expect a lot of snow, as well. On that front, snowstorms make winter in Alaska the riskiest season as a bad storm could put a damper in your plans. And you'll definitely need to bring your thermals! (And if you need to know what to wear in Alaska, check out this post!)
Accessibility
No high ground regions are accessible in winter, and many remote areas in northern Alaska are cut off. You will be able to go to the cities and main towns, especially those that have specific winter activities like skiing, but may have to fly in. Valdez, Alaska (you can see my Valdez guide here) becomes a skiing and snowboarding hot spot come wintertime, so it's a great place to visit if you're a fan of snowsports!
Wildlife Spotting
You can spot wildlife year-round – winter is actually a good time to see some animals who don't hibernate, like moose who sometimes venture into more urban areas to seek out food. Birdwatching is also a possibility. Most wildlife watching tours do not run in the winter.
Festivals
Despite the cold and dark weather, there are some festivals in Alaska in the winter. In December, the international film festival held in Anchorage is a must, as are Races in Unalaska, which starts in late February.
Things to do in Alaska in the Winter
So, when is the best time to visit Alaska?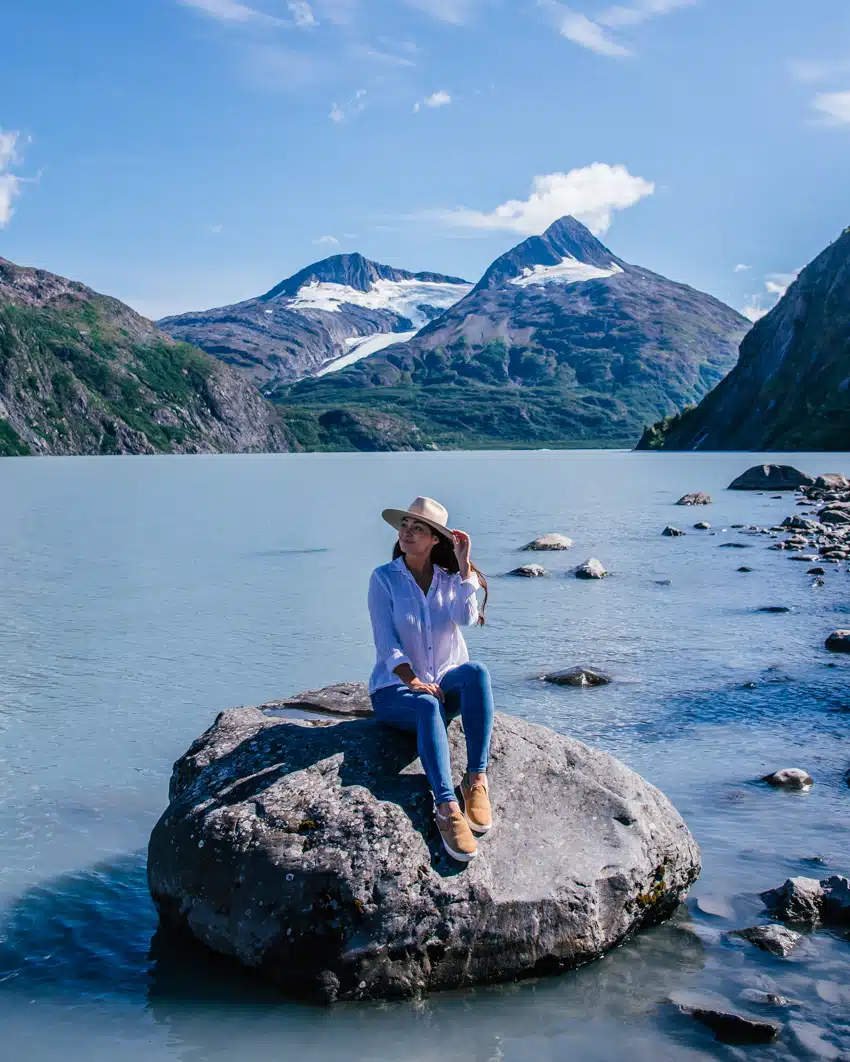 The best time to visit Alaska is classically in the summertime. But it really depends on your travel preferences. If you want plenty of daylight which you can jam-pack with activities, the start of summer, from late May to early July, is best for you. If you are visiting Alaska on a budget, try spring or fall for better prices.
Heading to Alaska for wildlife spotting? Then anytime from May to September is best, as you'll see bears and tours will be running. If you want to hike, the same months are appropriate (although many routes at altitude don't open until June).
Of course, if you want to visit Alaska to ski, see the Northern Lights, or enjoy the snow, visiting in winter and early spring is the best for you! March will be your favorite month in Alaska if you want a springlike winter experience.
Every month in Alaska has its appeals. Summer is undoubtedly the time when you can see and do the most, but there is something both enigmatic and cozy about the coldness of an Alaskan winter.
So based on this information, which season would you prefer to visit in? Drop your answer in the comments!
Regardless of when you visit, be sure to check out this list of 33 crucial things to know before visiting Alaska!
And if you've visited and have more insights on the seasons, let me know in the comments!
Lastly, here are a few more Alaska posts you might enjoy:
Safe travels!
Jasmine