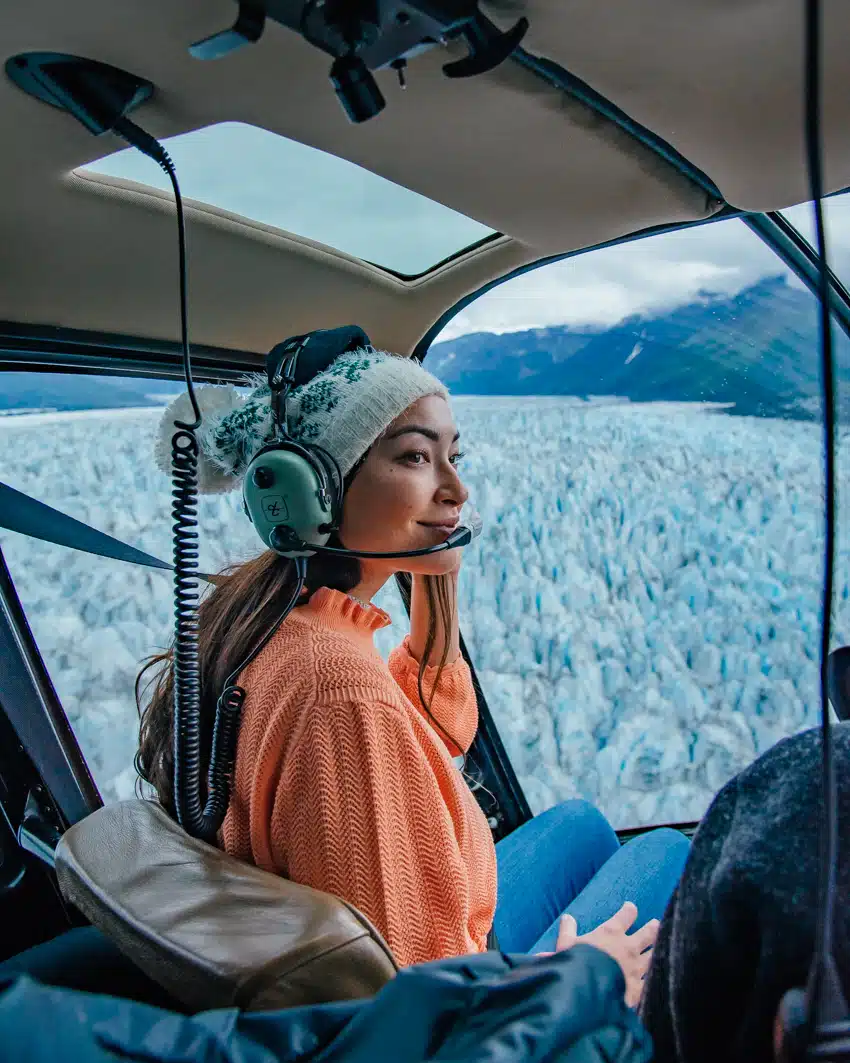 If you are traveling to Alaska and looking to add something special to your itinerary, check out my list of 21 experiences worth paying for in Alaska!
When planning your trip, there is a lot to consider, such as transportation, accommodations, attractions, etc.
I'm always aware of my travel budget – I figure the less I spend on one trip, the more trips I can take, and to me, the more trips, the better!
That said, I still want to maximize my time in a new place and enjoy as much as I can.
A unique travel experience can create memories that last a lifetime, and to me, the following 21 experiences are worth paying for in Alaska.
You can see some of these things worth paying for in the video I made of our trip below:
[If you don't see a video below, you may need to disable your ad blocker.]
1. Helicopter Tour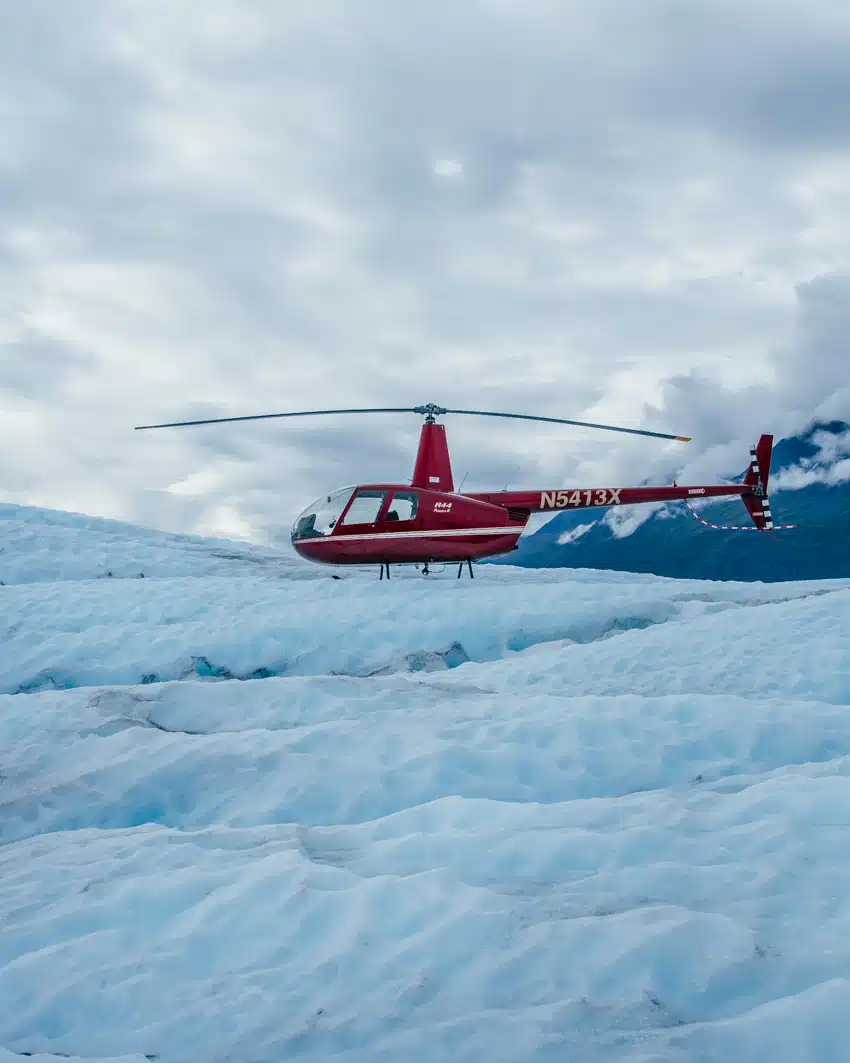 Budget: $250 + (depends on your tour)
Perfect for: those who want to see Alaska's beautiful landscape and aren't afraid of heights
You can experience the most stunning and unobstructed views by helicopter which is the reason we chose to go on the Grand Knik Tour with Alaska Helicopter Tour.
On this tour, you'll pass the scenic turquoise water and glaciers of Lake George and marvel at a glacier wall. In addition to stunning landscapes, you'll fly over moose as they roam in the valley below.
During the 2-hour tour, you will take in great views of Knik, Colony, and Cataract glaciers as well as Alaskan wildlife.
To sum it up, this was one of the highlights of our trip!
Helicopter tours are totally experiences worth paying for in Alaska! If you splurge on one thing, let it be this!
2. Borealis Basecamp
Budget: $389/night (low season) – $599/night (holiday season)
Perfect for: those interested in aurora borealis (who isn't?!) and looking for unique accommodations
Seeing the Northern Lights has been a bucket-list item for as long as I can remember. And let me tell you… THIS is the way to do it!
Borealis Basecamp is located about 25 miles outside of Fairbanks. They have a world-class restaurant with delicious food and a rustic vibe, true to the Alaskan north.
Moreover, the accommodations here are AMAZING! You'll stay in a private igloo with a large viewing window so you can experience a starlight sky and be witness to one of the world's most magical phenomenon: the aurora borealis.
3. Flightseeing
Budget: $295 – $800+
Perfect for: those who aren't afraid of heights and who are interested in epic views
As the name suggests, this is sightseeing by flight! Due to Alaska's often inaccessible landscape, you are able to see and experience more of what this state has to offer.
Private planes and flying are so popular that 1 in 40 residents have their aircraft license. There are several flightseeing tour operators and types of flightseeing options available. If based in Anchorage, you can fly northwest over Denali or fly over the best spots to view wildlife in their natural habitat.
4. Glacier Dog Sledding Tour
Budget: $100 – $500 (varies with location, date, offerings)
Perfect for: those looking to experience an Alaskan tradition, families, solo travelers
When you think of the last frontier, dog sledding is one of the things that come to mind.
On a glacier dog sledding tour like this one, you will take a helicopter to the top of a glacier and meet your pack.
After that, you will enjoy an exciting dog sledding tour around a glacier. Some tour organizers will provide you with extra warm gear, but I recommend dressing warmly and wearing layers!
(This is one of the coolest activities to do in Seward! Read more about the best things to do in Seward here!)
5. Matanuska Glacier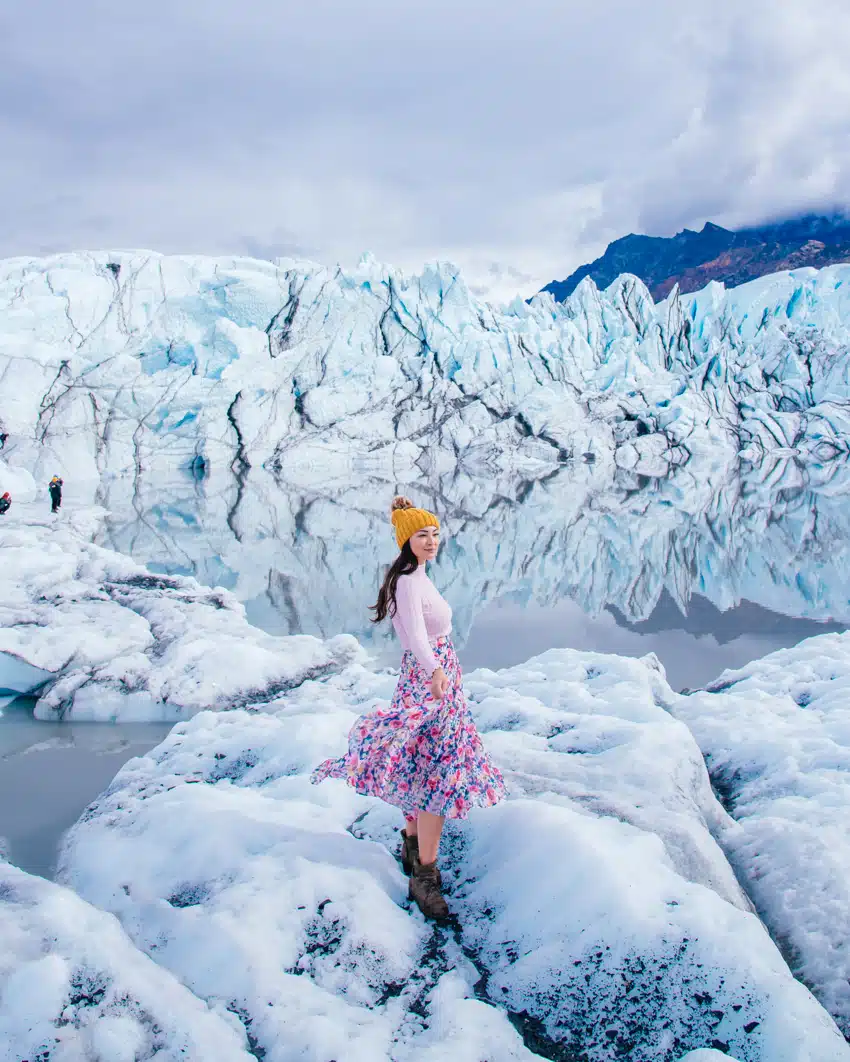 Budget: $30 self-guided tour, $100 for a guided tour
Perfect for: those who want to see Matanuska Glacier, families, solo travelers
A visit to Matanuska Glacier makes for a phenomenal day trip! It is considered a valley glacier and is accessible by car.
For the best views of the glacier, visit Matanuska Glacier Tours. A 20-minute hike in will take you to the edge of the ice.
From there, spend the next hour or so wandering on the ice (don't slip!) and taking in views of Matanuska River and Glacier. The views will blow you away- they easily make this one of the best experiences worth paying for in Alaska!
Before you go, check out my blog post for everything you need to know before visting Matanuska Glacier.
6. Glacier Boat Tour
Budget: $100 + (varies with location, length of tour, boat)
Perfect for: those who love water, want to see wildlife, families, solo travelers, couples
Getting out on the water provides you with a different perspective. And a lot of glaciers in Alaska can only be seen by boat! (Check out the 17 best glaciers to see in Alaska here!)
There are different types of boat tours and mini cruises available in Alaska that vary in time, stops, and amenities.
You'll marvel at massive glaciers, icebergs, landscapes, and wildlife. Your boat will likely have a heated indoor cabin available, but the best views are from the deck.
For example, this boat tour departs from Seward and explores some epic glaciers in Kenai Fjords National Park.
7. All-Inclusive Lodge
Budget: $500+ /night
Perfect for: those who enjoy staying in one spot and want a more relaxing traveling experience
A dozen people can visit Alaska for the same amount of time and have entirely different experiences.
That's what I love about Alaska; you choose the type of adventure you want! It can be as rustic and adventurous or as luxurious as you wish.
If you want a bit of adventure but are also looking to relax, an all-inclusive lodge will give you just that. As a result of staying in one spot, you can absorb more of the local culture, meet people, and maximize your days, enjoying what the city has to offer.
Alaska has a vast selection of all-inclusive lodges that will provide accommodations, meals, and activities.
8. Heli-skiing
Budget: $1350 / 1-day package
Perfect for: skiers
Alaska is one of the best places in the world for heli-skiing.
Don't know what it is? This is when skiers are taken by helicopter to the top of a mountain for a more natural, untouched, backcountry experience.
You don't have to be an expert skier to try heli-skiing as there is different terrain suitable for all skill levels. Majestic Heli Ski is run through the Majestic Valley Wilderness Lodge (where we stayed).
A helicopter will take you up the Chugach and Talkeetna Mountains to ski or snowboard down. The heli-skiing experience at Majestic Heli Ski is top-notch with people traveling to Alaska for this specific experience.
Because of this, they offer all-inclusive packages for heli-skiing that includes equipment, meals, accommodations, and daily heli-skiing!
9. Alaska Wildlife Conservation Center
Budget: $17 per adult (regular admission) – $100 (Walk on the Wild Side Tour). Children 6 and under are free!
Perfect for: animal loves of all ages
A must-see for animal lovers, the Alaska Wildlife Conservation Center is a sanctuary focus on preserving Alaskan wildlife.
They offer guided walking tours, moose, and bear encounters (separate events – the moose and bears aren't vibin' together).
Not visiting Alaska anytime soon? No problem! You can take a virtual walk through the center and see the animals with their Virtual Tours.
And what makes this one of the best experiences worth paying for in Alaska is that your money supports the wildlife!
You get to see them, and they get to live their best life at the Alaska Wildlife Conservation Center. It's a win-win!
Read more about our experience visiting the AWCC here!
10. Farm-to-table Restaurant
Budget: $25-$60 for a main
Perfect for: foodies and those who love seafood
Food is a big part of the traveling experience for me.
Eating at local restaurants is one of the best ways to experience new and delicious cuisines.
You will find a selection of farm-to-table restaurants with the freshest and most flavorful food!
If you are a self-proclaimed foodie or just want to grab a delicious meal, I highly recommend The Cookery in Seward! It was one of my favorite meals in all of Alaska!
Chef Kevin Lane and his wife Stacy opened their restaurant 5 years ago with a menu of fresh seafood, locally farmed meat, foraged herbs, and fresh produce.
11. ATV or Snowmobiling Tour
Budget: $395 (driver) / $295 (passenger), ATVing is cheaper
Perfect for: the more adventurous types and those who love the great outdoors
An ATV or snowmobiling tour is a fun way to explore Alaska!
Enjoy natural beauty and go off the beaten trail by exploring Alaska's backcountry on a snowmobile or ATV.
Many companies will organize a group excursion to specific destinations like a glacier ride or ½ day through the frontier. Prices typically vary for driver and passenger and range in price depending on how long the tour is.
We did our ATV tour while staying at Borealis Basecamp, and their prices start at about $125 per person.
12. Dog Carting
Budget: $100 – $200
Perfect for: those looking for fun and culture, families
Learn about the Alaskan practice of mushing with dog carting in the summer!
Mushing is transportation powered by a pack of dogs, including dog sledding and dog carting. Dog carting in the summer is just like dog sledding but on dry land.
The dogs will pull a cart on wheels, and you will race down dirt trails. It's a fun experience and also really informative! You will get to meet the dogs, learn about the training process, harness them, and even steer the cart.
This is another activity that we did while we were at Borealis Basecamp. It was such an awesome way to learn about mushing from award-winning mushers! Definitely one of my favorite experiences worth paying for in Alaska.
13. Running Reindeer Ranch
Budget: Reindeer Yoga – $17 / Reindeer Walks – $50 (children) $70-$100 (adults)
Perfect for: animals lovers and families
According to TripAdvisor, this is one of the top-ranked activities in Fairbanks! It's such a cool experience, one you probably won't find anywhere else.
Running Reindeer Ranch offers several unique experiences, including accommodations at the chalet-style house, reindeer yoga, and reindeer walks!
You'll get up close with the heard of fluffy reindeer and walk through a majestic birch forest. There are some serious winter wonderland vibes here!
14. Chena Hot Springs
Budget: $12 – $15 for a Hot Springs Pass
Perfect for: those looking for a unique and relaxing experience, couples, families (some restrictions for those under 18yr)
Located in Fairbanks, Chena Hot Springs is a resort known for its natural hot springs, views of aurora borealis, and geothermal powered facilities.
They offer beautiful accommodations, dining, and spa packages. If visiting Fairbanks, you can spend the day soaking in the mineral-rich healing waters.
The pools are heated through a geothermal system year-round and are a spectacular sight!
15. Boat Accommodations
Budget: $200+ a night (varies with season, size and location)
Perfect for: water lovers and wanderlusts who want unique accommodations
I love finding unique accommodations when traveling. It really adds to the experience, and in many ways, you get more bang for your buck!
Why stay in a standard, run-of-the-mill hotel room when you can stay on a boat? You can find houseboats or docked vessels available for nightly rentals online (e.g., Airbnb) and some that will cruise around.
We looked at a fantastic boat in Valdez that would take you around Prince William Sound. Sort of like a cruise, but it's only accommodations and much smaller.
Unfortunately, due to COVID, this wasn't available when we went but something we really want to do next time!
16. Alaska Railroad Goldstar Service
Budget: $190 – $300 (depends on trip length and season)
Perfect for: luxury travelers, wheelchair accessible (lifts)
WOW – the views!! The Alaska Railroad Goldstar Service consists of 6 luxury domed railcars.
These train cars have massive domed windows running the length of the train for a 360-degree viewing experience with upper and lower seating areas.
Because of the unique structure, you will see indescribable views of the Alaskan landscape.
Those traveling in the Goldstar dome will have priority, reserved seating in both cabins, and meals and beverages are included.
17. Kodiak Island
Budget: $50 – $500 for travel
Perfect for: those who want to see some wildlife and explore a quiet island
Kodiak Island is a large island off the south coast of Alaska and is famous for its wildlife and home to the Kodiak National Wildlife Refuge and Kodiak Brown Bear Center.
About 3000 Kodiaks brown bears call the 1.9 million-acre refuge home! You can fill your day with lots of activities as there are several museums, beaches, churches, an aquarium, and a visitor center to explore.
Additionally, it is worth noting that there are a few different ways to get to Kodiak. You can fly from Anchorage (55min flight time) or drive to Kenai Peninsula (4hrs from Anchorage) and get on the ferry for a 9.5-hour ride.
18. Halibut Fishing Tour
Budget: $1500+ for a 3-4 day tour including accommodations, much cheaper for a 1 day excursion
Perfect for: the outdoorsy traveler, those who love to fish
Imagine catching a 100lb Halibut off the coast of Alaska! There are several different charters and tours during the summer fishing season that will take you to the best spots to catch Halibut.
Additionally, many of these tours are days long and include accommodations, bait, tackle, and equipment – everything you need!
They will also clean, vacuum pack, freeze, and box your catch for transport back home – now THAT is a cool souvenir!
You can also find halibut excursions that are just a day long if you're short on time!
And one of the best places to go halibut fishing is in Homer, aka the halibut fishing capital of the world, located at the end of the Kenai Peninsula!
Read more about what you can do on the Kenai Peninsula here!
19. Bear Watching Tour
Budget: $500 – $1000 for a day tour
Perfect for: animal lovers, adventure seekers,
Black bears, brown (Grizzly) bears, and polar bears all call Alaska home – the reason it's referred to as Bear Country.
You will take a short flight to a remote area where you can view wild bears doing their wild bear things like fishing, napping, and playing.
Also, in addition to 3-4 day trips, there are day-trips available.
20. Alyeska Aerial Tram
Budget: $35 (adult fare – price varies with age)
Perfect for: those who aren't afraid of heights and want to get incredible mountain views
Alyeska Resort is a beautiful ski resort with skiing for all ages and skill levels.
But, if skiing isn't your thing, you can still take in the stunning mountain views with a ride on the Alyeska Tram.
A ride on the Alyeska Aerial Tram will take you up 2300 feet from Hotel Alyeska to Mt. Alyeska. to take in views of "hanging" glaciers and peaks of Mt. Alyeska.
This is a great experience all year round!
21. Denali Bus Tour
Budget: $15 to enter the park + cost of bus/tour
Perfect for: campers, outdoorsy types
There is only one road in Denali National Park that stretches 92 miles through low valleys and high mountain passes.
Because Denali National Park aims to preserve the land, there are restrictions as to who and when private vehicles can travel this road and buses are the only way to travel into the depths of park.
There are several different bus tours to choose from, guided or non-guided, and there are even free transit busses that will take you to various points of interest and trails located in Denali.
The park is MASSIVE! For this reason, tours can range from a day to several days long.
And as famous as Denali is, tours here are definitely experiences worth paying for in Alaska!
In conclusion…
I hope you can understand why these activities are worth splurging on!
(Oh and a drone is worth splurging on too… see what's in my camera bag here! We took the drone photo above on the Knik Glacier when we were on our helicopter tour!)
Which one of these experiences would you like to try? Let me know in the comments below!
And if you're heading to Alaska, here are some more posts you'll enjoy:
Safe travels!
Jasmine