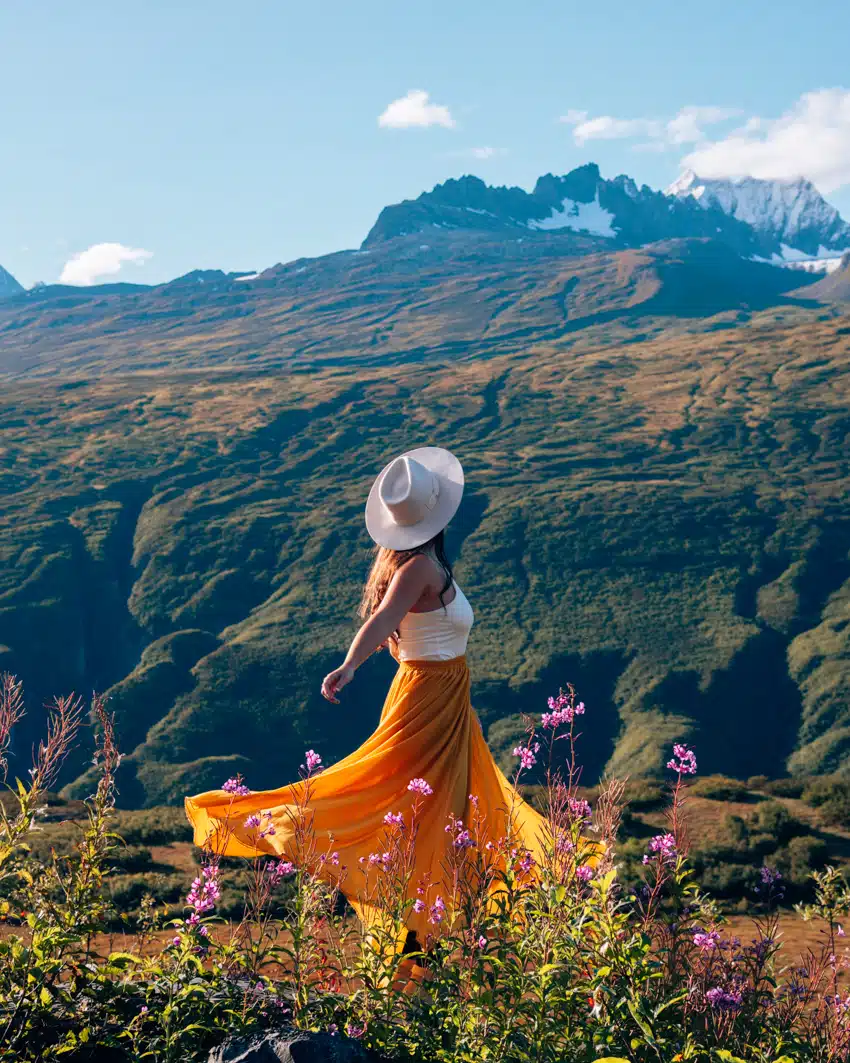 From breathtaking landscapes to beautiful wildlife, Alaska is one of the most incredible travel destinations in the world. After driving 33 hours across the state, my husband and I came up with this list of 33 things to know before visiting Alaska!
Because here's the thing:
Alaska has millions of acres of untouched nature and some of the largest national parks in the country. In fact, if you could see a million acres every day, it would still take a full year to see the whole state!
As such, visitors are bound to see plenty of natural beauty in Alaska. We sure did! (Check out my post on the 50 best and most beautiful places to visit in Alaska!)
You can see some of this natural beauty in the video we made on our trip to Alaska below:
[If you don't see a video below, you may need to disable your adblocker.]
But as with anywhere else, doing research prior to your trip is key to a successful experience.
There are a lot of things to know before visiting Alaska regarding wildlife, what to bring, unique Alaska facts, and more.
Let's dive into the 33 most crucial things to know before you make your trip to beautiful Alaska.
1. The northern lights are not visible year-round.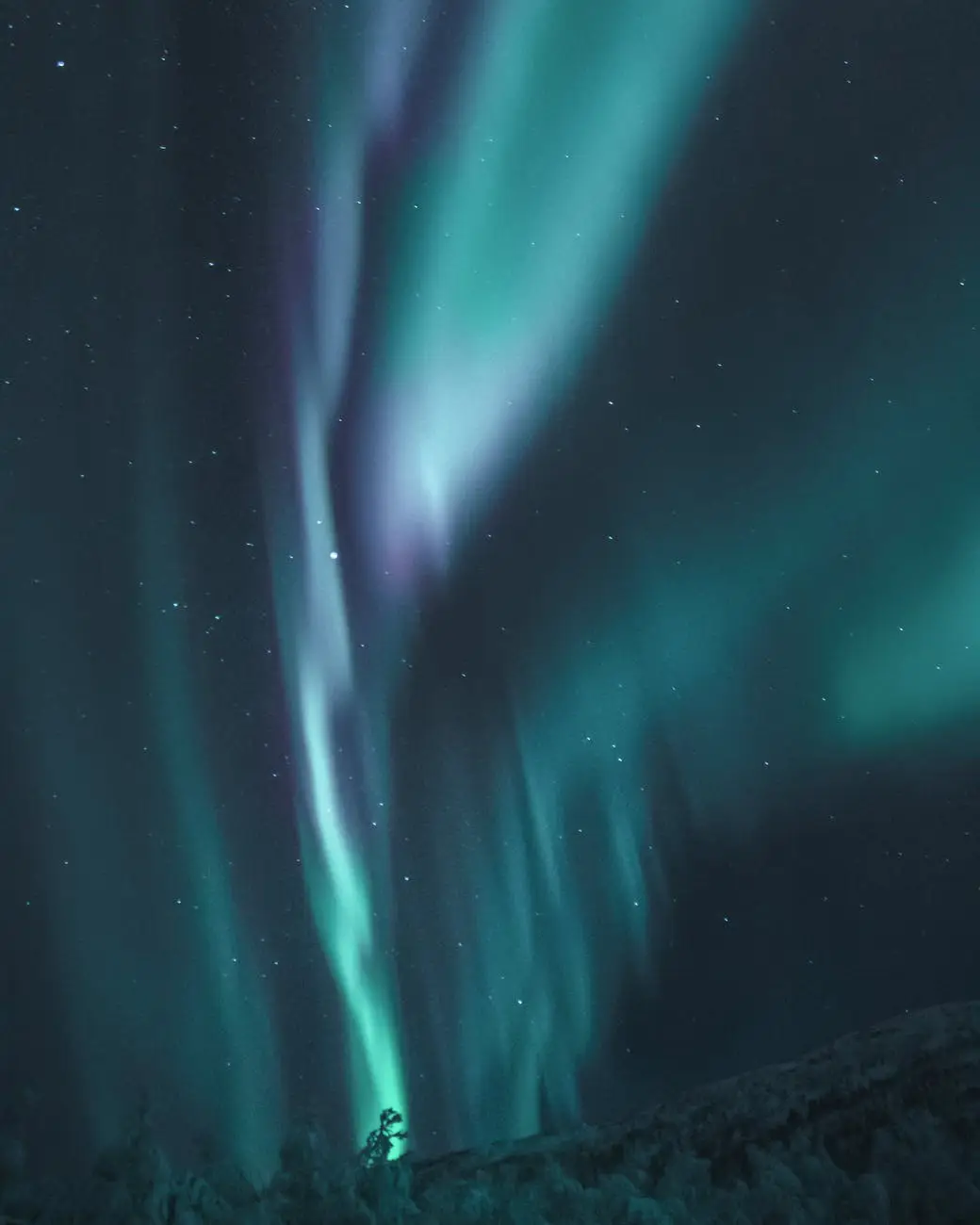 If one of the main reasons you're traveling is to see the northern lights, it's important to know that they aren't visible year-round.
You'll only be able to spot the northern lights on a dark, clear night between August and April. During the summer, the midnight sun phenomenon means it simply doesn't get dark enough! We were able to faintly see them in early September, and just a week earlier, people had seen a mind-blowing northern lights show!
There also needs to be solar wind or solar flares on the sun in order to see the northern lights, also known as Aurora Borealis.
There are aurora forecast apps or trackers you can download before your trip, like this site that my Alaskan friend swears by.
These can help determine the likelihood of seeing the northern lights by predicting the aurora activity level in the sky.
Fairbanks is one of the best places to see the lights in Alaska. You can read all about the best things to do in Fairbanks (and why it's a prime northern light hot spot) here!
2. Sometimes the northern lights show up only on camera.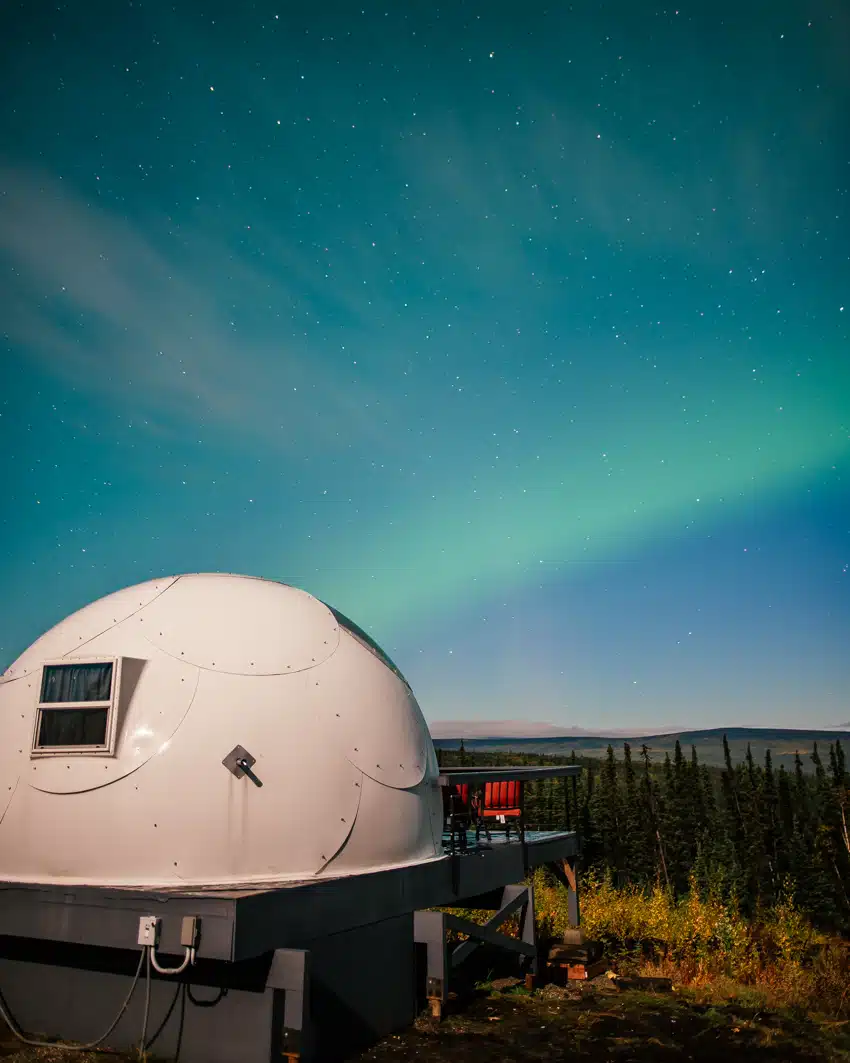 This is one of the most helpful things to know before visiting Alaska! You don't want to miss the lights because you're not aware of this tip!
Cameras have the ability to pick up on the colors of the northern lights better than the human eye can.
So always take photos of the northern lights on clear nights even if you don't think they're visible!
The results could surprise you.
This is exactly what happened to us! When I stepped out of our igloo at Borealis Basecamp at 3:30am, I could barely see anything in the sky. There was just a milky glow.
But I set up my camera anyway. You can imagine my surprise (and absolute delight!) when bright green showed up on my camera screen!
You'll just need a tripod so that you can take a crisp long exposure photo. My lens was open for about 15-20 seconds! Here's my exact travel tripod that I swear by! It fits in a carry-on!
3. You can only drive up to a certain point into Denali.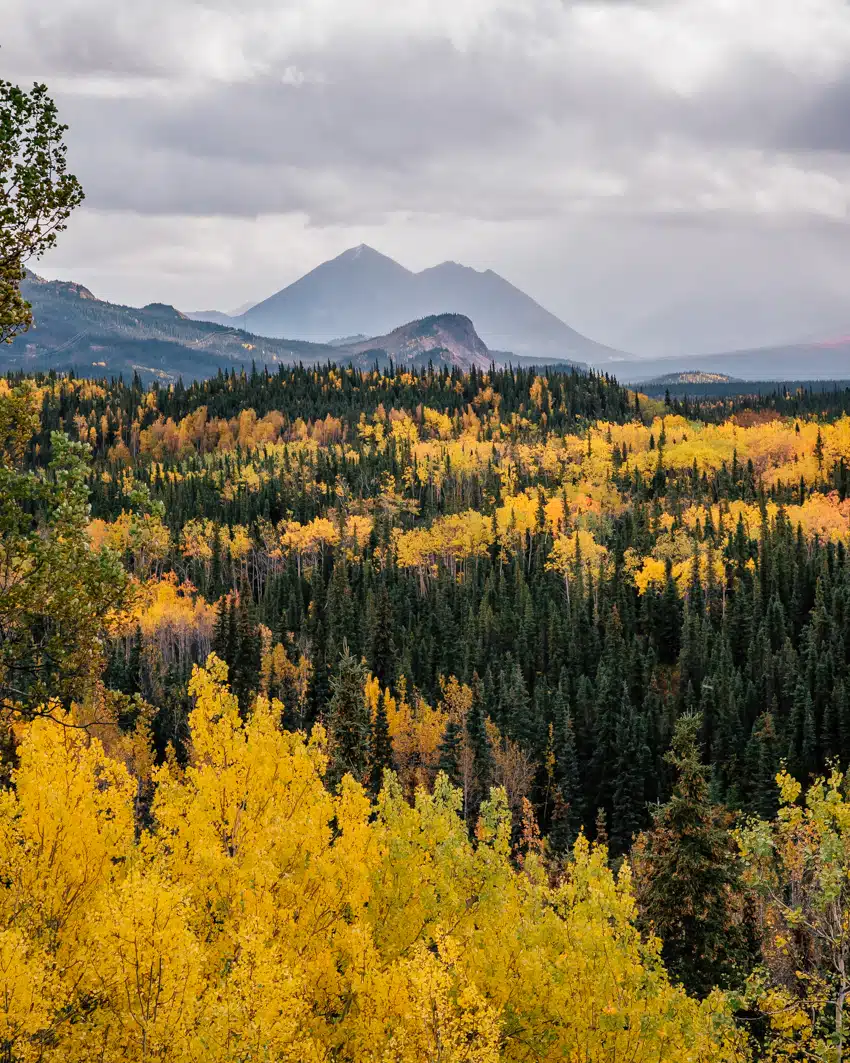 As the highest peak in North America, Denali is one of the most popular tourist destinations in Alaska!
This national park features incredible mountains, hikes, and views, but did you know you can't drive in it on your own? Yup, this might be one of the most surprising things to know before visiting Alaska!
Private vehicles can only drive up to the 15-mile marker on Denali Park Road.
After that, you can only travel further in the national park by bus.
If you're looking to explore Denali National Park by car, the first 15 miles are certainly worth a drive for the unbelievable sights and wildlife.
For those wanting to see more of the park either for hiking or photo ops, the bus system is easy and convenient.
4. The largest national park in the United States is in Alaska.
I bet you have never heard of the largest national park in the United States.
I sure hadn't!
At 13.2 million acres, the Wrangell-St. Elias National Park is the uncontested largest national park in the country. It's over 6 times the size of Yellowstone!
Not only that, but the top 3 largest parks in the United States are all found in Alaska!
Wrangell-St. Elias features glaciers, abundant wildlife, and one of the highest peaks in the country at over 18,000 feet.
5. The rain is sporadic and unpredictable.
Weather in Alaska is known for being unpredictable, so be prepared for anything.
Always be ready for the chance of rain and try not to rely too heavily on the weather forecast because it could change at the drop of a hat.
Alaska is the largest state in the US, so rainfall varies depending on where you are and the time of year.
Statewide, May tends to get the least rain while September tends to get the most.
But I recommend having accessible rain gear no matter when you choose to travel!
I was super bummed to see rain in the forecast for almost our entire 11-day trip. But it only downpoured for two of those days! The rest, it was pretty on-and-off.
6. The weather can be unpredictable, so dress in layers.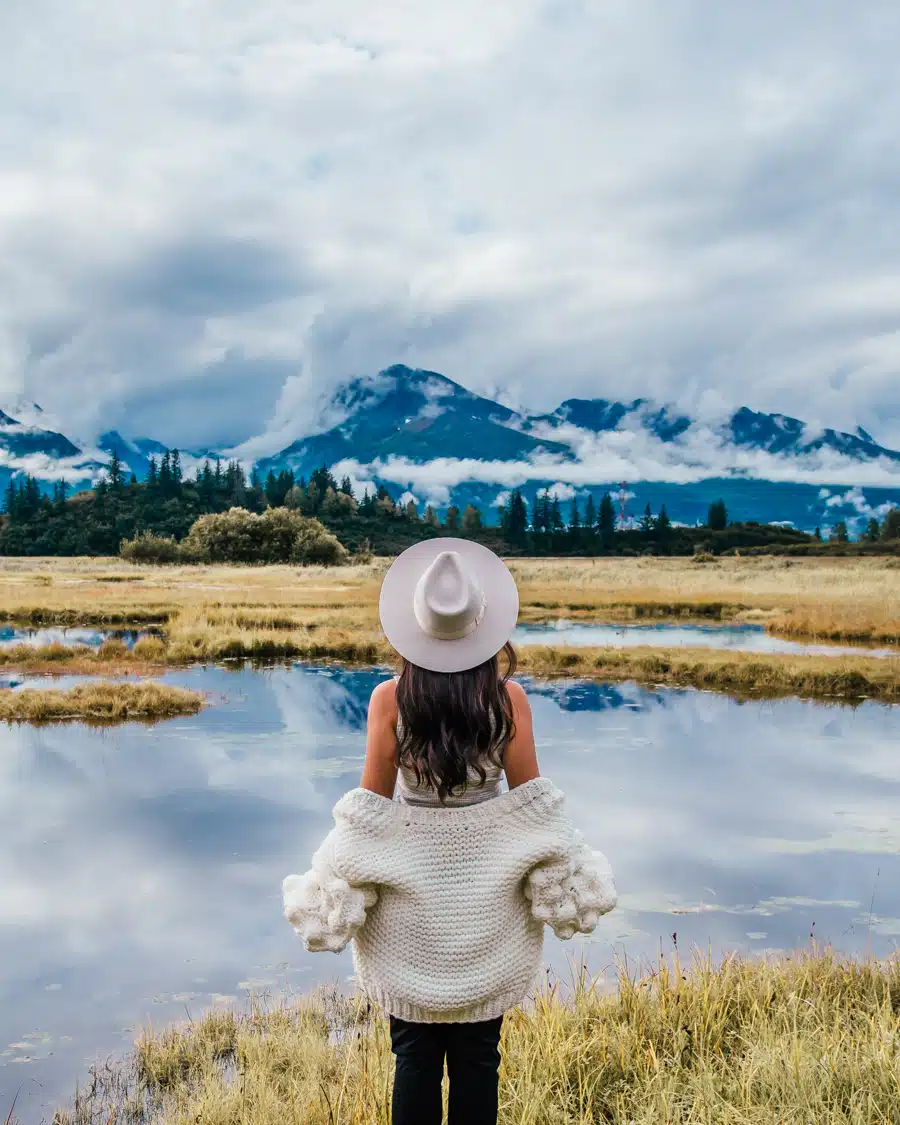 As previously mentioned, the weather in Alaska is highly unpredictable.
The day could start out warm and sunny, then end cold and rainy.
To prepare for uncertain weather, layers are your best friend!
You can always take off a jacket if you get warm.
But you can't make one appear out of thin air if you get cold!
You should also pack wool socks if you're visiting in a colder season or are hiking in the rain. Cotton doesn't dry as efficiently and, once wet, actually causes more problems since it absorbs and traps moisture.
7. Rain gear is a necessity for both you and your camera.
Alaska sees rain pretty regularly, so I recommend rain gear for both comfort and safety.
Getting wet is no fun and staying wet when it's cold out is even worse!
Here is my exact rain jacket, which was the perfect pop of color on a rainy Alaskan day!
When purchasing rain gear, don't forget about your camera!
A waterproof camera bag or cover is the best way to keep your camera safe. This is the exact camera jacket I have, and it has definitely come in handy while traveling! It is cheap and does the job!
8. Many of the restaurants close at 8 pm.
When planning your trip, keep in mind that many of the restaurants in Alaska close as early as 8pm.
If you plan on eating out while in Alaska and prefer a later dinner, do some research to make sure they're open!
(The food above is from Captain Patties in Homer.)
9. Alaska restaurant food can get pricey.
If you're traveling on a budget, here's an important thing to know before visiting Alaska.
Due to Alaska's isolated location, importing food to the state can be a challenge. This means that restaurant food, even fast food, can cost significantly more than it would in the contiguous US.
Don't let this deter you from trying out some of the incredible cuisine Alaska has to offer!
But plan accordingly and be ready to spend a little extra!
What we did to compensate was book hotels with breakfasts included, eat snacks for lunch, and splurge on dinner.
(The food above is from Latitude 65 in Fairbanks and was absolutely amazing! They do farm-to-table perfectly!)
10. You can find stunning views along the highway.
You might be surprised to learn that driving is a favorite pastime of Alaska natives!
With some of the most beautiful sights in the world, you don't even need to leave your car for incredible views.
Anchorage is a great place to start for a scenic drive and you can't go wrong with Glenn Highway, Parks Highway, or Seward Highway. Don't forget your camera!
You can see our full 33-hour road trip itinerary here– and let me say it didn't feel like too much driving! When there's a beautiful view around every corner, driving is fun!
11. SUVs are recommended for road trips.
Alaska is a mountainous state with some extreme elevations, including the highest point in North America at over 20,000 feet.
Many of the roads in Alaska are also covered in ice or gravel, making 4-wheel drive a necessity.
For navigating through the terrain of this beautiful state, an SUV with 4-wheel drive is your best option.
At one point, we essentially had to drive through a small river, and I was grateful for our SUV! With no cell service, it would've been rough if we got stuck!
We did our rental through Thrifty Alaska. You can use promo code 101247 through September 2022 for 10% off your Thrifty car rental!
12. Car chargers are important for road trips.
The last thing you want to worry about on a road trip when you are enjoying the scenery is having your phone die.
While paper maps of the area are a great tool to have, you should always make sure you bring a car charger along for the journey to avoid any issues that may arise from not having a phone.
We used this car charger and it was perfect for charging our camera and drone batteries in addition to our phones!
13. Gas stations can be few and far between.
(To us, it seemed as if there were as many gas stations as glaciers! You can see Exit Glacier pictured above.)
When planning a road trip through Alaska, it's important to make sure there are plenty of gas stations along your route before driving.
There are many parts of Alaska, especially in the area between Valdez and Fairbanks, where you won't find many gas stations.
Since cell service can be sparse (and who wants to be stuck on the side of the road!), this is one of the most important things to know before visiting Alaska!
And if you are thinking about traveling on what's considered the loneliest highway in Alaska, Dalton Highway, know that there's a 240-mile stretch of road with no gas!
14. You'll often find road work taking place on highways.
With the mountainous roads of Alaska constantly getting weathered by elements like precipitation and wind, road work is not uncommon.
One-lane highways are often backed up due to the road work taking place, which typically happens in the summer.
So don't be surprised if you experience some traffic when driving in Alaska.
It won't be hard to distract yourself while you wait, considering how beautiful the scenery is!
We got stuck at a road block along the Turnagain Arm, so had epic sunset views of the mountains while we waited.
15. In Alaska, the contiguous United States is referred to as the Lower 48.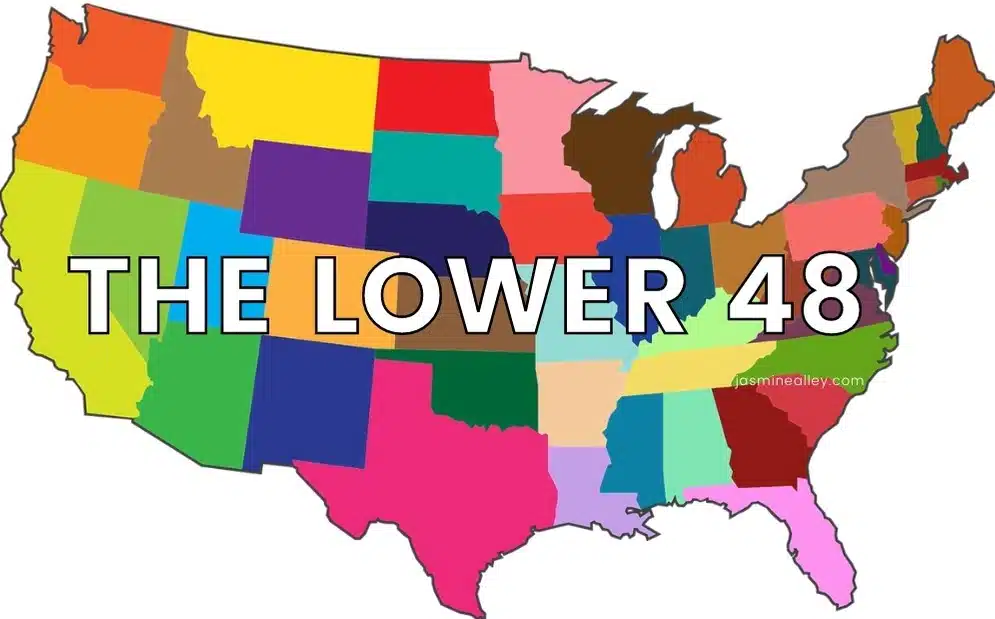 It may be confusing the first time you hear someone refer to the contiguous US as the Lower 48, but this is a common term for Alaska natives.
If you want to impress the locals with an understanding of Alaskan terminology, this is definitely a good phrase to know!
16. Both black and brown bears are prevalent in Alaska.
Alaska has a more vibrant bear population than most of the US, with both black and brown bears commonly found in the state.
Despite their name, black bears range in color from light brown to blue gray.
Their key physical differences are that brown bears are typically larger in size, have a prominent hump on their back, and have longer claws.
You're likely to see brown bears along the coast, while black bears prefer the forests.
Although attacks are rare, you should still keep your distance if you see a bear in the wild.
17. Grizzly bears are a type of brown bear.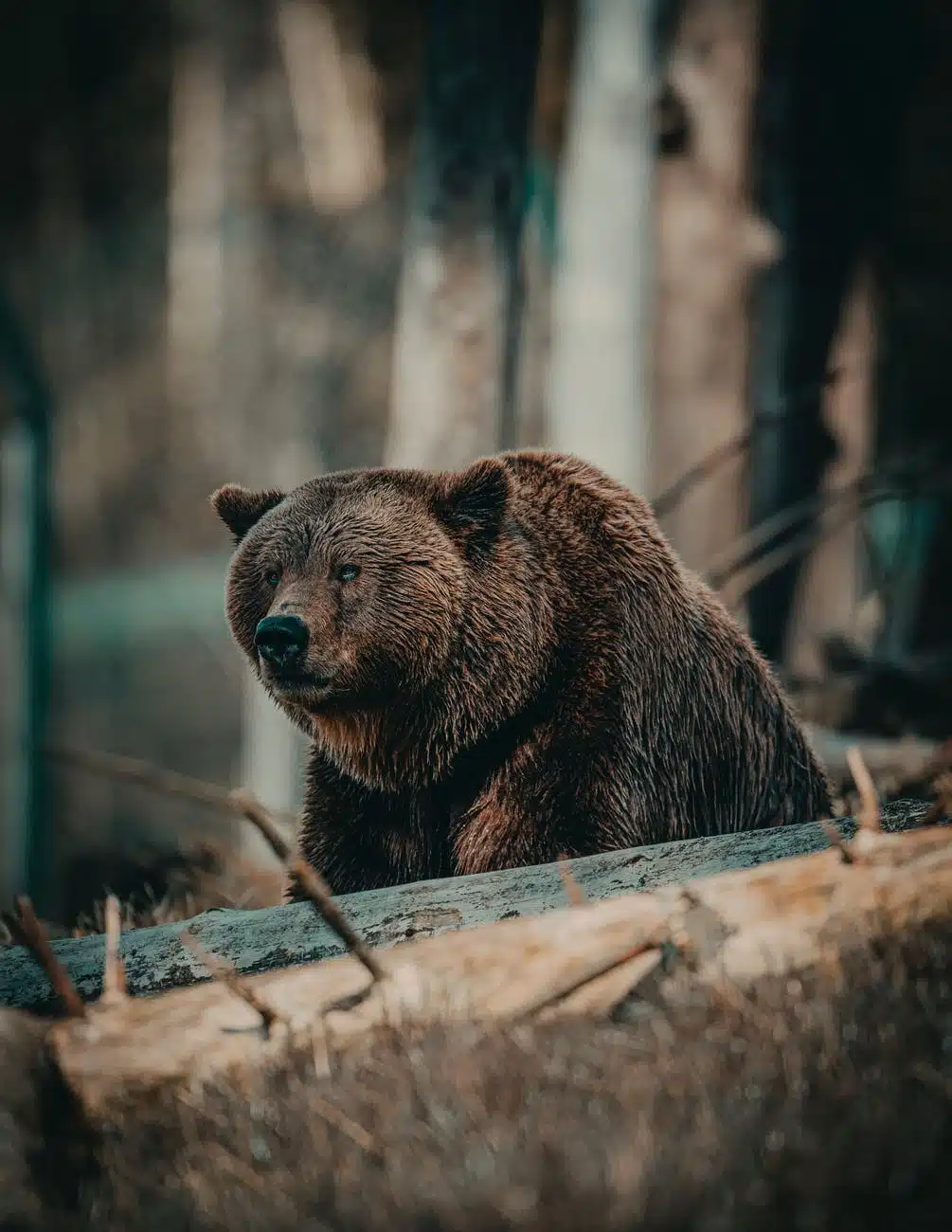 Alaska is home to both brown bears and black bears.
If you're wondering how grizzly bears fit into the mix, they are a type of brown bear.
The main difference between grizzly bears and brown bears is that grizzly bears are slightly smaller and live on mountains, while brown bears live along the coast.
I'm not sure if this is common knowledge or not, but either way, it's a very helpful thing to know before visiting Alaska!
You'll want to read up on what to do if you encounter either black or brown bears, since their reactions to humans differ!
18. June through September is the best time for bear watching.
Based largely on the timing of the salmon runs in Alaska, bears are most commonly found between the months of June and September. (You'll find a bunch at Katmai National Park, pictured above.)
In addition to it being salmon season, mating season for bears lasts from late May to July.
So it will be extra likely to see a bear (or two!) during this time.
If you want a guaranteed bear sighting that is both safe and awesome, paying the $17 entrance fee to the Alaska Wildlife Conservation Center is so worth it! You support the center with those funds, and get to see grizzlies up close and personal (as well as a bunch of other animals!).
19. Bear spray… yay or nay?
The Alaska Department of Fish and Game recommends carrying bear spray when visiting Alaska in case you run into a bear.
Some locals told us that it would be way more effective to play music or talk loudly while hiking.
We only brought bear spray with us on one of several hikes in Alaska. We carried it with us on the hike pictured above, the Harding Icefield Hike, and the only bear we saw was a black bear extremely far away.
However, it probably is better to be safe than sorry!
If you're erring on the side of caution, once you get to Alaska, bear spray can be found at most sporting stores and many grocery stores. You can also buy it ahead of time here! (Though of course, you'd then have to check your bag).
Chances are you won't be in a situation where the spray is necessary, but it's always better to be prepared!
I'll leave you with this statistic: between 2008-2018, there have been 6 fatal bear attacks in Alaska.
20. You will need bug spray.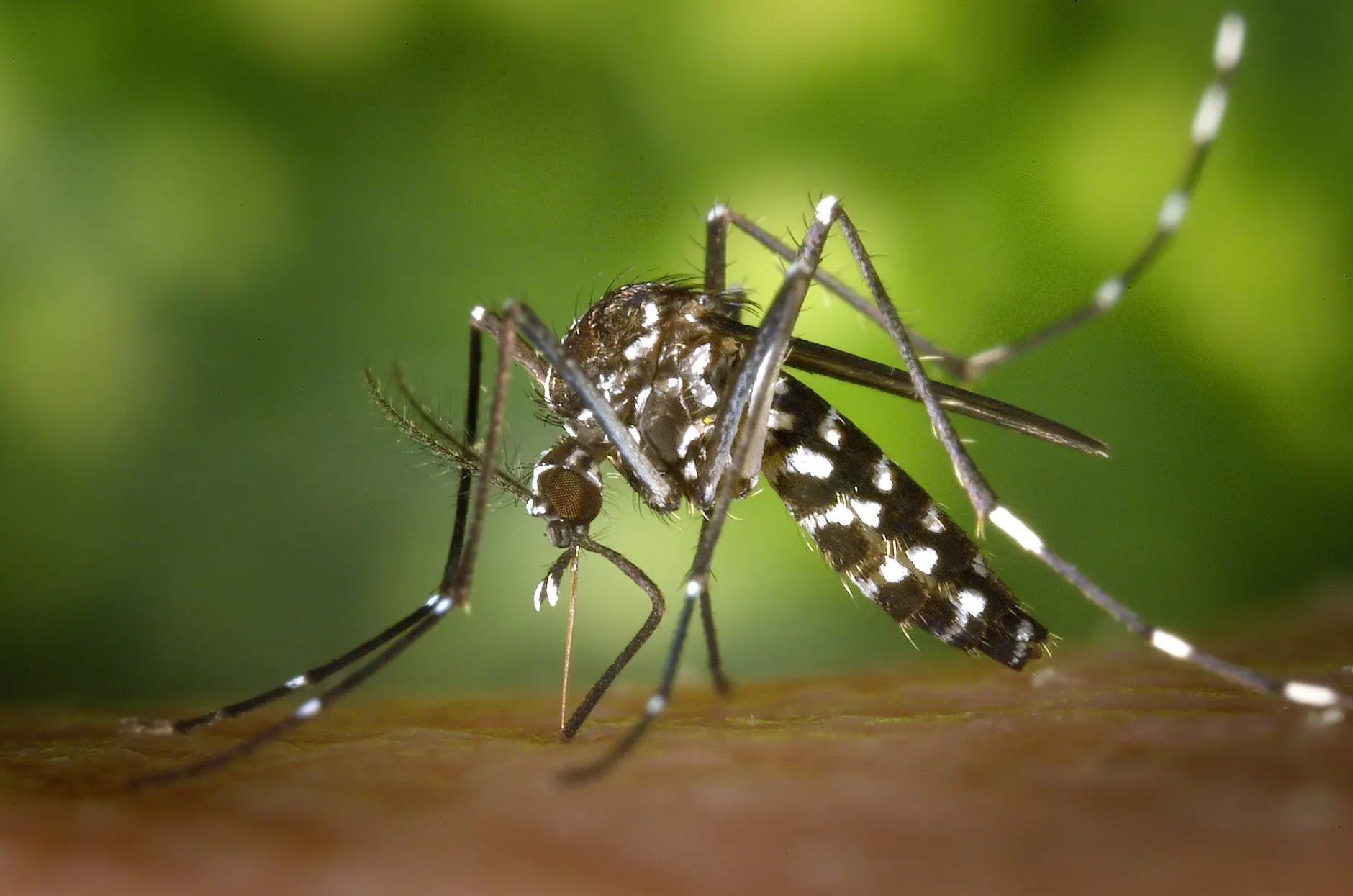 Everyone talks about bear spray, but how about bug spray?!
No one told me to expect relentless, giant mosquitoes in Alaska!
With 35 species of mosquitoes in Alaska, your body will thank you for bringing bug spray on your trip.
Mosquitoes are most prevalent in northern Alaska, especially in the summer.
But I recommend high-quality bug repellent no matter when or where you travel in Alaska.
We never traveled that far north, and the bugs were our constant companions! You should've seen our windshield one day… it was the most bugs on a windshield that I've ever seen!
21. I recommend bringing sunscreen, especially in the summer.
Sunscreen probably isn't the first thing to cross your mind when you think of a state known for its glaciers.
But with temperatures reaching the 80s in the summertime, I definitely recommend bringing some.
Sunburns are a possibility even in the winter because of the sun's intense reflection on the snow and ice!
But they're especially likely during the summer.
So do yourself a favor and don't skip the sunscreen! Be sure to grab one that is environmentally friendly and travel size, like this one!
22. Crampons are extremely useful for trekking on ice.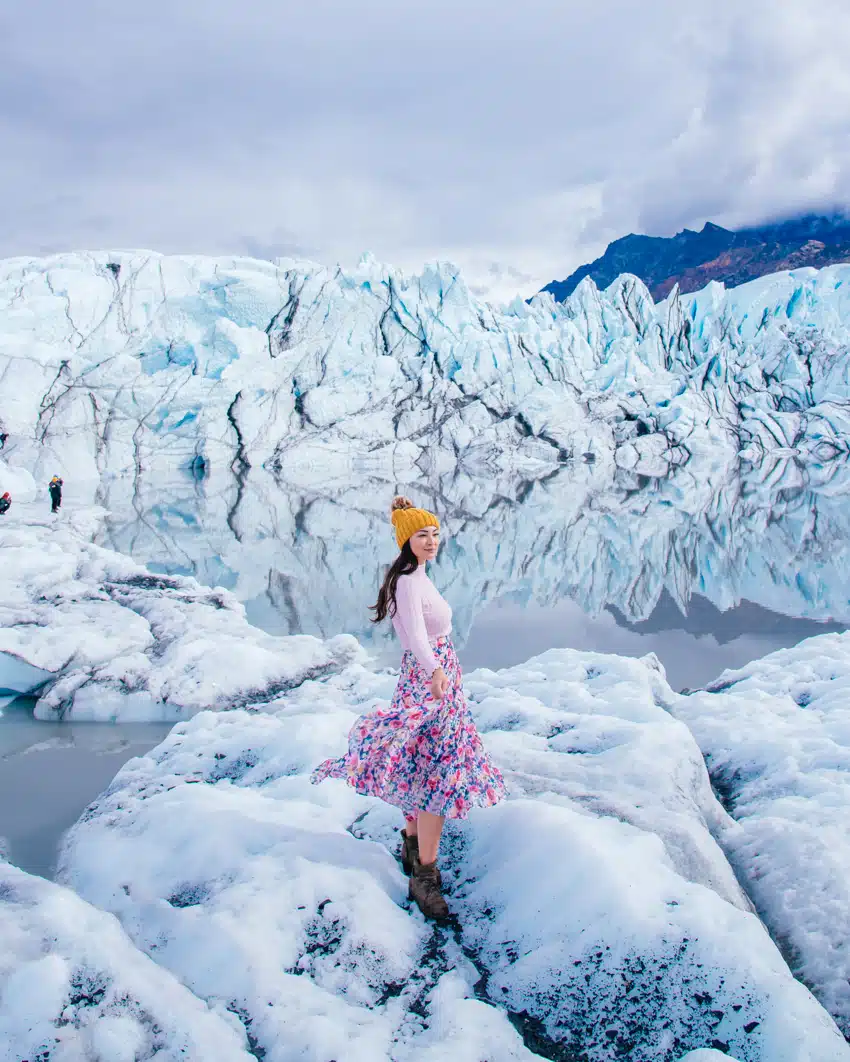 Crampons are metal plates with spikes/heavy treads that attach to your shoes or boots to improve mobility for trekking on ice.
If you plan on walking on any ice in Alaska, I highly recommend them.
You can find different types for everyday walking and glacier trekking.
For the trek we did in the photo above, the Matanuska Glacier hike, crampons would've been pretty handy! We almost slipped multiple times!
And when we did a helicopter landing on a glacier, if our pilot hadn't provided crampons, I would've slipped almost instantly!
So do a little research before your trip to see which crampons are best for you.
This pair is only $18!
23. Glaciers are ever-changing, so don't expect the views to look exactly like pictures you may have seen.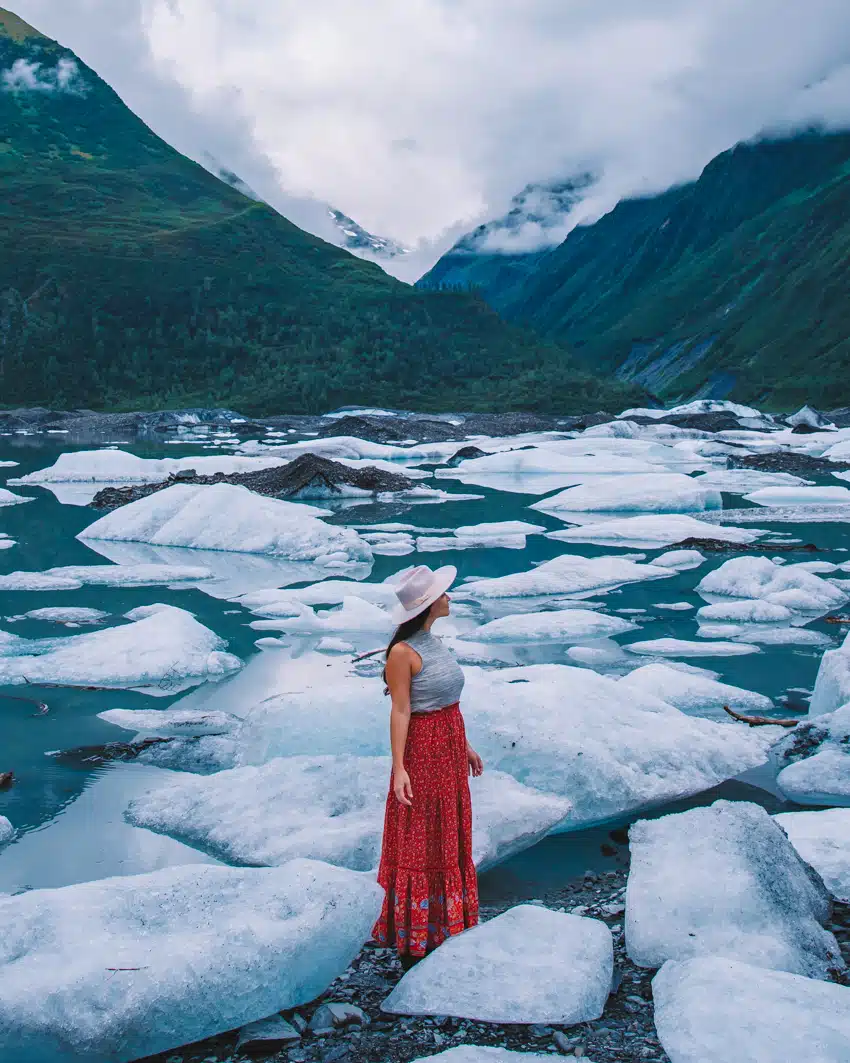 Glaciers are changing, growing, or (unfortunately, usually) shrinking.
When we visited the Valdez Glacier Lake, there were icebergs everywhere! But a local told us that just a few months prior, the lake was practically empty. That specific lake goes through lots of changes each year.
(You can read more about things to do in Valdez and why you should definitely visit here!)
So glaciers you saw photos of a few years ago or even a few months ago will probably look different when you see them in person.
Don't let this discourage you.
The views will take your breath away no matter what!
24. There are earthquakes in Alaska.
Pop quiz!
Which US state has the most earthquakes?
If you guessed California, you would be wrong!
Alaska actually has more earthquakes than anywhere else in the United States!
As one of the most seismically active places in the world, Alaska works hard to educate people on staying safe in the event of an earthquake.
Alaska has also designed many of its buildings to withstand intense shaking.
The majority of the earthquakes that take place in Alaska are harmless, but it's always good to be aware of this risk!
Apparently, when we were at Resurrection Bay, pictured above, there was an earthquake one night that we didn't feel. We only knew about it since one of the hotel summer staff members was also a geology major!
But turns out, this part of Alaska is in "The Ring of Fire," with plenty of typically minor seismic activity.
Read more about Seward and things to do in Seward here!
25. Sleep masks and ear plugs are useful due to the 'midnight sun' phenomenon.
If you want a good night's sleep, this is one of the most helpful things to know before visiting Alaska!
Alaska gets more sunlight than any other state in the country.
In the northernmost part of the state, the sun does not set for over two and a half months!
Because of this crazy phenomenon, I recommend a sleep mask and ear plugs if you're visiting northern Alaska in the summer.
Many of the locals have blackout curtains throughout their homes to combat the midnight sun in the evening.
26. Alaska is a great place to bring a drone and has little restrictions on them.
Alaska is an irresistibly beautiful state where drone lovers have no shortage of amazing sights to record.
To fly a drone in Alaska, make sure you follow local and FAA rules!
If unsure if you can fly use one of the FAA approved apps to check if your area is a no-fly zone!
In general, you can't fly in national parks, but national forests should be fair game.
We got our drone out a bunch while on the road. As long as we weren't in a national park, we were able to fly!
The photo above is from when we flew our drone on the Knik Glacier after doing a helicopter landing there!
27. Leaves start changing in August.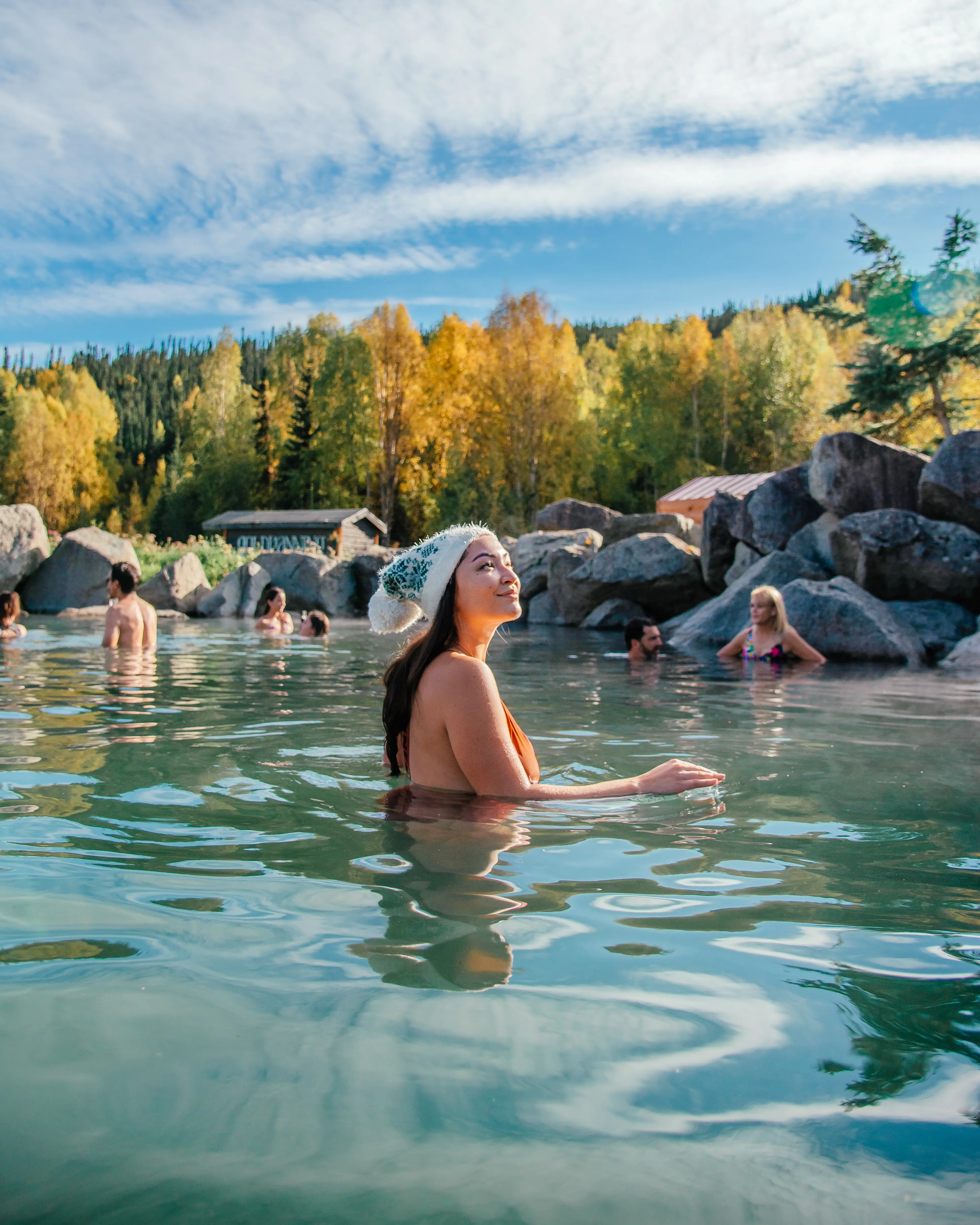 For anyone wanting to see fall colors in Alaska, here is a useful thing to know before visiting Alaska!
Leaves begin to change color in late August, so if you want to catch the fall foliage you'd better time your trip well!
Fall is very short in Alaska, lasting only through the end of September.
In addition to the gorgeous foliage, September is also a great time to visit Alaska.
Because it's a slow month of the year for tourism, flights, accommodations, and entertainment are cheaper and less crowded.
We got the photo above at Chena Hot Springs!
28. Summer is the peak season for wildflower sightings.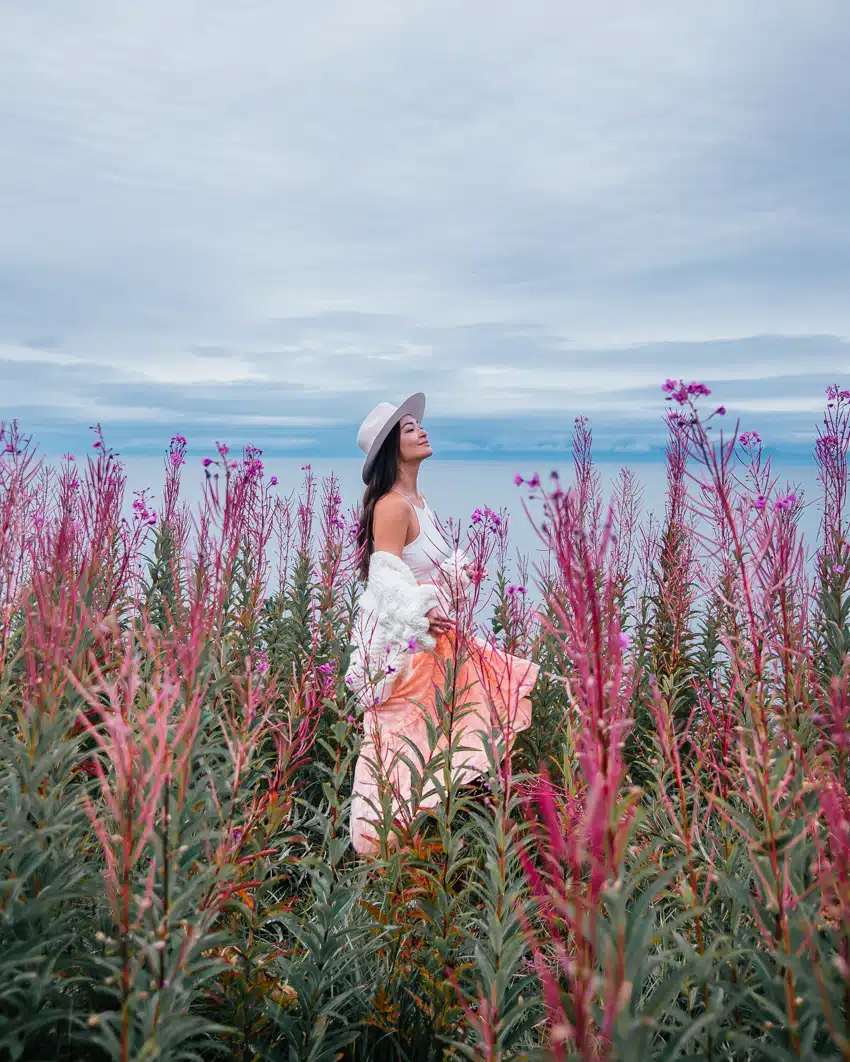 If you travel to Alaska in the summertime, you're in for a treat.
Wildflower season starts in June and lasts through the summer.
Gorgeous wildflowers bloom all over the state in mountain fields and coastal hills.
These make for some seriously incredible photo ops, with picturesque purple wildflowers popping up all over the state.
We visited in late August/early September and the typical purple wildflowers were all almost dead. But fortunately we found plenty of fireweed growing near Homer, which is where we got the photo above!
You can see the exact location and the 36 best things to do on the Kenai Peninsula here!
29. May through September is the best time for whale watching.
Whales begin their migration in February, arriving in Alaskan waters in April.
The best time to spot whales while you're in Alaska is between May and September, before they swim south for the winter.
You can spot whales from a cruise ship, but small whale watching tours are your best bet.
Smaller boats allow you to get a better view of the whales.
If you just want to drive to a good viewing spot near Anchorage, Beluga Point Sight is supposed to have great whale watching!
We stayed at Resurrection Lodge on the Bay, which also boasts incredible whale sightings in May and June specifically.
Read about the 17 best places to stay in the most popular Alaskan towns here!
30. Summer is salmon fishing season.
Alaska's salmon fishing is among the best in the world!
Many avid fishers travel to Alaska for that reason alone. But there are specific times where the fishing is better than others.
If you love fishing, write this down! It'll be one of the most helpful things to know before visiting Alaska- especially so that you're not disappointed if you plan during the wrong time!
With an immense coastline and millions of pristine lakes, Alaska is the perfect place to go to catch some enormous salmon.
Peak salmon fishing season takes place from May to September.
You'll find tons of salmon of varying species and sizes.
It's not uncommon for salmon to weigh upwards of 50 pounds, so be ready for a fight!
We met some fellow Texans who travel to Alaska each summer, catch about 250lbs of Salmon, and freeze and ship it home! It lasts them all year!
31. Due to the unreliable cell service, you'll want to download offline maps.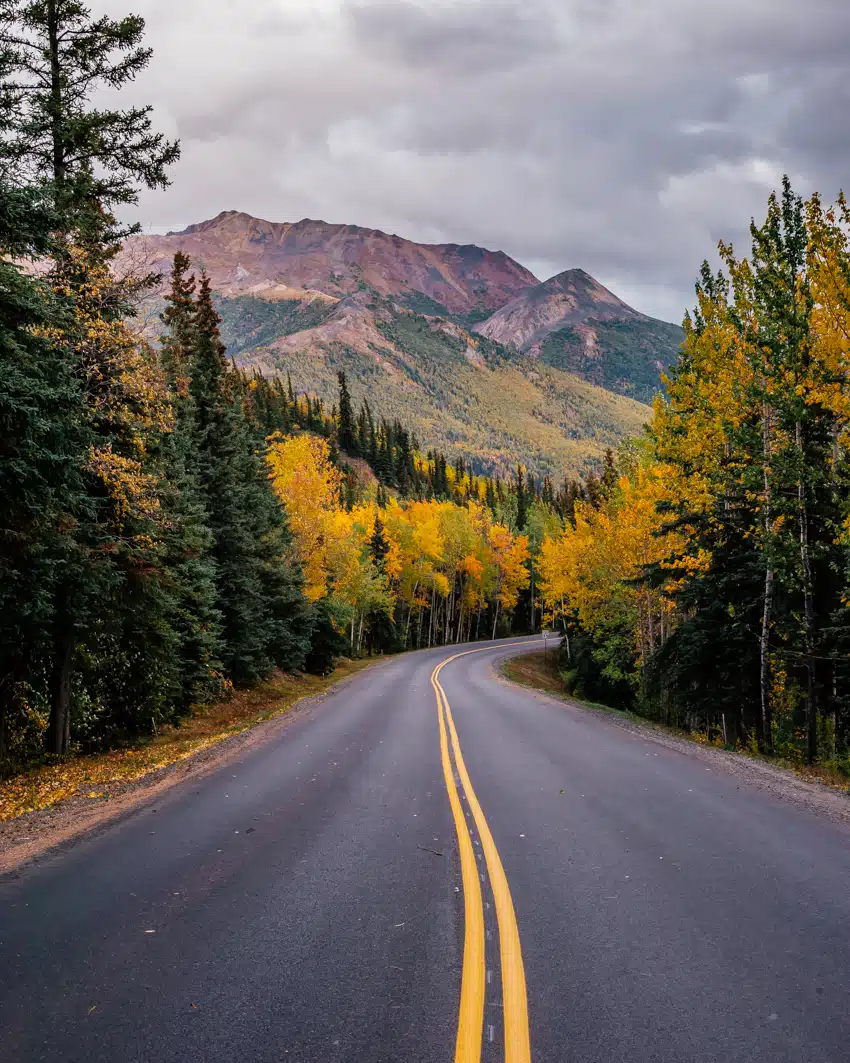 Cell service is known for being spotty in Alaska, so offline maps come in handy.
Whether you're hiking, kayaking, driving, or just exploring in an area with poor cell service, there are several apps you can use to download offline maps that do not require cell service to use.
The Alaska Public Land Information Centers recommends The National Map for the most up-to-date maps of the land. But we found that as long as you get a recent download of Google Maps, that is good enough.
32. WiFi is limited, even at some hotels.
While most of Alaska has access to the internet, the connectivity in much of the state can be unreliable.
This rings true for many of the hotels as well- which I wish I was aware of before planning to do some work while I was in Alaska! So this is definitely something important to know before visiting Alaska if you need WiFi at all.
However, when visiting a place as beautiful as Alaska, you may want to disconnect anyway! You can take advantage of the time not on social media or checking emails and use it to fully take in your surroundings.
As long as you've got offline maps downloaded to your phone, you'll be good to go.
We had WiFi connectivity issues in about a third of the hotels we stayed at! It's kind of funny- almost every hotel has cable TV, but WiFi is almost an afterthought!
But even if your room doesn't have WiFi, you typically can get a connection at hotel lobbies.
33. You won't find luxury hotels.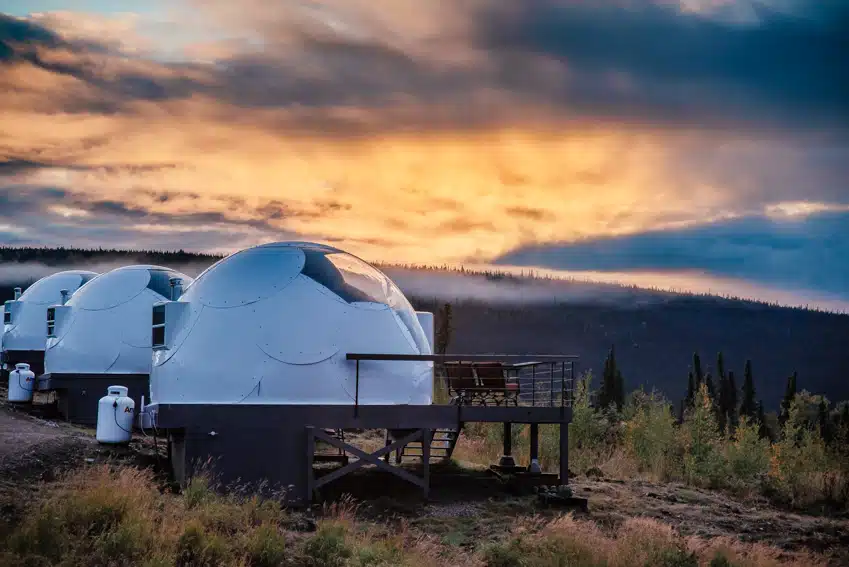 Sorry to break the news to all you luxury-loving travelers, but you won't find a hotel fancier than the Sheraton here.
Alaska is all about the outdoors and not so much about the pampering.
But you will find several all-inclusive lodges that make you feel like royalty in an off-the-grid kind of way. They come with the price tag of a luxury lodge, too!
One hotel I highly recommend that is luxury in the views it offers is Borealis Basecamp, pictured above. They have the only glass-roofed igloos in Alaska!
But even these all-inclusive lodges or the igloos don't have typical 5-star features. Embrace the rustic and majestic charm of living off the beaten path for a bit!
In conclusion…
Whew, that's a lot of things to know before visiting Alaska! But I hope they help you have a wonderful trip to Alaska!
Alaska is simply one of the most beautiful states in the United States! I can't wait for it to completely wow you.
If you've been to Alaska or are an Alaska native and can think of more things to know before visiting Alaska, comment your tips below!
And if you're planning a trip to Alaska, here are some more posts you might find helpful:
Safe travels!
Jasmine