Looking for the ultimate Blue Ridge Parkway itinerary from Asheville, NC? You're in exactly the right place.
I was conflicted when writing this: should I call this post a Blue Ridge Parkway itinerary or an Asheville itinerary? Or a Western North Carolina road trip itinerary?
The fact of the matter is that the entirety of this itinerary is not on the Blue Ridge Parkway, though most of it is, or is very close by.
While Asheville is the center of this itinerary and is definitely the biggest major city in this area, it's not quite an Asheville itinerary since hardly any time is spent in Asheville.
And this doesn't explore all of Western North Carolina, though all of it is within this broad area.
So, after careful deliberation, I'm deeming this a Blue Ridge Parkway itinerary from Asheville. More specifically, here you'll find the best hikes, waterfalls, scenic nature spots, and things to do in and around Asheville and along the Blue Ridge Parkway.
I'm making this a 4-day itinerary (5 days if you include my "day 1" which is arriving in Asheville) but you can easily cut out days from the itinerary if you have less time.
You'll find a map with all of the points of interest from this itinerary at the end as well!
Let's get to it! Here is the ultimate Blue Ridge Parkway itinerary from Asheville!
Day 1: Start your Blue Ridge Parkway itinerary in Asheville, NC
Fly into Charlotte, NC or Greenville, SC and drive to Asheville, which will be your home base for the next two nights.
We stayed at the Village Hotel at Biltmore Estate for two nights.
Day 2: Hikes and activities in and around Asheville
Tanbark Ridge Overlook
Start the day by watching the sunrise at Tanbark Ridge Overlook. It's on the way to the next spot, and it's a simple pull-off on the Blue Ridge Parkway. It's located around 20 minutes north of Asheville, so make sure you leave your hotel early enough so that you don't miss the sunrise!
Drive time to next stop: 23 minutes
Craggy Pinnacle Hike
This 1.4-mile round-trip hike, located at Milepost 364.1, brings you to my favorite view of this entire Blue Ridge Parkway itinerary near Asheville! From the previous spot, keep driving on the Blue Ridge Parkway and go past the Craggy Gardens Visitor's Center. You'll drive north through a short tunnel and you'll see a left turn which brings you to the trail's parking area.
Along the hike, you'll climb 252 ft. in elevation. It's a relatively easy hike that is free to do and offers tremendous views. Even the hike itself is beautiful- it feels like you're in some sort of fairytale forest! With practically panoramic views, it's a great spot to watch both the sunrise or sunset.
Drive time to next stop: 26 minutes
Mount Mitchell State Park
Continue north on the Blue Ridge Parkway to visit Mount Mitchell State Park. Mount Mitchell is the tallest peak east of the Mississippi! While you can hike to the top, it's much easier to drive all the way to the parking lot at the summit. From there, it's an easy walk on the short, paved, handicap-accessible trail to the overlook.
Note: Google Maps had some difficultly navigating here when we plugged in "Mount Mitchell State Park," so instead plug in "The Balsam Shop" or "Mt Mitchell Museum," both of which are located near the summit by the parking lot.
Drive time to next stop: 1 hour 10 minutes
Home Ground Coffee Bar & Deli
After your morning on the Blue Ridge Parkway, return to Asheville for brunch/lunch. While you have many great options, we chose to have brunch at the Home Ground Coffee Bar & Deli. I got the bagel special, Harrison got some chili, and we each got a smoothie. Yum!
Drive time to next stop: around 10 minutes
Biltmore Estate
Next, block off a large chunk of your day to explore the magnificent Biltmore Estate.
Drive time to next stop: around 15 minutes
Alternate Option
If you'd rather pack your day in Asheville with more adventure, this part of North Carolina is known for great white water rafting! At the time of writing, this tour has two daytime options (10am and 1:30pm) and starts at $59 per adult. It goes down the French Broad River from a departure point just slightly north of downtown Asheville.
Dinner in Asheville
Following your day exploring all that the Biltmore has to offer, you're bound to be hungry! A great upscale dinner choice is Posana Restaurant. If you're looking for something more casual that is still in downtown Asheville, head to Farm Burger or Tupelo Honey. Alternatively, go to the White Duck Taco shop (just slightly outside of the downtown area) for the best tacos in Asheville. I ordered the fried chicken BLT, the gyro, the fish taco and they were some of the best tacos I've ever had!
PS. You'll want to eat an early dinner if you plan on heading to the next spot for sunset!
Max Patch
If you have enough energy and the sky looks promising, Max Patch is a local's favorite for sunset! The kicker: it's just under 1.5 hours away. We would've gone to Max Patch if it hadn't been storming all afternoon with a completely cloudy forecast for sunset. To get to the summit at Max Patch, you'll go on a 1.5-mile loop. It'll take around 20-25 minutes to get to the summit, so keep an eye on the clock so that you're there before the sun sets!
Drive time to Asheville: approximately 1.5 hours
Village Hotel at Biltmore
Return to your hotel and try to fall asleep early if you're waking up for sunset tomorrow (I highly recommend it!).
Day 3: Hikes and waterfalls southwest of Asheville
Mills River Valley Overlook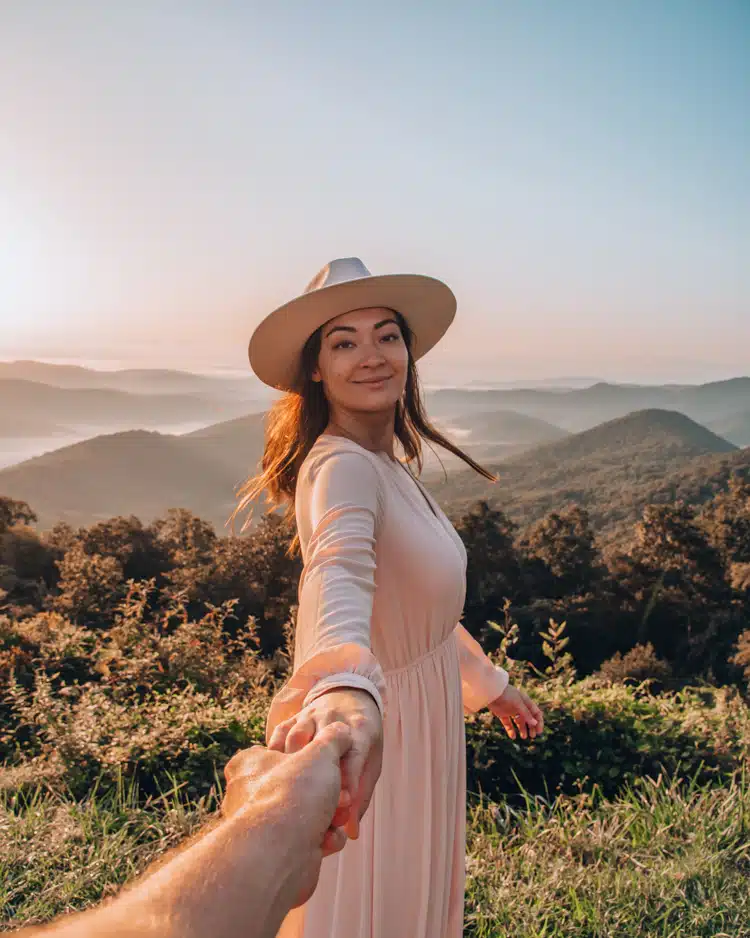 Time for another dreamy sunrise in the Blue Ridge Mountains! This spot is around 40 minutes away from the Village Hotel at the Biltmore, so we left at around 6:10 to make it in time for a 7 am sunrise. Don't forget to check the exact time of sunrise for your trip so that you don't miss it! Sometimes the sky is the prettiest right before the sun comes up, so keep that in mind, too!
Drive time to next stop: 10 minutes
Fryingpan Mountain Lookout Tower
To get to the Fryingpan Tower Hike, navigate to "Fryingpan Gap" on Google Maps, instead of to the tower itself. That way, you'll end up in the correct spot, instead of driving past it as we did. As you're driving on the Blue Ridge Parkway from Mills River Valley Overlook, you'll see a pull-off area on your right. If you've gone through Fryingpan Tunnel, you've gone too far!
Park on the pull-off and embark on the 1.5-mile out-and-back trail. It's quite steep, almost entirely uphill on the way there! Then, when you get to the tower, you'll need to climb up a few flights of stairs to get to the top.
Here's the kicker: going all the way up to the top may or may not be possible when you visit. There was a partially shut metal cover at the top of the stairs that had been pried up. So we were able to shimmy through the opening to get to the lookout. (Read: I'm not sure if this is legal or not. But I've seen plenty of photos from this spot, and there are no signs explicitly saying you can't go up to the top.)
The views are beyond epic, but this is definitely not a hike for those with a phobia of heights!
Drive time to next stop: 19 minutes
Black Balsam Knob
Keep going down the Blue Ridge Parkway to do the Black Balsam Knob hike. It's 2 miles round trip to Black Balsam Knob, which is about a 1-hour hike. When driving there, you'll see plenty of marked parking spaces on either shoulder of Black Balsam Knob Road.
While it has great views, I personally feel like you can find better mountain views directly from the Blue Ridge Parkway! But it is a scenic hike, nonetheless. You can even continue on instead of looping back around if you are looking to do lengthier hikes!
Drive time to next stop: 33 minutes
Looking Glass Falls
It's time to take a detour off of the Blue Ridge Parkway! After visiting Looking Glass Falls, I understand why this waterfall is one of the most popular in the area. First of all, it's one of the easiest waterfalls to view in the area. You simply park along the road, then walk right up to the viewing platform. If you want to get a closer look, you can go down the stairs to reach the lower observation deck. From there, there's a gap where you can walk right by the falls. The area is rocky, so make sure to take careful steps!
Drive time to next stop: 17 minutes
Lunch at The Square Root
It's time for lunch! Head into Brevard for a yummy break at The Square Root. After lunch, explore some shops in Brevard's charming downtown area.
Drive time to next stop: 40 minutes
Courthouse Falls
Unfortunately, the road to Courthouse Falls was closed when we went, probably due to the rain in previous days.
But here is some information on how to get there! You'll turn onto a gravel/dirt road from the main highway. My sources say that the road is well-maintained, so you shouldn't need a heavy-duty vehicle to drive on it.
Once you reach the parking area, a 0.6 mile heavily trafficked out-and-back trail will bring you to this Bali-esque waterfall. When you are almost there, you'll need to take a sharp left to get down to the bottom of the falls. While your GPS might say to take a left at a drainage ditch, don't listen to it. Instead, go just a little further until you see another trail on your left that takes you down to the bottom. Expect 23 narrow stairs at the end to reach the falls.
Drive time to next stop: 1 hour 16 minutes
Cardinal Inn
In the afternoon, you'll have some free time to relax or explore Maggie Valley.
We stayed at the Cardinal Inn in Maggie Valley for a night, which is perfectly situated for this Blue Ridge Parkway itinerary from Asheville. One thing I noticed throughout our trip is just how many roadside inns there are in this area. And the most charming thing is that so many of them have two rocking chairs out front of each hotel room! Cardinal Inn is no exception- it was comfortable, charming, and the owners are very kind.
Dinner in Maggie Valley
We chose to eat at Brickhouse Burgers & Pizza, but other great options include The Valley House, Carver's Maggie Valley Restaurant, and Guayabitos.
Thunder Struck Ridge Overlook
While it doesn't face the sunset directly, this is the best closest overlook on the Blue Ridge Parkway near Maggie Valley for sunset. You'll have fantastic mountain views just a short 10-minute drive away from Maggie Valley.
Winter option: Cataloochee Ski Area
If you're staying in Maggie Valley in the winter and are looking for a fun place to ski, check out the Cataloochee Ski Area!
Day 4: Hikes and waterfalls around Great Smokey Mountains National Park
Browning Knob Overlook
On Road to Waterrock Knob (that is actually the name of the road), you'll pass this overlook. It's just 17 minutes away from Cardinal Inn off of the Blue Ridge Parkway. We stopped at this overlook since the sun was already coming up and we wanted to get some good sunrise photos! Alternatively, if you woke up early enough and are comfortable hiking in partial darkness at dawn, you can skip this and start at the next spot, just a minute away.
Drive time to next stop: 1 minute
Waterrock Knob
Continue on the Road to Waterrock Knob to embark on the steep but gorgeous Waterrock Knob hike. It is supposedly just 1.2 miles round trip, though it feels longer since the trail is quite steep, gaining 412 feet in elevation. But once you reach the summit, you're rewarded with epic views. If you're looking for a longer hike or just really want to see a plane wreck, you can continue on!
How to get to the plane crash at Waterrock Knob:
On the final stretch up to the top of Waterrock Knob, along stone stairs, you'll see an unmarked trail on your left. Follow it for a half-mile until you reach Browning Knob. From there, you'll see another trail on your left. Take that trail for around 200 yards and you'll reach the crash site (GPS coordinates 35.46354, -83.13207).
Drive time to next stop: 12 minutes
Soco Falls
Next up, we've got the enchanting Soco Falls. This is my personal favorite waterfall in this Blue Ridge Parkway itinerary from Asheville! Not only is it stunning (it's a double waterfall!), but it also doesn't require a long hike to get to. To get to the parking area, you'll see a small sign on the left of the road. Go to the left of the metal fence to find the trail.
The trail is only .2 miles, but it is steep. First, you'll reach an observation platform. To the left of it, you'll find a series of ropes that you can hold onto as you go further down the very steep trail to the bottom. Use the ropes! The trail can be very slippery. And if it has recently rained, definitely wear shoes you don't mind getting dirty.
Drive time to next stop: 31 minutes
Mingo Falls
With a 120 foot drop, Mingo Falls is one of the tallest waterfalls in southern Appalachia. To get to Mingo Falls, you'll follow a .3 mile heavily trafficked out-and-back trail that includes a 161 step staircase. At the top of the stairs, a short path leads you to the observation bridge at the base of the falls.
Drive time to next stop: 15 minutes
Mingus Mill
It's time to head into Great Smoky Mountains National Park for a bit of educational history. Mingus Mill has been around since 1886 as a water-powered mill for grinding corn. It was essential to the area! It's an easy walk from the parking lot to reach the mill. You can also do a hike from here as well!
PS. Looking to spend more days in the national park? Extend your Blue Ridge Parkway Itinerary from Asheville at this point by adding more time in Great Smoky Mountains National Park!
White Water Rafting
If you didn't get a chance to do some white water rafting or kayaking in Asheville, here's another great opportunity to do it! There are several outfitters in the area, but the most popular include Rolling Thunder River Co and Carolina Outfitters. The Nantahala Outdoor Center is the biggest in the area and also offers ziplining, tubing, and kayaking.
Nantahala Village
Tonight's lodging is Nantahala Village, which provides comfortable lodging right in between Great Smoky Mountains National Park and the gorgeous Fontana Lake area. For dinner, we ate at River's End Restaurant, which is located at the Nantahala Outdoor Center. Their fish was excellent!
Fontana Lake or Lake Santeetlah
If fishing or boating is something you're wanting to fit into your Blue Ridge Parkway itinerary, Fontana Lake and Lake Santeetlah are two favorites. You can learn about what you'll find at Fontana Lake here or go ahead and join a guided fishing trip on Fontana Lake. Learn about Lake Santeetlah here.
Even if you don't fish (like me) but are looking for great spots for sunset photography, you'll find the prettiest views at Llewellyn Branch Boat Ramp at Fontana Lake (where we took the photo above. GPS coordinates 35.45102, -83.81927) or at Cheoah Point Boating Access at Lake Santeetlah.
Day 5: Small towns and waterfalls heading back to Asheville
If you're heading back to Asheville or on to Charlotte, this Day 5 option is for you. (Greenville is further south, so going to the last two spots on this day's itinerary is a bit out of your way, though still doable).
Sylva
On your way back to Asheville, you've got to stop into what might be the most charming small town in all of North Carolina! I mean, just look at its courthouse! Three great breakfast options are White Moon Coffee Shop, City Lights Cafe, and Lucy in the Rye.
Blue Ridge Biscuit Company
You'll be passing through Asheville on your way to the Upper Catawba Falls, so feel free to grab breakfast/lunch there if you haven't already eaten. But if you want to explore Black Mountain, NC (near the next spot on this list), the Blue Ridge Biscuit Company is a great spot to grab some food!
Upper Catawba Falls
These striking falls require a longer hike than everthing else on this itinerary, but it's worth it for the incredible falls. We ran out of time to do this hike, but here's what to know if you want to hike Upper Catawba Falls.
First of all, this hike has two parts to it. It is an easy 1.2 mile hike to get to the lower falls (the first part). From there, there's a trail that continues from the right side of the lower falls that you can take to the even more photo-worthy upper falls (the second part). But do so at your own risk- people have actually died trying to get to the upper falls!
The stretch to the Upper Falls is very steep and slippery, located right next to the lower falls. There are even ropes that help you at points, since you're almost rock climbing at certain spots! Because of the difficulty and danger getting to the upper falls, that portion is not suitable for dogs or children. Though we didn't get to do this hike, locals have said that when you reach a fork in the trail to the upper falls, go left for a slightly less difficult (but still difficult) trail to the falls.
From this point, you can drive back to Charlotte if that's where you flew into! Or, continue on to wherever your next adventure takes you!
Blue Ridge Parkway Itinerary from Asheville Map
Here is a map of all of the points of interest on this itinerary! I've separated it out by day. You can open it and save it to your own Google Maps.
I've color coded it as follows:
Red- lodging
Orange- food
Green- observation point/ road pull-off
Light blue- waterfalls or water activities
Dark blue- hikes
Purple- other activities
In conclusion…
I hope you found this Blue Ridge Parkway itinerary from Asheville helpful!
If you've been to the Asheville area and have more recommendations, drop them below in the comments!
And if you have any questions about our trip, feel free to also comment below!
Safe travels!
Jasmine
PS. If you're heading on a road trip through the Carolinas, check out this post on the best nature spots in Charleston or this Charleston and Savannah road trip itinerary!