Trying to figure out whether you should travel to Asheville or Charleston this year? Well, I hope to help you do just that! Here I'll compare Asheville vs Charleston based on things like overall vibe, things to do, their surrounding areas, food scenes, and more.
Both are such gems in their own unique way! They are also two incredibly different cities. So let's see which is best for you!
You can get a sense for Charleston from this video we made from our trip there! Our Asheville video is in the works.
[If you don't see a video player below, you may need to disable your ad blocker!]
Here's my Charleston video:
Now let's get to it!
Asheville vs Charleston: Overall Vibe
Charleston
If you want to experience Southern hospitality, you'll find it in Charleston. Although it's a sizable city, it has a lovely small-town, friendly feel.
Charleston doesn't have the glitz and glamor of New York or Los Angeles, but most tourists know that that's what gives Charleston its unique Southern vibes. This coastal city often makes the top of 'best US cities to visit' lists.
Asheville
Meanwhile, Asheville is a large mountain town with beautiful scenery and an artsy vibe. It is a popular landing spot for those wanting to adventure along the Blue Ridge Parkway or the Great Smoky Mountains.
It is renowned for its liberal atmosphere, hipster vibe, and for being a city of artists, and is a popular place to both enjoy culture and have a few tasty beers! Like Charleston, it has also been rated the top US travel destination a few times.
Asheville vs Charleston: Downtown Activities
Charleston
In three words, I'd sum up downtown Charleston as charming, historic, and colorful. Charleston has an incredibly historic downtown and is one of the most culturally rich cities in America. The city was founded in 1670, and some of the buildings still date back to this time.
There are so many incredible things to do in Charleston. Here are a few highlights:
Enjoy Charleston's historic architecture (and take photos with the Instagram-worthy colored houses on Rainbow Row!)
Visit the thriving City Market which dates back to the 18th century and sells lots of local goods.
Tour the 18th century Nathaniel Russel House.
Walk around the historic French Quarter.
Explore museums like the Charleston Museum and Gibbes Museum of Art.
Take a carriage tour in Charleston of the entire downtown, which is a fantastic way to see the city!
Charleston Harbor is walking distance from downtown; take a stroll down The Battery for some fantastic views of the harbor.
Asheville
You'll come face to face with Asheville's arty vibe as soon as you enter the city. Downtown is full of talented buskers and street art: including colorful murals and epic cityscapes. Of course, you should also head to one of their craft breweries right away to have some local beer – as the city is famous for it!
Then there's the River Arts District, which is a fabulous place to go shopping for (or just appreciate) art. One of the most popular things to do in Asheville is to check out the vast Biltmore Estate (pictured above). Created by the Vanderbilts, this striking castle-like mansion is set on 8,000 acres of nature! It costs quite a bit to enter, though. Tickets usually start at around $76 per adult, you can book your tickets here.
Museum-wise, don't miss the Asheville Art Museum and the Asheville Museum of Science.
All in all, there are more things to do in downtown Charleston (especially if you are a history fan). But there is still plenty to do in Asheville, particularly if you are looking to relax and prefer the art/brewery scene.
Asheville vs Charleston: Surrounding Areas
Charleston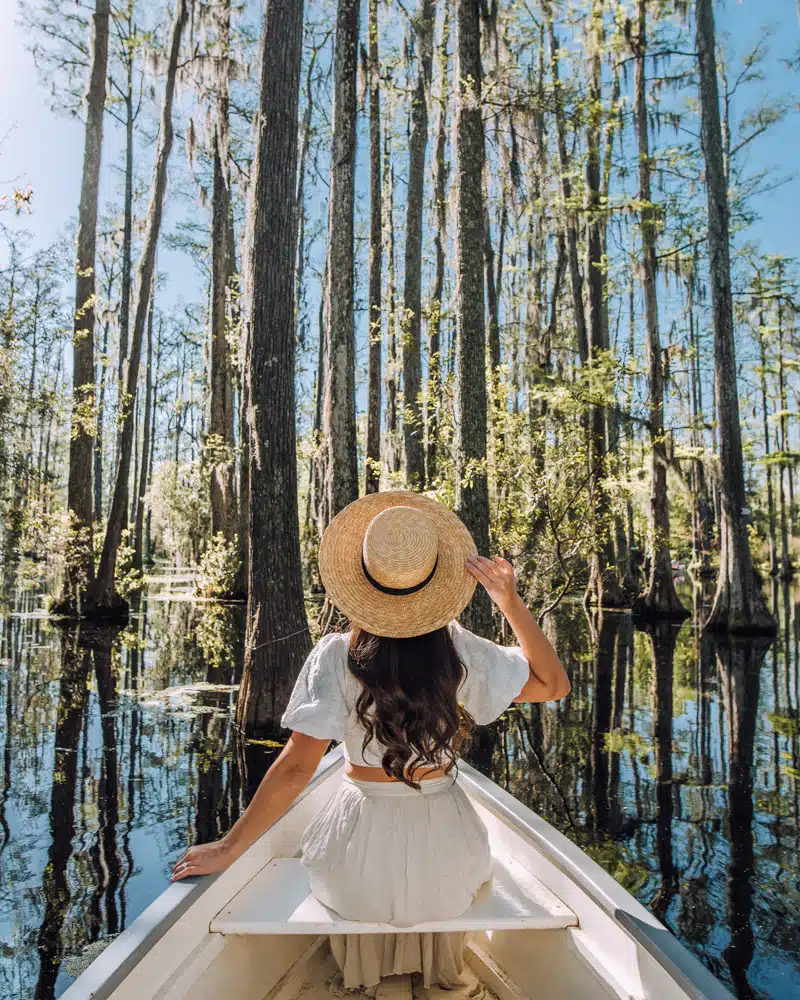 In Charleston's surrounding areas, the main highlights include plantations, cypress gardens, and beaches.
A short drive from Charleston are plantations like Boone Hall Plantation, Magnolia Plantation and Gardens, and Middleton Place. These places are a somber reminder of slave history. But I think it is important to learn about this history when visiting the region. You also get to learn about Gullah culture while enjoying beautiful gardens and nature. I think they are well worth the trip- learn more about the best plantations to visit in Charleston here!
My favorite thing to do in Charleston's surrounding area is to visit Cypress Gardens. This swamp near Charleston is a 170-acre garden full of stunning flowers and Notebook-worthy moments. Admission includes a self-guided boat ride through the cypress trees in the exact location where The Notebook was filmed!
You can also visit Shem Creek Park, right by Charleston Harbor. It's a large series of boardwalks that cut through the marshland. It's a fantastic spot to enjoy Charleston's coastal location and the wildlife in the region.
For a day in the sand and sun, head a little bit further out to Folly Beach, Isle of Palms, or Sullivan's Island. Check out my full list of the best nature spots in Charleston here!
Asheville
There are so many unique places to visit just a short drive from Asheville. The Blue Ridge Parkway is a 469 mile stretch between North Carolina and Virginia. The area around Asheville is one of the most beautiful roads in the country, with epic lookouts and picnic stops.
The Great Smoky Mountains National Park is an excellent place for hiking and exploring, as is Mount Mitchel State Park nearby.
You can also trek through the Pisgah National Forest, which is thought to be where modern forestry was invented in America. Route 276 leads to Pisgah National Forest, which is a beautiful drive, and when you are there, there are lots of fishing opportunities.
There are also lots of waterfalls to enjoy around Asheville. Looking Glass Falls and Sliding Rock Falls are located in Pisgah National Forest, Soco Falls are near the Cherokee Reservation, and Catawba Falls are situated near Mount Mitchell – you can hike there.
Asheville definitely wins when it comes to attractions in the surrounding area, although Charleston is a better option if you're looking for beaches and history.
Asheville vs Charleston: Getting Around
Charleston
Charleston International Airport is a civil-military airport and is the largest in South Carolina. There are direct flights from most major US cities to Charleston.
Once you're in Charleston, you'll find that downtown is immensely walkable. If you are staying in the city center, you might not even need a rental car – however, you might find it helpful if you are traveling outside the city to Folly Island (which you can drive to) or some of the plantations.
Asheville
It is more expensive to fly directly into Asheville than other surrounding cities, and you might find that there are fewer direct flights. A cheaper option is to fly into Charlotte and then drive; the drive time is just over 2 hours. Greenville, SC is even closer, about 1.5 hours away, though you'll find rental car rates from Greenville typically cost more than they do at Charlotte. Alternatively, Asheville is also reasonably close to the Atlanta Airport, about 3.5 hours away.
Once you reach Asheville, you will need a rental car. This is because most of Asheville's best attractions are outside of downtown, in the beautiful surrounding nature, and you'll need to drive to get there!
To sum it up, Charleston is slightly easier to get to than Asheville, and you have the perk of not necessarily needing a rental car. But if you are happy to rent a car and factor in more driving time, it's not too much more challenging to get to Asheville!
Asheville vs Charleston: Weather
Charleston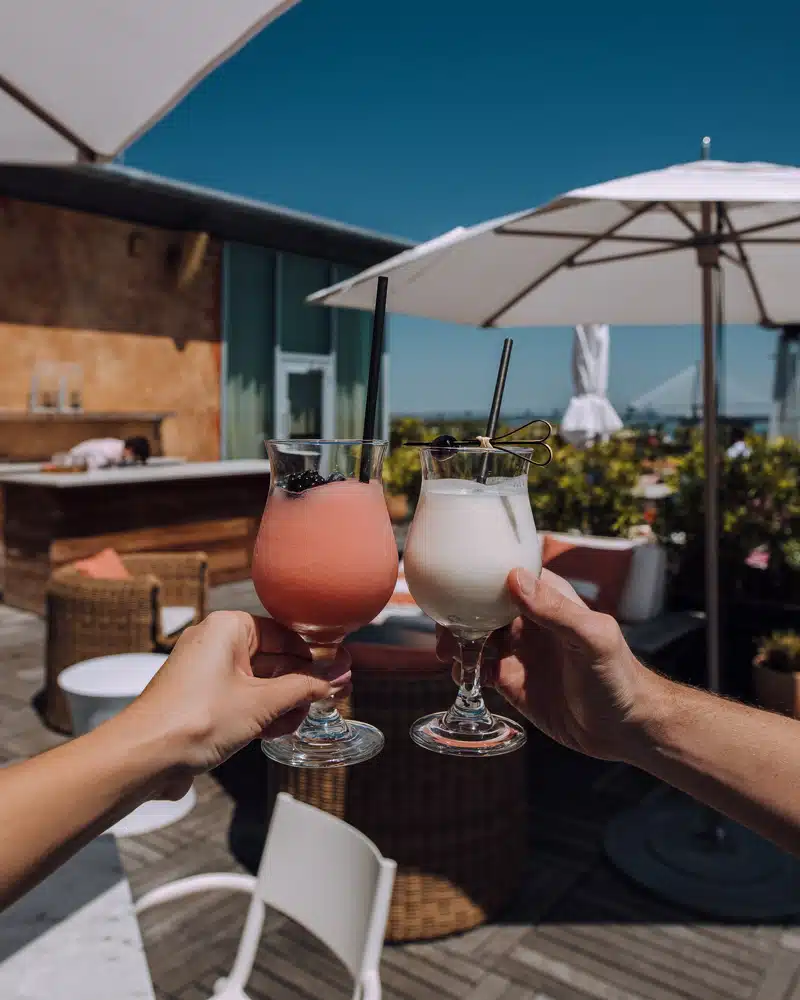 Charleston can have chilly weather over winter and sweltering weather over summer! Therefore, its two most popular seasons are September to November and March to May. However, you'll find tourists flock to Charleston in all seasons.
But, depending on where you are from, you may find it too hot in Charleston in the summer. However, due to its coastal location, it is often cooler than other parts of the South.
Another weather factor to consider is that hurricanes are always a possibility in South Carolina, so do bear that in mind if you visit in the early fall.
Asheville
Asheville is cooler in the summer than other destinations due to its mountainous location. Therefore, it is an excellent place to visit if you want to escape the stifling heat elsewhere in the US! We fled from Texas to Asheville in August and the cool mornings and brilliant nature made it so worth it! (When we took the above photo at Soco Falls, I was actually freezing from the cool morning and the mist! Though it did get very hot later that day.)
In the winter, the roads around Asheville can get very snowy and can be challenging to drive on- some roads even close. But if you want to ski, snowboard, or do other winter sports, this is a great time to visit Asheville! If not, it's probably best to visit another time.
Fall is the peak season for Asheville tourism due to the cool temperatures and the changing colors of the leaves. In fact, the Blue Ridge Parkway sees its most visitors in the fall, so be mentally prepared for that if you visit in late September and October.
Asheville vs Charleston: Food
Charleston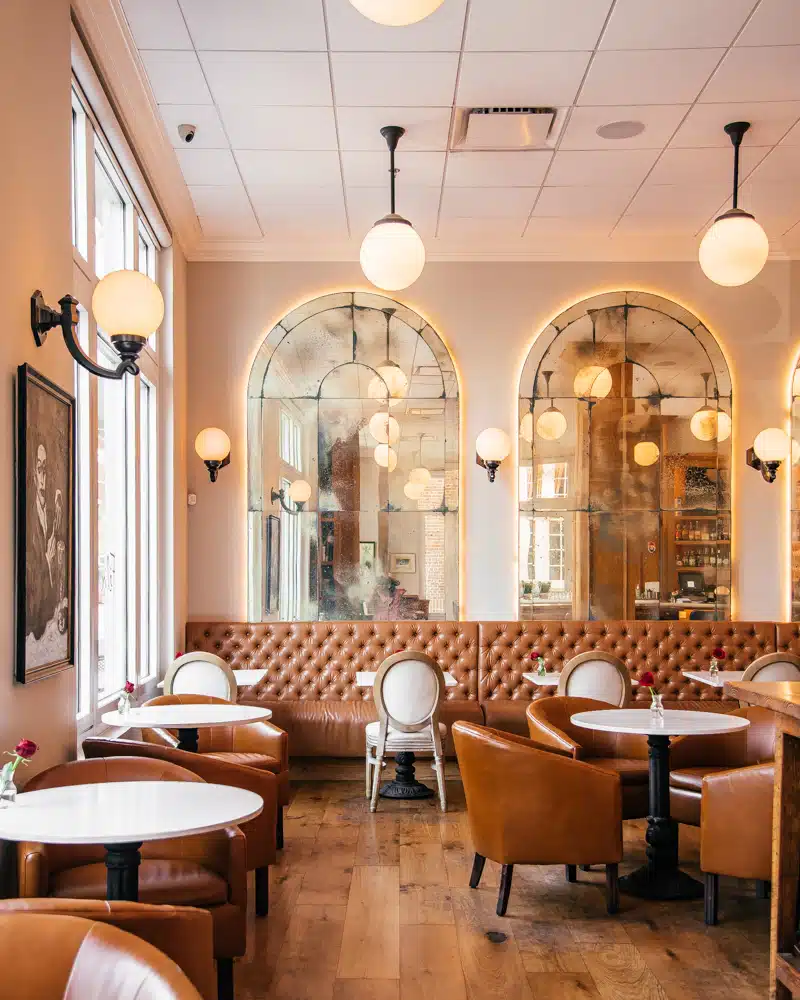 Charleston is very much a foodie city. While it has been famous for Southern comfort food over the years, you'll find a delectable fusion culture in many of its restaurants.
The city is renowned for its fried chicken as well as Charleston-specific specialties such as shrimp and grits and she-crab soup.
There are countless exceptional restaurants to try in Charleston. We recommend FIG, Husk, Magnolias, The Glass Onion, and The Darling Oyster Bar.
If you're at Magolia Plantation or Middleton Place, the nearby Nigel's Good Food makes food that is 'just what your soul needs'- ie. Southern style, traditional comfort food!
Felix Cocktails et Cuisine (pictured above) serves up seafood and steak with a Parisian twist.
Bertha's Kitchen is famous for its fried fish and chicken and its large turquoise exterior. You could also try some traditional southern BBQ at Lewis Barbecue or some Italian fare on Sullivan's Island at The Obstinate Daughter.
Asheville
Meanwhile, Asheville is becoming increasingly more well-known for its food scene.
Restaurants like the White Duck Taco Shop, which serves a range of uniquely flavored tacos, Posana, which makes contemporary American food, and Farm Burger, serving some of the most delectable locally sourced burgers you'll ever try, make it a place well worth visiting for food!
Other eateries include Tupelo Honey which serves up southern food and delicious cocktails, Indian food at Chai Pani, and homestyle barbecue at Luella's BBQ. And don't forget to stop into the French Broad Chocolate Lounge for dessert!
While both cities are notable for their foodie offerings, Charleston definitely provides more options. So if trying new great food places is the primary reason you're looking to travel, Charleston is for you.
Asheville vs Charleston: Overall Costs
Asheville and Charleston are pretty similar in terms of costs, but Charleston is a little bit more expensive.
For example, you could expect to pay about $70 per night in Asheville for budget accommodations and $75 in Charleston.
Food is the main thing that is substantially more expensive in Charleston – travelers usually spend around $50 per day on food there, instead of $30 in Asheville. This is partially due to Charleston's status as a foodie capital.
Likewise, local transportation can be slightly more expensive in Charleston than Asheville, and tours and other attractions are usually a bit more.
If you want to stick to a budget, Asheville may be cheaper. However, there is so much variety in Charleston and you'll be able to find ways to cut costs if you want to save some money!
Asheville vs Charleston: Where to Stay
Charleston
We stayed at the Francis Marion Hotel (pictured above) in downtown Charleston. Located right on King Street, it is in a prime position to enjoy all of the city's historic attractions.
With old but clean rooms, an on-site spa, restaurant serving traditional Southern cuisine, and the Swamp Fox Bar which has live jazz music and serves delicious cocktails, you've got everything you need for a stay in this historic city! (The one thing I couldn't quite get over was that the lobby always smelled a bit odd whenever we walked in!)
If you're looking for more luxurious options, Hotel Bennett, The Dewberry, and The Grand Bohemian Hotel Charleston are great options. There's no shortage of hotels in Charleston, so you're bound to find lodging that suits what you're looking for.
Asheville
We stayed at the Village Hotel at the Biltmore Estate, a beautiful place to both enjoy the estate and Asheville itself. The photo above is the view from our room- so charming!
Rooms are comfortable, spacious, and modern with some extra attention to detail that you don't find in every hotel.
There's also a heated outdoor pool, fitness center, and nearby spa on the estate.
For a more budget-friendly option, The Residences at Biltmore is a great option, and the Sleep Inn Asheville is even more affordable.
If you're willing to splurge, the Foundry Hotel Asheville, The Inn on Biltmore Estate, or the Grand Bohemian Hotel Asheville Autograph Collection are for you!
In conclusion…
When it comes down to it, choosing whether to visit Asheville vs Charleston comes down to personal preference. Nature lovers: Asheville is for you. Food and history lovers (Magnolia Plantation pictured above!): Charleston is for you!
If you're looking for a beach vacation, Charleston wins. But if you're looking for a mountain getaway, Asheville wins.
Not keen on driving? Prefer to stay in one area? Charleston is much more walkable than Asheville.
So, which one do you think you'd rather visit? Let me know in the comments!
And if you have any questions about either city, feel free to ask them in the comments below.
Lastly, here are some articles you might find helpful as you plan your Asheville or Charleston trips:
Safe travels!
Jasmine