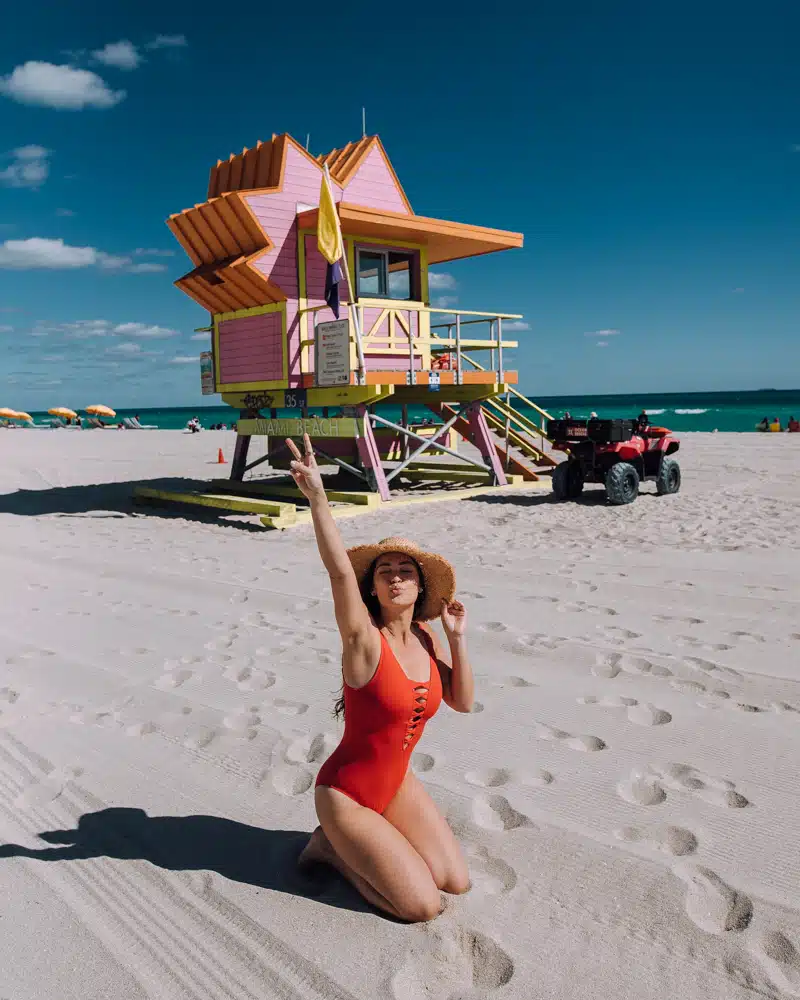 Before visiting Miami I had no idea what to expect. Sure, I'd heard of its reputation and expected skyscrapers and fancy beach hotels. But I never imagined all of the Instagrammable places I'd find in Miami!
Miami has to be one of the most photo-worthy cities in the US. (It's drone-friendly too, at the time of writing, which made me and my drone especially happy).
I've come up with a list of the 53 most Instagrammable places in Miami for you so that you can head straight to the best photo spots Miami has to offer!
And if you want to watch a highlight reel of some of my favorite Instagrammable spots in Miami, check out the video below!
This post of Miami Instagram spots is organized by location- first I'll go through the most Instagrammable places in Miami Beach and South Beach, cover the prettiest hotels in the area, then share the best photo spots on mainland Miami.
You'll find stunning nature spots, iconic places, Miami hidden gems, a sunflower field, and more!
(Bonus: if you're only exploring one area, I include a map of these most Instagrammable places in Miami at the bottom of this post! That way you can see which spots are closest to you!)
Also, if you want tips on how to improve your Instagram for better growth in 2021, check here! (Or you can go to this article specifically for Instagram photo tips!)
Now let's get to it! Here are the 53 most Instagrammable places in Miami!
1. Lifeguard Stands of Miami Beach and South Beach
Nothing says Miami like these iconic lifeguard stands! Running along the white sand coast of Miami Beach and South Beach are some 40 lifeguard stands. They've all been redesigned over the years into colorful and dramatic structures – perfect for Instagram.
2. Broken Shaker
Within the boutique Freehand Hotel is a refreshing, award-winning cocktail bar. Hipsters will love the off-beat vibes here, thanks to the boho set-up of fairy lights, leafy trees, and mismatched furniture.
3. 8th Magic Mountain
If you love color and art, Ugo Rondinone's 8th Magic Mountain will win you over. Located in front of the Bass Museum of Art, it is a 42-feet tall column of neon boulders. It's one of the world's greatest land art and a welcome pop of color!
4. Rosetta Bakery
From their famous Focaccia bread to their cute Rosetta Mini Cakes, Rosetta Bakery is a Miami favorite. Foodies will love this taste of Italy. Grab some seats at their Miami Beach branches and snapshots of their tasty treats!
5. Lincoln Theater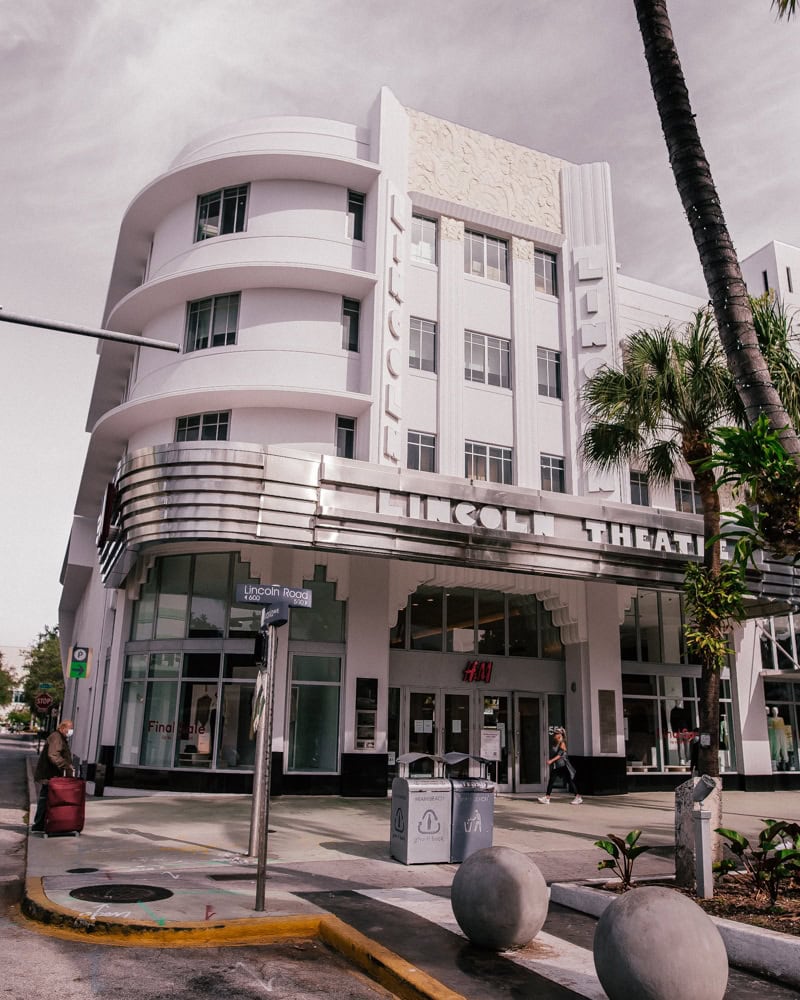 Step back in time by visiting Lincoln Theater! Built in the 1930s, it's designed in art deco style. Make sure to angle your photo up to capture its massive motif.
6. Dreamer, Miami
Dreamer Miami doesn't just brand itself with healthy juices and colorful milks – it's all about beachy, nature aesthetics. All three stores are wallpapered with pink flamingos and colorful florals; their packaging is delightfully artsy too. This juice bar is definitely one of the most Instagrammable bars in Miami!
7. Juvia
Photographers love Miami's openness and the rooftop restaurant, Juvia, is no different. Not only can you look out over the city, but there's also a beautiful plant wall to pose in front of.
8. Art Deco Historic District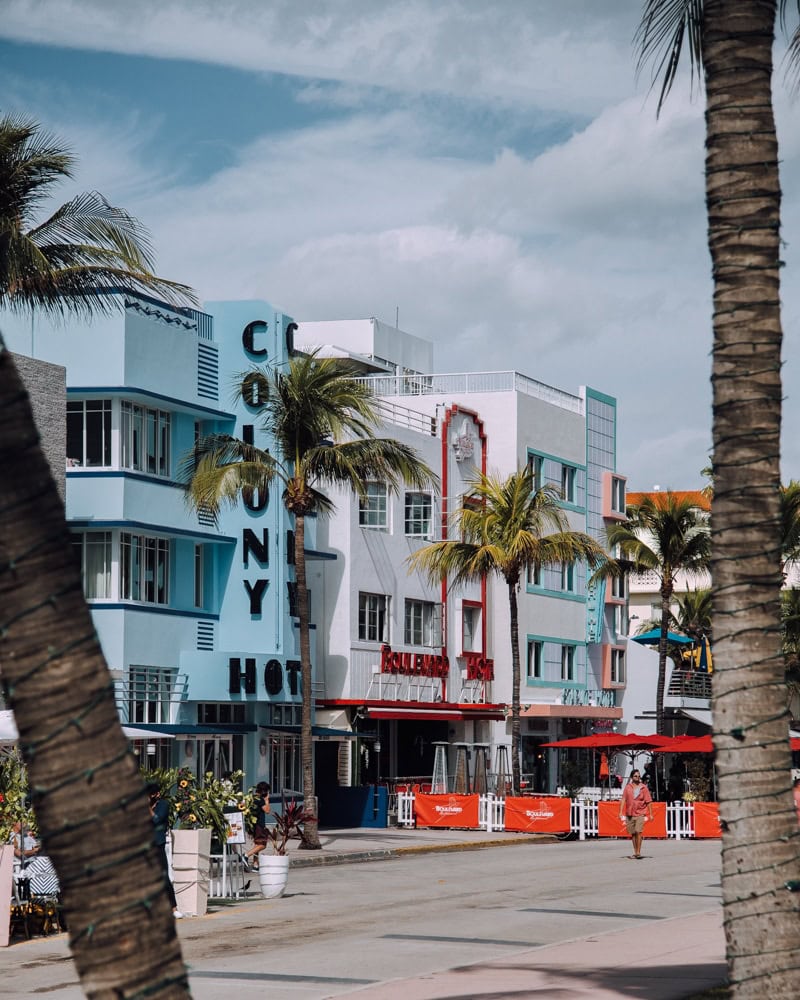 One of Miami's most Instagrammable heritage attractions, the Art Deco Historic District is teeming with unique buildings. The candy colors and geometric details are so fun to photograph! My favorites include The Carlyle, The Tides, Beach Patrol Headquarters, Cardozo South Beach, and the two hotels below.
9. Colony Hotel
Colony Hotel is another famous Art Deco hotel along Ocean Drive. Built in 1939, its chunky giant signage glows neon at night.
10. Beach Park Hotel
Located directly on South Beach, this 1929 hotel is an original member of Miami Beach Architectural Historic District. Its Mediterranean design won the Barbara Baer Capitman Award – think palm trees, marbled floors, and red-accented exterior wall.
11. Palm trees on ocean drive
Every Miami visitor needs a photo of Ocean Drive's iconic palm trees! Make sure to get as many in the shot as possible.
12. SOBE is love sculpture at anglers hotel
'SOBE is love' isn't just a flashy pink sculpture; it's a message of love and unity. Pay a visit to this thoughtful tribute and respect the 'don't touch' rules!
13. The Garden House restaurant
Serving homey Colombian food, The Garden House gets top ratings for its delicious cuisine and chill ambiance. They have a plant wall (restaurant sign included) that you can take pictures with.
14. Big Pink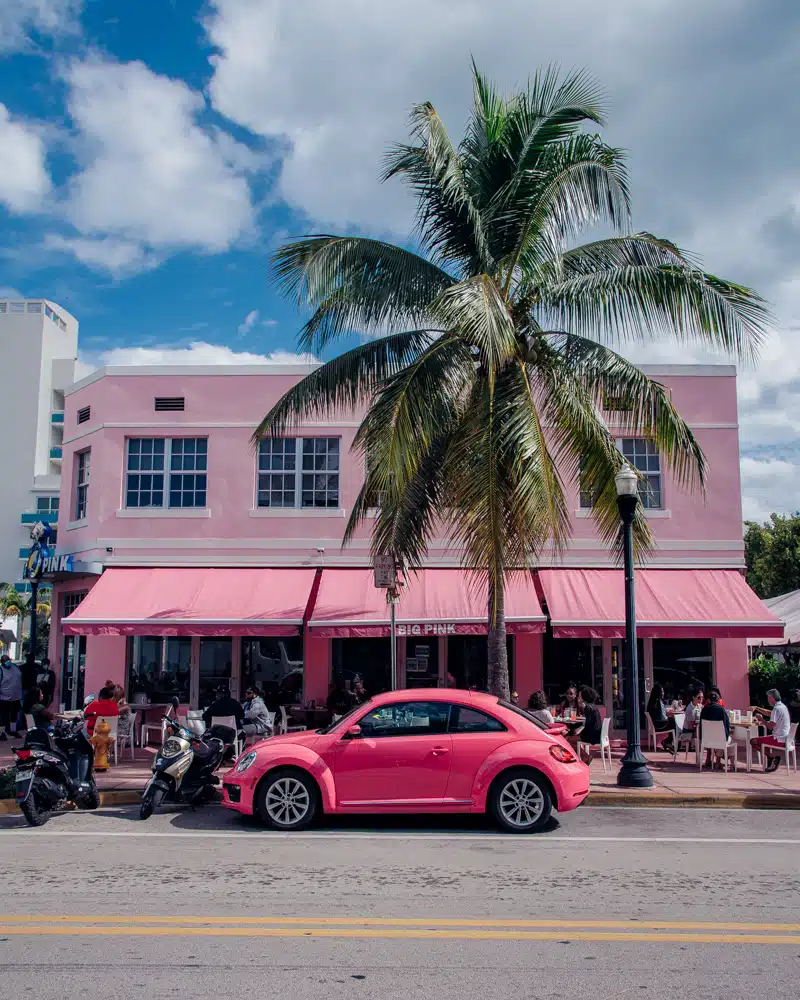 Need I say more? The attraction is PINK! With a pink punch buggy (does anyone use that phrase anymore?) in front of it! It's one of the most retro diners in Miami, featuring a menu of burgers, waffles, and milkshakes.
15. Planta South Beach
Planta doesn't just serve plant-only dishes; it also serves a stylish interior. From patterned floor tiles to neutral-tone upholstery, it's an extremely stylish spot for meetups. Show up in a sundress and light blazer to match the setting!
16. Basement Miami
What's cool about this nightclub, bowling alley and skating rink combined is the dramatic lighting and projection effects. Don't just take photos of sunny Miami. Basement Miami's glow-in-the-dark setting and its moving light beams open from 5PM to 12AM, from Thursdays to Saturdays. Under 21s have to leave by 8PM.
This next section covers the most Instagrammable hotels in Miami Beach and South Beach! I mentioned a few above but those are mainly for their exteriors. Below, you'll find hotels that have stunning pools, interiors, and views! If you're looking to book an Instagrammable stay in Miami Beach, I highly recommend the hotels below!
17. Mondrian South Beach
Located on South Beach with plenty of open space, the Mondrian South Beach has no shortage of photo ops! The ocean-facing pool is perfect for sunset bikini shots, and don't miss out on their beautifully designed restaurant too. But the cherry on top is the stunning bay views from their balconies! I've got to say, I prefer a bay view over an ocean view in Miami Beach! We absolutely loved our stay and I highly recommend this photo-worthy hotel!
18. Eden Roc Miami Beach
The Eden Roc is another beachfront hotel with a luxurious pool so you can get that requisite sunset selfie. Tired of the pool? Miami Beach is just steps away.
19. Fontainebleau Miami Beach
The modern and iconic Fontainebleau Hotel sits within Millionaire's Row. It's all about luxury, featuring award-winning dining, glamorous rooms and nightlife venues, spacious pool space, and miles of beachfront. You'll have plenty of backdrops to photograph with!
20. Faena Hotel Miami Beach
Located inside the vibrant Faena District is the 5-star Faena Hotel, one of the most unique when it comes to interior design. The carpets, curtains, and furniture come in swirling patterns and bright colors – it's all the 1950s glam you can ask for. But my favorite part of the hotel is the red and white umbrellas around their pool and beach area!
21. The Confidante
The Confidante's mid-century décor makes every room fun to photograph! Sprawl over the colorful upholstery or capture the Art-Deco inspired beach chairs on the beach below.
22. 1 Hotel South Beach
With 600-feet of the beach, 1 Hotel complements sea views with wood-themed rooms and stunning plant walls. From organic cotton sheets to airy beachfront dining you definitely want snapshots of, it's designed for elegant comfort.
23. The Setai, Miami Beach
Every room and space at The Setai is a work of art! The tall hedges around the swimming pool and luxurious guest suites really make you feel like royalty.
24. Nautilus by Arlo
Nautilus isn't just aesthetically pleasing but carries plenty of history too. It's an original Art Deco architecture by Morris Lapidus of Miami fame. I recommend reserving a poolside cabana for an extra-luxe photoshoot.
25. Delano Hotel
Currently undergoing a change in ownership, you'll want to visit once it's open! The clean, white façade of Delano Hotel can be spotted from miles away. If you're lucky enough to rent a stay, do take photos of its beautiful pool. Long, rectangular, and lined with palm trees, it's a stunning backdrop.
26. Standard Hotel and Spa, Miami Beach
The Standard Miami is literally its own island, nestled within tropical gardens and facing Biscayne Bay. The Standard Spa is definitely photo worthy! While you shouldn't take a camera into private areas of its spa, the outdoor hot tubs, fire pits, and lounge swings are perfect for that golden hour selfie.
27. The Villa at Casa Casuarina
If you're a fan of Versace, this former Versace-owned mansion turned luxury boutique hotel should definitely be on your list. You can take photos of every corner at the Villa at Casa Casuarina thanks to the elaborate window frames, mosaic pool, tiled courtyard, and everything pretty.
Alright, now that we have the most Instagrammable places in Miami Beach covered, let's head west into mainland Miami! I'm starting from the northernmost spots to the southernmost.
28. St Bernard De Clairvaux
This gorgeous monastery was actually built in the 12th century in Spain, dismantled and shipped over to the US to be restored in all its glory. The arched corridors, stone walls, and courtyard are stunning! Plan a medieval photo shoot for just a $10 entrance fee.
29. Downtown Miami Skyline
Whether you're taking a landscape shot or selfie with the downtown Miami skyline in the background, it's one of the most Instagrammable sights in Miami! I recommend photos during the daytime and at night when the lights come on.
30. Flower mural in the design district
Miami's design district is brimming with amazing murals by world-class artists. There are plenty of nature-themed ones but none as eye-catching as the flower mural. It's located in the outdoor corridor between Celine and Berluti (the exact spot is on the map at the end of this post!). I'll let it do all the talking!
31. Fendi Colonnade
Located within the design district is this Fendi treat – the vividly colored Fendi colonnade. The pillars and walls of this brand building are splashed with a rainbow palette. Way to brighten up your Instagram feed! (Photo tip: I recommend using a zoom lens on your camera if you have one so that you can eliminate any spaces between the arches for the effect you see above. I used this lens, and you can see everything in my camera bag in this post here!)
32. Buckminster Fuller Fly's Eye Dome
Keep wandering around the design district until you come across the Fly's Eye Dome. Designed in 1965, this art installation was originally the blueprint of low-cost portable housing. Now, it's a contemporary artwork on display.
33. OTL
Grab a drink at this airy and sleek Instagram-worthy café. Open all days of the week from 10AM to 3PM, it's the perfect pit-stop when exploring the design district.
34. Museum Garage
You've never seen parking garages like this! Five architecture studios put their heads together and created this funky, bold structure. Bold colors and unique "cut-outs" make it a perfect photography subject.
35. Museum Garage Interior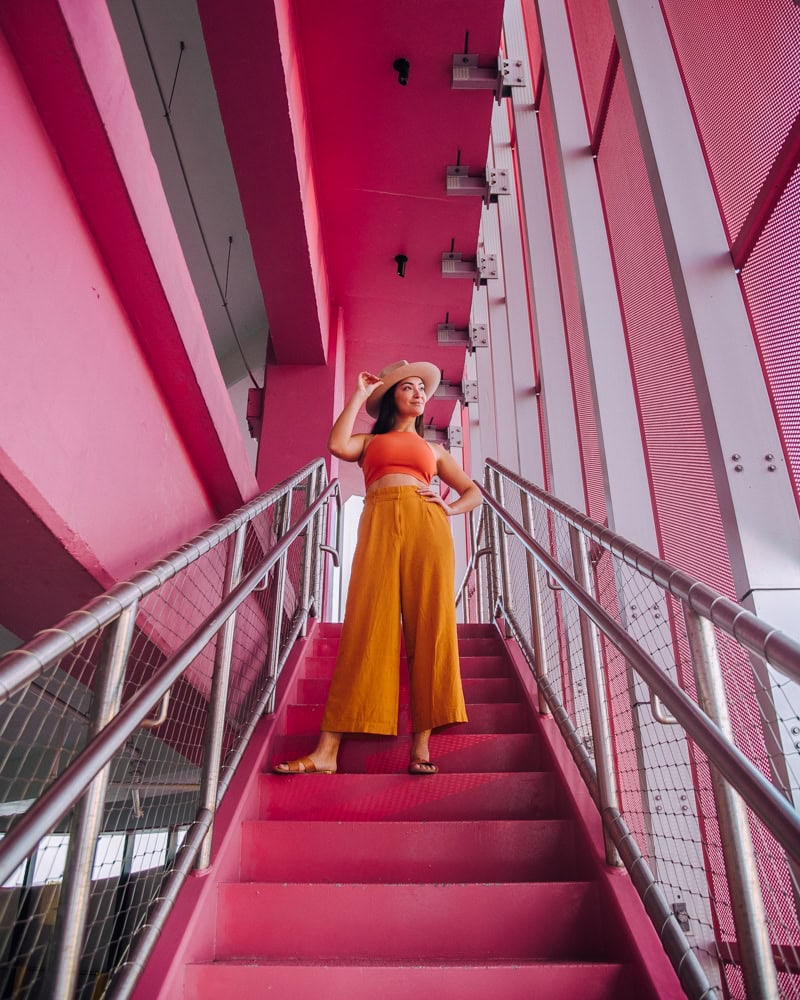 Better yet, there are hidden photo spots inside Museum Garage! Pop a pose at the pink stairwells or head up to one of Miami's most photographed spots – its pink and yellow splattered roof. It's particularly mesmerizing during sunset.
36. Institute of Contemporary Art Miami
Even without going inside the Institute of Contemporary Art, I came across a unique backdrop. Head around the side and take a photo with its wall-supporting MIAMI sign. Make sure to include the metallic geometric wall above! Head to this spot before they open if you want to try to avoid cars (unlike me).
37. Wynwood Walls
Perhaps the most Instagrammable place in Miami, Wynwood Walls is made to be photographed! Artists from all over the world gathered in this outdoor museum to create memorable graffiti and street art. If you want to try a similar photo to the one I got, the Instax makes for the cutest photo prop!
38. Butterfly Wings Murals
An Instagram classic, you have to look for these murals. The butterfly wings mural at 2401 NW 5th Avenue is really popular, so I suggest visiting mid-week in the afternoon. If it's too crowded, the wings pictured above are next to The Salty Donut, closer to 2nd Street. You'll need a wide-angle lens for these wings, though, since chances are a car will be parked right in front of it. That's what we did here!
39. The Salty Donut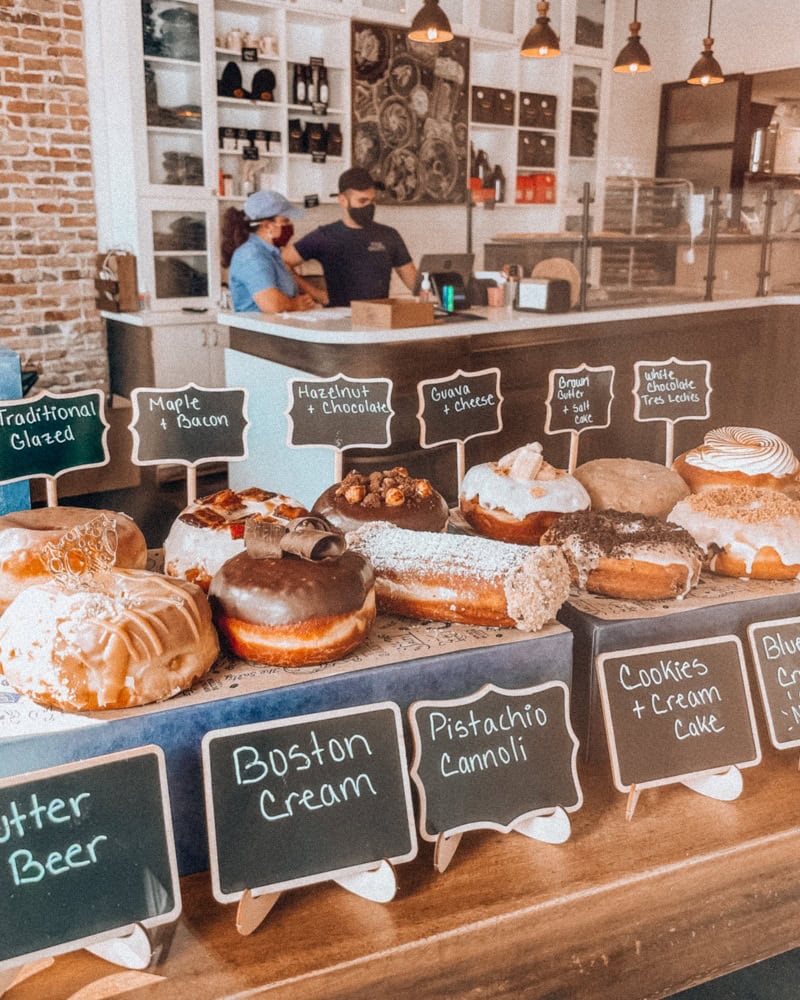 I was lured in by my inner foodie but stayed for my inner photographer. Take pictures of the rows of donuts being offered! The Salty Donut makes them deliciously and beautifully.
40. Frost Museum of Science