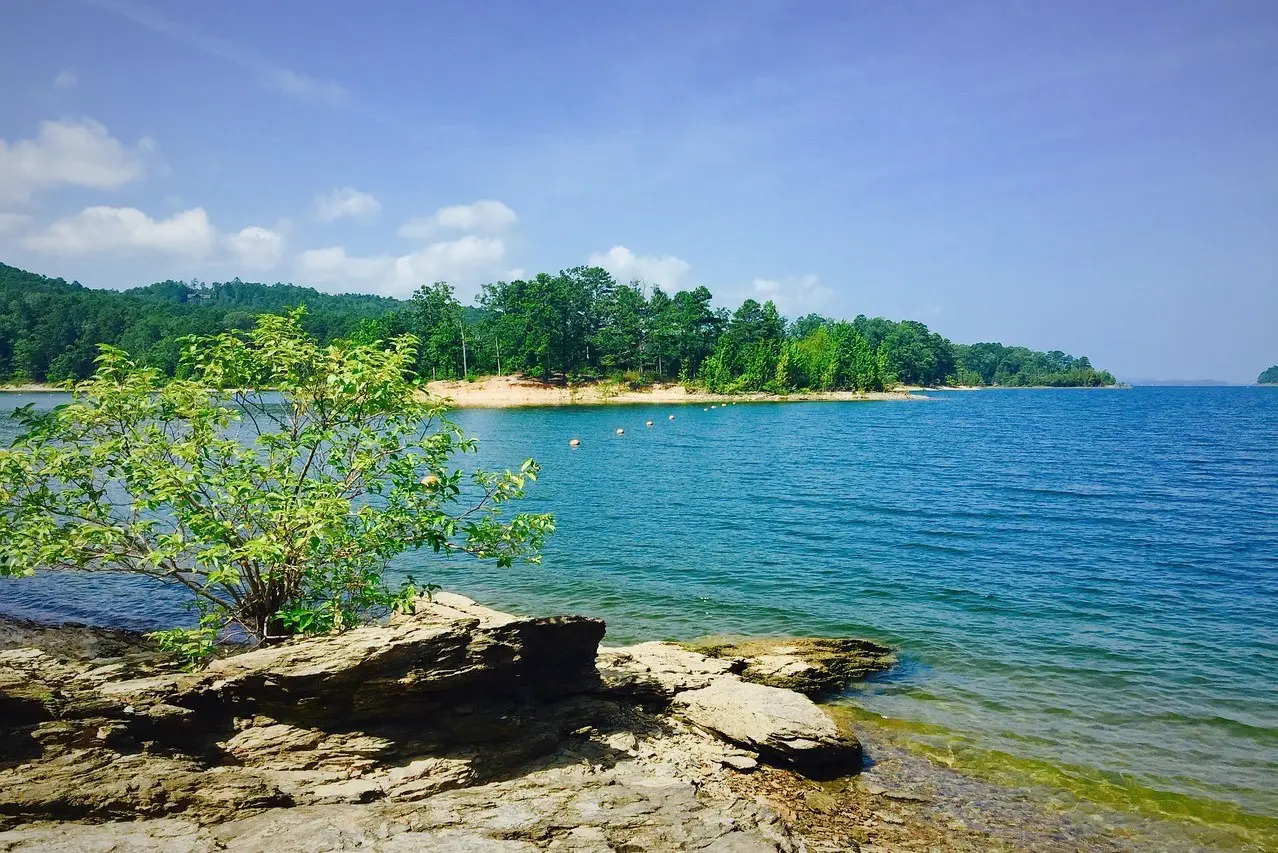 Beautiful Lake Ouachita in Arkansas is the perfect place for a weekend getaway.
Coming from Dallas, this lake is perfect for a mini road trip, just a five hour drive away.
It's one of the cleanest lakes in America, so you can be sure that it's going to be stunning when you visit.
Even though my husband and I visited on a mostly cloudy weekend, you could still see the beauty of the lake as powerful clouds covered the sky.
And the fact that it is almost 40 miles long with 975 miles of shoreline (it's the largest lake in Arkansas!) means there is bound to be plenty to do.
Between the lake itself and the lovely areas around it, I recommend staying for at least 3 days if possible.
Without further ado, here are 14 things to do when visiting Lake Ouachita.
1. Hike at Lake Ouachita State Park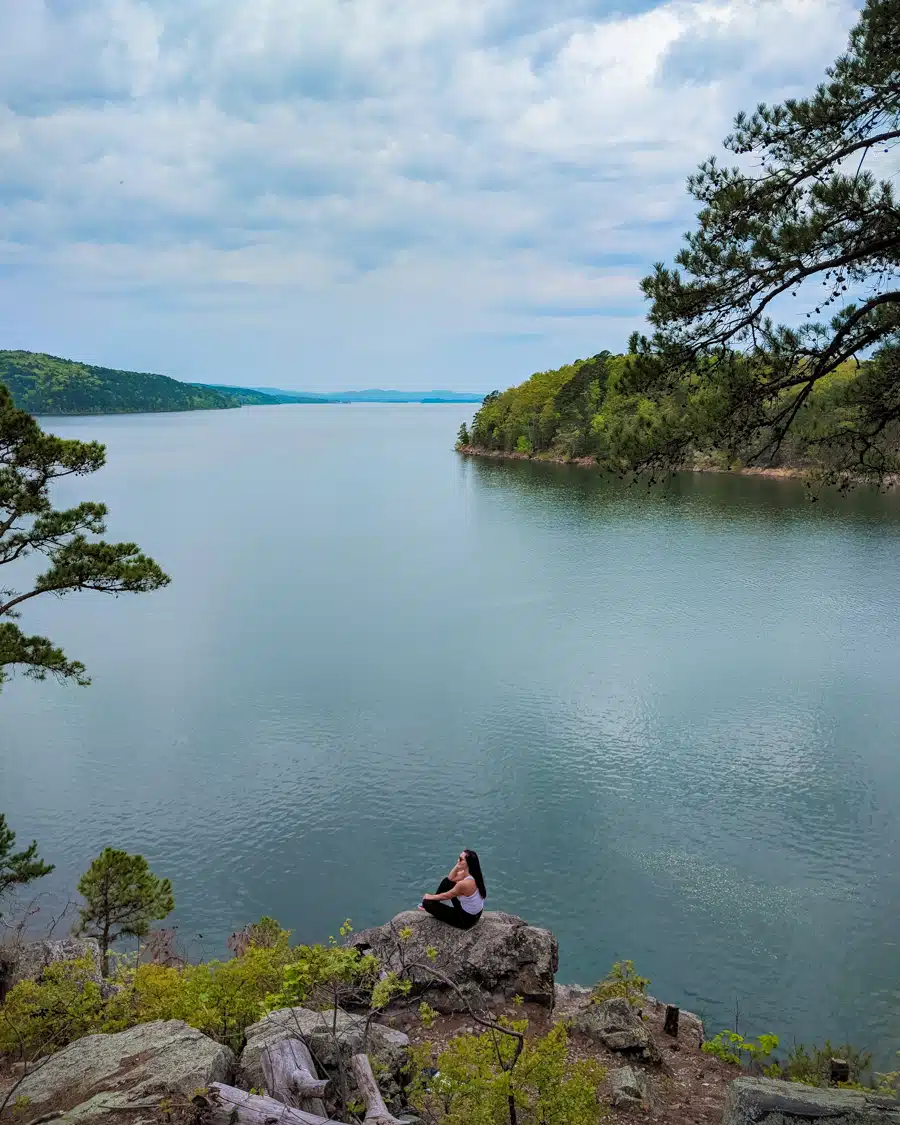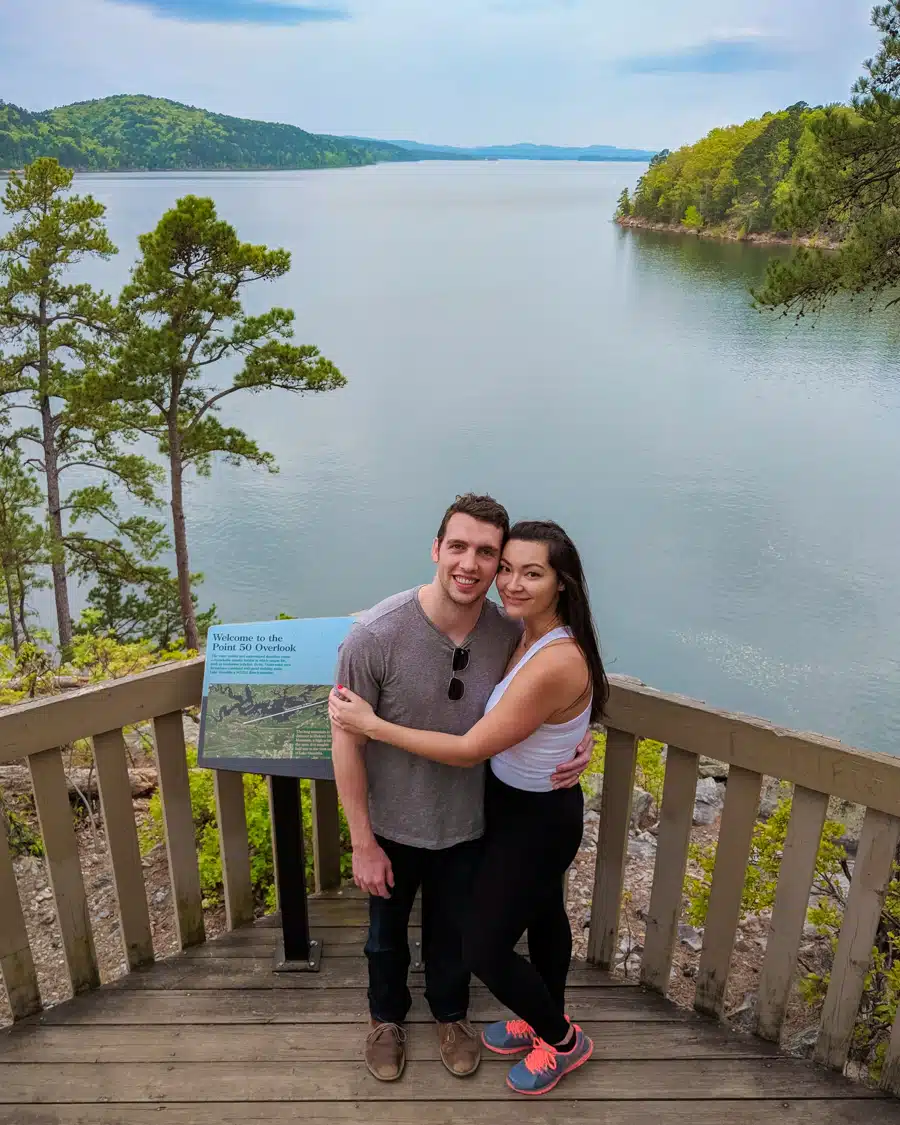 Trees and awesome lake views abound at Lake Ouachita State Park. So naturally, you'll find a couple of trails here.
We hiked the four mile Caddo Bend Trail, which starts near the visitors center and loops around the peninsula.
From the observation deck at the top of the peninsula, called the Point 50 Overlook, you can see the view captured in the photos above.
It's a rocky hike that has a few ups and downs and an incredible view of the lake.
You can always cut back using the service road if it gets to be too tough or if you need to save time.
For a shorter hike, check out the Dogwood Trail, which is only a .5 mile loop.
While the Dogwood Trail doesn't have views of the lake, it points out nature in the area with descriptive signs along the hike.
2. Go backpacking in the Ouachita National Forest
Let me preface this section with the fact that the Ouachita National Forest is huge.
With over 1.8 million acres, you're bound to find several hikes to do here!
The Lake Ouachita Vista Trail on Lake Ouachita's southern side offers great hiking options if you're looking for a hike with a view. Visit their site here for more information.
For a list of Day Hiking Trails, visit this page on the Ouachita National Forest site.
And if backpacking sounds more appealing, check out these trails.
A safety note: wear bright colors on the trails during hunting season!
3. Go boating on Lake Ouachita
This is the number one thing you should do on Lake Ouachita!
There are multiple marinas around Lake Ouachita since it is so huge, but this photo is from the Lake Ouachita State Park Marina.
You can rent a canoe, kayak, fishing boat, small motor boat, pontoon, and more from the marina.
Just keep in mind that Arkansas law requires a boating license for operating any boat except for a kayak, canoe, or paddle boat.
Once you have the license in hand, get out on the water- go fishing, tubing, jet skiing.
Because what better activity to do an a lake than go boating?
4. Swim at Lake Ouachita
Good news for a hot summer day: you can swim in Lake Ouachita!
It has two swimming beaches and ten designated swimming areas that have been buoyed off.
The larger swimming beach is close to the visitor center near the marina, while the other is near the Three Sisters Springs pavilion.
5. Catch some fish
You'll find a variety of fish such as bream, crappie, walleye, catfish, striped bass, and largemouth bass.
Did you know that Lake Ouachita is nicknamed The Striped Bass Capital of the World?
So your odds should be good!
Whether you choose to go fishing in open waters or in one of Lake Ouachita's quiet coves, you're bound to hook something!
---
---
6. Scuba dive
Scuba dive? In Arkansas?
Yup, you read that right!
You can go scuba diving in Lake Ouachita!
Which is great news for divers who live around Arkansas with no ocean visits on the calendar.
Remember how I said Lake Ouachita is one of the cleanest lakes in America?
That makes for great visibility as far as freshwater diving goes.
Add the fact that it is 200 feet deep, and voila! An awesome place for scuba diving!
There are around 30 dive spots at Lake Ouachita.
You can follow the "Geo-Float Trail," which winds across 16 miles of the lake, alongside some remarkable geological rock formations.
When you arrive at the lake, pick up a diving brochure at any marina office to see where you can find the best diving spots. Then grab your gear and your wet suit and head out on a dive!
For the clearest visibility, dive at Blakely Mountain Dam; to see some quartz underwater, bring a flashlight and visit Zebra Rock.
Read more about what you can expect while scuba diving at Lake Ouachita here!
7. Go camping
There is excellent camping at Lake Ouachita.
With 93 campsites (some directly on the water) and cabin options, your nature adventure awaits!
You can easily reserve your spot on the park website, you can reserve your camping site here.
It is just $12 to reserve, so it's definitely a cost-effective way to vacation!
If tent living is not for you, there are cabins available on the park website as well!
Prefer a more luxury hotel option instead?
Check out these gorgeous hotels a short distance away in Hot Springs:
8. Rent an AirBNB
Though I love the idea of camping, I know that I totally romanticize it and would actually be much happier in a nice bed indoors.
Renting an AirBNB is another great option for you around Lake Ouachita.
Affordable, great for groups, and usually in a prime location, AirBNBs have plenty of pros.
We stayed at a particularly awesome AirBNB in Hot Springs Village, where we got this incredible view of the mountains!
AirBNB is a fantastic way to explore a city like a local.
They are also perfect for groups, since you can stay in a place with multiple rooms and a shared living space.
Our hosts, Mel and Lynette, were the kindest human beings.
They actually cooked us a hot breakfast in the morning and took us on a hike through their property (which is where we saw the pretty purple flowers in the second photo).
Though there aren't AirBNB house options actually on Lake Ouachita, if you want a lake view, there are a few house boat options, as well as some rental options at nearby Lake Hamilton.
9. Visit the Hot Springs Mountain Tower
The Hot Springs Mountain Tower lets you see 140 miles of the gorgeous Ouachita National Forest and Hot Springs National Park.
You can drive or hike to the Hot Springs Mountain Tower.
The drive will bring you straight there, and the 1.5 mile hike starts at Fountain Street.
Once you arrive, grab your tickets, hop in the handicap-accessible elevator and head up 216 feet!
Admission: $8 for adults and $4.50 for kids (ages 4-11)
Hours: the Tower opens at 9am and closes between 5-8pm depending on the season. See their full hours here.
10. Visit the Hot Springs bath houses
There are multiple bath houses lined along the town, which is known for its hot springs (the town is named fittingly!)
The town gets its name from the hot springs that run underneath it.
The natural springs are at 143 degrees Fahrenheit and are rumored to have healing powers!
The eight bathhouses on Bathhouse Row were constructed in the late 19th century and have since been maintained so that they are still up and running.
---
---
11. Explore the shops in downtown Hot Springs
Going to Hot Springs, you'll find a fun bits and pieces of history as you walk down the main street.
Besides the hot springs, Hot Springs has a colorful gangster and baseball history, which you can learn more about here!
12. Stop into the local restaurants
There are also plenty of cafes and restaurants to satisfy your hunger.
Some of the best fajitas I've ever had were from Rolando's, right on the main street.
In need of some sweets? Stop into Pour Some Sugar on Me.
And definitely stop into the Ohio Club, the oldest bar in Hot Springs (pictured in the second photo above).
Built in 1905, the Ohio Club is full of rich history and rumors.
Many celebrities, gangsters (including Al Capone!), and baseball players (Babe Ruth, for one!) have stepped through its doors- so pop in and step back into time.
13. Golf at Hot Springs Village
If you're into golf, Hot Springs Village offers great golfing.
Fun fact: Hot Springs Village is actually the largest gated community in America!
And it offers not just one, but eight different courses! It's a golfer's paradise!
Seven are 18-hole courses, and one has 27 holes!
So if you like golf, you're bound to enjoy one of the courses out at Hot Springs Village.
14. Go crystal mining in the surrounding mountains
You can go through the surrounding areas and see some incredible views and dig for some quartz crystals.
The best place for quartz digging is Mount Ida, which has a gorgeous lake at the top of the mountain and several crystal mining places nearby.
Mount Ida is considered the Quartz Crystal Capital of the World, and geologists say that the best quartz mining exists in Arkansas and Brazil. Who knew!
There are multiple places where you can dig for your own crystals, like Ron Coleman Mining and Wegner Crystal Mines.
When you go, wear chlothes and shoes that you don't mind getting dirty- digging for crystals can get messy!
In conclusion…
I hope you can see just how much fun you can have here!
There are so many things to do around Lake Ouachita, so go have fun exploring!
Safe travels,
Jasmine
If you liked this post, please share it to Pinterest! You can use either of the images below for easy pinning!