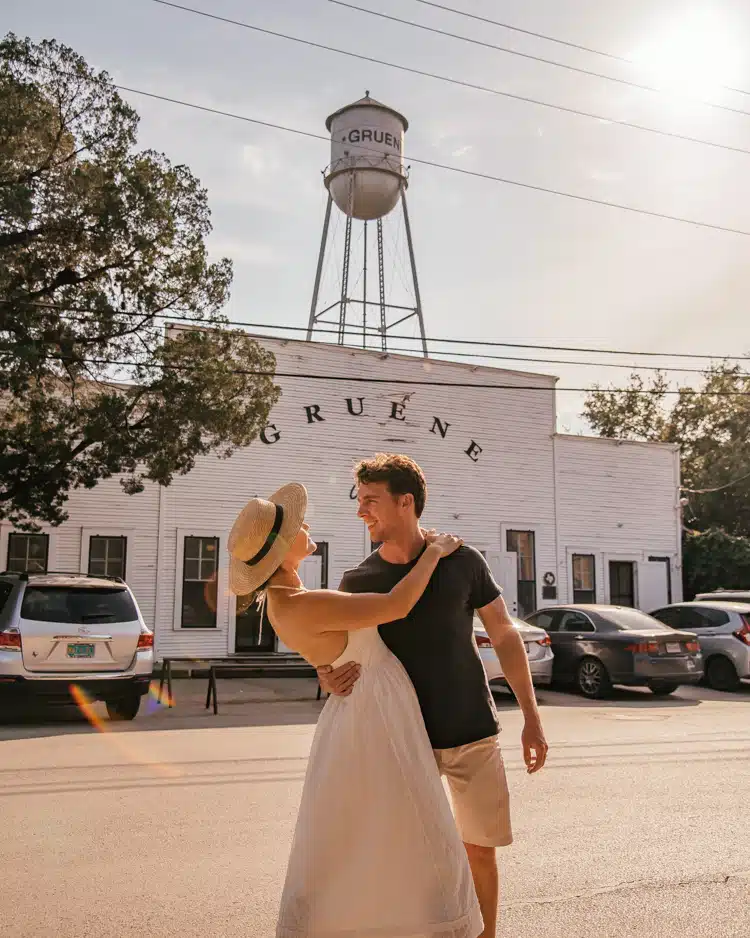 As a Texan, one of my favorite things to do each year is to visit the gorgeous Texas Hill Country. I genuinely think it's the most beautiful part of Texas! After visiting countless times, I've compiled this Texas Hill Country road trip itinerary for anyone looking for the ultimate itinerary.
It contains the best of the best out of all of the things we've done and places we've explored. If you're looking for gorgeous nature spots and charming downtowns, look no further. You'll be stunned by all that you'll see on this Texas Hill Country road trip!
Our most recent trip to the Hill Country was partnering with Texas Hill Country Trails- check out my story of our adventure here!
Texas Hill Country Road Trip Logistics
This Texas Hill Country road trip goes through five(ish) Hill Country towns in a somewhat circular pattern. I've detailed a six-day itinerary, but if you are short on time, feel free to cut out days entirely. And if you have even more time, you can spend more than one day exploring each place. We've packed in the activities here, so stretching things out over more time is totally doable.
Depending on where you're traveling from, whether you're flying into Austin (pictured above), or are driving from Dallas or Houston, this road trip can easily suit your trip.
Here's how the itinerary will go based on where you're coming from:
Texas Hill Country Road Trip from Austin
If you're looking for a Texas Hill Country road trip itinerary from Austin, you'll simply follow this itinerary as stated, starting in Spicewood and ending in Wimberley.
Texas Hill Country Road Trip from Dallas
Similarly, if you're looking for a Texas Hill Country road trip itinerary from Dallas, you'll want to spend the night in the Austin area and follow this itinerary as stated, starting in Spicewood and ending in Wimberley.
Texas Hill Country Road Trip from San Antonio
If you're wanting to modify this Texas Hill Country road trip itinerary from San Antonio, you'll start in New Braunfels and end in Castroville (ie. start at day 5, then day 6, then days 1-4).
Texas Hill Country Road Trip from Houston
Looking for a Texas Hill Country road trip itinerary from Houston? No problem- you'll want to drive and spend the night in San Antonio, then start this itinerary in New Braunfels and end in Castroville.
Now let's get into it! Here's the ultimate Texas Hill Country itinerary for you!
Day 1: Spicewood & Dripping Springs
Krause Springs
Krause Springs is a beautiful campsite and natural swimming spot, with a bunch of gorgeous springs to enjoy that are an average of 68° year-round. If you're visiting Texas in the summer, this is a must-visit! 
Krause Springs is open from 9:00 am to 8:00 pm. It costs $9 for adults and $5 for children over five. It is free for children aged four and under. 
What I love about it is that it's privately owned and we've never needed a reservation to get in! Learn more about it (and why I love it so much) here!
Lunch Option: Opie's Barbecue
Depending on how much time you've spent at Krause Springs, Opie's Barbecue opens at 11am and serves up legendary ribs and plenty of sides, and is a great place to stop and fuel up for the rest of the day! 
It looks exactly how you'd imagine a barbecue joint to look, housed in a large metal building with a retro sign on the door. Don't miss it while you're driving around!
Hamilton Pool
Another great place to take a dip is Hamilton Pool. The catch: it can be extremely difficult to get a reservation here, especially in the summertime and on weekends. You definitely need to make one ahead of time, and I've yet to get one! Every time I try, they're booked weeks in advance!
And for good reason, too. This is a gorgeous spot that feels completely otherworldly with its gorgeous cave-like setting! It is a popular swimming spot, although swimming is sometimes prohibited due to falling rocks. There are hiking trails around the area. 
Hamilton Pool takes reservations from 9:00 am to 12:30 pm in the morning and 2:00 pm to 5:00 pm in the afternoon. It costs $12 to make a reservation for a vehicle, and an additional $8 per adult, and $3 per senior when you arrive at the property (children are free). 
Make your reservation for Hamilton Pool here.
Westcave Outdoor Discovery Center
While Hamilton Pool might be completely booked when you're planning your Texas Hill Country road trip (lucky you if it isn't!), this nearby gem is less likely to be sold out. This discovery center is a canyon with outdoor trails, a beautiful waterfall, and lots of wildlife! 
Prices for Westcave depend on what activity you want to do. For example, a walk through the grotto is $60 for a household group, and bird hikes and conservation programs are $20 per person (members are $10).
Westcave is open from Wednesday to Sunday, 9:00 am to 4:00 pm. You'll need to make a reservation online here.
Unfortunately, it rained cats and dogs on the day we were scheduled to go, so our tour was canceled.
Texas Hill Country Olive Co.
This store is worth popping into while you're around – especially if you are looking for a souvenir to take with you from Texas! They sell a range of delicious olive oils, each with different flavors like chili and garlic. There are olive trees lining the grounds here, it's quite beautiful! You can do a guided orchard tour, browse their many products, and more. Learn more about the Texas Hill Country Olive Oil Co here!
Lunch Option: Rolling in Thyme & Dough
If you weren't able to secure reservations at Hamilton Pool or Westcave, no worries! Instead, after Krause Springs, you can spend the day exploring downtown Dripping Springs. If you haven't eaten lunch yet, you can stop at Rolling in Thyme & Dough.
Their lunch menu includes salads, sandwiches, and pasta dishes with plenty of options for vegetarians and other special diets.
Pedernales Falls State Park
Pedernales Falls is one of the most popular state parks in the area and is well worth checking out if you're looking for somewhere to go for a hike! 
Admire some impressive rock formations, including Pedernales Falls themselves, and look out for different animals that call this area home. You can walk right up to the unique falls here, which are less like your typical waterfall and more like a river of sorts.
It costs $6 for people aged 13 years and over and is free for those under 13. It is open from 8:00 am to 5:00 pm every day.
Dinner: Tillie's
If you're looking for somewhere good to eat dinner, Tillie's is the answer. Tillie's is on the site of Camp Lucy, which is where I recommend lodging for the night. But even if you're not staying there, you can (and should!) still eat at Tillie's! There is a huge range of food from risotto to salmon and vegetables, and all are cooked to perfection. Try their delicious dessert menu too! 
Stay at Camp Lucy
Did you know that Dripping Springs is the Wedding Capital of Texas? Once you visit and stay at Camp Lucy you'll easily see why! This stunning resort is a popular Hill Country wedding venue and has excellent accommodation options. The design here is flawless; each room is impeccably decorated with unique antiques, creative wallpaper, and gorgeous furniture and accents.
Day 2: Fredericksburg
Becker Vineyards
There are so many vineyards lining the road to Fredericksburg- this area is known for it! If you're an avid wine connoisseur, you can choose multiple vineyards to visit. But for the sake of this itinerary, I'm listing my two favorites. The first is Becker Vineyards.
Walk around 56 acres of vineyards and try some delicious wine at Becker Vineyards. The wine tasting costs $30 per person, and a charcuterie board is $25 (must be pre-ordered). The vineyard is open from 10:00 am to 5:00 pm Monday to Thursday, 10:00 am to 6:00 pm Friday to Saturday, and 12:00 noon to 6:00 pm on Sunday. 
Wildseed Farms
Wildseed Farms is the largest wildflower farm in the US, so it's a must-visit on your Texas Hill Country road trip!
Enjoy the bright, colorful flowers while taking a walk around the carefully designated walking paths around the farm. It is open from 9:30 am to 6:00 pm. 
Barons Creek Vineyards
Barons Creek Vineyards is another perfect place to try some fine wine. It is open from noon to 5pm and costs $25 for a mixed wine tasting. 
Pioneer Museum & Downtown Fredericksburg
Now you've arrived in the heart of Fredericksburg, where there are plenty of shops, museums, and restaurants to visit.
The Pioneer Museum showcases the region's 19th-century history through displays and artifacts. It is open from 10:00 am to 5:00 pm, and reservations are not necessary. It costs $7.50 for adults and $3 for children, with under-fives free. 
You can learn all about Fredericksburg's German history here!
Dinner: Cabernet Grill Texas Wine Country Restaurant
If you want to try some classic Texas Country food and wine, this is the place! Cabernet Grill serves up wine from the local vineyards and legendary steaks and seafood. 
Another dining option that we loved was August E's.
Stay: Fredericksburg Herb Farm
With perfectly-equipt Sunday house cottages providing all of your home comforts, this is a unique place to stay in the area. There's a restaurant on-site here as well that serves up fresh, local cuisine.
We also have stayed at Wine Country Cottages on Main, which I highly recommend! They even had an entire struedel waiting for us in our room!
Another good option is Fredericksburg Inn & Suites, which we stayed at as well. While not as historic or charming as the previous spots, they've got two pools and rooms with all the necessities.
Day 3: Boerne
Enchanted Rock
Enchanted Rock is a state natural area; it primarily consists of a large dome that you can climb for great views of the area. You definitely need a reservation ahead of time. For this road trip itinerary, I've got Enchanted Rock as a morning visit (sunrise if you're willing!), but you could also opt to visit the day before if you prefer a sunset trip!
There are lots of hiking trails in the area (the main being the Summit Trail), and it is open from 6:30 am to 10:00 pm. It costs $8 for adult entrance and is free for children. 
Learn more and get your reservation here!
Springtime option: Willow City Loop
Come springtime, when wildflowers are blooming, add in the Willow City Loop. It's a gorgeous drive through the prettiest bluebonnets and wildflowers in the area!
Brunch: Woerner's Warehouse Cafe + Catering
If you're looking for somewhere for brunch, check out Worner's Warehouse Cafe! This is a popular bakery that serves up classic breakfast and lunch menus like avocado toast, soup, and salads. 
Cave Without A Name
The Cave Without A Name is a national natural landmark. It's my favorite cavern in the area because it feels completely non-touristy. You can do a tour around the inside of the cave to check out the beautiful stalactites and stalagmites here. It costs $20 for adults and $10 for children to do the tour, and they leave daily on the hour from 10:00 am to 4:00 pm. You can call or email them directly to reserve your spot, check here for contact information.
After your tour, I also recommend gem-panning here, too! It's a ton of fun for all ages- we got a couple of geodes and some gorgeous gemstones!
Cibolo Nature Center & Farm
Cibolo Nature Center is a conservation project that aims to make nature alive and accessible for everybody. You can walk around and enjoy nature up close or participate in some of their farm activities. 
The Nature Center is open from 7:00 am to 7:00 pm every day.
Stay: The Bevy Hotel Boerne, a DoubleTree by Hilton
The Bevy Hotel Boerne is a luxury Hilton resort-style hotel. Rooms are modern and comfortable, with all of the mod cons that you'll need. There is also a bar and restaurant on-site if you want to have dinner here! We ate dinner on-site and had the yummiest spread!
Day 4: Bandera & Castroville
Breakfast: The Dienger Trading Co
If you don't have breakfast included in your room rate, check out the Dienger Trading Co. This is a bistro/bakery (combined with a store) serving up the classics – pancakes, cooked breakfast, and more! 
Horseback Riding with Bandera Historical Rides
If you are comfortable horseback riding, Bandera Historical Rides are the people to contact! They specialize in taking guests to the most beautiful destinations for horseback riding tours.
These tours go through the cowboy capital of the world and make stops at all of the top historical attractions! 
The owner, Harrieth, took us on our tour and it was incredible. Not only did we ride through the Medina River a few times, but we also rode right up to the Cowboy Bar in downtown Bandera. It's the closest I've ever felt to being in a Western film… or to being a real cowgirl! 🙂 
Option: instead of horseback riding, simply enjoy Bandera City Park
Bandera City Park is a huge green space with the gorgeous Medina River running through it. There are picnic areas, rope swings to jump into the lake from, and it costs $10 per adult on Fridays-Sundays and holidays. 
Kayaking/tubing with The Medina River Company
The Medina River Company is a kayaking and tubing experience down the stunning Medina River. This is a must-do for all water lovers!
It costs $50 to rent a kayak and $20 to rent a single tube. This includes the shuttle ride – if you have your own kayak, the shuttle costs $15, and it is $10 with your own tube. 
Trips range from between 1 to 6 hours. Get in touch for their proposed times! 
Lunch: The Laurel Tree
This lunch option is kind of out of the way. But it's so dang good, y'all! We absolutely loved our lunch here!
The Laurel Tree is a rustic treehouse restaurant and bar, and it also has lovely gardens that you can wander through. It is open for both lunch and dinner reservations and serves delicious locally sourced meals. There's a set menu that changes up depending on what's locally available. Farm-to-table at it's finest!
Lunch option: stay in Bandera and eat at O.S.T.
No worries if The Laurel Tree was all booked up or if you didn't feel like going out of your way to go. You can enjoy Bandera's fun western-style downtown! O.S.T (Old Spanish Trail) restaurant is another good spot for dining. It is a classic American-style eatery and is the longest-running restaurant in Bandera!
Tour Landmark Inn State Historic Site
Now you can head to Castroville where you'll spend the rest of your day. The Landmark Inn State Historic Site is the place to go to learn about migration, preservation, and heritage in the area. It's located in Castroville, just 25 minutes away from San Antonio.
Entry costs $4 for adults and $3 for children. It is open from 10:00 am to 5:00 pm Tuesday to Saturday and 12 noon to 5:00 pm on Sunday.
Castroville Regional Park
The Castroville Regional Park spreads over 126 acres by the Medina River and has a beautiful walking trail. It is open in daylight hours. 
We particularly loved it at golden hour right before sunset. The lighting was simply perfect! I recommend bringing/wearing water shoes as there are rocks and tree roots on the ground!
Paris St. Po'Boys
This is one of the most popular places for dinner in town, serving delicious cajun and creole food.
Stay: Landmark Inn State Historic Site
The historic site also has bed and breakfast accommodations. We stayed here and it felt like a prime position in the heart of Castroville!
Day 5: New Braunfels
Magnolia Filling Station
Before leaving Castroville, Magnolia Filling Station is the ideal breakfast joint to start your day right!
Natural Bridge Caverns
Natural Bridge Caverns is an epic cave system where you can climb, zipline, and cave trek! Cavern tours cost $22 – $28, and they are open from 9:00 am to 4:00 pm every day. 
This spot is much bigger than Cave Without A Name in Boerne, which does make it quite a bit more touristy. But it's worth it to tour the gigantic expanse under the ground here- it's magnificent! Tips to being put in a smaller tour group: go early (ie. right when they open), or join one of the last tours of the day. Weekdays are also less crowded than weekends, naturally.
Learn more and get tickets here!
Natural Bridge Wildlife Ranch
Natural Bridge Wildlife Ranch is a 'Texas safari' where you can see animals like buffaloes, zebras, giraffes, and ostriches from your car! You drive through the designated roads and feed the animals (you purchase animal food at the entrance) straight from your car window.
It costs $28.99 for adults and $19.99 for children and is open from 9:00 am to 6:00 pm in the summer, 5:00 pm in the fall and spring, and 4:00 pm in the winter. 
Hinman Island Park
Hinman Island Park is located in Landa Lake and offers plenty of activities, including hiking, boating, and cycling. But the most fun activity to do here, in my opinion, is tubing! If you want to tube to Hinman Island, it costs $25 for a regular tube, and you must visit between 9:00 am to 5:00 pm. Learn more here!
Gruene Hall & Gruene Historic District
Don't miss out on what I think is the Hill Country's most charming town! Gruene Historic District has plenty of charming shops, cafes, and more.
And don't forget to check out Gruene Hall: Texas's oldest dance hall, dating back to 1878. (It's the very first photo on this post!) They have live music every day, so check them out and see what they offer while you're in town! This is the perfect spot to wind down before or after dinner!
Dinner: Gristmill River Restaurant & Bar
Located in an 1878 cotton gin right next to Gruene Hall, Gristmill is a fun place to dine while you're in town. They are famous for their fresh fish and juicy burgers!
Stay: Gruene Mansion Inn
This is the ideal place to spend the night in Gruene; Gruene Manison Inn is a historic property right beside the river. We loved staying here, it almost felt like we were sleeping in a time capsule- but with all the modern conveniences. It's right in the heart of the historic downtown, just steps away from both Gruene Hall and the Gristmill River Restaurant.
Day 6: Wimberley
The Leaning Pear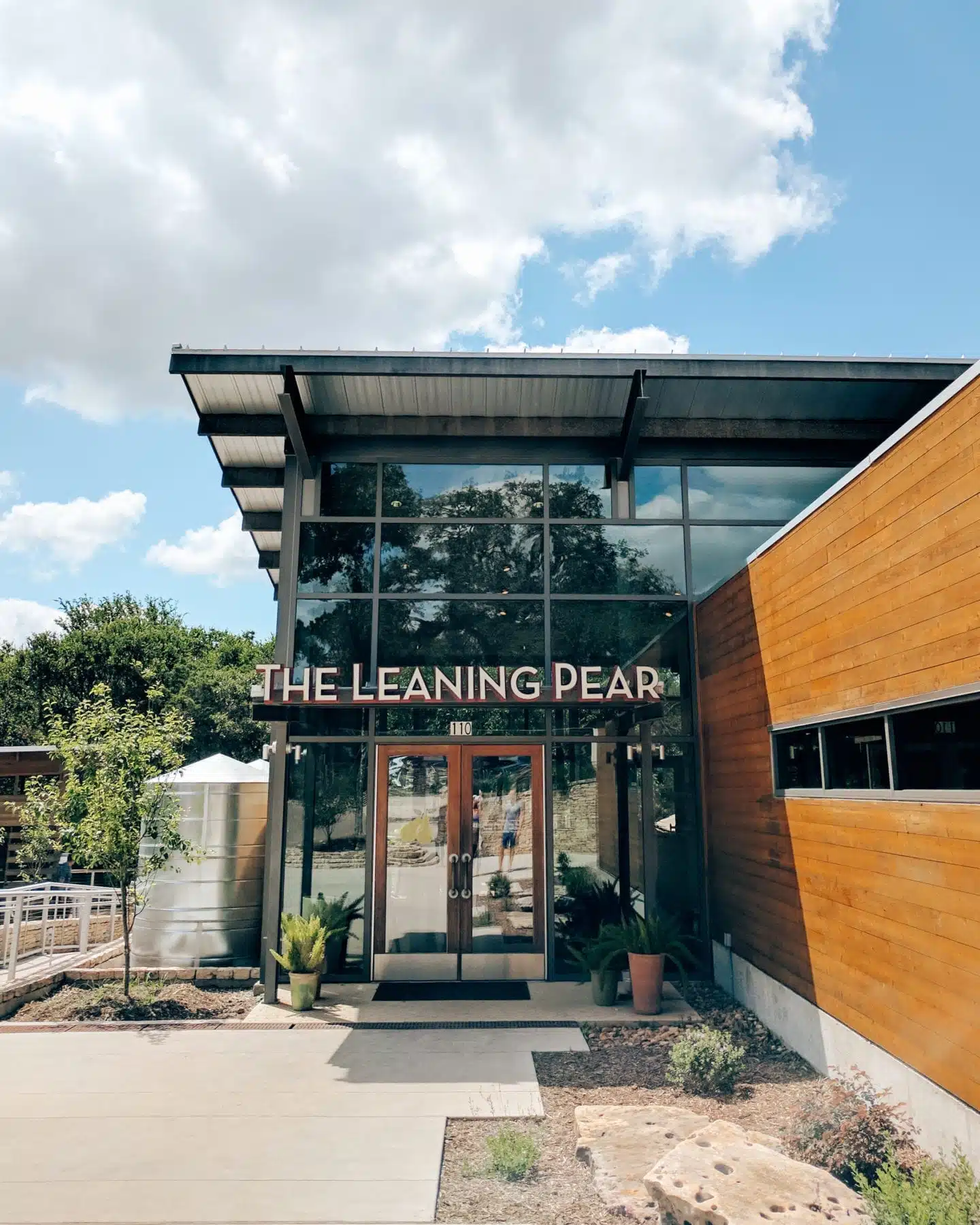 On your last day in the Texas Hill Country, head back up towards Austin, stopping in the adorable town of Wimberley on the way. Eating at the Leaning Pear is a must! It's an excellent spot for lunch, dinner, or Sunday Brunch, serving Hill Country-inspired food made with fresh, seasonal and local ingredients.
Jacobs Well
Jacobs Well is a famous natural spring that you can swim in and jump into from a few different rock outcroppings.
If you want to swim, it costs $9 for adults and $5 for children. Entry for non-swimmers is free. It is open from 8:00 am to 6:00 pm every day. 
Reservations are definitely required, and book in advance here as spots can fill up fast!
Get all the details about Jacobs Well (including tales of it's intriguing past!) here.
Texas Hill Country Road Trip Map
This map includes every spot on this itinerary and is sorted by location! You can easily open it and save it to your Google account so that you can open it in your own Google Maps.
I've colored dining options in orange and lodging in red; everything else is blue.
Hill Country Road Trip Approximate Drive Times
Krause Springs to Camp Lucy: 1 hr 37 mins
Camp Lucy to Fredericksburg: 1 hr 22 mins
Fredericksburg to Enchanted Rock to The Bevy in Boerne: 2 hr 12 mins
Boerne to Landmark Inn in Castroville (including The Laurel Tree): 2 hr 23 mins (otherwise 1hr 31 mins)
Landmark Inn to Gruene Mansion Inn: 1 hr 47 mins
Gruene Mansion Inn to Jacobs Well: 41 mins
In conclusion…
I hope you've found this Texas Hill Country road trip itinerary helpful! We have personally done almost everything on this itinerary (with the exception of Hamilton Pool and Westcave Preserve, due to reservation issues and weather), so if you have any questions, comment below!
And if you're familiar with the Texas Hill Country and have another spot you think is worth including, also let me know in the comments!
Lastly, if you're heading to the Texas Hill Country, here are a few more posts you might enjoy:
Safe travels!
Jasmine