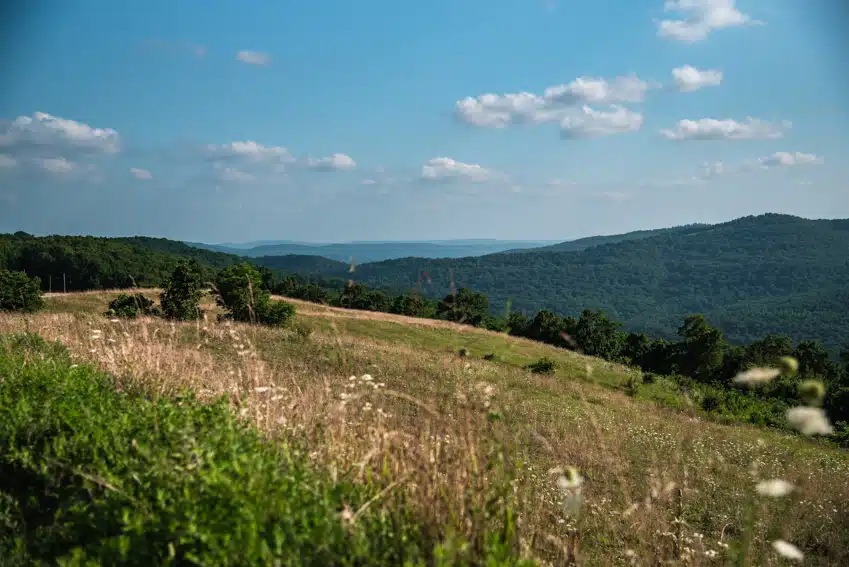 Are you looking for fun things to do in Fayetteville, Arkansas?
Look no further!
Surrounded by hills, nature, and endless beauty, this vibrant city in Northwest Arkansas is full of activities and adventures.
I compiled this list of things to do in Fayetteville because my sister-in-law and her husband moved there mid-2020.
They were Harrison's and my best friends in Dallas, so we were very sad to see them go.
But now we have a new, fun place for us to visit!
And of course, I wanted to put together a list of fun things to do and visit when I'm in the area.
Each visit I hope to check off more and more on this list.
While we've already done a lot of these, we still need to explore some more!
Without further ado, here's my list of things to do in Fayetteville Arkansas!
** Be sure to check if each activity is open during COVID before visiting. **
Map of things to do in Fayetteville
Feel free to open the map and interact with it.
I've labeled each category by color and you can open the map legend to see where everything is.
Activities
Fun activities in and right around Fayetteville.
Fayetteville Historic Downtown Square & Gardens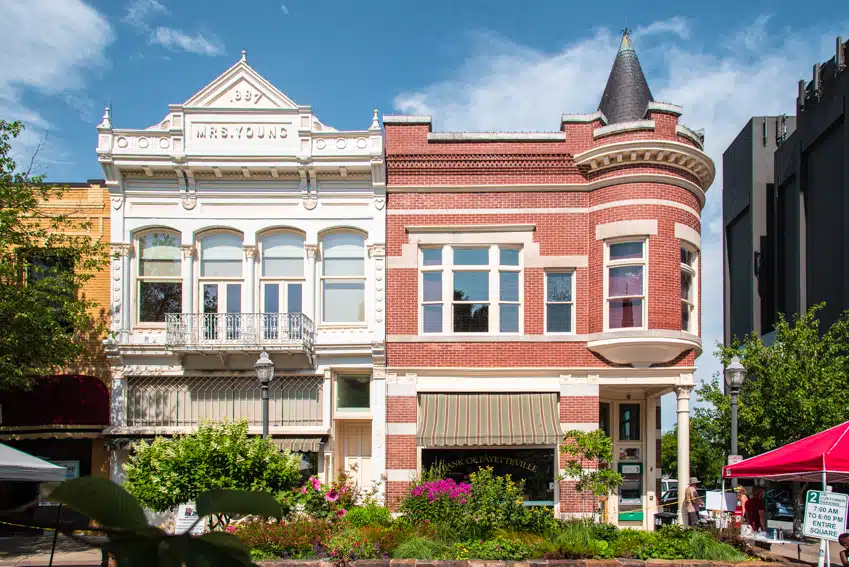 This is a must-visit for your trip to Fayetteville.
The downtown square and gardens feature cute shops, popular hotels, delicious restaurants, and pretty decorations during the holidays.
The Fayetteville Farmer's Market
I love farmers' markets where you can support your local food industry, and buy healthier, cleaner foods.
If you also enjoy farmers' markets, definitely visit the one in Fayetteville!
This pet-friendly venue features the fresh fruits, vegetables, and meats you expect from a farmer's market along with some novelties like cheese and chocolate.
You can also find flowers, crafts, and live music here too!
When we visited we picked up some tasty tomatoes and freshly-picked peaches.
112 Drive-In
Drive-in theaters are such a fun throwback, and 112 Drive-In will definitely give you that throwback vibe!
This theater features good movies, a snack stand, and plenty of five-star reviews.
Just don't forget to bring cash since this is a cash-only establishment.
Also, note that they only show movies on Fridays, Saturdays, and Sundays!
If you're in Fayetteville over a weekend and are looking for a fun throwback activity that's also social-distancing friendly, check out 112 Drive-In!
Fayetteville Ale Trail
The Fayetteville Ale Trail gives you the opportunity to experience Fayetteville's craft cider and beer scene!
I'm not much of a beer drinker, but I know that this is a great activity for those who love beer!
According to its website: The Fayetteville Ale Trail currently features 17 stops:
Bentonville Brewing Co.
Bike Rack Brewing Co.
Black Apple Crossing Cidery
Boston Mountain Brewing
Columbus House Brewery
Core Brewing and Distilling Co.
Crisis Brewing Company
Eureka Springs Brewery
Fossil Cove Brewing Co.
Hawk Moth Brewery
Ivory Bill Brewing
JJ's Beer Garden & Brewing
Natural State Beer Co.
New Providence Brewing Co.
Ozark Beer Company
Saddlebock Brewery
West Mountain Brewing Co.
The Fayetteville Ale Trail is free to participate in, and apparently you can even get a "passport" showing the stops you made along the trail.
Dickson Street
Dickson street features plenty of bars, coffee shops, boutique shopping, and other cute stores and shops.
It bustles with college students during the school year and quiets down a bit on school breaks.
Regardless of when you're in Fayetteville, I recommend checking out this street.
With the eclectic array of shops and storefronts, I bet you'll find something that interests you.
Dickson Street Bookshop
Dickson Street Bookshop deserves its own section!
This fabulous book store has countless rare and hard-to-find titles along with plenty of modern and classic books as well.
Be sure to give yourself plenty of time to wander the book stacks when visiting this Fayetteville hidden gem.
For the bookaholic, this place is a dream come true!
Unfortunately this place was closed when we visited due to the pandemic, but we hope to come back to browse their collection.
Schulertown Food Court
There's a food truck for everyone in your group at this food truck food court on Dickson Street!
With seven food trucks and a full service bar, Schulertown is the perfect lunch stop.
According to locals, Ramblin' Man is a must.
Also, Burton's Creamery is one of the only local ice cream shops in Fayetteville, so be sure to stop by!
Fayetteville's Funky Flea Market
This quirky spot is definitely fun and funky!
It's also such a unique Fayetteville spot.
Here you can find plenty of collectibles, knick-knacks, shoes, clothing, jewelry, and more from antiques to modern styles.
There are several booths and vendors in this two-story shopping area that will help you find whatever goods you're looking for!
Arkansas & Missouri Railroad Train Excursions
I've always thought traveling by train sounds so romantic.
If you're like me and love the thought of train travel, you must check out Arkansas & Missouri Railroad Train Excursions!
The main station is just a 15-minute drive from Fayetteville, and their vintage trains can take you on scenic trips through the Ozarks to other cities!
If you have another city as your end destination and Fayetteville as a stop, you should see if this train can take you to your final stop!
White River Creamery
This family-run, artisan, cheese & dairy farm is on 15 acres of gorgeous Arkansas countryside.
Most of their dairy products come from the CUTEST Nigerian dwarf goats!
The farm occasionally opens to the public for tours if you'd like to see the goats in person.
I know I can't wait to visit and see these adorable goats!
Drive the Pig Trail Scenic Byway
This 19 mile stretch of highway winds through the Ozark and Boston Mountains.
Whether you're visiting in spring or fall, you'll see either beautiful spring flowers or a vibrant display of fall colors all along the highway.
People often drive this stretch of highway on their way to a Razorback's game, but you don't need a football game to see this pretty scenery.
Check it out if you're in the area particularly during spring or fall!
Botanical Garden of the Ozarks
The Botanical Garden of the Ozarks features some really beautiful exhibits with blown glass, plenty of flowers, and pretty greenery all around!
It's located just east of Lake Fayetteville, and this garden has a food truck in case you need to refuel during your visit!
The Botanical Garden of the Ozarks also features a butterfly house where you can hear from staff and local experts on the plants and animals in the garden.
Starlight Skatium
Starlight Skatium is a great activity to do with kids who are old enough to skate.
Although this isn't at the top of my personal list of things to do in Fayetteville, I thought I'd include it for those looking for family-friendly, indoor activities.
Parks
The best parks in and around Fayetteville.
Lake Fayetteville & Lake Fayetteville Park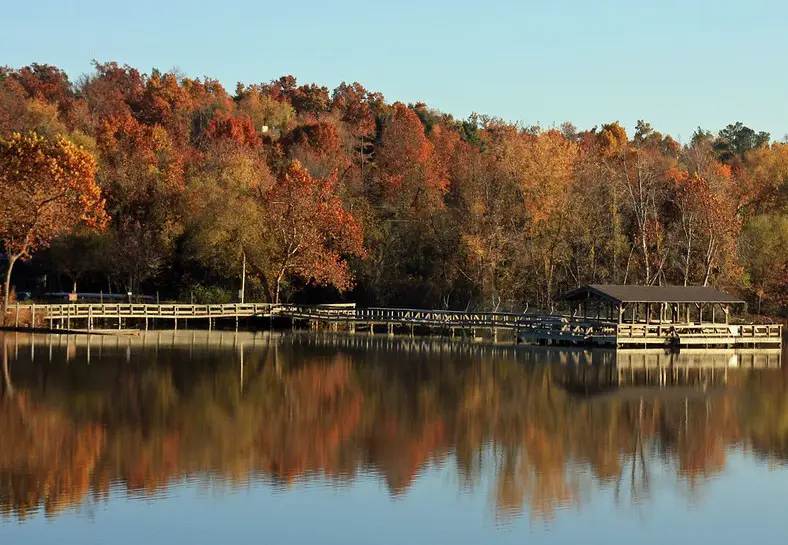 This lake and surrounding park are well-maintained with plenty of activities to do on and off the water.
The park features a disc golf course, baseball field, hiking and biking trails, a sand volleyball court, childrens park, and nearby food trucks!
The lake is large providing plenty of opportunities to enjoy lake sports like kayaking, stand up paddle-boarding, and more.
Lake Fayetteville and Lake Fayetteville Park are the perfect places to get outside and enjoy the natural beauty of Arkansas!
Lake Wedington Recreation Area
This beautiful nature spot and campground is actually part of the Ozark-St. Francis National Forest!
It's also by a pretty lake, so be sure to bring your fishing gear!
There are bathrooms and showers at the campsite (a nice plus), and it's also a great place to mountain bike.
If you're looking for a nice, clean, family-friendly campground near Fayetteville, check out Lake Wedington Recreation Area!
Prairie Grove Battlefield Park
This scenic state park commemorates the Battle of Prairie Grove which occurred during the Civil War.
It features a driving tour, historic buildings, and walking trails in pretty, natural scenery.
Prairie Grove Battlefield Park is another great spot to visit for the history buff in Fayetteville!
Razorback Greenway Trail
This nearly 38-mile off-road trail is great for walkers, bikers, and hikers!
With a pretty creek that runs along part of the trail and plenty of water fountains, bike stations, and benches along the way, this trail won't disappoint!
Plus, the trail runs near several restaurants and shops if you want to stop and do some dining or shopping.
This is just one more example of why Fayetteville is such a great town for outdoor enthusiasts!
Wilson Park
You have to check out Wilson Park the next time you're in Fayetteville, especially if you have children!
This large, well-landscaped green space features updated playground equipment and even free wifi!
The play area is designed like a fairy tale castle, so it's no wonder children love this place!
It also has a public, outdoor pool, tennis courts, and a nice creek running through it.
Whether you want to picnic, let your kids play, or take a nice stroll through some pretty scenery, Wilson Park is a great place to visit.
Kessler Mountain Regional Park
This state park features soccer fields, baseball fields, public restrooms, trails for hiking and biking, and plenty more.
This is a great spot to visit if you're looking for plenty of green space to get out into nature.
Museums
Fun and fascinating museums to visit in Fayetteville.
Crystal Bridges Museum of American Art
When you think of American cities with beautiful art, you probably think of New York, Chicago, and maybe LA.
But did you know that Fayetteville's Crystal Bridges Museum of American Art has some amazing art pieces?
At this museum, you'll find art by Andy Warhol, Norman Rockwell, and more!
Renown architect Moshe Safdie designed the museum building itself which is located on 120 beautiful, green acres.
The grounds also feature a Frank Lloyd Wright house and four miles of trails for hiking, biking, and walking with pets!
With plenty of scheduled art classes for amateurs and art aficionados, a museum restaurant with delicious food, and world-famous art pieces, you don't want to miss the Fayetteville hidden gem!
Headquarters House Museum and Garden
This historic home is now a museum because both the north and the south used it at various times as a sort of headquarters during the Civil War.
The home and its grounds are beautiful, and you can learn a lot about the Civil War and this house's function during that time when you visit.
Check the Headquarters House Museum and Garden the next time you're in Fayetteville especially if you're a history buff!
Music & Arts
Fayetteville has a great music and art tradition; here are some great places for you to satisfy your artsy cravings!
George's Majestic Lounge
George's Majestic Lounge is a great place to experience Fayetteville's nightlife.
This club, bar, and live music venue features several popular artists each year.
It has plenty of room to relax at tables or dance on the dance floor.
The drink prices aren't bad, and the performers are surprisingly high-profile for a smaller town.
Check out George's if you're in the area and enjoy live music!
Symphony Orchestra of Northwest Arkansas (SONA)
If you're feeling fancy and are looking for a refined activity to do in the Fayetteville area, check out SONA.
Going to the symphony is also a fun reason to get a bit more dressed up than you otherwise would for many of the activities on this list.
This is a fun date night activity, and if you choose the right performance, it could be a nice way to wind down before bed.
You can keep up with their schedule and what they are performing on their website.
---
---
Terra Studios
Terra Studios is an art park with plenty of outdoor space, pretty art, and kid-friendly activities.
There's a scenic lake, a fun gift shop, and glass-blown art on the grounds of Terra Studios.
It's a great place for a picnic, and you can also buy pottery and other hand-made wares here.
Check out Terra Studios the next time you're in Fayetteville!
Walton Arts Center
Walton Arts Center is a sleek, modern building built for the performing arts.
It's very close to the University of Arkansas, and visitors say it's large enough to bring in good shows but small enough to where there aren't any bad seats.
With elegant facilities and good concessions, add this to your list of things to do in Fayetteville, Arkansas.
Theatre Squared
Speaking of the performing arts, Theatre Squared is another great venue in Fayetteville.
This facility exclusively shows plays in its two intimate yet comfortable theaters.
The venue is modern with a cafe featuring a wide variety of options including some vegan choices, and of course, there's a full bar.
For those who appreciate the performing arts, definitely catch a show at Theater Squared when you're in Fayetteville.
University Of Arkansas Theatre
If you want to see excellent performances and pay budget prices, check out The University Of Arkansas' Theatre for the performing arts.
Although I haven't caught a show here, local reviewers say it is a clean theater with impressively professional shows.
As you may have gathered from the list, Fayetteville has a surprisingly vibrant fine and performing art scene.
If the performing arts interest you, you will have plenty of opportunity to enjoy them here in Fayetteville.
Stay
Here are some great places to stay if you are visiting Fayetteville.
Mount Sequoyah Center
Mount Sequoyah Center is a 32-acre event space with restaurants, lodging, meeting areas, a green space, and recreational spots for those who visit.
If you're thinking about visiting Fayetteville, definitely consider booking your lodging here.
Many use it as a place for weddings and wedding receptions, and it seems clean and quiet.
This event space also hosts tennis, swimming, and cooking lessons, summer camps, and more!
So you may be able to participate in those activities during your stay. Book it here!
Graduate Fayetteville Hotel
If you're looking for a nice place to stay right near the University of Arkansas and the downtown square, Graduate Fayetteville Hotel is perfect!
With complimentary bikes and standard hotel amenities at a fair price, be sure to check out this place when planning your Fayetteville stay.
You can see more and book your stay here!
The Inn at Carnall Hall
If you're looking for stately lodging in Fayetteville, check out the Inn at Carnall Hall.
You get to stay in a restored historic building from the early 20th century.
Expect all the standard hotel amenities along with great food at the hotel restaurant and a short walk to Dickson street and downtown.
Excursions
These places are a bit further away from Fayetteville (most are about 45 minutes away), but are definitely worth the trip!
Eureka Springs, Arkansas
Eureka Springs is about an hour's drive from Fayetteville, but I wanted to include it on this list because it's so cool!
The town has maintained some of its historic, Victorian-era buildings, so this town looks like it's from another era.
Its split-level historic downtown is designed to look like Switzerland, and you'll find the Swiss theme show up in the inns, shops, and cafes around town.
Eureka Springs features bathhouses because it's built on the town's natural hot springs.
If you're interested in staying overnight here, you can even stay in hobbit homes, treehouses, grottos, and more!
Thorncrown Chapel
While you're in Eureka Springs, check out this gorgeous church!
Surrounded by a stunning forest, Thorncrown Chapel is free to enter and easy to access.
Lake Leatherwood
Also next to Eureka Springs is Lake Leatherwood, a great spot for cooling off in the hot summer heat!
There's a cool rock tower you can jump off of, as well as a floating dock you can swim to.
One thing to note: there may be some areas in the water that have a lot of tall weeds, so be sure to keep an eye out!
The good news is that the water is pretty clear, so it's easy to see which spots to steer clear of.
(Also, the main swimming area from the rock tower to the floating dock does not have sea weed).
This spot is also great for camping, picnics, and hiking around the lake.
Beaver Lake
Beaver Lake is about an hour's drive from Fayetteville.
But I wanted to include it on this list because of its amazing natural beauty.
This reservoir nestled in the Ozark Mountains features beautiful caves and plenty of cliff-jumping spots.
It's also an excellent place for lake sports like wakeboarding, water-skiing, and more!
If you're looking for a place to cool off from the summer heat that's off the beaten path from Fayetteville, check out Beaver lake!
War Eagle Mill & Cavern
War Eagle Cavern which is located next to the scenic Beaver Lake has the largest open-air entrance of any cavern in Arkansas.
Here you can do guided tours deep into the recesses of the cave to see bats, stalactites and stalagmites, and much more!
If going into the cave gives you the creeps, don't worry!
The grounds also feature plenty of activities outside of the cavern including a pretty hiking trail, panning for gemstones, an outdoor maze, and a fun gift shop.
Also, War Eagle Mill is just a 10-minute drive down the road from the cavern!
The mill has a great restaurant and sells several organic flours and baking mixes, jams, syrups, sauces, and more!
Big Hole
This is one of my favorite water holes in Arkansas!
The only downside is that it's kind of hard to access- you drive for quite a ways along a rocky road until you finally reach the water hole.
We actually only saw trucks parked at the Big Hole, and I definitely recommend a heavy duty car if you're going to try to access this special spot.
And always be sure to have a spare tire!
But while it's a big pain to get to, it's such a cool place to enjoy!
Disclaimer: my brother-in-law saw a snake at the Big Hole the last time he was there… you've been warned!!
Kings River Falls
When King River Falls is full of water, it's a gorgeous swimming hole with a short but wide waterfall.
During the summer months if there isn't much rainfall the pool becomes significantly smaller, but is still a fun, family-friendly activity.
Lost Valley Trail to Eden Falls
If you're willing to go a bit outside of Fayetteville, you can find even more natural beauty.
Although driving to this trailhead takes about an hour and a half, and the hike itself is two miles round trip, you get to see a waterfall on your hike!
I'm a sucker for natural beauty, and even though I'm not much of a hiker, I'll do a shorter, easier hike like this one to capture beauty on camera!
If you're a seasoned hiker, this will probably be a walk in the park.
For the rest of us, bring plenty of water and consider wearing hiking boots since the path can be uneven at times.
Hemmed-In Hollow Falls
If you want to see the tallest waterfall between the Rockies and the Appalachians, and you're willing to hike to get there, check out Hemmed-In Hollow Falls!
However, this trail isn't for the faint of heart!
The five-mile roundtrip hike entails a steep decline on the way there and a steep incline on the way back!
Because of the intensity of this hike, I'll probably never make it there.
But I've read it's a photographer's dream if you're willing and able to make the hike!
Glory B Falls
For those who want to see a great waterfall but don't want to hike to it, you're in luck!
You can park about 0.1 miles down the road from Glory B Falls!
The only downside is it's still about a 50-minute drive from Fayetteville.
But it's worth the drive for those who want to see a great waterfall and photographers like me!
Lake Ann
Lake Ann is a bit of a drive from Fayetteville (around 40 minutes away in Belle Vista).
It's smaller and less crowded than the other lakes mentioned on this list.
As such, it's a great place for fishing, swimming, and relaxing in nature.
Plus, Lake Ann features a beautiful waterfall!
Hobbs State Park-Conservation Area
Hobbs State Park is a massive park at over 12,000 acres with access to Beaver Lake.
It's also the only Arkansas state park to allow regular hunting and a public outdoor shooting range.
Of course, it also has plenty of trails and campgrounds.
It is a bit of a drive from Fayetteville (approximately 45 minutes), but it certainly offers a lot in terms of outdoor activities and plenty of space to do them.
Tanyard Creek
Tanyard Creek has a really neat waterfall that you can walk behind (or at least that my six-year old niece could walk behind!).
You can see it at the top part of the falls in the photo above.
Also while a path leads to the waterfall, a fun alternative you can choose to do is wade and follow the creek.
In conclusion…
There you have it! A list of great things to do in Fayetteville.
And if you've been to Fayetteville and have other favorite things to do, comment them below!
I'd love to check them out on our next visit!
Happy exploring!
Jasmine
PS. If you found this post helpful, please share it to Pinterest! You can use the images below for easy pinning!