Heading to Hawaii and in search of things to do in Oahu? Well, you're in luck because there are so many things to do in Oahu!
This stunning tropical island is divided into several parts.
In a nutshell:
The east side (windward side) is full of dramatic mountains- the ones you see in Jurassic Park!
The north shore is famous for surfing and food trucks.
Head west to the leeward side for some gorgeous valleys and local vibes.
The south side contains Honolulu, Waikiki, and some of the most stunning views in Hawaii!
In this article, I'll cover the 50 best things to do in Oahu across all areas of the island!
For a sneak peak of some of what's below, check out my video of beautiful photography spots and Instagrammable places in Oahu!
[If you don't see a video player below, you may need to disable your ad blocker.]
1. Ho'omaluhia Botanical Garden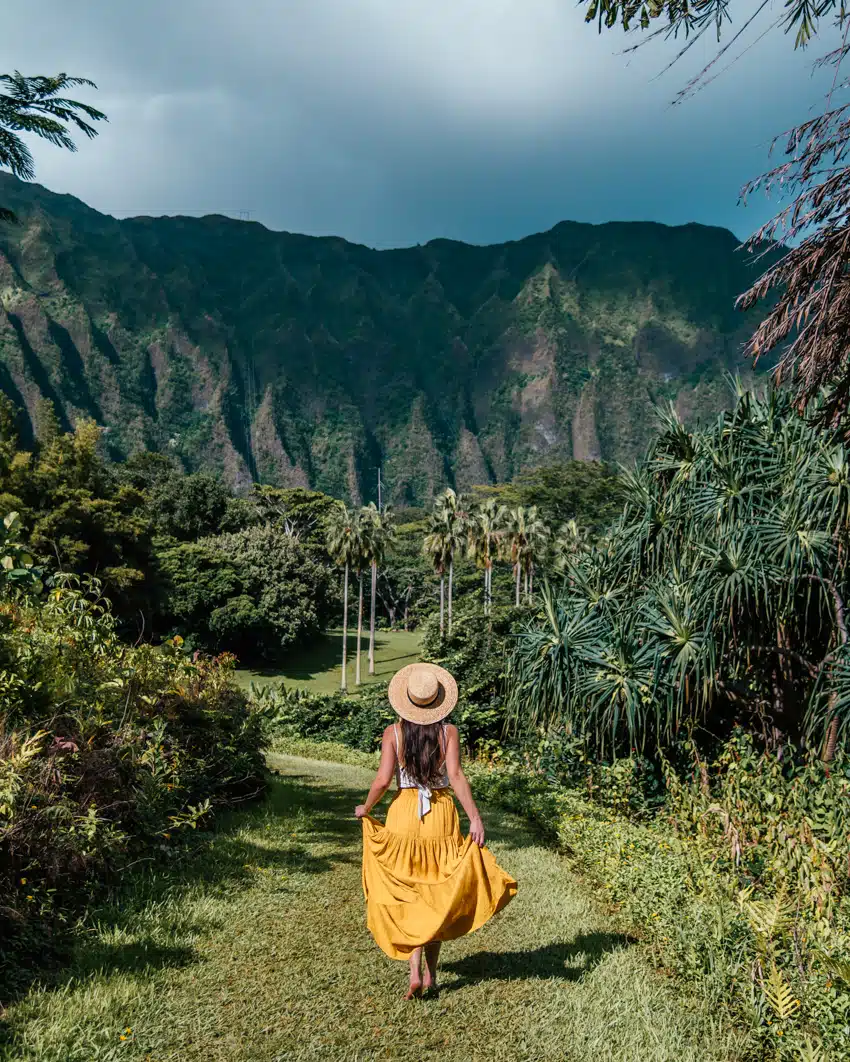 The Ho'omaluhia Botanical Garden has risen in popularity over the years due to its instagrammable entrance that consists of a lush palm tree-lined driveway and a spectacular mountain range looming in the distance! Beware, however, as it is now illegal to stop on this road to take a picture.
Not to worry though- there are so many beautiful places inside this 400-acre garden as well! One of the best views in the park can be found at the top of Kilonani Mauka. Once you reach the top, sweeping 360 views of the mountains will greet you.
2. Drive on the Farrington Highway
One of the best ways to explore Oahu is by renting a car. You'll have the freedom to drive around and explore all the beauty Oahu has to offer! One of the best areas to drive is on the Farrington Highway. You'll drive along a gorgeous coastline and get to spot some of the oldest lava spots on Oahu. The Farrington Highway is located on two very different parts of the island, which can be confusing. Kaena Point separates the northern Farrington Highway from the western section. But either drive is incredibly scenic, and I recommend both if you have time!
Along the west coast, after driving a short distance, you will come across Makua Valley, pictured above. The Makua Valley used to be home to a Hawaiian community before the time of Western contact. The valley houses many different endangered species of plants and animals and is a sacred place for Hawaiians.
3. Halona Beach Cove
As one of Oahu's most iconic beaches, Halona beach cove and its blowhole are a spectacular place to visit. The word Halona means "lookout" in Hawaiian and the beach was given this name because on a clear day you can see the islands of Moloka'i and Lāna'I in the distance. Relaxing here was one of my favorite things to do in Oahu on our last trip!
4. Eat at A North Shore Food Truck
Who doesn't love a good food truck? The North Shore of Oahu is known for its fantastic collection of food trucks, as well as amazing surf spots and stunning sunsets. The food trucks offer food from a wide variety of cuisines with everything from tacos and Thai food to pizzas and seafood. If you're not hungry enough for a full meal, many of the trucks offer smaller snacks. Smoothies are our favorite snack of choice in Oahu! And of course, you won't want to miss out on fresh coconut juice!
One of the food trucks I especially recommend is The Elephant Shack. It was actually recommended to me by a local and I'm so glad we tried it! It serves fresh, tasty Thai food with menu items such as Penang Curry, Pad Thai, and Papaya Salad. The Thai Iced Tea is a must!
5. Diamond Head
The extinct volcano named Diamond Head is a popular attraction for those who like to hike. It's one of the most distinctive and iconic landmarks on Oahu and the entirety of Hawaii! Diamond Head is one of the most photographed locations on the island and you can feel safe knowing that the volcano has not erupted for the last 150,000 years.
6. Stand Up Paddleboard
Oahu has many different locations where you can participate in stand-up paddleboarding. This popular activity is great for your core strength, balance, and agility – as well as being a whole lot of fun! Some of the best places to take part in the activity are the calm conditions of Ala Moana Beach, the somewhat more challenging waters of Sunset Beach, and the famous Waikiki Bay.
7. Skydive (one of the most thrilling things to do in Oahu!)
Ever wanted to try skydiving? Well, Oahu is the perfect place to try it out! This once in a lifetime experience is thrilling and unforgettable. Pacific Skydiving Center offers either regular tandem skydives, as well as a high altitude extreme skydive option for those who are extreme adventure seekers ready to take the highest tandem skydive offered in Hawaii. We got this photo of skydivers while driving past the Pacific Skydiving Center. I'm not sure I'd be up for skydiving now, but maybe someday!
8. Adela's Country Eatery
The fresh, handmade noodles from Adela's eatery are way more interesting than your regular kind of noodles! This popular spot is usually quite busy, but their unique cuisine is worth any possible wait you may have. The noodles are interestingly colored as they take on the color of the flavors of the local ingredients they use. The colors range from the standard yellow, to green and even purple! The food here is customizable- you can choose the sauce and toppings you would like after you have chosen the type of noodle you want.
9. Watch the Sunset
Oahu has many fantastic spots to sit and enjoy the view of the sunset. One of the places where we enjoyed the sunset was at Kawela Beach. It was so peaceful watching the colorful sky reflect on the sparkling waters!
10. Watch the Sunrise
If you're a morning person, watching the sunrise is a must. In fact, I'd say that even those who like to sleep in should make a special effort at least once on your trip to Oahu to watch the sunrise! It's an invigorating experience. One of the places we enjoyed watching the sunrise was at Kualoa Regional Park. Such a great way to start off our day! It's definitely one of the most magical things to do in Oahu!
11. The Mokes
The Mokes are a pair of tiny islands that sit roughly 1.5 miles away from Kailua Beach Park. If you depart from Lanikai Beach, the Mokes are even closer to shore. The Mokes consist of both a small island (Moku Iki) and a big island (Moku Nui). You can kayak to the shore of Moku Nui where along the way you may come across some beautiful sea life such as Hawaiian green sea turtles and maybe even the occasional monk seal!
12. Byodo-in Temple
Within the Valley of the Temples lies Byodo-in Temple, a scaled replica of a Japanese Temple. This temple is unique in that it is a non-denominational Buddhist temple that welcomes people of all faiths. In fact, the name Byodo-in translates to "Temple of Equality." The whole temple was constructed entirely without nails (!!) and was built in 1968 as a dedication to the first Japanese immigrants of Hawaii. Come here to pray, meditate, or even just to take a stroll around the temple and its peaceful surroundings. The $5 entrance fee is worth it! It's one of the most beautiful places in Oahu- check out this list for my favorite photo spots on the island!
13. Haleiwa Joe's and the Haiku Garden
A popular spot for weddings, you don't need to be tying the knot to visit this hidden gem. Take a walk around the botanic garden and pond before having a delicious meal at Haleiwa Joes, which is surrounded by lush gardens.
14. Hanauma Bay
As one of the most visited beaches outside of Waikiki, Hanauma Bay can be crowded, but it's worth braving the crowds! Here you'll experience the sparkling blue waters of this bay formed within a tuff ring. The bay is also one of the best snorkeling spots on the island. Hanauma Bay was closed for most of 2020, but as of December, it has since reopened. You can find information on how operations have changed here!
15. Makapuu Tide Pools
To get to these tide pools, you'll need to hike just over a mile. But that will make your visit to the tide pools that much more satisfying! Try to go on a clear day for fewer winds and a better view along your journey to the pools. There are also some tide pools right by the rocky parking lot pull off if you prefer not to hike!
16. Makapuu Lighthouse Hike
This paved trail takes you just over 152 meters in elevation. Once completed, breathtaking views along the ocean and the eastern Windward Coast greet you. On a clear day, you will even be able to see the island of Molokai in the distance!
17. The Haiku Stairs… if you dare!
Though illegal to hike, this is one of the most famous viewpoints in Oahu, so I felt I needed to include this information anyway!
The Stairway to Heaven (also known as the Haiku Stairs) is a set of around 4,000 steps that lead to the top of the mountain. It is considered one of the most amazing hikes in the world, with an amazing view at the top. Despite this, this hike is now illegal and there are now guards patrolling it ready to give out a $1,000 fine to anyone who crosses. Yikes!
You might see online that there is a legal way to get to the Stairway to Heaven- the Moanalua Middle Ridge Trail. The Moanalua Trail is a separate, much longer trail that also leads up to the top, giving you that same experience of being in the clouds. Well, unfortunately, the Hawaii government notified me via email after I wrote this article that access from this trail is also illegal now, so there is currently no legal way to access the Haiku Stairs, or Stairway to Heaven. And if you dare risk it, know that this trail is quite tricky and it's best to go with a local, so try to find a guide beforehand! It is a 9-mile, out-and-back hike, so make sure you have a good chunk of time blocked out for this hike!
18. Do a Tour at Kualoa Ranch
This 4,000-acre nature retreat has a whole host of activities to try. From ATV driving and zip-lining to exploring Hollywood film locations, you can easily spend the whole day here. After you've finished parting in the activities on offer there's even a beach to relax at!
19. Visit Kualoa Regional Park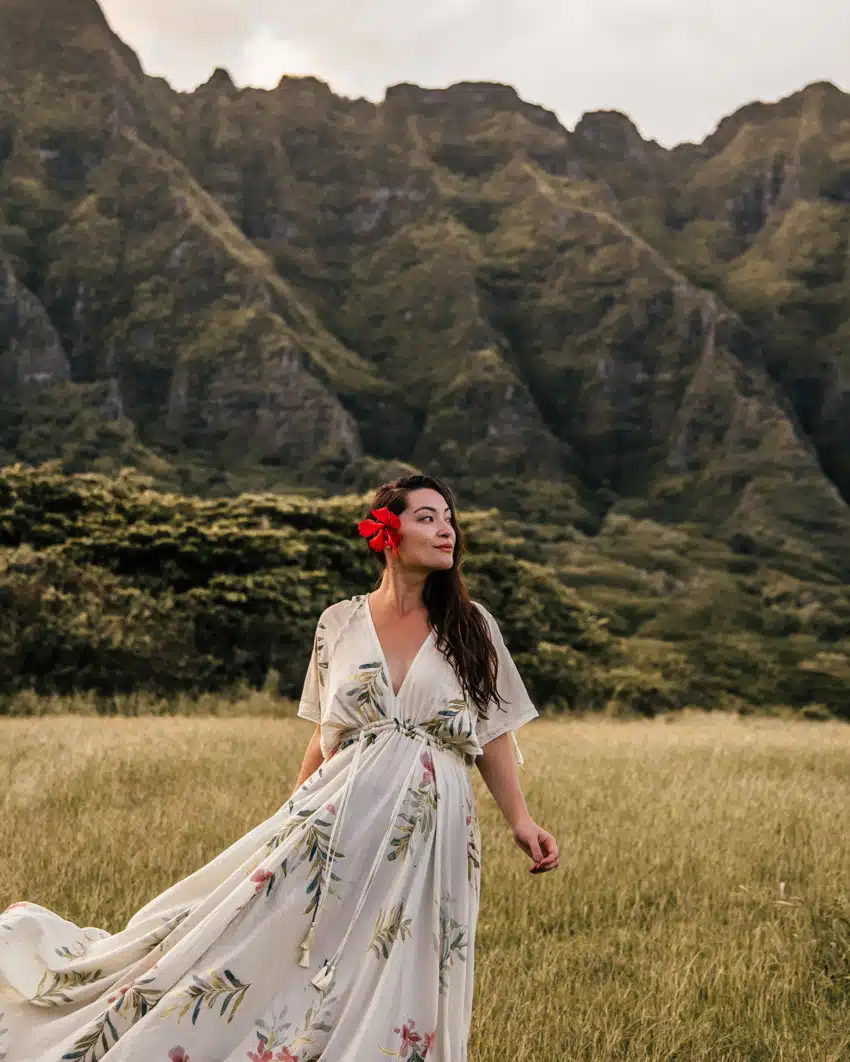 Are you a Jurassic Park fan? Kualoa Regional Park has jaw-dropping views of where some parts of the popular series were filmed. Walk around to get the best experience – all without the fear of being eaten! This park was one of my favorite places to visit in Oahu because of its sheer beauty! And it's free to enter!
20. Koko Head
This trail, sometimes known as "Koko Head Stairs," is the perfect combination of exercise and beauty. Climbing the 1,000 stairs of Koko Head Crater Trail will take you roughly 30 minutes to an hour to get to the summit. This hike stands out from others as the "stairs" you climb are part of an old railroad track.
21. Pali Lookout
If you're looking for 360 views from the Koʻolau mountain, look no further than the Pali Lookout. The view is spectacular and it's a very easy walk from the parking lot to get there. Keep in mind that this lookout could be very windy when you visit… we visited at sunset and it was one of the windiest places I've ever experienced!
22. Iolani Palace
Built in 1882 by King Kalakaua, this palace served as the home of the last reigning monarchs of Hawaii. Take a guided tour to step back in time and discover a side to Hawaii you don't generally see on the tourist route.
23. Leonards Bakery
Since 1952, this family-owned bakery has been serving delicious baked goods for all to enjoy. Make sure you try their specialty, malasadas, which are made as part of a Portuguese tradition. I got the custard-filled malasada and it was amazing! This is one of the most delicious things to do in Oahu!
24. The Sunrise Shack
Nothing is better on a warm day than a cool acai bowl filled with your favorite fruits and toppings! The Sunrise Shack serves a taste of paradise with its tropical snacks. It has two locations- one in Waikiki and one on the North Shore, so you're bound to have one close to you!
25. Raised By the Waves
If you're heading north, this food stop is a great place for brunch! With a beachy and inviting vibe both inside and out, Raised by the Waves is the perfect café to visit! Have a waffle for breakfast or grab a smoothie to start your day!
26. Drive to Tantalus Lookout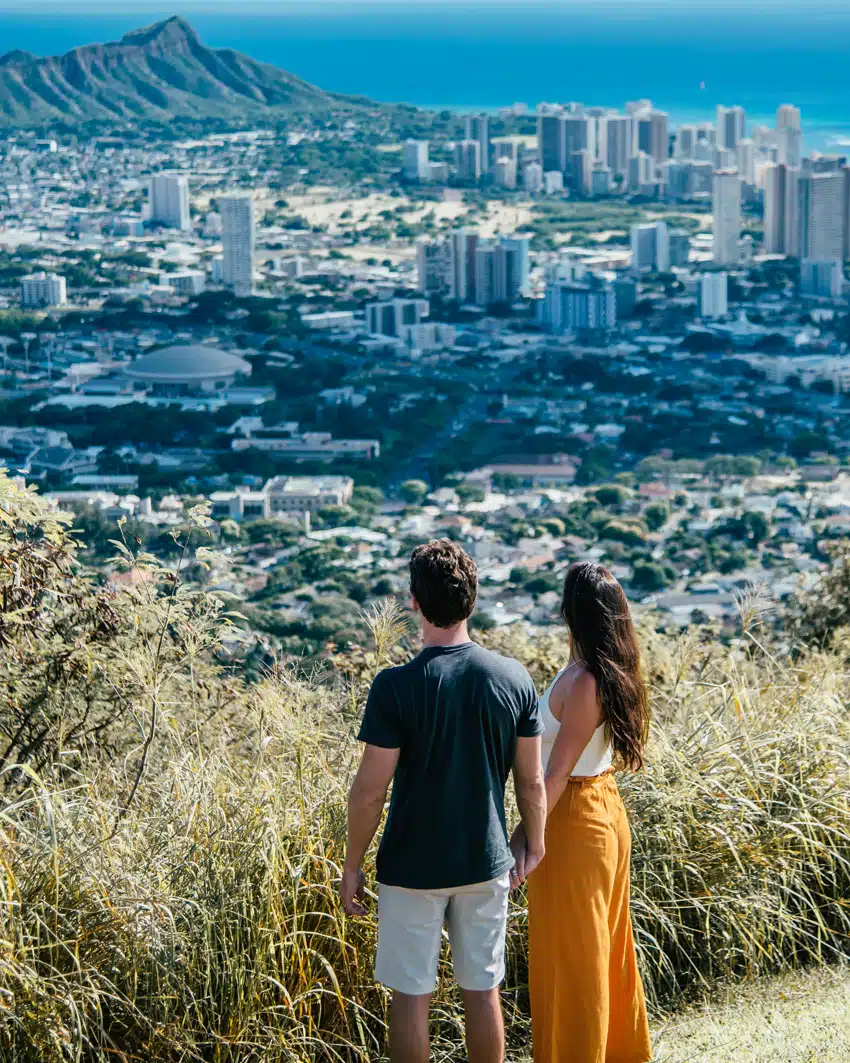 Although there are many good lookouts in Oahu, Tantalus lookout has a huge lawn where you can have a picnic or simply sit and watch the sunset with a view of the entire city below. The drive to get there is equally fantastic with plenty of spots to take in great views. Definitely one of my favorite things to do in Oahu!
27. Visit the Albatross Sanctuary at Kaena Point
The albatross sanctuary on Kaena Point is home to over 400 birds. It's quite a sight to see them flying with their large wings outstretched! If you're lucky enough, you may even spy some nesting only meters away! Bear in mind that this is no easy sanctuary to visit… seeing this place requires a 5.75-mile round-trip hike from the North Shore parking lot!
28. Yokohama Bay
This secluded beach on the northwest tip of Oahu offers pristine sand and sparkling blue water. As it is quite secluded, you will often find this beach empty so you can enjoy it all to yourself!
29. Sharks Cove
Don't be fooled by the name- this is probably one of the safest places to snorkel on the island! How come? The vast tide pools! This rocky beach is a great place for snorkeling, but make sure to bring your water shoes as some of the rocks can be rough or sharp. The best to visit is during summer when the waves are calmer which makes it easier to spot the many fish that inhabit the area.
30. Try Dole Whip at the Dole Plantation
Take a tour around the Dole Plantation, explore one of the world's largest mazes, and when you're finished grab some delicious Dole whip as a treat! They were closed to the public for the majority of 2020, but are now open at the time of writing this!
31. Do a Helicopter Tour
Take a scenic ride in a helicopter (like this tour) and see Oahu from the air! There are many different tour operators available so you have lots of options when it comes to the route you would like to take and your duration in the sky.
32. Hike the Wiliwilinui Ridge Trail
This trail takes roughly 40 mins to complete and once you reach the top it feels as though you are right in the center of the island! With sweeping 360-degree views including mountains, the city, and the sea, this is one hike that should definitely be on your list.
33. Luau (a must in Hawaii!)
If you're in Hawaii, it's pretty much essential that you experience a luau. A luau is a traditional Hawaiian and Polynesian celebration, feast, or party that includes dancing, singing, and other entertainment usually in an outdoor setting. The event also includes traditional Hawaiian cuisine- yum! The best luaus in Oahu are either Paradise Cove or Germaine's Luau. Hands down, luaus are some of the best things to do in Oahu!
34. Lanikai Pillbox Hike
This rugged trail is perfect for experienced hikers or those that want a bit of a challenge. The trail is steep and often narrow, but once you reach the top you'll be greeted with a panoramic view of Lanikai Beach.
35. Polynesian Cultural Center
Learn about the history and culture of Hawaii at the Polynesian cultural center. Here you can see replicas of authentic villages and mingle with natives from different Pacific cultures as they share their culture and traditions with you through music and dance.
36. Search for Sea Turtles
When you think of Hawaii, you also probably think of sea turtles, so it only makes sense to try and spot a few while you're in Oahu! One of the best spots to have a really good chance of seeing these beautiful creatures is Laniakea Beach on Oahu's North Shore. Here the sea turtles can be found both while swimming in the ocean or while resting on land. Just be sure to keep your distance; sea turtles are protected in Hawaii!
37. Manoa Falls Hike
This easy/moderate level hike takes roughly one hour to complete. It is one of Oahu's most accessible hiking spots with a parking lot and a gravel path. The beautiful 150-foot waterfall that lies at the end of the journey makes the 1.5-mile round trip hike so worth it! If you like waterfalls, this is one of the best things to do in Oahu! It has been closed for repairs for most of 2020, check here for the most recent status. Also, note that you should not actually go in the water here- it has been known to contain dangerous bacteria!
38. Kayak to Chinamans Hat
With its rugged landscape and pristine private coves, a trip to Chinamans Hat can be challenging, but definitely worth it! (You can see Chinamans Hat on the right-hand side of this photo!) A self-guided kayak tour will take roughly 3 hours for the round trip that will leave you with fantastic memories of your adventure.
39. Visit Waimea Valley
This area holds special significance in Hawaiian culture and religion, as it includes many historical structures constructed during the Hawaiian monarchy era. With beautiful gardens and a picture-perfect waterfall, the Waimea Valley Park is a wonderful step back in time. Check entrance fees and hours here!
40. Go Surfing (or watch a surf competition)
Surfing is the lifeblood of Oahu! And surfing is definitely one of the best activities in Oahu on the North Shore! There are surfing competitions pretty much year-round to attend, or you can take part in the action yourself and rent a surfboard to ride some waves. Alternatively, book a lesson so a professional can teach you the ropes of this fun-filled sport.
41. Eat at Fette in Kakaoko
This restaurant has a delicious fusion of dishes that showcase island flavors and ingredients at their best. The menu options are varied, and the dishes take inspiration from a wide range of different cultures. We ate here on our last night on Oahu and enjoyed every single bite! You can really taste the freshness in their cuisine!
42. Kayak to the Sandbar in Kaneohe Bay
Kaneohe sandbar is a collection of exposed islets that surround coral reefs – the only place of its kind in the whole of Hawaii. The only way to get to the sandbar is via kayak, but once you're there you can enjoy many outdoor activities such as beach volleyball, snorkeling, and enjoying the beautiful views surrounding you!
43. Indulge at Double Threes
The warm year-round climate of Oahu lends itself to be the perfect place to enjoy an ice cream. One of the best places to pick up a creamy treat is Double Threes where you can choose from a variety of flavors and toppings. Their signature treat combines waffles and ice cream- what more could you want in a dessert?!
44. Explore the Famous Banyan Tree at Kawela Bay Beach Park
This is more than your regular tree. In fact, various movies have featured this tree as a filming location due to its large and impressive size. (Pirates of the Caribbean and Lost, to name a couple!) Multiple trunks and branches make up the Banyan tree at Kawela Bay Beach Park. It is truly breathtaking to see up close!
45. Pearl Harbor Memorial
Pay your respects to the soldiers laid to rest here at the Pearl Harbor National Memorial – a somber reminder of the wartimes of the 1940s. The building also includes multiple exhibits, a theatre, and a bookstore where you can learn more about the events leading up to the attack on Oahu and its aftermath. If you're a history buff, this is definitely one of the best things to do in Oahu.
46. Get Away From It All at Paradise Bay Resort
Paradise Bay Resort is the perfect place to stay if you want to relax in nature. We chose this place after having stayed in Waikiki for our honeymoon. Located on the windward coast, the resort offers spectacular views of the magnificent Kaneohe Bay. It is also in a more local and secluded location near the Koolau Mountain Range. It's a short drive away from Ho'omaluhia Botanical Garden, Kualoa Regional Park, Adela's Country Eatery, Haleiwa Joe's, and other east coast attractions.
47. Experience Luxury at the Sheraton
If you're wanting a luxurious stay, look no further than the Sheraton Waikiki. With an infinity pool that overlooks the nearby beach, and a bar and nightclub, you're sure to enjoy your stay here.
If you're wondering which part of the island you should stay on, check out this article on where to stay in Oahu!
48. Go Whale Watching
Seeing whales in the wild is such a magical experience. Take a whale watching tour like this one to see these majestic creatures in their natural habitat! Come wintertime, whale watching is definitely one of the most invigorating things to do in Oahu!
49. Explore Lanai Lookout
Located on the southeastern shore, Lanai Lookout offers sweeping views of the ocean, cliffs, and neighboring islands.
50. Maunawili Falls
The Maunawili Falls are tucked deep in the Maunawili Valley, below the towering Pali Cliffs. This fun hiking trail leads you to a waterfall and mountain pool where you can bathe in an oasis!
In conclusion…
I hope you can see how there are so many things to do in Oahu! Which of these items are you most excited to do on your Oahu trip? Let me know in the comments!
And if you've been to Oahu and can think of more awesome things to do in Oahu that didn't make it on my list, comment them below!
(For anyone interested, the hidden gem "black sand beach" pictured above is #17 on my list of the most Instagrammable places in Oahu!)
Safe travels!
Jasmine