Knowing which Hawaiian to visit can be a tough nut to crack. Each island offers unique features, varying nature, and different vibes.
Here I'll get into just what you can expect from each island- The Big Island (aka the island of Hawai'i), Maui, Oahu, Kauai, Molokai, and Lanai.
I'll list the pros and cons of each island, as well as an overview of what to expect at each island. Sometimes the most popular attractions are enough to draw you to one island over another, so I'll include those as well.
Knowing which Hawaiian island to visit can make or break (though not really- you'll be in Hawaii, after all) your vacation!
So let's make sure we choose the right one for you!
The Big Island
If the name hasn't given it away, the Big Island has plenty of space for you to explore! Making up 63% of the entire archipelago's landmass, it lets you explore away from crowds and at your own pace.
It's also the most versatile Hawaiian island to visit. Not only is there an active volcano, two mountains, and eleven different climate zones, but you'll also find a sandy beach that is green. Have you ever heard of green sand before?
You can also enjoy the ocean-front town of Kona, where you can wine and dine by the beachside. For a more luxurious stay, Waikoloa houses plenty of resorts. If you plan on leisure travel or spending time outdoors as a family, the Big Island could be it for you.
Pros:
Great blend of local culture and commercial comforts mean that you can get in touch with the traditional Hawaiian lifestyle. Learn more about the archipelago you're visiting!
Friendly Aloha culture and fewer tourists let you sit back and relax.
Offers a range of accommodation that suits every budget. This way, you can extend your trip from a single weekend to an entire week. This is my favorite luxury stay on the Big Island!
Wildlife can be seen everywhere! Spot whales and sea turtles from the shore, or follow the bird calls into the forest.
One of the best places for snorkeling/diving with manta rays!
Cons:
The larger the island, the more space to cover. I suggest planning your itinerary carefully or you'll end up wasting time driving from one attraction to the next.
Car rental is required if you want to explore the island completely.
Most beaches require travel. You can't just walk outside and immediately find one like you would in Maui or Honolulu.
The Big Island in a Nutshell
The most popular attraction is Hawaii Volcanoes National Park. For good reason too, since you can hike over solidified lava fields, hike through fern forests and watch lava move from within the safety of Jaggar Museum (when there is lava)! Exploring lava tubes is a must, followed by the famous Kona Manta Ray Night Dive. You can also challenge Mauna Kea, Hawaii's highest peak.
The Big Island's nature reserves are other must-see destinations. Kaloko-Honokohau National Historical Park and Hawaii Tropical Bioreserve show off ancient rock art and a tropical paradise respectively. And of course, don't miss out on the unique Papakolea Green Sand Beach!
Check out my list of the 40 best things to do on the Big Island here!
Maui
As a personal favorite, I've got to say that whether or not you visit Maui on your first trip to Hawaii, you should definitely go someday!
Don't just take my word for it! The floods of travelers at Maui have plenty to say about why you should visit – like the sheer number of beaches along the coastline. The ocean is your oyster and Maui's volcanic mountains are full of natural treasures.
It's not just all beaches and nature either! The resort areas of Kaanapali and Wailea offer spa retreats and handicraft boutiques. Each town is full of its own charms, whether that includes beachside cafés or traditional performance art shows.
While the other islands cater to more 'outdoorsy' activities, Maui is perfect for those who like to experience the outside in luxury.
Pros:
Variety in nature – Aside from having the best beaches, you also get to explore the dynamic terrain within Haleakala National Park (including a dormant volcano!).
Prime whale watching location – Just make sure you visit between December and May if you want to go whale watching.
Family-friendly attractions and a good range of restaurants mean the kids stay engaged and happy.
There are plenty of direct flights into Maui, saving you time on travel.
Plenty of luxury resorts with varying prices.
Cons:
As the most 'touristy' island after Oahu, crowds and commercialization might mean you miss out on a more traditional Hawaiian experience.
You have to rent a car since public transport is limited. Costs include high parking fees and fuel.
Minimal nightlife because it lacks a "downtown" area – Maui is a chain of townships.
Resorts are beautiful but lack budget stays, though you can definitely find some throughout the island.
Maui in a Nutshell
Your to-do list of attractions begins with the Road to Hana, a 64-mile drive full of gorgeous landscapes and small pit stops. Climb up Haleakala National Park for a stunning sunrise, or catch waves at Ho'okipa Beach Park until the sun sets. The Garden of Eden features gorgeous flora and fauna while Waianapanapa State Park offers black sand beaches.
Discover Maui's roots at Maui Tropical Plantation; see how sugarcane and pineapple are grown. To see how produce become products, visit Paia and scour around the farmers markets. Follow up with a few hours at Maui's famous spas such as Awili Spa & Salon or Ho'omana Spa. Last but not least, you'll love the traditional food and dance at Feast at Lele.
If you're wondering which Hawaiian island to visit and love luxury stays and stunning nature, Maui is the island for you!
Check out my full list of unforgettable things to do in Maui here!
And if you want to see my exact itinerary, you can find it here!
Oahu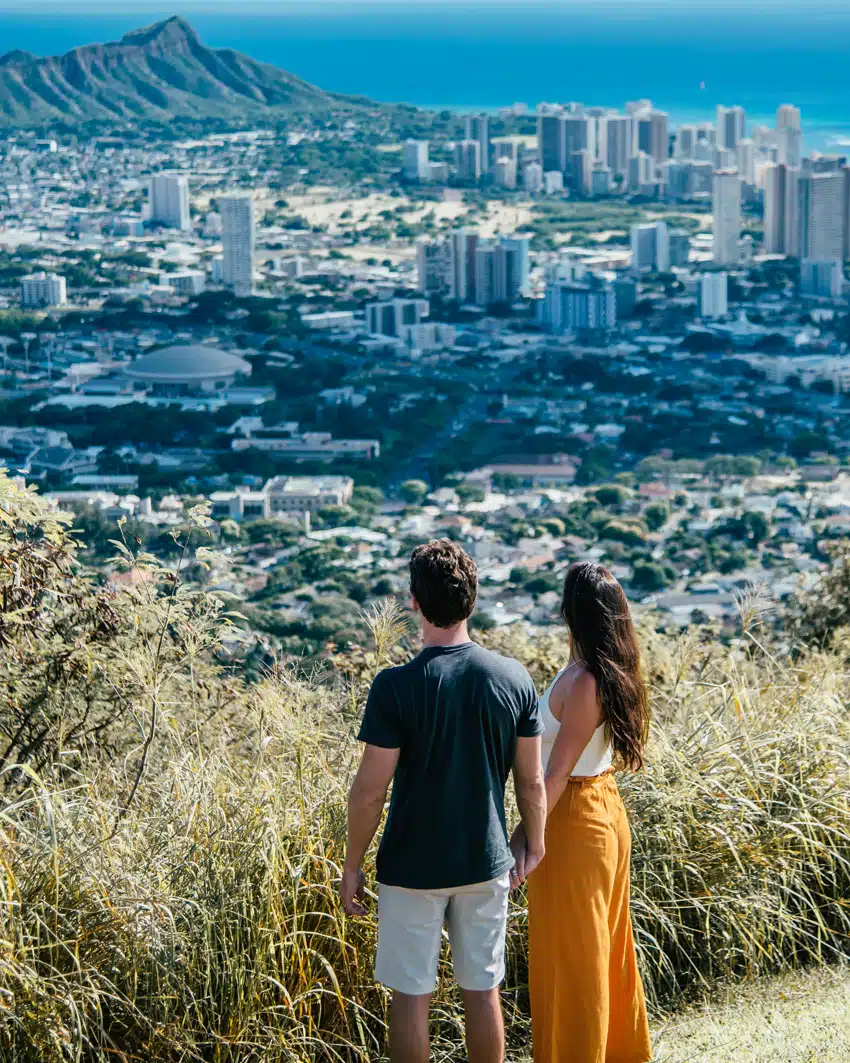 Even if you aren't familiar with Oahu, the capital city of Honolulu is in every guide book out there. Think of Oahu as a sample plate of everything Hawaii has to offer. From dining and shopping in the city to North Shore greenery, there's a variety of attractions for you to enjoy.
I highly recommend this island for first-time Hawaii visitors because it features a bit of everything. But if you're looking primarily for outdoor adventure, however, skip ahead to the next few islands on the list.
Pros:
Best for budget travel – There are plenty of mid-range options compared to Maui's luxury resorts. Need to know which part of Oahu to stay on? I've got you covered- here are the best places to stay around Oahu!
Flights tend to be cheaper and more frequent than any of the other islands.
Nightlife is a go! What city is complete without bars and clubs to party the night away?
Public transport and Uber services are available, so you can save on car rental.
Offers a nice blend of city and coastal town living, with the bonus of concerts and year-round events.
Cons:
It's the most touristy island in Hawaii!
Not only is it the most touristy island, but it's also the most populated island.
Along those lines, Honolulu is crowded! If you're trying to get away from the city hustle and avoid tourists, it's not the island for you.
Hotels are mostly located inside of Honolulu, so you're forced to make a base there.
Like Maui, you'll be experiencing a more commercialized Hawaii versus a traditional one.
Oahu in a Nutshell
If you get through this whole post and still don't know which Hawaiian island to visit, Oahu is definitely a safe bet! It actually was our first Hawaiian island to visit- we came here on our honeymoon!
Honolulu pairs upscale shopping malls like Ala Moana Center and the famous Waikiki Beach together so you can enjoy both indoors and outdoors in one place. Iolani Palace, former home of Hawaii's last monarchs, isn't too far off – neither is the beautiful Hanauma Bay nature preserve. Another major attraction you have to visit is the dormant volcano called Diamond Head, a massive crater that lies along the coast of Honolulu.
It's full of beauty (check out the 50 most Instagrammable places in Oahu), city life, and history.
If you're a fan of history, you should definitely visit the Pearl Harbor National Memorial where the USS Arizona is laid to rest. Have some time to spare at night? The Polynesian Cultural Center hosts plenty of cultural shows to showcase Hawaiian music and dance.
Check out this list of 50 things to do in Oahu for more fun activities!
Kauai
In my opinion, the oldest and smallest Hawaiian island is the most beautiful Hawaiian island– Kauai is just so full of life! Also known as the "Garden Isle," Kauai's relatively undeveloped nature means it is the perfect tropical getaway.
If you want a trip that is all about outdoor experiences, this is the best island to choose. The mountainous terrain offers plenty of opportunities to hike through canyons, stumble across waterfalls, and trek along the Na Pali Coast. Slow travelers will also have a blast here.
But like most places with one outstanding characteristic, there are some pros and cons to Kauai's untouched nature.
Pros:
As one of the least developed islands, you get to experience the authentic 'Hawaiian experience'. Mingle with the locals and bask in their friendly, laid back culture!
There is stunning, lush foliage and rugged wilderness everywhere.
While there is no city (or even towns) per se, Kauai has developed several large resorts and golf courses.
No crowds to disrupt your well-deserved break.
Cons:
As one of the least developed islands, there isn't much to do in terms of modern entertainment (like shopping).
Dining options are limited outside of resorts, so you're stuck with the same few restaurants.
Unpredictable weather means your time outdoors may be cut short.
Not a lot of beaches, you'll mostly be hiking. The few beaches that exist are difficult to reach.
Kauai in a Nutshell
Most of Kauai's major attractions will have you venturing into the dense rainforest! Na Pali Coast State Wilderness Park offers one of the most stunning coastlines in Hawaii – take the Kalalau Trail to see its towering sea cliffs. Waimea Canyon State Park is an impressive gorge; Koke'e State Park is another mountainous destination. Hike up to Wailua Falls for twin waterfalls surrounded by lush greens!
If you want more peaceful locations, Kilauea Lighthouse and Hanalei Bay should be included on your checklist. There are other smaller, private beaches that you may have to ask locals for directions to.
In a nutshell, if you don't know which Hawaiian island to visit but love dramatic nature and small-town feels, Kauai is the island for you!
Molokai
Some people (travel experts included) might tell you that Molokai isn't for everyone. Its small town of Kaunakakai has a population of 3000 and a three-block-long main street. Instead of paved roads with cars, you see empty red dirt roads. The beaches are practically empty. The mountains are heavily covered with trees, with few humans in sight.
But for those very things listed, you have all the reasons to visit! Not only does Molokai own the longest fringing coral reef in the United States, but its rainforests are also filled with waterfalls and pretty landscapes. It's also home to the world's highest sea cliffs at 3,600 to 3,900 ft (source)! There's plenty of nature and no one to fight you for it.
Molokai is the least touristy Hawaiian island, which makes it even more enticing for those who want to get away from it all.
Pros:
Lives up to its nickname of "Friendly Island"! You can expect an extremely warm welcome and no pressure to do anything productive. Spend time bonding with the locals and learning more about their culture.
Its stunning, untouched landscape is free-for-all. You won't have to fight through crowds for those panoramic photographs.
Small communities and few tourists mean you truly get to relax. There are no distractions, just nature and some neighbors.
Cons:
Given that there are no direct flights, you'll have to spend extra time on transfers.
There is limited accommodation in form of one hotel. You're better off renting a condo or looking for house stays. Here are the hotels you can book online!
Apart from spending time outdoors, there's not much else to do.
Molokai in a Nutshell
The first thing that you'll want to do in Molokai is the Halawa Valley Cultural Hike. One of the remaining families in this ancient Hawaiian settlement will guide you to Mo'oula Falls, sharing stories about their way of life and teaching you how to make palm leaf origami. Papohaku Beach Park overlooks Oahu in a nice, sandy stretch.
If you want to see more dramatic landscapes, Kalaupapa National Historical Park looks up at some of the largest sea cliffs in the world! You can climb up for sweeping views over the island or take a helicopter tour instead. There's no end to Molokai's beautiful nature.
In short, if you're looking for which Hawaiian island to visit and want to completely get off the beaten path, Molokai is for you!
Lanai
Although Lanai is the smallest inhabited island in Hawaii, it is enticing in its own way. On one hand, you can pamper yourself at luxurious resorts and golf courses. On the other hand, you can go off on wild adventures across the rugged back roads.
What looks like a boring island at first glance is actually one of the best Hawaiian getaways you can ask for.
Pros:
Offers boundless natural beauty, from beaches to forests.
Often overlooked by tourists, this quiet island becomes a private hotel just for you.
You can relax with no distractions; maybe finally learn how to play golf.
Cons:
Lanai in a Nutshell
Start your trip by exploring the beaches of Lanai, where turtles and Spinner dolphins are frequent visitors around Hulopoe Beach. You'll also want to hop on a four-wheel drive and challenge those 400 miles of unpaved trail! Make a stop at Keahiakawelo Rock Garden around sunset to see the rock towers and formations glow in reds and purples.
Manele Golf Course is another major attraction thanks to the well-crafted grounds and the dramatic views. You can plan out further outdoor activities like snorkeling, whale watching, and horseback riding. History buffs will fall in love with the prehistoric ruins at Kaunolu Fishing Village, especially when they settle in to listen to the legend behind Puu Pehe.
I'd suggest Lanai for those looking for a romantic island getaway that is away from people on a small tropical, secluded island.
So which Hawaiian island should I visit?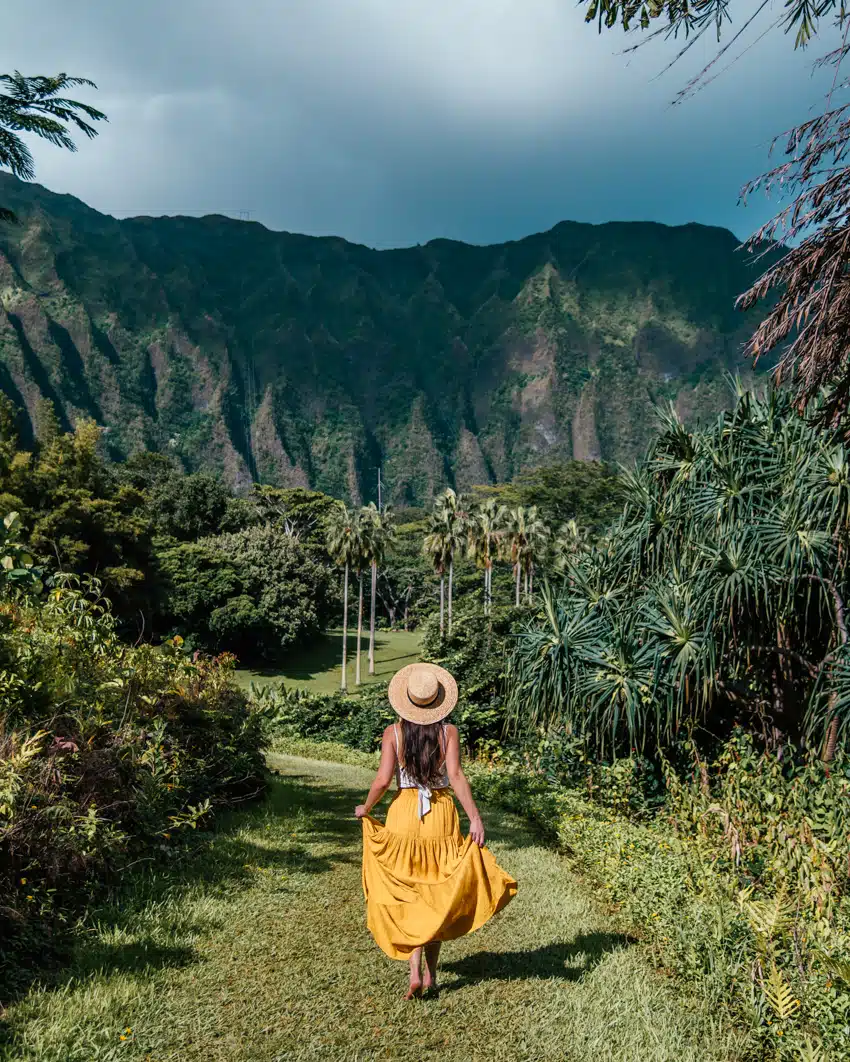 You can see that each island has different things to offer! Whether you're an adventure junkie, a nature lover, a city slicker, or waterfall chaser, there's an island for you!
By going through what you can expect from each island, you hopefully have gotten a good feel for the islands.
If you still really can't decide, I'd say Oahu or Maui are your safest bets!
I hope this guide helps you choose which Hawaiian island to visit!
And regardless of which island you're visiting, check out this post on what to pack for your Hawaii vacation! You also might find this post on the 50 most beautiful places in the Hawaiian islands helpful!
If you have more insight on any of the islands or a personal favorite, let me know in the comments below!
Safe travels!
Jasmine