From beaches to overlooks, there are so many Instagrammable places on the Big Island of Hawaii. In fact, it's no secret that Hawaii as a state is a photographer's dream. It has some of the best beaches in the USA, if not the world, as well as volcanoes and forests in the island's interior.
Some of the landscapes are like nothing you'll have ever seen in the states, and you can expect to be constantly taking photos of absolutely everything you see while you're exploring!
This guide to instagrammable places on the Big Island of Hawaii will show you the creme de la creme of photogenic spots on Hawaii's biggest island. Be sure to keep referring to it while exploring!
When planning your photography trip around the Big Island, it's important to know that there are two different sides: the wet side (windward) and the dry side (leeward). Windward is located to the north and east and leeward to the south and west. 
These areas of the island have different climates because of the hills and mountains – particularly Mauna Kea Mountain – in the middle.
The west side has more of the quintessentially Hawaiian beaches, with lots of coral reefs and of course, epic sunsets.
The east side, however, is home to lots of waterfalls and dramatic mountain scenery. The beaches here are beautiful too, and they are a wonderful sunrise spot!
You will probably end up visiting both areas while you're exploring Big Island Hawaii. And it's definitely a good idea to know where the best photography spots are, as you might want to plan your trip around them!
I've organized these spots so that they are generally in order as you drive clockwise around the island. There's a map at the end of this post!
1. Pololu Valley Lookout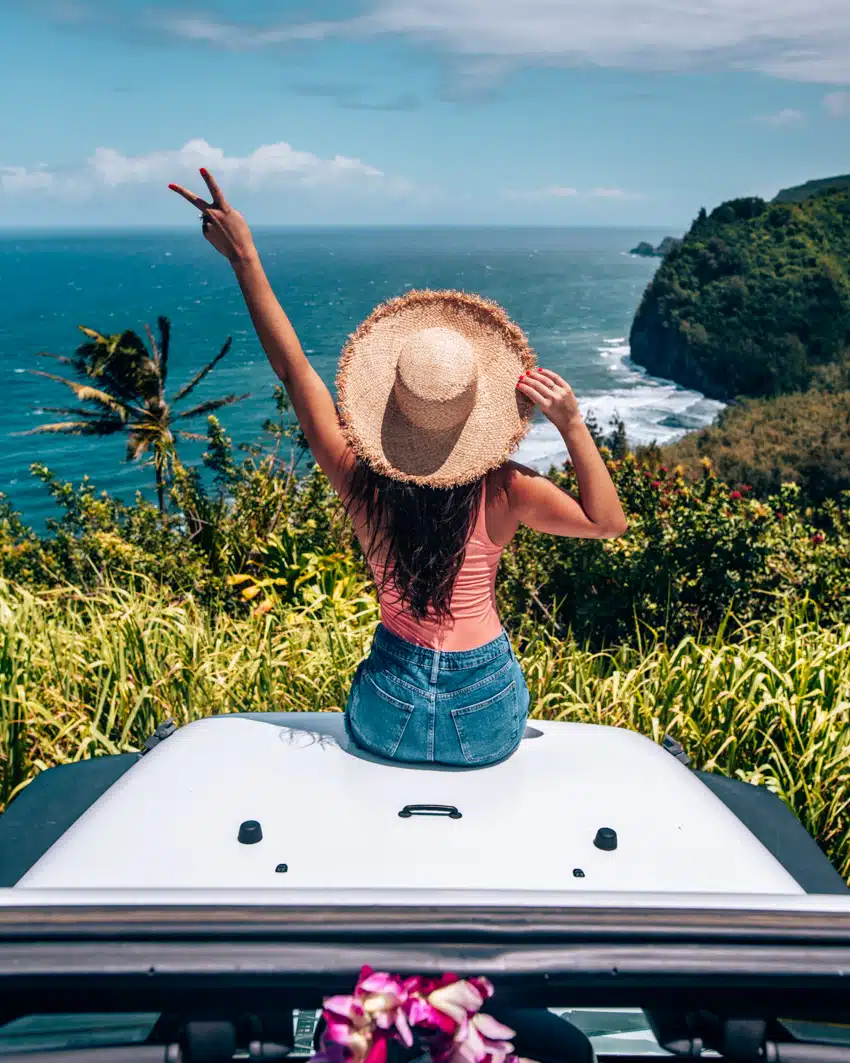 Let's begin with the ocean – or at least one of the most epic viewpoints of it! This dramatic lookout comprises a sprawling beach and crashing waves. It's on the northeastern coast, so it's a beautiful sunrise spot – or you'll find the black sand beach and the greenery is illuminated in the afternoon. It's the perfect spot for landscape photography, and is definitely one of the most Instagrammable places on the Big Island!
2. Waipo Valley Overlook
From Waipo Valley or 'Valley of the Kings', you can hike up and reach a spectacular vista from an overlook. If you're driving, you can simply drive to this spot! This overlook is one of the best viewpoints on the entire island – from here, you'll be able to see what the fuss over Hawaiian beaches is about!
For best photos, head to the overlook in the afternoon. The sun will be behind you, illuminating yourself and the entire viewpoint. Waipo Valley is a popular hiking area, so you can combine the photoshoot with some exploring too.
3. Laupāhoehoe Point
Laupāhoehoe Point Beach Park is one of the most epic sunrise spots on Big Island Hawaii. Here, you'll be able to look out over the ocean and photograph the dramatic coastline.
4. Akaka Falls State Park
Do you want to photograph a waterfall that is 2.5 times higher than Niagara Falls? Then check out Akaka Falls State Park. This park is located near Hilo, the main base for the east of the island. You'll be taking Instagram-worthy photos throughout the hike, but there is a particular spot mid-way where you can look directly over the waterfall – and it's not to be missed.
This trail is easy and family-friendly, with a boardwalk most of the way. The park does get buy in the afternoons, so it's recommended to get here as early as possible to make sure that you get the photos that you want.
5. Pepeekeo Maikai Scenic Route
Otherwise known as Big Island's Four Mile Scenic Drive, this road travels along rainforest roads, traverses the coast, and crosses waterfalls. It won't take long to drive the route, but there are so many things to stop and marvel at on the way! In fact, the route encompasses some of the next items on this list, so keep your eyes peeled! One of the highlights is Onomea Bay, which is full of beauty. To find the exact route, check out more information here!
6. Hawaii Tropical Bioreserve & Garden
Though it's currently closed due to the pandemic, you can check here to see if it has reopened by the time you're reading this! If you're into photography, you'll love the Hawaii Tropical Bioreserve & Garden, where there are tons of beautiful plants and gorgeous photo opportunities. From photos with a jungle backdrop to snaps using tropical flowers as props, there's plenty to fill your feed with here!
7. Rainbow Falls
These waterfalls are easy to reach, making them more popular than other waterfalls in Hawaii! They are certainly Instagrammable Big Island falls on their own, but if you visit in the morning, you'll witness beautiful rainbows around the fall too. If you can get these on camera, they'll completely brighten up your Instagram feed!
8. The Inn at Kulaniapia Falls
One of the most photogenic hotels in the whole of Hawaii, at the Inn at Kulaniapia Falls you'll be able to enjoy a dramatic gorge and waterfall, with facilities at the top! Staying at the Inn provides you with full access to their stunning waterfall, as well as water shoes that you can borrow if you need them. It's also one of the only waterfalls on the Big Island that you can actually swim in! We spent Harrison's birthday here and had so much fun swimming in the falls just the two of us!
Also- the very first photo on this post is from Kulaniapia Falls, to give you an idea of the kinds of photos you can take here!
Need to know what to pack for Hawaii? Check out my post here!
9. Pe'epe'e Falls
The beautiful Pe'epe'e Falls are some of the lesser-visited falls of Big Island, but they are well worth bringing your camera too! You can see these from quite close to the car park, but you can also hike a little bit closer to get an alternative angle. (Honestly, the view from the car park just doesn't cut it if you ask me). If you have a drone, Pe'epe'e Falls also take a great photo from above! 
10. Hawaiʻi Volcanoes National Park
Hawaii Volcanoes National Park is one of the treasures of the island. As the name suggests, here you'll be able to photograph dramatic volcanoes and lava. Do be careful in the park, as the volcanoes can be dangerous! Read more about Hawaii Volcanoes National Park here!
11. Thurston Lava Tube
The Thurston Lava Tube, or Nahuku, is a lava cave, 500 years of age, in the Hawaii Volcanoes National Park. It's a must-visit place for people who want to practice their photography in lower light or those who want some enigmatic photos for their Instagram feed! Even if you don't take a photo inside, the stunning walkway entrance is a gorgeous Instagrammable spot on the Big Island!
12. Holei Sea Arch
Holei Sea Arch is a large rock formation on the southern coast of the island. It's a natural rock arch caused by erosion and is one of the best spots on the coastline for landscape photography. At the time of writing, you can no longer get this close to it, but it still makes for some neat shots!
13. Punalu'u Black Sand Beach
This beach is one of the best places to visit on Big Island Hawaii, both for photography and to explore. If you're after that ultimate Instagrammable Big Island shot, a drone will take in the tops of the palm trees, the soft black sand, and the brilliantly blue waters.
Alternatively, there are many beautiful backdrops on the beach – from the palm trees fringing the sand to the endless ocean. Take a look out for resident turtles basking on the black sands. It's also a great beach to go snorkeling, and if you have a waterproof camera, you might be able to get some excellent shots of the marine life around the beach.
This beach does tend to get very busy, particularly in the middle of the day. If you want to get the best Instagram shots, it's a good idea to visit for either sunrise or sunset.
14. Papakōlea Green Sand Beach
The Papakōlea Green Sand Beach is one of the most interesting places on Big Island. It is one of only two green sand beaches in the country, and is a must-visit for those who love to photograph scenery anomalies! You'll need to hike or pay locals to guide you to the beach; the terrain is too uneven to drive it on your own. It's worth it though; the green sand makes it one of the most Instagrammable places on the Big Island!
15. South Point Park
South Point Park is the southernmost tip of Big Island Hawaii – and it's also the furthest south point of the USA! It's worth visiting for this title, but also the dramatic landscape – from here, you'll be able to get some great photos of the Pacific Ocean and bordering land. If you're brave enough, you can do some cliff jumping here!
16. Po'ohunoa Honaunau National Park
The name of this national park means 'Place of Refuge' and it is widely thought that no harm would befall on any visitor to it. This is always good to know, especially when it's somewhere where you are taking your expensive camera gear!
The beach of the national park is quintessentially Hawaiian, with towering palm trees and beach huts. There are also lots of tiki-style statues, created by local craftspeople. Most beaches in Hawaii are Instagrammable, but the features punctuating the beach here make it even more so. 
Po'ohunoa Honaunau is a west-facing beach. This means excellent sunsets, but it's also a great place for photos in the morning. Try to avoid taking photos at Po'ohunoa Honaunau National Park in the middle of the day, as there is little shelter and the lighting at the beach can be harsh. There are also some reefs on this side – excellent for underwater photography!
17. Kealakekua Bay & Captain Cook Cove
This epic bay has crystal-clear blue water and excellent snorkeling and diving opportunities. If you have a drone, you can take birds-eye photos from the beach – but it's also a great spot for some landscape shots too. The beach is west-facing, so sunsets are incredible here.
Also in Kealakekua Bay, Captain Cook Cove is the site of where Captain James Cook, who was the first European to reach Hawaii, was killed. There is a monument to demonstrate this, but the really Instagrammable part of the cove is underwater. If you have a waterproof camera you'll be in photo-taking heaven here!
18. Coffee Farms
Hawaii has the right climate to grow some delicious coffee, and there are a few coffee farms that are both interesting and incredibly photogenic. Two of the best are Kona Coffee & Tea and Heavenly Hawaiian Kona Coffee Farm.
19. Sheraton Kona
If you're looking for somewhere to take the most romantic Instagram photos, look no further than sunset at Sheraton Kona. The sun sets right by the cliffs here, so you'll not only have an epic viewpoint but you'll be wowed at the way the photos turn out! The Sheraton grounds are awash with colorful flowers, and there are plenty of spots to get that perfect shot. It's even used as a backdrop for wedding photos!
20. Kailua Bay
As well as the historic Kailua Village, Kailua Bay has a beautiful and dramatic beach, that's great for photography any time of day.
21. Kohanaiki Beach Park
Popular with people doing watersports, Kohanaiki Beach Park is also a photographer's dream. You'll be able to enjoy picturesque white sands and rolling blue waves, as well as lots of greenery that borders the beach area and offers shade for photos, even in the middle of the day.
22. Mahaiula Beach and Makalawena Beach
Mahaiula Beach is one of the most breathtaking – and popular – beaches on the whole of the island. You'll be able to photograph black rock, lines of palm trees, and gorgeous sunsets from this spot. It's a spectacular area, with so many little spots that are perfect for your Instagram photos!
Like other beaches, this one is on the west side. However, it's a great spot to visit for sunrise – you'll find that the sun from the east illuminates the beautiful beachy backdrop, and gives you some great light to work with while editing! You could also snap a sunset photo of either beach. It's also doable as a photo destination in the daytime because there are more shady spots to take photos in.
Makalawena Beach is very close to Mahaiula and enjoys many of the same features -black rock and plenty of palms. It's worth checking both beaches out when searching for Instagram spots because you're likely to find unique photo places in both.
23. Kua Bay
With white sand and turquoise waters, I think this is the prettiest beach on the island, making it one of the most Instagrammable places on the Big Island. It's also a local favorite, so you know it's good!
24. Four Seasons Resort Hualalai
The Four Seasons Resort Hualalai is one of the most luxurious resorts on the island and is perfect for Instagrammers. Not only is there a deluxe, palm-lined pool, but the resort has its own private beach that looks absolutely stunning during sunset hours and has plenty of quiet areas for photos. Here are 20 things you'll find at the Four Seasons Hualalai!
25. Anaehoʻomalu Bay & Waikoloa Beach
Take photos walking between palm trees at Anaeho'omalu Bay- it's got the most Instagrammable collection of them on the island! Bonus if you're there at sunset! If palm trees aren't your thing, there are also delightful white sands and, of course, the brilliantly blue tropical Pacific.
26. Waialea Beach
Beautiful Waialea Beach, dubbed Beach 69 by the locals, is dotted with rocky outcrops, making it the perfect place to get some more adventurous Instagram shots. The beach is lined by tropical trees, so it's also a great spot for drone footage.
27. Hapuna Beach
Hapuna Beach does get fairly busy, but it's worth visiting for the stunning scenery and snorkeling. It's one of the best beaches on the island for tropical vistas – from the vantage point above the beach, you'll be able to photograph the shores and sands. But my favorite time to visit is at sunset! Check out those gorgeous pink and purple hues!
28. The Westin Hapuna Beach Resort
The Westin Hapuna Beach Resort is a large hotel with many Instagrammable spot