Maui is the second-largest island in Hawaii, and as such, there are so many Instagrammable places in Maui!
Here I'll show you the best photo spots on the island!
Because of its size and because it has many wonderful photography spots all over the entire island, it is one of the most popular places to visit in all of Hawaii.
There are so many stunning Instagram spots, from world-class resorts to stunning beaches, as well as volcanoes, forests, and other backdrops. If you're spending a few days on Maui, try to tick off as many of these destinations as you can!
Map of Instagrammable Places in Maui
1. Haleakalā Observatory
The first astronomical research observatory in Hawaii, the Haleakalā Observatory is a great place to admire the otherworldly landscape, and watch the night sky if you're there after dark!
From this vantage point, you'll be able to get some excellent pictures of the surroundings. This volcano is definitely one of the most Instagrammable places in Maui if you ask me!
2. Red Hill, Haleakala
As I just mentioned, the spectacular Haleakala National Park has dramatic volcano scenery; and from the top, you'll most likely be above the clouds! This makes it a spectacular photo spot in Maui. Red Hill, in particular, is one of the best viewpoints on the island.
3. Ali'i Kula Lavender
Sitting at an elevation of 4000 feet, the Ali'i Kula Lavender fields is one of the best places to visit to get a unique Hawaii shot. Your followers will be surprised that this place is in Hawaii – and it shows how diverse the islands are!
4. Maui Goat Yoga
If you want a more comic photo for your feed, how about a spot of goat yoga? As the name suggests, this activity involves yoga and goats. After yoga is over, you get photo time with the goats! The goats here truly make this one of the most hilarious and instagrammable places in Maui!
5. La Perouse Bay
La Perouse Bay is wild and dramatic; if you have a drone, you'll be able to check out an aerial view or explore the coves with a handheld device. It's one of the neatest beaches for photography in the whole of Maui.
6. Makena Beach
Makena Beach is one of the most epic places to visit in Maui and is without a doubt where you will get some of the best Instagram photos in Maui. It is comprised of Big Beach, which is visited by most tourists, and Little Beach, which is more of a local hangout.
Big Beach is a wonderful place to visit and there are plenty of places for beautiful Instagram photos. However, it often gets busy with tourists in the daytime, so be sure to get there early for Instagram photos. Little Beach is more challenging to get to, but it's even more epic for Instagram photos. However, it's crucial to get here early, before anyone else is on the beach, as it is a nude beach and photos are, understandably, strictly prohibited.
As long as you're there early, Makena Beach is one of the best spots in Maui for drone photography. You'll be able to get wonderful birds-eye vistas of the sprawling beaches and the charming hills.
7. Secret Cove Beach
Right in the Makena Beach area, this tiny beach is hidden away by rocks and boulders and is one of the best sunset spots on Maui Island. It's great to visit any time of day, but it can get a bit busy during daylight hours. However, just before sunset, it gets quiet, and this is one of the best times for pictures. Bonus points if you go at sunrise!
Secret Cove Beach is named so because it is hidden from the main road and there are no signs that will direct you there. Despite this, it's still relatively easy to reach. You can type 'Secret Cove Beach' into Google Maps, which should take you to the right place.
8. Wailea Beach
Maintained by the Marriott Hotel, this is one of Maui's best beaches and is an epic sunset spot. Wailea Beach is lovingly cared for, which makes it spectacular. You can glimpse Lanai Island and its Pu'u Kukui mountain. There is also beautiful volcanic rock and plenty of spectacular wildlife. If you're fortunate, you might get the chance to spot whales or other wildlife too.
9. Andaz Maui At Wailea Resort
The Andaz Maui is one of the most photogenic accommodations on Maui. You'll be able to get shots of yourself at one of the luxury pools, or amongst the palm trees on the way to the beach.
My favorite, however, is the Aloha mural right inside! This mural automatically makes it on my list of most Instagrammable places in Maui- how could it not?
And while you're at the Andaz, keep your eyes peeled! There are so many hidden corners that are just waiting to be photographed!
10. Sugar Beach
When you think of Hawaiian beaches, you probably think of palm-lined sands, golden shores, and blue waters. If this is what you dream of, Sugar Beach will not disappoint! Located on the west side of Maui, Sugar Beach is one of the country's best sunset Instagram spots. It's best to visit here just before sunset and stay for sunset itself, as the light is incredible and you will want to get as many shots as possible!
If you are visiting in the day, you can also look out for turtles. Sometimes they relax on the sand, and they can make for great photos. Make sure that you don't get too close to them, as they can get spooked by humans. If you go snorkeling, try to bring an underwater camera – some of the best photo spots at this beach are beneath the waves.
11. Īao Valley State Park
If you like taking photos of beautiful greenery and dramatic mountains, Īao Valley State Park is for you. With lots of walking trails – so you'll be able to find somewhere away from the crowds – and lots of beautiful pools of water, it's a wonderful place to visit for photography.
Since this is the only part of the island that Jurassic Park-esque mountains, it makes it one of the most Instagrammable places in Maui!
12. Sunflower Field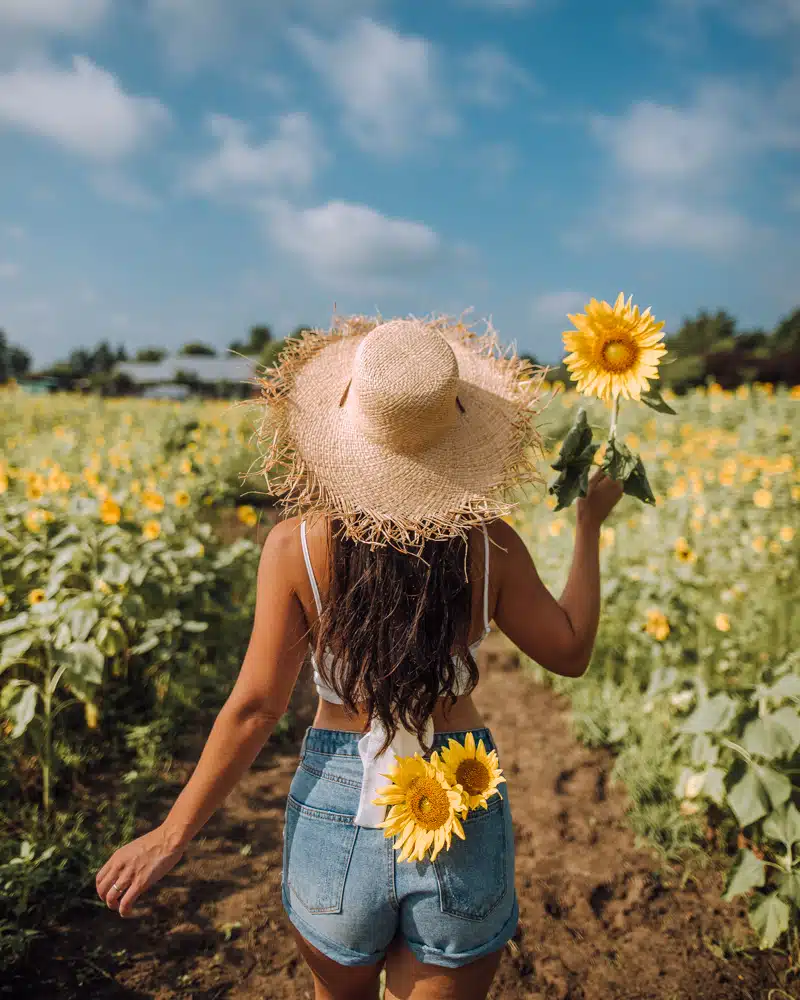 The perfect addition to your lavender photos is some taken from a sunflower field too! A biofuel company plants the sunflowers, and it is just called 'sunflower field' (you'll find it in Google Maps).
13. Olowalu Juice Stand
This Olowalu Juice Stand is a bright van that is the perfect backdrop for funky Instagram photos! With large pictures of different fruits and multicolored lettering, photos here will make a fun fruity addition to your feed.
While you're in Olowalu, one of Hawaii's main attractions is its diverse marine life, and you can't get much better than the reefs at Olowalu. You can take epic drone photos from above, where you can see the sea color change from reef to non-reef.
And, of course, you'll need to take underwater photos too! If you have a GoPro or a similar waterproof camera you can get some stunning photos of the tropical fish and coral, and you might be lucky enough to see some marine mammals like dolphins too. If you go snorkeling, keep your eyes out all the time – you never know when you might find an Instagrammable photo opportunity!
14. Lahaina
Lahaina is a harbor town that boasts plenty of shops, restaurants, and boat tours. From here, many people get a boat to the holiday island of Lanai. The harbor is a great Maui Instagram spot! And if you're on a boat, you'll also be able to get some epic shots of the mountains that line Lahaina.
15. Kaanapali Beach
The beautiful golden sands and azure waters of Kaanapali Beach, lined by palm trees and fringed by a reef, is a must-visit spot in Maui for great Instagram photos. It's a west-facing beach, so you'll be able to get some amazing sunset photos from here!
16. Kapalua Coastal Trail
Situated in the northwestern corner of Maui, the Kapalua Coastal Trail is a 1.9 mile stretch of epic coastal vistas and plenty of photo spots! This hidden gem features a charming boardwalk which makes a great photo focal point.
17. The Ritz-Carlton, Kapalua
The Ritz-Carlton Kapalua is another one of the best hotels for Instagram photos on the whole of Maui. There are plenty of opportunities for poolside photos, with lots of aquatic scenery and palm trees, and it looks especially magical with the lighting after dark. (If you're looking for a luxury stay in Maui, check out the 12 best luxury hotels on the island!)
18. Makaluapuna Point/ Dragons Teeth
The jagged Dragons Teeth at Makaluapuna Point are one of the most unique places for photos in the whole of Maui. These rock formations border the sea, and make for a wonderful landscape photo!
19. Kapalua Labyrinth
Very close to Dragon's Teeth is the Kapalua Labyrinth. This Labyrinth is perfect for drone photos, although it looks great with handheld cameras too, as you explore the labyrinth!
20. Honolua Bay
Meaning 'two harbors' in Hawaiian, Honolua Bay is a wonderful little bay that takes great photos at all times of day. It's part of the Marine Life Conservation District, which means that it is an offense to take anything from the bay, including rocks. Be careful when you visit, but enjoy taking photos there!
21. Heart-Shaped Rock / Nakalele Blowhole
The Heart-Shaped Rock was an archway that looked exactly like a heart and thus became a very popular Instagram location. However, it has now been eroded and sadly collapsed in early January 2020. The upside is that this is still a neat spot as it is also home to the Nakalele Blowhole!
Just make sure you don't get too close to the blowhole as it can be extremely dangerous (read: people have died here!). Stay back and enjoy its beauty from afar!
22. Olivine Pools
The crashing waves of Olivine Pools are a great place to take some photos – from afar, as the waves can be hazardous here! This is the meeting place of red rock and black lava sands, with crazy waves crashing over them. It's also an epic sunset spot. It's a popular spot for landscape photography, but if you are careful and stick to the safe areas, it could also be a lovely Instagrammable spot for portraits too.
23. Kahekili Highway Views
The scenic Kahekili Highway consists of a road cut into a mountain, with a very dangerous drop on one side! It's not a road for the faint-hearted, but you will get some epic mountainous photos from here.
24. Paia
Paia is a bright, chilled-out town in the North Shore area of Maui. You'll find plenty of Instagram spots as you walk down the main street – there are loads of old-west buildings painted in alluring pastel shades.
25. Aloha Surf Hostel
If you want a fun surfing picture from your time in Hawaii, look no further than Aloha Surf Hostel. Not only can they take you for a surfing lesson, but there are some beautiful brightly colored surfboards at the front which are perfect for an eye-popping picture! The boards definitely make for a photo-worthy Maui spot!
26. Ho'okipa Beach
Ho'okipa Beach Park is one of the best places in Hawaii for windsurfing and board surfing. If you want to get some shots of people taking to the waves for your 'gram, here is the place – or you could even take to the sea yourself!
This beach is also known to be frequented by sea turtles, so keep your eyes peeled (and keep your distance!).
27. Road to Hana
This 52-mile road is one of the most hazardous driving routes in Hawaii. There are 617 hairpin curves, and the road is nearly all one lane. While it feels perilous, if you are an experienced driver it is worth the trip. It is one of the most Instagrammable places in Maui! That being said it is crucial to pay attention to the road, no matter how beautiful the scenery is, and pull over if you see something that you want to photograph!
28. Twin Falls
Located on the Road to Hana, the spectacular Twin Falls are a great Instagrammable destination. Most tourists park up and see the main double waterfalls, and then drive off – but there are a lot of quiet spots in the area that you can hike to. If you want to take some photos of the main Twin Falls, it's best to get here as early as possible, as they do get busy early.
29. Rainbow Trees
The rainbow trees are a grove of a rare type of rainbow eucalyptus. They look like a rainbow – and even more so when they are seen through a camera lens! The beautiful rainbow trees are located on the Hana Highway.
30. Honomanū Bay
Also along the Road to Hana is the beautiful Honomanū Bay. This is an eastern-facing beach, with lots of wild shrubberies as well as volcanic black sands. If you want an ultimate Instagram photo, the most beautiful time of day here is sunrise.
31. Upper Waikani Falls
The Upper Waikani Falls is also called Three Bears Waterfalls. These falls are a great swimming spot, and are perfect for some waterfall Instagram photos. Most people just stop to get a quick photo, but there is a car park about 200 yards from the falls.
32. Makapipi Falls
It's also well worth visiting Makapipi Falls when looking for Instagram locations in Maui. Unlike other waterfalls on the island, Makapipi is easy to get to, located on the road to Hana. You'll be able to pretend you have a drone, even if you don't here – by standing at the top of the waterfall and taking a photo of the water cascading down!
33. Waiʻānapanapa State Park
The Waiʻānapanapa State Park features dozens of enigmatic Instagram locations.
The Black Sand Beach of Hana, located here, is one of the most typically Hawaiian beaches on the island. Similar to many other beaches in the area, it is (as the name suggests) formed of black sand, and the plant life that fringes the sands contrasts beautifully. Located by Hana, it is an eastern facing beach which makes it a wonderful sunrise spot. It's quietest around this time as well, so it's definitely worth visiting to take some epic photogenic spots!
Capture a photo of the black sand beaches, as well as the tide pools that sometimes turn red. There are blowholes in the vicinity too, as well as lava tubes.
34. Kaihalulu (Red Sand) Beach
Also located near Hana, Kaihalulu Beach is made of red sand. A red beach? Yup! Of course, I had to put it on my list of Instagrammable places in Maui!
This otherworldly landscape is one of the most unique beaches that you'll ever set eyes upon – making visiting it an absolute must-see! The deep red contrasts to the visit green of the shrubbery, and the lapping ocean only adds to the atmosphere.
Make sure that you get here as early as you can, as it really is the kind of beach that you want to photograph without any other people! The sand also appears more red in the golden light of the morning!
35. Pools of 'Ohe'o
The Pools of 'Ohe'o are otherwise known as the Seven Sacred Pools. Encompassing a few waterfalls and relaxing pools, this area of the island is great for chilling out, but also a perfect spot for photography!
36. The Bamboo Forest on the Pipiwai Trail
The Bamboo Forest hike is a fantastic place to visit in Maui. The long branches of bamboo with light shining through them make for a great photo.
The Bamboo Forest trail is part of the longer Pipiwai Trail, which has lots of other attractions, which I'll list next! The Pipiwai Trail is located in Haleakalā National Park. It traverses through the forest and connects the Falls of Makahiku and Waimoku Falls.
37. Falls of Makahiku
Located just about the Pools of 'Ohe'o, the Falls of Makahiku is a waterfall of 184 feet. You'll get some gorgeous photos here; just make sure that you go early as it is a very popular spot! Makahiku Falls is one of the best on the island, and there are plenty of beautiful vantage points to photograph as you hike around.
38. Waimoku Falls
The 400-foot Waimoku Falls is right at the end of the Pipwai Trail. Thought by some to be Maui's most beautiful waterfall, the dramatic drop cascades down cliffs, and has one of the biggest bodies of water on the island. It's a great place to get some Instagram photos!
39. A Jeep Photo
Add a jeep photo to your Maui Instagram list! These are a popular form of transport all over the island and can be driven on both uneven terrain and down to the beach. Jeeps are super photogenic cars- put the top down to add to these aloha vibes!
40. A Rainbow Photo
Because of Maui's tropical weather, there are ample opportunities for rainbow photos. Keep your eyes out as you explore the island, as a rainbow photo will be an excellent addition to your Instagram feed.
One of the best places for rainbows is in Lahaina. The mountains close to Lahaina mean trap air, and the fact that the clouds mix with the sun regularly means that rainbows are common. If you're lucky, you'll be able to spot these and take rainbow photos!
41. A Lei Photo